This post may contain affiliate links. If you use these links to buy something we may earn a small commission. Thanks.
Eating enough protein every day can be tough. As a powerlifter, I've been eating 250g of protein a day for the last several years. Training is the easy part. Getting proper nutrition is the challenge.
This list of the 40 best protein shakes for weight gain has been the ace up my sleeves in eating a high protein diet. These high calorie protein shakes will put you on track to hitting your macros!
You can obviously just buy a weight gainer powder/supplement, but these are our favorite homemade protein shakes for weight gain.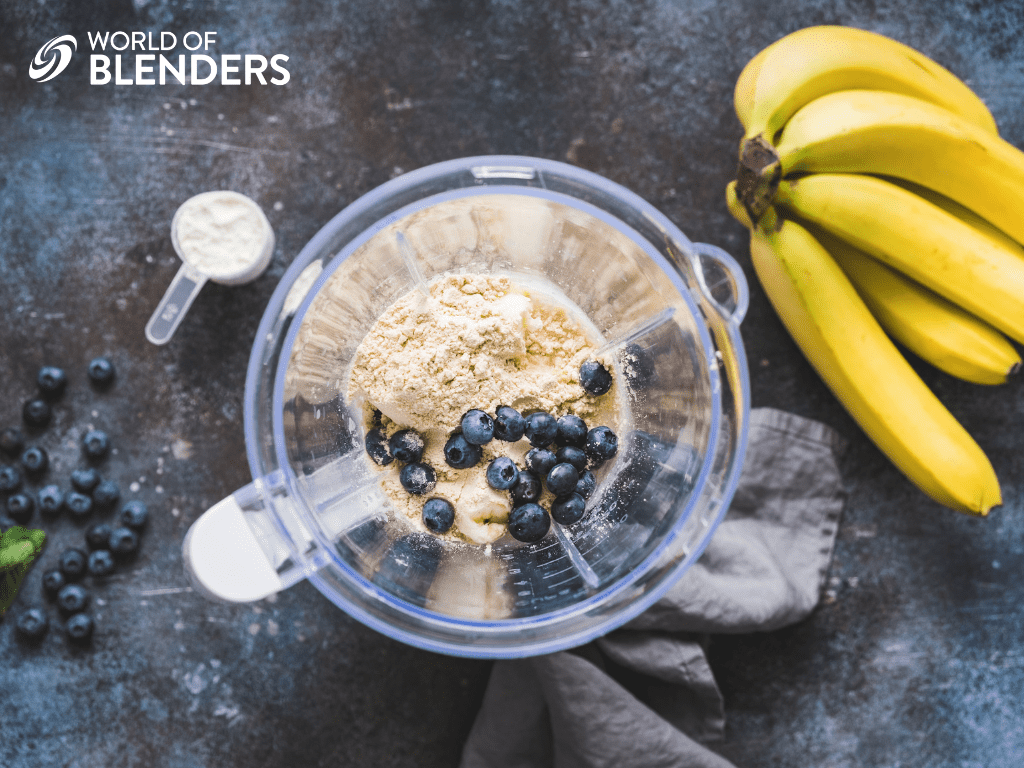 ---
Do Protein Shakes Help You Gain Weight?
The key to gaining weight is consistently eating in a caloric surplus. You've gotta eat more calories than you burn. Protein shakes are a great way to increase your daily calories. Higher protein intake will help with muscle growth and workout recovery.
You don't have to drink protein shakes to gain weight, but they are incredibly effective.
If you ever want to lose weight, we've got a list of low calorie protein shakes for you as well!
---
Best Ingredients for Homemade Weight Gainer Protein Shakes
If you're making homemade protein shakes to gain weight, then you need to know the four building blocks of making shakes.
1. Type of Protein Powder
There are hundreds of different kinds of protein powder out there. I'm a big fan of Optimum Nutrition's gold standard whey protein because it's 100% protein. No added carbs or fats so I can control exactly how many calories I want in my protein shakes.
In my opinion, these are the best protein powder for weight gainer shakes with a breakdown of calories/macros in each serving.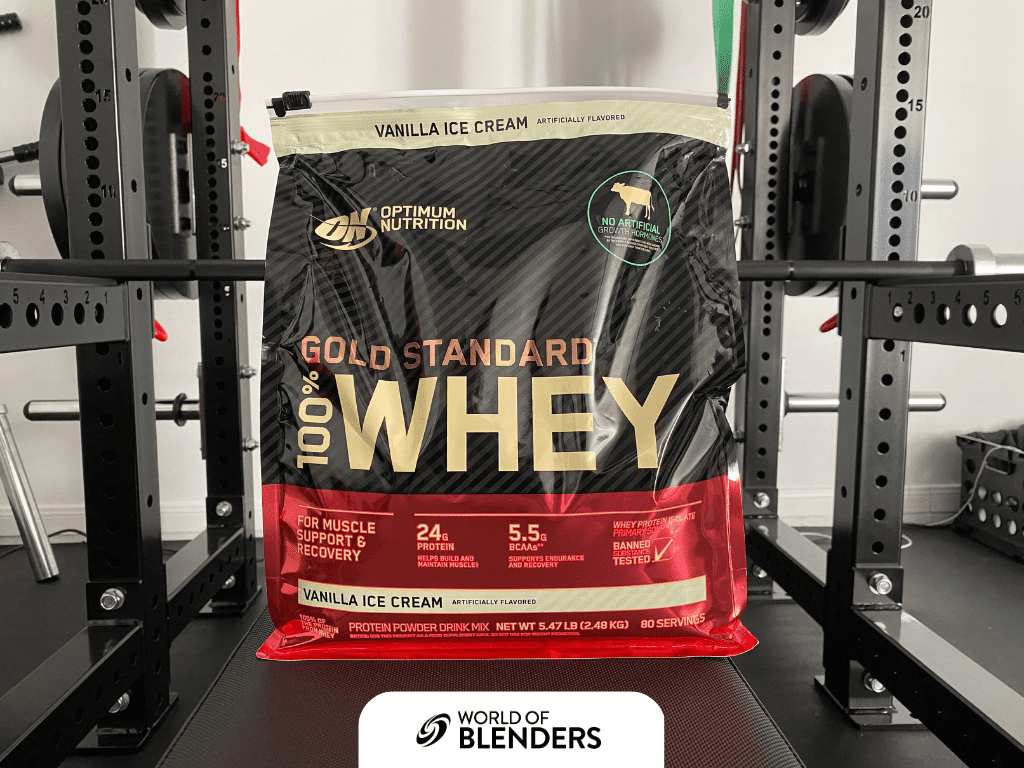 2. Liquid
You can use almost any liquid in protein shakes. Some are better than others and it just depends what you want. We've got a guide that'll show you the best milk for protein shakes for weight gain.
Here's a breakdown of our favorite liquids for protein shakes with the calories and macros for a 1 cup (240ml) serving size.
| | | | | |
| --- | --- | --- | --- | --- |
| Liquid | Calories | Protein | Carbs | Fats |
| Water | 0 | 0 | 0 | 0 |
| Milk (skim) | 80 | 8 g | 12 g | 0 |
| Milk (2%) | 120 | 8 g | 12 g | 5 g |
| Whole milk | 150 | 8 g | 12 g | 8 g |
| Iced coffee | 15 | <1 g | 3 g | 0 g |
| Almond milk | 60 | 1 g | 8 g | 2.5 g |
Serving sizes for 1 cup of liquid (240 ml)
3. Additional Ingredients
This is where you can get creative with your protein shakes. If you want something lower in calories, just stick to your protein powder and liquid.
If you're making homemade protein shakes to gain weight, this is where you can have fun.
| | | |
| --- | --- | --- |
| Ingredient | Serving | Calories |
| Ricotta cheese | ½ cup (124g) | 216 |
| Peanut butter | 2 tbsp (32g) | 190 |
| Pumpkin seeds | ¼ cup (30g) | 180 |
| Oats | ½ cup (40g) | 150 |
| Chia seeds | 2 tbsp (28g) | 138 |
| Avocado | ½ medium (68g) | 114 |
| Kefir | 1 cup (240ml) | 110 |
| Banana | 1 medium banana (118g) | 105 |
| Mango | 1 cup (165g) | 99 |
| Edamame | ½ cup (75g) | 95 |
| Tofu | ½ cup (124g) | 88 |
| Blueberries | 1 cup (148g) | 84 |
| Cottage cheese | ½ cup (105g) | 81 |
| Greek yogurt | ½ cup (113g) | 80 |
| Raspberries | 1 cup (123g) | 64 |
| Regular yogurt | ½ cup (113g) | 61 |
| Broccoli | 1 cup (91g) | 55 |
| Egg white | 3 whites (96g) | 51 |
| Strawberries | 1 cup (152g) | 49 |
| Kale | 1 cup (16g) | 8 |
| Spinach | 1 cup (30g) | 7 |
| Spinach | 1 cup (30g) | 7 |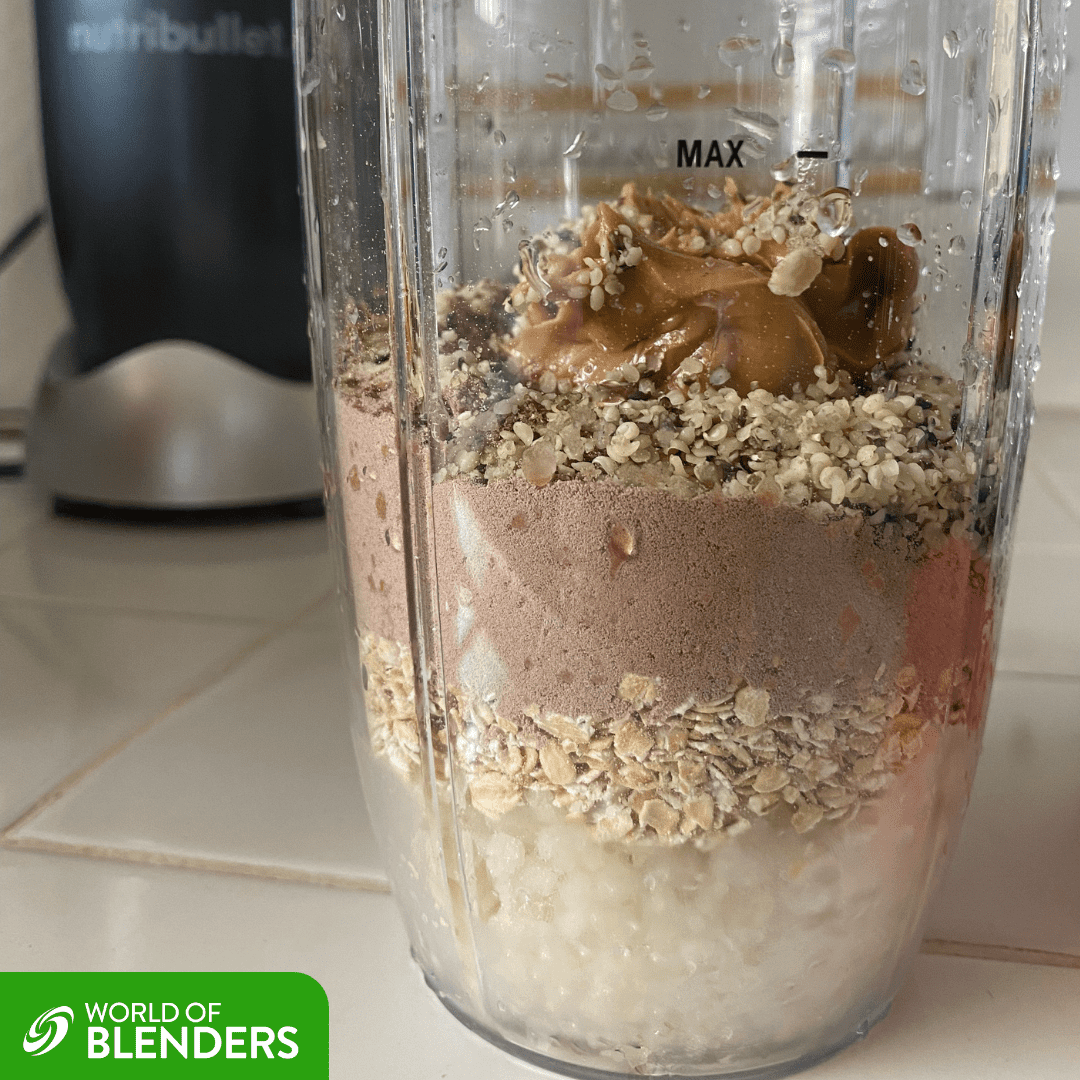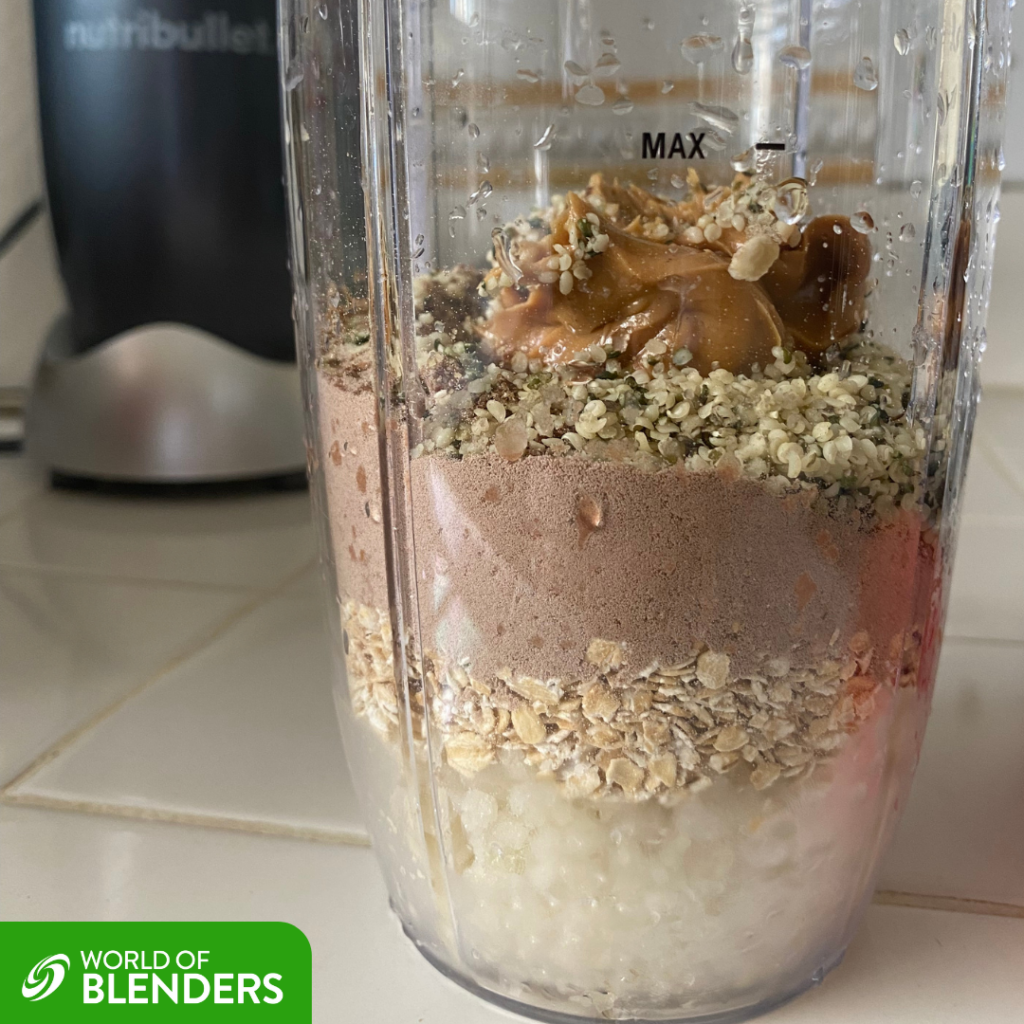 ---
40 Best Protein Shakes Recipes for Weight Gain
These healthy homemade protein shake recipes are all quick and convenient to make, requiring a few ingredients at most. There are plenty of flavors to choose from, including chocolate, vanilla, peanut butter, fruit, and coffee!
This recipe combines chocolate, banana, and almond butter to create a breakfast shake with rich, delicious flavors. It's a great way to satisfy your sweet tooth while upping your protein intake at the same time! This shake has over 580 calories and will definitely keep you full until lunch time.
Here is a vegan, low-sugar, high protein twist on the famous Molten Chocolate Frap from Starbucks! This recipe uses a homemade sugar-free syrup which tastes great. However, you can always use a store bought sugar-free syrup to save time.
This is a must-try protein shake recipe for dark chocolate lovers! It's a delicious post-workout shake with a hint of festive flavor thanks to the peppermint.
For some odd reason, all the ingredients are vegan substitutes except for the whey protein which is dairy-based.
Believe it or not, this chocolate banana smoothie is actually packed with superfoods. This healthy smoothie contains flax seeds, chia seeds, and your preference of spinach or kale. These are some of the best ingredients to mix with protein powder!
Don't be mistaken, it still has all the flavor and texture of a classic chocolate banana shake – just made healthier! This is one of our favorite protein shakes for weight gain! This is a great protein shake to make the night before if you want to have it in the morning!
This keto-friendly protein shake is a great substitute for breakfast or a post-workout meal. It's low-carb but will leave you feeling satisfied for most of the day! This shake is fairly customizable; you can add cinnamon, vanilla extract, or sweetener of your choice to keep the recipe fresh.
This mint "green" smoothie is rich in antioxidants. The leafy green smoothie is combined with swirls of molten dark chocolate, and topped with dark chocolate flakes! This protein smoothie recipe calls for dairy-free chocolate, making it a great choice for vegans.
Vanilla shakes don't have to be boring or unhealthy! Check out these healthy vanilla protein shake recipes.
Here is a great vegan substitute for the classic vanilla shake! This is one of the better vanilla protein shake recipes for vegans because it includes plenty of plant-based, non-processed proteins like cashews and chia seeds, giving you 12 grams of protein. This makes for a great afternoon snack or post-workout drink!
I found this recipe to be quite interesting, and I couldn't have been more pleased with how it came out! This recipe uses chai tea which is steeped in almond milk, then combined with vanilla, banana, and protein powder.
Use a plant-based protein powder to make this recipe vegan.
Here is another healthy protein shake recipe for Starbucks lovers! This is a healthy version of the classic Vanilla Bean Frap. One serving is only 121 calories, and contains an impressive 20 grams of protein! We have a guide on calories in protein shakes and this recipe is one of the lowest!
Use your favorite brand of vanilla protein powder with this recipe. Like other recipes on this list, you can easily make this recipe vegan by opting for a plant-based powder.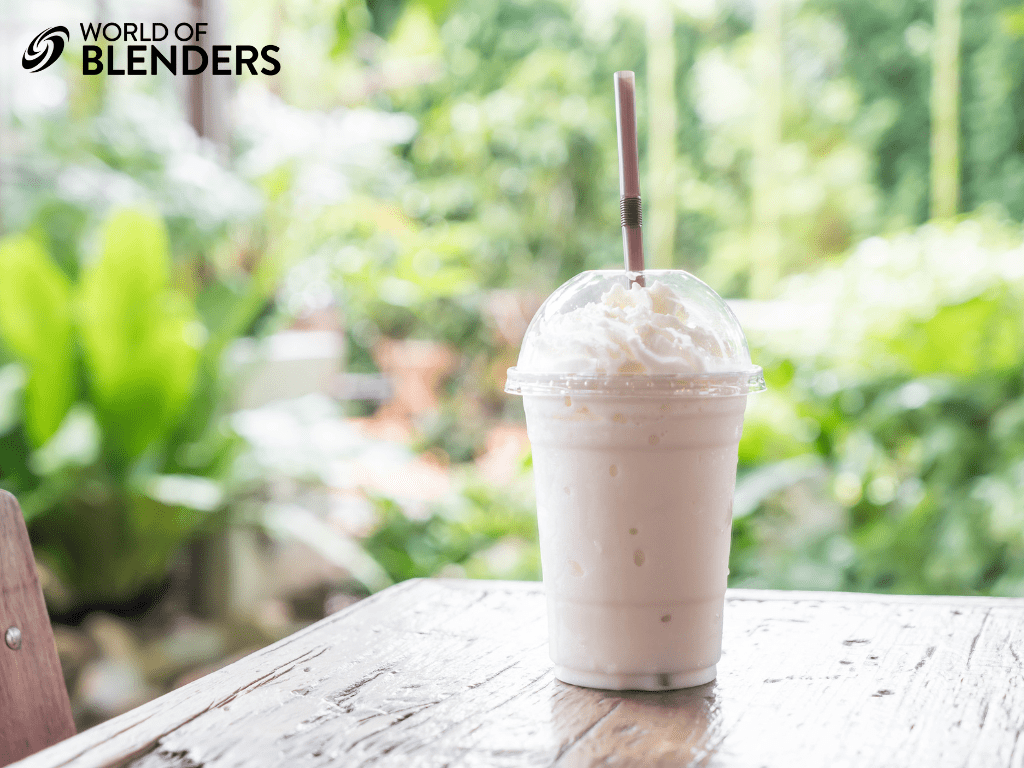 I love making this blueberry vanilla shake for breakfast. It is a fairly flexible recipe, allowing you to use milk or a milk substitute of your choice. The greek yogurt and the nut toppings make for an excellent source of protein, and it takes just five minutes to throw together!
This is one of the best protein shake recipes on our list cause of the combo of vanilla + blueberries.
This high-calorie peanut butter shake contains 684 calories and 39g of protein. It's ideal for anyone who is looking to healthily bulk. It's super high in iron and healthy fats which help with muscle fatigue, and the recipe only takes 2 minutes to make!
This is one of the best high protein shakes for weight gain because it's got nearly 40g of protein.
This recipe is really simple to make, containing just four ingredients! I really enjoy the addition of apple into this classic peanut butter and chocolate shake. You can use real peanut butter instead of peanut butter powder – just be sure to add a little more almond milk or else it will come out too thick.
This is a classic post-workout protein shake recipe. You can't go wrong with chocolate protein powder, peanut butter, and banana! The addition of oats gives this recipe a nice crunch and it's one of our favorite ways to make protein shakes thicker!
Enjoy this smoothie after your morning workout – it will easily keep you satisfied until lunch time.
Kids and adults alike will enjoy this shake since it tastes exactly like a Reese's peanut butter cup! It makes for a great after-school snack for the kids, or an afternoon pick-me-up for yourself at work. One serving of this shake has a solid 13 grams of protein.
This recipe is quite similar to the kids shake above. However, it is heavier and has richer flavors, more calories and more protein due to the peanut butter powder, giving this shake an impressive 30 grams of protein per serving! You can use milk or water for protein shakes, but I recommend using milk for this one!
Use this chocolate protein shake as a post-workout treat or a substitute for breakfast when you're short on time.
The shake consists of banana slices, protein powder and chunky peanut butter. It's rich, flavorful, and packed with protein! The rest of the recipe is quite flexible – you can easily make this dairy-free with two simple substitutions.
This high-protein smoothie manages to stay vegan thanks to hemp protein powder. It is high in natural sugars because of the bananas, so be wary of that if you are watching your sugar or carb intake!
The brand of hemp protein they use also has some leafy greens in it, which gives this shake a boost of fiber. You can always add a handful of spinach or kale if you don't want to use hemp protein.
Here is another great way to enjoy tropical flavors year round! This recipe combines frozen fruit, dairy-free milk and protein powder to make an energizing and healthy protein shake. Give this invigorating drink a try after your next morning workout.
There are so many healthy protein shake recipes that make a great substitute for our favorite treats. This one is a healthy and protein-packed version of an orange creamsicle made with real oranges!
If you want to make this extra healthy, you can easily sneak some leafy greens into this drink to boost your antioxidant intake. Trust me, you won't even be able to taste it! This is one of the best protein drinks for weight gain if you like fruitier flavors.
This light smoothie makes for a perfect post-workout or mid-day snack. Sub in plant-based protein powder to make this recipe vegan. One serving of this energizing fruit smoothie contains a whopping 25 grams of protein!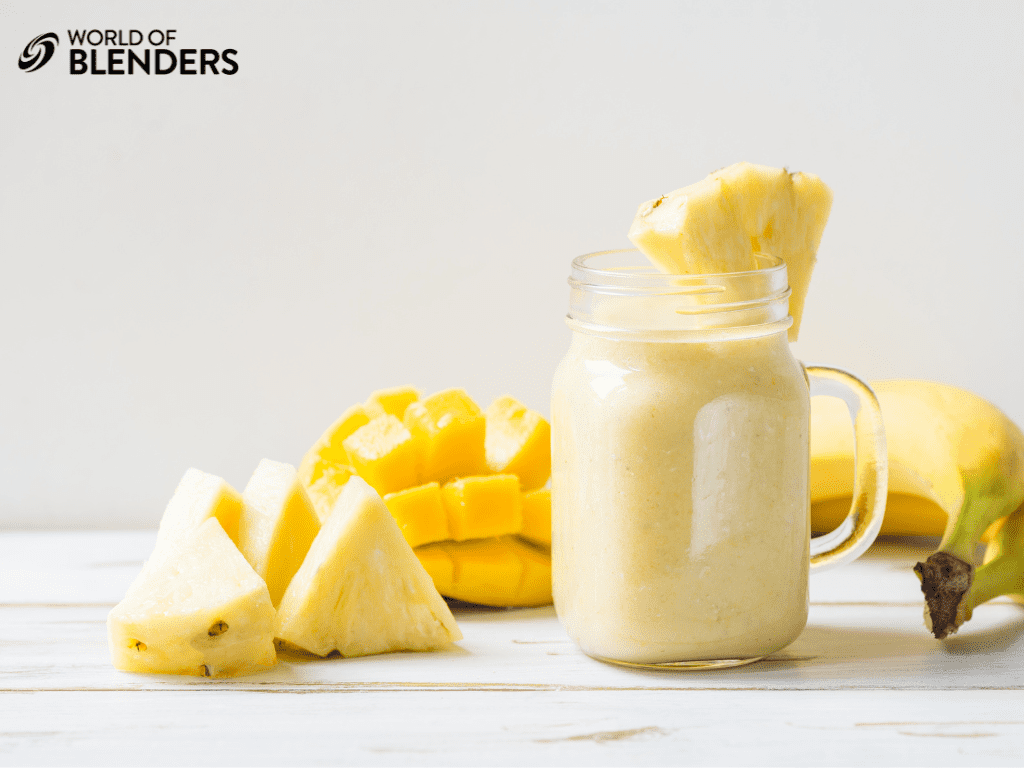 You can enjoy your protein shake with refreshing pineapple and coconut flavors thanks to this great recipe. This smoothie is super sweet and satisfying, plus it contains a modest 16 grams of protein.
However, take care if you are trying to minimize your sugar intake; this recipe contains over 40 grams of natural sugars from the pineapple.
This delicious all-natural protein smoothie is an excellent substitute for breakfast when you're on the move. It's also a great source of protein – one serving contains nearly 30 grams! The raw honey in the recipe is said to be optional, but I highly recommend adding a small spoonful for a touch of sweetness.
What better way to start off your morning than with this antioxidant-rich protein smoothie? This delicious smoothie has multiple superfoods including mixed berries and chia seeds.
It tastes great, is chock-full of nutrients, and acts as a decent source of protein. This is one of the best protein drinks for weight gain if you want something a bit more fruity.
This recipe is a quick and easy way to re-energize after your workout. The fact that this recipe uses frozen, precut fruit makes it so convenient to throw together, and the graham crackers on top make a great garnish. The author wasn't kidding, it really does taste like strawberry cheesecake!
I love using cottage cheese in recipes to add in a rich source of flavor and protein. This protein shake actually uses cottage cheese as its secret ingredient! It combines well with the oh-so-sweet pineapple chunks to create a creamy and delicious protein shake.
Here's a great fruit smoothie that uses frozen strawberries and orange juice. The nonfat Greek yogurt makes this recipe a rich source of protein; it has 12 grams of protein, is rich in fiber and only has 162 calories!
The recipe calls for coconut milk, but feel free to use whatever kind of milk you want.
This coffee lover's smoothie is great for after a morning workout. It has over 17 grams of protein per serving, but be warned it is high in sugar.
Want to cut down on prep time? Your best bet is to brew a large batch of coffee ahead of time and refrigerate it.
This is a great way to enjoy your morning coffee inside of a peanut butter and banana smoothie. It's both healthy and delicious! The trick this recipe uses is to freeze coffee in an ice cube tray the night before. The coffee cubes keep the drink cold and refreshing without watering it down!
I love using my cold brew coffee maker to make cold coffee drinks on a hot day, and this recipe provides the perfect opportunity. This healthy smoothie packs a lot of protein into your morning cold brew!
The recipe is flexible and you can put a flavored protein powder of your choice – both chocolate and vanilla work great here. If you don't like bananas, you can use strawberries!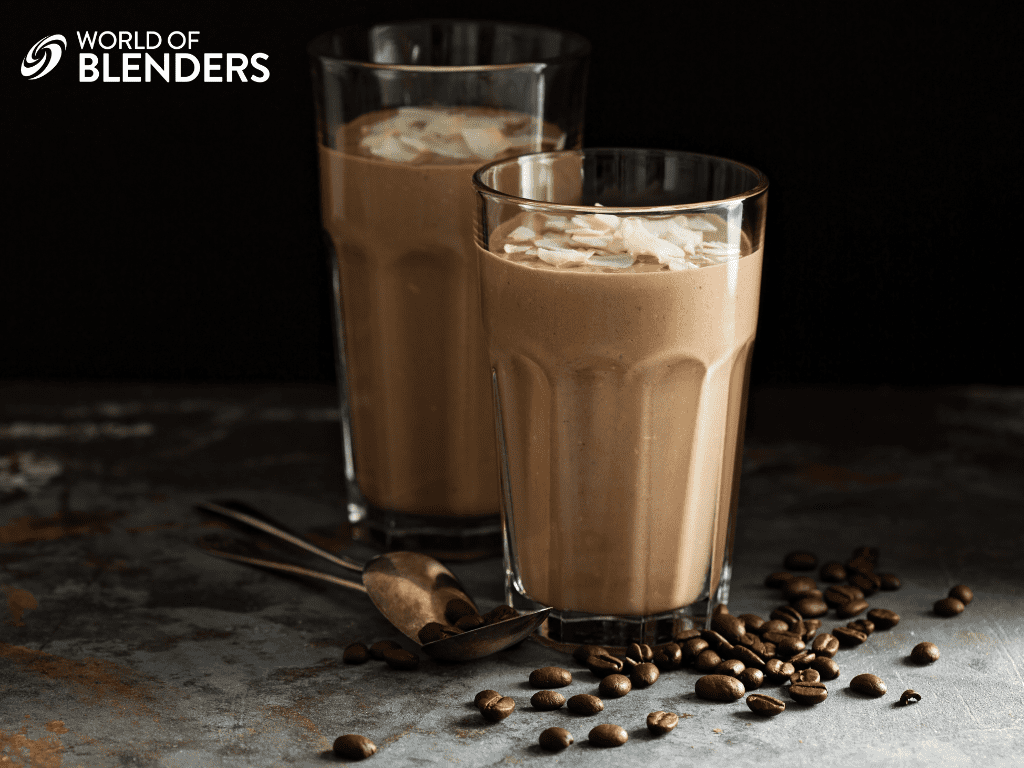 Here is another way to make a healthy protein shake using your cold brew coffee. The banana thickens the mixture up and makes it more of a creamy protein shake than a smoothie. This makes a perfect base recipe that you can use to add all of your favourite healthy ingredients!
Salted caramel mochas are one of the most popular drinks at Starbucks, and this recipe turns the tasty seasonal drink into a wholesome, protein-packed shake! This 100 calorie coffee shake is practically sugar-free and manages to cram in 21 grams of protein.
Give this one a try after your next workout.
This delicious mocha flavored shake is a healthy way to pair your morning coffee and breakfast together. The banana adds a natural sweetness and gives the shake the desired consistency, while the cocoa and cinnamon give the mocha a chocolaty, spicy flavor that truly makes the shake unique.
The recipe doesn't specify what kind of protein powder to use, but I think chocolate works best here!
This delicious and healthy shake is based off a classic holiday treat. It tastes just as sweet as real sugar cookies, but has less than one gram of sugar! It also contains an impressive 25 grams of protein, mostly due to the vanilla protein powder.
This vegan recipe really does taste like a lemon cream pie! It's a great source of both protein and fill-you-up fiber. The recipe uses a homemade coconut whipped cream, but you can greatly speed things up by buying dairy-free whipped cream at the store.
This protein shake adds a festive touch to your morning routine! It's vegan and uses coconut whipped cream topped with rainbow sprinkles to give it that birthday cake taste. The frozen bananas also give it the creamy consistency of cake batter. It's like having your birthday in a glass!
This recipe transforms the classic Italian dessert into a protein shake. The flavor-packed shake uses real mascarpone cheese alongside espresso powder, cocoa powder, and rum extract. It tastes just like the real thing, but it's a lot healthier! This recipe satisfies both your sweet tooth and protein needs without wrecking your diet.
Carrots can be excellent in a smoothie if used correctly. This recipe uses carrot juice to create a smoothie version of carrot cake. The banana makes it nice and sweet while the protein powder makes it great for a post-workout snack.
The carrots give this recipe a good amount of fiber too! If you don't have carrot juice on hand, you can use whole carrots.
This smoothie tastes just like a cinnamon roll – but is a lot healthier than one! It's also a great source of protein thanks to the whey isolate and yogurt. This is a great post-workout snack that tastes as decadent as the real thing
Now you can enjoy that tart key-lime pie flavor in a healthier smoothie form. It's packed with protein and has only 168 calories! You can make this recipe vegan by subbing out the protein powder for a plant-based version.
Here is another holiday inspired protein shake idea. This one is for a low-calorie, high-protein eggnog shake that tastes like the real thing. It has an impressive 30 grams of protein per serving, and captures the real taste and texture of eggnog without having any eggs or sugar in it!
---
Tips for Making Homemade Protein Shakes
I've been making protein shakes for years and I've made all kinds of mistake – too chunky, too chalky, not flavorful enough, etc.
I thought I'd share a few quick tips I've learned over the years to make the best homemade protein shakes:
Blend protein powder with liquid first – One of the common issues with protein shakes is that the powder doesn't get blended well enough. I recommend starting with just liquid + powder and blending it for 30-60 seconds. Then add the rest of your ingredients!
Use frozen fruit – Frozen fruit will make your protein shakes much colder! This will make them way more crisp and refreshing.
Use enough liquid – If you don't use enough liquid then your shake will be too thick and hard to drink. I'd start with a cup of milk and slowly add more until it hits your desired consistency. This is one of the best ways to make protein shakes taste better.
Use a powerful blender – A weak blender will make terrible protein shakes. You'll end up with chunks and clumps and it won't be smooth. We have a whole list of the best blenders for protein shakes if you ever need a new blender!
Meal prep – Making protein shakes every day is a chore. You've gotta get all the ingredients out, make it, and clean everything up. I recommend making big batch of shakes. Protein shakes last in the fridge for 3-4 days or so. You can also freeze protein shakes for three to four months!
If you don't have any protein powder on hand, check out this list of weight gain supplements!
---
Protein Shake Benefits
Protein shakes can be incredibly good for you! A lot of people aren't a fan of using weight gainer powders because they aren't natural. If you make homemade weight gainer shakes then you get all the benefits of whole foods + the benefits of protein shakes.
High protein – Protein shakes are a great way to get more protein in your diet. This is essential if you're trying to build muscle, but it's good for the average person too.
Convenient – Making weight gainer shakes at home is super convenient. You can make a big batch and drink them all week. Great for saving time and always having them on hand.
Saves money – Making your own homemade protein shakes is a great way to save money! Stop buying shakes at the grocery store or pre-made shakes. You'll save about $2 per shake. This adds up if you drink one every day.
High in vitamins/nutrients – Making protein shakes at home with whole foods is a great way to get a diverse set of micronutrients. Add some spinach, bananas, oats, and peanut butter to your protein shake and you'll be getting tons of vitamins and nutrients.
---
Common Questions on Making Protein Shakes
Which protein shake is best for beginners?
All of these protein shakes are super easy to make, but our go-to recipe is simple: 2 big handfuls of spinach, a banana, cup of blueberries, 2-3 tbsp of peanut butter, protein powder, and add liquid (milk, almond milk, or water) to the consistency that you like. 
What should I put in my protein shake?
We recommend putting bananas, blueberries, strawberries, spinach, peanut butter, and greek yogurt in your protein shakes. 
How can I make a protein shake at home?
All you need to make a protein shake at home is a good blender and the ingredients to make them! Put them in the blender, add liquid, and you're good to go. 
Are protein shakes good for breakfast?
These protein shake recipes for gaining weight are great meal replacement options for breakfast! You can store them in mason jars and grab one in the morning on your way to work. 
Are protein shakes good for building muscle? 
Protein shakes are great for helping you build muscle, especially if you eat them right after you work out. They are a great source of healthy carbs, fats, and amino acids from the protein to help you recover and build muscle. 
Can a skinny person gain weight with protein shakes?
Skinny people who want to gain weight should definitely try adding a protein shake to their meal plan. Adding an extra 300-500 calories a day on top of normal consumption will help them gain weight.