This post may contain affiliate links. If you use these links to buy something we may earn a small commission. Thanks.
Vitamix is one of the best blender brands on the market. In fact, Vitamix blenders are some of the most expensive blenders on the market.
They're the undisputed champs in the blender game and for good reason. Their blenders are powerful, last forever, and come with an incredible warranty.
We're huge fans of Vitamix products and have personally bought, used, or tested 10 different models. But a Vitamix blender ain't cheap.
This article will answer the question "Why is Vitamix so expensive?"
Even with the higher prices, I fully believe that a Vitamix is worth the money.
If you end up deciding to buy one, be sure to check out our guide to find the best Vitamix blenders.
---
What Makes Vitamix Blenders So Expensive? 12 Reasons
So what exactly makes Vitamix products so expensive? Is it the durable design of the blender shell or the high-quality stainless steel blades?
There are multiple reasons why the asking price of a Vitamix is higher than your typical blender. Knowing which features have the largest impact can be useful.
Our #1 pick is the Vitamix E310 because it's the perfect blender of power, performance, and price.
1. Powerful motor
A powerful motor is an excellent addition to any food processor. In most cases, the more powerful the motor, the better it will be at chopping, blending, and juicing different ingredients.
Vitamix blenders tend to contain incredibly powerful motors, which is excellent news when it comes to blending performance, but this does come at a cost. Almost every single motor is at least 2 HP and most of the new ones are 2.2 HP.
For comparison, the typical NutriBullet blender will be around 1 HP – making them half as powerful.
The more powerful a motor is, then the more expensive it will be to make. A powerful motor is just one of the features that make Vitamix blenders so expensive.
Compared to other blenders, Vitamixes are the leader when it comes to power.
If you're wondering how much watts you need for a good blender, we've got you covered. The great news is that every standard Vitamix blender is at least 1000 watts.
| | |
| --- | --- |
| Wattage | Our Opinion |
| 0 – 500 watts | Not worth buying. Avoid. |
| 500 – 800 watts | Decent blenders for blending simple ingredients, but won't puree or blend super smoothly. Not good for frozen fruit smoothies. We don't recommend confidently. |
| 800 – 1000 watts | This is is the lowest wattage of blenders we can confidently recommend. This will work for anything except the hardest frozen fruit smoothies. Expect some chunks, but overall a solid option. |
| 1000 – 1500 watts | This is a great range for home blenders. These will be powerful enough for anything you need and super affordable. |
| 1500+ watts | Anything over 1500 watts will work incredibly well! They won't blend better than the previous set, but will work faster and be more durable. |
Every Vitamix blender comes with almost 1500 watts, which is incredibly high compared to industry averages.
2. Durability
It's simple math really. The longer you're blender lasts, the more value you're going to get out of it.
That's why Vitamix blenders are so expensive.
Compared to other blenders on the market, Vitamix blenders last longer. They can take a beating with daily usage and still last 10+ years.
If you have to replace a cheap blender every 3 years then you really aren't saving money. So you might as well get to have the joy of using the most powerful blender than something that's cheap and average at best.
The main deciding factor behind product durability is the products used during the manufacturing process. Generally, high-quality materials are more durable than low-quality options, but will also cost slightly more.
One of the main purposes behind Vitamix is to offer kitchens an extremely durable blender that they can rely on. This means that during the manufacturing process, Vitamix will use high-quality materials to craft a durable product.
3. Blade design & quality
The quality of the blades found in your blender will perhaps have the largest impact on how effective your blender is. The high quality blades are why vitamix blenders are so expensive.
Vitamix tends to use high-grade stainless steel in their blending products to ensure that their customers can get the most out of their blender. But this extra quality does mean that your Vitamix blender will cost a little more than other blenders on the market.
Stainless steel blades are more expensive than hard plastic or metal.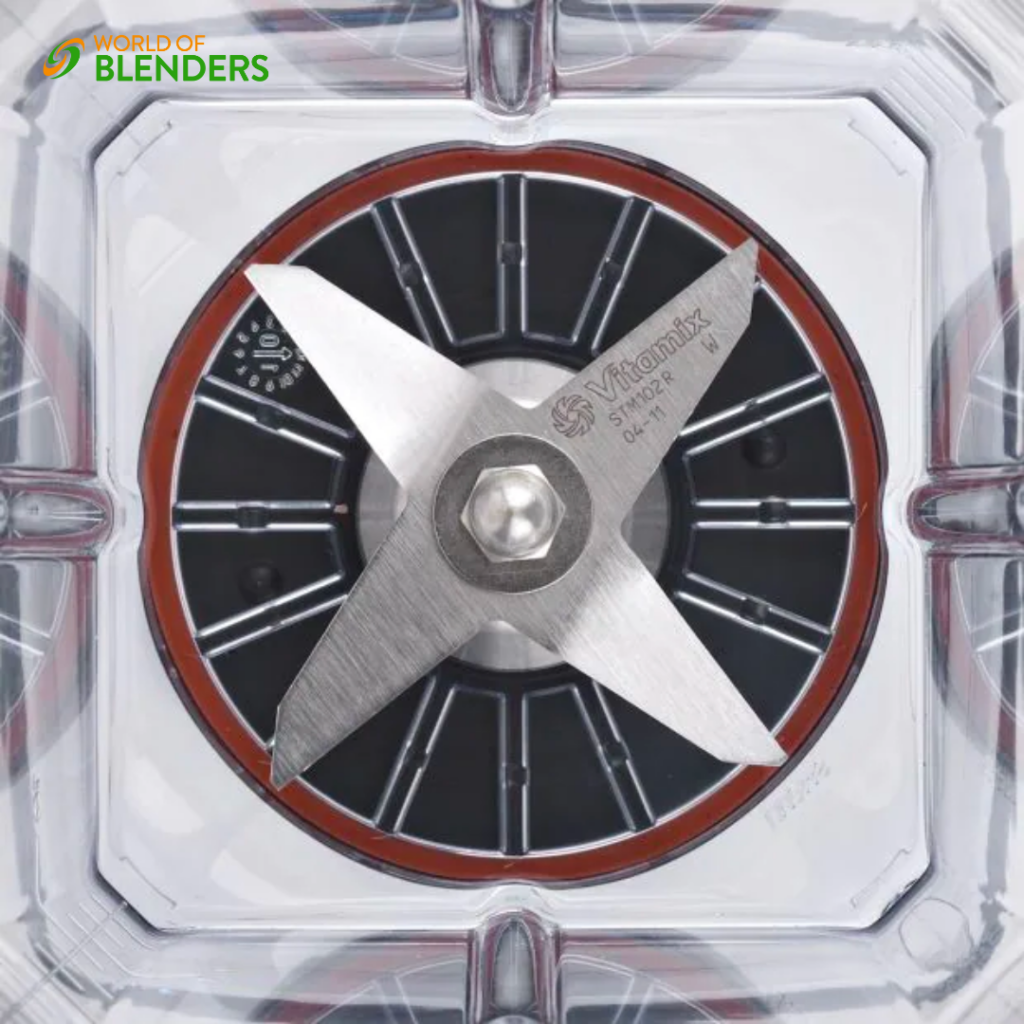 Most people assume that the sharper your blades are, the better. But this is not always true.
If a blender is dependent on having sharp blades, then you're going to have to always be finding ways to sharpen your blender blades. This is a hassle and it means your blender will be less effective over time.
Vitamix's blender blades are designed to be slightly dull. They don't blend by slicing through the contents. Instead the dull blades pulverize whatever you're making.
In other words, you won't have to constantly sharpen your Vitamix blades. They'll perform well over time.
If you're wondering "where are Vitamix blenders are made?" The answer is that the motor and electrical parts are made in China but everything else is made in the United States!
4. Blender capacity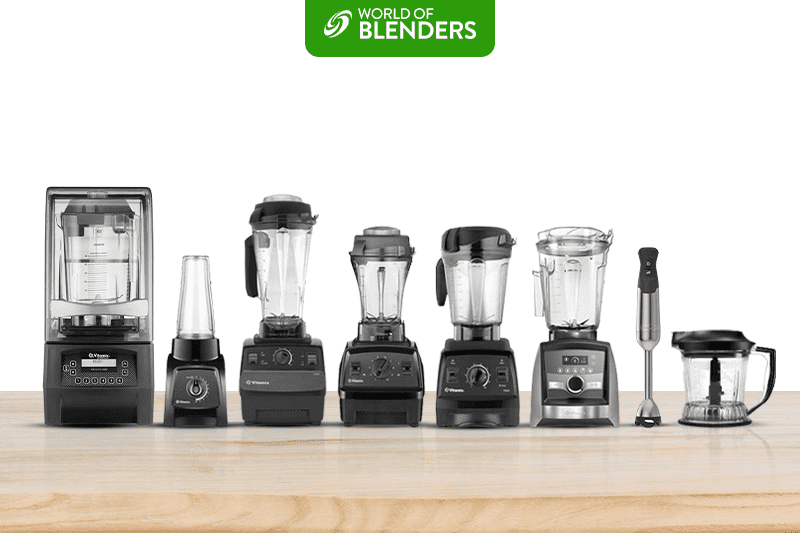 Cheaper blenders like NutriBullets usually only hold 16-32oz. This works if you're just making a personal smoothie. If you want to make a bigger batch for your family or if you're meal prepping, then the Vitamix containers will be a better fit.
Most Vitamix blenders are 64oz, but a couple are smaller at 48 or 32oz.
When deciding on which blender is the right choice for your needs, you will want to consider its capacity. If you are planning on using your blender in a commercial setting to make multiple batches of hot soup, then a larger capacity will surely come in handy.
However, the larger the capacity of your blender, the more materials will need to be used. This means that the capacity of your Vitamix blender will have an impact on the cost.
Vitamix offers a range of blender sizes as not all of its products are designed for use in a commercial setting. Although capacity will have an impact on cost, this isn't one of the main reasons why Vitamix tends to be a pricier option than your average blender.
The key is to not overfill your container with food to blend. If you do, it might cause your Vitamix blades to get stuck. Unlikely, but it can happen!
5. Versatility
Versatility in the kitchen is incredibly important, especially if you plan on cooking a range of recipes. Blenders tend to be one of the most versatile products you can find in a kitchen, so you can expect a Vitamix blender to offer versatility.
In most cases, the versatility of your product will rarely impact the price. This is because most conventional blenders are designed to offer a range of functions, so there isn't too much innovation in the world of blenders.
For example, you can use the pulse button on your blender to chop veggies, make breadcrumbs, or make homemade salsa.
In terms of cost, the versatility of your Vitamix blender will have a marginal impact on the price you pay. A few extra settings will set you back a little more, but most Vitamix products tend to offer the same levels of versatility.
The more ways you can use your Vitamix, the more value you're going to get from it. Vitamix blenders are great for grinding coffee, making soups, drinks, curries, and more. Most blenders can't handle some heavy duty tasks like grinding meat or making nut butters. Vitamix blenders can handle it.
You can also use a Vitamix as a food processor, which means that's one less kitchen gadget you'd need to buy.
6. Variable speed control
Most blenders only come with two speed options: off and on. There's no range of being able to ramp up speed.
Blenders perform way better if you're able to vary the speed. This is especially true if you're blending hard things like smoothies. Cheap blenders will get stuck and won't actually work.
With a Vitamix, you have 10 speed settings to pick from. You can start slow and then ramp up to full speed.
Not only is this more effective, but it allows you to make different textures.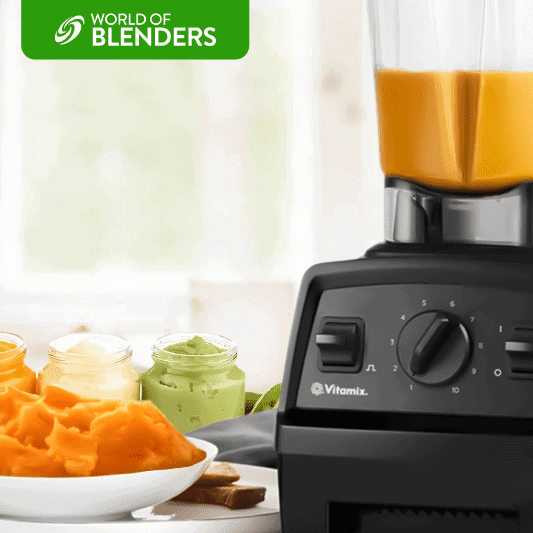 7. Auto-adjustment
An auto-adjustment feature is a luxury addition to blenders, which is why it's often found in pricer brands and models. The auto-adjustment setting determines how fast the blade spins based on the weight of the ingredients added to the blender.
Your typical Vitamix product features an auto-adjustment setting as it can be extremely useful if you are in a hurry. However, since it is a luxury addition, this could be a reason that makes Vitamix blenders so expensive.
Always take the time to consider whether or not you truly need a feature to determine if the asking price is worth it for your needs. As useful as an auto-adjustment setting can be, if you like to have full control over your blender, then this may not be worth the extra cost.
8. Vitamix accessories
Accessories can be excellent bonuses to purchase, but they're not always necessary. A Vitamix will sometimes come with a bonus smoothie container or a spare blender jar, but this isn't always the case.
Most Vitamix blenders will come with a recipe book, extra small container, and a blender tamper.
Be sure to check out our article on Vitamix container interchangeability so you can know which containers can fit with each blender system.
9. Warranty
Warranties can add a whole new layer of security to any product. This is key because if you happen to get a dud (highly unlikely for Vitamix) then they'll replace it.
The longer the warranty, the better.
Chart with this data:
Nutribullet: 3 year
Ninja blender: 1 year
Vitamix Explorian series: 5 years
Legacy series: 5 years
Ascent Series: 10 years
All Vitamix blenders come with a warranty. They have three different series with different warranty time periods. The Explorian series comes with a 5 year warranty. The Legacy series come with 7. The Ascent series has a whopping 10 year warranty.
You don't have to pay anything extra for the warranty, but it's obviously built into the price. This is a major reason why a Vitamix is worth it.
Vitamixes are also made in the United States which increases the manufacturing cost! If you want to get the most value from your blender, check out our guide on how to make a Vitamix last longer.
10. Vitamix blenders are way easier to clean
The great part about Vitamix blenders is how easy they are to clean.
All you have to do is add warm water and a few drops of dish soap into the blender container. Turn the blender on and slowly crank it to full speed. Wait about 30-60 seconds and you're good to go!
Even better, some of the Vitamix blenders are dishwasher safe.
11. Smart Technology (Ascent Series only)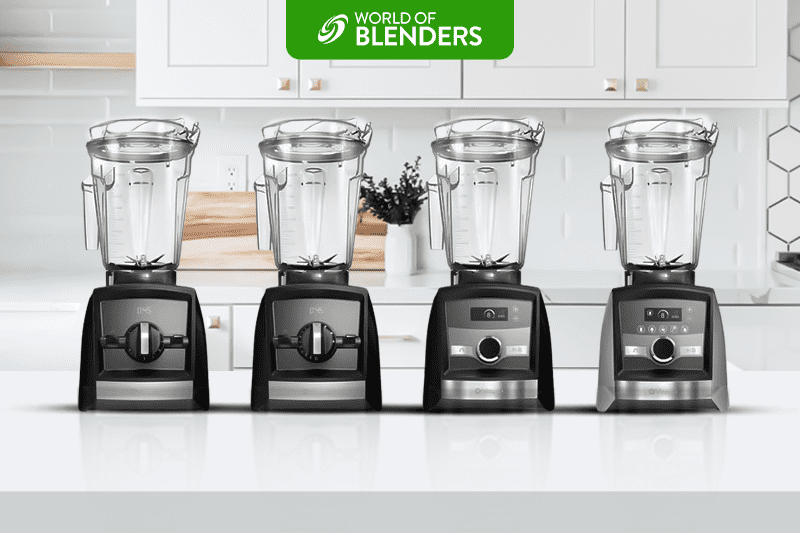 The Vitamix Ascent Series is the best option for technology lovers.
The Vitamix A2300, A2500, A3300, and A3500 all offer very similar performance and features.
They're both powerful blenders that are good enough to be used in professional settings. Regardless of the model you choose, you can be sure that your device is going to have exceptional blending capabilities.
| | | | | |
| --- | --- | --- | --- | --- |
| | Vitamix A2300 | Vitamix A2500 | Vitamix A3300 | Vitamix A3500 |
| Speed dial | 1-10 turn dial | 1-10 turn dial | 1-10 dial (digital) | 1-10 dial (digital) |
| Timer | Digital | Digital | Touch programmable | Touch programmable |
| Programmable? | No | 3 programmable settings | No | 5 programmable settings |
| Start-stop | Switch | Switch | Touch button | Touch button |
| Pulse | Switch | Switch | Touch button | Touch button |
| Price | $500 | $550 | $550 | $650 |
The A2300 has a 10 speed dial, pulse switch, digital timer, and a start-stop switch.
The A2500 is the exact same as the 2300, but it had 3 programmable settings for smoothies, hot soups, and frozen desserts. These extra features make it $50 more.
The A3300 is the same price as the 2500, but it's not programmable. However, it has the touch features: a touch start-stop button, touch pulse button, and a programmable timer.
The A3500 adds the 5 programmable touch settings and is $100 more than the 3300.
If you want a downloadable app that connects to your blender with built-in recipe options, then buy yourself one of the Vitamix Ascent series blenders.
12. Functions
Typically, the more functions found on a food processor then the more expensive it tends to be. As a majority of Vitamix blenders offer a comprehensive set of additional functions, this could be one of the reasons why Vitamix blenders are expensive.
Below are the most common settings you will find on a Vitamix blender and what you can expect from each function:
Smoothies and Juices
One of the best functions found on a Vitamix blender is its ability to blend fruit and veggies into tasty smoothies. Making smoothies is an excellent way to add a range of nutrients to your diet, especially if you are too busy to cook a large breakfast.
A Vitamix blender's blades are designed to cut through the toughest of foods to help you blend the smoothies and juices you crave. Blending up your fruit doesn't destroy nutrients like fiber or anything else!
Chopping
Although blenders aren't typically used for chopping, with the right speed control, it is possible to quickly dice your food. A majority of Vitamix blenders on the market offer variable speed control settings suitable for chopping food.
This setting is fairly common in most blenders, but it is still worth looking out for – especially if you want an easy way to chop fruit and veg.
The chopping feature will also allow you to use a Vitamix to grind coffee!
Blending
The main function behind any blender, not just your average Vitamix blender. Blending involves chopping and combining two or more ingredients to create a thick or thin liquid.
As blending is the main purpose behind a Vitamix blender, this isn't a reason why they are so expensive. They do offer efficient blending, which is almost always worth the asking price.
Read more: best blender for frozen fruit smoothies
Pureeing
Pureeing is another common feature found in most blenders and can be fairly useful if you regularly make purees. The fine blades found on Vitamix products can create a soft and silky consistency, which is what you would expect from a puree.
Purees are also excellent for babies as they don't contain lumps or hard bits if blended correctly. If you are looking for a product that can help support your baby's diet, then check for a puree function.
Sauces and hot soups
An excellent feature found included in a majority of Vitamix blenders is their hot soup or sauce function. This function can be used to gently heat up whatever you are blending due to the heat generated by the powerful motor inside.
This feature is fairly rare, especially in most conventional blenders, as they don't have a motor powerful enough to achieve this.
Butter and baby food
Baby food should be free of lumps and easy for your little to digest. This is why blenders are such an excellent tool when making your baby food at home. A powerful blender can ensure that any ingredients are smoothly blended, so this setting is included in Vitamix blenders. We've reviewed the 8 best blenders for pureeing and they're perfect for baby food.
On top of this, nut butter is quickly gaining traction as a popular ingredient in a range of recipes. Dry roasted nuts can be hard to blend, especially if your blender doesn't feature sharp blades – which is something a Vitamix will offer.
---
The Pros and Cons of Vitamix Blenders
As with any purchase you make, there is a range of pros and cons you should consider before splashing out on a Vitamix blender. Depending on what you expect from your chosen blender, each pro and con can impact you in different ways – so always consider each point carefully!
The pros of Vitamix:
Vitamix products can be expensive, especially when compared to cheaper brands on the market. However, this high asking price does mean that you can expect a range of benefits to a Vitamix food processor that you may not find on other products.
Extremely Durable Design – Vitamix products are crafted from high-quality materials which ensure they are built to last.
Versatile Control Settings – You can expect your Vitamix product to offer a fantastic range of speed and blending settings.
Sharp Blender Blades – The blades used are aircraft-grade steel, so they will cut through almost any ingredient with ease.
Large Blender Capacity – Perfect for use in a commercial setting or creating large batches of food at home.
Great warranty – If you ever have issues, you can trust that Vitamix will fix it or replace it.
The cons of Vitamix:
Although Vitamix is one of the best brands on the market for its blending products, this doesn't mean they are perfect. These cons may not impact everyone in the same way, depending on your needs, but it's still worth knowing what to expect from your blender.
Large Bulky Design – As a large number of Vitamix products are designed for commercial kitchens, they can be fairly bulky.
High Asking Price – Due to their high-quality design and American craftsmanship, Vitamix products can be expensive.
Can Get Loud – The powerful motor inside a Vitamix can get loud especially when on the highest settings.
Be sure to check out our list of ways to make your blender more quiet if you need some help!
---
What Makes Vitamix the Best Blender?
Perhaps the biggest feature that helps Vitamix blenders stand out when compared to more conventional blenders is their high-quality design. Most Vitamix blenders are crafted from the best materials on the market, which is what makes Vitamix blenders so expensive.
One of the highest quality features is the aircraft-grade stainless steel blender blades found on most models. These are designed to cut through a range of fruits and vegetables to help you get the consistency your recipe requires.
---
Common Questions on Vitamix Blenders
Is it worth investing in Vitamix?
If you are looking for a durable food processor, then Vitamix blenders are an excellent option. They are crafted from high-quality materials and can blend a range of foods with ease, perfect for any recipe!
How long will a Vitamix last?
Vitamix blenders are incredibly durable and are designed to last for years. On average, you can expect your Vitamix blender to last for at least 5 years when used in accordance with the instruction manual!
Is Vitamix made in China?
No, Vitamix blenders have been manufactured in Olmsted Township, Ohio, since 1948. This means you can expect fantastic American craftsmanship and the use of the highest quality plastics and metals.
What company owns Vitamix?
Vitamix is owned by the Vita-mix Corporation, a privately owned American company first established in 1921. Vita-mix Corporation was founded to help offer an accessible way to access the nutrients and healthy meals our bodies deserve.
---
Final Verdict: Why Is Vitamix So Expensive? Are Vitamixes Worth It?
So, why is Vitamix so expensive?
There are a few reasons why Vitamix products are so expensive, especially when compared to other blenders. A range of features found in Vitamix blenders add to the cost, such as aircraft-grade stainless steel blades and a durable shell.
Overall, Vitamix might be a fairly pricey brand, but the asking price is generally worth it. If you're looking for a durable product that can blend your favorite recipes for years to come, then be sure to check out Vitamix blenders.