This post may contain affiliate links. If you use these links to buy something we may earn a small commission. Thanks.
I've been powerlifting for years and my baseline is 250g of protein a day. When I'm trying to mass up I'll be hitting 300-350g.
Protein shakes are the only way I can hit that every day without spending a fortune on meat or eating all day long.
Nothing is worse than protein shakes that are liquid thin or too runny.
The good news is that it's super easy to learn how to make protein shakes thicker! I'll run through 10 ways to make thicker protein shakes so you can get the perfect consistency every time.
Be sure to check out our list of the best protein shakes for building muscle!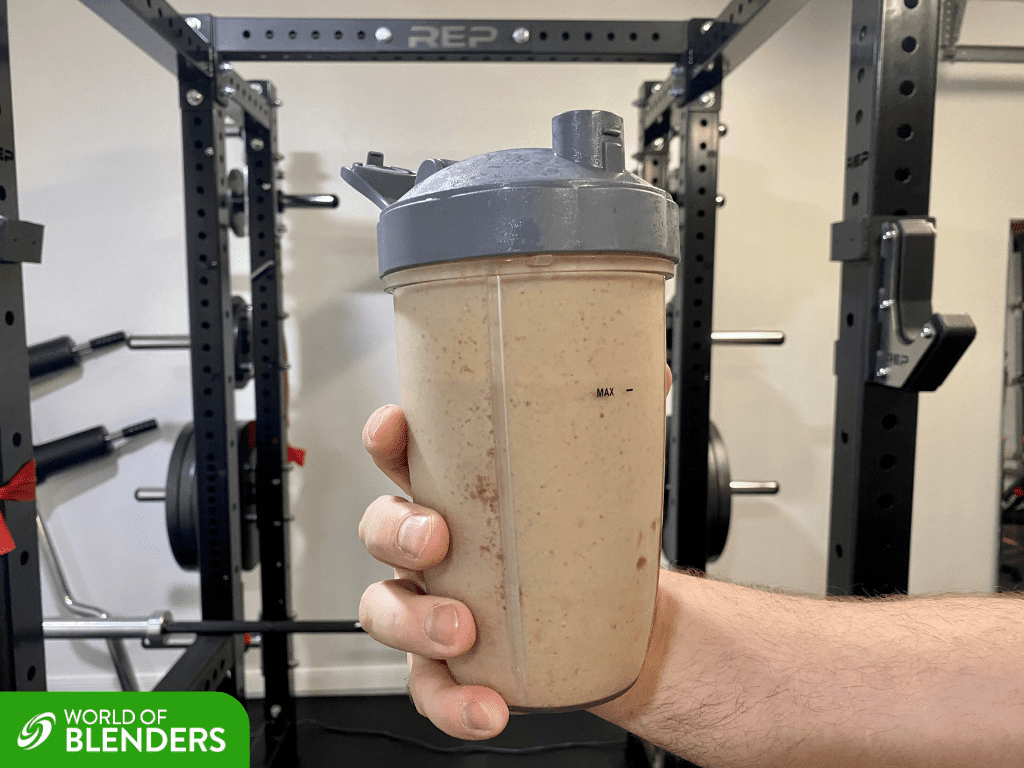 ---
3 Reasons Why Your Protein Shake is Too Thin
There are a bunch of possible reasons why your protein shake might be too thin or too "liquidy." They're all super easy to fix.
The most important thing to getting the best protein shake consistency is to get the perfect ratio of liquid and food/ingredients.
Too much liquid – Most people start out using too much liquid in their protein shakes. Try starting with less liquid than you think you need. You can always add more while blending if you need to.
Wrong liquid choice – If your protein shake is too thin then it is likely because you are using a thin liquid base like water. Try using a thicker liquid base like milk or yogurt.
Not enough other ingredients – If your blender container has room, you might just need to add more dry ingredients like bananas or spinach.
---
10 Ways To Make a Protein Shake Thicker
There are bunch of different ways to make a protein shake thicker. The easiest variables to adjust are the amount of liquid and the type of liquid. If you can get that nailed down, then you'll have thicker smoothies every time.
If you want to make thicker protein shakes, then you're going to need a blender that doesn't crap out on you. Be sure to check out our list of the best blenders for protein shakes!
1. Use milk as your liquid
Milk is thicker and creamier than water! If you're wanting to make thicker protein shakes then using milk is the best place to start. The higher fat content your milk is, the thicker it will be. You can make protein shakes with water or milk, but milk is better for thicker shakes!
If you don't mind the extra calories, whole milk is 100% the best choice.
Almond milk or oat milk is also a bit thicker than standard 2% milk which is why it's the best non dairy milk for protein shakes! If you're concerned about how many calories are in protein shakes, then go with skim or 2%.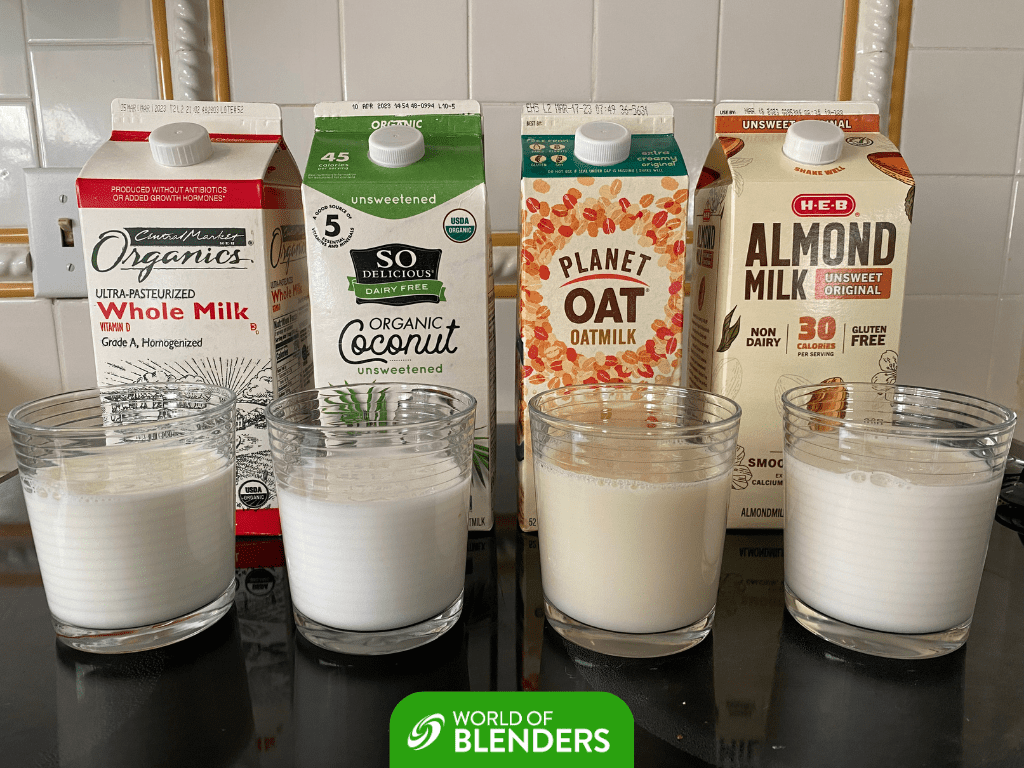 2. Use less liquid
The more liquid you add to your smoothie, the more watery it will be. So try using less liquid and add more dry ingredients to help make the protein shake thicker.
3. Add ice
Adding ice is a great way to make a thicker protein shake! The key is to reduce the liquid you put in and substitute ice in.
I recommend adding in a handful of ice cubes to your next protein shake! Only do this if you have a strong blender, ideally more than 1200 watts.
4. Add greek yogurt
Greek yogurt is one of the best ways to make protein shakes thicker! It's packed with protein and tastes delicious. A generous dollop of Greek yogurt (1/3 cup or so) will not only make your smoothie thick and creamy, it will also add protein and calcium.
Greek yogurt is low in calories so it's great for weight loss protein shakes!
Depending on how much thicker you want to make your protein shake, try adding up to a cup per serving.
If you're shakes have been too thin, try cutting your liquid back in half and replacing that with yogurt!
5. Use frozen fruit
Adding frozen fruit is a great way to make your protein shakes thicker and healthier! Fruit will increase the ratio of food to liquid.
Almost any frozen fruit will be great for a protein shake, but here are some of our favorites:
Bananas – Bananas are the #1 fruit for protein shakes. They're cheap, creamy, and taste great in protein shakes. They're loaded with potassium, which is great for post workout recovery.
Cauliflower– specifically, riced cauliflower! It's not a fruit, but it's personally my favorite frozen ingredient to add because no matter the direction you're taking your protein shake, it is tasteless and is far better at thickening your smoothie than ice because it won't melt into water.
Avocados – These are higher in fat and lower in sugar compared to bananas! They are just as good for making a protein shake thicker.
Blueberries – Blueberries are loaded with antioxidants and super healthy! The only downside is that they are more expensive and it takes a lot of them to actually make a shake thicker.
Strawberries – Strawberries are great for shakes, especially if you're using vanilla protein powder! They add a hint of sweetness, but not too much.
6. Nut butter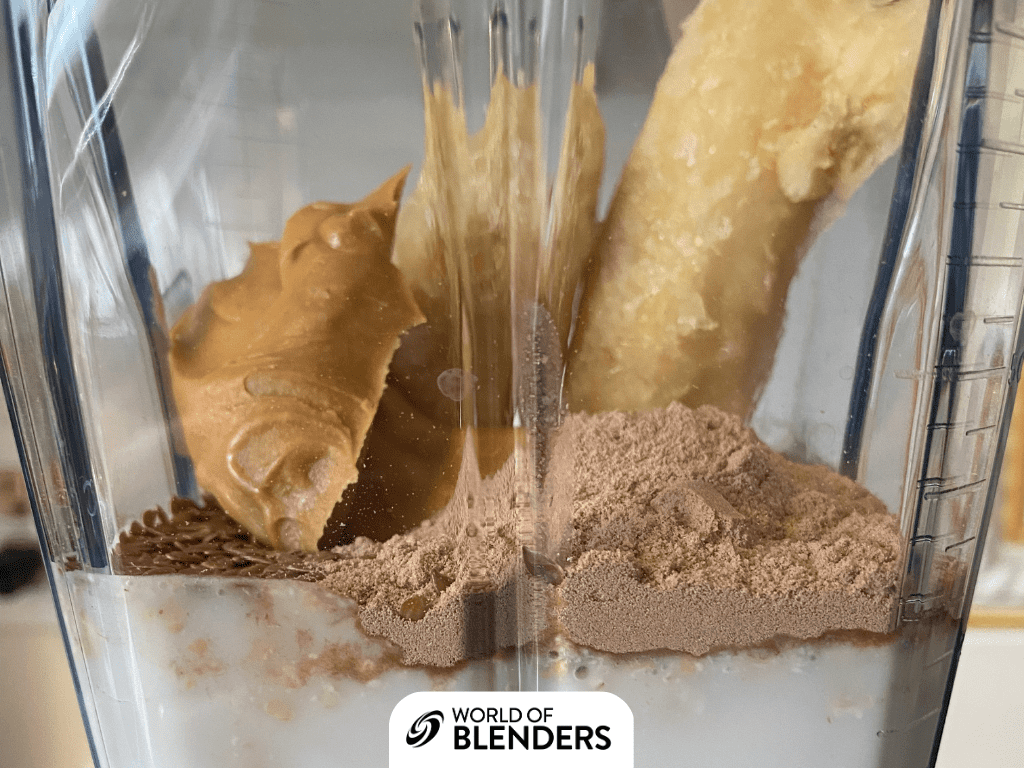 Nut butters are another fantastic source of protein, and they also contribute healthy fats and various vitamins and minerals to any protein shake recipe.
You can go with any kind of nut butter, but peanut and almond are our favorite! They go especially well with chocolate protein shakes.
Using peanut butter is one of our favorite ways to make protein shakes taste better! Add in 1-2 tablespoons and see how it tastes!
7. Chia seeds
Chia seeds are amazing for thickening protein shakes. These tiny seeds quickly transform into a natural thickening agent when soaked in liquid. Chia seeds in your shake will not only make it creamier, but it will also increase your healthy fat intake, add omega-3's, boost metabolism, fight inflammation, and promote healthy gut bacteria.
Chia seeds are like a little health ninja in your smoothie!
How to use chia seeds:
Soak one tablespoon of chia seeds in one tablespoon of water for 2 minutes.
Stir around until you have a gel-like consistency and add them into your blender. This is called a chia egg.
8. Oats
If you want to add some healthy carbs to your shakes, consider raiding the breakfast cabinet for some oatmeal. If you're trying to figure out what to mix with protein powder, give oats a try!
Whether rolled, steel-cut, milled, or ground, oats will help to make a protein shake thicker.
You just need to plan ahead a bit. There's no need to cook the oats, but for best results soak them in water or your milk of choice for at least an hour before they go into the blender. This will soften them down and make them creamier for your shakes!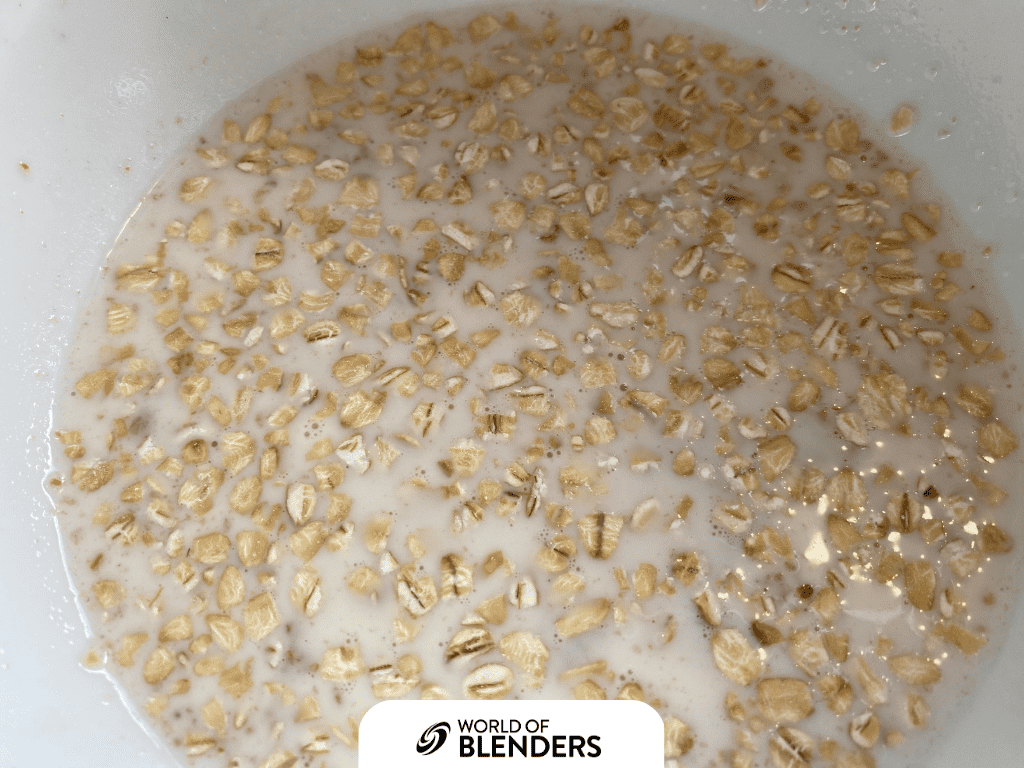 9. Cottage cheese
Like Greek yogurt, cottage cheese can be used to add calcium and protein to a shake. It also adds a milkshake-like texture, which make it a fantastic addition to sweet and fruity shakes.
Add up to a cup of cottage cheese to your blender, depending on how thick and creamy you want your shake to be. The only downside of a dairy like cottage cheese is that it will make it harder for your protein shakes to last in the fridge.
10. Sweet potatoes
Sweet potatoes are a great option for thickening your shake and making it taste sweeter. The best part is that they are super healthy for you.
To use sweet potatoes in your shakes:
Cook the potatoes whole by boiling them.
Take the skin off and then cube them.
Let them cool and add them into your protein shake!
---
Common Questions on Protein Shake Consistency
Does ice thicken a protein shake?
Ice is a great way to make a protein shake thicker! The key is to make sure to use less liquid to compensate.
What makes a protein shake creamy?
The key to making a protein shake creamy is the right balance of liquid to ingredients and to use the right liquid.
How can I thicken my protein shake without a banana?
The best way to thicken a protein shake without using banana is to use less liquid! You can also add ingredients like avocado, frozen strawberries, or greek yogurt.