This post may contain affiliate links. If you use these links to buy something we may earn a small commission. Thanks.
Vitamix is one of the best blender brands on the market. They're the undisputed champs in the blender game and for good reason. Their blenders are powerful, last forever, and come with an incredible warranty.
One of the reasons why Vitamix blenders are so expensive is how powerful they are compared to other blender brands.
My wife and I have spent the past couple of years testing and reviewing every single Vitamix blender. We've also tested NutriBullets and Ninja blenders.
No other blender brand comes close to the quality of Vitamix.
We've done the research and we'll show you exactly how many watts every Vitamix has.
Be sure to check out our list of the top Vitamix blenders if you're looking to buy one.
Our number one pick is the Vitamix E310, which also happens to have the best ratio of price to power!
---
How Many Watts Do Vitamix Blenders Have?
Vitamix has 12 blenders on the market right now. The older Legacy series models and the Explorian series blenders have a less powerful motor that runs at 2 horsepower or 1490 watts. The newer models in the legacy series and all of the Ascent series blenders have 2.2 horsepower or 1640 watts.
Vitamix also sells two commercial blenders: The Vitamix Quiet one has 3 HP and 2240 watts. The Vitamix 5201 is a massive blender that runs at 4.2 HP and a whopping 3130 watts. When it comes to Vitamix wattage, this one is the most powerful.
---
Vitamix Wattage & Horsepower Comparison Chart
Here's a quick breakdown of every single Vitamix you can purchase. There are a few models that are only available reconditioned that we didn't include. We included both the wattage as well as the horsepower for each Vitamix.
We thought it would be helpful to give a watts per dollar ratio. This shows you exactly how much power (in watts) you get for every dollar. We took the Vitamix wattage and divided it by the current list price on the Vitamix website.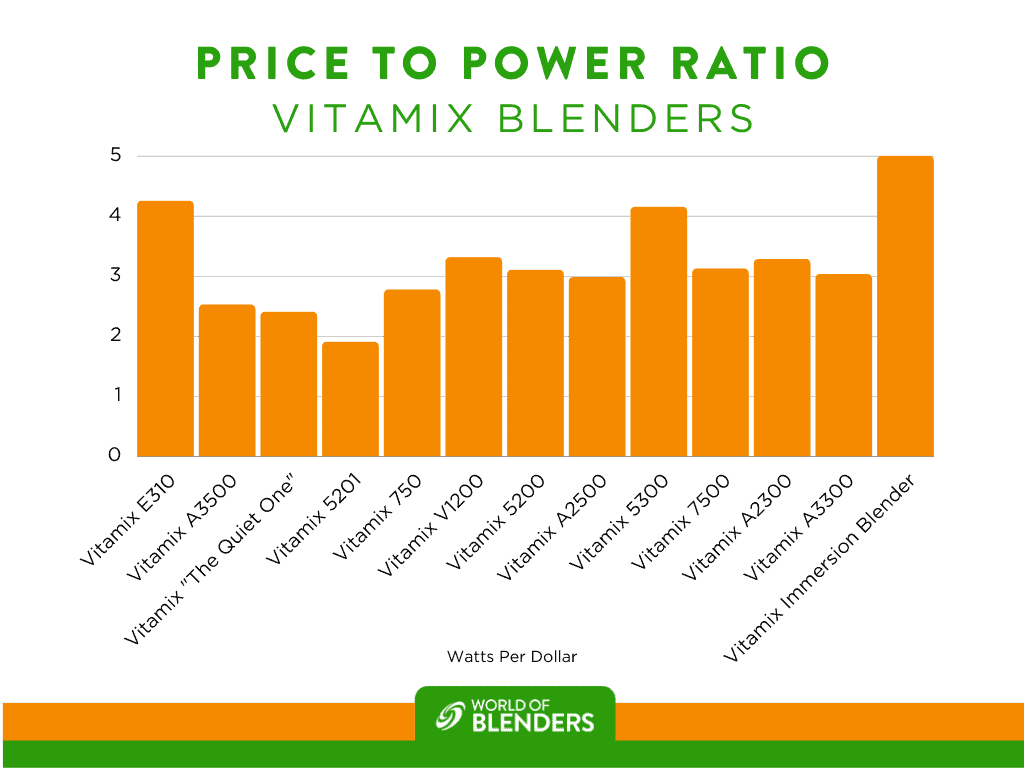 As you can see, the Vitamix E310 is the winner when it comes to standard Vitamixes. This blender is the best value when it comes to power output.
---
How Does Vitamix Compare to Other Blender Brands?
We've tested 50+ blenders and a bunch of different brands.
We published an entire post about blender wattage with all of our findings.
Here's a quick snapshot though:
| | |
| --- | --- |
| Wattage | Our Opinion |
| 0 – 500 watts | Not worth buying. Avoid. |
| 500 – 800 watts | Decent blenders for blending simple ingredients, but won't puree or blend super smoothly. Not good for frozen fruit smoothies. We don't recommend confidently. |
| 800 – 1000 watts | This is is the lowest wattage of blenders we can confidently recommend. This will work for anything except the hardest frozen fruit smoothies. Expect some chunks, but overall a solid option. |
| 1000 – 1500 watts | This is a great range for home blenders. These will be powerful enough for anything you need and super affordable. |
| 1500+ watts | Anything over 1500 watts will work incredibly well! They won't blend better than the previous set, but will work faster and be more durable. |
Almost every Vitamix is in the top range. All of the older models are at 1490 blenders which might as well qualify them for the bottom row.
Other brands like NutriBullet have a number of blenders, but they range between 600 and 1200 watts. Ninja has a couple of decent blenders that are in the 1000 wattage range.
The only other blender brand really worth considering is Blendtec. I recently did a Blendtec professional 800 review and it's a fantastic blender. But it's even more expensive than Vitamix…
One of the ways to make your Vitamix last longer is to run it at full speed! Some people think they'll conserve energy by running it on low, but it's much more efficient and good for the motor to run it at full speed.
---
Common Questions About Vitamix Wattage
Which Vitamix blender is the most powerful?
The Vitamix 5201 is the most powerful blender with 4.2HP or 3130 watts. 
How many watts is a Vitamix 5200?
The Vitamix 5200 comes with 1490 watts or 2 HP motor. 
How many watts is a Vitamix 750?
The Vitamix 750 comes with 1640 watts or 2.2 HP motor. 
---
Final Verdict: How Much Horsepower Do Vitamix Blenders Have?
Older Vitamix models come with 2 horsepower while almost all of the newer models have an upgraded motor that runs at 2.2 horsepower.
This 10% difference is just one reason Vitamix is the best brand to buy. They are constantly improving and raising the bar for quality in the blender industry. This is why Vitamixes are worth the money.
I promise if you buy yourself a Vitamix you won't be disappointed. They are far more powerful than Ninja or NutriBullet blenders.