This post may contain affiliate links. If you use these links to buy something we may earn a small commission. Thanks.
Vitamix is one of the leading kitchen appliance manufacturers operating in the market today. The brand has produced a ton of revolutionary blender products and is always looking to innovate in the space.
As a result, there's a huge range of Vitamix blender containers currently in circulation. If you're looking to purchase some new blending pots for your Vitamix, it can be tough to know which ones you should be investing in.
What are the different sizes of Vitamix containers? Are Vitamix containers interchangeable? What's the difference between the wet and dry Vitamix containers?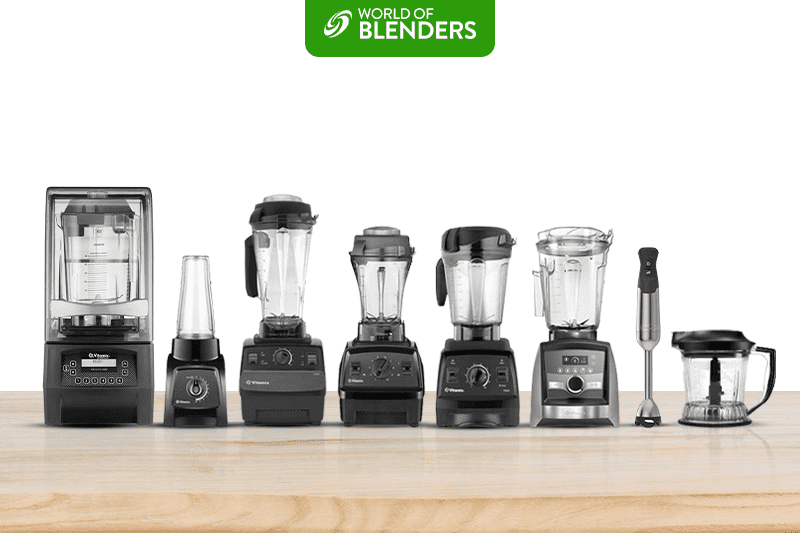 ---
Are Vitamix Containers Interchangeable?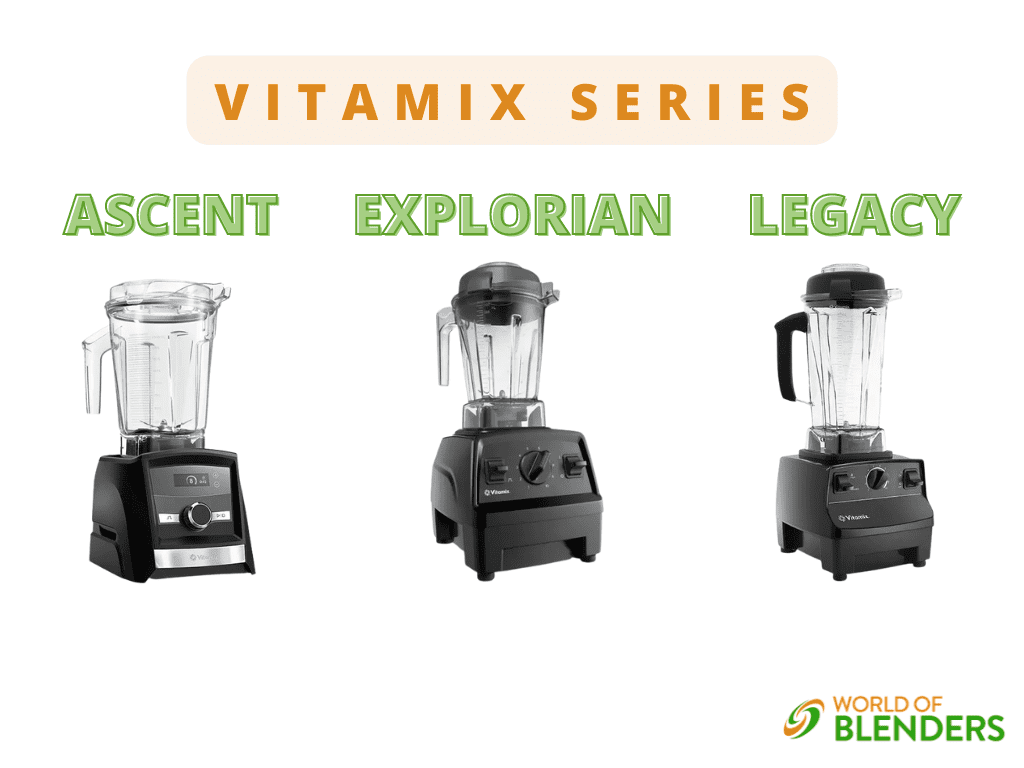 The short answer is "it depends."
Many of the newer Vitamix models are compatible with one another. If you buy one of the Ascent series blenders, the other Ascent containers would be compatible. We've created a full Ascent Series Review to compare the differences of the 4 blenders in the Ascent series.
The problem is if you're trying to get a container that's from a different Vitamix series than the one you have or are trying to replace.
Many of the "Legacy" Vitamix containers are not compatible with newer models.
It would be far too straightforward to have a universal container design that fits all the Vitamix models. Unfortunately, Vitamix containers are not interchangeable across the brand's blender range. This means that those with older Vitamix models probably won't be able to upgrade their containers to the latest designs.
It's not necessarily a failure on Vitamix's part either. As the brand introduces more and more new technology to their blenders, it makes sense that they will have to change the design of the device's key components.
With that said, there are some situations where you'll be able to use containers from another Vitamix model with your own. Back in the day, the containers were actually universal across the Vitamix range. We're talking 20-30 years ago here though, so the majority of people won't have a working blender from this period.
In addition, Vitamix products that fall under the same blender "type" can also share containers. The two types of Vitamix blenders are Smart System and Classic. If you really want to understand the compatibility of different Vitamix containers, then knowing the differences between these two types is essential.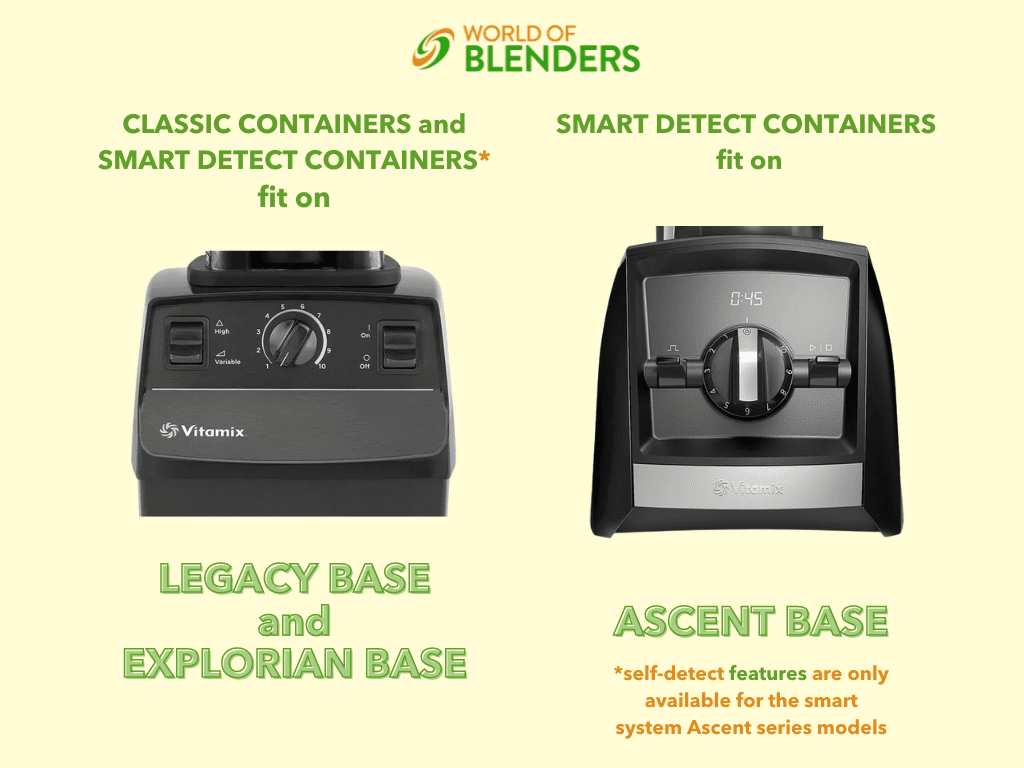 ---
"Types" Of Vitamix Blenders
Once you know the key differences between the Vitamix blender types, knowing which one you're looking at will become second nature.
1. Smart System
The Vitamix Smart System blenders are some of the brand's newest and most technologically advanced products. You can immediately spot a Smart System device by the clear plastic lid and digital display on the front.
Smart System blenders also usually have a name that starts with the letter A, which is for the Ascent Series (A2300, A2500, A3300, A3500) The Vitamix Venturist (V1200) is also considered part of the Smart System range.
2. Classic
The Vitamix Classic range is home to the manufacturer's most popular offerings. Devices such as the Explorian E310 have sold like hotcakes over the years. With a great design and fantastic feature set, it's not hard to see why.
The biggest telltale sign of a Vitamix Classic is a rubber lid on the container. It can get slightly confusing here because the older "legacy" Vitamix models are considered part of the Classic range too. But since we already know the containers from the older products are fully interchangeable, this isn't something to worry about.
Classic containers cannot be used with Smart System models. Smart System models require a container with "self detect technology" in order to start up, which the Classic ones don't have.
---
Vitamix Container Sizes
Vitamix containers come in a huge range of styles and sizes. Even within a particular size bracket, there are always a number of different designs available. Keeping things simple for now, here are the five basic size profiles that Vitamix currently manufactures:
In the majority of cases, there'll be a container in each of these sizes available for your particular blender.
Most Vitamixes come with a 64 oz container and the 48oz is the next most popular.
---
How To Replace A Vitamix Container
Switching out a Vitamix container for another is a super easy process. Simply lift the first one out of the electronic base, and set the new one in its place. Just be sure to switch the lid over too before you start blending!
We've put together a comprehensive list of 14 ways to make your Vitamix last longer! This will help you get the most bang for your buck from your blender.
---
Vitamix Containers Compatibility: Knowing Which Containers Are Right For the Different Vitamix Models
Below, we've put together information on the most popular Vitamix containers to create the ultimate compatibility guide. If you're thinking of picking one of these containers up for your Vitamix, then be sure to refer back to this section to check it's right for you.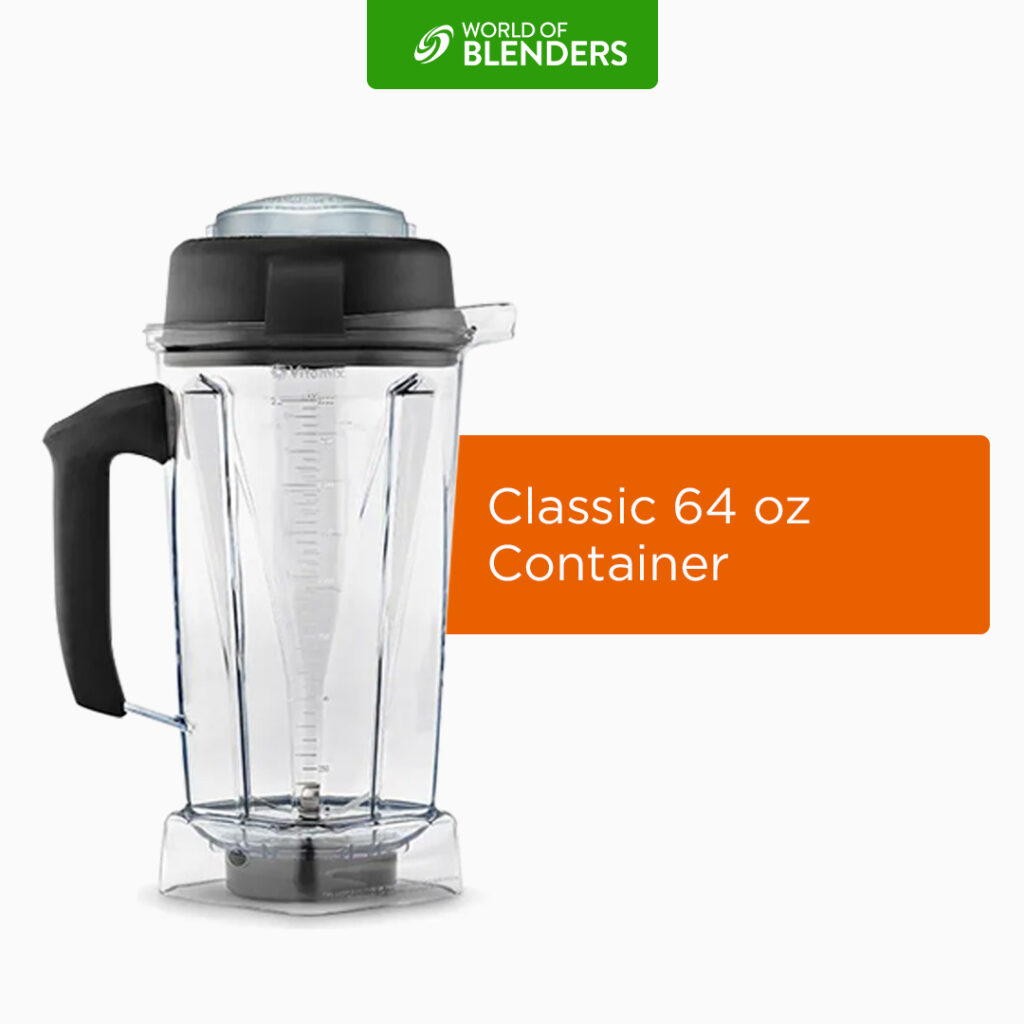 Vitamix's 64-oz container is the brand's original blender container. Looking at this container, it's impressive to see that Vitamix got it perfect right from the start. The 64-ouncer is built to an incredibly high standard, has excellent features, and looks the part too.
Compatibility: The classic 64-oz container is compatible with all of the Classic series blenders, as well as the Smart System devices.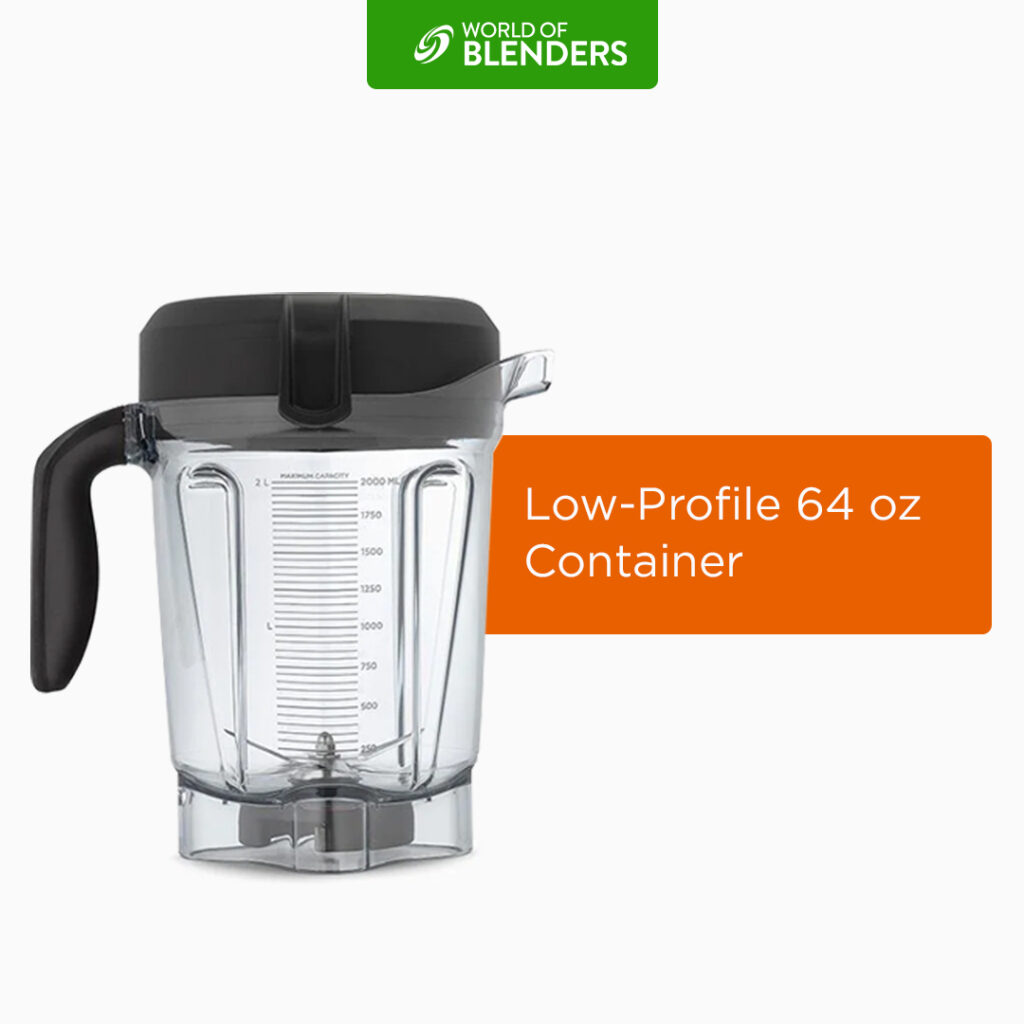 The 64-oz Low Profile features everything that was so great about the original, but pushes the dimensions down into a shorter, wider shape. The benefit is that your blender will now be able to slide under low cabinets with ease.
The wider base of the Low Profile can also improve blend quality into certain situations. It allows better flow of heavy liquids, such as soups, around the blender blades. This results in smoother, more uniform results.
Compatibility: The Low Profile variation is only compatible with certain members of the Classic lineup. Specifically, it will work with any blender from the Next-Generation (G-series) range. The E320 from the classic lineup is also powerful enough to drive the Low Profile's wider blades.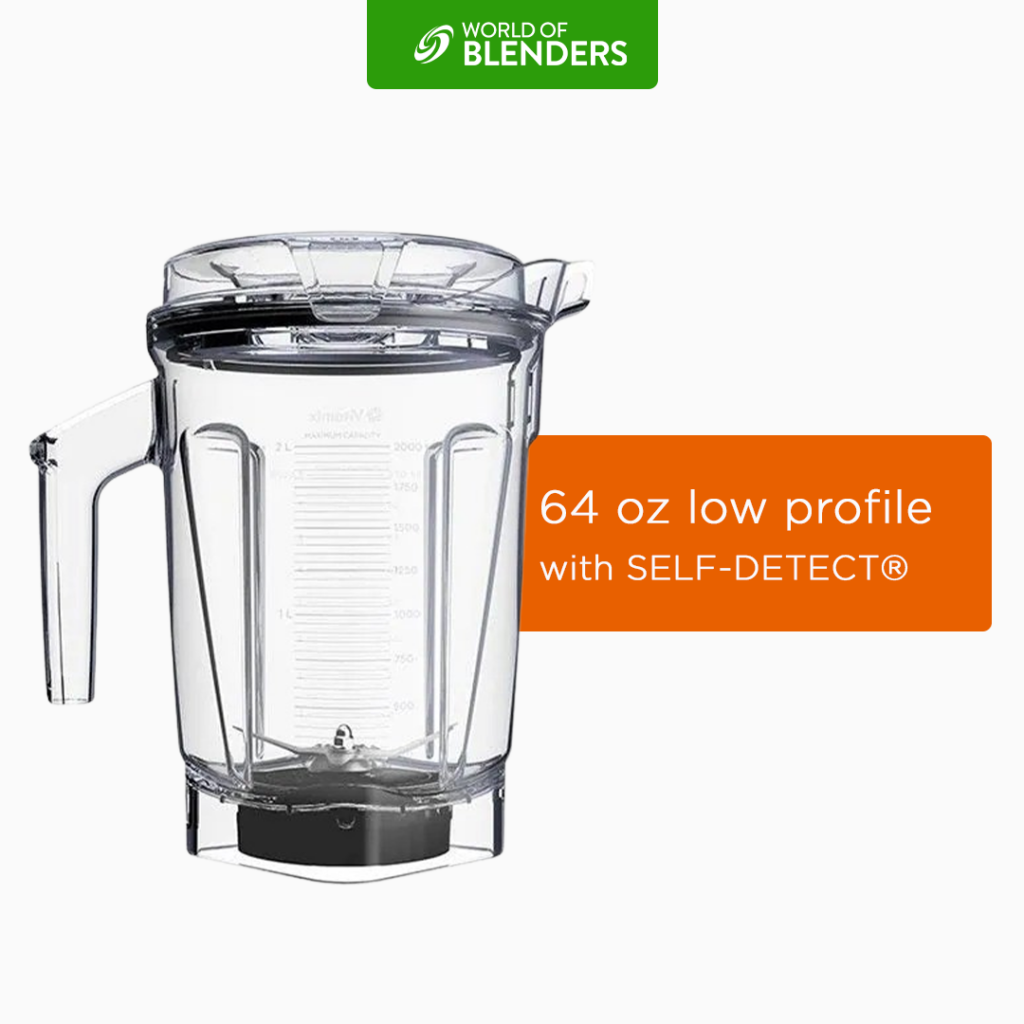 Compatibility: Whenever you see a container with the Self-Detect feature, you know that it is only going to be compatible with Vitamix's latest Smart Systems range. The Smart Systems range includes the A-series, as well as the Ascent and Venturist products.
Here we have another 64-oz Low Profile container, this time with the Self-Detect Technology built-in. This revolutionary feature automatically adjusts maximum blending times and speeds to match the size of the container. The result of this is more consistent blending that you can rely on every single time.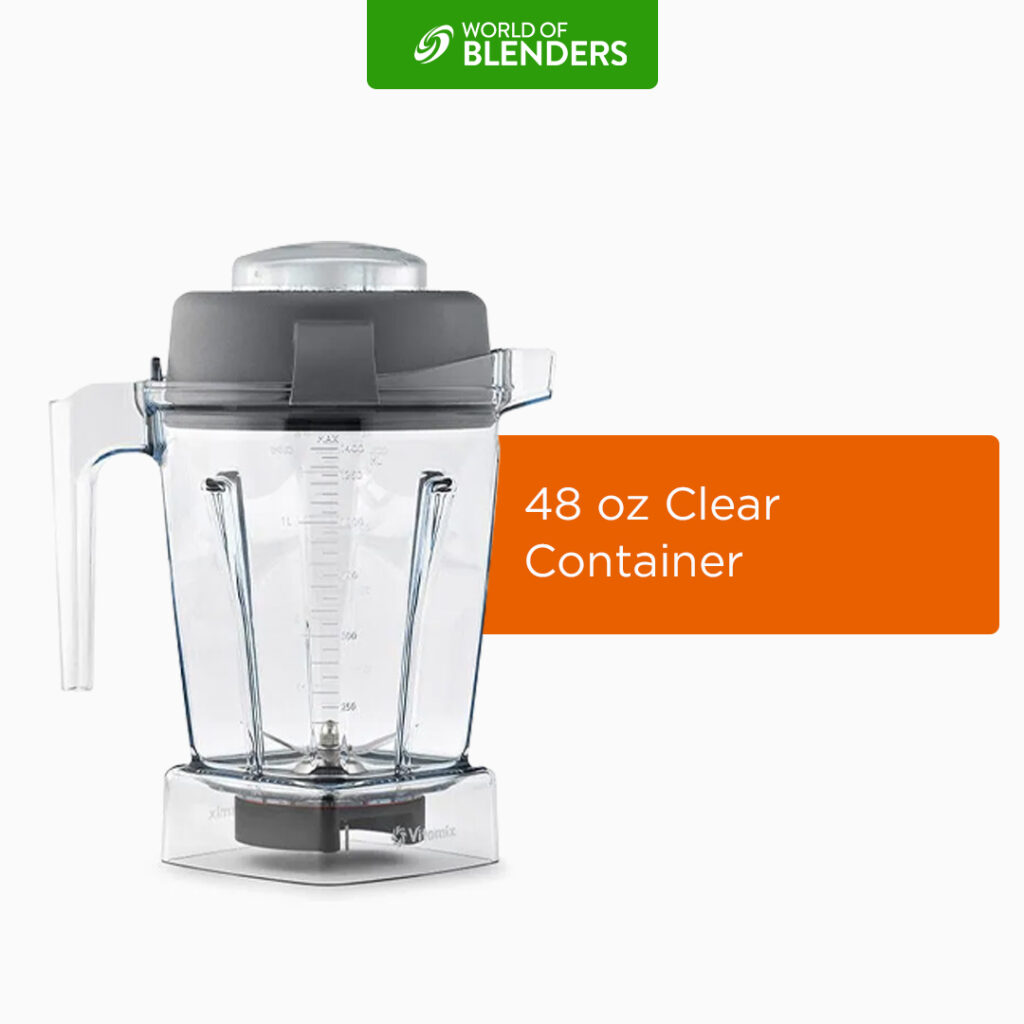 The 48-oz clear container is very similar to the original 64-oz pot, just on a smaller scale. It's got the same amazing build quality and impressive blade assembly from that model too. The pot is best for those looking to produce medium-sized batches in one go.
This container absolutely obliterates fruit and vegetables in the blink of an eye. It's also great for things like grinding meat, which can be more difficult in a larger container.
Compatibility: The 48-oz container has the same compatibility as its big brother. That is, it works with the Classic and Smart System Vitamix blenders.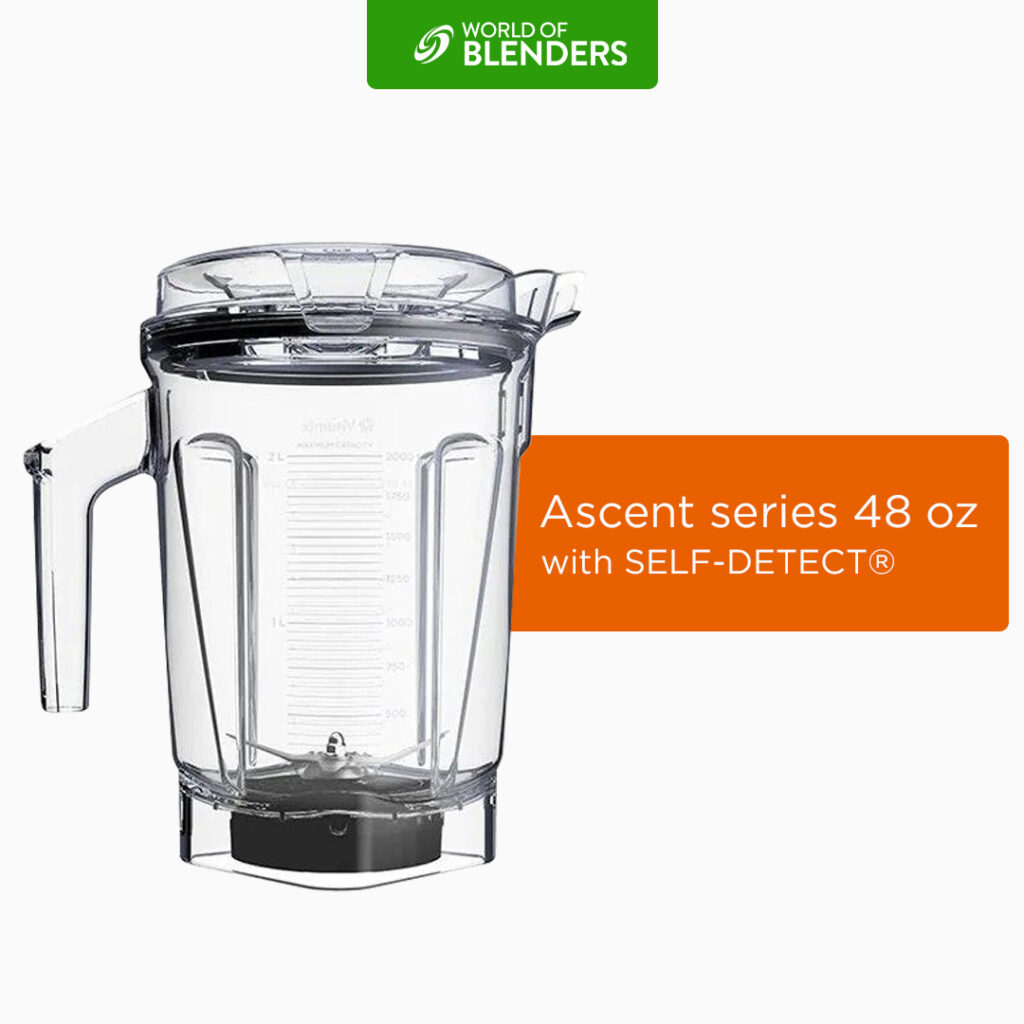 With the added Self-Detect feature, this container is the upgraded version of the standard 48-oz container. It features a hard plastic lid in place of the rubber lid plug, which some users will definitely prefer.
Compatibility: This container is specifically made for the Ascent Series and isn't compatible with any other Vitamix ranges. That includes other models that fall under the "Smart System" umbrella.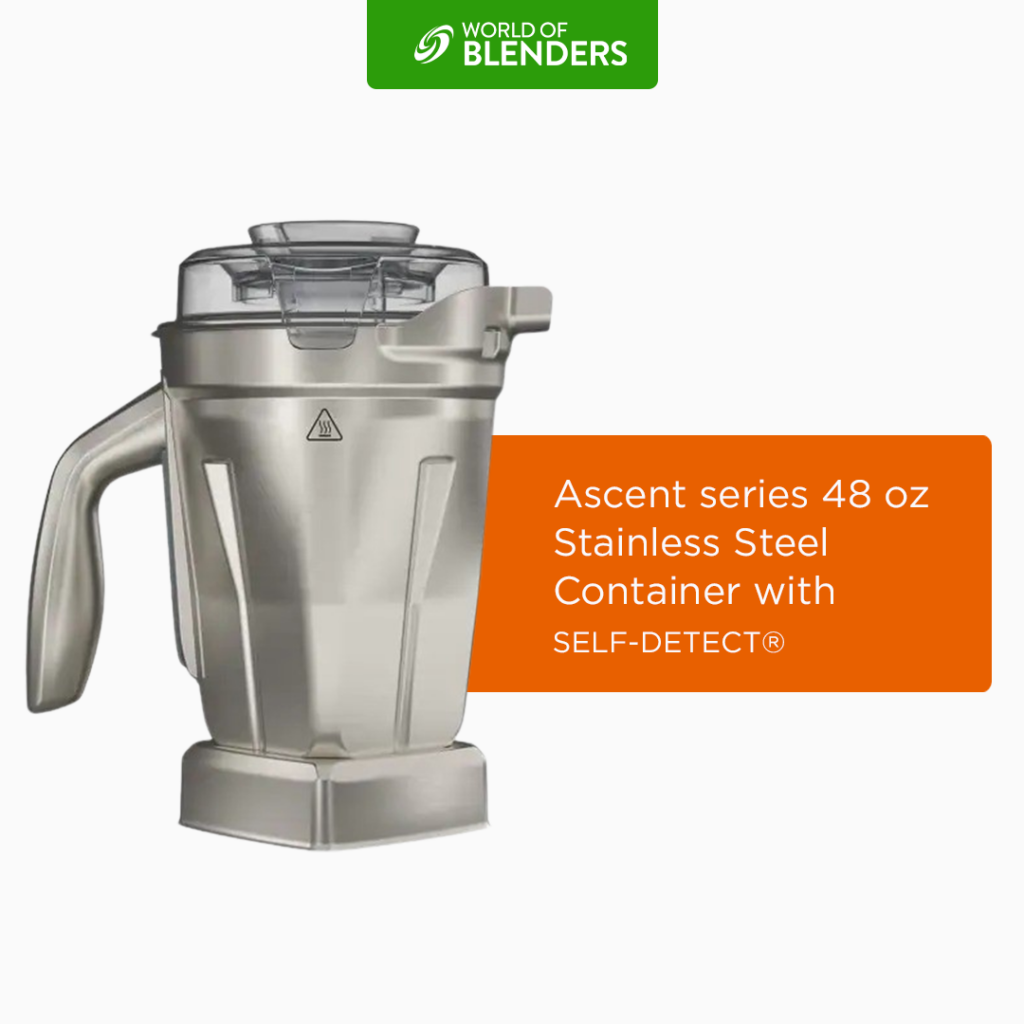 This most recent container to the Ascent series is the 48 oz stainless steel container with Self-Detect technology. You can blend icy cold beverages or cook up steaming hot soups with the same high-end technology as the regular container. The lid remains plastic in order to see inside the blender while blending. This stainless steel container is resistant to stains, scratches, and odors making it perfect for blending spices, grains, acidic or fatty foods, and other tough ingredients.
Compatibility: This stainless steel container is made just for the Ascent series and it is not compatible with other series.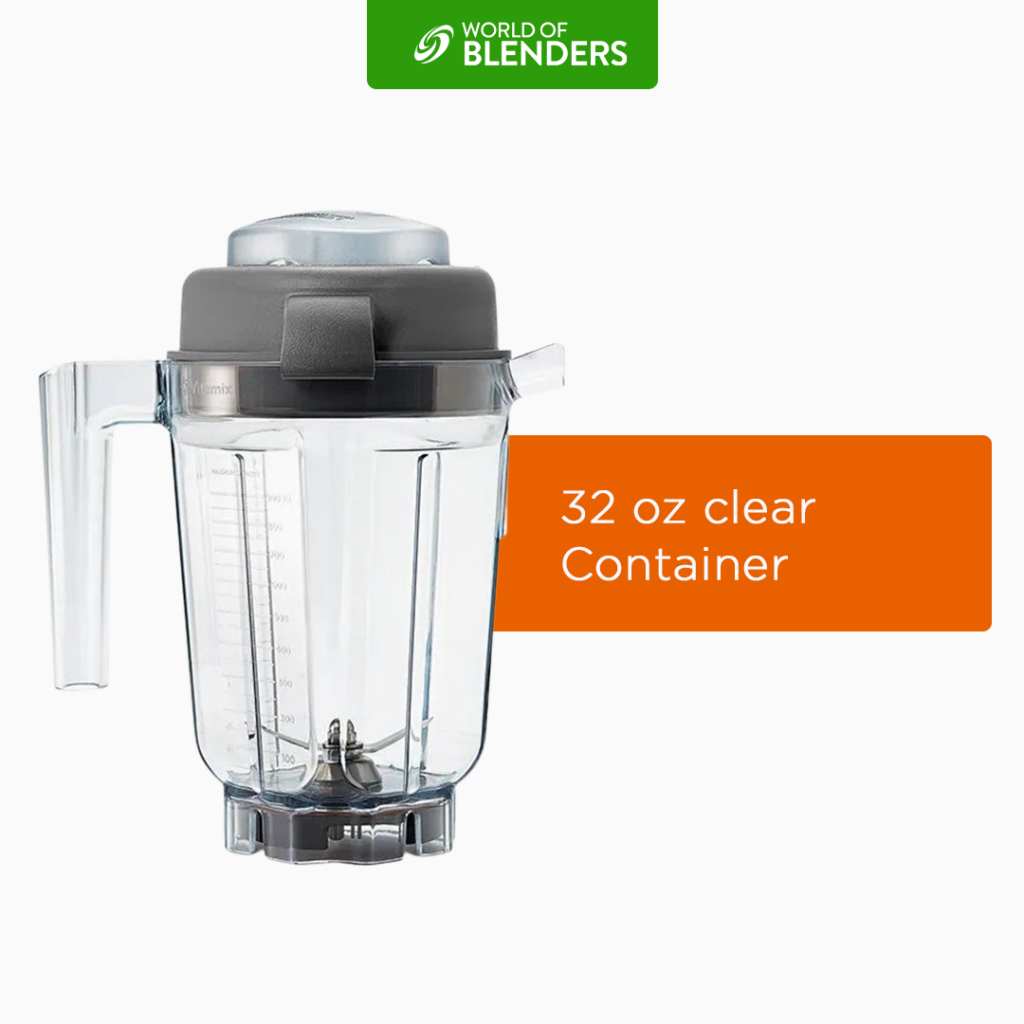 These days, Vitamix seems to have decided that a 32-ounce container is an ideal size for small-batch cooking. This pot has been made in the mold of the 48 and 64-oz Classic containers that we saw above.
Featuring Vitamix's famous hardened stainless steel blades, the 32-oz container is just as effective as all of the other blending vessels on this list. The brand's ultra-sturdy hard plastic is also on show here, but it feels even more solid on a slightly smaller container.
Compatibility: Designed to be paired with any blender from Vitamix's Classic lineup.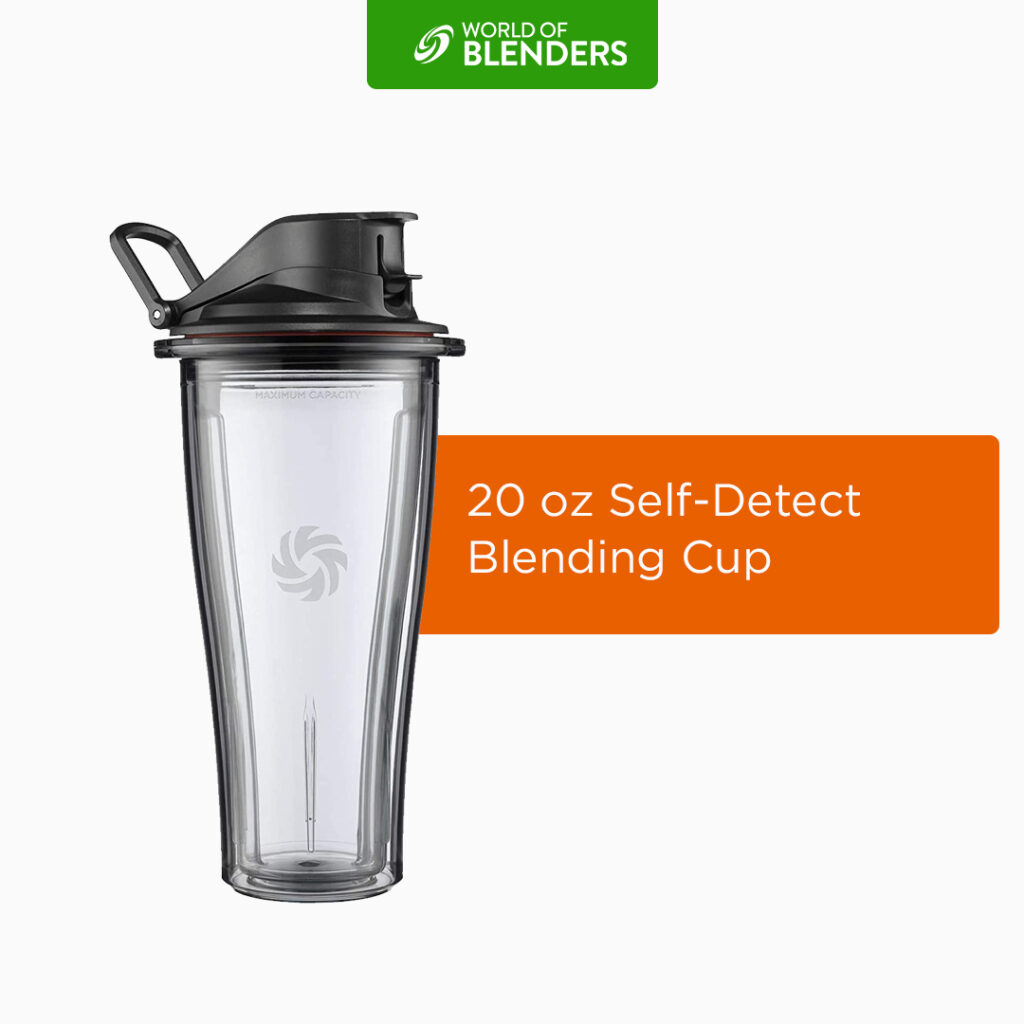 The Vitamix Self-Detect 20-Oz Cup is the same as the To-Go Cup above but is specifically designed for the Smart System range. The Smart System blenders are the only ones that use the Self-Detect technology.
To use this container, you'll need to pair it with a blade base from the Smart System Series (this is not the same as the Personal Cup Adapter). Once you've got all the correct components, you can use this blending vessel in the same way as the To-Go Cup.
Compatibility: This container is only compatible with Smart System blenders, and even then, you must have the blade base to attach it to before blending.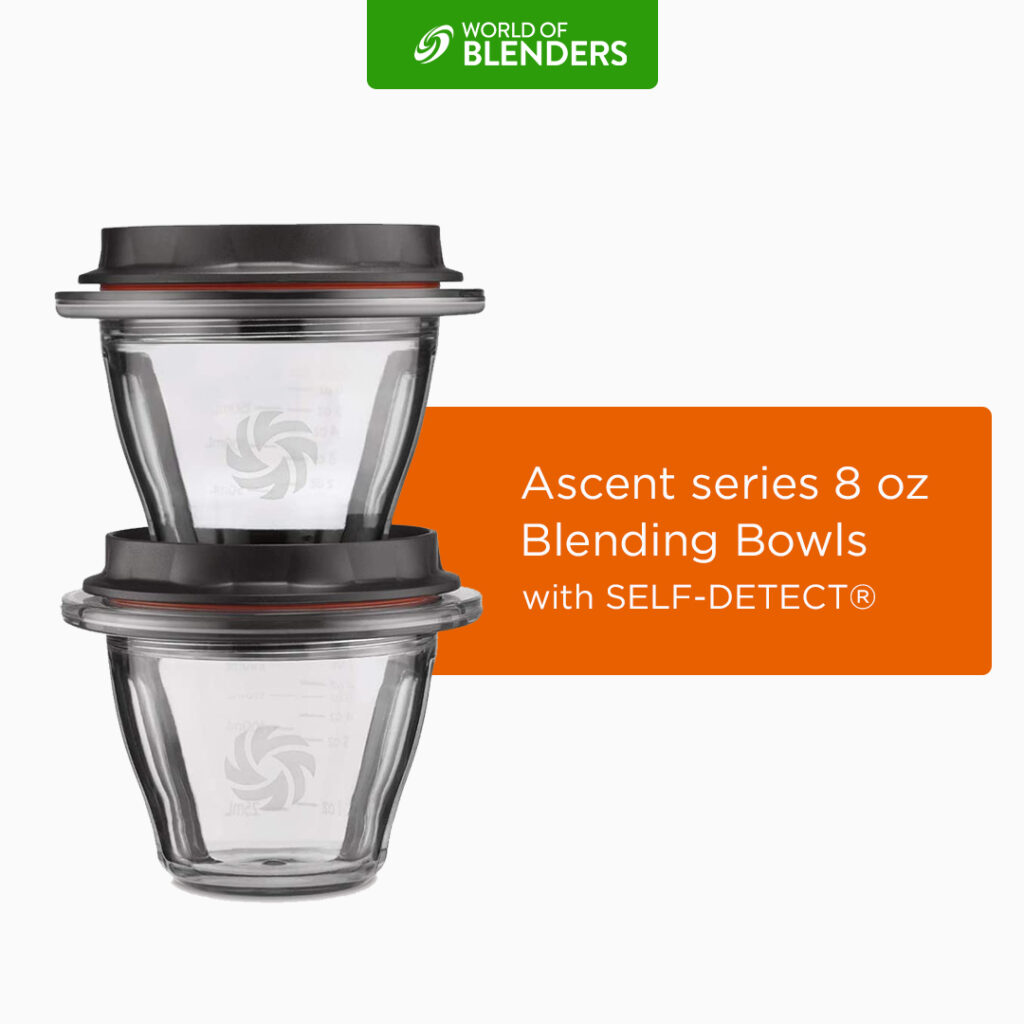 These containers may look cute, but they pack some serious blending power. If you need something to make sauces, dips, dressings, or even baby food, then the 8-oz container could be exactly what you're looking for.
Like the Blending Cup above, you'll need to attach the 8-oz pot to a separate blade base for it to work. The Self-Detect feature is great here since the blender will automatically adjust its output to match the small size of the container.
Compatibility: These 8-ouncers are compatible with Smart System blenders from the Ascent and Venturist ranges. Remember that you'll need to have a suitable blade base already to start blending ingredients.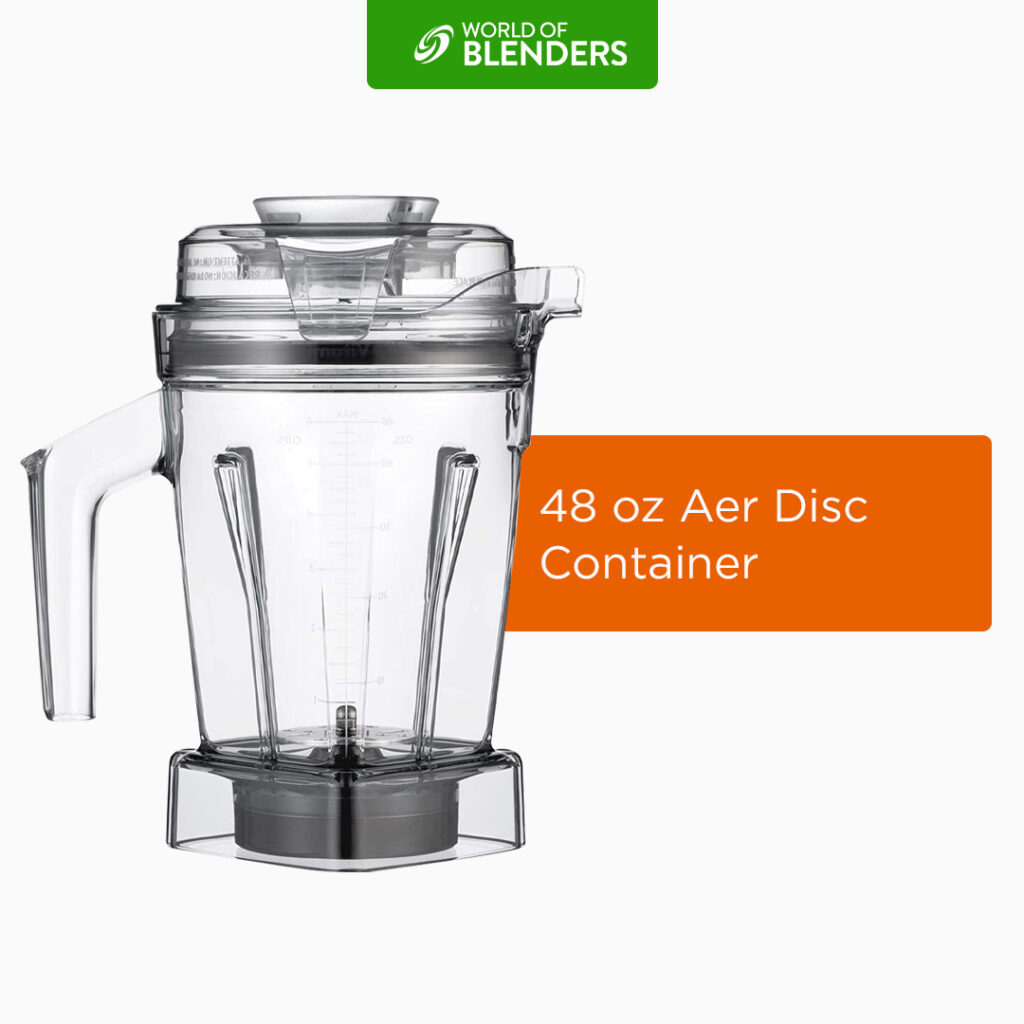 The last of the standard Vitamix containers is the Aer Disc Container. This 48-oz vessel is different from the rest since it is specifically set up as a whipping, muddling, and emulsifying device.
There are a number of uses for a container like this, from cocktail making to cream whipping. Not everyone needs an Aer Disc Container in their cupboard, but it can be a really useful tool if you often find yourself making drinks and desserts.
Compatibility: The Aer Disc Container is super compatible – it can be used with any Vitamix blender.
Does Every Vitamix Container Fit All Vitamix Models?
After reading the above, you'll see that it's a definite no. In the past, Vitamix containers were indeed fully interchangeable across different models. However, as Vitamix's technology has progressed in recent years, the containers cannot be switched around quite as easily.
It's easy to say that Vitamix has simply done this to force people to buy new containers. Although this may be true in part, the differing features across all the Vitamix products really do require different container connections and sizes.
With that said, Vitamix containers are usually interchangeable across blenders that are from the same series. For example, Ascent Series containers work across all products in that range.
At the end of the day, if you own a newer Vitamix model then it's essential that you check any new container's compatibility before purchasing it. There's nothing worse than getting a new smoothie container home only to realize it won't fit on your device.
---
Alternative Vitamix Container Materials
The majority of Vitamix blender containers are made from thick, kitchen-grade plastic. However, there are some special Vitamix containers constructed from other materials. These containers usually have specific uses and aren't as versatile as the plastic versions.
Stainless container
Vitamix's 48-oz stainless steel container is undoubtedly the brand's most unique blending vessel. One look at this container tells you all you need to know about its incredible build quality and design.
The main selling point of the stainless container is that it eliminates many of the restrictions associated with plastic containers. Namely, you can blend very hot and very cold food items without the risk of damaging the container.
Vitamix recommends that you never put foods or liquids that exceed 170 degrees Fahrenheit into one of their plastic containers. But with the steel container, you can safely add boiling liquids into the mix.
The stainless steel container certainly isn't for everyone – it comes with a hefty price tag and is more difficult to keep clean than the standard containers. But, if you know you're going to make use of the container's additional capabilities, then it's one of the best upgrades you can add to your Vitamix.
Does Vitamix make glass containers?
At this time, Vitamix doesn't manufacture any glass containers for their high-speed blenders. The brand has addressed this directly, stating that cannot currently make a glass container that has no chance of shattering during blending.
As technology continues to progress, there will no doubt be improvements made to glass manufacturing too. Perhaps in the future Vitamix will be able to make a glass container that they feel is safe enough for everyday use.
The benefits of glass containers would be similar to the stainless steel container above. However, it's likely that glass containers could be made at a cheaper price point than stainless ones.
Is Vitamix plastic non-toxic?
As a kitchen product, any Vitamix plastics must be totally non-toxic in order to be cleared for sale. Vitamix also avoids the use of BPA in its products, which is a harmful chemical commonly found in hard plastic bottles. Vitamix uses copolyester as a replacement in order to keep the plastic BPA-free.
---
Wet vs. Dry Vitamix Containers
All the Vitamix containers can be split up into two main categories – dry containers and wet containers. As you might have guessed, the wet containers are designed to blend liquids, while the dry containers are used for grinding grains and chopping dried food.
The fact that Vitamix has two different types of containers available might seem like a gimmick at first. However, the two designs are actually very different and can radically affect how well you can blend a particular food.
One type is not necessarily better than the other, but each of them will perform best in the settings that they were designed for.
We've put together a full guide on the dry vs wet Vitamix containers, but we'll give a quick summary right here.
Dry Vitamix containers
The most important difference between a wet and dry Vitamix container is the blade layout. The dry containers feature a balance of flat and triangular blades, which are specifically designed for grinding up dry foods and grains most efficiently.
Specifically, these blades actually force grains away from the base of the container and back into the main blending air space. As a result, you don't get any dry food trapped at the bottom that won't blend up properly.
The dry container is the best container for grinding coffee beans in a Vitamix.
Wet Vitamix containers
The blades on a wet Vitamix container are quite different. They have a much more uniform and rounded shape. The purpose of these blades is to pull the food that's being blended down into the blades – the spinning metal generates a powerful vacuum towards the base of the container.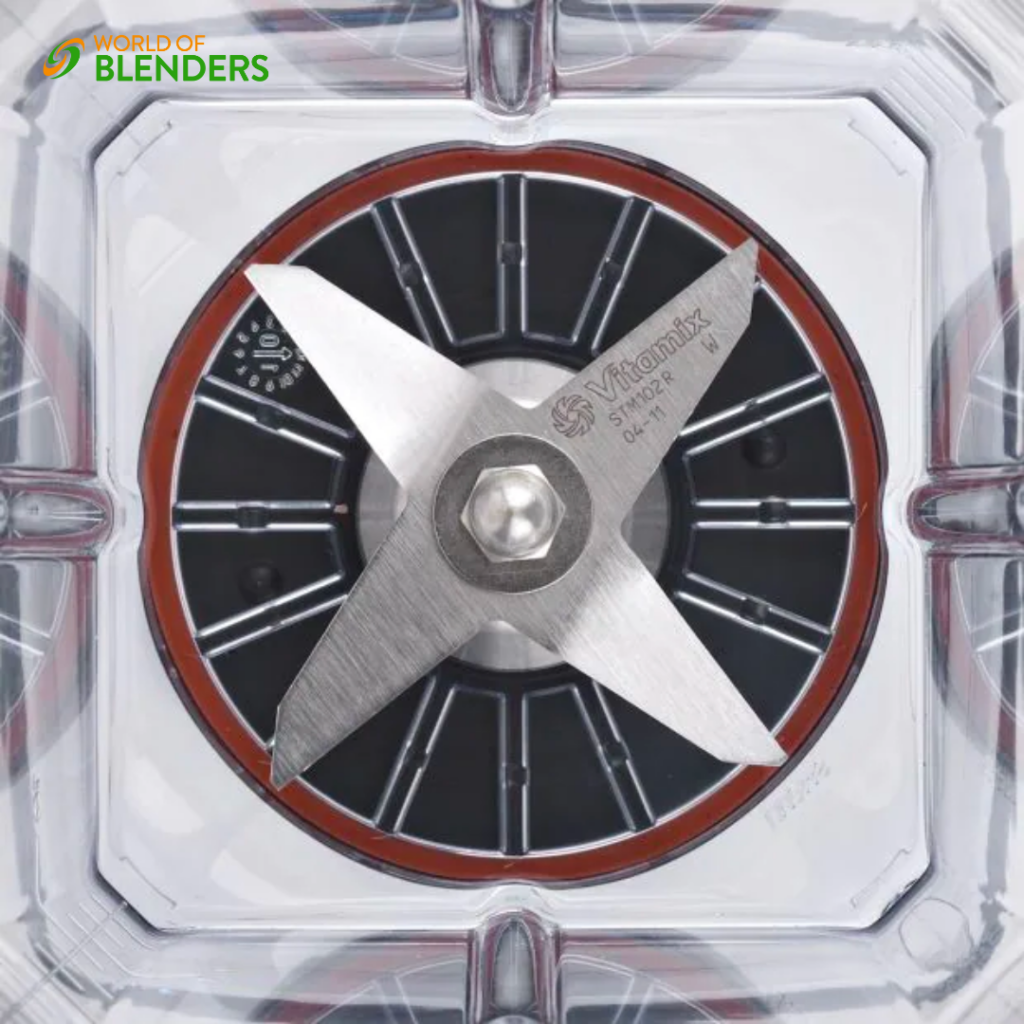 The wet containers work in pretty much the opposite way to the dry containers. This means that using a dry container to make soup probably isn't the best idea. Wet containers are slightly more versatile, but they still perform at their best when used for liquid blends.
Your Vitamix blender will most likely come with a wet container as standard. If you can, we'd definitely recommend picking up a dry container too. Having both of them in your arsenal will help you get the most out of your blender every single time you use it.
Keep reading: Best blenders for green smoothies
Can I use a wet container to grind dry grains?
Vitamix's dry containers use a unique combination of flat and triangular blades to offer the most efficient blending of grains. The problem with using a wet container for grinding dry grains is that you don't get those super-efficient blades to work with.
You can definitely still try to use a wet container for dry foods, but you might not have much success. Your best chance is to use a small wet container to stop the grains from bouncing around.
The reason the wet container isn't ideal for this task is that the blades create a vacuum that is designed to suck liquids down to the base for blending. The dry container is set up to push grains upwards, stopping them from settling at the base.
Of course, it's definitely worth giving the wet container a try before making an investment in the dry version. We're just warning you that you might be slightly disappointed with the results.
Read more: Can I use a Vitamix as a food processor?
---
Wet Vitamix Container Styles
Although there are a few different versions of the dry container available, people seem to have the most trouble working out which wet containers they really need. All the sizes sound very similar, and it's tough to spot how they actually differ.
In this section, we're going to investigate the different wet containers that are on offer. First, we'll break down the 48-oz, 40-oz, and 32-oz containers, before turning our attention to the larger, 64-oz container.
What's the difference between the 48-ounce, 40-ounce, and 32-ounce containers?
As you can probably guess, the difference between all of these containers is their size. In fact, that is the only real difference. As long as they come from the same blender series, a 48, 40, or 32-oz container will have exactly the same style and components.
So which should you choose? Well, it really all comes down to the amount of food that you're going to be blending at once. A 48-oz container will perform best with medium batches, while the 32-oz works best with small batches.
Although the actual quality of the container and the resulting blend doesn't differ between the sizes, you'll get better results if you can match your required batch size with the right container.
The 64-ounce wet containers compared
If you already know that you're going to be blending large amounts of food, or want to produce large batches in one go, then investing in the big one, the 64-ouncer, is probably the way to go.
The great thing about the 64-oz container is that it's still versatile enough to work with medium batches if you don't feel like filling it to the brim every single time.
There are three types of Vitamix 64-oz containers on the market: Wet Classic, Low Profile and Self Detect.
64-Ounce Wet Classic
As the name suggests, this 64-oz was designed to be primarily compatible with the Classic series blenders. It will work with the Smart System range too.
The container features a jug-style design that is absolutely ideal for smoothies and protein shakes. It features a measuring scale on the side and the Classic series' iconic rubber lid up top. The whole thing feels like it has been built to last a lifetime.
64-Ounce Low Profile
The Low Profile 64-oz container has all the same features as the standard Wet Classic, but has been compacted to slide under low counter tops. As a result, this version is shorter and wider than the Classic.
If you're someone who wants to blend in large batches but doesn't have much space in the kitchen, then this 64-oz container is the one for you. The Low Profile design is available across a number of the Vitamix blender ranges.
64-Ounce Low Profile with Self Detect Technology
This 64-oz container is the most advanced of the bunch. It keeps the same sleek design as the standard Low Profile, but adds innovative Self Detect Technology to take it to new heights. Unfortunately, this container is only compatible with Vitamix's Smart System blenders. If you do have one of these devices, then it's definitely a container you should be considering.
---
What are Vitamix Containers Made From?
One thing that many people want to know about when purchasing a kitchen product is the materials that it's made out of. This is a great question to ask since keeping toxic plastics and rubbers out of your cooking space is essential for a healthy and hygienic kitchen.
You'll be glad to know that Vitamix plastic containers are completely non-toxic and are constructed from commercial-standard kitchen materials. Vitamix also ensures the products are totally BPA-free by using copolyester in its place.
A secondary benefit of these high-quality materials is that every plastic container is super durable and long-lasting. Vitamix containers definitely aren't cheap, but the payoff is you always know they are extra safe and won't be cracking on you anytime soon.
---
Best Vitamix Containers For…
Smoothies
The best Vitamix container for your smoothies completely depends on the quantity that you're going to be making at once. If you're blending smoothies for multiple people, then the Low Profile 64-oz is undoubtedly the way to go. The wider base of this container generates a better smoothie flow around the blades making for a more evenly blended liquid.
If you're just going to be making smoothies for yourself, then we'd actually recommend avoiding the largest Vitamix containers. These containers don't work as well when you have less liquid in them. For personal smoothie making, the 32 or 48-oz container is probably the way to go.
Sauces & dips
If you're making a sauce or dip, you're likely producing it in a small batch. Therefore, using a smaller container is definitely recommended here. Even better is a small, narrow container since this will direct the sauce ingredients down towards the blades for efficient blending.
Read more: Best Blenders for Pureeing
Nut butter
The biggest problem you'll run into when trying to blend nut butters is the ingredients getting stuck underneath the blades. With larger containers, this issue is even more pronounced since there isn't enough volume of food to dislodge what's stuck.
For this reason, you should try to blend your nut butter in small batches and in small containers. We usually turn towards a 20-oz cup whenever we're making plant-based butters.
Frozen desserts
When you make a frozen dessert, you won't typically be making just one portion. You'll more likely be making it in bulk to store in the freezer for later use. Because of this, you can get away with one of Vitamix's larger containers.
We'd recommend a 48 or 64-oz container if you're planning on rustling up frozen desserts on a regular basis.
Read more: Best blender for frozen drinks
Grinding meat
You might not have considered this as a use for your Vitamix, but the blenders are actually extremely effective meat grinders. With meat grinding, the size of the container is less important than the technique that the operator uses.
Regardless of the container volume, meat chunks should be added to the blender slowly. This will improve blend quality and prevent the blades from getting clogged and damaged.
Grinding dry grains
If you're planning on using your Vitamix blender to grind up grains, then picking up one of the dedicated dry containers is an absolute must. As we explained above, the dry containers are specifically designed to get the most efficient and even grind possible.
When grinding dry grains, you'll get the best results when using a container that matches the batch size you're trying to produce. Having a small container for small batches is much more important here than with other food types – grains will fly around a larger container and won't get uniformly ground.
If you're just looking to invest in one dry blending container, we'd recommend going with a 32-oz container. This is bang in the middle of the range and will be your most versatile option.
Read more: How to grind coffee in a Vitamix container
Batters
For batters, we definitely recommend using one of the larger 64-oz containers. The reason for this is that batter has enough weight to not get stuck under the container's blades. Having a 64-oz container will give you the most freedom when you're deciding how much batter to produce.
Baby food
Are you asking yourself, 'which Vitamix container should I use for making baby food?'
We'd always recommend using wet containers whenever you're making baby food. The main thing to think about is the size of container that you want to use. For small to medium batches of baby food, we'd point you towards the 48-ounce container.
If you just want to make a single portion of food for your baby, then the 8-ounce containers are absolutely ideal. You need one of the latest "Smart System" devices to use this container, but it's the perfect size for a baby meal.
If you're making large batches of food ready for storing, then the larger 64-ounce container is the way to go. One of the best things about Vitamix blenders is that you can really pack them full with food without affecting the performance. With a Vitamix on your counter, you're never going to run out of nutritious baby food ever again!
---
Which Vitamix Containers are the Must-Haves?
When you first get your new blender, you'll probably be satisfied with the standard Vitamix containers that it comes with. But over time, you might find yourself wishing you had a different size or style of container at your disposal.
In truth, there are no hard and fast "essentials" when it comes to blending containers – it all depends on what you use your blender for and how you like to use it.
For example, if you often have to run multiple blends to produce a large enough batch, then it's probably time to invest in a large, 64-oz container. On the other hand, if you're struggling to grind grains with your wet container, then picking up a dedicated dry container is definitely the way to go.
If we had to lay out the must-have containers for your Vitamix, then we would recommend going with 2 or 3 wet containers of various sizes, and a 32-oz dry container for all your grinding and chopping needs. This selection would be more than adequate to help you deal with most cooking and kitchen situations.
---
How To Clean and Maintain Vitamix Containers
One of Vitamix's best and most innovative ideas was adding the self-clean cycle to their products. We can't tell you just how much time and effort this simple feature will save you every single day!
To use the cleaning function, the first thing you have to do is fill the container halfway with warm water and dish soap. Then, make sure the lid is securely fastened and press the "Clean" button on the front of the device. Within 60 seconds your blender will have completed the cycle, and a quick rinse will have the container looking spotless.
Some of the blenders are dishwasher friendly, but it depends on the model. Feel free to check out our guide to find out if yours is: Is my Vitamix dishwasher safe?
---
How to Replace Worn Out Vitamix Container Blades
If you've been using the same container for an extended period of time, then you might find that the blades aren't performing as efficiently as they used to. Like any sharp knife, the cutting edge of the blades slowly blunts with every use. Eventually, you'll need to sharpen the blades or think about replacing the container.
Instead of buying a whole new container, another thing you can do is replace the blade assembly. We wouldn't recommend that most people do this – simply replacing the container is a much more straightforward option. However, if you're up for it and keen to save a bit of cash, then it might be worth a try.
The first thing you need to do is purchase a new blade assembly. It's super important that you get a new blade that matches your container exactly. To do this, you need to know which container you have – is it dry or wet? What size is it? Which blender type do you have?
If you can't answer these questions, then be sure to check out the rest of our article above for more information.
Assuming you've acquired the right blade assembly for your container, let's move on to the actual replacement process:
Step 1: Get the container into position
First remove the container from the blender base and remove the rubber or plastic lid. Turn the container over onto a flat work surface, making sure that it won't be able to wobble around.
Step 2: Remove the retainer nut
There should be a large silver retainer nut on the base of the container. Insert the end of a flathead screwdriver into the lips of this nut and position it so that it rests against the drive spline at the center of the nut.
Using the drive spline for leverage, rotate the screwdriver counterclockwise to loosen the nut. Keep turning the screwdriver until you can remove the retainer nut.
Step 3: Remove the Vitamix blades
Once you've taken the retainer nut off, turn the container the right side up. Covering your hands with a thick cloth, reach into the container and lift out the blade assembly. It should pop out from the base fairly easily.
Step 4: Attach the new assembly
To install new Vitamix blades, complete the previous steps in reverse. When tightening up the retainer nut, make sure that you're holding the container securely to prevent any slipping.
How often should I replace my blender containers?
If you've replaced the blades, maybe you're thinking about a new container, too.
As we've already pointed out, Vitamix containers are built to last for a very long time, so it's unlikely you'll need to replace them soon. All good things come to an end, though, and eventually, you will want to get some fresh containers onto your blender.
Many people throw out their blender containers and buy new ones when they start to develop a "fog" on the plastic. Although this fog can be unsightly, it's typically not a reason to think about investing in brand new containers.
The fog is really just deposits of mineral nutrients on the inside of the container. By soaking the container in a mixture of warm water and white vinegar, you can get rid of the fog once and for all. After soaking, scrub the container down and it'll be looking as good as new.
You might also think about replacing your Vitamix container when a new, upgraded design comes on to the market. Vitamix is always experimenting and improving on their products and they may add new features to the containers that you really want. The newest product from Vitamix is the stainless steel container! We highly recommend!
---
Final Thoughts on Vitamix Containers
Clearly, Vitamix containers aren't as simple as you might expect. Not only are there various styles and sizes available on the market, but there are major compatibility questions to consider too. We've tried our best to break down the confusion and we hope that you're going away with a better understanding of it all.