This post may contain affiliate links. If you use these links to buy something we may earn a small commission. Thanks.
Vitamix is one of the best blender brands on the market. They're the undisputed champs in the blender game and for good reason. Their blenders are powerful, last forever, and come with an incredible warranty.
We've got an epic comparison of the Vitamix Explorian vs Ascent Series blenders for you.
The Explorian series has the Vitamix E310 which is the improved version of the older model, the Vitamix E320.
The Ascent series has four blenders to pick from: Vitamix A2300, A2500, A3300, and the A3500.
These are some of the best blenders on the market, but it's hard to know which one to pick. These blenders aren't cheap, but they are built to last.
In this Explorian vs Ascent showdown I'll share our experience with these blenders after reviewing all of them!
Our short answer:
The Vitamix E310 is the best value purchase. It has all of the Vitamix quality at a cheaper price point. If you just want a standard blender that will perform well, this is the one.
The Vitamix A2500 is a good middle ground pick. It's got the newest motor so it's more powerful than the E310, but not as fully loaded as the 3500. It's also got the 10 year warranty.
The Vitamix A3500 is fantastic, but the higher tech options come at a price. If you are serious about blending, the touch screen, bluetooth, and programmable settings set this one apart for blending pros.
Our Commitment
Our team has spent over 50 hours researching and comparing all of the most popular blenders. We've written over 60 articles helping people find the best blender for their specific needs. We've read through hundreds of customer testimonials and personally tested 50+ blenders from brands like Ninja, Vitamix, Oster, NutriBullet, and more.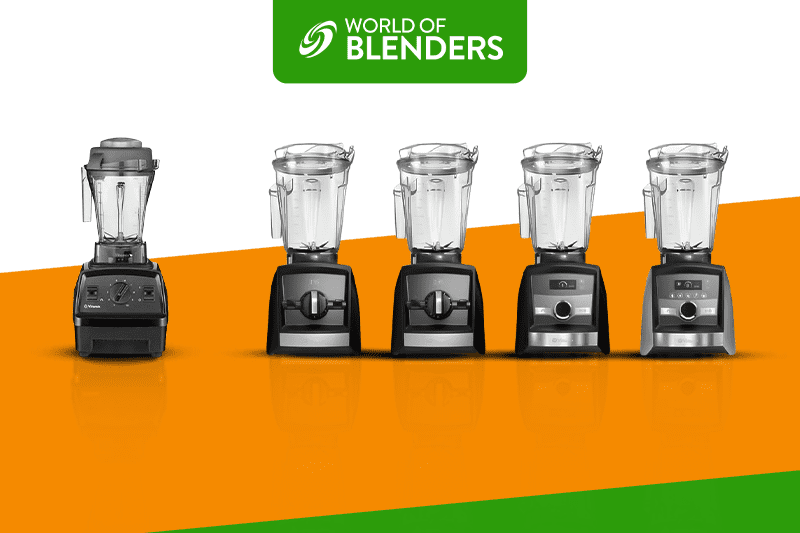 ---
What are the Differences Between the Vitamix Explorian and Ascent?
Vitamix has three lines of blenders: Ascent, Explorian, and their Legacy line. The Legacy line contains some of the classic Vitamix blenders that made them who they are today.
Over the last five years, Vitamix has expanded their product lines to include both budget and luxury offerings. The Explorian series is their budget line while the Ascent series is their luxury line.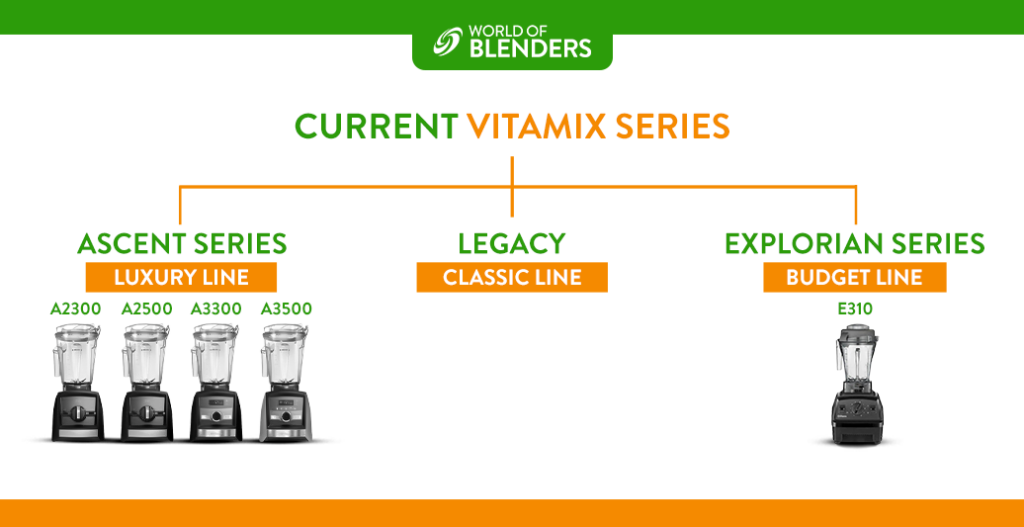 Comparison Chart: Vitamix Explorian vs Ascent
| | | |
| --- | --- | --- |
| Product Specs | Vitamix Explorian | Vitamix Ascent |
| Power | 2.0 HP | 2.2 HP |
| Capacity | 48 oz | 64 oz |
| Warranty | 5 years | 10 years |
| Dishwasher safe container | No | Yes |
| Price | $350 | $500-650 |
When it comes to the standard blender specs, the Vitamix Ascent series outperforms the Explorian blenders. All of the Ascent blenders are more powerful, bigger, are dishwasher safe, and they all come with a 10 year warranty.
The big advantage of the Explorian is the price. It's just significantly cheaper.
The Explorian series is just a bit older. It was launched in 2017 while the Ascent series became popular in more recent years. It was launched with a newer, more powerful motor. It also comes with way more tech functionality.
---
Explorian vs Ascent Blender Comparisons
The Ascent series has four different blenders that all vary in features and technology. If you're going to compare the Vitamix Explorian vs Ascent blenders, you really need to do a comparison for each product.
| | | | | | |
| --- | --- | --- | --- | --- | --- |
| Product Specs | Vitamix E310 | Vitamix A2300 | Vitamix A2500 | Vitamix A3300 | Vitamix A3500 |
| Speed dial | 1-10 turn dial | 1-10 turn dial | 1-10 turn dial | 1-10 dial (digital) | 1-10 dial (digital) |
| Timer | No timer | Digital timer | Digital timer | Touch programmable timer | Touch programmable timer |
| Programmable? | No | No | 3 programmable settings | No | 5 programmable settings |
| Start-stop | Switch | Switch | Switch | Touch button | Touch button |
| Pulse | Switch | Switch | Switch | Touch button | Touch button |
| Price | $350 | $500 | $550 | $550 | $650 |
Vitamix E310 vs A2300
When it comes to the Ascent and Explorian blenders, the E310 and the A2300 are the most similar. They have some of the same features (speed dial, pulse, start-stop), but the E310's are just a bit old school. Neither of these are programmable.
Differences? The A2300 comes with a digital timer and is also $150 more expensive. It's also more powerful, dishwasher friendly, and has a 10 year warranty compared to the 5 year.
Our pick: We personally think the Vitamix E310 is the better value here. The biggest difference is just appearance. The difference between a 2 and 2.2 HP motor isn't that big of a deal. The only thing that would make us change our mind is the warranty.
Vitamix E310 vs A2500
The E310 and the A2500 are quite a bit different. They have some of the same features (speed dial, pulse, start-stop), but the A2500's are much sleeker and newer looking.
Differences? The A2500 comes with 3 programmable settings and a digital timer. This Vitamix is dishwasher friendly, more powerful, and has a 10 year warranty compared to the 5 year. The downside of the A2500 is that it's $200 more than the E310.
Our pick: We personally think the Vitamix E310 is the better choice here. The added features aren't worth the extra cost. However, the 10 year warranty might make the A2500 worth it.
Vitamix E310 vs A3300
The Vitamix A3300 has some major advantages over the E310, but those advantages will run you an extra $200. It has a more powerful blender and a 10 year warranty instead of the 5 year with the E310.
The A3300 is not programmable, but it comes with touch features (pulse, timer, start-stop). It's a much sleeker and professional looking blender.
Our pick: We still think the E310 is the better buy for most people because of the price. When it comes to blending quality, it's nearly as good. However, the touch features on the A3300 are slick and it looks way nicer.
Vitamix E310 vs A3500
The Vitamix A3500 is the nicest Vitamix your money can buy. It's fully loaded with touch features, 5 programmable settings, and the 2.2 HP motor. It outshines the E310 in every single way possible: power, capacity, appearance, warranty, technology, etc.
Our pick: The A3500 is the cadillac of Vitamix blenders, but that doesn't mean you can afford it. The Vitamix E310 may not be the best, but it's the best value. Buy whichever one makes the most sense for you.
Vitamix blenders have different containers; however, some of them are compatible with different blenders. Be sure to check out our post about Vitamix containers and their compatibilities!
---
Vitamix Explorian (E310) Mini Review
The Vitamix E310 Explorian blender is a beast of a machine. The aircraft-grade stainless steel blades have an impressive 3-inch cutting diameter and will decimate the toughest ingredients. The Vitamix E310 is one of the flagship blenders and it's been one of their top-performing blenders for a long-time. The product replaced the older Explorian model, the Vitamix E320.
Be sure to check out our full Vitamix E310 review if you want our deep dive.
The E310's variable speed control and pulse function take care of everything from frozen desserts and smoothies to salsa and purees. Anything you put in it comes out with perfect consistency and texture every time! The pulse feature makes a great blender for cooking where you want your sauce, soup, or curry to have some chunks in it. The E310 Vitamix can even grind coffee beans for you!
This blender is built to last – Vitamix is known for making some of the highest quality blenders on the market. You won't need to replace this model in a hurry! With a 5 year warranty backed by Vitamix, this is a no brainer for one of our top picks.
| | |
| --- | --- |
| | Vitamix E310 |
| Power | 1400 watts |
| Price | $ |
| Capacity | 48oz |
| Noise | 64 dBs |
| Blades | Stainless steel |
| Warranty | 5 years |
Pros:
10-speed settings – Choose from multiple speed settings to make the perfect blends for curry, hot soups, and everything in between. Minimum speed of 1,400 RPM and a max speed of 22,600 RPM – that's fast!
Size – The 48-ounce container is perfect for blending medium sized batches of food.
Cleaning – Though not dishwasher safe, it is not difficult to clean the E310. Simply add some dish soap and use the pulse feature, and the E310 is ready to store or use again.
Price – As far as Vitamix goes, this is the most affordable model.
Made in the USA – Vitamix was founded over 100 years ago and has been based in Ohio since 1948.
Great For Hot Blending – Easily blends multiple servings of hot ingredients with no issue at all.
Premium Ice Quality – This blender is exceptional at making premium bar quality crushed ice in under a minute.
Cons:
Not dishwasher safe – The E310 is not dishwasher safe and needs to be cleaned using the dish soap and blend cleaning method.
No Preset Modes – There aren't any preset options, so a bit of trial and error is required.
Bulky Design – It's a big blender and needs to be stored on the counter because it's too big for most cupboards.
Things We Learned After Testing the Vitamix E310
You must ramp the speed up – This blender comes with a knob that you turn from 1 up to 10 for speed. The key is to slowly turn the speed up while you're blending. If you start out at level 10, it won't work well and might splatter all over your kitchen or the blades will get stuck. People talk online about how the blender doesn't work. That's a lie. Those people just don't know how to work a blender.
Loud as hell – Not gonna lie, the Vitamix E310 is loud compared to other blenders like NutriBullet, but that's because it's so much stronger. Relative to other Vitamixes, it's below average in decibel levels.
It moves – This blender is high speed and doesn't have some of the modern tech of the newer blenders. This means that it sometimes will inch across your counter if you aren't holding it in place.
Container gets cloudy – One downside is that the plastic container gets cloudy over time. Even if you're quick to wash and dry the container, it can get a bit hard to read the measurements.
---
Vitamix A2300 Mini Review
The Vitamix A2300 is a fantastic blender if you work in a large commercial kitchen or are just looking to blend large quantities. The included blender container offers 64 ounces of blending capabilities, suited to large batches of soup and similar dishes.
In terms of blender features, this professional-grade system offers a host of features that chefs are sure to appreciate. The vast array of speed settings may be confusing to beginners, but it's an excellent addition to any blender design for those who need it.
On top of this, you can also find a pulse feature that is simple to use and provides the perfect setting for chunky sauces such as salsa.
You can also find Vitamix's new wireless technology built into the base of this blender. This can be useful if you don't plan on going back to the kitchen any time soon, but for most people, it's just a nice little bonus.
Perhaps the main letdown of this high-volume blender is its cost. When comparing this blender to similar options on the market, the asking price can seem fairly high. This is kinda the trend for Vitamix, but for valid reason. Here's why Vitamix is so expensive.
Overall, this durable machine is an excellent option if you plan on blending large quantities of food at once. The price may seem high, but with its vast array of features and professional design, this blender is worth the asking price.
| | |
| --- | --- |
| | Vitamix A2300 |
| Power | 2.2 HP |
| Price | $$ |
| Capacity | 64 oz |
| Blades | Stainless steel |
Check out our Vitamix A2300 review!
Pros:
High capacity container – The low-profile 64-ounce container is suited for large quantities of food.
Multiple speed settings – Perfect for any recipe that may require a different speed than the default option.
Durable design – This blender has been designed to last as both its base and the stainless steel blades are incredibly durable.
Cons:
Can be expensive – The asking price can be fairly high, especially when compared to similar blenders on the market.
No pre-programmed functions – Beginners may struggle to initially get to grips with this blender.
---
Vitamix A2500 Mini Review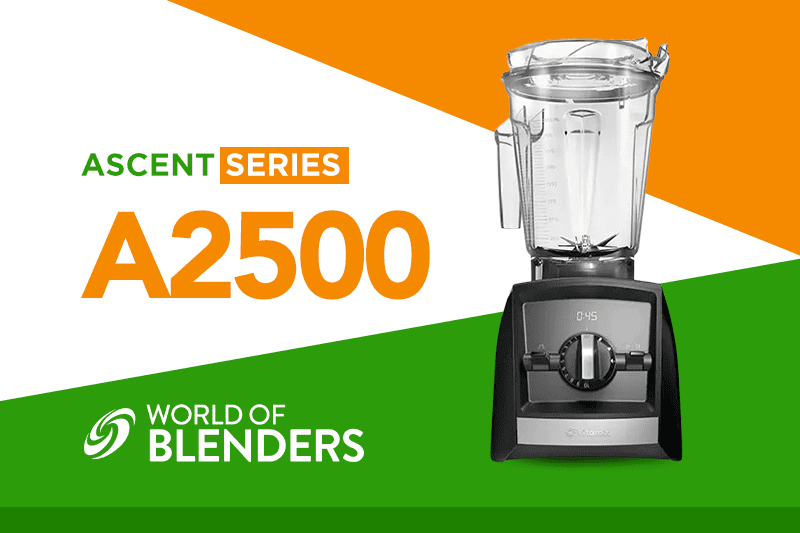 The Vitamix A2500 is one of the most effective Vitamix blenders on the market today. It's not cheap by any means, but it's still a more affordable option than some of their other blenders.
Professional tier blenders generally aim to offer slightly more raw performance and power than their cheaper models, and this is true with the Vitamix A2500. The stainless steel Vitamix blades are some of the best-crafted blades on the market – capable of cutting through anything.
We tested this fantastic blender with a range of hard ingredients such as beets and frozen fruit, and it blended them all with ease.
The included digital timer function is a handy feature, especially if you plan on leaving this blender to run while you focus on something else. This also works alongside wireless detection technology to offer a surprisingly accessible system.
In terms of cost, as you might expect from a professional-tier option, this can get fairly pricey. Thankfully, you can generally find a certified reconditioned Vitamix A2500 from most online stores so you can save yourself some cash.
At the end of the day, if you are looking for a powerful blender and you don't mind spending a little more than usual, then look no further. Few blenders on the market are as impressive as this feature-packed model!
| | |
| --- | --- |
| | Vitamix A2500 |
| Power | 1440 watts |
| Price | $$ |
| Capacity | 64 oz |
| Blades | Stainless steel |
Check out our Vitamix A2500 review!
Pros:
Powerful cutting capabilities – You can expect the blades found on this model to slice through almost anything in the kitchen.
In-built wireless technology – This blender can be linked with the Vitamix app and can automatically detect the ideal setting for your recipe.
Reliable blending performance – Every ingredient will be blended to perfection each time, so you don't need to worry about unwanted lumps.
Cons:
It may be too pricey – It's designed with professional use in mind, this blender can get fairly expensive.
Difficult to clean – Due to the size of this machine, it can be quite hard to clean thoroughly without disassembly.
---
Vitamix A3300 Mini Review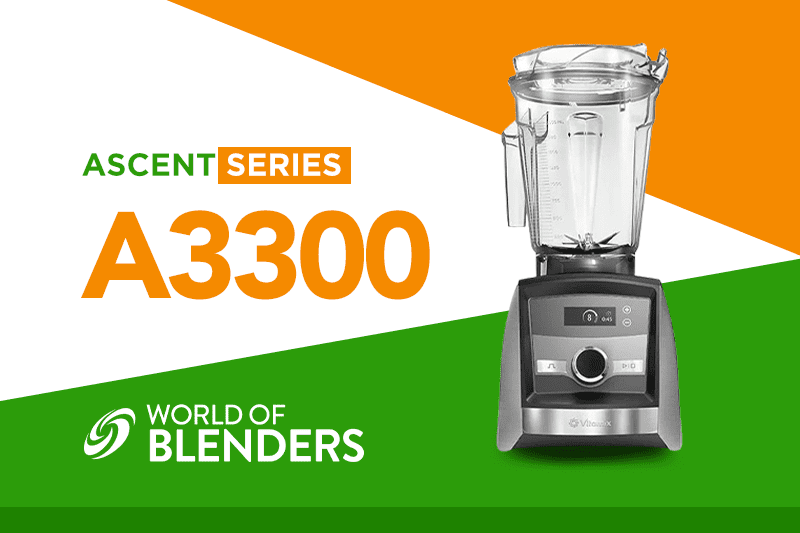 The Vitamix A3300 is a sturdy full-size blender. It uses cutting-edge ascent technology that adjusts performance when blending based on certain factors like jar size etc.
This revolutionary blender from Vitamix is revolutionary, high-tech, and deserving of a place on the list of best blender for frozen drinks. Retailing at around $600, it is definitely much more expensive than its competitors, however the features that this blender boasts are unparalleled. It is by far the most high tech with built in bluetooth and an app.
On the Vitamix app, you can select various presets such as 'Baby Food,' 'Nut Butters,' or 'Frozen Desserts.' It has an impressive multiple-setting speed dial, a timer, and a start/stop button. It also has various other presets that are only found on the app.
The attractive and modern design is easy to wipe clean, with no unnecessary buttons or dials, but touchscreen controls. With a range of speed options, you can alter this to cater to your personal preferences. The programmable timer also aids this, as timings for custom recipes can be saved so you can make your frozen drinks the same way every day!
Pair with self-detect containers, forcing the base to slightly alter the blending process, catering to particular needs. Depending on the container size, the intelligent motor base will change timings for effective blending.
When you're done blending, simply add soap and water, switch on self-cleaning, and your blender is as good as new in 60 seconds.
Compared to other Vitamixes, this blender is pricey, but it's much more high-tech and offers more helpful features than others.
Overall it's a really powerful, easy-to-use blender that can handle all your blending needs – from hot to cold, chunky to smooth; it's more than capable!
| | |
| --- | --- |
| | Vitamix A3300 |
| Power | 2.2 HP |
| Price | $$ |
| Capacity | 64 oz |
| Blades | Stainless steel |
Check out our Vitamix A3300 review!
Pros:
Intelligent, self-detect containers and base – Specific timings and techniques for the best result for what you want.
Easy to use controls – Don't spend time messing around with confusing buttons.
Dishwasher Safe – It's one of the few dishwasher-friendly blenders in the Vitamix professional series.
​​Smart Functions – High-end technology makes it even simpler to use. Use the programmable timer to ensure consistency in all your recipes.
Ultra-smooth Blending – Perfect for nut butters and other silky smooth dishes, it blends even the finest ingredients with ease – and with a smooth consistency.
Crushed Ice in under a Minute – You read that correctly – bar-quality crushed ice in under a minute.
Great for hot liquids- If you need to blend hot ingredients, you'll be more than satisfied by the results.
Cons:
Most expensive from the product list – At almost $600, it is an extremely pricey blender due to its extra features.
Additional self-detect containers must be bought separately – For the price of this product, purchasing extras does not seem appealing.
Loud – Its noise output is 91db which is still higher than "The Quiet One"
Presets Only Available On App – Presets aren't directly available, only available on the app.
---
Vitamix A3500 Mini Review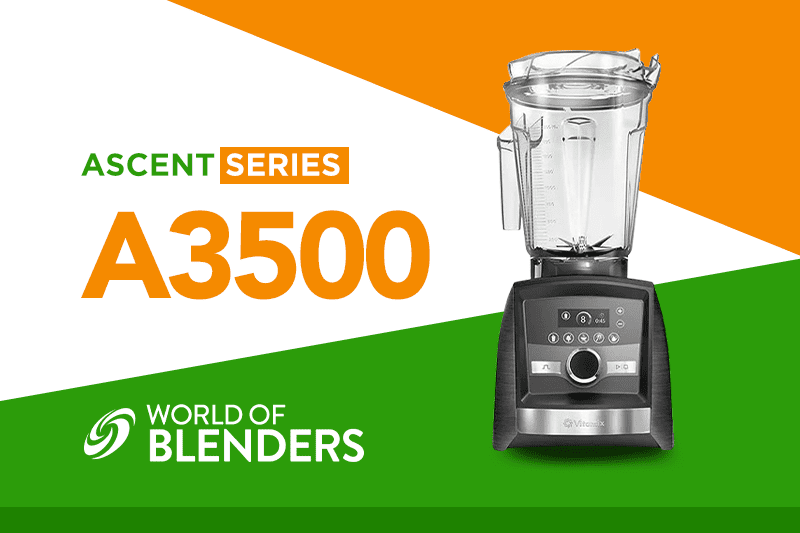 The Vitamix A3500 is one of the four models in the Ascent series, smart blender types that come with a whole host of modern technology. As a smart system blender, it offers a wealth of features to make it easier for the user to blend.
From wireless Bluetooth connectivity to the powerful motors that blend the hardest of food, it's clear why the A3500 is so popular. It's an easy to set up and user-friendly blender that packs a powerful punch. It comes equipped with a digital interface that makes it a whole lot more modern than previous versions.
The Vitamix A3500 is a great one for those who love to combine both technology and simplicity. This model makes processes like preparing smoothies and soups so much easier and more enjoyable.
For some food types, you won't even need to cut it up in order for it to be blended easily with the stainless steel blades. It's great for the harder food types like frozen desserts, making it perfect for the summer! However, it doesn't come without faults. The metal blades are an attachment that makes scraping the bottom quite tricky (don't remove the blades because it voids the warranty).
This blender is even compatible with the Vitamix app – seriously cool! You can find 100's of recipes and tips about what functions to use for specific recipes.
| | |
| --- | --- |
| | Vitamix A3500 |
| Power | 2.2 HP |
| Price | $$ |
| Capacity | 64 oz |
| Blades | Stainless steel |
Check out our Vitamix A3500 review!
Pros:
Smart Functions – It's got an impressive digital interface that is programmed with various exceptional functions to make your experience super simple.
Transparent Lid – This makes it a lot easier to see and gives you a better view of the blended ingredients.
High-quality Stainless Steel Blades – Premium quality laser cut steel blades provide a powerful, reliable and consistent delivery with every blend.
Powerful motor – As part of the Ascent series blenders, this one comes with a powerful 2.2 HP motor for excellence in breaking down all food types.
Long warranty – Comes with a 10-year warranty, providing great value for money.
High-quality technology – Self-detecting technology controls and container sizes.
Pulse feature – Help blends through the food evenly.
10-speed variable speed control – Modify the level of blending from chunky to super smooth.
Programmable Timer – Conveniently use a timer to ensure you get the best results every time.
Cons:
Expensive – One of the most expensive Vitamix models to buy.
Plastic features – The plastic bodywork of the blender might be offputting for some who prefer a premium type of material like glass.
Problematic App Integration – There have been reports of problems connecting to the app with the touch interface. When using presets, it sometimes starts/stops unexpectedly (might be a safety setting).
Few container options – No additional containers means you will need to look into buying a set of containers.
---
Is the Explorian Vitamix Worth It?
The Vitamix Explorian E310 is 100% worth the money. It's one of the most affordable Vitamix blenders you can buy. It's powerful, durable, comes with a 5 year warranty, and is incredibly effective at blending.
We highly recommend the Vitamix E310!
---
Final Verdict: Should You Buy an Explorian or Ascent Vitamix?
I've done a ton of Vitamix testing and research and have written dozens of articles reviewing, comparing, and recommending different blenders.
If you're trying to decide between an Explorian vs Ascent blender, here's our final verdict…
The Vitamix E310 is our top recommendation for 90% of people. If you're looking for a blender that will perform well for a great price, this is the one for you.
If you want something newer with more high tech functionality, then we'd recommend splurging for the Vitamix A3500.
At the end of the day, you should either go big or go for value.