This post may contain affiliate links. If you use these links to buy something we may earn a small commission. Thanks.
When I'm not blogging, you can probably find me in the gym. I've been able to squat 500lbs (vid), bench 405, and deadlift close to 550.
I have no problem admitting I'm a meathead – I've been drinking protein shakes since I was in 8th grade.
Yeah, if you're just doing protein powder + water you don't need a blender. Put that stuff in a glass and go to town with a spoon. But if you're doing a fully loaded shake with banana, peanut butter, flax, and all the good stuff – then you're going to want to use a blender to get the best results.
Picking a new blender for your kitchen is a huge decision. Quality blenders are expensive and last forever so whatever you buy, you're going to be stuck with.
I've got an epic list of the best blenders for protein shakes for you to pick from.
The team at World of Blenders (a master home cook and a professional chef) used 3 criteria to find the best blender for protein shakes.
Power
Price
Capacity
You can scroll down to our buyers guide to see why these criteria matter. Our motto is "buy it once" and that means investing in a higher end blender.
The right blender will be powerful, durable, and won't break the bank. If you plan to make protein shakes on a regular basis, we recommend spending a little bit extra to get a Vitamix or Ninja.
That's why my top three picks are:
Overall best – Vitamix E310. This is the best blender for protein shakes on the market! It's powerful, holds 48 oz, and carries the Vitamix brand–a guarantee of high quality.
Most powerful – Vitamix A3500. This blender is the most powerful on our list and is the most high tech. But I'm not gonna lie – it ain't cheap. If you wanna ball out, this is the blender for you.
Most affordable – NutriBullet 600 Watt Version. If you're tight on funds, but need a new blender–this is our go to option.
Our Philosophy & Process for Product Reviews
I've spent over 50 hours researching and comparing all of the most popular blenders. We've written over 60 articles helping people find the best blender for their specific needs. We've read through hundreds of customer testimonials and personally tested 50+ blenders from brands like Ninja, Vitamix, Oster, NutriBullet, and more.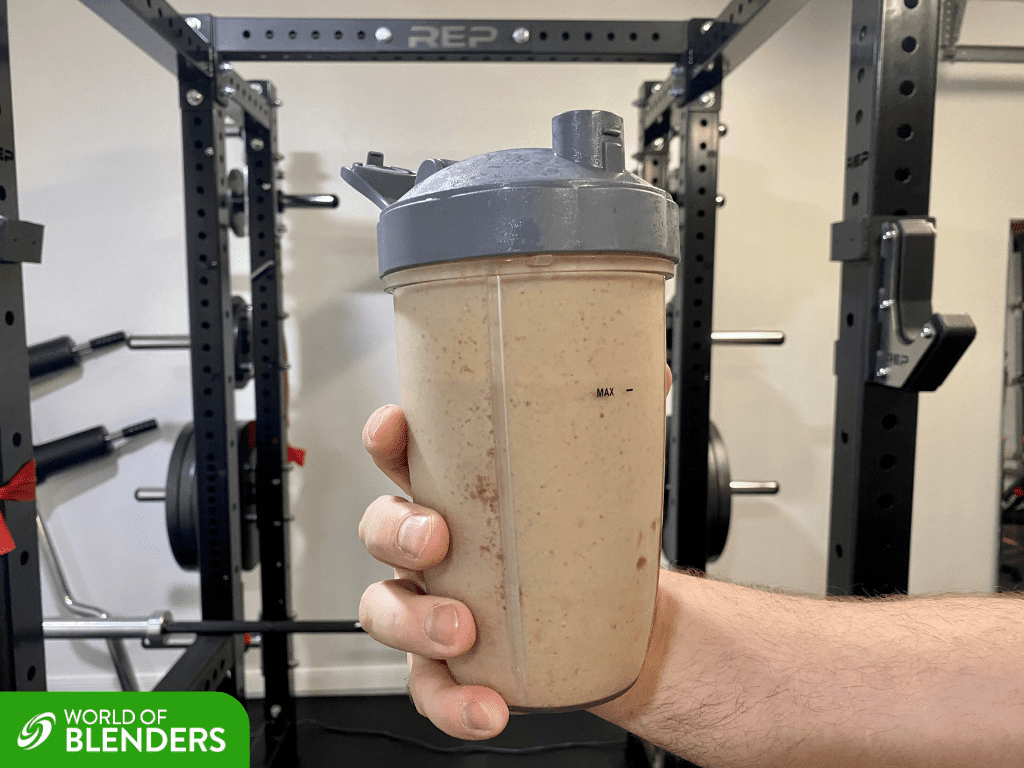 ---
What Makes a Blender Best for Protein Shakes? It's all about the freaking power.
The MOST important thing to making the best protein shakes is getting a smooth consistency.
Nothing will ruin your shake like chunk of banana you weren't expected or a stringy piece of spinach.
Texture matters the most and the key to getting the right texture is having the a powerful blender.
You need a blender that can run at a high speed and completely blitz out all the chunks until the protein shake is perfectly smooth.
That's why most of the blenders on our list are at least 1200 watts. If you're using frozen fruit or ice in your shake, then you're going to want to get one at least this strong. Using a powerful blender is one of the best ways to make a protein shake taste better.
If you're using all fresh, you can get by with a blender between 800-1000. We do recommend going for at least 1000 watts, but we included a couple of cheaper options that are only 600 watts. If you're making weight loss protein shakes, you can get by with a less powerful blender since you probably won't add many ingredients in.
Here's a chart from our full post on blender wattage:
| | |
| --- | --- |
| Wattage | Our Opinion |
| 0 – 500 watts | Not worth buying. Avoid. |
| 500 – 800 watts | Decent blenders for blending simple ingredients, but won't puree or blend super smoothly. Not good for frozen fruit smoothies. We don't recommend confidently. |
| 800 – 1000 watts | This is is the lowest wattage of blenders we can confidently recommend. This will work for anything except the hardest frozen fruit smoothies. Expect some chunks, but overall a solid option. |
| 1000 – 1500 watts | This is a great range for home blenders. These will be powerful enough for anything you need and super affordable. |
| 1500+ watts | Anything over 1500 watts will work incredibly well! You'll get the smoothest texture possible. |
---
Quick Summary: 7 Best Blenders for Protein Shakes
Here's a quick overview showing all of our top picks and the factors we looked at in our research. You can click through on any model to check out the recent price. You can also take a look at other customer's reviews to get a more full picture.
---
7 Best Blenders for Protein Shakes
1. Overall Best Blender for Protein Shakes: Vitamix E310
If you are looking for the best blender for protein shakes, then the Vitamix E310 blender is the perfect choice for you. Its large 48-ounce capacity is perfect for multiple shakes if you're meal prepping.
One of the best features of this fantastic blender is its pulse function. This handy setting offers you a simple way to produce chunkier liquids, which is perfect if you prefer thicker protein shakes.
The pulse feature isn't the only additional feature offered by the Vitamix E310. It also features a variable speed control system letting you quickly select the blending speed you need to create the perfect consistency every time.
Durability was clearly a large consideration when crafting the Vitamix E310, as both the blender jar and the blades used are incredibly strong. The blades themselves are made from aircraft-grade stainless steel, which is one of the most durable options on the market.
In terms of design, the solid black look is a little plain, but if you're not concerned with aesthetics, then this shouldn't be an issue. The Vitamix E310 is by far one of the best blenders for protein shakes.
Although it could be cheaper, especially when compared with the budget NutriBullet 600, this is still the best blender available.
Pros:
Incredible durability – The blades and the blender itself are extremely strong and should for many years.
Large 48-ounce blender jar – The 48oz container is a great size for making protein shakes.
Cons:
A little expensive – Vitamix blenders are on the expensive side compared to a few budget models that are on the market.
Can get loud – The 1500 watt blender is powerful, but noisy. Something to be aware of if you're making shakes early in the morning.
Read More: Is the Vitamix E310 worth it?
---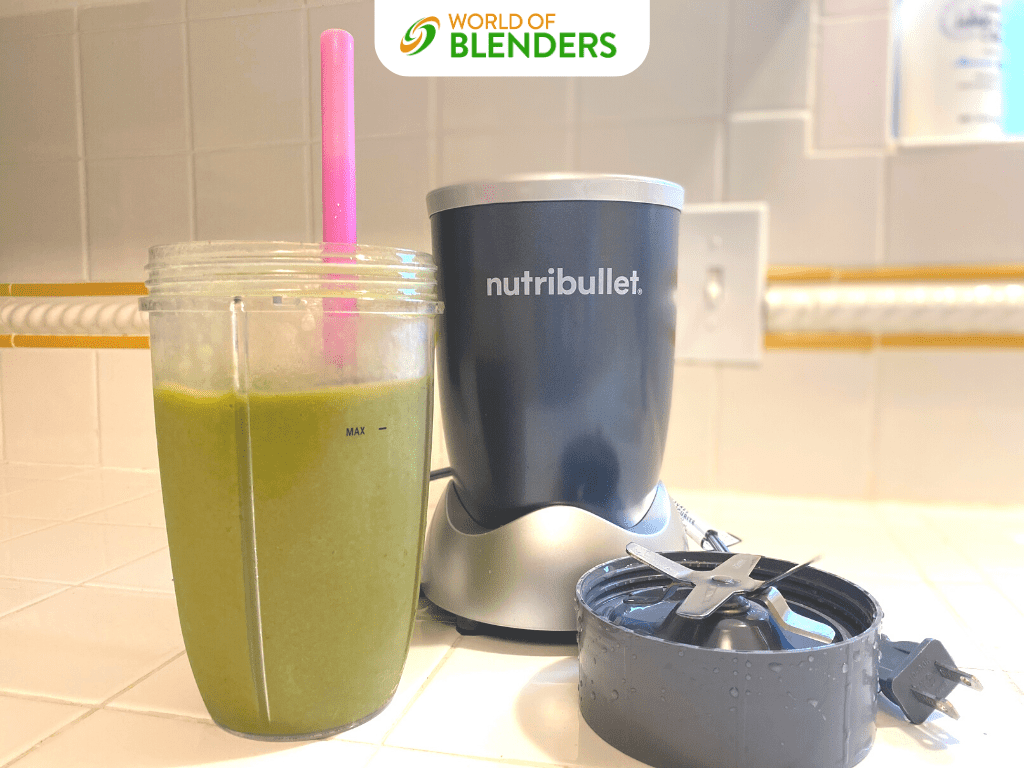 I know I included several Vitamix blenders on this list, but that's because they're the most powerful you can get.
I wanted to find and test a few cheaper options and the NutriBullet 600 was the most affordable. The 600 is for the number of watts it has. You can also get a NutriBullet 900, 1000, or 1200.
The NutriBullet 1200 is #7 on our list here, but it's probably the best NutriBullet option.
The 600 though will get the job done as long as you aren't blending ice or frozen fruit into your shakes. If you're just doing protein, liquid, and maybe some PB or banana then its strong enough for that.
There are a few design features of this blender that are helpful!
Capacity – The 600w comes with a 24-ounce cup , which is the perfect size for making a single serving protein shake.
Blades – The stainless steel blades that are the highest quality material for blenders. They are naturally stain resistant and the most durable.
Aesthetically simple – In terms of design, the plain slate gray of this budget blender should complement most modern kitchen decor. Although it won't be winning any awards in terms of its aesthetic design, it certainly isn't a bad-looking blender.
As you can see below, this is the most affordable blender on our list.
Most budget options tend to sacrifice accessibility and cleaning when designing their blenders, to ensure that they can produce affordable models. With the NutriBullet 600, NutriBullet has ensured that the entire blender is modular, so keeping this clean after use is incredibly simple.
Overall, the NutriBullet 600 is one of the best blenders on the market for budget shoppers. Its 600-watt power rating is slightly lacking, but it should still be able to help you create a delicious smoothie bowl each morning!
If you're looking for a blender just for yourself, or are on a tight budget, it's hard to look past this model.
Pros:
Affordable cost – Perfect if you want a decent blender but don't want to spend a fortune.
Stainless steel blades – Resistant to stains and sharp enough to cut through most ingredients.
Plain gray design – Looks sleek and will complement any kitchen aesthetic.
Cons:
Only 600 watts – May not be powerful enough for a few recipes and stubborn ingredients.
24-ounce cup – Only good for single serving protein shakes.
---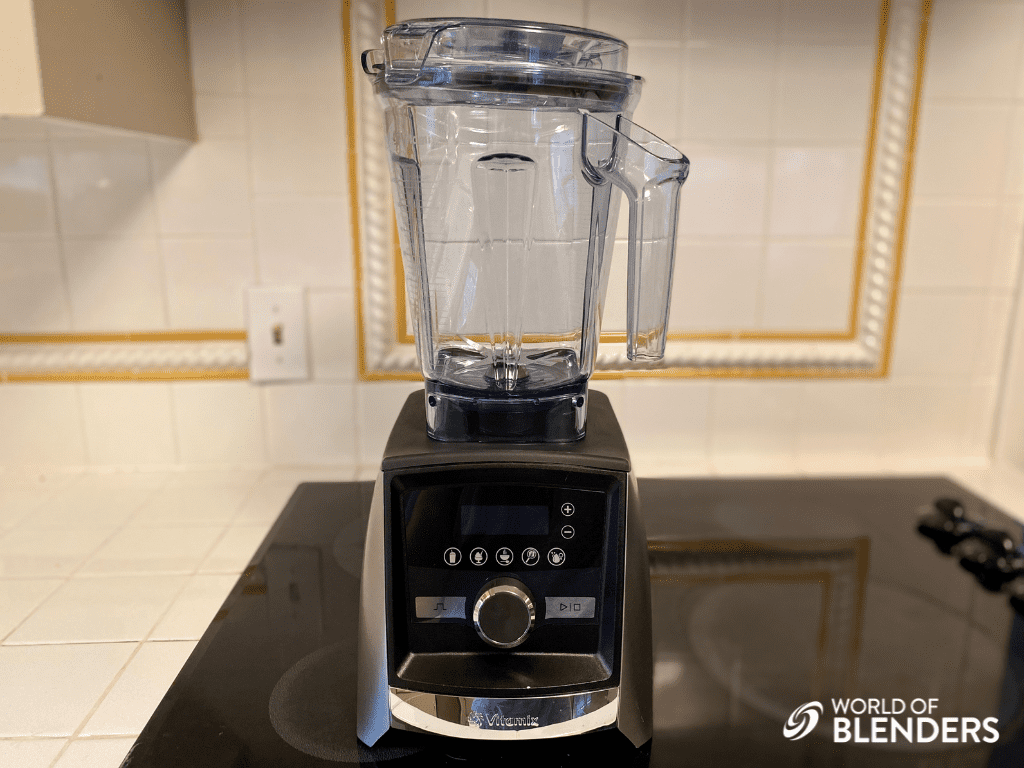 The Vitamix A3500 is the most high-end blender on our list. If you want to buy the best of the best, this is the blender for you. It's the most powerful, most technologically advanced, is dishwasher safe, and comes with a ton of features.
The Vitamix A3500 is the Cadillac of blenders. But it comes at a steep price.
The Vitamix ascent series is the high-tech line of Vitamix blenders. The A3500 comes with a digital touch screen, 5 programmable settings, and a 10 year warranty. The Vitamix A3500 also ranks on our list of the quietest Vitamix blenders!
It's also got a 2.2 HP or 1640 watt motor which makes it the most powerful blender on our list here.
The powerful 1640-watt motor can make fine work of even the toughest ingredients, grinding frozen fruit, berries, and even nuts to the ideal consistency. You can also use your Vitamix as a food processor!
If you want to get the most effective blender, this is the one for you.
If you are worried about spending too much on your first blender, then be sure to check out the NutriBullet 600 Watt Version above or get the Vitamix E310 which is the most affordable Vitamix blender.
Read more: Why is Vitamix so expensive?
Pros:
Innovative touch-screen control – The control panel is incredibly simple to use and is perfect for a busy kitchen setting.
Powerful 1640-watt motor – This blender will easily blend any ingredient you add to this commercial-grade blender.
Quality stainless steel blades – Blades are extremely sharp and rust-resistant, so they should last for years to come.
Dishwasher safe – The Ascent series containers are one of the few Vitamix blenders that are dishwasher safe.
Cons:
High asking price – This is the most expensive blender on our list.
Few container options – No additional containers means you will need to look into buying a set of containers.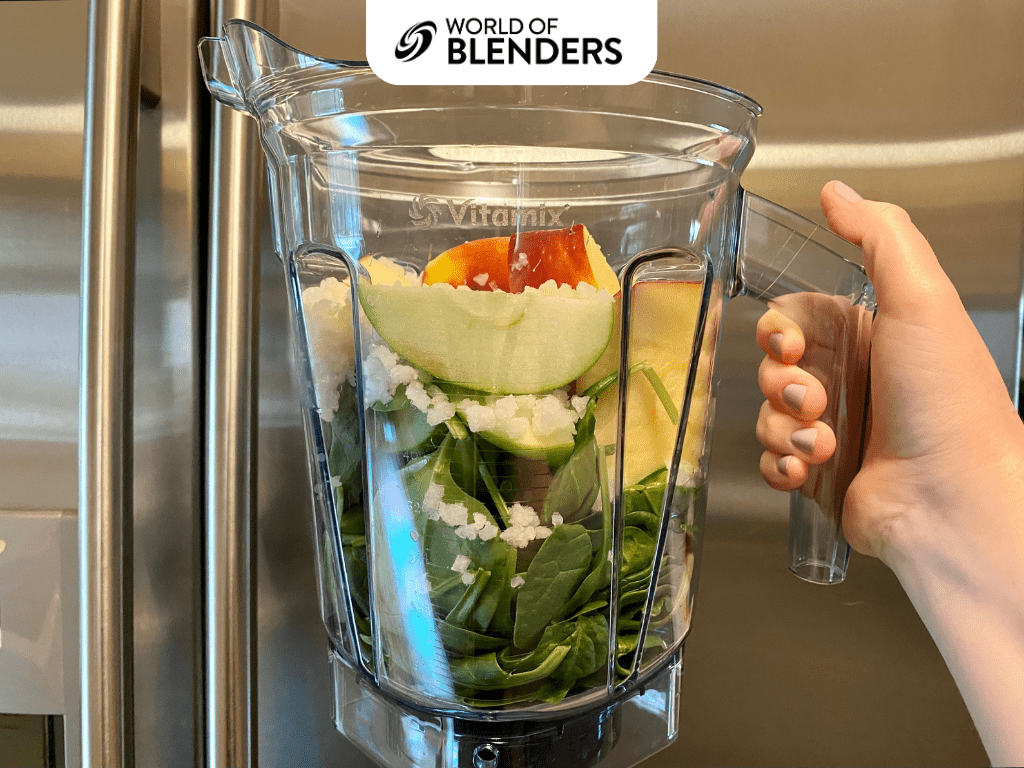 Read More: Is the Vitamix A3500 worth it?
---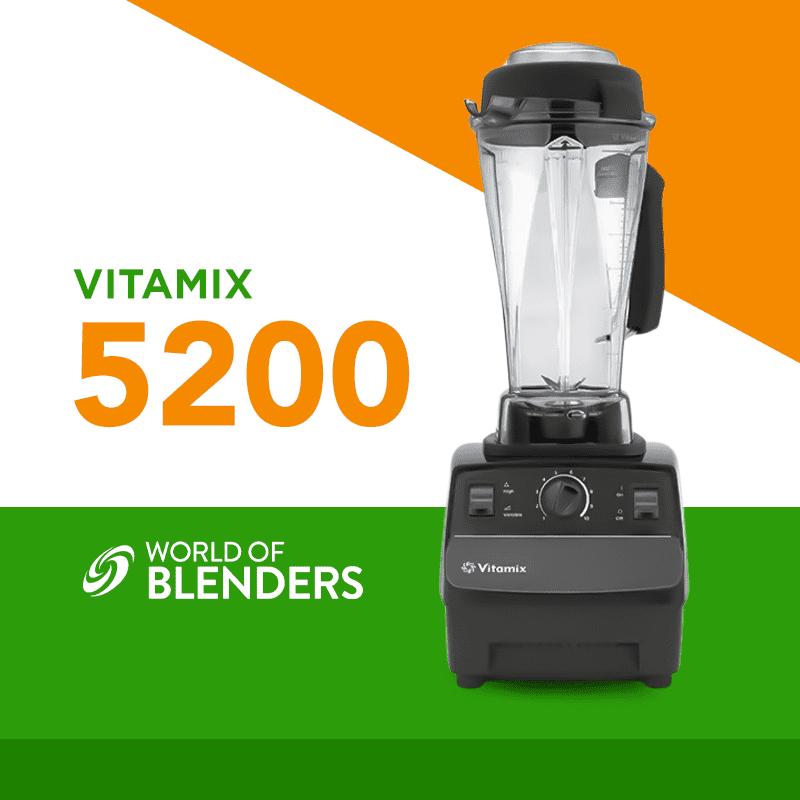 Vitamix blenders are known for their professional design, and the Vitamix 5200 is just one example of this. This high-quality blender is perfect for use in a professional setting and has everything you need to make awesome protein shakes.
One of our favorite features of this professional-grade blender is its self-cleaning function. Simply add hot water and dish soap to the blender jar and leave it to run for 60 seconds and you'll have yourself a spotless container.
The 64-ounce container has been designed with professional kitchens in mind, as this capacity is perfect for large quantities. This makes it an excellent choice for meal prepping protein shakes for the whole week.
As you can see, the Vitamix 5200 is tied for the most capacity.
On top of this, Vitamix has also included an extremely useful tamper system. This will let you stir the contents of your blender and scrape liquids from the side of the jar without removing the blender lid.
Check out our full review of the Vitamix 5200 for a deeper dive into this awesome blender.
This blender is versatile and also ranks high on our list of the best blenders for frozen drinks.
Pros:
Self-cleaning function – No need to spend minutes scrubbing away tough stains as this blender can clean itself in 60 seconds.
Tamper system – Allows you to push down the shake ingredients to get the perfectly smooth protein shake.
Extremely durable design – Comes with a 7-year warranty and high-quality construction. This blender has been built to last.
Cons:
Produces heat – When using the fastest settings, this blender can heat your liquids which isn't ideal for protein shakes.
Expensive model – The purchase price puts this on the higher end of blender options.
---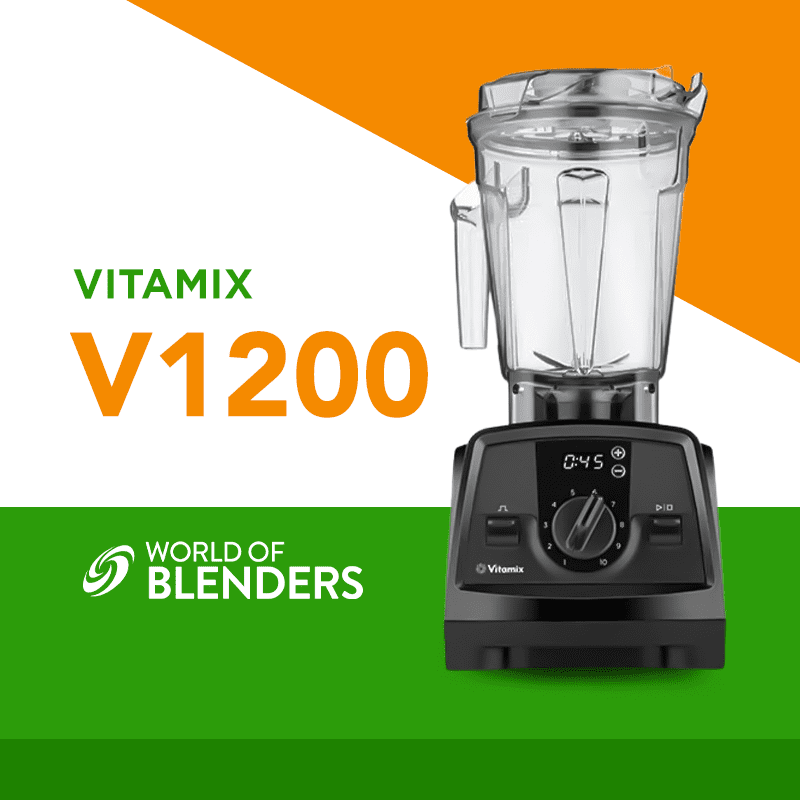 The Vitamix v1200 is one of their first high-tech blenders. It's got the standard 2 HP motor which makes it one of the more powerful blenders on our list. The Vitamix V1200 features a range of blending settings, letting you quickly choose the one you need.
One of the first features you will notice is the digital timing function. This lets you select the ideal blending time for your protein shake ingredients, so you don't need to stand around and wait for them to get done.
The variable speed settings and pulse features are also handy bonus features, offering you a way to blend your shakes to the perfect consistency.
The only downside is that some of the settings take some time to learn how to best use. This does mean that the Vitamix V1200 isn't quite as beginner-friendly as the Ninja SS101, as the additional settings can be overwhelming.
If you are struggling with the versatility this blender provides, then consider trying the auto-detect feature. This will automatically pick the ideal settings depending on the weight of the blender jar, so you don't need to spend hours getting to grips with your new blender.
Check out our full Vitamix V1200 review for a deeper dive into this awesome blender!
Pros:
Multiple blending settings – Great for making different protein shake recipes and ingredients.
Self-detect technology – Will quickly select the ideal settings depending on the weight of your chosen ingredients.
Additional smoothie cup – The extra cup is the perfect size for making single serve shakes to drink on the go.
Cons:
Advanced settings – Great if you know what you're doing, but the multiple settings can be tricky for beginners.
Inconsistent locking system – Sometimes require a little more effort than usual to lock the container in place.
---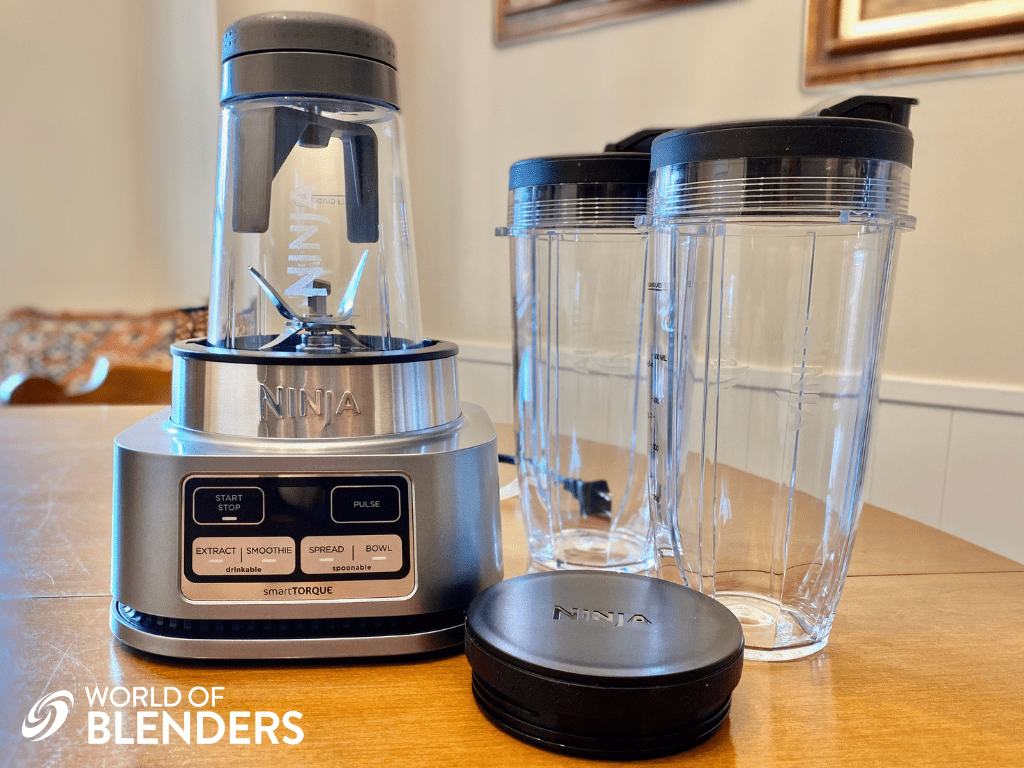 As useful as it can be to have access to a range of customizable settings, it can be confusing if you have never used a blender before. Thankfully, this Ninja blender has been designed to be as beginner-friendly as possible.
It offers a few simple blender settings without the need for you to worry about getting the timings just right.
The Ninja SS101 also packs in 1200 watts of power, which is enough to blend any ingredients you need for protein shakes. You also won't need to worry about splashing out on extra containers, as this Ninja blender comes with a 14-ounce and a 24-ounce container.
The only downside is that the container sizes are smaller so you can't make a big batch of protein shakes.
If you're not concerned about complicated settings, but you do want a beginner-friendly blender, then be sure to check this one out.
Pros:
Container selection – Quickly select the perfect container for the ingredients you want to blend.
Beginner-friendly interface – Choose from a couple of easy-to-use settings to speed up the blending process.
Cons:
Low container capacity – The small container size means you can't meal prep shakes for the week.
Loud – This blender is super loud, but that's to be expected with a blender this powerful.
---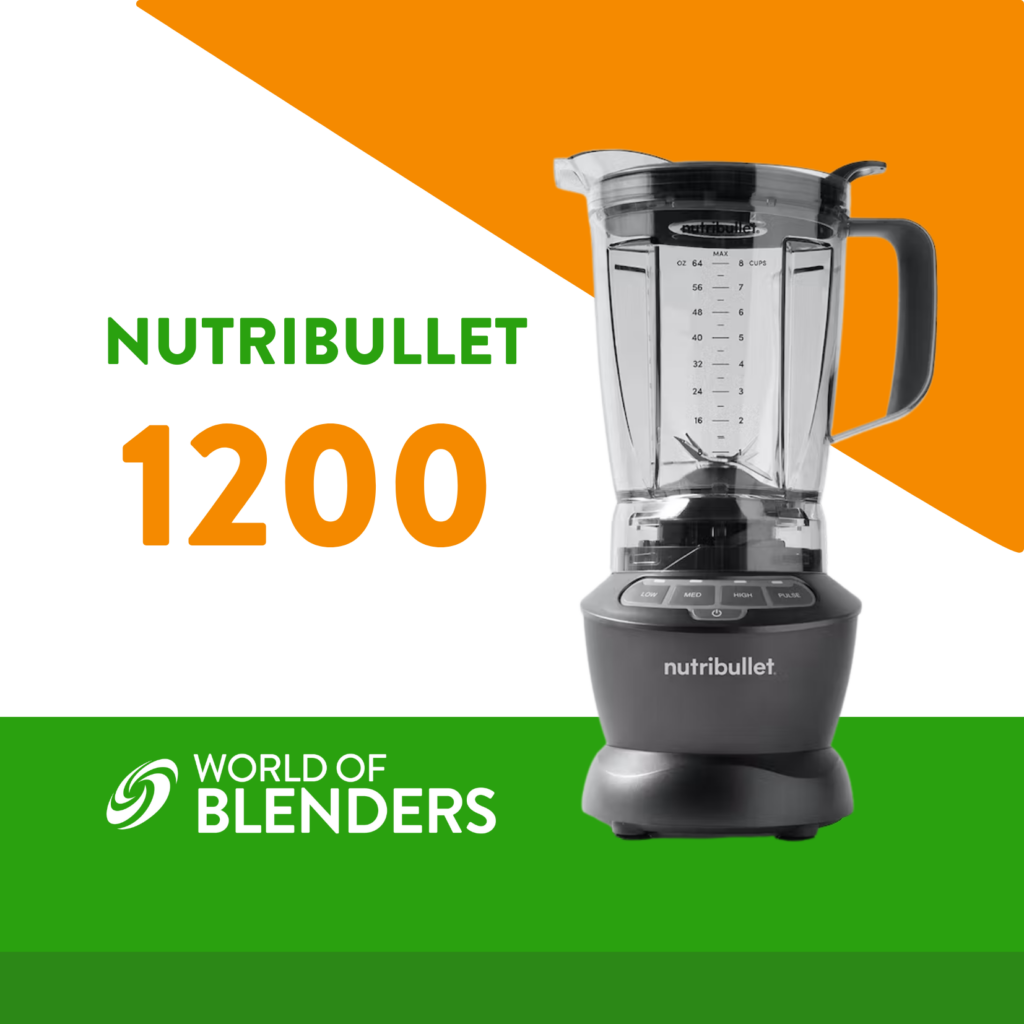 NutriBullets are great blenders for the price. They are powerful, high quality, and come with perfect sized containers for personal blending.
The only downside is that they aren't as powerful as Vitamix blenders, but they are quite a bit cheaper.
The NutriBullet 1200 has 1200 watts, hence the name. It's the most powerful NutriBullet blender that they offer. At 1200 watts, it is powerful enough to blend up your shakes with frozen fruit or with ice.
This NutriBullet combo pack comes with a range of containers, including a 64-ounce cup, a 32-ounce cup, and a 24-ounce cup. The flexibility here to make single serve or a batch of protein shakes is perfect.
NutriBullet offers some of the best affordable blenders on the market, and this 1200-watt version is more than worth the asking price! It's also versatile and is #1 on our list of the best hummus blenders!
Pros:
Multiple containers – Allows you to choose the right container capacity for your current recipe.
Simple user interface – Select from a range of control settings with the press of a button.
Affordable price – This blender is powerful enough and one of the more affordable on our list! It's the perfect blender for anyone who is on a tight budget.
Cons:
Loud blender – On the fastest settings, this NutriBullet blender can get pretty loud.
Heat generation – Sometimes the blender can overheat if you run it for too long. The high power can also warm up whatever you're blending which isn't ideal if you want colder shakes.
---
What Type of Blender is Best for Protein Shakes?
There are several different types of blenders out there for you to choose from. The standard blenders tend to be more expensive than the immersion or personal blenders. If you want to mix protein powder without a shaker, then I highly recommend using a blender!
The key to making protein shakes is getting a really powerful blender. An immersion blender won't really work.
Personal or speciality blenders are great because you can usually drink your shake straight from the cup you blended it in. The only downside is that they aren't as powerful and might struggle with frozen fruit or ice.
---
Buyer's Guide: How to Pick the Best Blender for Protein Shakes
So you want to buy a blender for protein shakes, but you don't know where to start? Luckily, our handy buyer's guide can help you find the perfect electric blender to make your protein shakes today.
We have covered every factor you will want to consider to help you pick the right blender.
Power
The power of your blender and the blades it uses is the main factor that decides how well your chosen model blends ingredients. Power is determined by the number of watts or horsepower a blender has.
You should try to get a blender with at least 1000 watts, but ideally 1500.
However, if you are on a budget and you're just looking to make a few smoothies and shakes, then a 600-watt system will get the job done. It'll also depends what ingredients you mix with protein powder in your shakes! The more frozen ingredients, the more powerful of a blender you'll need.
In terms of power, we would either recommend the Vitamix 5200 or the Vitamix A3500.
Price
Price is always going to be a factor when picking a blender. These powerful machines aren't cheap.
The reality is that the more you spend, the better of a blender you'll get.
An average blender for protein shakes can set you back anywhere between $200 to $400 depending on its brand. If you are on a strict budget, the NutriBullet 600 is a fantastic choice that's both powerful and affordable!
We love the Vitamix E310 because it's the most affordable Vitamix.
Capacity
The right capacity for you will just depend on how big of shakes you're making.
If you are planning on only making shakes for yourself, and you don't plan on making extra for later, then a 24-ounce capacity blender should be enough. But honestly, I think it's smart to meal prep your shakes and that's why I recommend at least a 48-ounce capacity.
I'd highly recommend the Vitamix E310 – its 48-ounce capacity is perfect for most uses!
Build quality
You don't want to purchase a brand new blender only for it to break in a couple of weeks. This is why the quality of your blenders is one of the most important factors.
Typically, the more expensive the blender is, the better its build quality will be – but this isn't always the case. There are a few budget options out there such as the NutriBullet 1200 which offers incredible build quality for a low cost.
Do your diligent research to ensure your blender doesn't crack under pressure when it's put to the test. Vitamix has different 'series' of blenders so it could be good for you to dig into which one is right for you! Check out our Vitamix Explorian vs Ascent Series to get started.
The good news is that Vitamix offers an incredible warranty so even if you have issues, you can always get them replaced.
---
Common Questions About Blending Protein Shakes
Can you use a regular blender for protein shakes?
Yes, you can definitely use a regular blender for protein shakes! They are actually the best way to blend up your shakes because they are more powerful than personal cup blenders.
Do immersion blenders work for protein shakes?
Immersion blenders work for protein shakes, but they aren't the best option. You'll likely end up with some chunks and the powder won't be blended up as well.
Which NutriBullet is best for protein shakes?
I think the NutriBullet 1200 is the best for protein shakes because it's the most powerful blender they offer!
---
Final Verdict: Which Blender is Right for You?
Protein shakes are obviously the fastest and easiest way to ramp up your protein intake. They're also a great meal replacement option if you're in a hurry.
If you don't mind spending a little more on a quality blender, we highly recommend the Vitamix E310 as the best blender for protein shakes. It's powerful, durable, has the perfect capacity, and its the blender I use several times a week to make my own shakes.
However, if you're on a tight budget, you can go with the NutriBullet 600. The only thing to remember is no frozen fruit and no ice!