This post may contain affiliate links. If you use these links to buy something we may earn a small commission. Thanks.
Blender power is measured in wattage and horsepower. Higher wattage = higher power. So how many watts do you need for a good blender? …It depends.
Powerful blenders are more affordable and available than they've ever been.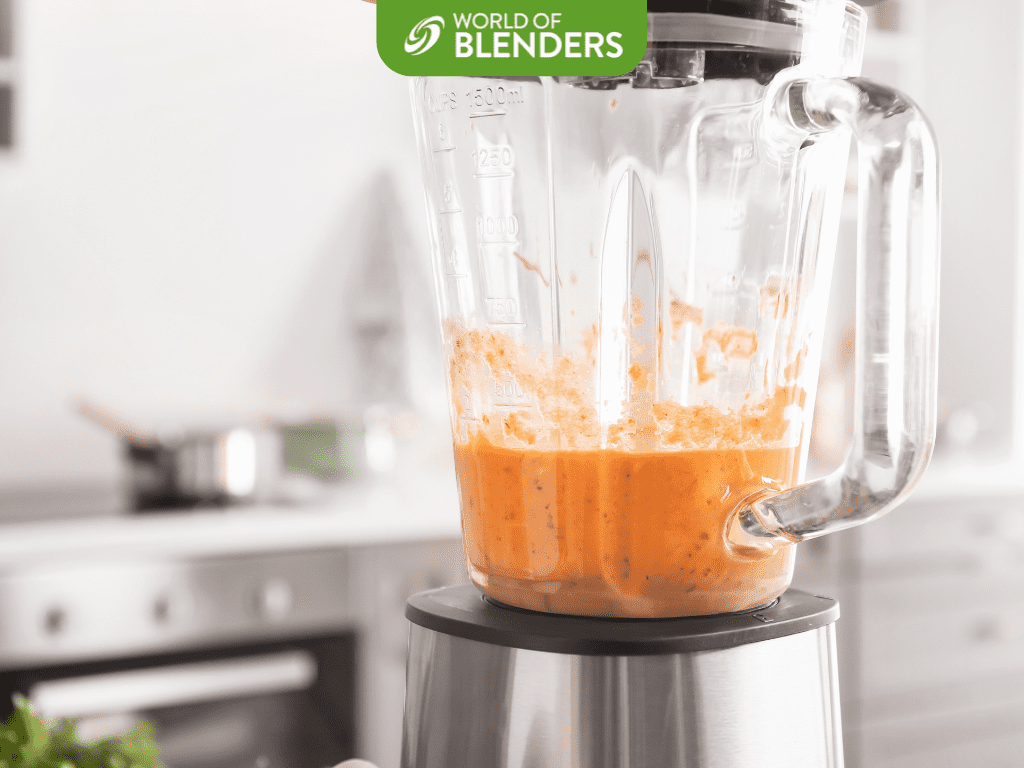 ---
Quick Summary: What Wattage Should I Get in a Blender?
After testing 50+ blenders and reviewing dozens more, here is my personal opinion on blender wattage. The amount of blender watts you need depends on what you're planning to make.
| | |
| --- | --- |
| Wattage | Our Opinion |
| 0 – 500 watts | Not worth buying. Avoid. |
| 500 – 800 watts | Decent blenders for blending simple ingredients, but won't puree or blend super smoothly. Not good for frozen fruit smoothies. We don't recommend confidently. |
| 800 – 1000 watts | This is is the lowest wattage of blenders we can confidently recommend. This will work for anything except the hardest frozen fruit smoothies. Expect some chunks, but overall a solid option. |
| 1000 – 1500 watts | This is a great range for home blenders. These will be powerful enough for anything you need and super affordable. |
| 1500+ watts | Anything over 1500 watts will work incredibly well! They won't blend better than the previous set, but will work faster and be more durable. |
---
Does the Wattage of a Blender Matter?
Wattage does matter when judging a blender's quality. The wattage number is the metric used to define how powerful the blender is. Higher wattage = More power.
A blender with 500 watts isn't capable of pulverizing the same way a 1,500-watt blender is – it's as simple as that!
If you are planning on getting a blender for your restaurant or want to blend down tough ingredients such as nuts, ice, or coffee, you should get a high-wattage blender.
We recommend at least 1000 watts for the most versatile blender.
Read further: 5 Best Vitamix Blenders
However, there are a host of other factors that determine the quality of a blender. Some would argue that the sharpness of the blades determines the quality of the blender or the style of the blades themselves. In addition to this, you can also judge the quality of a blender on its versatility, noise level, size, price, functions, and aesthetics.
If you're going for a really smooth texture, then power is super important. The more powerful, the better you'll be able to blend up the ingredients. Power was one of the most important criteria on our list of the best blenders for protein shakes.
Wattage is critical for certain kinds of tasks like blending ice. That's why we only included powerful options on our recent list of the best blenders for milkshakes.
---
Does a Higher Wattage Blender Have More Power?
Yes, the higher the wattage, the more horsepower a blender has. Wattage accurately reflects the top speed that the blender can make its blades spin and how quickly it can reach this speed.
It also conveys how much strength the blender has, meaning a high wattage blender has the power to pulverize nuts and coffee beans. They have powerful motors, mainly due to watts.
Vitamixes are consistently the most powerful blenders on the market and they work well for just about anything. You can use Vitamixes to grind coffee or you can use your Vitamix as a food processor.
Read more: How many watts does each Vitamix have?
This power makes them more durable machines, as their individual parts, such as the blades, don't wear out as easily. For example, a 1,500-watt blender could still slice through fresh fruit and veg with a blunt blade.
For some leading blender manufacturers today, designing blenders have become less about the strength of the blades and more about the horsepower that can be reached.
Higher wattage blenders are louder so be sure to check out our blender noise reduction tips.
Does a high-wattage blender use more power?
Lots of power is necessary for blenders with high watts to function, meaning they consume much more electricity than blenders with low watts. However, a high-powered blender can pulverize a lot more quickly than a low-power blender, meaning that the electricity used is kept to a minimum, which makes up for its huge power draw.
What Is the Average Wattage Of a Blender?
Before, the average household blender motor had a maximum of 750 watts (1 horsepower). Now, since the latest models from NutriBullet and Vitamix have raised the general standard of blenders, it's not uncommon for households to have blenders with wattage that exceeds 1,000.
---
Types of Blenders and Their Wattage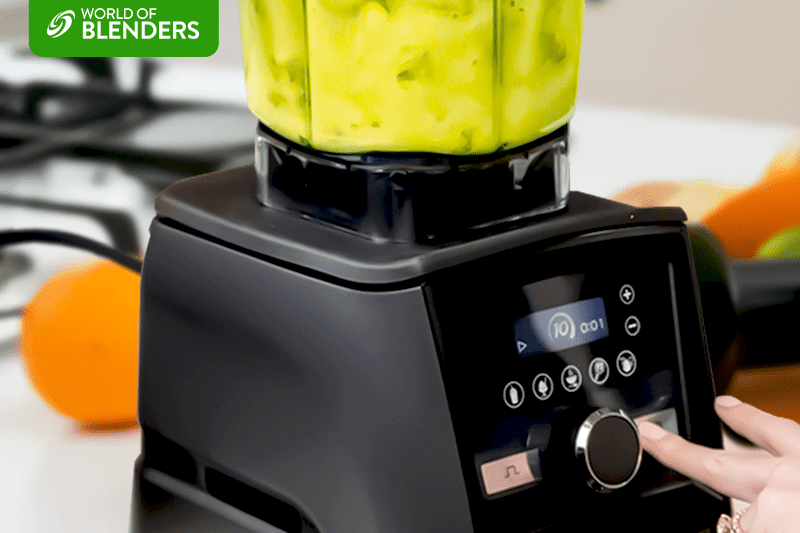 You may be hard-pressed to find a high-powered blender on the market today with anything below 1,000 watts. To keep up with the competition, 1,200-1,5000 watts have become the standard for most blender manufacturers. The rise of vegan and healthy diets has created this demand for more powerful models with stronger motors.
Professional blenders
Professional blenders are high-powered models that come with the highest wattage on the market. With a wattage between 1,200 and 1,700 and super strong blades and blender motor, professional blenders can reach the desired consistency of any food. Some blenders exceed 1,700 watts, with the Vitamix XL offering a massive 3,133 watts.
A number of these grade-A blenders can provide more than just food prep; they can do some of the cooking for you as well. For example, the NutriBullet Rx has a wattage of 1,700, which is enough power to heat your ingredients. This makes it ideal for creating hot soups.
Casual use blenders
If you're not set on using a blender every day, you can opt for a more average blender, one that features between 500 and 750 watts of power. This will be acceptable for occasional food prep, as well as preparing fruit drinks for kids.
Small batch blenders
Small batch blenders tend to have between 600 and 1,000 watts of power. This blender type is for personal use and is generally not used in cooking or for making portions for others. Those on the higher wattage end of the scale may be used for ice cubes and coffee beans.
Immersion blenders
Immersion blenders require far fewer watts of power than standard blenders and can function efficiently on as little as 150 watts, although some are available that feature 300 watts. An immersion blender is specifically designed to blend only soft ingredients, such as soups and mushy fruits. They also serve as good whisks and can be used to create purees.
---
How Much Energy Does a Blender Use?
Per hour, the average blender will use 0.4 kWh. However, the amount of energy a blender uses per hour depends on the blender's wattage as well as the amount of time the blender runs for. Even the most expensive blender would require more energy to make nut butter than to simply blend fruit.
---
FAQs
Can frozen fruit be blended?
Yes, but to blend frozen ingredients like fruit, you'll need a blender that has a wattage of around 1,000 watts. Although, some blenders that run on 600 watts are designed to blend frozen fruit. Before purchasing, make sure that the blender is designed to blend frozen fruit.
Can a 600-watt blender crush ice?
A 600-watt blender is capable of crushing ice but cannot be relied upon to crush ice as well as a 1,000+ watt blender. The Ninja Professional Plus Blender is widely considered to be the best blender for crushing ice, and it features 1,400 watts.
How many watts blender can blend coffee beans?
If you take coffee seriously, you'll need a 1,000-watt blender to blend coffee beans effectively. However, if you're looking for a quick coffee fix and aren't fussed about flavor, a 750-watt blender will suffice.
How many watts is a high-speed blender?
A high-speed blender is technically anything that exceeds 1,000 watts. The more watts, the faster speeds the blender is capable of. High-speed blenders can be well over 1,000 watts, with some even boasting over 3,000.
Is 1200 watts good for a blender?
A 1200 watt blender is great for home use. 1200 watts is enough to handle any blending task you could possibly need.
Is 1000 watts good for a blender?
A 1000 watt blender is good, but not great. You'll be able to blend just about anything, but you might have a hard time with frozen fruit or ice.
Can a 500 watt blender crush ice?
A 500 watt blender is not good for crushing ice. You'd be better off with at least 1000, but ideally 1200 watts.
Is a 700 watt blender good?
A 700 watt blender is okay. We honestly don't recommend anything less than 800-1000.
Is 400 watts enough for a blender?
400 watts is not enough for a blender if you want to do any kind of serious blending. The most you could handle is non-frozen fruit and veggies.
---
Final Verdict: How Many Watts Should You Get In A Blender?
Blender wattage is more than just a contributing factor to overall quality. A high-capacity jug or a sharp blade is rendered useless without horsepower. However, the quality of a blender is also based on size, functions, versatility, and a whole host of other factors.
So how many watts do you need for a good blender? Ultimately, it depends on what you plan on using the blender for. An 800 watt is fine if you only plan on using it occasionally, for mostly soft foods. Frozen fruit will be tough in a blender under 900 watts.
A blender with at least 1000 watts will work much better and it's absolutely worth the slightly higher price point.