This post may contain affiliate links. If you use these links to buy something we may earn a small commission. Thanks.
The Blendtec brand is one of the best manufacturers of high-end blenders. In this article, I'll review the Blendtec Professional 800 blender which can work at home and on commercial premises.
The Blendtec Professional 800 is known for the best balance of power and noise level. It's got the strength and the stealth.
A quiet blender does a lot of justice in an environment which requires low noise interruption. For instance, in a restaurant, you need to have a quiet blender to avoid noise to the customers while they are interacting.
We're going to do a deep dive Blendtec Professional 800 review so that you can know everything you need to know.
Our Commitment
Our team has spent over 50 hours researching and comparing all of the most popular blenders. We've written over 60 articles helping people find the best blender for their specific needs. We've read through hundreds of customer testimonials and personally tested 50+ blenders from brands like Ninja, Vitamix, Oster, NutriBullet, and more.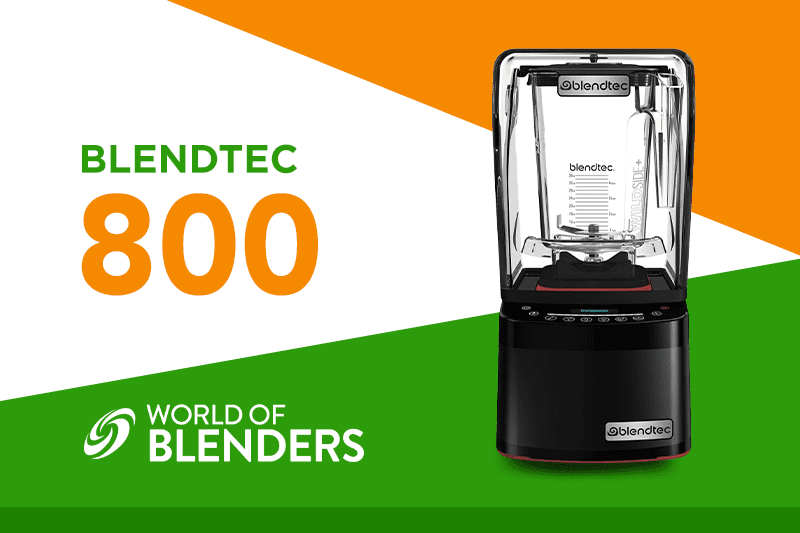 ---
Quick Summary: Blendtec Professional 800 Overview
It's hard to believe this Blendtec 800 can be built with a 3.8 peak horsepower motor and still be quiet. The noise level of the blender is below 65 decibels compared to 88 decibels which is the normal noise level for other blenders.
What makes the blender this quiet? It features noise reduction of the 360-degree sealed sound enclosure to reduce the noise. Also, the container is further enclosed with a second jar designed to stop the noise. Additionally, there is advanced sound dampening airflow technology. If you're looking to reduce the noice on your blender, try these 8 ideas.
Honestly, a Blendtec blender is what you'll most often see in coffee and smoothie shops, for the excellent power without excessive noise that they deliver.
Another small feature that might throw you off — this blender has a USB port. But don't get excited; it's a carryover from its commercial model cousin. It's used to import programs for blending.
The Blendtec Professional 800 blender has the 6 most popular pre-programmed settings for different recipes. You choose from smoothies, whole juice, soups, margaritas, bread dough, frozen desserts, and more. The ability to simply touch a button and walk away while it blends is incredible for getting more done in the kitchen, in less time!
After testing this blender, we're planning to update our list of the best blenders for frozen fruit to include it!
| | |
| --- | --- |
| | Blendtec 800 |
| Power | 3.8 HP or 1800 watts |
| Price | $$$ |
| Capacity | 90 oz |
| Warranty | 10 years |
| Blades | Stainless steel |
| Other Features | BPA free, 11 speed slider, pulse function, 6 pre-programmed settings, touchscreen interface |
Pros
Power – It comes equipped with a 3.8 horsepower motor that makes it one of the most powerful blenders on the market, more than most Vitamixes.
Noise level – The Blendtec comes with a sound reducing shield that makes it one of the quietest blenders you can buy.
Warranty – The 10 year warranty is one of the longest warranties you can get on a blender! It makes the high price tag a better value.
Cons
Expensive – This is one of the most expensive blenders we've tested so if you're on a budget, it's probably not the one for you.
No Tamper – The Blendtec 800 doesn't come with a tamper to push the food down so it can be tough to blend thicker recipes.
Bulky – The 90 oz container + the soundproof case gives this blender a large footprint on your counter. You really won't be able to put it away, so you'll need designated countertop space.
---
Deep Dive: Is the Blendtec Professional 800 Worth Buying?
Motor Power & Blade
Blendtec Professional 800 blender is the most powerful blender on the market with a 3.8 peak horsepower motor. The 1800 watts make the blender have the ability to crush even the hardest ingredients easily.
Despite being too powerful, it maintains quite blending. Noisy blenders are the most complaint customers raise on reviews of most blenders. A quiet blender can be the buying influence of such powerful blenders like this.
The blades are laser-cut stainless steel which can cut, blend, heat, and more. The blades come with a wingtip and 2 pronged blade design. Wingtip is used when breaking larger ingredients faster.
Size
The Blendtec Professional 800 is the largest blender among Blendtec's blenders. It is designed to fit the kitchen storage without taking up much space. It measures 8.5″ wide x 17.25″ tall x 9.13″ deep.
In terms of weight, it is very bulky at 16.2 lbs. Compared to other Blendtec blenders, this blender is not suitable for traveling but there are Blendtec blenders with less weight.
As far as dimensions go, you may struggle to fit AND use this blender under your kitchen cabinets if the clearance between the counter and your upper cabinets or shelves isn't high enough.
Containers/Jars
Blendtec blenders have containers which compatible regardless of the model. Every available Blendtec jar can fit the Blendtec Professional 800.
The square design enables blending without the need for a tamper as the container allows ingredients to pull to the blades. All jars are made from BPA-free Eastman Tritan materials. The jar is also dishwasher safe.
Sound Enclosure (Stealth Technology)
This is the technology that makes the blender quiet. It has a 360-degree sealed sound enclosure and sound dampening airflow technology.
The container is closed with another jar designed specifically to stop noise from escaping outside. These technologies enable the blender to blend quietly even at the highest speed.
User Friendliness & Controls (Pre-Programmed Settings)
6- pre-programmed settings are available in the Blendtec Professional 800 blender. These program settings include
Batters – Sauces, dips, dressing, batters.
Mixed Drinks – Mixed Drinks, Cocktails, and crushing ice.
Smoothie – All smoothies and milkshakes.
Frozen Treats – Ice cream, sorbets, frozen yogurt.
Whole Juice – Fruit juices.
Hot Soups – Hot soups and hot chocolate.
Pulse – Chop, Pulverize, mince, or stir ingredients at high speeds.
The interface has a touchscreen full of control keys whereby you can press the options to blend. On the screen, there is a digital timer to show the time off blending.
Speed controls: Blendtec 800 has 11 speeds that start from a low speed of about 4080 RPM to 29512 highest speed.
Program speed toggle: located at the top left under the on/off button, it changes between the 6 programmed speed and the manual speed.
Noise
The Blendtec Professional 800 blender provides both a powerful and quiet machine. This is rare in most of the blenders from various brands. Unlike the budget blenders that can have a powerful motor but are very noisy, Blendtec Pro 800 eliminates all that with its cover.
The noise level is under 67Db considering its powerful motor of 3.8 peak HP. The initial cost for this blender is high but it's worth it if you want a quiet and powerful blending at the same time. When shopping for a good blender, you want one that has high wattage.
Performance
The design of the container and the blade being blunt does a great job of smashing and liquefying ingredients with ease. Compared to sharp blender blades that chop and cut the ingredients, this blender's blade performs well.
Since the Blender doesn't have a tamper, it can be challenging when blending some thick recipes. A twisted jar is great for blending thick recipes than the Wildside jar.
Overall, the performance is of a high quality due to high-end features creating consistent blending results. If you're torn between a blender vs juicer, we're about to convince you which one you should buy!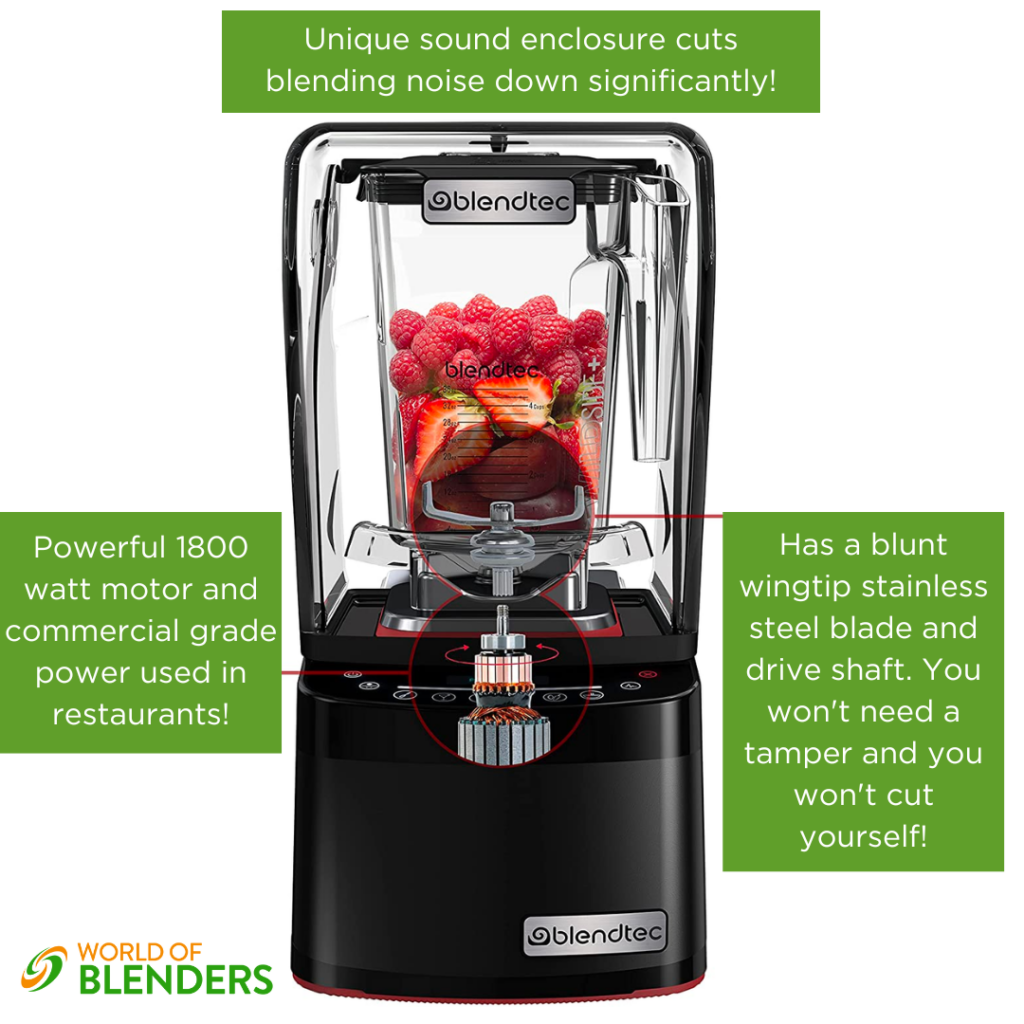 Cost
This can be the big downside of the Blendtec Professional 800 blender because it has a high price tag. The blender is worth the cost with a lot to offer in the kitchen or commercial premises.
The initial cost for buying the blender can dent your wallet but in the long run, you get a versatile, quiet, powerful, durable blender.
If you can't decide if a Blendtec blender is worth the money, consider how often you'll use it.
For a monthly smoothie, the cost just isn't justified for a high-end Blendtec blender, no matter how awesome it is. If you're a person who has a smoothie every morning for breakfast or regularly blends soups, desserts, and more, the cost may well be offset by just a few weeks of incredibly excellent blending results.
Ease Of Cleaning
Cleaning this blender is the easiest task compared to regular blenders which require disassembling parts of the blender. It has a self-cleaning function that needs warm water and dish soap to rinse the container in a few seconds.
If you decide to wash with your hands, the blade's blunt design is safer than the sharper blades.
Warranty
Blendtec offers a 10-year warranty for the Professional 800 blender which is better than the 8-year given for other Blendtec blenders. 30-day money-back guarantee in case the blender doesn't fulfill your expectations.
If you're wondering how long will a Blendtec blender last, always look to the warranty length. When a company is willing to cover their product for a decade, you can expect the blender is designed and built to deliver reliably for at least that long.
---
Types of Blendtec Container Jars
1. Wildside Jar
This is the largest and the most popular jar used in Blendtec blenders. It holds 96 ounces of fluid and comes with 4 inch blades. This jar is the standard for all the new Blendtec blenders. Wildside jar is best for blending smoothies, whole juices, and soups.
There is also a mini Wildside jar for people who need to blend small amounts of smoothies or other meals.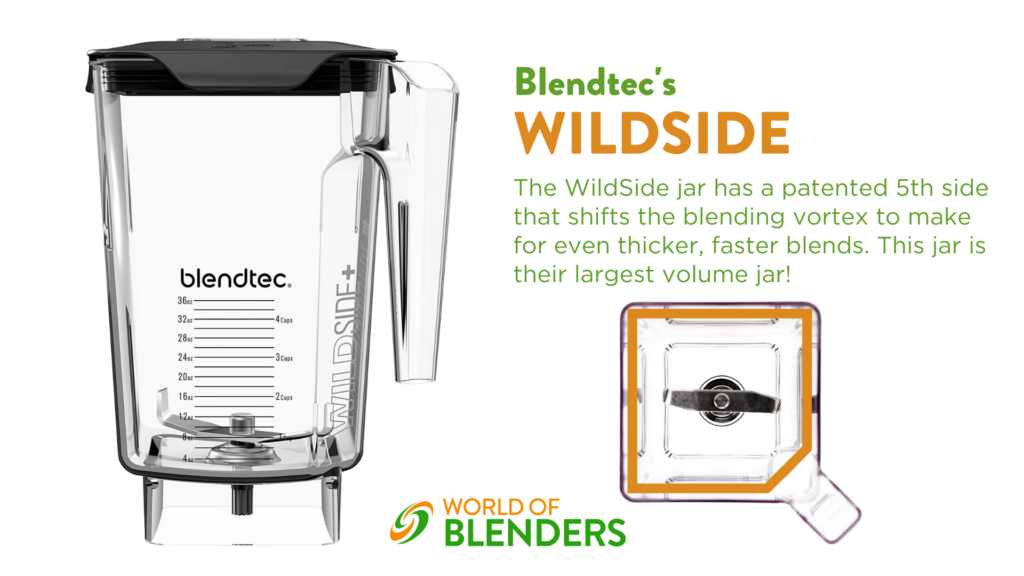 2. Twister Jar
The twister jar has a circular shape which is an alternative to the Wildside jar. This jar is perfect when blending smaller batches of ingredients like nut butter, pastes, hummus, baby food, thick shakes, dressing, and more! The jar has a 16 oz capacity.
The twister component on the jar scrapes the sides like a spatula and pulls the food inward as it blends. With this jar, you don't need to use a tamper since it does the movements for you! The blunt safety blade is 80% thicker than other blades, as well as 10x stronger than its competitors. The benefit of the Twister jar is that you can hand-twist the top knob periodically to help the blending process.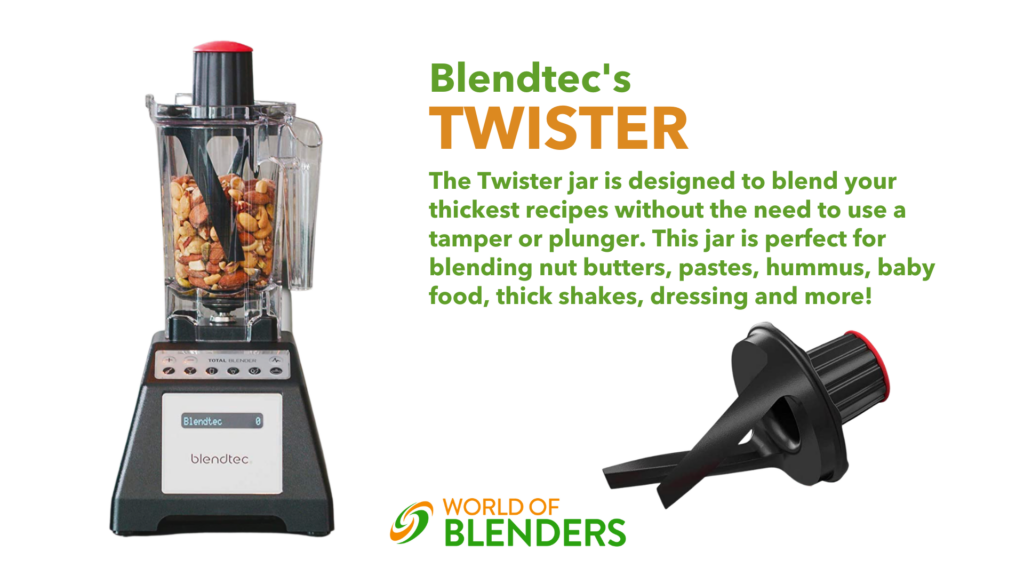 3. Fourside Jar
Fourside jar is another alternative to enhance the Blendtec blender blending process. It comes with a capacity of 75oz and 32 oz blending capacity for both wet and dry ingredients. There's nothing terribly special about this jar other than it has 4 sides and blends ingredients with professional, high-speed power like the other containers. It is best for blending hot soups, grinding grains, and drinks.
---
Common Questions About The Blendtec 800
Are Blendtec blenders worth the money?
Blendtec blenders are absolutely worth the money! They have a great combination of power, durability, noise level, and price. 
Is a Blendtec blender as good as a Vitamix?
I've only tested the Blendtec 800, but it's just as good as all of the Vitamixes we own. This one is more powerful and less noisy than most Vitamixes, but it is more expensive. 
---
Conclusion: Should You Buy The Blendtec 800
We highly recommend the Blendtec Professional 800. You're getting an incredibly durable blender that is guaranteed to last. The high performance and versatility allow you to make anything from smoothies to soup, hummus, and everything in between.
If you are looking for a blender with the capabilities of a commercial blender and quiet operation, this is the ideal choice.
I hope our Blendtec 800 review was able to help you with your blender-buying decision!