This post may contain affiliate links. If you use these links to buy something we may earn a small commission. Thanks.
Ninja is one of the best blender brands on the market! Their blenders are high powered and durable.
If you've recently purchased a blender, you're probably wondering if your Ninja blender is dishwasher safe.
My wife and I own multiple Ninja blenders and had to research this ourselves! There's an easy answer to the question, "Is a Ninja blender dishwasher safe?"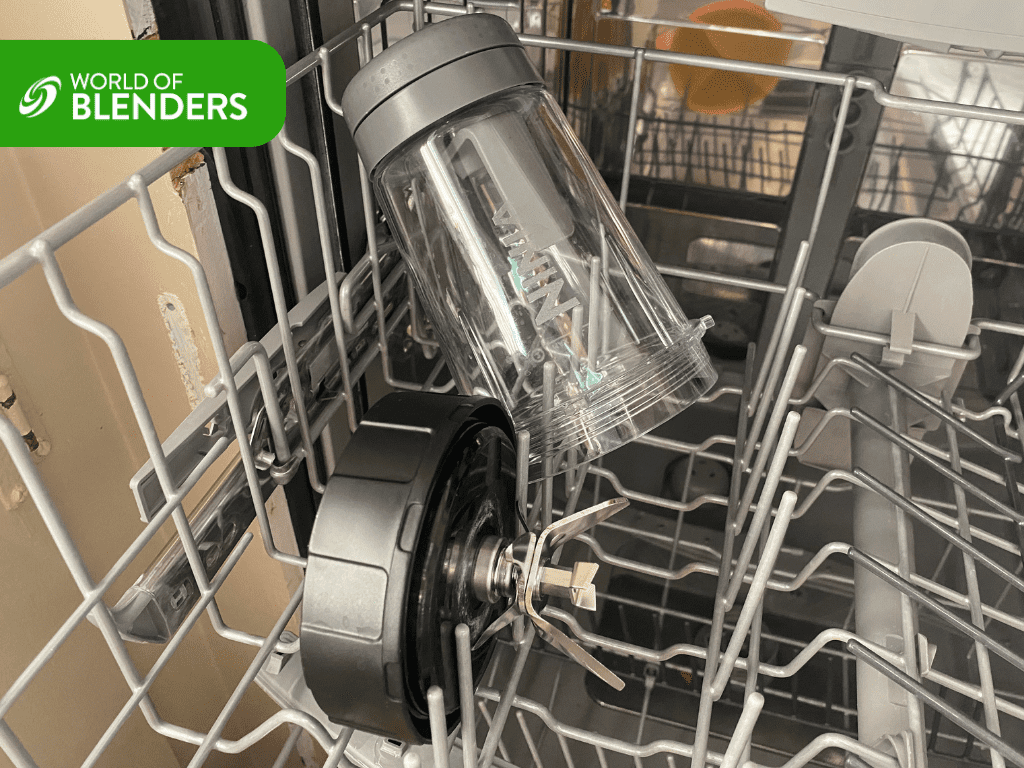 ---
Are Ninja Dishwasher Safe? Which Ninja Models are Dishwasher Safe?
All Ninja products and parts are dishwasher safe except for the motor. The container, cups, lids, and blades are all dishwasher safe. Remove the blade from the cup or pitcher and put the lids and blades in the top rack of your dishwasher.
We checked the product manuals for the two Ninja blenders that we own: the Ninja Foodi Smoothie Maker and the Ninja BN701. We also looked online and 5 other Ninja blender products and they all said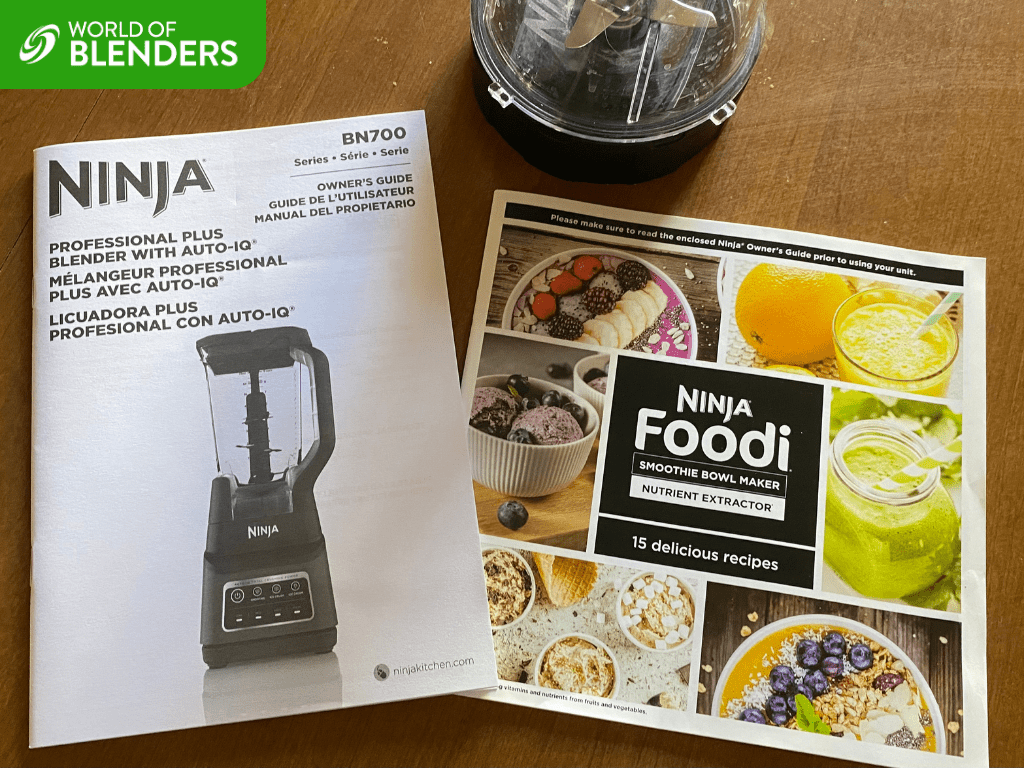 If your Ninja blender smells like it's burning then it might be a sign to give it a deep clean!
---
Which Components of a Ninja Blender are Dishwasher Safe?
Every Ninja blender component except for the motor is dishwasher safe. You can put your cups, containers, blades, and lids in the dishwasher. Anything that's in the container while you blend can go in the dishwasher.
Ninja blenders are dishwasher safe as long as you do it safely. Be careful handling the blades because they are sharp. Put on a pair of safety gloves or remove it with a kitchen towel before taking the blades out. It might sound ridiculous but my wife just sliced her thumb on the blade as she was pulling it out. Those blades are sharp!
Two important steps
You should remove the blade from the cup or pitcher before you place it in the dishwasher
Place lids and blade assemblies in the top rack of your dishwasher.
Sometimes food can get lodged in the edge of the motor base so it's good to make sure to clean that out as well! It can cause your Ninja to stop working or it might make your Ninja blender start blinking red!
---
Alternative Ways to Clean a Ninja
1. By hand
Cleaning your Ninja in the dishwasher is allowed, but it still may not be best. The reality is that dishwashers will put more wear and tear on a blender versus washing by hand.
For what it's worth, most Vitamix blenders are not dishwasher safe. And that's Vitamix… much higher quality of manufacturing compared to Ninja.
If you wash by hand, I recommend breaking down the container into individual parts and washing them by hand in warm, soapy water.
Just be extra careful cleaning the blades!
After you handwash your blender parts, rinse them off and let them air dry before you put the blender components back together.
2. Try self-cleaning
If you're not a fan of hand-washing, you're in luck.
You can use your Ninja blender to "self clean."
All you have to do is add warm water and a few drops of dish soap into the blender container. Switch the blender on and run it on high for 30 seconds or so. Rinse with water and set it out to dry.
The only thing self cleaning wouldn't work for is if you had a lot of peanut butter in your smoothie. It sticks to the side and can be tough to get off!
---
Common Questions About Cleaning Ninja Blenders
What parts of Ninja are dishwasher safe?
All parts of Ninja blenders are dishwasher safe: the cups, container, lid, and blades can all go in the dishwasher.
Is Ninja blender 1200 dishwasher safe?
Yes, the Ninja 1200 blender is dishwasher safe! The blades and lid should go on the top rack while the container and cups can be put wherever.
Is the Ninja Professional Plus blender dishwasher safe?
Yes, the Ninja professional plus blender is dishwasher safe! The container and all of the blending parts can go in.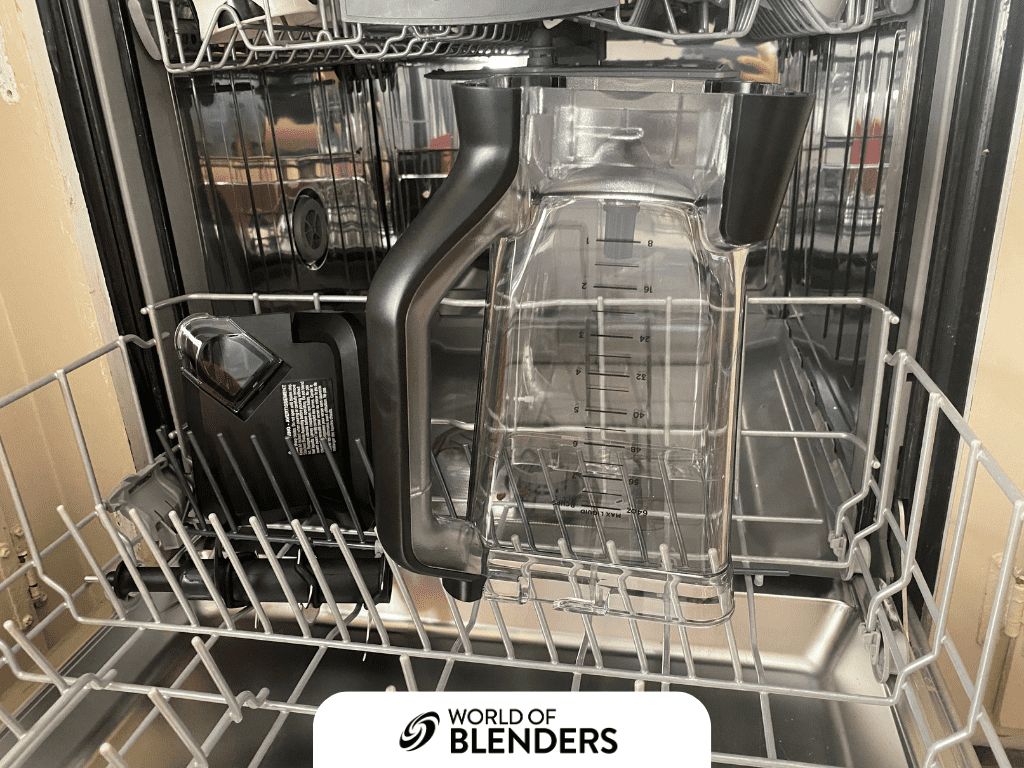 ---
Final Verdict: Are Ninja Blenders Dishwasher Safe?
Ninja blenders are dishwasher safe! They recommend using the top rack and taking the blades out of the container before putting them in the dishwasher.
Even though they are dishwasher safe, it doesn't mean you should… The blenders will last much longer if you hand wash them.