This post may contain affiliate links. If you use these links to buy something we may earn a small commission. Thanks.
Food processors are excellent kitchen tools. Not only do they offer you a way to quickly prepare vegetables, but they can also save you time when making large batches of soups and similar recipes.
But what if you don't want to splash out on an expensive food processor model? Is there a similar product on the market for the kitchen?
You may already have a Vitamix blender on hand. If you do, you're in luck. It's incredibly easy to use a Vitamix as a food processor.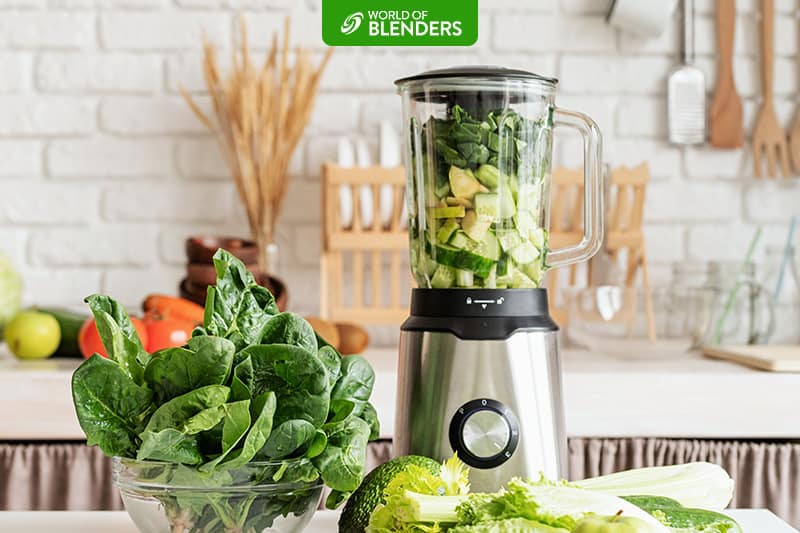 ---
Can You Use Vitamix as a Food Processor?
Vitamix blenders are incredibly versatile and can 100% be used as a food processor. You can use them to chop vegetables, grind meat, crush ice and frozen fruit, puree food, blend soups, and even knead dough.
---
5 Ways You Can Use a Vitamix as a Food Processor
1. Chop vegetables
Perhaps one of the most popular uses for any food processor is to quickly chop vegetables and save you a job. This means you don't need to worry about grabbing your chopping board and sharpening your knives just to hack through a couple of carrots.
A Vitamix blender, especially with a food processor attachment, can be used to quickly slice vegetables, perfect for stews and other recipes.
How to use a Vitamix to chop vegetables
Chopping vegetables is incredibly straightforward thanks to the accessibility of most Vitamix products. Here is our guide to cutting a range of vegetables using the food processor attachment for Vitamix machines:
Soft vegetables (lettuce, tomatoes, broccoli, etc.): Add a handful of your chosen vegetable into your Vitamix. Switch it onto the lowest setting, then either use the blenders pulse option or quickly switch to the highest and back to the lowest setting.
Hard vegetables (cucumber, carrots, parsnips, etc.): Get your chosen vegetable and add it to your blender. Switch on to a medium speed setting for a few seconds then regularly turn it up to the highest.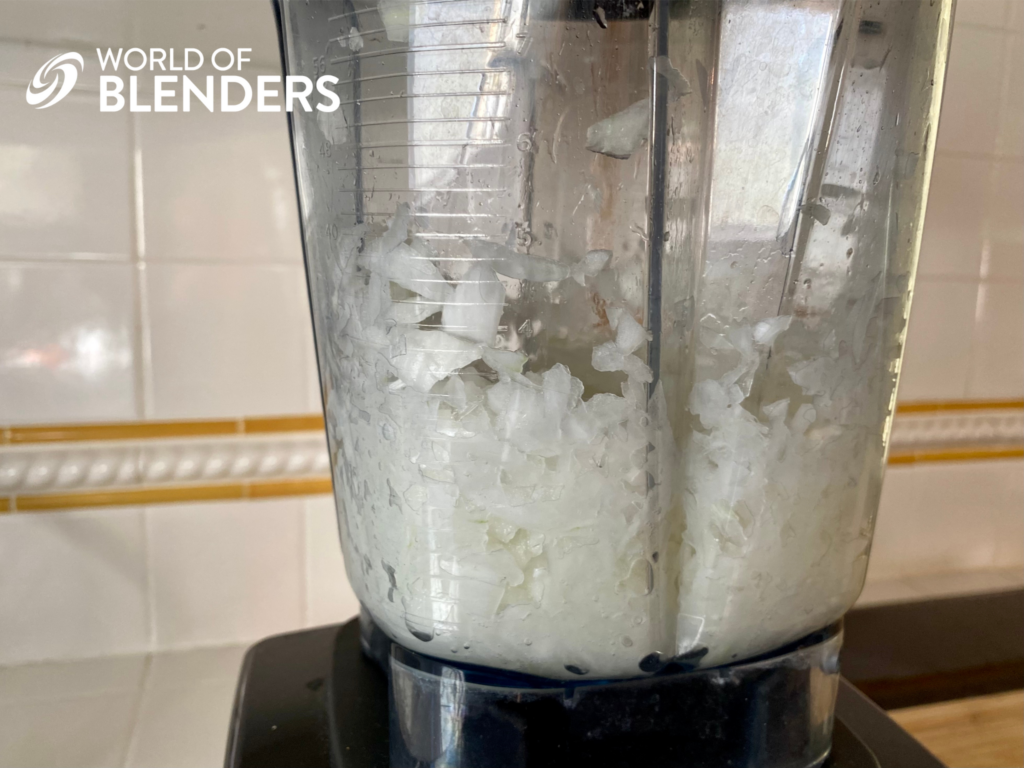 The time required to cut your vegetables will depend on how you would like them, such as a salsa consistency or just diced. As long as you don't blend for too long on the highest setting, your food processor attachment will slice your vegetables perfectly every time! Some vegetables stems are worth eating so be sure to save them!
Some people have wondered if blending veggies destroys fiber and the answer is NO! Blend away without worry.
2. Grind grains or meat
Grinding ingredients such as grains and meat may be required for the recipe you are working on. Thankfully, most food processors should easily make short work of any grinding required in the kitchen.
Check out our post on the Vitamix dry vs wet container to figure out which one is right for you!
How to use a Vitamix to grind grains or meat
If you don't have a traditional food processor to hand, you can use your Vitamix to grind ingredients quickly. This works much as you would expect from a food processor, but we have included a step-by-step guide to help you through the process:
Meat: Before you grind meat, you will want to ensure it is chopped into small cubes. This will ensure that it is ground evenly and you aren't left with any large lumps of meat.
Unlike chopping vegetables, when grinding meat, you will want to add a few cubes at a time. Blend it on medium settings for around 10 seconds, then add a few more cubes. Keep doing this until your meat is at the consistency you require.
Grains: Grinding grains to make flour is a pretty simple process. Add a couple of cups of grain to your blender and switch your blender to a medium setting. Then simply let your blender run until the grains create a finely ground flour.
As well as grains and meat, did you know you can also grind your coffee using a Vitamix? Save yourself some extra cash and just use your blender to gently grind your chosen roast without the need to splash out on an expensive grinder!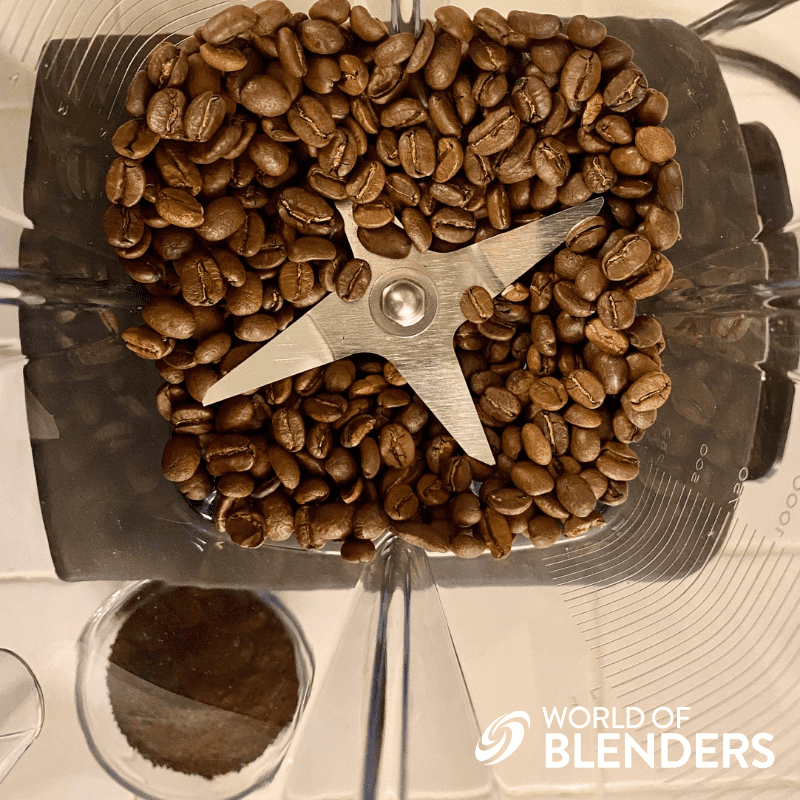 3. Crush ice and frozen fruits
Although ice crushers are the best tools for breaking up ice and frozen fruits, they can be fairly expensive. Fortunately, blenders and food processors excel at breaking up ice, offering you a way to make cocktails and similar drinks at home.
Every Vitamix blender is perfect for making frozen fruit smoothies and we have several Vitamix blenders that are top blenders for making green smoothies!
How to use a Vitamix to crush ice and frozen fruits
As you might have already realized, Vitamix machines are fantastic for completing a range of food processor tasks in your kitchen. They can easily be used to crush ice and frozen fruit without the need for any specialist tools or kitchen gadgets.
If you are wondering how to crush ice at home using your Vitamix, then look no further. Below you can find our guide to crushing a range of frozen ingredients in your kitchen:
Grab a handful of your chosen ingredients, whether ice or frozen fruits and add them to your blender container. Be sure not to fill it up to the top, as this can lead to leaks and will cause the crushing process to last too long.
Next, you will want to switch your blender to the lowest setting; this will make sure that your frozen ingredients don't immediately form a cold slush.
Now you will want to quickly alternate between low and high settings for around 35 seconds or until your frozen product is crushed. Be sure to make use of your Vitamix's pulse setting, as this is an excellent way to crush frozen ingredients.
When crushing ice and frozen fruit, be careful not to blend them for too long. Not only can wet chopping stain your blades, but ice that has been blended for a while will form a slush that may not be the ideal form for your recipe.
Make sure you get a blender with good wattage before you start blending up ice!
4. Prepare soups
Soups make fantastic meals. Not only are they extremely nutritious, but they are both filling and come in a range of flavors. Food processors are fantastic kitchen tools for making soups at home, especially during the winter months.
How to use a Vitamix to prepare soups
Preparing soups is extremely easy when using a Vitamix blender, particularly when using the food processor attachment. Here is how you can use your new food processor attachment or Vitamix to prepare soups at home:
Before you can begin to blend your vegetables, you will usually need to boil them with stock. This will depend on your chosen soup, but boiled vegetables are softer and far easier to use in a food processor or blender.
Once your soup is ready to be blended, gently pour it into your Vitamix blending jar. Be careful not to overfill the container as this can lead to leaks or other damage.
Switch your blender to a low or medium setting, depending on your preferred consistency, and leave it to blend your ingredients. This will typically take around 2 to 3 minutes, but if you like a thinner soup blend for longer and vice versa.
Be careful when adding your vegetables and stock to your blender as the mixture can get extremely hot. Take a look at our next guide to see how you can make homemade bread, the perfect accompaniment to soup!
5. Knead dough
Few things can beat the smell of freshly baked bread from your kitchen. Making bread at home is not only economical but it can also be an excellent way to spend the day. However, you will first need to knead your dough!
Kneading dough can take a while and quickly become a painstaking exercise. Thankfully, it is more than possible to use a food processor attachment to knead your dough so you can bake the perfect loaf every time.
How to use a Vitamix to knead dough
Before you can begin kneading bread, you will need to gather all the ingredients you need. Grab your trusty recipe book and make a note of everything you need to make bread at home. Once you have collected all the ingredients needed, it's time to start kneading:
If you are making your own flour, then you will first need to add your choice of grains to your blender. Gently blend this using your Vitamix machine until your flour has a fine consistency.
Once your flour is ready, you will want to add salt and yeast to your blender mixture. After this has been added, flick your Vitamix onto a low setting and let this blend for roughly 10 to 15 seconds.
It's now time to add your choice of oil and the amount of water your recipe requires. Switch your Vitamix back to a medium-speed setting and make use of your blender's pulse function. You will need to pulse your mixture around 5-6 times to get the right consistency.
As the mixture starts to thicken, you may need to scrape the sides of your food processor attachment to get the dough back into the center of your container.
Keep gently pulsing until your dough forms a soft but sticky ball. It's now time to bake your bread in the oven. Be sure to open all your doors to ensure the smell spreads throughout your home!
---
What Makes Vitamix an Excellent Food Processor?
Vitamix is known for its high-quality blenders and the fantastic array of features found on its products. But what makes Vitamix gadgets an excellent alternative to traditional food processors?
The versatility is one of the reasons why Vitamix Blenders are so expensive.
Here are just a few of the reasons why you might want to consider using your Vitamix blender as a food processor!
1. Blend at various speeds
Depending on the ingredient, or ingredients, you are trying to process you may want to change the speed of your machine. Vitamix blenders typically offer variable speed settings so you can quickly select the speed required for your chosen ingredient.
This is perfect for any food processor as you will genuinely want to process a range of ingredients, not just one. By offering a way to select the ideal speed setting for your recipe, Vitamix blenders give full control back to the chef.
What's more, the food processor attachment will be impacted by your speed decision. So there's truly no reason to splash out on a costly food processor when a Vitamix blender can get the job done.
2. Pulse button
The pulse button is an excellent addition to any Vitamix machine, especially when using the food processor attachment. A pulse button essentially lets you quickly power up your blender for a few seconds, offering incredible blending performance.
Although this may not sound like it will make much difference, it is an excellent way to blend to the consistency you require. It also helps you quickly get rid of lumps of food that haven't been completely blended.
Most traditional food processor machines won't feature a pulse button as it's generally reserved for blenders. This is why the food processor attachment is an excellent addition to any Vitamix blender.
3. Container design
A large container is an excellent addition to any food processor as it allows you to create a range of recipes for multiple people. Your average Vitamix blender offers a large blender container suitable for food processing.
On top of this, some of the Vitamix containers tend to feature a low-profile design. This allows the blades to cut through ingredients with ease and is also much easier to clean than most traditional food processors.
4. Blade design
The design of your blender's blades will largely impact how effective it is at slicing and dicing a range of ingredients. Ideally, you will want sharp stainless steel blades that are resistant to wet chopping.
Thankfully, Vitamix blenders offer some of the best blade designs on the market, perfect for food processors. The blades found within Vitamix machines can cut through most ingredients, such as nut butter, fruit, and vegetables – excellent for a range of food processor tasks. If you ever need to sharpen blender blades, there are three ways to do it: using a sharpener, egg shells, and foil.
---
The Drawbacks of Using Vitamix as a Food Processor
Although Vitamix offers some of the best gadgets you will use in a kitchen, their designs aren't entirely flawless. Fortunately, there are only a few drawbacks to using a Vitamix to replace your food processor.
The main problem you may run into when using Vitamix machines as a food processor is that they struggle to thinly slice some vegetables. If you are aiming for thin strips of veg or even discs, then you may need to look into investing in a food processor attachment.
Vitamix machines also struggle to dice vegetables as they tend to blend them into a pulp instead. This means if your soup recipe requires diced vegetables, you may need to use a knife or traditional food processor.
If your blender overheats then your Vitamix might smell it's burning.
---
The Vitamix Food Processor Attachment
As effective as a Vitamix is at food processing tasks, it still doesn't compare to a food processor. Thankfully, Vitamix understands this and has crafted an excellent food processor attachment designed to work alongside their Ascent and Venturist blender bases.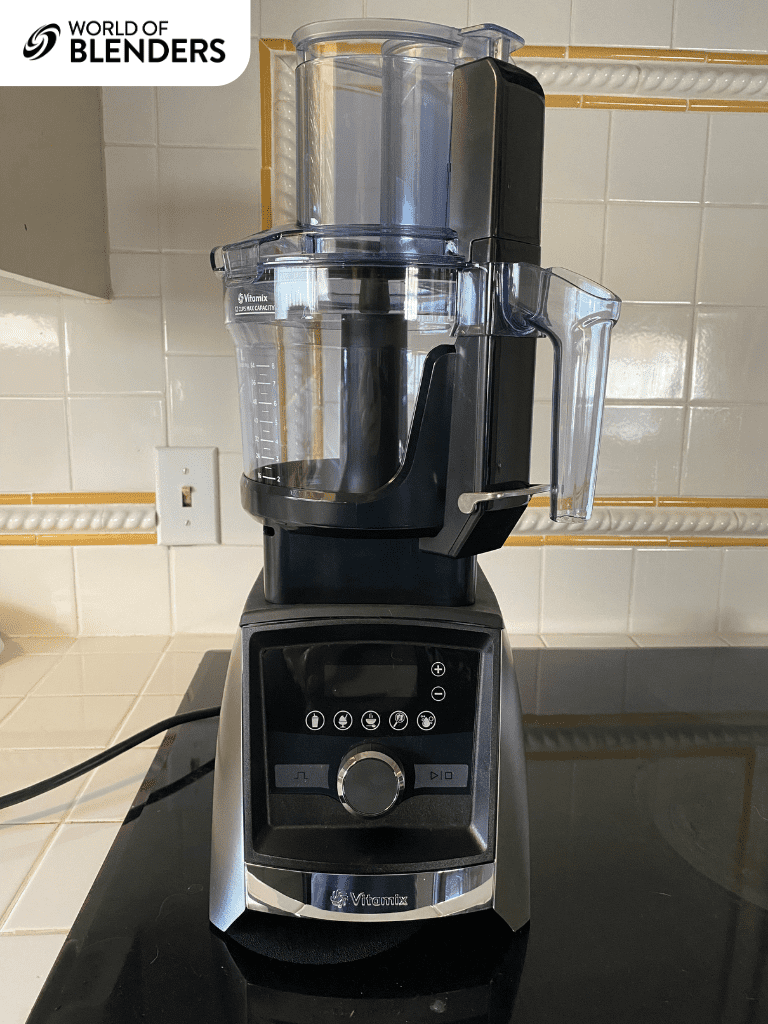 This fantastic attachment can help you perform most food processor tasks without the need for splashing out on a dedicated food processor. Be sure to check it out if you are lucky enough to own a Vitamix blender!
---
Common Questions on Using a Vitamix as a Food Processor
Is the Vitamix food processor reliable?
Yes, the processor attachment is not only incredibly reliable but also excellent at performing most processing tasks. If you don't want to buy a dedicated food processor then be sure to check out this attachment.
Does the Vitamix food processor fit all models?
The processor attachment is compatible with all smart Vitamix machines that use self-detect technology. However, it is not compatible with any of their Explorian blender models.
How do you clean a Vitamix food processor attachment?
Cleaning this attachment is just as easy as cleaning your blender. Simply rinse it with warm soapy water and give it a gentle scrub with a soft dish brush. It is also completely dishwasher safe!
How much does the Vitamix food processor attachment cost?
The food processor attachment tends to cost around $175 to $200 depending on where you choose to buy it from. This price may seem fairly high, but it is generally cheaper than buying a dedicated food processor.
---
Life Hack: Using Your Vitamix as a Food Processor
Using a Vitamix to replace an expensive food processor model is an excellent way to save you cash. Not only is it extremely effective, but it can perform most tasks with a similar level of efficiency as a dedicated processor. By following our guides above, you'll know exactly how to use a Vitamix as a food processor.
If you own one of the self-detect Vitamix machines, then you may want to invest in the processor attachment. This adds a whole new layer to your Vitamix and can help you out with a range of recipes!