This post may contain affiliate links. If you use these links to buy something we may earn a small commission. Thanks.
Jamba Juice (rebranded as Jamba since 2019) has over 750 locations across the United States. The chain is best known for its smoothies, including custom blends featuring vitamin and protein boosts.
But when you're making tens of thousands of smoothies every single day, how do you ensure a consistent, high quality product that will keep customers coming back for more?
A big part of the answer lies in your choice of blender.
So, what blender does Jamba Juice use in its stores? Why did they choose that particular blender? And could you buy it to create the Jamba experience at home?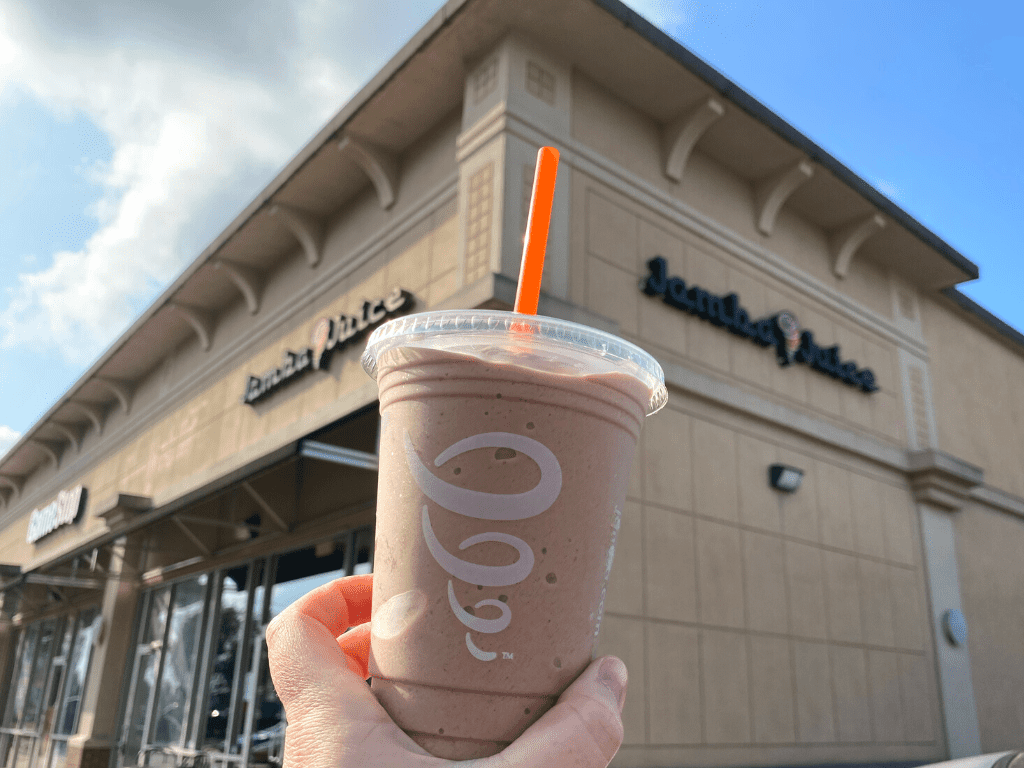 ---
The Blender Used By Jamba Juice
Jamba Juice uses the Blendtec Stealth 885 commercial blender. The smoothie chain began using Blendtec blenders in 2016 when it made the switch from rival brand Vitamix.
Blendtec claims that the Blendtec Stealth 885 is "the world's quietest commercial blender". However, that claim appears to be disputed, as Vitamix makes similar boasts about The Quiet One, which is a rival commercial blender used by Starbucks and Smoothie King.
| | |
| --- | --- |
| Store | Blender |
| Jamba Juice | Blendtec Stealth 885 |
| Starbucks | Vitamix Quiet One |
| Smoothie King | Vitamix Quiet One |
Read more: What Blender does Starbucks use?
---
About The Blendtec Stealth 885
The Blendtec Stealth 885 is the replacement for the discontinued Blendtec Stealth 875. The two models are identical apart from an updated user interface.
As you would expect for a blender that is used in more than 750 Jamba Juice stores, the Blendtec 885 is specially designed for the commercial market.
The blender features a 3.8hp motor and boasts a massive 1,800 Watts of blending power! Anything around 1,500 Watts is considered to be a real top-end blender, so 1,800 Watts is huge. For comparison, The Quiet One by Vitamix clocks in at 1,550 Watts.
The Blendtec Stealth 885 is capable of blending more than 200 times per day and comes complete with 42 pre-programmed blending cycles. However, it's biggest selling point is undoubtedly it's low volume operation.
Blendtec have designed the Stealth 885 to be worthy of its ninja-esque name – boasting an enormous amount of power while operating "at the sound level of normal conversation".
Of course, this combination of functionality, power, and low-volume blending doesn't come cheap. The Blendtec Stealth 885 typically costs more than $1200 per unit, though discounts are available for commercial customers buying their blenders in bulk.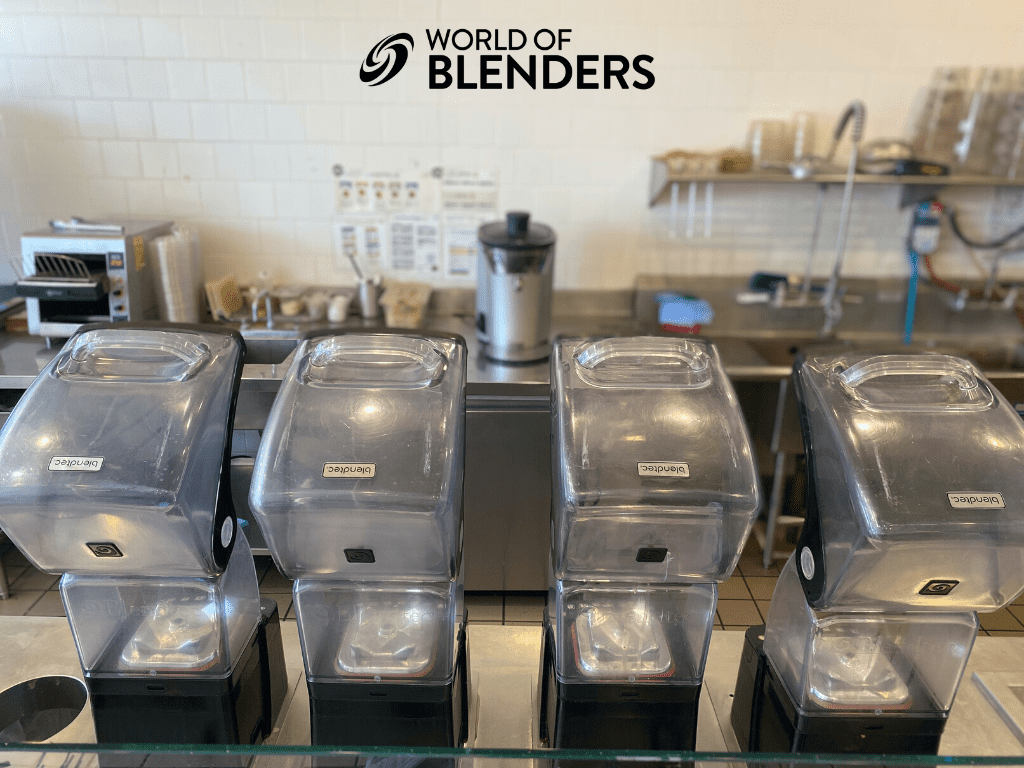 ---
Why Jamba Juice Uses The Blendtec Stealth 885
Like Starbucks and Smoothie King, Jamba Juice used to use Vitamix blenders. However, unlike the other two chains, Jamba Juice made the bold decision to move away from Vitamix and launch a commercial partnership with Blendtec instead.
Jamba Juice announced the Blendtec partnership in November 2015, and began the process of rolling out new Blendtec Stealth blenders across all its stores from March 2016.
When the Blentec partnership was announced, a Jamba Juice spokesperson said:
"Blendtec and Jamba's strategic alliance has already yielded a blending solution that reduces blend times and re-blends, simplifies blender maintenance, reduces blender noise, and delivers overall enhancements to blender use and quality while delivering smooth, complete blends of whole juices and smoothies for Jamba customers."
The main motivations for changing blender were, therefore:
Faster blending
Simplified maintenance
Quieter operation
Better quality
Jamba Juice also highlighted the need for a close partnership that was "not just a blender supplier but also an innovative solution provider."
They believed that Blendtec were the perfect match, and a company that they could "work hand-in-hand with to create a blending solution optimized specifically for Jamba Juice franchises and their customers."
Adding that "Blendtec responded by providing not just the hardware Jamba Juice needed, but also the engineers and operations specialists to provide the innovation Jamba Juice wanted."
Read more: What Blender does Smoothie King use?
---
Should You Buy a Blendtec Stealth 885?
The Blendtec Stealth 885 is a commercial blender. That means it is not designed for the home kitchen, but for the counter of a busy store, where it could be used to make more than 200 smoothies in a single day.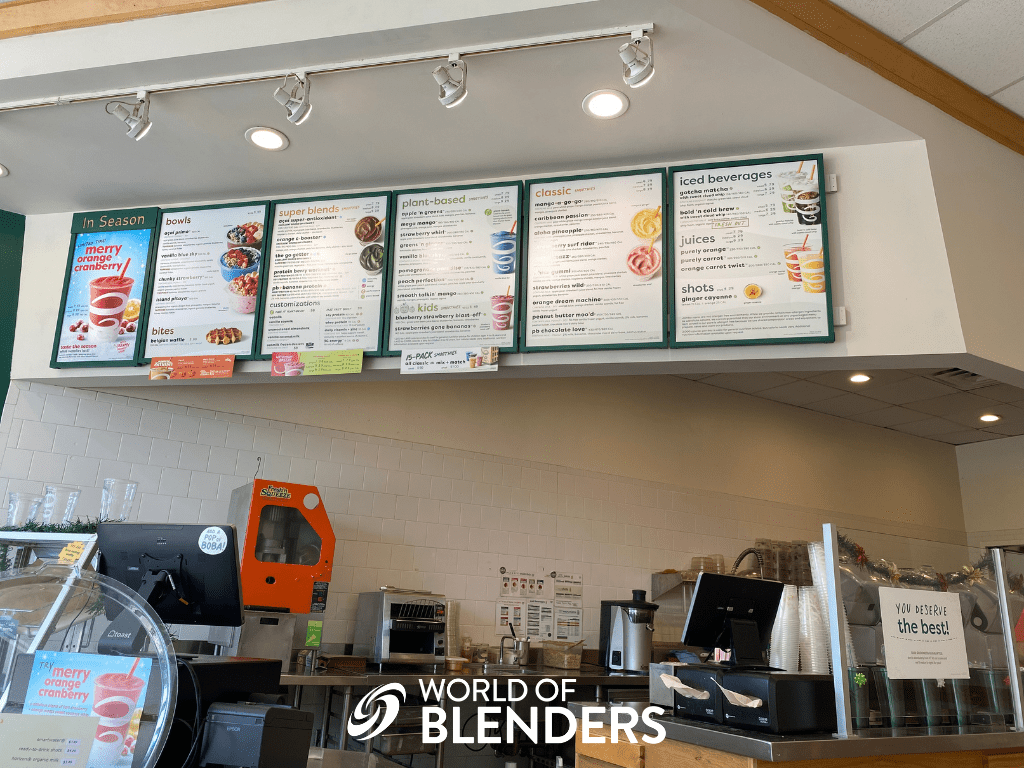 It is also designed to operate incredibly quietly for a blender of its power. This is really important in a store where customers are trying to relax and enjoy a conversation, but arguably not as important when you're quickly making a smoothie or two at home.
All of this adds up to the Blendtec Stealth 885 being an expensive proposition. While the blender is available to buy as a single unit, doing so will set up back over $1,200. That's a lot of money to spend on a blender – particularly when you're paying for features and a level of engineering that is arguably excessive for limited home use.
Of course, if you can afford to spend such large sums of money on a blender, and you want a fantastically powerful machine that can effortlessly and reliably blend without the deafening noise of cheaper models, the Blendtec Stealth 885 might just be the blender for you.
And if not, you might prefer to buy a slightly cheaper blender to use at home… then use the money you save to get your Blendtec Stealth 885 smoothies from your nearest Jamba Juice instead!