This post may contain affiliate links. If you use these links to buy something we may earn a small commission. Thanks.
Do you enjoy Smoothie King smoothies? If so, you may be wondering what blender your local Smoothie King uses, and whether it's worth investing in the same blender for your kitchen.
With over 1000 stores across the US and millions of smoothies made for customers every year, Smoothie King needs a consistent, durable blender that produce a top quality smoothie. So copying them might not be a bad idea!
Read on to find out what blender Smoothie King uses, why they chose it, and whether you should buy the same blender to make smoothies at home.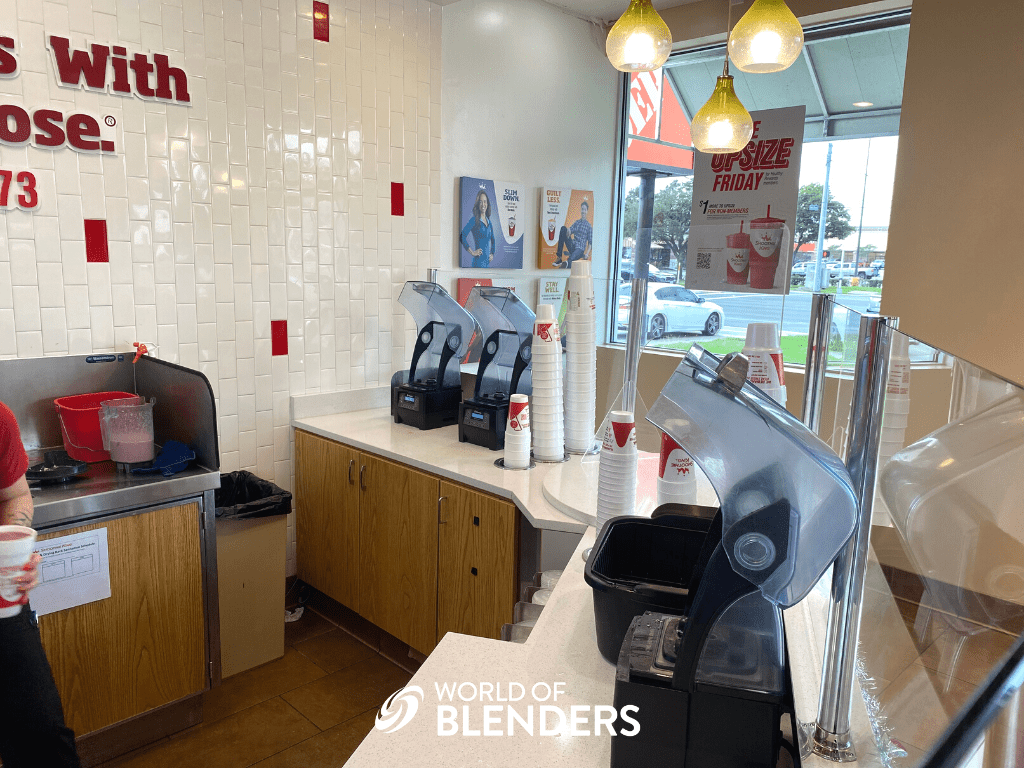 ---
Smoothie King's Blender of Choice
Smoothie King uses a Vitamix blender called The Quiet One. The smoothie franchise selected The Quiet One for its low-volume operation, speed and durability. This makes it a customer-friendly and cost-effective choice.
The version of the blender used by Smoothie King is fitted with a BPA-free lid and container. BPA stands for bisphenol A, which is a chemical used to make some plastics. Some research suggests that BPA could represent a health risk if it seeps into food from plastic containers, which is why Smoothie King has chosen a BPA-free container and lid for its blenders.
Read our full review of the Vitamix Quiet One if you want a deep dive.
| | |
| --- | --- |
| Store | Blender |
| Smoothie King | Vitamix Quiet One |
| Jamba Juice | Blendtec Stealth 885 |
| Starbucks | Vitamix Quiet One |
---
About The Quiet One
The Quiet One is a type of blender manufactured by Vitamix. It can be used in the home, but it is primarily designed for commercial use and is currently used by major chains including Smoothie King and Starbucks.
Features that make The Quiet One particularly well suited to commercial use include Vitamix's patented noise-reduction technology and a magnetic base to reduce noise – Vitamix claim that The Quiet One is up to 4 times quieter than its competitors.
The blender also boasts a powerful 1550 Watt 3hp motor, and an air management system that helps to avoid overheating even when making several smoothies one after another. When it comes to Vitamix wattage, the Quiet One is the most powerful.
The Quiet One has a 48-ounce capacity and weighs 20lbs. It comes with a program feature and 34 pre-programmed functions, including smoothie, juice, iced coffee and ice cream drinks.
The price of The Quiet One varies between retailers and, for commercial customers, prices also depend upon the quantity being ordered. Purchasing a single unit online or from a consumer retail store will cost at least $1000.
The Quiet one is also the blender that Starbucks uses!
---
7 Reasons Why Smoothie King Uses 'The Quiet One' Blender
For a smoothie franchise like Smoothie King, the blender they use will affect the quality of the product and impact customer satisfaction, costs and profitability. In other words, their choice of blender could be the difference between a thriving business and a poorly-reviewed unprofitable failure!
So why did Smoothie King choose The Quiet One from Vitamix? There are 7 reasons why The Quiet One is Smoothie King's blender of choice.
Quality
When smoothies are your product, the quality of the blender you use directly affects the quality of your product. And the quality of your product affects your reputation, customer reviews, repeat custom, and the prices that you can charge.
For Smoothie King, it was crucial to choose a blender that produced the right texture, giving customers the best possible flavor and ensuring that the smoothie lasts a long time in the customer's cup.
Power
Smoothie King smoothies contain ingredients that aren't easy to blend, including nuts, grains, peanut butter, and frozen fruit and veg.
The company therefore had to select a blender with enough power to thoroughly and reliably blend even hard and frozen ingredients to the correct consistency. The speed and power is one of the reasons why Vitamix blenders are so expensive.
Noise
Smoothie King wants to create a welcoming and comfortable environment where customers can meet an enjoy a smoothie together. That wouldn't work very well if staff were constantly using noisy blenders that make the store sound like a jet engine is powering up!
As its name suggests, The Quiet One makes it possible for Smoothie King to make smoothies in its store without disturbing its customers.
Speed
Smoothie King needs to blend its smoothies quickly in order to avoid keeping customers waiting and to maximize the number of people that can be served per hour.
A fast blender keeps customers happy and lines short, which means more smoothie sales.
Durability
A Smoothie King store will serve tens of thousands of smoothies per year, so any blender used in store needs to be up to the challenge.
If a blender breaks due to poor durability, it will cost money to repair and may reduce the number of smoothies sold in that store until the blender is back up and running. The durability is just one of the reasons that a Vitamix is worth buying.
Cost-effectiveness
When you have over 1000 stores that each require multiple blenders, the cost of purchasing, maintaining and powering your blenders really starts to add up.
For this reason, Smoothie King closely monitors "cost of ownership" – how much a blender costs in total over a period of several years – to ensure that their blenders are cost-effective for the business.
The Quiet One is actually cheaper than the blender that Jamba Juice uses by 20%.
Ease of use
If Smoothie King chose to use a blender that required a series of complex steps to make a smoothie, the company would need to spend more time and money on staff training, there would be more errors, and staff would have less time to spend on other tasks.
Ease of use was therefore a key factor in Smoothie King choosing The Quiet One.
Once the right ingredients are added to the container, the server simply presses one button and the blender does the rest.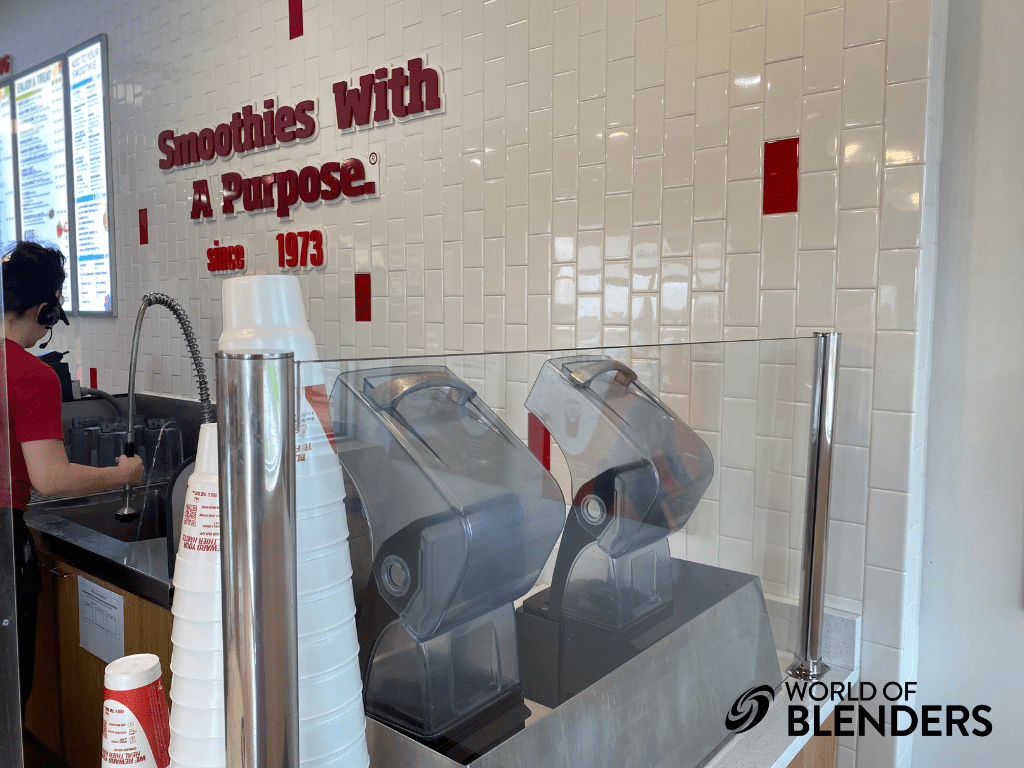 ---
How Did Smoothie King Test The Quiet One?
Before rolling it out across their stores, Smoothie King rigorously tested The Quiet One to see how it performed on some of their most difficult-to-blend smoothies.
These tests were carried out in a test kitchen and looked at many factors, including how consistently the blender performed when making lots of smoothies in quick succession, how durable the various parts of the blender were, and how quick and easy the blender was to use, clean, and maintain.
If a blender makes it past the test kitchen stage, it is put through its paces in a test store.
Since The Quiet One was introduced, only one other blender has made it that far, and Smoothie King ultimately decided to stick with The Quiet One rather than make a change.
In a test store, the blender being considered is used for several months, which means making thousands of smoothies for real customers. This thorough test period enables Smoothie King to learn how durable the blender is, checking to see whether the blender breaks or shows unacceptable signs of wear and tear.
Testing in a real store also gives the company's knowledgeable staff the chance to provide invaluable feedback on the new blender. After all, the people best placed to say whether one blender is better than another are the people who use those blenders day in, day out.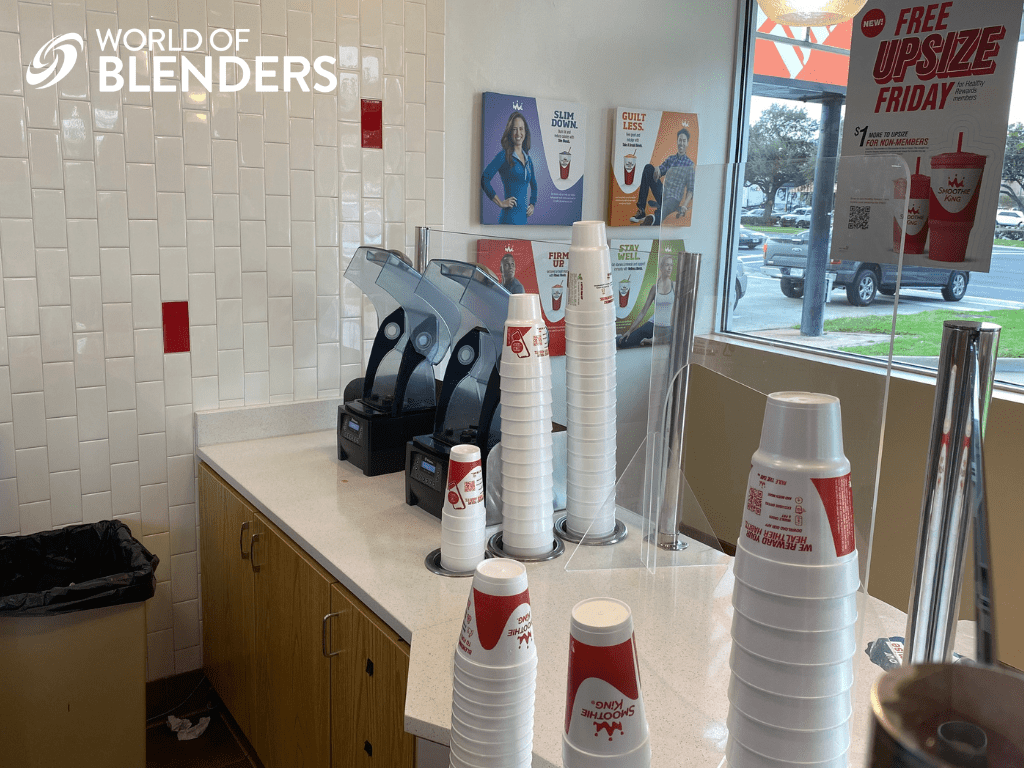 ---
Should You Buy The Vitamix Quiet One?
The Vitamix Quiet One is primarily a commercial blender, designed to be used in stores like Smoothie King. It is therefore an expensive option, and arguably overkill when all you need to do is make a daily smoothie or two, rather than churn out smoothie after smoothie on a commercial scale.
However, it is possible to buy The Quiet One for home use. So, if you have the budget and you want to replicate the Smoothie King experience in your kitchen, there's nothing stopping you!
The number one selling point of The Quiet One is it's super-powerful 1550 Watt motor that runs impressively quietly. So, if you have a reason to keep the noise down at home, but you still need a blender that can reliably tackle even the toughest ingredients, The Quiet One could be well worth its hefty price tag.