This post may contain affiliate links. If you use these links to buy something we may earn a small commission. Thanks.
Did you know that Vitamix has been making blenders since the late 1930s? In the early days, the only way to buy a Vitamix blender was directly from the company or in response to a TV infomercial. But of course, the situation is very different today.
Vitamix is now a leading brand with several different models available across various major retailers.
So where should you buy a Vitamix? And which models are available in which stores?
We recommend checking the following retailers to find the right model for you at the best possible price.
Make sure to reference our massive review on the best Vitamix blenders before buying one!
---
The Best Places to Buy a Vitamix Blender
These aren't the only places to buy a Vitamix blender, but they are among the most popular, with the widest array of models, the largest amount of stock, and the most competitive prices.
We've broken down the list into online retailers, secondhand marketplaces, or in-person stores.
Here's the list of places to buy a Vitamix that we're going to deep dive:
Vitamix.com
Amazon
QVC
eBay, Craigslist, and Facebook Marketplace
Best Buy
Costco
Bed Bath and Beyond
Target
Sur la Table
Our two favorites are:
Vitamix directly – You can never go wrong by buying straight from the manufacturer. This guarantees you get the right product with the best deal. Vitamix will often run special sales that you can't get anywhere else. You can also buy reconditioned blenders from them to save some money!
Amazon – Fastest shipping and usually free shipping! Their prices are often on sale compared to some of the other retailers.
Online Retailers
Vitamix.com
If you want the widest possible range of Vitamix models and colors, then buying directly from Vitamix is the way to go.
Vitamix is also the place to shop if you want to save money with a reconditioned blender.
Vitamix offers a 'Certified Reconditioned' series, which are not new blenders but rather blenders that have been repaired and had parts replaced to be as good as new. This means that you get the same quality blender for a cheaper price.
If you're unsure about owning a reconditioned blender, we recommend reading this guide to Vitamix's 17-step inspection process. You'll see Vitamix go to great lengths to ensure their reconditioned blenders are top quality. And if that isn't reassuring enough, reconditioned blenders also come with a three to five-year warranty.
If you ever need a replacement Vitamix container, you're best off going to Vitamix directly.
Amazon
You'll be unsurprised to hear that Vitamix blenders are, of course, available from the world's biggest online retailer, Amazon.
There is usually a good range of Vitamix models available on Amazon, including from third-party sellers.
Prices are competitive, and many users will benefit from Amazon Prime delivery.
QVC
At the time of writing, QVC offers the Vitamix Ascent A2300 and A2500, along with the Pro 750 and a variety of Vitamix blending containers.
QVC also offers an exclusive Vitamix model, named Creations II. The Creations II blender is a version of the Vitamix 5200 in a wider range of colors and with a recipe book included.
The Creations blenders are available via the QVC website and are occasionally offered at a discounted price on the QVC TV channel.
---
Online Auctions & Marketplaces
eBay, Facebook Marketplace & Craigslist
It is quite common for people to sell their old Vitamix blenders via auction sites and marketplaces, such as eBay, Facebook Marketplace and Craigslist.
The advantage of buying via these sites is that you may be able to grab a high-end Vitamix at a knocked down price. But of course, there are significant risks and disadvantages too. Vitamix blenders are worth the money, but it's always nice if you can get a good deal!
The risk of buying a second-hand blender is that you can't be sure exactly what condition the blender is in. You can mitigate this risk to some extent by only purchasing from reputable sellers who include details photographs of the product. You should also ask why the blender is being sold and how heavily it has been used.
The main disadvantage of buying second-hand is that the warranty does not restart. If there is some warranty period left on the blender then it will transfer to you as the new owner, but you will only get whatever warranty remains, not the full warranty you would get with a new purchase.
For example, if the blender originally had a five-year warranty, but the previous owner has had the blender for four years, you will get just one year of warranty cover.
There is also some risk that the previous owner's actions may have voided the warranty. For example, due to misuse of the blender.
Overall, while it is perfectly fine to buy a second-hand Vitamix blender from an auction or marketplace, we recommend considering buying a refurbished unit from Vitamix instead. This option is safer, as you can be sure about the machine's condition and warranty cover, while still offering savings versus buying a brand new blender.
---
Traditional Retailers: Buy In-Store or Online
Best Buy
Best Buy stocks most Vitamix models both in-store and online. Prices on the Best Buy website are generally consistent with Amazon.
When ordering your Vitamix blender online from Best Buy, you can choose free shipping, pay extra for express shipping, or collect your blender from a local Best Buy store if you prefer.
Costco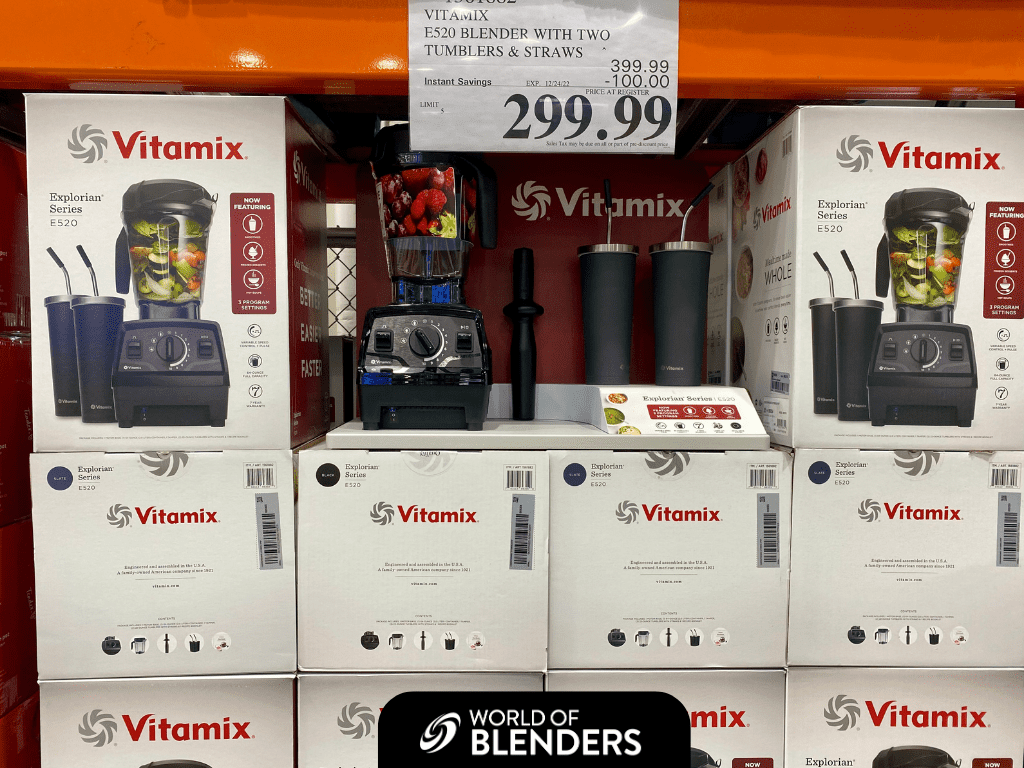 The advantage of buying your Vitamix blender from Costco is that the store has two exclusive models that are not available anywhere else.
These exclusive models are the Vitamix 5300 and the Vitamix 6500. They are a mix of parts from other models and feature a lower profile base, which may make it easier to fit your Vitamix below kitchen cabinets.
Despite their different model numbers, the two blenders are very similar, with the only difference being an additional three preset blending modes included with the 6500: smoothies, frozen desserts, and hot soup.
Costco also sells other non-exclusive Vitamix models, such as the 7500, and Vitamix accessories, like the blending cup and bowl starter kit.
You must be a Costco member to purchase and view online prices, but the great news is they often on sale! This is the best traditional retailer to buy from in our opinion because of the cost and money saved.
Read more: Why are Vitamix Blenders So Expensive?
Bed Bath & Beyond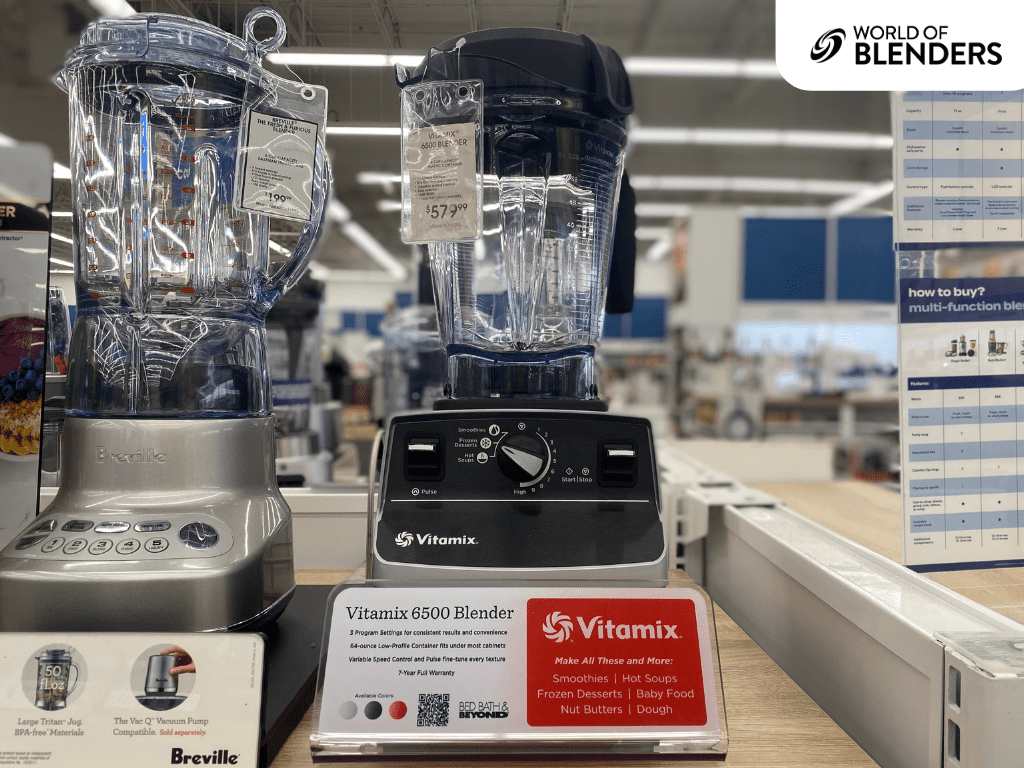 As they did with Costco, Vitamix developed an exclusive blender for Bed Bath & Beyond. Called the TurboBlend 3-speed, it features three different blending speeds and a pulse function to blend in short bursts.
If you particularly want the pulse function, then the TurboBlend is a good option. However, if you can manage without pulse blending, the Vitamix 5200 will likely be a better option for you, as it offers ten speeds rather than just three.
Bed Bath & Beyond also sells a wide range of other Vitamix blenders. Unfortunately, the entire range is excluded from coupons, so you are unlikely to get a bargain compared to buying from any other retailer.
Target
Target stocks the Vitamix Explorian 10-speed and the Vitamix A2500 Ascent on its website, as well as some accessories, such as the food processor attachment. You may also find other Vitamix models in selected Target stores.
Prices at Target are generally equivalent to other retailers, including Amazon. Target can therefore be a good option if you want to order for immediate in-store collection while still enjoying the lowest available online prices. Target pick-up is my wife's favorite thing and could be an easy idea f
Sur La Table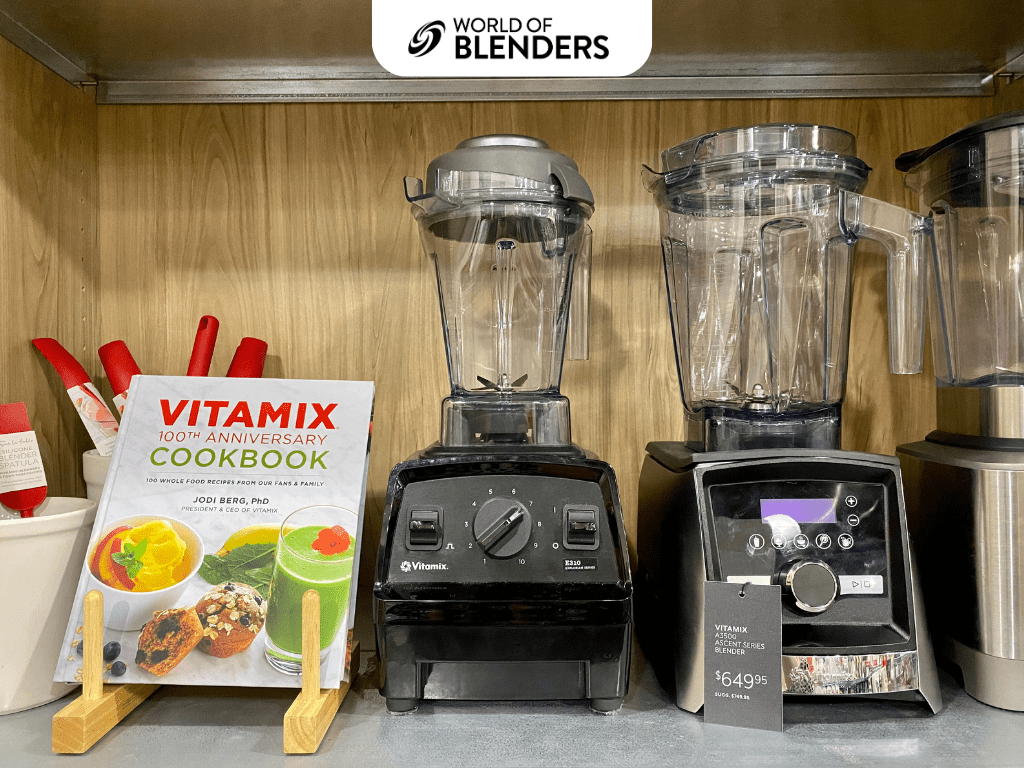 The kitchen store Sur La Table sells Vitamix blenders ranging from entry level – such as the Vitamix E310 Explorian blender, which retails for less than $300 – all the way through to the high-end Vitamix A3500 Ascent.
Sur La Table has a large range of Vitamix accessories, such as containers, blending bowls and recipe books.
Both the Vitamix blenders and accessories available at Sur La Table are reasonably priced, though you are unlikely to find a bargain, with prices generally in line with other stores.
---
Where is the Best Place to Buy a Vitamix Blender?
In our opinion, the best place to buy a Vitamix blender is directly from Vitamix themselves, via Vitamix.com.
By purchasing your blender from Vitamix, you can be confident that you are choosing from the widest range of all the latest models, and you can be sure that your blender is covered by the Vitamix warranty. Buying direct even gives you the option to extend the warranty if you wish.
Their warranty is one of the reasons that Vitamix blenders are so expensive.
Vitamix also offer a wide range of reconditioned blenders, which have been carefully repaired and come with a warranty of at least three years. If you're looking for a cheap Vitamix blender then buying a reconditioned unit directly from Vitamix is the best option.
Other benefits of buying from Vitamix include your blender automatically being registered with the company, free shipping and flexible payment plans.
If you're curious where Vitamix blenders are made, the answer is the USA and China. The technical parts are made overseas while the container and assembly takes place in Ohio.