This post may contain affiliate links. If you use these links to buy something we may earn a small commission. Thanks.
Magic Bullet blenders are some of the most affordable and easy to use blenders on the market. They're great for making every day smoothies. The brand is a part of NutriBullet.
If you've recently purchased a blender, you're probably wondering if your Magic Bullet is dishwasher safe.
My wife and I own a Magic Bullet blender and had to research this ourselves! There's an easy answer to the question, "Is a Magic Bullet blender dishwasher safe?"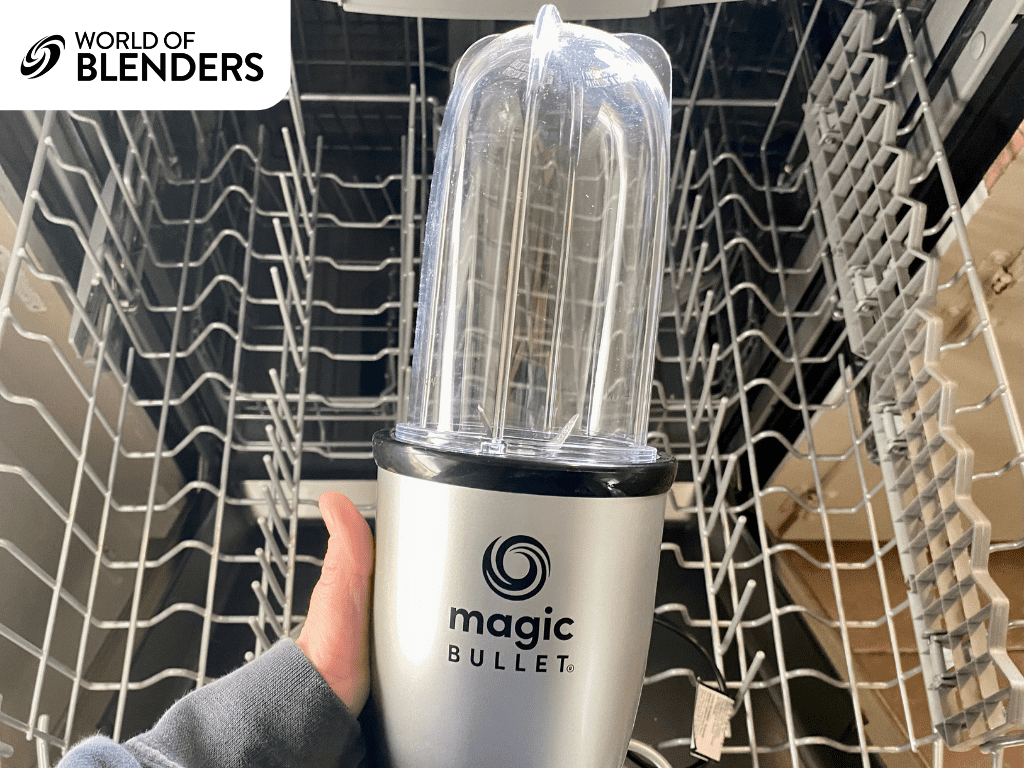 ---
Are Magic Bullet Blenders Dishwasher Safe?
Magic Bullet blenders are dishwasher safe! The cups, lids, and containers can all go in the top rack of the dishwasher. The only parts that are not dishwasher safe are the motor base and cross blade.
We looked at the user manual for the Magic Bullet original (the one we own) and the Magic Bullet mini.
Here's the exact quote from the user guides / manuals:
"Cleaning the magic bullet® is easy. Simply place any of the parts (except for the Motor Base and Cross Blade) on the top rack of the dishwasher or hand wash with warm, soapy water and rinse."
The big rule is to only use the wash cycle and not the sanitize cycle. Some dishwasher offer a sanitize function which is a deeper clean and runs at a much higher temperature than normal.
If you do this, the higher temperature will melt and warp your Magic Bullet containers, cups, and pitchers.
Whether you're handwashing or using the dishwasher, you need to pay close attention to the actuator tabs on the inside of the motor base. Sometimes food and debris can drip down there and it can cause black liquid to leak from your blender.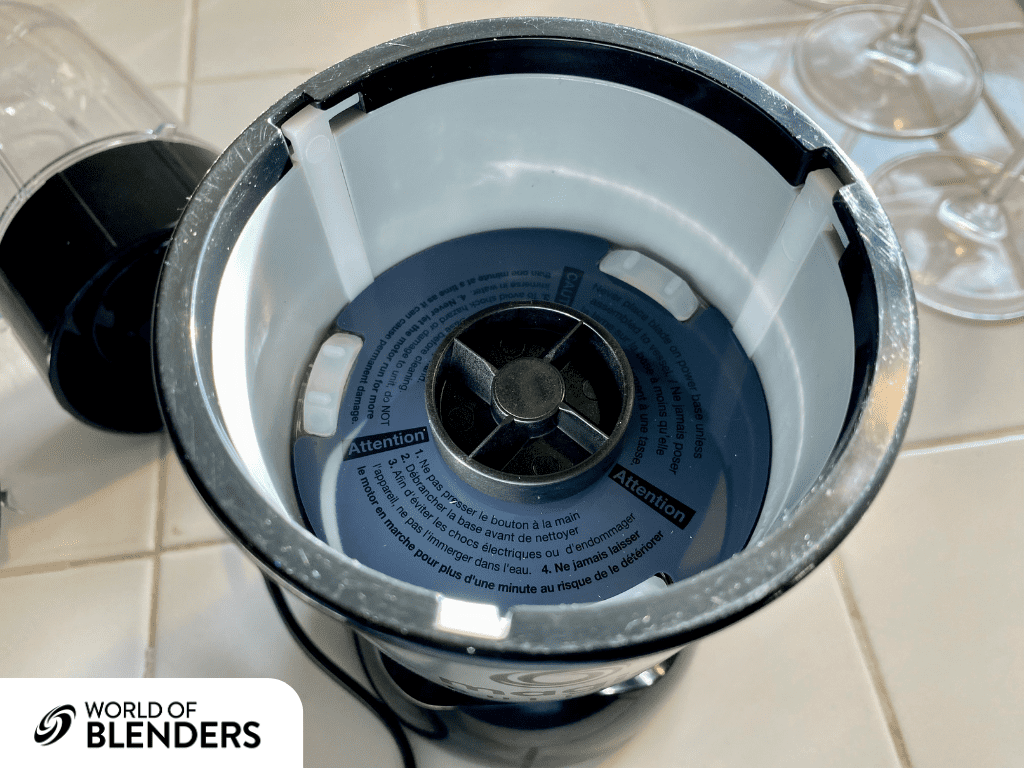 If you don't keep these clean, food can get lodged and jammed which can make your Magic Bullet smell like it's burning because it's overheated.
---
Alternative Ways to Clean a Magic Bullet
1. By hand
Cleaning your Magic Bullet in the dishwasher is allowed, but it's not the best thing for your blender. Dishwashers will put more wear and tear on a blender compared to hand washing.
For what it's worth, most Vitamix blenders are not dishwasher safe. And that's Vitamix… much higher quality of manufacturing compared to Magic Bullet.
If you hand wash your blender, take it apart into individual parts and wash them in warm, soapy water and use a brush to clean off any bits of food/smoothie!
Just be extra careful cleaning the blades! If you aren't careful, you can easily cut yourself.
After you handwash your blender parts, rinse them off and let them air dry before you put the blender components back together.
IMPORTANT: Do not remove the rubber or plastic liners inside the Motor Base.
If you remove the rubber lining from the base, it can be very hard to get it back in properly.
2. Try self-cleaning
If you're not a fan of hand-washing, you're in luck.
You can try making your Magic Bullet blender "self clean."
All you have to do is add warm water and a few drops of dish soap into the blender container. Switch the blender on and run it on high for 30 seconds or so. Rinse with water and set it out to dry.
The only thing self cleaning wouldn't work for is if you had a lot of peanut butter in your smoothie. It sticks to the side and can be tough to get off!
---
Final Verdict: Are Magic Bullet Blenders Dishwasher Safe?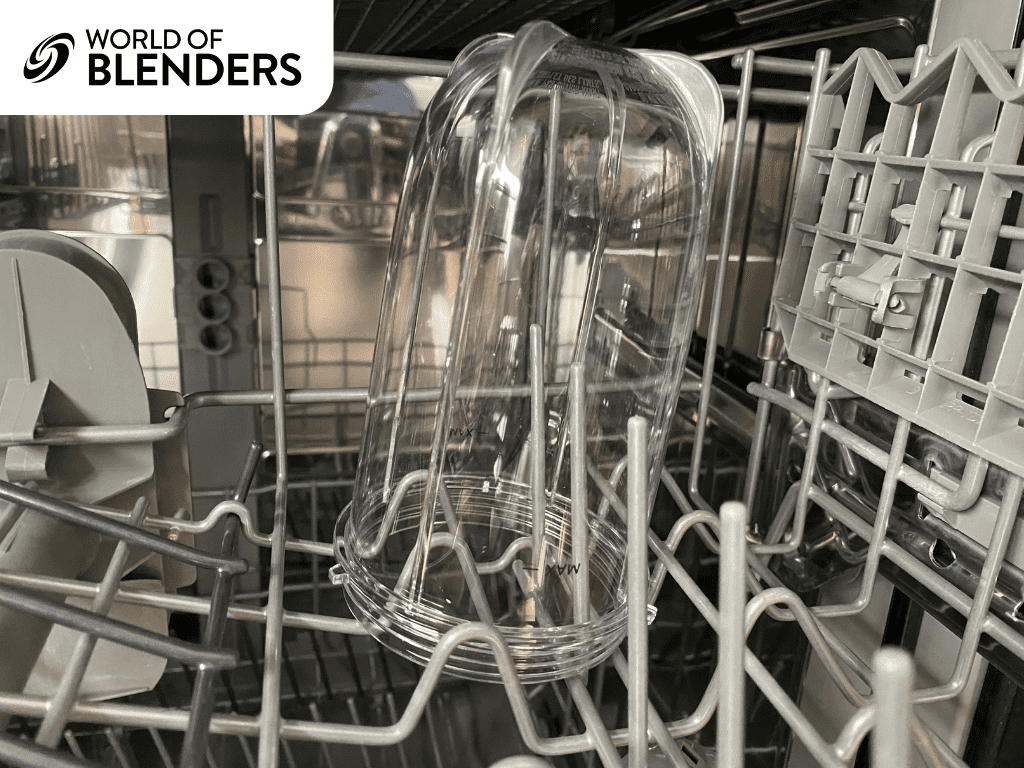 Magic Bullet blenders are dishwasher safe! All of our research into product manuals and testing our own MB shows that they are good to go in the dishwasher.
However, we usually still hand wash our blender because it will help it last longer! If you hand wash right after you make a smoothie, it's super easy to rinse off.