This post may contain affiliate links. If you use these links to buy something we may earn a small commission. Thanks.
NutriBullet is one of the most popular blenders brands you can find. Their blenders are affordable, easy to use, and great for making every day smoothies.
If you've recently purchased a blender, you're probably wondering if your NutriBullet is dishwasher safe.
My wife and I own multiple NutriBullet blenders and had to research this ourselves! There's an easy answer to the question, "Is a NutriBullet blender dishwasher safe?"
Be sure to check out our list of NutriBullet weight loss smoothies as well!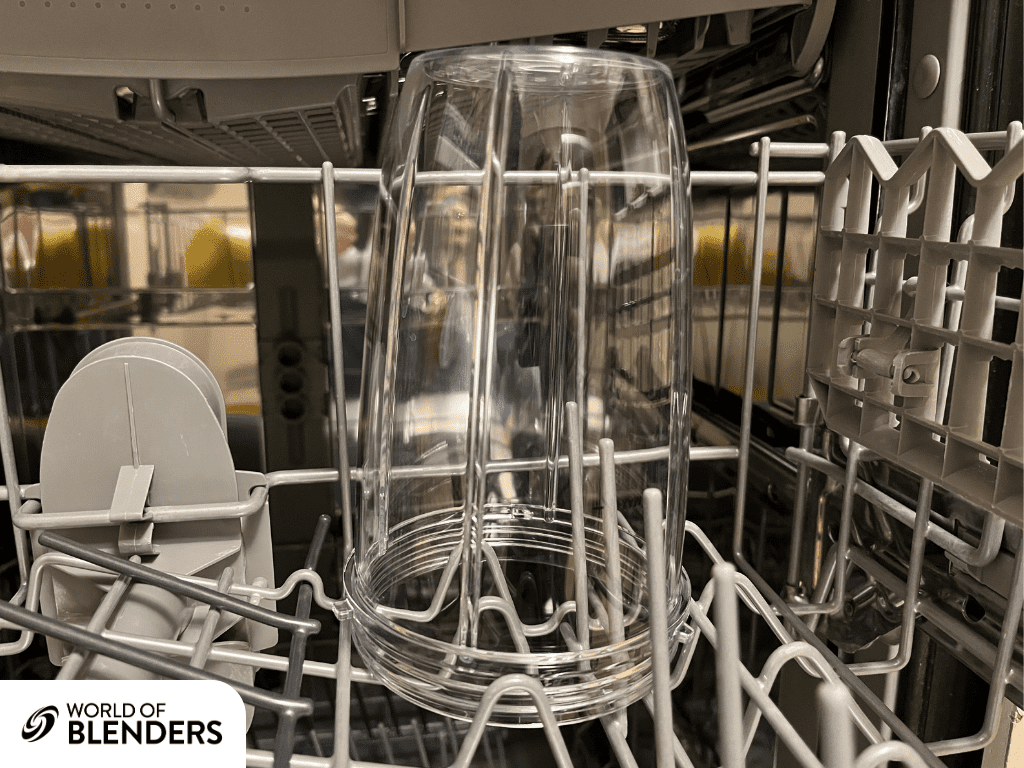 ---
Are NutriBullet Blenders Dishwasher Safe? Which NutriBullet Models Are Dishwasher Safe?
Most NutriBullet Blenders and parts are dishwasher safe! Every model except for the NutriBullet immersion blender can go in the dishwasher.
We looked at the user manual for every single model to see which NutriBullet models blenders are dishwasher safe and here are the exact quotes:
Model
Dishwasher safe?
NutriBullet 600, 900, 1000
"Cleaning the NutriBullet® is easy, simply place any of the pieces (except for the motor base and extractor blade) on the TOP RACK of the dishwasher"
NutriBullet 1200
"Cleaning the NutriBullet® is so easy…simply place any of the pieces (except for the Power Base and Extractor Blade) on the top shelf of the dishwasher or hand wash with warm soapy water and rinse."
RX cooking blender
"The NutriBullet® Rx cups can be washed in the dishwasher and should be washed on the top rack of the dishwasher using the normal cycle. Do not wash the blades in the dishwasher as elevated temperatures can damage gasket seals."
Select 1000
"Cleaning the NutriBullet® Select is easy. The pitcher is dishwasher safe while the cups and to-go lids are TOP RACK dishwasher-safe.
The easy-twist extractor blade and motor base can be quickly handwashed with soap and water."
NutriBullet Immersion
"Blending arm and whisk holder are

NOT

dishwasher safe. Do not place these parts in the dishwasher as it may damage the internal gears of these attachments."
Smart touch blender
"The pitcher is top-rack dishwasher-safe. We recommend rinsing and briefly scrubbing it with a dish brush to remove any remaining debris before placing in the dishwasher. NEVER use the sanitize cycle to wash the pitcher — heat this high can warp the plastic"
If your NutriBullet blender smells like it's burning then it might be a sign to give it a deep clean!
---
Which Components of a NutriBullet Blender Are Dishwasher Safe?
The container, cups, lids are all dishwasher safe. Be sure to place the cups and lids in the top rack of your dishwasher. The only parts that are not dishwasher safe is the motor/base and the blade assembly.
The big rule is to only use the wash cycle and not the sanitize cycle. Some dishwasher offer a sanitize function which is a deeper clean and runs at a much higher temperature than normal.
If you do this, the higher temperature will melt and warp your NutriBullet containers, cups, and pitchers.
Sometimes food can get lodged in the edge of the motor base so it's good to make sure to clean that out as well! The lodged food can cause your NutriBullet to stop working.
---
Alternative Ways to Clean a NutriBullet
1. By hand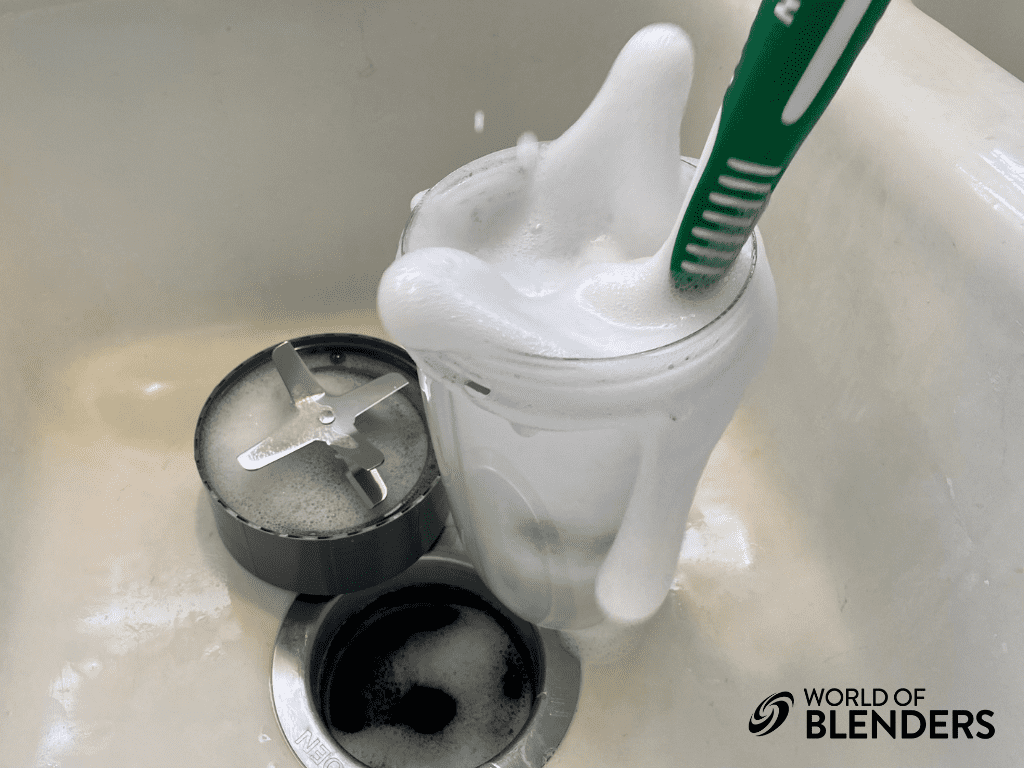 Cleaning your NutriBullet in the dishwasher is allowed, but it's not the best thing for your blender. Dishwashers will put more wear and tear on a blender compared to hand washing.
For what it's worth, most Vitamix blenders are not dishwasher safe. And that's Vitamix… much higher quality of manufacturing compared to NutriBullet.
If you hand wash your blender, take it apart into individual parts and wash them in warm, soapy water and use a brush to clean off any bits of food/smoothie!
Just be extra careful cleaning the blades! If you aren't careful, you can easily cut yourself.
After you handwash your blender parts, rinse them off and let them air dry before you put the blender components back together.
2. Try self-cleaning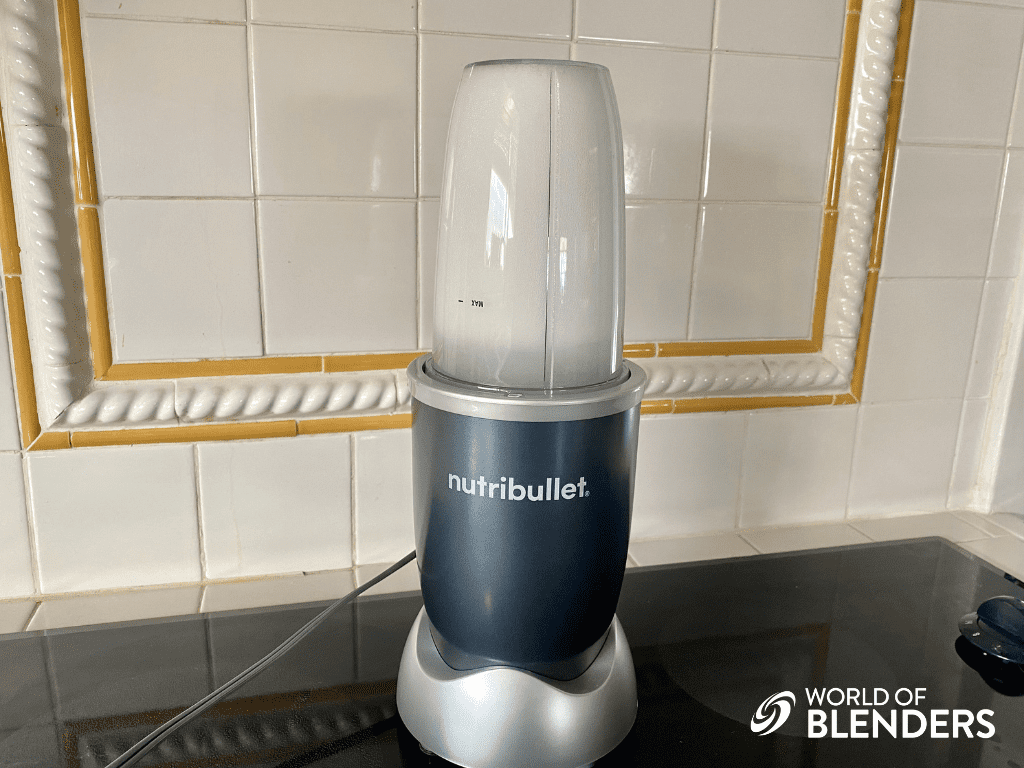 If you're not a fan of hand-washing, you're in luck.
You can use your NutriBullet blender to "self clean."
All you have to do is add warm water and a few drops of dish soap into the blender container. Switch the blender on and run it on high for 30 seconds or so. Rinse with water and set it out to dry.
The only thing self cleaning wouldn't work for is if you had a lot of peanut butter in your smoothie. It sticks to the side and can be tough to get off!
---
Final Verdict: Are NutriBullet Blenders Dishwasher Safe?
Yes! NutriBullet blenders are dishwasher safe and easy to clean! Just don't forget to take off the blade assembly before putting it in the dishwasher.