This post may contain affiliate links. If you use these links to buy something we may earn a small commission. Thanks.
Vitamix is one of the best blender brands on the market. They're the undisputed champs in the blender game and for good reason. Their blenders are powerful, last forever, and come with an incredible warranty.
We're huge fans of Vitamix products and have personally bought, used, or tested 10 different models.
If you are looking for a high-performance blender then the Vitamix Quiet One is the right pick for you.
The Vitamix Quiet One is meant for commercial use, but if you can afford it, it's the quietest Vitamix on the market! It's created with the best blender noise reduction.
We're going to do a deep dive Vitamix Quiet One review so that you can know everything you need to know.
Our Commitment
Our team has spent over 50 hours researching and comparing all of the most popular blenders. We've written over 60 articles helping people find the best blender for their specific needs. We've read through hundreds of customer testimonials and personally tested 50+ blenders from brands like Ninja, Vitamix, Oster, NutriBullet, and more.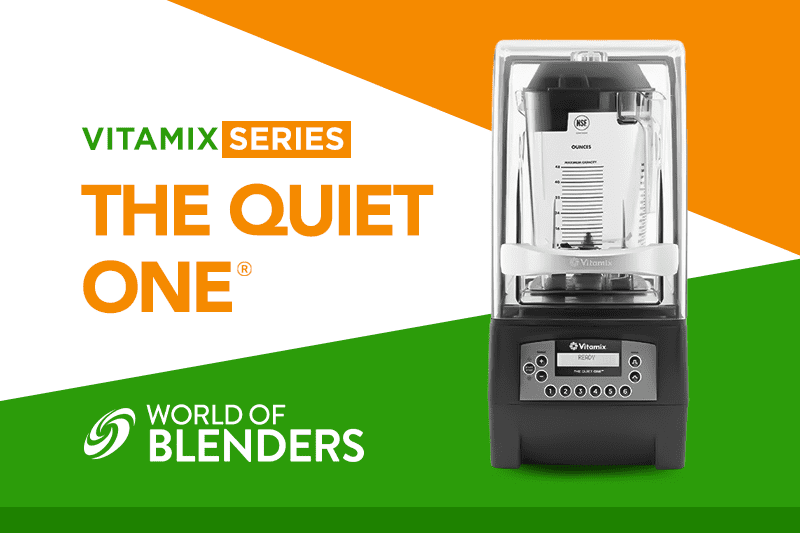 ---
Quick Summary: Vitamix Quiet One Review
The Vitamix "The Quiet One" is a formidable commercial-use blender with advanced noise reduction technology. That frustrating blender noise produced by your old-school blender – it's gone.
People try so many ways to reduce blender noise, but this Vitamix blender has hit the nail on the head!
If you run a business and need quiet blenders to keep your customers happy and your staff sane – then this is the one for you.
This super-efficient countertop blender is the best quiet Vitamix blender you can buy. It's fitted with exquisite noise reduction technology that helps alleviate that standard ultra-loud unpleasant and infuriating sound that everyone hates.
Most high-powered blenders range between 85 to 95 decibels at their highest speed, which is proven to be damaging to human hearing.
This Vitamix professional blender reduces noise to only 64db – the same level as an ordinary conversation. Pretty neat, right? If you need a quiet blender, this is a lifesaver. This makes it a great blender if you have a baby you don't want to accidentally wake up.
The reduced noise doesn't mean that you lose out on any of the awesome specs – it's still incredibly powerful, reliable, and delivers exceptional and consistent blending every time.
Even though it's quiet, it's still plenty powerful. More powerful than most other Vitamix blenders. It also comes with stainless steel blades like the other Vitamix blenders, which makes this Vitamix one of the best blenders for margaritas. It can also blend fruit without destroying the fiber nutrients.
Pros:
High-Quality Suitable For Commercial Use – Top brands like Starbucks use "The Quiet One Commercial Blender."
Reduced Noise Level – 21% quieter than regular blenders.
Easy Pour Spout – prevent spills and messy cleanups with its precise, easy pour spout.
High-quality Parts – Made from high-quality metal and equipped with plastic secure sound enclosure.
34 Quick-blend Settings – Easily select from a variety of presets to deliver the perfect smoothie, drink, or selection of your choice.
6 Shortcut Buttons – Choose one of the smart shortcuts to help you create what you desire.
Powerful motor – It comes equipped with a 3-horsepower motor that makes it one of the most powerful blenders on the market.
Cons:
Premium Cost – It's quite expensive, and maybe isn't the most budget-friendly option.
Short Warranty – Warranty coverage of only three years.
Programming Errors – Customers have reported some programming issues.
Not Dishwasher Friendly – The parts need to be hand-washed with dish soap.
---
Things We Learned After Testing The Vitamix Quiet One
We recently tested the Vitamix Quiet One and identified a number of key things to know. These are the kinds of insights you won't read on the manufacturer's box.
Works exceptionally well – Nothing special to say other than that the Vitamix Quiet One gets the job done. It's intended as a commercial blender so it can hold up to wear and tear and high usage.
Hard to fit – The 64oz container + the soundproof case gives this Vitamix the largest footprint of all Vitamix blenders. You really won't be able to put it away, so you'll need designated countertop space.
Quiet, but not quiet – This blender is quiet compared to other Vitamix blenders! It's the Quiet One for a reason. But it's still not going to actually be quiet.
Clean right away – The self cleaning function of the Vitamix works incredibly well, but only if you do it right when you're done blending. If you wait too long the food will have time to harden and get stuck.
---
How Does The Quiet One Compare To Other Vitamixes?
The VItamix Quiet One has one obvious benefit: It's the quietest Vitamix blender you can buy. Vitamixes are known for being loud because of their high power motors.
They typically measure 80-95 decibels.
The Vitamix Quiet One is around 65 decibels, which is quiet enough to maintain a regular conversation
The Quiet One comes with a sound proof shield / container that you put the blender into. The blender itself is just as loud as other Vitamixes, but the quiet shield blocks noise. This is a massive benefit if you have little kids, babies, or are buying the blender for commercial use in a kitchen or smoothie bar.
---
Deep Dive: Is The Vitamix Quiet One Worth Buying?
The Vitamix Quiet One comes fully loaded with all of the awesome Vitamix features and quality. I'll walk through the highlights of the different features and components of this blender.
Power
This model comes with a 3 horsepower motor that provides enough power to crush and blend ingredients efficiently. It can crush raw ingredients like nuts and whole fruits to turn them into a smooth texture of smoothies. This is the second most powerful Vitamix you can buy.
The Vitamix power combined with other quality features is the reason people like buying them even if they come at a higher price tag. This blender outperforms other blenders from other brands with the ability to function as a multipurpose appliance.
The power in this Vitamix makes it one of the best blenders for crushing ice and it's also #2 on our list of the best blenders to puree food.
Price
As we have already discussed above, Vitamix blenders are not the cheapest on the market. They are certainly more of an investment rather than an off the cuff purchase. Read more for why Vitamix is so expensive.
Even though they are on the higher end of the market, this is certainly justified when you look at the overall quality of the mixer. The price of the Vitamix Quiet One is certainly worth it if you want a top of the line blender and want a blender as quiet as possible.
Buy cheap and you'll end up buying twice. Get a Vitamix from day one.
Features / Controls
The controls on the Vitamix is super easy to use. It features a power switch, a pulse switch, and a speed knob. The pulse feature allows you to create the type of consistency you need. While the majority of blending needs to be smooth.
The different speed settings allow you to choose between chopping, pureeing, and grinding, and different blender attachments also allow for whipping and emulsifying.
If you are creating a salsa, for example, you may still require a thicker or chunkier texture. The pulse feature allows you to do this. Instead of providing consistent power, it will provide power in short bursts when turned on, giving you control of how the food is blended.
Aesthetics & Size
When looking at the overall design of the Vitamix Quiet One, it is fairly simple, yet effective. The only available color is black, but it's sleek and will match any kitchen.
Because of the container that the blender sits in, this Vitamix is taller than most. It measures 12.8 x 13.8 x 22 inches and it weighs in at 12 pounds.
The height can be an issue for many cabinets though! You may have to store it in a larger cabinet or on your counter.
The Vitamix Quiet One holds 48 oz which is plenty of space to make just about anything you could possibly need!
Cleaning
One of the best features of the Vitamix Quiet One is that it is self-cleaning, this is great for those who want the cleanup time to be minimal.
To clean the Vitamix Quiet One add a few drops of dish soap to the blender and fill with a few inches of water. Blend it on its highest setting for 60 seconds and it'll be totally cleaned!
The key is to clean it right away before any food or liquid hardens on the side.
---
Common Questions About The Vitamix Quiet One
How quiet is Vitamix Quiet One?
The Vitamix Quiet One produces 64 decibels of sound whenever it's on full speed. This is 30% less than most other Vitamix blenders. 
How do I reduce Vitamix noise?
The easiest way to reduce Vitamix's noise is to grab a couple of towels and drape them over the blender once you start blending. It's not foolproof, but it'll help. You can also place the Vitamix on a rubber mat or towel which can also reduce noise.
Conclusion: Should You Buy The Vitamix Quiet One?
We highly recommend the Vitamix Quiet One. You're getting an incredibly durable blender that is guaranteed to last. The high performance and versatility allows you to make anything from smoothies to soup, hummus, and everything in between.
It's obviously the quietest Vitamix blender you can get which is great if you have young kids or babies.
The blender is backed with an awesome warranty covering all parts, performance, labor and two-way shipping at no cost to you. One great thing about Vitamix blenders is that all their blenders have high-performance capability and are very durable.
I hope our Vitamix Quiet One review was able to help you with your blender-buying decision!