This post may contain affiliate links. If you use these links to buy something we may earn a small commission. Thanks.
Every single one of the NutriBullet weight loss smoothies on our list is under 400 calories per serving.
The key is to avoid added sugars, high calorie liquids, and to load up on veggies!
We have a NutriBullet 600 and love using it for personal sized smoothies. You just have to be careful using too much frozen fruit and to make sure you use enough liquid.
These 32 NutriBullet smoothie recipes for weight loss are exactly what you need to maintain a healthy lifestyle!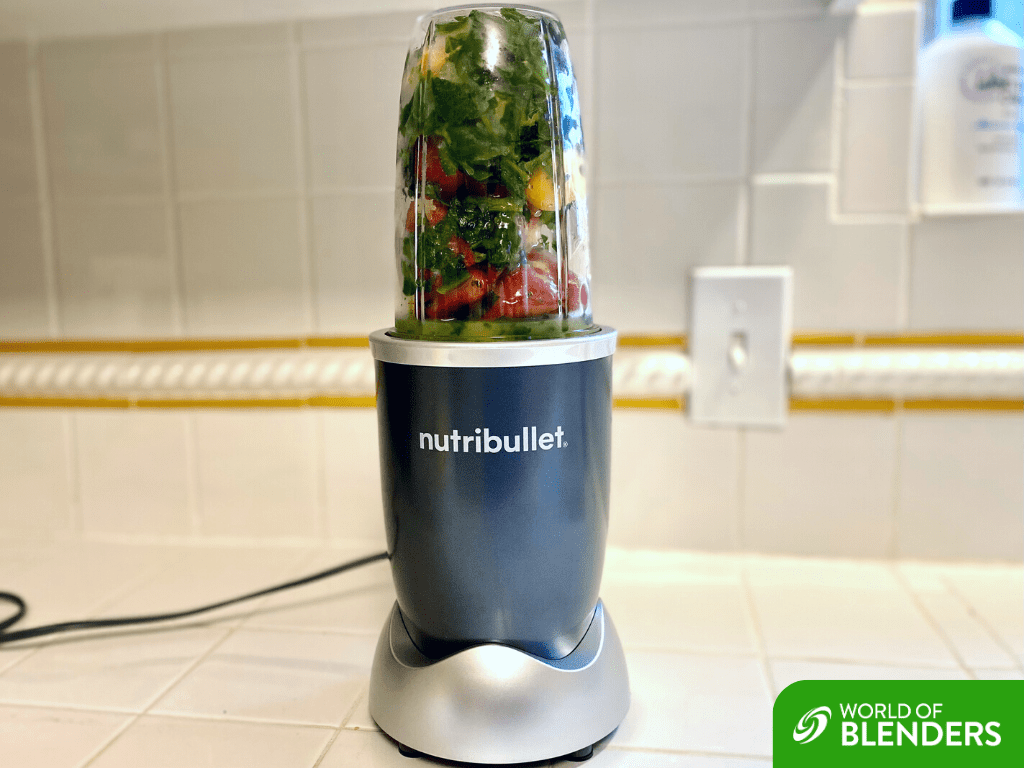 ---
Tips for Making Weight Loss Smoothies in your NutriBullet
We've been using our NutriBullet 600 for almost a year and we absolutely love it! These are some of our quick tips to help you learn how to make the best NutriBullet smoothies for losing weight.
Use Greek yogurt – Plain greek yogurt is one of the best ingredients for weight loss smoothies because it's high in protein, low in fat, and helps create a creamy texture.
Avoid added sugars – Smoothie recipes often include added sugars like honey, flavored yogurt, or sugary juices. An all fruit smoothie might not be the best choice if your goal is to lose weight since there's such high sugar content in fruit. The sugar spike will tell your body to keep craving the sugar that you're trying to avoid. Check out our list of low sugar smoothies if you need good recipe ideas!
Watch your serving size – Smoothies are super healthy and loaded with great vitamins and nutrients! But fruit based smoothies can still be packed with calories. Watch your serving size in order to keep your smoothies under 400 calories each.
High Fiber – Fiber will help keep you fuller longer and can help promote a healthy gut. It will dramatically change the game for weight loss and regularity. The good news is that blending fruit does not affect fiber! You can read the full details in our article- Does blending fruit destroy fiber and nutrients? The only downside of a lot of fiber is that it can make a smoothie too foamy.
Use enough liquid – NutriBullet blenders can get easily overheated if you don't use enough liquid. If your NutriBullet stopped working then you may need to use more liquid. If you want to make a smoothie thinner, simply add more liquid!
Make a big batch – If you're rushed in the morning and don't have time to make smoothies every day, make a big batch! We've tested it and found that smoothies last in the fridge for 2-3 days.
---
32 NutriBullet Weight Loss Smoothies
All of these NutriBullet weight loss smoothies are 400 calories or less! Perfect for a meal replacement or even a snack, depending on the smoothie!
This amazing green smoothie, made with blueberries and spinach, is truly outstanding! Its combination of berries and leafy greens adds immense health benefits, while avocado, Greek yogurt, almond milk, and chia seeds contribute to its dense, velvety texture and abundance of fiber.
Almond milk is our favorite milk for smoothies! The greek yogurt helps make this a great high protein smoothie without protein powder!
This highly popular green detox smoothie is an absolute favorite! It boasts exceptional health benefits and works wonders for aiding digestion. Filled with nutritious ingredients like spinach, celery, cucumber, and perfectly complemented with pineapple, it delivers a potent combination of green vegetables.
This is one of our favorite NutriBullet smoothies because of the chia and hemp seeds. This smoothie packs in an impressive 15g of fiber and only 330 calories.
Our supercharged high-protein green smoothie is a total winner! Loaded with spinach, banana, nut butter, almond milk, blueberries, hemp, and chia seeds, it's a real powerhouse. Plus, with a protein powder boost, you get a whopping 35g of protein and 12g of fiber!
The almond milk is our favorite liquid base for the smoothie!
This is one of our very own favorite NutriBullet smoothie recipes! It's loaded with spinach, kale, pineapple, and banana, creating a perfect blend of flavors. To make it extra smooth and creamy, we use almond milk, and for an added protein punch, Greek yogurt does the trick. It's all under 300 calories! If you like kale, check out our list of kale smoothie recipes!
If you don't have any yogurt on hand, check out our list of yogurt smoothie substitutes!
Our peanut butter chocolate smoothie is a fan favorite! It's packed with 30g protein, 10g fiber, <20g sugar. The combo of chocolate, peanut butter, banana, spinach, riced cauliflower, hemp seeds gives it a nutritional punch. And it's under 350 cals! Perfect if you crave a chocolate smoothie with spinach.
This apple banana smoothie is an ideal fit for a wholesome way of life! With a mere 250 calories and over 10g of fiber, it presents a nourishing option. The fusion of apple, banana, and mango creates an explosion of flavors, while the addition of spinach injects a healthy dose of greens to jumpstart your day.
This is a smoothie made with water instead of milk which also helps lower the calorie content! The mango is one of our favorite ways to sweeten a smoothie as well.
If you're looking for a NutriBullet weight loss smoothie that's great for gut health, this one is for you! The kefir liquid base is great for probiotics and helping with digestion. The pineapple chunks and coconut milk are a great combo for sweet and creamy smoothies.
Chia seeds are also one of our favorite substitutes for banana in smoothies!
This smoothie is super easy to make and incredibly healthy. It's got berries, protein powder, chia seeds, almond milk, and spinach. You can make a batch of these and store your smoothies in the fridge for a couple of days.
This is one of our favorite smoothies without greek yogurt!
This cinnamon smoothie recipe is incredibly simple! There are only five ingredients. The combo of milk, cinnamon, and banana makes this a super savory smoothie!
If you like coconut smoothie recipes, this one is for you! It uses both coconut milk and coconut water as the smoothie base liquid. Combine those with tropical fruit and kale and you have a super healthy recipe you can make in your NutriBullet blender!
This is one of our favorite green smoothie recipes! The best part is that the ingredients are pretty common so you probably have almost all of it on hand already. The recipe clocks in at 175 calories which makes it a perfect weight loss smoothie for NutriBullets.
It would be best to cut the recipe in half so that it fits in your NutriBullet!
If you like strawberry smoothies, this one is perfect for you! It's super fresh and not overly sweet. It only calls for five ingredients and it's the perfect single serving smoothie! The combo of strawberries and greek yogurt makes this recipe both tart and creamy.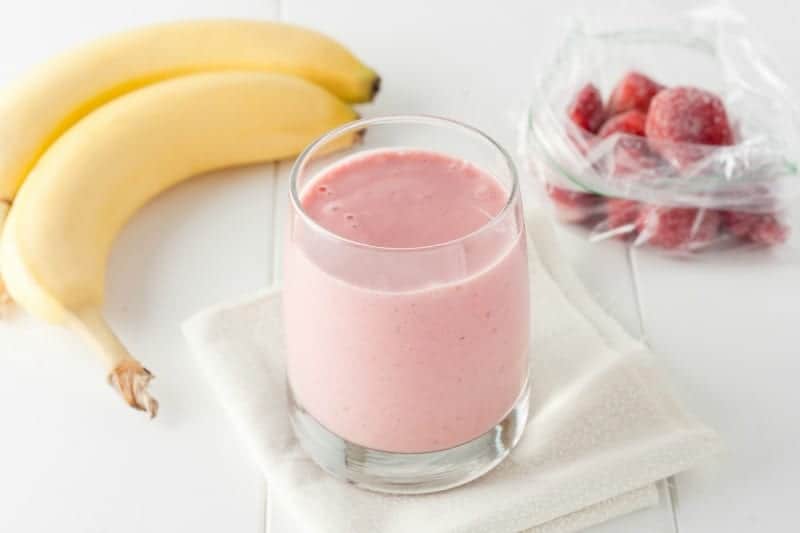 I've recently started a low FODMAP diet and this smoothie has been perfect! If you're looking for smoothies to reduce inflammation give this one a try. If yo
It does have some less common ingredients so make sure to stock up on what you need at the grocery store. It's got sweet potatoes, chia seeds, hemp milk, and turmeric powder! Sweet potatoes are one of our secret weapon ingredients to make a smoothie smoother!
If you're looking for a colon cleansing smoothie recipe, this one is exactly what you need. It's loaded with healthy greens like kale, broccoli, and spinach. It's also got whole ginger and collagen. I highly recommend it! This one is packed with 4 of the best vegetables for smoothies!
The recipe calls for almond milk, but I honestly prefer coconut milk. I think it compliments the heavy greens a bit better and adds a tiny bit of sweetness.
This green mint smoothie is super unique! It's a fairly normal green smoothie, but it calls for a few sprigs of mint which makes it taste way more refreshing! It's also topped with cacao nibs which is a super cool way to balance out the smoothie with natural sweetness.
If you're looking for a super nutritious smoothie recipe, this one is for you! It's loaded up with raw cacao powder, plant based protein, glutamine powder, prebiotic powder, and more. It's a chocolate smoothie, but it's not overly sweet because the chocolate is dark cacao. The combo with strawberries makes it super tasty.
This smoothie is incredibly easy to make! It's only got about 7 ingredients. The chia seeds, spinach, and hemp hearts (optional IMO) make this a super healthy smoothie. It calls for dairy free milk, but you could use whatever milk you have on hand!
This single serving smoothie is super tasty. I'm a huge fan of blueberries and that's the main ingredient for this recipe. The combo of blueberries, kale, and shredded coconut make this a super rich smoothie that's loaded with antioxidants.
If you want a smoothie with coffee to kickstart your day, this one is the perfect recipe. I recommend using iced coffee or cold brew to keep it as cold as possible – you can even freeze coffee ice cubes if you've got the time!
The only downside of using coffee or ice cubes is that it can make your smoothie separate.
The recipe calls for oats so I recommend soaking them in a bit of milk for half an hour before blending. This is one of the best ways to make a smoothie creamier.
This smoothie is loaded with different fruits and veggies: Pineapple, raspberries, kale, and blueberries! It also uses flax seed oil for some added health benefits. I recommend adding in a handful of ice to make the smoothie as cold as possible.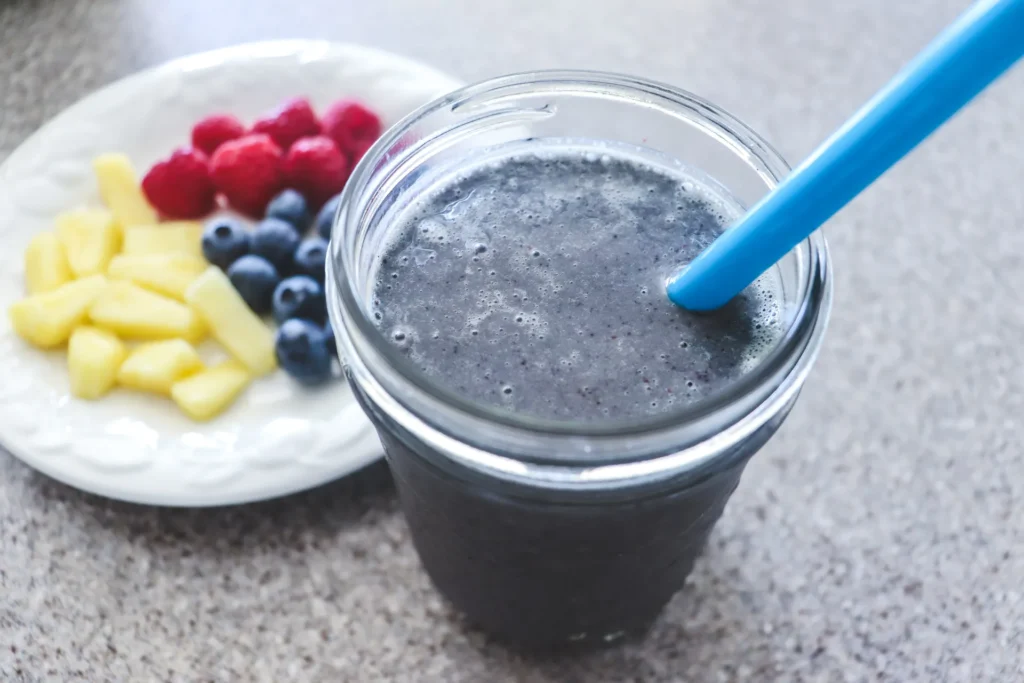 If you've never had a smoothie with avocado, you need to give this one a try! The combination of avocado and bananas makes this smoothie thicker. The recipe calls for a handful of ice cubes and I highly recommend doing that!
This immune boosting smoothie is exactly what you need if you're sick! It's loaded with carrots, turmeric, citrus fruit, and ginger. This is a single serving size so it's the perfect NutriBullet weight loss smoothie!
This green apple pie smoothie is super unique! The "pie" flavor comes from an apple pie spice powder. It adds a sweet hint of cinnamon and clove to really add a unique taste to this smoothie! It's loaded up with all the normal green smoothie ingredients: spinach or kale, bananas, and a green apple.
If you want a sweeter smoothie that's packed with antioxidants, this one is for you! The recipe calls for a beet puree and medjool dates. The sweetness of the dates offsets the bitterness of the beets.
This peach green smoothie from Pinch of Yum is one of my wife's favorites! She doesn't normally like green smoothies, but the sweetness from the peaches makes all the difference. The recipe also has ginger and honey which add healthy antioxidants and natural sweetness!
This berry smoothie is one of my favorite smoothies! It's loaded with tons of fruits and veggies: mixed berries, black berries, cauliflower, bananas, chia seeds, spinach.
The recipe makes a big batch so make sure to adjust the amounts for your NutriBullet.
This ginger peach smoothie is super unique. It's got almond butter, vanilla extract, cinnamon, carrots, cauliflower, and full fat coconut milk. It's super creamy and rich with warm flavors. The only downside is that it requires a lot of ingredients and some that you may not normally have on hand.
This recipe has a great combination of bananas, cinnamon, cauliflower, and almond butter! The result is a sweet, creamy, and slightly nutty flavor that makes for great smoothies!
This recipe makes two servings so be sure to cut the ingredients in half to fit it in your NutriBullet!
If you're looking for a dairy free smoothie that's packed with nutrition and flavor, this one is for you! The broccoli might seem offputting, but raw broccoli is actually fairly flavorless – unlike some other greens that are more bitter and harsh in smoothies.
I'm probably a broken record at this point, but I love smoothies that load up on berries! Some fruit smoothies can be too sweet and too high in sugar. Berries have the least amount of sugar and calories!
This recipe has blueberries, blackberries, and cauliflower, and more! The coconut milk also adds a good touch without being calorie dense.
This is the only watermelon smoothie on the list and we love it! Watermelon is super crisp and sweet – making it a great option for smoothies. It's also one of the cheapest fruits you can buy so you're getting the most bang for your buck.
The only downside is that watermelon smoothies aren't creamy. They can come out a bit like a slushie. Adding some greek yogurt or using milk would help with this!
This smoothie is loaded with all kinds of ingredients to help boost your metabolism like green tea, whey protein, grapefruit, and spinach. If you want a caffeine kick, protein kick, and a smoothie loaded with vitamin K and vitamin D – this one is for you!
Even though this is the last one on our list, it's one of our favorite NutriBullet weight loss smoothies.