This post may contain affiliate links. If you use these links to buy something we may earn a small commission. Thanks.
Vitamix is one of the best blender brands on the market. They're the undisputed champs in the blender game and for good reason. Their blenders are powerful, last forever, and come with an incredible warranty.
We've got an epic Vitamix 5200 vs 5300 comparison for you. These are two of the most popular Vitamix blenders to pick from thanks to their quality and high power.
Here are the 3 main criteria we used to compare the two:
Price
Power
Quality
You can scroll down to our buyers guide to see why these criteria matter and whether the Vitamix 5200 or 5300 was the winner in each category.
The 5300 is the newer version of the 5200. The 5300 is more powerful and better designed, but is slightly more expensive than the 5200.
Our Commitment
Our team has spent over 50 hours researching and comparing all of the most popular blenders. We've written over 60 articles helping people find the best blender for their specific needs. We've read through hundreds of customer testimonials and personally tested 50+ blenders from brands like Ninja, Vitamix, Oster, NutriBullet, and more.
---
Vitamix 5200 vs 5300: Which One is Best for You?
To be honest, the Vitamix 5200 and 5300 offer very similar performance and features. They're both powerful blenders that are good enough to be used in professional settings. Regardless of the model you choose, you can be sure that your device is going to have exceptional blending capabilities.
| | | |
| --- | --- | --- |
| | Vitamix 5200 | Vitamix 5300 |
| Power | 2 HP | 2.2 HP |
| Capacity | 64 oz | 64 oz |
| Warranty | 7 years | 7 years |
| Price | $ | $ |
| Series | Legacy series | Legacy series |
Bigger kitchens – Since it's the bulkier of the two, it's best if you have a big kitchen and want to leave it out on the counter all the time.
Great for small batches – One of the unexpected cons of Vitamixes is that they perform better with more food/liquid. Sometimes smaller batches don't blend as well. Thankfully, that isn't the case with the 5200 because of it's design and shape!
Large batches – The 5300's 64 oz container makes it great for large portions of whatever you're making! You can load it up for smoothies, margs, or any kind of soup you want to make!
Small batches too – The 5300 comes with a shorter container. The design makes it great for making smaller batches of food and for smoothies with less liquid.
Families on a budget – The Vitamix 5300 is one of the most affordable Vitamixes and the large size makes it perfect for families who need a commercial blender.
At the end of the day, the two blenders have been designed to cater to the same general market. You're not going to miss out on any major features by choosing one of the models over another.
Both of these blenders are on our list of the top Vitamix blenders!
The main difference between the Vitamix 5200 and 5200
The differences between the Vitamix 5200 and 5300 are the power, price, and height. The 5200 comes with a 2 horsepower motor while the 5300 has 2.2 horsepower. The 5200 is taller than the 5300. The 5300 has the pulse switch which is helpful for making chunkier consistencies, but the 5200 does not.
The 5300 also comes with a built-in cooling fan, which makes it less likely to overheat!
---
Quick Review of the Vitamix 5200
The Vitamix 5200 was initially released in 2007 as part of the company's C-series blenders. At the time, the 5200 was released as a more advanced version of Vitamix's 5000 model, which was both outdated and bulky.
Despite being 15 years old now, the Vitamix 5200 still stands as a popular blender option for those looking for a user-friendly model with big blades and a powerful motor. This blender features a 2.0 horsepower motor, which is strong enough to break down such ingredients as dry grains and nuts. This Vitamix can be used as a coffee grinder as well as an ice crusher!
Plus, the product's effective cooling fan prevents the machine from overheating when blending tough ingredients. Other smart features include its 64 oz pitcher, allowing you to blend large portions.
Although it doesn't feature a pulse setting, the Vitamix 5200 does feature a handy dial that makes switching between the 10 variable speed settings seamless. Another drawback of the 5200 is its height – with dimensions of 8.8 x 7.2 x 20.5 inches, the 5200 is still a bulky machine and, therefore, inconvenient when it comes to storage purposes. The 5200 is also one of the best blenders for hummus.
Read more: Vitamix 5200 blender review
| | |
| --- | --- |
| | Vitamix 5200 |
| Power | 2 HP |
| Price | $ |
| Capacity | 64 oz |
| Blades | Stainless steel |
Pros:
Self-cleaning feature – Like most Vitamix blenders, the Vitamix 5200 has a self-cleaning function. All you have to do is fill the blender with warm water (not hot water) and dish soap and set the powerful motor to its highest setting.
Stainless steel blades – The Vitamix 5200 comes with steel blades that ensure that food can be blended sharply and with precision. No matter what you're blending, whether it be nuts or dry grains, this Vitamix blender can blend it within minutes.
Safe – The blender comes with safety fans and sensors which ensure that it doesn't overheat. There's also an overload sensor, which will automatically shut down the machine if it senses it has been blending for too long.
A versatile product – Not only can the Vitamix 5200 be used to blend smoothies and grind coffee beans, but it can also be used to make hot soup, making it one of the most versatile blenders on the market! The blender's sizable pitcher also makes it good at blending both big and small batches.
Easy to use – You can easily adjust speed and blending power by turning the dial. Unlike some of the later Vitamix blenders, the 5200 doesn't feature a touch screen, which makes it easier to use.
Cons:
Expensive – Despite its age, the Vitamix 5200 is still more expensive than the E320.
Bulky – Storing the Vitamix 5200 isn't easy as storing the likes of the E320, being too tall to fit into low-hanging kitchen counters.
Loud – As seems to be the norm with Vitamix blenders, the 5200 is pretty loud. If you're looking to reduce blender noise, check out this post.
No pulse feature – The Vitamix 5200 doesn't feature a pulse, which gives you less control over how the machine blends. However, the rate and speed at which it blends can be altered by turning the dial, which makes up for a lack of pulse.
---
Quick Review Of The Vitamix 5300
The Vitamix 5300 is one of the powerhouse blenders by Vitamix. It's strong enough to handle any of your blending needs from smoothies and margaritas to baby food and soup.
Its powerful high-performance motor can make short work of any vegetables you throw its way, especially once they have been boiled with stock. The pulse function found on the Vitamix 5300 offers you a simple way to make chunkier soups, perfect for cozy nights in.
Hidden inside the base of this blender is a powerful motor that propels the blades with incredible force. However, during our testing, we quickly realized how loud this classic Vitamix machine can get, even on medium settings.
Luckily, its array of useful features, such as a 64-ounce blender container and the multiple speed options, more than makes up for this. It even comes with a 7-year warranty, which you can find included alongside most Vitamix blenders.
Whether you plan on opening a soup kitchen or you just want a reliable blender for your home kitchen, this is the one for you!
Read more: Vitamix 5300 Blender Review
| | |
| --- | --- |
| | Vitamix 5300 |
| Power | 2.2 HP or 1440 watts |
| Price | $ |
| Capacity | 64 oz |
| Blades | Stainless steel |
Pros:
Efficient cutting power – Thanks to the use of high-quality stainless steel, this blender can slide through almost anything.
7-year warranty – You can be sure that this impressive blender will last you for years to come.
Large quantity container – The 64-ounce container included with this blender offers enough space for large amounts of soup.
Cons:
Can be loud – Due to the powerful motor inside, this Vitamix immersion blender can get loud on higher settings.
Not suited for small smoothies – The immense power and large container means it may be inefficient to use this for smaller recipes.
---
Key Differences Between the Vitamix 5200 and 5300
In this section I'll look at the key differences between the Vitamix 5200 and 5300. We've identified the most important criteria to compare: power, price, capacity, features/controls, the warranty, and overall performance.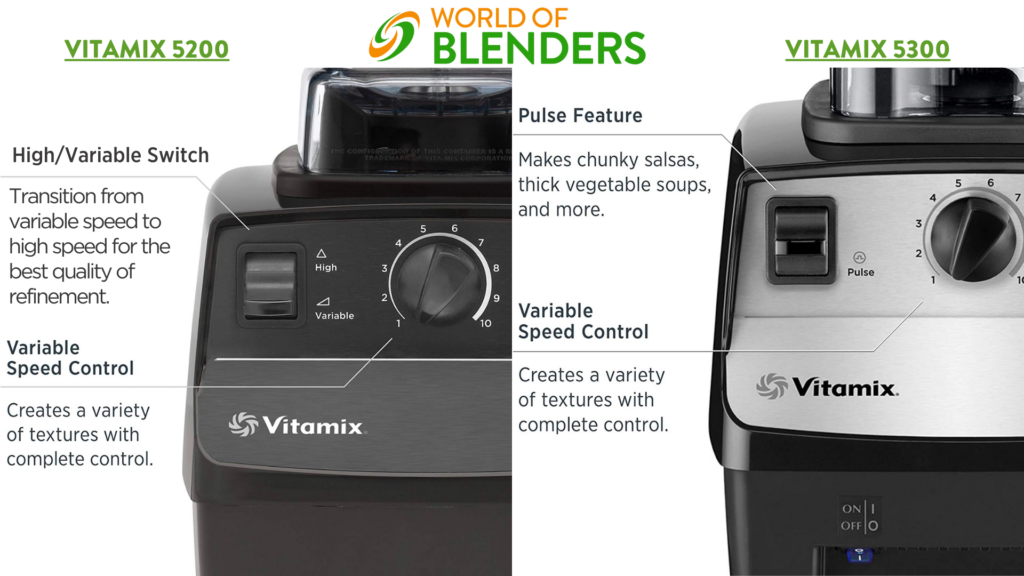 Power
At the end of the day, the most important characteristic of a blender is power. A blender needs to destroy whatever it is you put in it.
When it comes to power, the 5300 blender is the winner! It has 2.2 horsepower, while the 5200 only comes with 2 horsepower. Curious how many watts you need for a good blender? We can help you figure that out!
Both the 5200 and 5300 are great for virtually any food, raw or frozen, such as making nut butter, smoothies, hot soups, crushing ice, and even grinding coffee beans.
Size / Capacity of Container
The Vitamix 5200 and 5300 blenders have the exact same capacity, 64oz. The difference is in the shape of the containers. The 5300 is shorter and squattier, which makes it better for smaller batches.
Both containers:
Are safety pitchers, meaning they are completely shatter-resistant to both heat and dropping.
Provide full transparency to see the blending progress.
Come with tampers designed to work precisely with each container.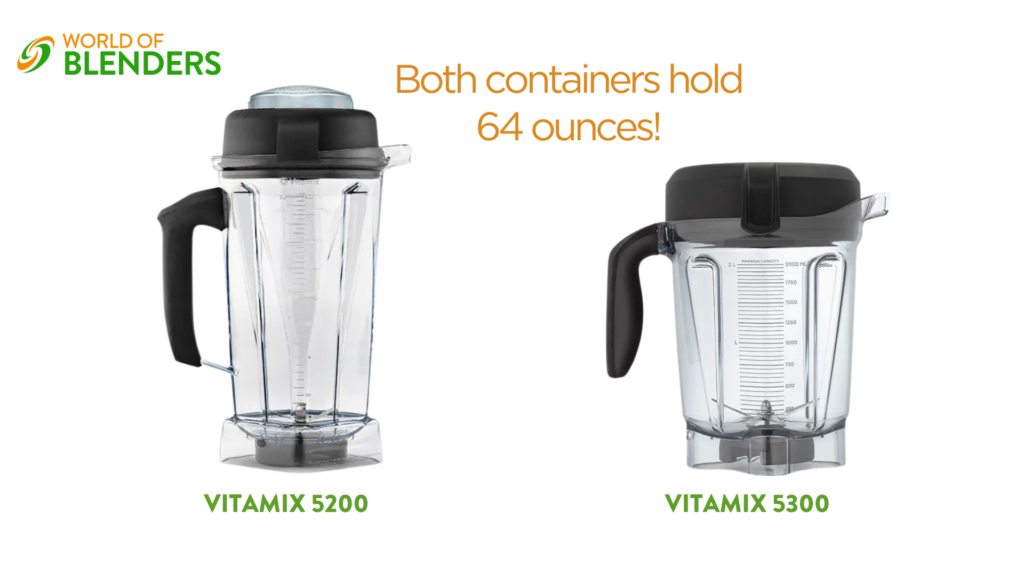 Neither pitcher is made from glass, but from Tritan Copolyester which is very impact resistant.
The lids for both models are made of rubber and require pushing on or pulling off. Both lids are held on with rubber tabs that securely grab the edge of the pitcher. The 5200 and 5300 lids have a feed-through hole in them for either adding ingredients or using the tamper. Also, the drive mechanisms in both pitchers are crafted from the same quality of steel as the blades.
As an additional accessory option, Vitamix also makes stainless steel containers that are odor-resistant, stain-resistant, and non-reactive and work with all full-sized models. The stainless steel pitchers come with transparent lids but are only available in the 48-ounce size.
Warranty
Both of these blenders come with Vitamix's 7 year warranty!
Performance
The one thing you can always count on with Vitamix is performance, and these two blenders are no different.
While Vitamix creates different models with various features and technology, the one thing all Vitamix models have in common is that they outperform other brands on the market. This is helpful to remember since Vitamix tends to be pretty expensive.
If we had to pick between these, we would probably go with the Vitamix 5300. This is the newer and improved version of the 5200. It's more powerful, better for small batches, less noisy, and it's less likely to overheat.
---
Final Verdict: Should You Buy A Vitamix 5200 Or 5300?
You can't go wrong buying either of these great blenders.
All Vitamix blenders are high quality and perform well. The question really is just which one is right for what you need
The Vitamix 5200 and 5300 blenders are both great blenders and classic models that demonstrate what made Vitamix a leader in the industry.
Vitamix 5300 – The 5300 is more powerful and better for small batches! If you're blending for a family, we highly recommend it!
Vitamix 5200 – The 5200 is the older version of this model and is slightly cheaper than the 5300! It's still a fantastic blender and better if you're on a budget.
I hope our Vitamix 5200 vs 5300 showdown helped you pick the right blender for you!