This post may contain affiliate links. If you use these links to buy something we may earn a small commission. Thanks.
Vitamix is one of the best blender brands on the market. They're the undisputed champs in the blender game and for good reason. Their blenders are powerful, last forever, and come with an incredible warranty.
We're huge fans of Vitamix products and have personally bought, used, or tested 10 different models.
If you are looking for a high-performance blender then the Vitamix 5200 is one of them. The only question to ask: Is the 5200 still worth buying?
Vitamix 5200 is one of the flagship blenders released in 2007 which has remained a top-performing blender. They still manufacture the Legacy 5200 blender, but they have released 20 more models with newer features.
We're going to a deep dive Vitamix 5200 review so that you can know everything you need to know.
Our Commitment
We know how frustrating it can be to research products online. Our goal is that you never have to return a product that we recommend because it's exactly what you wanted.
Our team has spent over 50 hours researching and comparing all of the most popular blenders. We've read through hundreds of customer testimonials and reviews and we've personally tested dozens of different kinds of blenders. We've written over 60 articles helping people find the best blender for their specific needs.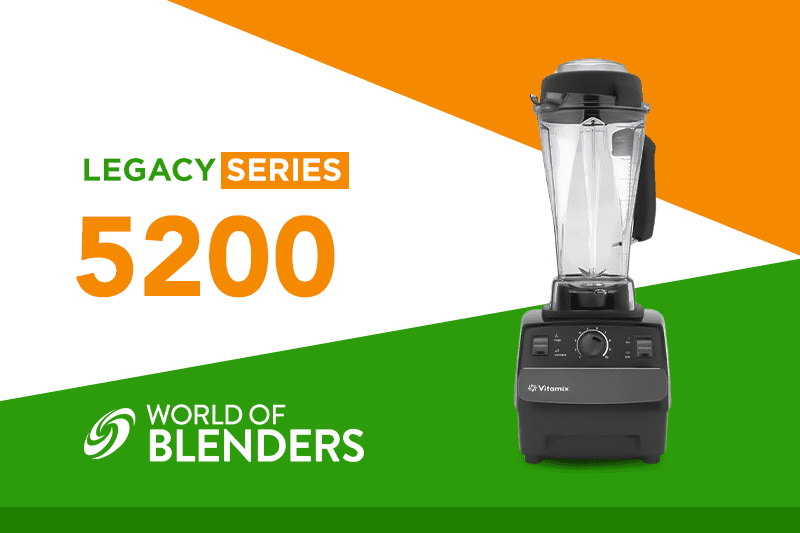 ---
Quick Summary: Vitamix 5200 Review
The Vitamix 5200 was initially released in 2007 as part of the company's C-series blenders. At the time, the 5200 was released as a more advanced version of Vitamix's 5000 model, which was both dated and bulky.
Despite being 15 years old now, the Vitamix 5200 still stands as a popular blender option for those looking for a user-friendly model with big blades and a powerful motor. This blender features a 2.0 horsepower motor, which is strong enough to break down such ingredients as dry grains and nuts. The Vitamix can be used as a coffee grinder and it's also one of the best blenders for crushing ice!
Plus, the product's effective cooling fan prevents the machine from overheating when blending tough ingredients. Other smart features include its 64 oz pitcher, allowing you to blend large portions.
Although it doesn't feature a pulse setting, the Vitamix 5200 does feature a handy dial that makes switching between the 10 variable speed settings seamless. Another drawback of the 5200 is its height – with dimensions of 8.8 x 7.2 x 20.5 inches, the 5200 is still a bulky machine and, therefore, inconvenient when it comes to storage purposes. The 5200 is also one of the best blenders for hummus.
| | |
| --- | --- |
| | Vitamix 5200 |
| Power | 1380 watts |
| Price | $$$ |
| Capacity | 64 oz |
Pros:
Self-cleaning feature – Like most Vitamix blenders, the Vitamix 5200 has a self-cleaning function. All you have to do is fill the blender with warm water (not hot water) and dish soap and set the powerful motor to its highest setting.
Stainless steel blades – The Vitamix 5200 comes with steel blades that ensure that food can be blended sharply and with precision. No matter what you're blending, whether it be nuts or dry grains, this Vitamix blender can blend it within minutes.
Safe – The blender comes with safety fans and sensors which ensure that it doesn't overheat. There's also an overload sensor, which will automatically shut down the machine if it senses it has been blending for too long.
A versatile product – Not only can the Vitamix 5200 be used to blend smoothies and grind coffee beans, but it can also be used to make hot soup, making it one of the most versatile blenders on the market! The blender's sizable pitcher also makes it good at blending both big and small batches.
Easy to use – You can easily adjust speed and blending power by turning the dial. Unlike some of the later Vitamix blenders, the 5200 doesn't feature a touch screen, which makes it easier to use.
Cons:
Expensive – While it's not the most expensive Vitamix, it still ain't cheap.
Bulky – Storing the Vitamix 5200 isn't easy as easy as blenders like the Vitamix E320 because it's too tall to fit into low-hanging kitchen counters.
Loud – As seems to be the norm with Vitamix blenders, the 5200 is pretty loud.
No pulse feature – The Vitamix 5200 doesn't feature a pulse, which gives you less control over how the machine blends. However, the rate and speed at which it blends can be altered by turning the dial, which makes up for a lack of pulse.
---
Things We Learned After Testing the Vitamix 5200
We recently tested the Vitamix 5200 and identified a number of key things to know. These are the kinds of insights you won't read on the manufacturer's box.
Speed ramps up – The benefit of this blender over others on the market is that it doesn't go to full power right away. When you turn it on, the speed quickly ramps up so that it doesn't suck in air and splatter all over your kitchen.
Great for small batches – One of the unexpected cons of Vitamix blenders is that they perform better with more food/liquid. Sometimes smaller batches don't blend as well. Thankfully, that isn't the case with the 5200 because of it's design and shape!
No pulse mode – Honestly, we didn't think this was that big of a deal when we read it in the description, but we ended up wishing we could use the pulse mode quite a bit. It's helpful for things like curry, soup, and salsa where you really don't want a fine puree.
Hard to fit – The 64oz container comes taller than many of the current Vitamix blenders. It's also larger than the average kitchen cabinet..
It moves – This blender is high speed and doesn't have some of the modern tech of the newer blenders. This means that it sometimes will inch across your counter if you aren't holding it in place.
Clean right away – The self cleaning function of the Vitamix works incredibly well, but only if you do it right when you're done blending. If you wait too long the food will have time to harden and get stuck.
---
How does the 5200 compare to other Vitamixes?
As you can see, the Vitamix 5200 is just slightly less powerful than some of the newer models. It still has the same capacity, warranty, and overall quality of the Vitamix brand.
The big benefit here is the cost. The Vitamix 5200 is one of the most affordable Vitamix blenders.
---
Deep Dive: Is the Vitamix 5200 worth buying?
Even though this isn't Vitamix's newest blender, it comes fully loaded with many of the same features.
The main features of Vitamix 5200 enable it to withstand daily usage and throughout the years.
Let's see some of the outstanding features of this classic blender.
A powerful 2.0 HP motor
Radial cooling fan and thermal protection system
4 prong stainless steel blade
Ten variable speed controls
64 oz high profile clear container, you can blend medium to large batches
BPA-free Tritan Copolyester material.
Self-Cleaning
Available in 3 colors – Black, White, and Red
7-year warranty.
Containers
Vitamix blenders come with a large container to enable the blending of large batches. The 5200 blender comes with a 64oz high profile container wit a footprint of 63.4sq. Inches and 20 inches tall.
In most cases, the blender cant fit in standard kitchen cabinets without disassembling the blender.
The tall design of the container makes it possible to blend even smaller batches which can be challenging in wide containers.
Vitamix brand uses advanced BPA free materials for the containers with it being Copolyester from Eastman Tritan Company.
Base Unit & Motor
The blender has a powerful motor with a 2 HP that is equivalent to 1500 watts. It powers the blades to rotate at 37000 RPM thus crushing and blending any ingredient thrown inside.
Its base is equipped with a cooling system and thermal protection system to automatically shut down the blender in case of overheating.
These systems help prevent damage to the motor, therefore, a long-lasting blending experience.
Control Settings
For the control of the blender, the panel has a dial for 10 variable speeds, a high/low variable switch and on/off switch.
These controls are simple to use to blend various ingredients by using the high mode for heavy ingredients.
Unfortunately, the Vitamix 5200 doesn't have a pulse setting but the variable speeds are enough to breakdown the ingredients perfectly.
Blades
A high-end blender like this comes with very hardened stainless steel blades to endure the tough blending functionalities it claims of doing.
The dry container comes with dry blades capable of blending and grinding hard ingredients. Wet blades are not suitable for dry blending. The stainless steel blades make this one of the best blenders for frozen fruit smoothies!
Functionality & Performance
The versatile functionality of Vitamix blenders is what attracts most people. You can make the best smoothie recipes and hot soups within a few seconds or minutes.
There are a consistent result and quality on the blends providing well broken down smoothies, desserts, soup, nut milk, etc. The high performance is one of the reasons this product is also on our list of the best blenders for making Indian food.
Cleaning
The cleaning of a blender is very important to know since there are some difficult blenders to clean in the market. You can clean the blender by dropping dish soap and warm water and turn on the turbo speed for 10 to 30 seconds.
It rotates the water creating a strong vortex force that cleans the blades and the container. Rinse it with water thoroughly and let it dry.
If you're looking for a Vitamix that is dishwasher safe, we can help you out.
Noise Level
This blender being dated a little bit, it is no secret the motor produces a lot of noise while blending. Its noise level range from 89 to 95 dB according to Vitamix.
The turbo speed produces the most noise while processing ingredients.
We have a few recommendations for blender noise reduction.
Cost
High-performance blenders don't come cheap due to their quality, efficiency, features and durable materials. Vitamix comes at a higher price tag than the average blenders in the market but there's a reason Vitamix blenders are expensive.
The Vitamix 5200 normally costs around $400 which is cheaper than other Vitamix blenders on the market.
---
Different Packages for the Vitamix 5200
The blender comes in different models variations to choose from but the most popular include standard, super, deluxe and compact.
Vitamix 5200 blender packages have the same features but the difference is brought by the accessories included in the box.
These features are present in all the Vitamix 5200 packages;
A 64oz blender container
Thermal protection system
Cookbook
Tamper
Retractable cord
Blender base and motor built-in cooling fan
A full 7-year warranty
Standard package
This is the common blender that comes with the necessary standard features and accessories. It comes with 64 ounces container, thermal protection system, cooling fan, blender base, aircraft hardened stainless steel blades, variable speed controls.
The standard package contains the listed features and resources above.
Blender super package
With the super package, it comes with an extra 32 ounces dry container for blending whole grains. Also, you get a whole grain recipe cookbook for guidance.
The Vitamix 5200 blender is very powerful and you can make rice, oat, wheat, and nut flours easily at home.
All the other features in the Vitamix standard package are available on this super package.
Deluxe package
The Vitamix 5200 deluxe package comes with more accessories to help serious users to maximize their blending tasks.
It comes with a 32 ounces compact container for blending small batches of ingredients. A 4 flexible cutting board is included in the package for easier food prep. You also get a customized 3-piece spatula set that comes in handy when cleaning.
Additional tamper for a flawless blending process.
Compact version
If you have a small storage space and don't need to prepare large batches of smoothies or other foods, this is the package for you. It comes with all the Vitamix standard features but the container size is 48 ounces in place of the 64oz container.
The 48 oz container is shorter than the 64oz container which makes it easier to fit smaller storage kitchen cabinets.
---
Common Questions on Vitamix 5200
Does Vitamix still make the 5200?
Yes, you can still buy the Vitamix 5200 on Amazon. However, the company recently replaced this model with the G-series – professional-grade, powerful blenders.
How many watts is the Vitamix 5200?
The Vitamix 5200 is a 1380-watt blender.
Can Vitamix 5200 make hot soup?
The Vitamix 5200 is nearly 1400 watts of power, which can turn your recipes into soup within 6 minutes. You can start with cold water or broth to mix the ingredients using the blender until maximum results are reached.
Is the Vitamix 5200 dishwasher safe?
The Vitamix 5200 blender is not dishwasher safe. You should use the self-cleaning method which is not hard to use. By self-cleaning, the blender container helps it last longer instead of using a dishwasher.
---
Conclusion: Should you buy the Vitamix 5200?
All in all, the Vitamix 5200 is a powerful blender that is versatile than newer blenders from other low-cost brands.
It is a great first Vitamix introduction blender if you need to upgrade from less powerful and effective blenders.
One great thing about Vitamix blenders is that all their blenders have high-performance capability and very durable.
The cost sounds expensive but you get many years of blending and a long extended 7-year warranty. This 5200 is a great investment for high end blending functionalities.
I hope our Vitamix 5200 review helped you make the right decision!
Read more: Vitamix E320 vs 5200 comparison guide