This post may contain affiliate links. If you use these links to buy something we may earn a small commission. Thanks.
Vitamix is by far our favorite blender brand on the market. Their blenders are incredibly durable, powerful, and consistently high quality.
My wife and I personally own the Vitamix E310, 5200, and A3500. We also have their food processor attachment, immersion blender, and we recently added the Vitamix dry container.
We've never used the dry container until now, but we've been using it to grind coffee beans and make almond flour and we love it!
Every Vitamix you buy comes with a wet container blade system. This is the standard container that is great for 90% of anything you'd ever need to make in your blender. It's perfect for smoothies, soups, shakes, etc.
Vitamix came out with a "Dry Container" that is perfect for that other 10%.
---
What's the Difference Between the Vitamix Dry and Wet Container?
The Vitamix wet containers are designed to blend liquids while the dry containers are used for grinding grains, nuts, coffee, or any other dry ingredient. The main difference is how the blades are designed to function.
The wet container blades are uniform and sharp. When the blades spin they create a vacuum that sucks food down towards the blades so they can blend the ingredients.
The dry container blades are a mix of triangle and flat blades that actually force the ingredients up into the container. This prevents the dry ingredients from falling under the blades where they won't be able to get properly blended.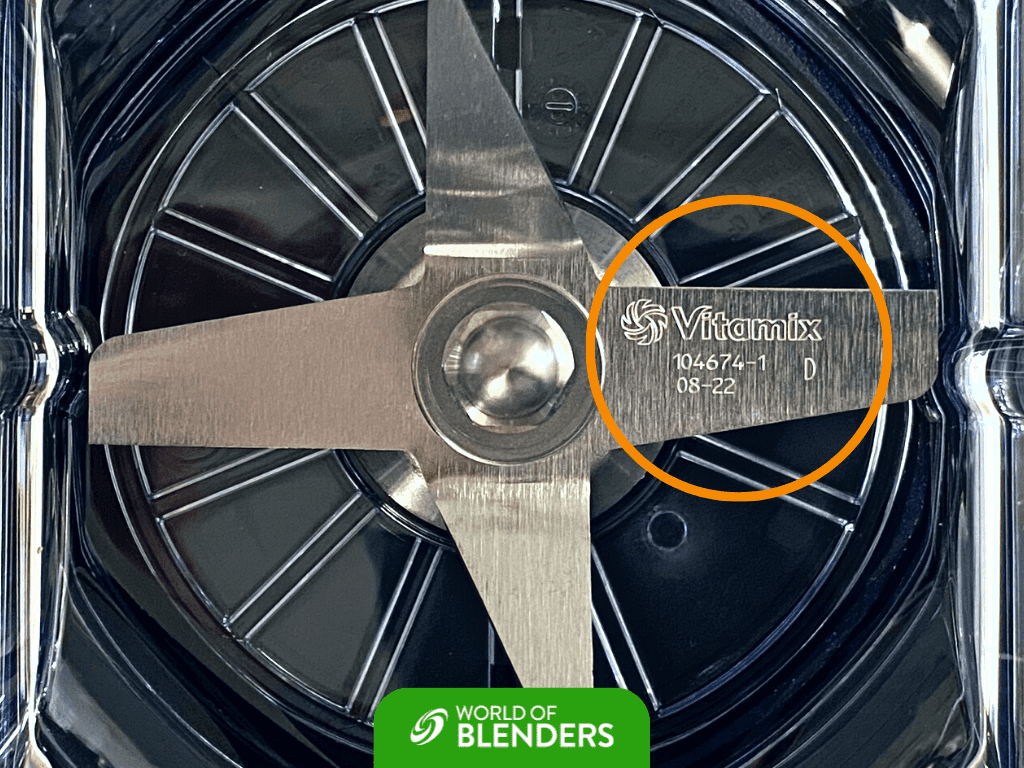 Dry containers don't come as standard with any Vitamix model. In most cases, you'll have to buy a Vitamix dry container as an add-on and swap it with your wet container to use it.
---
TLDR: Is the Vitamix Dry Container Worth Buying?
The majority of people can probably go their whole blending lifetime using a standard wet container and they'll never know they're missing anything.
But if you're like us, there are a handful of food items that can ONLY be blended in a dry container.
Personally, we love using our Vitamix to grind coffee and we've been using our dry container lately to make homemade almond flour. You can use a Vitamix to make your own flour from grain so that's it incredibly fresh for baking homemade bread.
Here's our quick take:
If you already own a Vitamix, getting the dry container is worth the money if you want to make homemade nut butter, grind coffee, or bake bread. If you like to make your own dough and batter for baking, this is a must buy.
If you'd rather buy your own bread and peanut butter, then the dry container isn't worth it.
---
Pros and Cons of the Vitamix Dry Container
Is buying a dry container worthwhile? The containers aren't cheap, but there are a lot of advantages to having the Vitamix dry container in your toolbox.
The reality is that you only need this container if you're actually going to be blending up dry ingredients regularly. If not, it's not worth it.
Pros
Dry container blades are designed for blending hard ingredients. This includes dry grains, cracked grains, and nuts.
A Vitamix dry container is good for bread making. The motion in which it blends can emulate kneading bread dough.
Dry containers can keep the ingredients dry. This makes dry containers better at grinding coffee beans.
Dry containers can still make smoothies, soups, and purées – just not as well.
Cons
Not available in 64 oz.
Having a second container adds clutter to your kitchen.
Vitamix blenders are already expensive enough. Is it really worth spending more if you've already got a wet container?
---
Uses of Vitamix Dry vs Wet Containers
A wet container can work as a…
Ice cream maker
Juicer
Blender
Food processor (for both wet and dry chopping)
Food heater (perfect for chocolate fondue, hot fruit syrups, gravy, and soup)
Mixer (perfect for pancake batter, cake batter, bread batter, and cake mix)
A dry container can work as a…
Coffee bean grinder
Nut, seed, and grain miller
Vegetable dry chopper
Chocolate and cheese crumbler
Bread dough kneader
Grain, seeds, and nuts dry chopper
These Vitamix containers are interchangeable with most models as well!
---
How Do You Identify a Wet vs Dry Vitamix Container?
You can identify whether your Vitamix features a wet or a dry container based on the blades. One of the four blades will feature either the letter 'W' for wet or a 'D' for dry.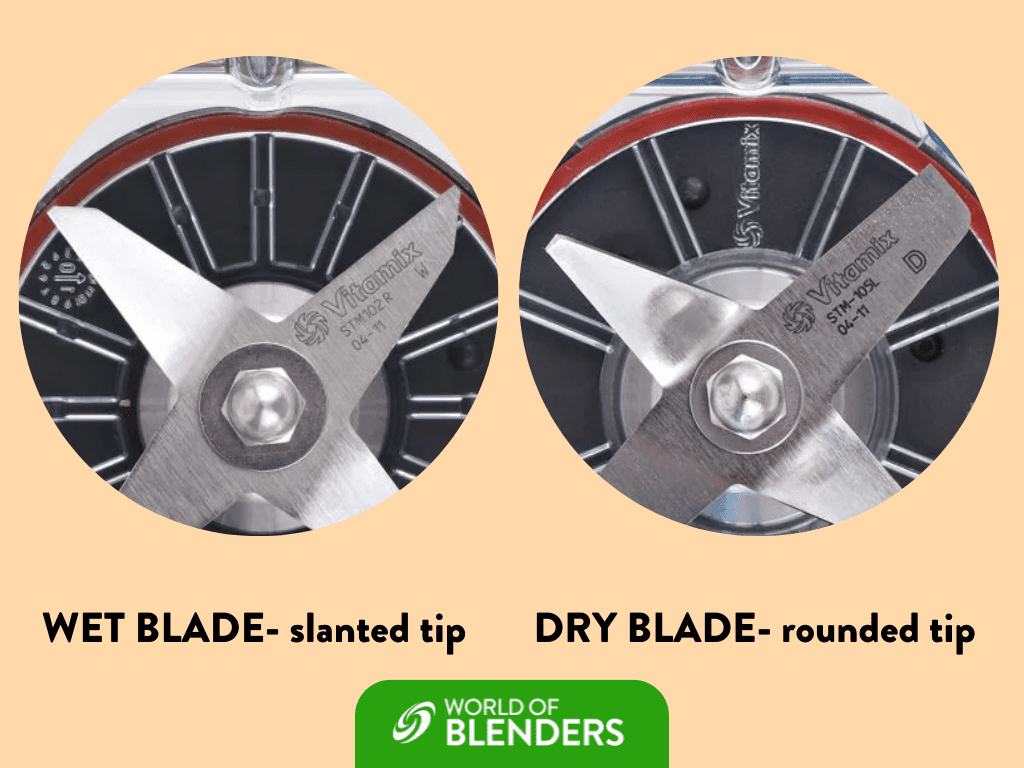 Besides the obvious 'W' and 'D', you can also differentiate blender blade types by the shape of the blades themselves.
A dry blade will feature two triangular and two flat rounded blades. This mix of blade types makes grinding tough ingredients easy. It forces ingredients at the bottom of the blender container back up to the sharp edges of the blades. This makes sure that all ingredients are blended evenly.
Wet Vitamix container blades feature 4 of the same triangular blades. When in motion, these blades force liquid downwards. This ensures an even blend.
---
Vitamix Dry Vs Wet Container: Which is Best?
Which container type is best on the whole – wet or dry? This section will break down the benefits of each container type and reach a conclusion on the Vitamix dry vs wet container debate.
Durability
Both wet and dry containers are made using tough materials that are designed to last. The pitchers are made using Eastman Tritan copolyester. This is impact resistant, dishwasher safe, and BPA-free. These containers can withstand the general wear of kitchen life.
The blades are designed using aircraft-grade stainless steel. This puts up an extra strong resistance to crushing ingredients when compared to other blender models.
The blades on the dry container have higher durability. This is down to how they are shaped. Dry blades are designed for blending tough materials so will take longer to go blunt. The wet container can still blend harder materials but at the cost of wearing out the blades.
But, you can blend soft materials using a dry blade container the same way that you can with a wet one. This won't impact the sharpness of the dry blades any more than it would wet blades.
Size
There is far less choice in dry Vitamix containers when it comes to capacity. Dry containers are only available in 32 and 48-oz sizes. This differs from wet containers, which are available in 32, 48, and also 64-ounce sizes.
Hard ingredients can be blended far more easily in small batches. This is why you can't get a 64-oz dry container. Even though a 48-oz option is available to buy, it is far less effective at grinding than the 32-oz option.
Wet containers can blend at any capacity. This is why there are more size options available for this container type. With a wet container, you can create bigger batches in a smaller time period.
Design
In many ways, the design of wet and dry containers are the same. To start with, both wet and dry containers feature patented walls. This cleverly folds the ingredients towards the blades.
The only thing that truly distinguishes the design of the two containers is the blades themselves. On the wet container, you've got four triangular blades. On the dry container, you've got two triangular blades and two flat and blunt blades.
We would say that the dry container has a more impressive design due to this blade arrangement. These blades run in a reverse vortex, which ensures that no ingredients get lodged in the base of the jug.
Compatibility
For both dry and wet container types, compatibility is limited. In the classic range of Vitamix blenders (e.g. Vitamix 5000, 5200, 6000, 750, E310, E320, and TurboBlend), you can only use a 32-ounce dry container. At the same time, you could use either a classic tall or a low-profile wet container for any blender in this series.
If you've got a Vitamix smart blender (e.g. A2300, A2500, A3300, A3500, or the Venturist V1200), you can either use a low profile wet container or a 48-oz dry container.
Overall, wet containers have more compatibility with a higher number of blender types.
Function
Both wet containers and dry containers have their own special functions. With a wet container, you can heat up hot soup, gravy, and fruit syrups. The friction inside wet containers causes the ingredients to heat up. In under 10 minutes, you can prepare steaming hot soup from fresh ingredients.
Alternatively, if you want to make cold soup, you can do this in even less time! This machine can also double up as a nut butter and ice cream maker.
The dry container can't make soup, but it can do other things. It can be used for grinding coffee beans, kneading bread dough, dry chopping vegetables, rough chopping grains, and crumbling cheese and chocolate.
---
Common Questions about Vitamix Containers
Can you use a Vitamix dry container for wet foods?
You can put 'wet' ingredients into a Vitamix dry container. However, don't expect the same results as you would get with a wet container. A dry Vitamix container, of course, works best with dry ingredients.
Can you grind coffee beans in a Vitamix wet container?
You can grind coffee beans in a Vitamix wet container, but the results won't be up to barista standards. For best results, you should reserve all grinding and milling tasks for your dry container.
What is the main difference between a Vitamix dry vs wet container?
The difference between a wet and dry container is the size of the container and the blades found inside. Dry containers are only available up to 48-oz sizes, whereas wet containers are available up to 64-oz. Dry containers contain two triangular blades and two blunt blades. Wet containers contain four triangular blades.
---
Final Verdict: Should You Buy The Vitamix Dry Container?
Honestly, I highly recommend getting the Vitamix dry container in addition to the wet container you probably already have.
It's fantastic for making your own nut butter at home so you can stop having all the processed crap. We use ours to grind up our coffee beans and we've even been experimenting with using it for different kinds of bread batter.
If you've got the money and you know you'll use it for dry ingredients, I highly suggest getting one!