This post may contain affiliate links. If you use these links to buy something we may earn a small commission. Thanks.
Picking a new blender for your kitchen is a huge decision. Quality blenders are expensive and last forever so whatever you buy, you're going to be stuck with.
We've got an epic list of the best smoothie blenders for you to pick from.
The team at World of Blenders (a master home cook and a professional chef) used 3 criteria to find the best blender for frozen fruit smoothies:
Power
Price
Capacity
You can scroll down to our Buyer's Guide to see why these criteria matter. Our motto is "buy it once" and that means investing in a higher end blender.
The right blender will be powerful, durable, and won't break the bank. If you plan to make smoothies on a regular basis, we recommend spending a little bit extra to get a Vitamix or Ninja.
That's why our top two picks are:
Overall best: Ninja SS101. This is the best blender for frozen smoothies that's on the market! It's powerful, holds 48 oz, and carries the Vitamix brand–a guarantee of high quality.
Most affordable: Ninja BL610. If you're tight on funds, but need a new blender–this is our go to option.
---
Our Philosophy & Process for Product Reviews
We know how frustrating it can be to research products online.
Our goal is that you never have to return a product that we recommend because it's exactly what you wanted.
Our team has spent over 50 hours researching and comparing all of the most popular blenders. We've read through hundreds of customer testimonials and reviews and we've personally tested dozens of different types of blenders. We've written over 60 articles helping people find the best blender for their specific needs.
---
8 Best Blenders for Frozen Fruit Smoothies
Here's a quick overview showing all of our top picks and the factors we looked at in our research. You can click through on any model to check out the recent price. You can also take a look at other customer's smoothie blender reviews.
---
1. Overall Best Blender for Frozen Fruit Smoothies – Ninja SS101
We recently got our hands on the Ninja Foodi Smoothie Maker & Nutrient Extractor, also known as the Ninja SS101.
This product might have the world's longest name for a blender, but it's amazing.
My wife and I love making thick smoothie bowls loaded with granola, peanut butter, and extra berries.
No matter how hard we tried, we just couldn't get the right consistency with our Vitamix blenders. The Vitamix needed too much liquid to blend and the bowls would be too thin.
We've been making smoothie bowls 3-4x a week since we started. Below is a picture of one of our favorites!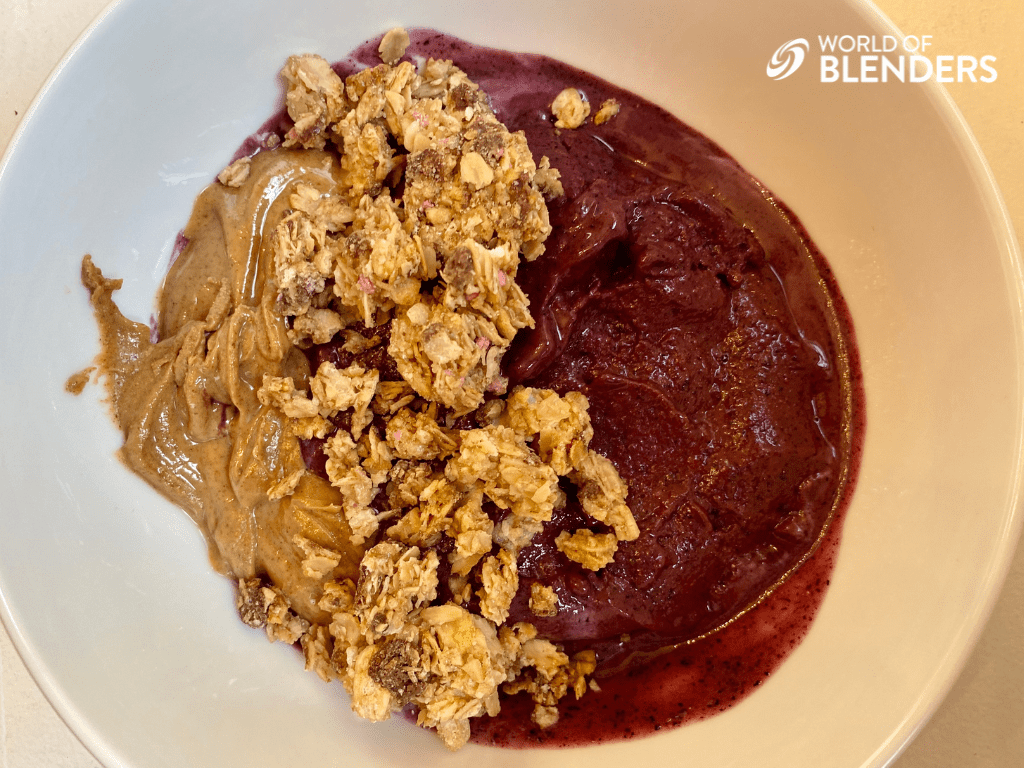 The Ninja Foodi Smoothie Bowl Maker is specially designed to make the thickest and best smoothies possible. That's why it's the new #1 on our list of the best blenders for smoothie bowls.
There are two major weaknesses with most blenders when it comes to making thick smoothie bowls:
They require too much liquid so it ends up not being thick enough
The size of most containers makes it hard to get the the smoothie blended up consistently.
The Ninja Foodi Smoothie Bowl Maker solves both of these issues.
The container is wider at the base where the blades are positioned. This allows it to easily blend up the ingredients without adding liquid.
The smoothie maker is incredibly easy to use. Load the ingredients with liquid or yogurt at the top. Press the bowl maker and wait 30 seconds. Give the lid a couple of turns and you're good to go.
The Ninja SS101 also packs in 1200 watts of power, which is enough to blend any ingredients you need for acai or smoothie bowls. You also won't need to worry about splashing out on extra containers, as this Ninja blender comes with a 14-ounce and a 24-ounce container.
This is the only blender we've tested that can safely blend frozen fruit without liquid!
One of the downsides is that the Ninja Foodi Smoothie Maker is a bit limited. It's really only good for making smoothies or dips. Normal countertop blenders like the Vitamix E310 can be used to make smoothies, soups, etc.
Another negative is the size. The blender size makes it impossible to prep multiple servings at once. Each smoothie bowl is individually sized. If you want to make bowls for a crowd, you'll need to make them one at a time. Thankfully it only takes about 30 seconds to blend each one!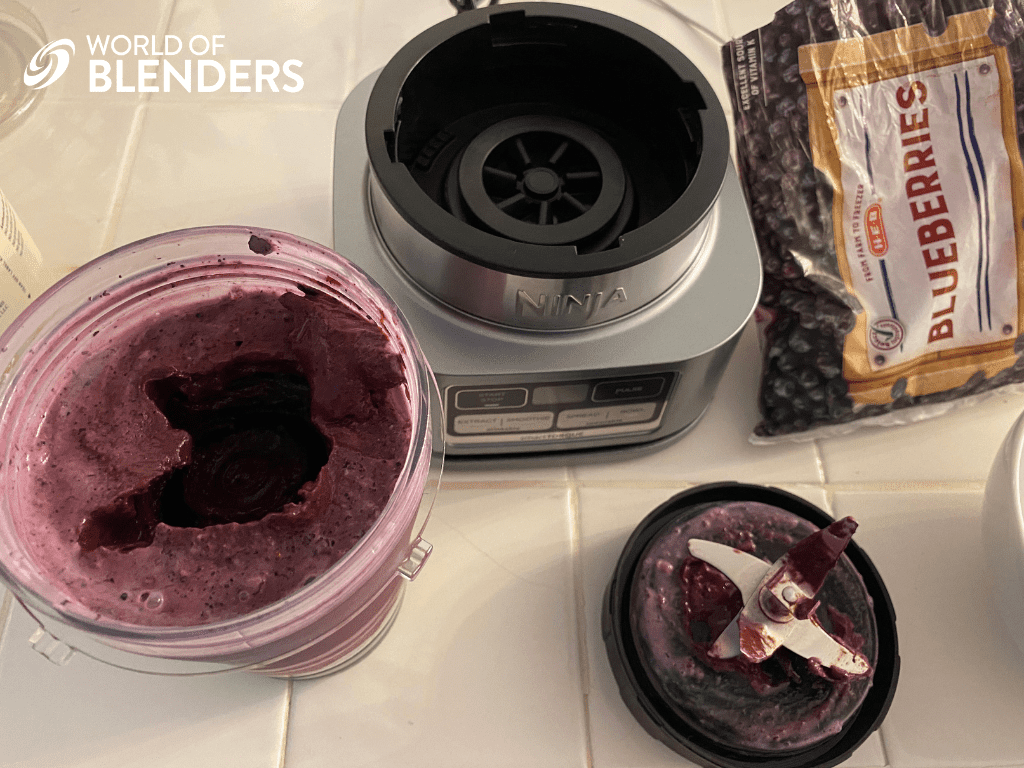 Pros:
Super effective – No other blender is as effective at making thick smoothie bowls as this one. Hands down.
Multiple containers – After blending you can pour your smoothie into either a 14 or 24oz to-go container that is easy to bring with you to the gym or in your car.
Easy to use – The smoothie maker is super easy to use. Press a button and give the built-in tamper a few turns and you're done after just 30 seconds!
Cons:
Low container capacity – The smaller containers are limited on capacity so you can really only make single serve smoothies.
Loud performance – The smoothie maker is pretty loud, louder than most other blenders.
Lacks versatility – The smoothie maker is really only good for smoothies. Other blenders have more functionality.
---
2. Best Vitamix for Frozen Fruit – Vitamix E310
The Vitamix E310 blender is a beast of a machine. The aircraft-grade stainless steel blades have an impressive 3-inch cutting diameter and will decimate the toughest ingredients.
The E310's variable speed control and pulse function take care of everything from frozen desserts and smoothies to salsa and purees. Anything you put in it comes out with perfect consistency and texture every time! The pulse feature makes a great blender for cooking where you want your sauce, soup, or curry to have some chunks in it.
This blender is built to last – Vitamix is known for making some of the highest quality blenders on the market. You won't need to replace this model in a hurry! With a 5 year warranty backed by Vitamix, this is a no brainer for one of our top picks.
The E310 comes with a smaller container, making it the best choice for cooks who work with smaller batches. There's no doubt that the E310 is one of the best Vitamix blenders for the money.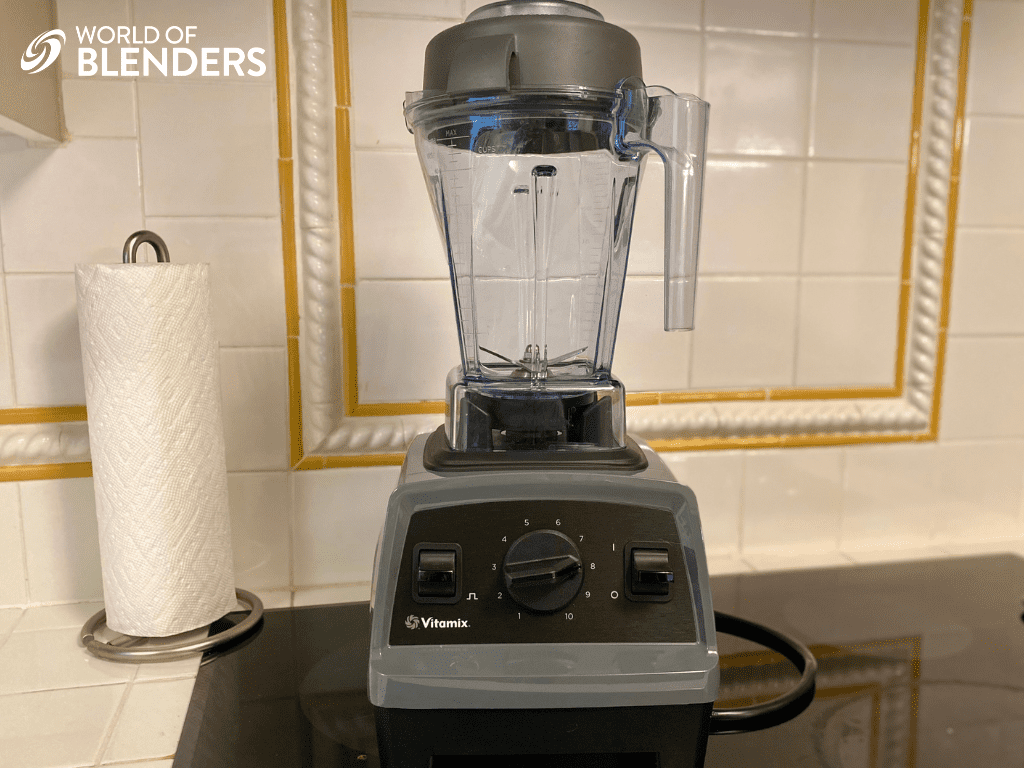 The Vitamix Explorian features 10 different speed settings, which can be adjusted using a dial to achieve the exact consistency you're aiming for. This is also one of the quietest Vitamix blenders you can buy.
| | |
| --- | --- |
| | Vitamix E310 |
| Power | 1400 watts |
| Price | $ |
| Capacity | 48oz |
| Noise | 64 dBs |
| Blades | Stainless steel |
Pros:
Size – The 48-ounce container is perfect for blending medium sized batches of food.
Usability – The blender has a 4.5-foot cord providing a great range of movement in the kitchen.
Cleaning – Though not dishwasher safe, it is not difficult to clean the E310. Simply add some dish soap and use the pulse feature, and the E310 is ready to store or use again.
Made in the USA – Vitamix was founded over 100 years ago and has been based in Ohio since 1948.
Sturdy build – Made from metal and plastic, ensuring a premium, high-end blender you can depend on.
Reduced noise level – Compared to other blenders on this list like the Vitamix E310, this is quieter.
Premium Ice Quality – This blender is exceptional at making premium bar quality crushed ice in under a minute.
Cons:
Not dishwasher safe – The E310 is not dishwasher safe and needs to be cleaned using the dish soap and blend cleaning method.
No Preset Modes – There aren't any preset options, so a bit of trial and error is required.
Bulky Design – It's a big blender and needs to be stored on the counter because it's too big for most cupboards.
Pricey – Almost $400 and much more expensive than comparable products. Read why Vitamix blenders are so expensive.
---
Another strong contender for the best blender for frozen fruit smoothies is the commercial blender from Cleanblend, which boasts an extremely powerful 1800 watt base and an 8 point stainless steel blade. Blending ice and frozen fruit with ease, you will never have to worry about large chunks in your smoothies again!
The large container allows you to cater to many guests and prepare large batches. It is also BPA-free and dishwasher safe. You can rest assured that this blender is durable and long-lasting, able to pulverize frozen ingredients in seconds without causing damage.
What's even more impressive is this blender's ability to process hot soup, creating heat from the friction of its blades! Enjoy frozen drinks, hummus, or peanut butter, all made in your Cleanblend. The opportunities are endless with this impressive, multi-functional blender.
If you're deciding between a juicer vs blender, we've got some great advice.
Compared to the Ninja and Nutribullet, this blender has a much more powerful motor base to successfully blend hard, frozen ingredients.
Though this blender does reach high speeds due to its powerful motor base, unlike its competitors it may require some help. Holding the container into place while blending prevents it from coming loose. This powerful blender is also on our list of the best blenders for pureeing food!
| | |
| --- | --- |
| | Cleanblend Commercial Blender |
| Power | 1800 watts |
| Price | $$ |
| Capacity | 64 oz |
Pros:
Powerful and heavy-duty – gets the job done without damage
Quiet – this blender is quieter than competitors
Versatile – can make frozen drinks and hot soups
Tamper included – prevent ingredients from getting stuck and clumped together
Cons:
Does not lock to base – important to hold the blender down at a high speed.
---
4. Most Affordable AND Highest Capacity – Ninja BL610
Easily crush ice and frozen fruit to make the best frozen fruit smoothies on a budget. This Ninja blender is powerful and has a 1000 watt base with strong steel blades, great at crushing ice and frozen fruit and vegetables. You shouldn't have to spend 100s of dollars in order to get a quality smoothie blender, and this model is much more affordable than the Vitamix or Blendtec. It's one of the top blenders under $200 you can buy.
Play around with texture by switching between the 4 manual speeds on this blender. Whether you prefer your smoothies thin or thick, it's all up to you with the Ninja blender! Turn ice into snow and enjoy a frozen margarita or blend frozen fruits into a smoothie and give your body the nutrients it needs and deserves.
This countertop blender is easy to use, dishwasher safe, and BPA free. Compared to its competitors, such as the Blendtec model, this blender is not self-cleaning however and requires disassembly, which can be time-consuming.
It also includes a helpful recipe guide for some inspiration and new recipes, so if you live alone and want to try an effective blender at a reasonable price, the Ninja is the one for you.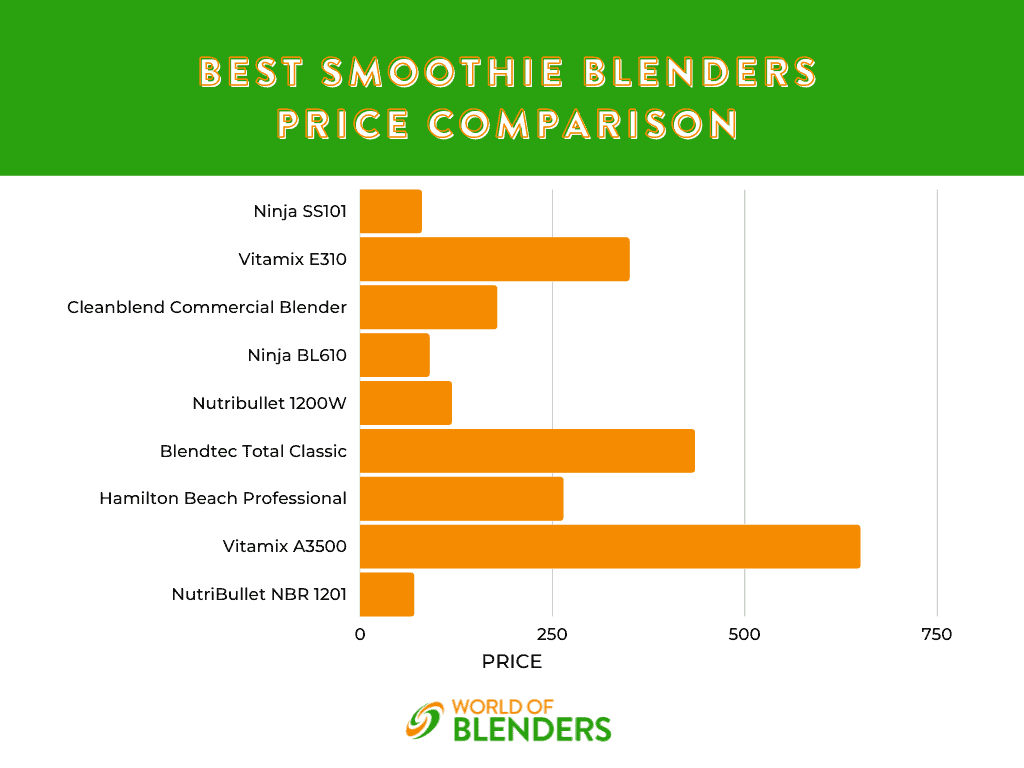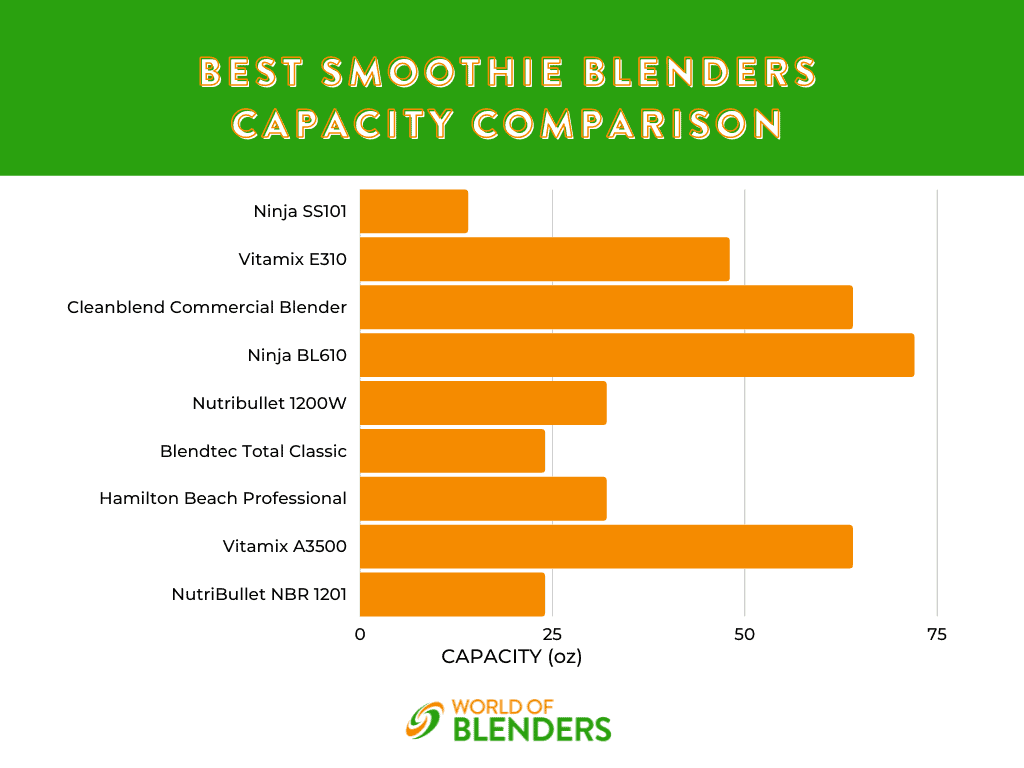 | | |
| --- | --- |
| | Ninja BL610 |
| Power | 1000 watts |
| Price | $ |
| Capacity | 72 oz |
Pros:
Powerful motor base and blades – to easily crush ingredients for smooth drinks
4 manual speed options – switch between speeds to get the texture you would like
Dishwasher safe and BPA free – no need to spend time cleaning manually
Cons:
Only one size container – does not include convenient cups or smaller jars for convenience
Not easy to clean – has to be disassembled and put in the dishwasher to clean, unlike self-cleaning competitors.
---
For over a decade, Nutribullet has been the first word in food processors. Nutribullet blazed a trail for home blenders and set a high standard of demands from customers.
They've made a name for themselves as smoothie makers with their powerful engine technology.
The sleek, clean style is immediately recognizable as a Nutribullet product, and, true to form, they have developed a product that makes accomplishing a host of kitchen tasks easy for the average home chef.
The powerful motor is a classic Nutribullet selling point, and the 1200W motor of this blender is no slouch.
This powerful blender is built with families in mind, with a large 64oz pitcher to match its motor, allowing for plenty of capacity for large batches. Small batches are also easy in the 32oz and 24oz cups, and that smaller capacity aids in the blending process.
There are some unfortunate instances of people's motors overheating, in some instances leading to the food processor breaking altogether.
Now, these are anecdotal stories, outweighed massively by positive experiences; however, it's worth acknowledging that while this sort of thing is very unlikely, it seems to be the dice we roll whatever model of food processor we choose. The NutriBullet 1200 is also the #1 rank on our list of the best hummus blenders.
| | |
| --- | --- |
| | NutriBullet 1200W |
| Power | 1.6 HP |
| Price | $$ |
| Capacity | 32 oz |
Pros:
Powerful – This 1200W blender is ideal for breaking down hard frozen fruits into a smooth consistency – it'll make light work of it, too!
Price – This is a great value package for what you get – three cups and the blender.
Different cups – The variation in cup sizes allows plenty of freedom for batch sizes, and the lids allow you to store your smoothies in BPA-free plastic, saving on the washing-up, too!
Cons:
Storage – It's very big and certainly only worth buying if you've got the storage or don't mind it taking up space on your kitchen tabletop.
Can overheat – In some cases, the powerful motor has been known to overheat. Always follow the instructions and watch the blender carefully during use.
---
Our next competitor in the battle of the best blender for frozen fruit smoothies is the Total Classic. This professional-grade bundle from Blendtec can do it all, though this does come at a higher price. If you're simply looking for a blender for one or two people, for mainly one purpose, this expensive appliance is probably not the one for you.
One purchase contains a powerful motor base and additional jars for different results.
The thick stainless steel blades are 10x stronger than comparable blender blades. The patented technology from Blendtec forces the ingredients towards the blade so you aren't stuck with stubborn pieces that avoid blending, leaving you with perfect smoothies every time. If your blender starts to get dull blades, we have tips for how to sharpen your blender blades.
With pre-programmed blending cycles, you can opt for the exact one you're looking for, or you can switch between the 10 manual control speeds and cater it to you! If you're looking for a particular texture, setting your blender at a lower speed will provide you with a thick frozen fruit smoothie. It's also one of the top blenders for vegans due to the power!
Not only is this blender excellent at blending ice and frozen ingredients, but you can make hummus, dips, and even nut butter. Simply switch it on, select your program and watch as the LCD timer displays the remaining time! This appliance is so easy to navigate, you will barely have to lift a finger.
If that isn't enough, there is no need for disassembly when you're done. Unlike the Nutribullet, this self-cleaning blender simply requires a dash of soap and water and will take care of the rest!
| | |
| --- | --- |
| | Blendtec Total Classic |
| Power | 1560 watts |
| Price | $$$ |
| Capacity | 24 oz |
Pros:
80% thicker stainless steel blades – powerful ice crushing and pulverizing of stubborn ingredients
LCD timer – easily see how long is left until your smoothie is done
The large container size allows you to blend frozen fruit smoothies for up to 6 people, so you can cater to a large group in one go
Preprogrammed and manual speed settings – switch between specific item programs and speeds to achieve your desired texture and consistency
Cons:
Expensive – this blender is much more costly than many of its competitors, at over $400.
---
If you're looking for a blender that is quieter than the rest, this professional blender from Hamilton Beach boasts a removable quiet shield that dampens noise. This doesn't mean that you have to sacrifice power, though, as the hard steel blades are great for blending ice and other frozen ingredients with ease.
Check out how you can reduce blender noise.
Choose to manually alter speed settings yourself or opt for one of the 4 pre-programmed settings that include 'Ice Crushing' and 'Smoothies.' This affordable product is great for all of your needs, whether you're making frozen fruit smoothies or pureeing hot soups.
The clean setting even means there is no need for disassembly or precious time spent cleaning – simply add soap and water and the blender will do the rest, unlike the Ninja BL610.
This blender also comes with a tamper that fits through the lid, so you can easily deal with stubborn jams without requiring you to disassemble the machine!
If lowering noise wasn't enough, the included quiet shield also doubles up as a pitcher, though it, unfortunately, does not have handles. Serve drinks to your guests with this handy, multi-functional feature.
Compared to other high-power products such as the Vitamix, this blender is much quieter.
| | |
| --- | --- |
| | Hamilton Beach Professional |
| Power | 1500 watts |
| Price | $$ |
| Capacity | 32 oz |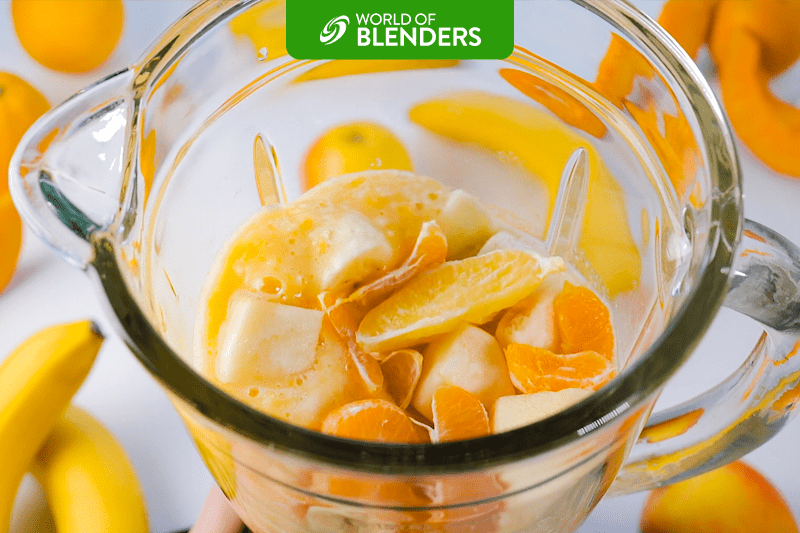 Pros:
Affordable – compared to similar competitors, this blender is much more affordable
High-performance motor and hard blades – ensure smooth and well-blended frozen fruit smoothies
Quiet shield – the removable quiet shield dampens noise and doubles up as a pitcher to serve drinks
Cons:
Cannot heat cold ingredients – although this can puree soups, this blender does not heat up cold ingredients and will not make hot soup like the Vitamix E310 can
The quiet shield/ drinks pitcher does not include a handle – using it as a pitcher can be difficult.
---
The Vitamix A3500 is one of the four models in the Ascent series, smart blender types that come with a whole host of modern technology.
This is the Cadillac of Vitamix blenders – which is saying something. Vitamix is the best brand and this is the best Vitamix has to offer.
The main reason it's not ranked higher is the price. This thing ain't cheap.
We've owned our Vitamix A3500 for several months now and we love it. To be honest though, all of the programmable settings were a bit intimidating at first.
As a smart system blender, it offers a wealth of features to make it easier for the user to blend – anything from grinding coffee beans to whipping egg whites.
From wireless bluetooth connectivity to the powerful motors that blend the hardest of food, it's clear why the A3500 is so popular. It's an easy to set up and user-friendly blender that packs a powerful punch. It comes equipped with a digital interface that makes it a whole lot more modern than previous versions.
The A3500 is one of the most powerful Vitamix blenders and can handle the toughest blending tasks. If you want a frozen fruit blender that's top of the line, this one is for you.
The high tech features of the Vitamix A3500 make it one of the best Vitamix blenders that we've tested.
This blender is even compatible with the Vitamix app – seriously cool! You can find 100's of recipes and tips about what functions to use for specific recipes.
| | |
| --- | --- |
| | Vitamix A3500 |
| Power | 2.2 HP |
| Price | $$$$ |
| Capacity | 64 oz |
| Blades | Stainless steel |
Pros:
Smart Functions – It's got an impressive digital interface that is programmed with various exceptional functions to make your experience super simple.
Transparent Lid – This makes it a lot easier to see and gives you a better view of the blended ingredients.
High-quality Stainless Steel Blades – Premium quality laser cut steel blades provide a powerful, reliable and consistent delivery with every blend.
Powerful motor – As part of the Ascent series blenders, this one comes with a powerful 2.2 HP motor for excellence in breaking down all food types.
Long warranty – Comes with a 10-year warranty, providing great value for money.
High-quality technology – Self-detecting technology controls and container sizes.
Pulse feature – Help blends through the food evenly.
10-speed variable speed control – Modify the level of blending from chunky to super smooth.
Programmable Timer – Conveniently use a timer to ensure you get the best results every time.
Cons:
Expensive – One of the more expensive Vitamix models to buy.
Plastic features – The plastic bodywork of the blender might be offputting for some who prefer a premium type of material like glass.
Problematic App Integration – There have been reports of problems connecting to the app with the touch interface. When using presets, it sometimes starts/stops unexpectedly (might be a safety setting).
Few container options – no additional containers means you will need to look into buying a set of containers.
---
The first option from NutriBullet is an affordable blender with a powerful 600-watt motor and strong stainless steel blades that can deliver a delicious fruit smoothie in seconds! This product is great for those looking to make smoothies quickly and conveniently serve them.
What's special about this blender is the patented nutrient extraction blades that can break down stems and skins for easy absorption of all the good stuff. With this model, you'll be sure to get the best from your blender and your daily smoothie.
Great for making frozen drinks, this blender can easily pulverize ice and frozen fruits, so you're left with a smoothie that is smooth. The 2 plastic cups included with the blender have handles and lids on for complete convenience when you're in a rush – so you can enjoy your smoothie no matter where you are.
But it doesn't end there… make hummus, dips, and soups with this versatile product. Although there is only one default speed, the base is powerful enough to ensure that expectations will be met every time.
And after you're done, simply twist off and wash your container in the dishwasher for ultimate convenience. Though it is important to note that this appliance can sometimes be prone to leaking, causing spillage into internal components that can't be easily cleaned.
| | |
| --- | --- |
| | Nutribullet NBR-1201 |
| Power | 600 watt |
| Price | $ |
| Capacity | 24 oz and 18 oz |
Pros:
Powerful and affordable – know you're getting what you pay for, and be sure it will get the job done
2 handled cups included – perfect for an easy on-the-go beverage
Dishwasher safe and BPA free – both the jar and handled cups can be cleaned in the dishwasher for added convenience
Nutrient extraction blades are exclusive to the NutriBullet – making sure you get essential nutrients that your body needs
Cons:
Prone to leak into inner parts of the model – this can be extremely hard to clean if it happens
Not self-cleaning – this product requires disassembly, unlike some of its competitors.
---
Buyers' Guide: How to Pick the Best Smoothie Blender for Frozen Fruit
Motor Power and Speed
When looking for a blender with a high-power motor, you need to look at the wattage. The higher the wattage, the more powerful your blender will be and the faster it will blend stubborn foods, ice, and frozen ingredients. If you want something that will create smooth frozen fruit smoothies quickly, opt for something over 300 watts.
As you can see, the Cleanblend Commercial Blender is the most powerful on this list with 1800 watts! High power is essential to being able to pulverize frozen fruit.
If you want to use your blender for multiple purposes, making different kinds of food or beverages, you should consider speed options. A blender with a range of speed options or even pre-programmed settings for particular needs will allow you to achieve different textures.
In this area, the Blendtec Total Classic is the best model as it boasts an extremely powerful motor base and 10 manual speed options, sure to effectively blend even the most stubborn, hard ingredients.
Getting a powerful blender is how to make smoothies creamy every time, even with frozen fruit!
Capacity
A higher blender capacity allows you to blend more at one time, though it will mean a larger size and will take up more space. In order to work out the total working capacity, calculate 50% of the total volume of your blender.
The largest blender and consequently, the largest capacity on our list is the Ninja BL610 which can hold and blend more ingredients than its competitors. It holds 72 oz, which is the highest on this list!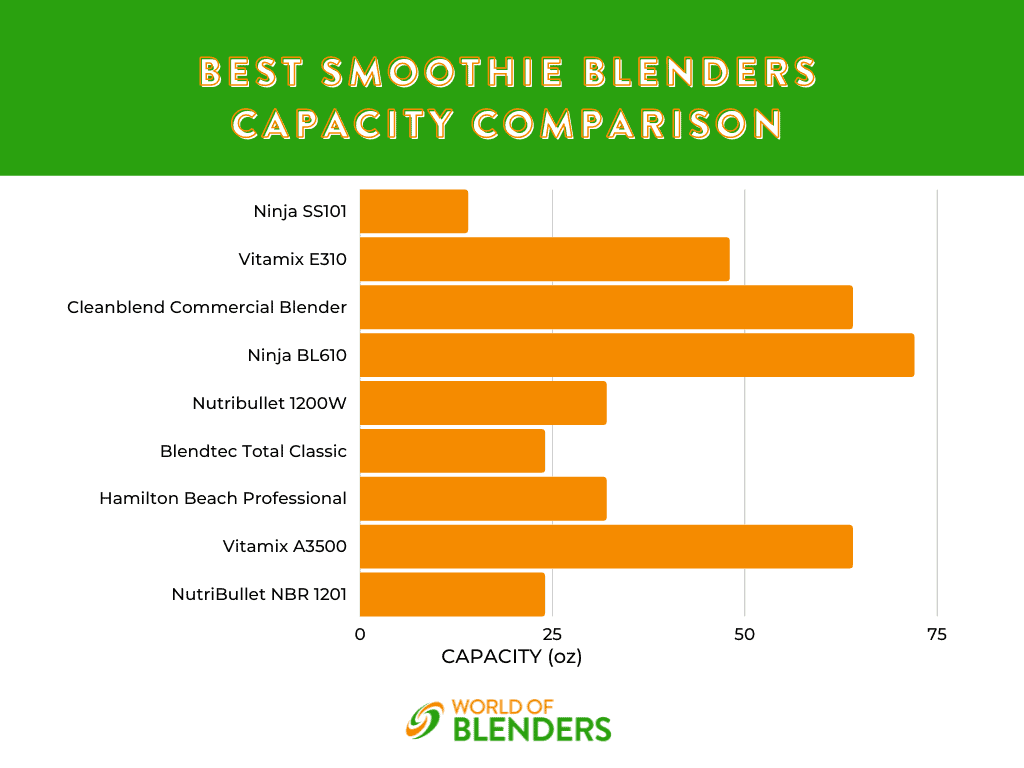 Budget
If you're looking for an affordable blender or are on a tight budget, you do not have to sacrifice quality to get what you're looking for. Many high-performance, durable machines are available on the market for impressively low prices.
With blenders that can effectively blend ice and frozen fruit, they must be durable and be able to withstand a lot of pressure. Durability and high-quality materials should be made a top priority in this circumstance.
The Ninja BL610 is the best blender on our list if you're looking for a great value blender on a budget.
Before buying, you should assess your budget and consider what your priorities are when it comes to features. High-tech appliances are great, but may only offer impressive features that do not actually serve you well.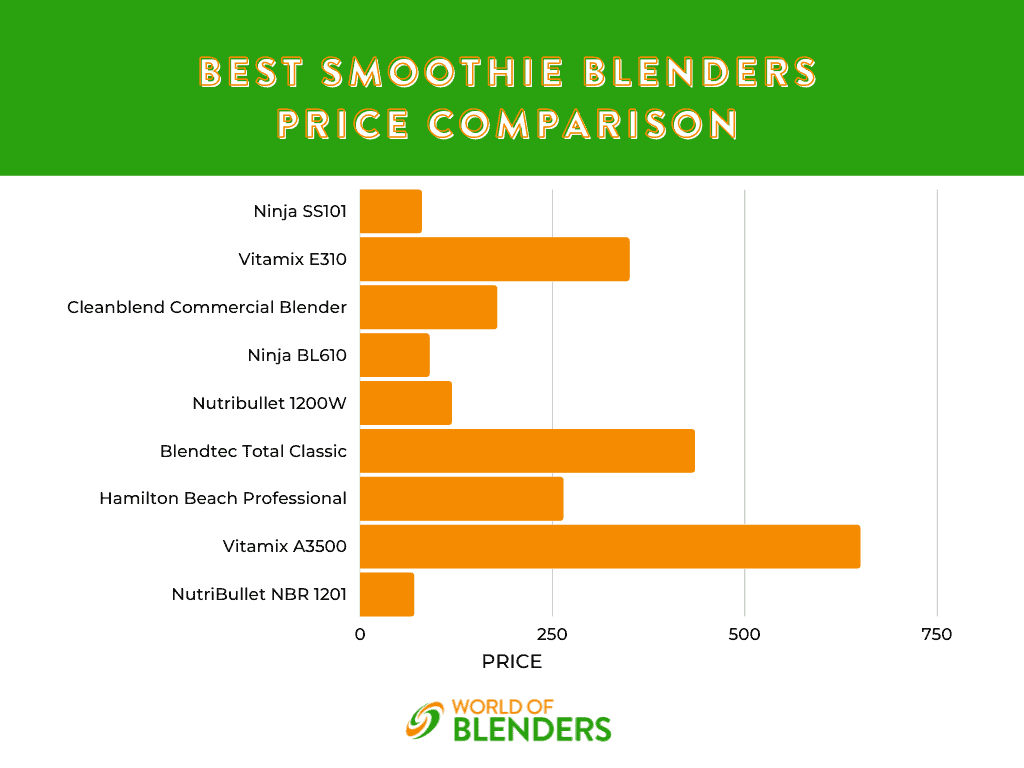 Blades & Design
The best blender for fruit smoothies requires a powerful blade. Ice and frozen fruit are hard and a weak blade would likely crack under the pressure of ice crushing. So, when looking for the best blender for blending frozen ingredients, you should opt for hardened stainless steel blades, as they are durable and long-lasting, saving you money in the long run!
The design of the Ninja SS101 is perfect for blending frozen fruit. You don't even have to use liquid! The container design and the way the blades are situated make it incredibly effective.
Accessories
Many blenders come with additional accessories or have compatible accessories that can be bought separately. This can include cups, tampers, and extra blades.
For example, the Ninja BL610 blender commonly has a lot of extra accessories that can be purchased from the brand.
Other accessories can include blades for different purposes such as crushing ice or even quiet-shields to dampen noise. These items can be an important and useful part of your daily routine when using your blender, so this should certainly be considered before purchasing.
---
Common Questions about Smoothie Blenders
Do I have to thaw frozen fruit before making a smoothie?
This will depend on the materials of the blades in your blender and the power of the motor. If your blender is powerful enough to withstand hard ingredients, you shouldn't have to thaw your fruit before making fruit smoothies. Many blenders are not designed for ice crushing, so large pieces of ice can lead to blade or jar damage.
What motor power do I need for frozen fruit smoothies?
If you are purchasing a blender mostly for making frozen fruit smoothies, you should buy one with a minimum wattage of 1000 watts. You should also check that your blender can be used for crushing ice and frozen fruit, as many blenders are not and will leave you with lumpy smoothies.
When do you need a blender for ice and frozen fruit?
In order to make frozen fruit smoothies, a blender is a requirement. You should find a blender that is powerful with strong blades and a durable jar.
Which Vitamix is the best blender for frozen fruit smoothies?
The Vitamix E310 is the best blender for blending frozen fruit. The special, patented blades extract nutrients from fruit skins and seeds to ensure easy absorption of essential nutrients that our bodies need. These powerful blades can quickly pulverize ice and frozen fruit, leaving smoothies that are exceptionally smooth, without any annoying clumps.
Do you need a special blender to make smoothies?
It is important to get a blender that can sufficiently blend ice cubes and frozen fruit, without leaving lumps or becoming damaged. Blenders that have higher power capabilities and strong, durable materials are best for making smoothies.
Is Ninja or Vitamix better?
This depends on what you're looking for and what features matter most to you. Both blender models are great for different reasons. Vitamix blenders are better blenders overall, as they are self-cleaning and can make hot soup from cold ingredients. They boast a lot more features. However, if you're looking for a blender to make frozen fruit smoothies, the Ninja has durable materials and a powerful motor base. The Ninja is much more affordable too!
What is the difference between a blender and a smoothie maker?
The difference between a smoothie maker and a blender is that the latter can make many other things too. On the other hand, a smoothie maker can only make smoothies and often does a better job.
---
Final Verdict: What's the Best Blender for Frozen Fruit?
Overall, there is an extremely comprehensive range of blenders on the market today, with price ranges that differ significantly.
The best blender for frozen fruit smoothies is the Ninja SS101, which provides extremely high quality and durability that is perfect for achieving delicious fruit smoothies. It's the best blender for frozen fruit that we've tested. The only downside is the size and potentially the durability.
The best budget buy on this list is the Ninja BL610. Standing at such a low price, it is still able to get the job done effectively and is great at ice-crushing and blending frozen fruit without leaving lumps. Despite its downfalls, this blender is a great affordable option.