This post may contain affiliate links. If you use these links to buy something we may earn a small commission. Thanks.
Finding the best quiet blender for your kitchen is a huge decision. Quality blenders are expensive and last forever so whatever you buy, you're going to be stuck with.
We know that blenders can be loud and make it impossible to have conversation while you're prepping food.
The team at World of Blenders (a master home cook and a professional chef) used 3 criteria to find the best quiet Vitamix blender:
Sound level (measured in decibels)
Price
Power (measured in horse power)
The quietest Vitamix blender is the Vitamix Quiet One. It still has above-average horsepower and is one of the few Vitamix blenders under 80 decibels. This combination of power and speed comes at a cost though!
If you want a more affordable option, check out the Vitamix E310. It's the cheapest on our list and has 86 decibels which is quieter than most, but still has the Vitamix power and quality.
Our Philosophy & Process for Product Reviews
We know how frustrating it can be to research products online.
Our goal is that you never have to return a product that we recommend because it's exactly what you wanted.
Our team has spent over 50 hours researching and comparing all of the most popular blenders. We've read through hundreds of customer testimonials and reviews and we've personally tested dozens of different blenders. We've written over 60 articles helping people find the best blender for their specific needs.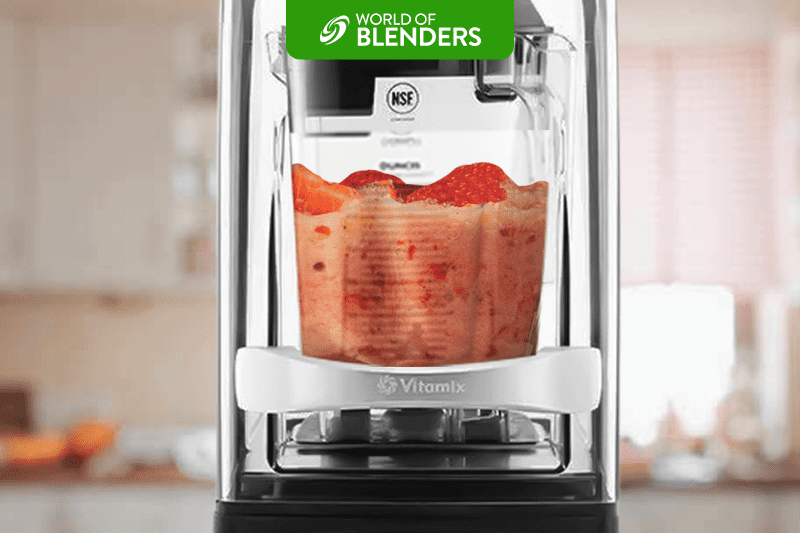 ---
5 Best Quiet Vitamix Blenders
Here's a quick overview showing all of our top picks and the factors we looked at in our research. You can click through on any model to check out the recent price. You can also take a look at other customer's reviews to get a more full picture.
Vitamix "The Quiet One" is a formidable commercial-use blender with advanced noise reduction technology. That frustrating blender noise produced by your old-school blender – it's gone.
People try so many ways to reduce blender noise, but this Vitamix blender has hit the nail on the head!
If you run a business and need quiet blenders to keep your customers happy and your staff sane – then you've probably surfed the web for the quietest Vitamix blenders reviews. Rest assured, you've come to the right place because we've done the testing for you!
This super-efficient countertop blender has earned its ranking as best overall quiet Vitamix blender for good reason. It's fitted with exquisite noise reduction technology that helps alleviate that standard ultra-loud unpleasant and infuriating sound that everyone hates.
Most high-powered blenders range between 85 to 95 decibels at their highest speed, which is proven to be damaging to human hearing.
This Vitamix professional blender reduces noise to only 64db – the same level as an ordinary conversation. Pretty neat, right?
As a business owner, this is a lifesaver; your staff and customers will thank you – you can also keep jamming those groovy tunes without them being drowned out by blender noise.
The reduced noise doesn't mean that you lose out on any of the awesome specs – it's still incredibly powerful, reliable, and delivers exceptional and consistent blending every time.
Check out our full Vitamix Quiet One Review!
Pros:
High-Quality Suitable For Commercial Use – Top brands like Starbucks use "The Quiet One Commercial Blender."
Reduced Noise Level – 21% quieter than regular blenders.
Easy Pour Spout – prevent spills and messy cleanups with its precise, easy pour spout.
High-quality Parts – Made from high-quality metal and equipped with plastic secure sound enclosure.
34 Quick-blend Settings – Easily select from a variety of presets to deliver the perfect smoothie, drink, or selection of your choice.
6 Shortcut Buttons – Choose one of the smart shortcuts to help you create what you desire.
Powerful motor – It comes equipped with a 3-horsepower motor that makes it one of the most powerful blenders on the market.
Cons:
Premium Cost – It's quite expensive, and maybe isn't the most budget-friendly option.
Short Warranty – Warranty coverage of only three years.
Programming Errors – Customers have reported some programming issues.
Not Dishwasher Friendly – The parts need to be hand-washed with dish soap.
---
Alright, you're looking for a high-quality blender that works immaculately and doesn't cost you an arm and a leg, or a finger. Just kidding about the finger part.
A quiet blender, not the quietest Vitamix blender on the market, but still pretty darn quiet. Because no one wants a noisy blender, they're just annoying.
The Vitamix E310 Explorian is a powerful, compact and reliable blender that checks all the boxes.
As you can also see, this is the most affordable Vitamix on our list! Sometimes Vitamix can get a little pricey, but check out this post to read why.
It's solid and comes with a 10-speed dial. It's relatively simple in design and user-friendly compared to other Vitamix blenders and delivers an excellent all-round performance.
You can channel your inner Masterchef, making ultra-smooth nut butter, world-class smoothies, and even use it for hot blends!
Let's take a look at some of the points that make this Vitamix professional blender a great choice.
Pros:
Affordable – The Vitamix E310 is relatively affordable when compared to other professional blenders. It's one of the cheapest Vitamix blenders.
Sturdy build – Made from metal and plastic, ensuring a premium, high-end blender you can depend on.
10-speed settings – Choose from multiple speed settings to make the perfect blends for frozen drinks, hot soups, and everything in between. Minimum speed of 1,400 RPM and a max speed of 22,600 RPM – that's fast!
Reduced noise level – Compared to other blenders, it's among the quieter models, with an audible output of 86db at its highest speed. It's not as quiet as "The Quiet One," but it's quieter than most.
Premium Ice Quality – This blender is exceptional at making premium bar quality crushed ice in under a minute.
Great For Hot Blending – Easily blends multiple servings of hot ingredients with no issue at all.
Cons:
No Preset Modes – There aren't any preset options, so a bit of trial and error is required.
Bulky Design – It's a big blender and needs to be stored on the counter because it's too big for most cupboards.
Read more: Is the Vitamix E310 worth it?
---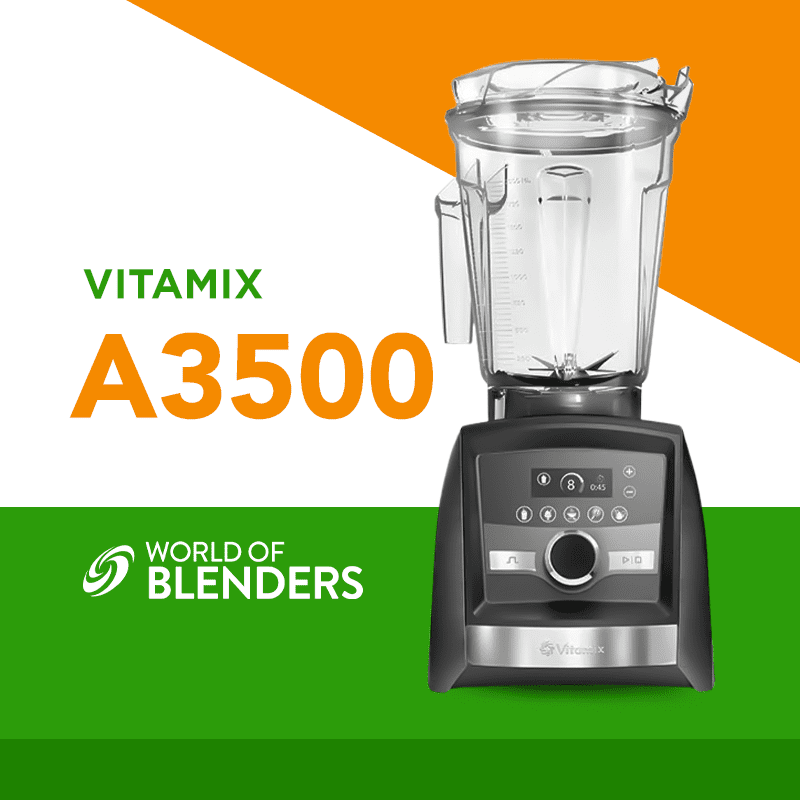 Looking to save some space but not sacrifice quality – look no further! The Vitamix A3500 Low-Profile Blender is the perfect fit.
It's an easy to set up and user-friendly blender that packs a powerful punch. It comes equipped with a digital interface that makes it a whole lot more modern than previous versions.
It's also considerably quieter, even given its powerful motor – thank goodness! You can easily blend hot and cold ingredients for a sleek, silky smooth finish.
A quiet blender that blends up a storm – anything from tomato soup to yummy chocolate pudding, even grinding up coffee beans! Simple. Easy. Consistent.
This blender is even compatible with the Vitamix app – seriously cool! You can find 100's of recipes and tips about what functions to use for specific recipes.
However, it doesn't come without faults. The metal blades are an attachment that makes scraping the bottom quite tricky (don't remove the blades because it voids the warranty).
Let's take a closer look at what's great and what's not so great.
Read more: Vitamix A3500 review
Pros:
Smart Functions – It's got an impressive digital interface that is programmed with various exceptional functions to make your experience super simple.
Simple Set-Up – It's really easy to set up and start using the Vitamix A3500 Low-profile blender, especially when compared to previous Vitamix versions.
Superior Performance – 2.2-horsepower motor that easily processes hard foods and is incredibly versatile.
Programmable Timer – Conveniently use a timer to ensure you get the best results every time.
Transparent Lid – This makes it a lot easier to see and gives you a better view of the blended ingredients.
High-quality Stainless Steel Blades – Premium quality laser cut steel blades provide a powerful, reliable and consistent delivery with every blend.
Cons:
Quite Costly – It's a premium blender and isn't affordably priced.
Problematic App Integration – There have been reports of problems connecting to the app with the touch interface. When using presets, it sometimes starts/stops unexpectedly (might be a safety setting).
---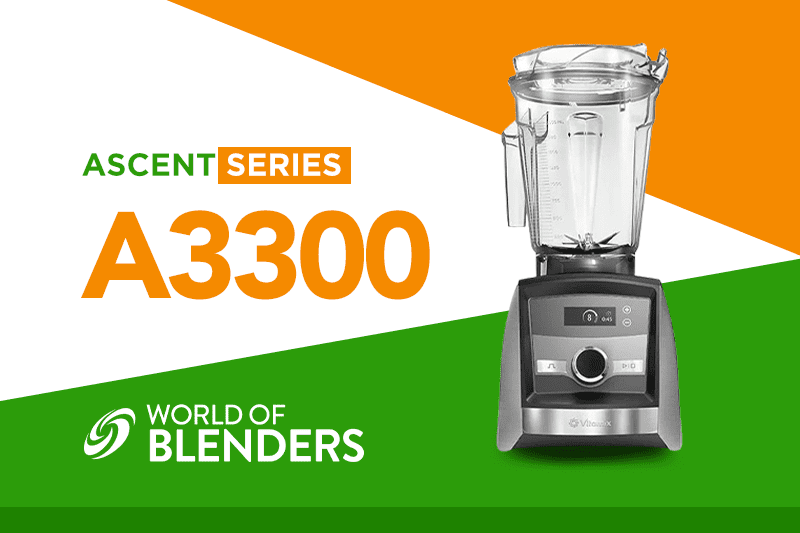 The Vitamix A3300 is a sturdy full-size blender. It uses cutting-edge ascent technology that adjusts performance when blending based on certain factors like jar size etc.
It has an impressive multiple-setting speed dial, a timer, and a start/stop button. It also has various other presets that are only found on the app.
On the Vitamix app, you can select various presets such as 'Baby Food,' 'Nut Butters,' or 'Frozen Desserts.'
Overall it's a really powerful, easy-to-use blender that can handle all your blending needs – from hot to cold, chunky to smooth; it's more than capable! Oh, and it's one of the quietest blenders.
The Ascent series is fantastic so be sure to read our comparison of the Vitamix A3300 vs A3500 if you can't decide between these two!
Pros:
Smart Functions – High-end technology makes it even simpler to use. Use the programmable timer to ensure consistency in all your recipes.
Sturdy and Easy To Clean – It's built from high-quality metal and plastics and is also super simple to clean.
Ultra-smooth Blending – Perfect for nut butters and other silky smooth dishes, it blends even the finest ingredients with ease – and with a smooth consistency.
Crushed Ice In Under a Minute – You read that correctly – bar-quality crushed ice in under a minute.
Easily Hot Blend – If you need to blend hot ingredients, you'll be more than satisfied by the results.
Dishwasher Safe – It's one of the few dishwasher-friendly blenders in the Vitamix professional series.
Cons:
Loud – Its noise output is 91db which is still higher than "The Quiet One"
Presets Only Available On App – Presets aren't directly available, only available on the app.
Read more: Vitamix A3300 Review
---
Now, let's take a look at the grandiose, the deluxe, the holy grail of premium Vitamix blenders. Introducing the Vitamix 5201 XL Blender – a class of its own!
This 4 HP commercial blender is a beast – even more powerful than "The Quiet One"!
Simply put, it's phenomenal! It's perfect for shop owners who are pressed for time but can't afford to sacrifice any quality.
It's capable of meeting any of your blending requirements. From pureeing to mixing and chopping – no problem!
It comes equipped with touchpad controls and is the perfect blender for a high-output kitchen. It can handle some serious loads and comes with a 1.5-gallon container too!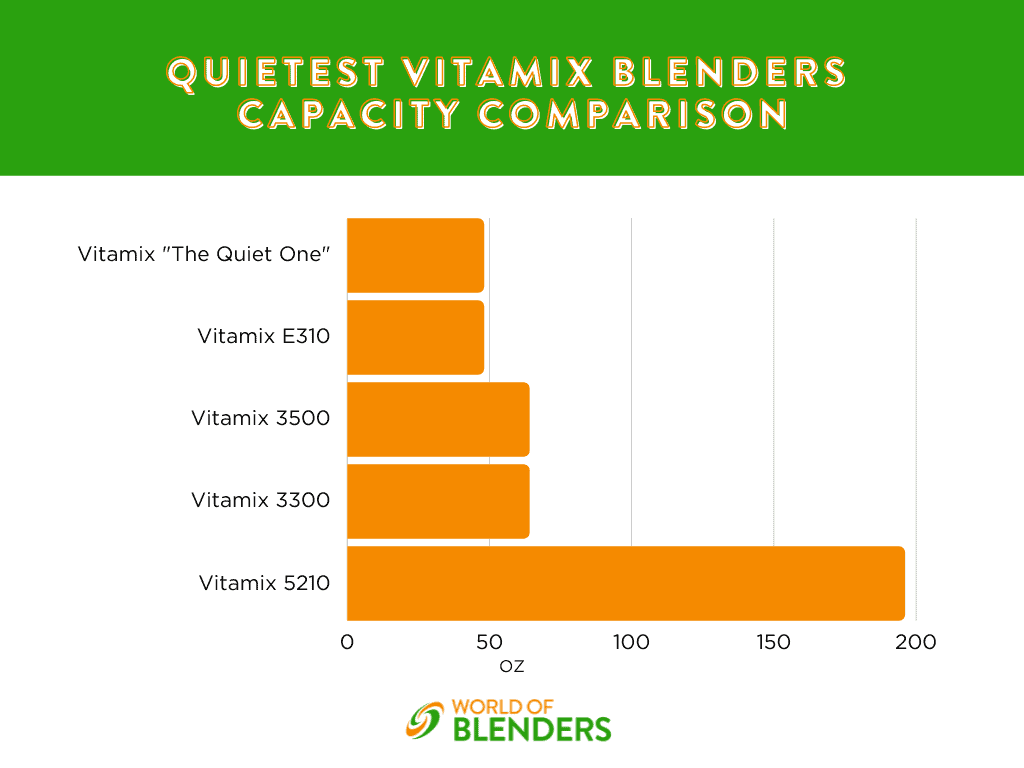 It comes with a standard 64oz container, but also a whopping 196oz! This is over twice what the other Vitamix options offer.
If you're operating in a stressful and busy environment, then choose this beast because it minimizes prep time and maximizes output – leaving you satisfied every time!
Let's take a closer look at what makes this incredible blender so incredibly fantastic!
| | |
| --- | --- |
| | Vitamix 5201 |
| Power | 4.2 HP |
| Price | $$$$ |
| Noise | Not provided |
| Capacity | 192 oz |
Pros:
Extra Large Capacity- Comes with a 64 oz container and a 1.5-gallon container.
Powerful Motor – Say hello to sheer power with a 4.2 max HP – never struggle to blend again!
TouchPad – A touch interface that makes selecting pre-programmed settings, setting a timer, and everything else incredibly simple.
Perfect For Business Owners – Save time and money with a blender that can handle MORE and faster!
Multiple Control Options – Whatever the dish you're creating, rest assured you'll have various options at your disposal to help make the task super easy. Make use of the variable speed control and pulse function.
Cons:
Short Warranty – Only 3 years of warranty coverage.
Very Costly – It's a premium blender, and it's one of the most expensive on the market.
---
Ultimate Guide: How to Pick out the Best Blender for a Less Noisy Home
Noise level
The most important criteria for picking the best quiet Vitamix is obviously the noise level. Blenders are typically measured in decibels.
The hard part though is that Vitamix doesn't give the decibel information for all of their blenders. I actually reached out to them recently to ask for data on their sizes.
We know that the typical range is 80-100 decibels.
The #1 product on our list, the Vitamix 3601 (Quiet One) is the quietest Vitamix on our list with just 65 decibels. This is 20% quieter than most other Vitamix blenders!
Materials & build quality
It's incredibly important to consider the quality of a blender. You don't want to be stuck with a low-quality blender that cracks or breaks after minimal use!
You want something durable and sturdy. You need to look for blenders that have stainless steel blades and have a hard plastic or polycarbonate casing.
Do your diligent research to ensure your blender doesn't crack under pressure when it's put to the test. Vitamix has different 'series' of blenders so it could be good for you to dig into which one is right for you! Check out our Vitamix Explorian vs Ascent Series to get started.
The good news is that Vitamix offers an incredible 10 year warranty so even if you have issues, you can always get them fixed.
Blade speed
The power of the motor usually determines the blade speed. You're looking for a blender with a powerful motor that can blend through thick and thin, literally.
If you're choosing a beast like the Vitamix 5201 XL blender, then you can expect a 4.2 peak HP – seriously powerful!
Blade speed also contributes to how loud a blender is; a quiet blender will typically have a lower max RPM. More powerful blenders like the Vitamix E310 Explorian boast up to 22,600 RPM!
The blade speed is key when it comes to making things like nut butter and plant milk.
Capacity
The capacity for Vitamix blenders is typically 64 oz. This is usually more than enough and allows you to blend multiple servings at once.
Although, if you're a smoothie store owner, you might need something with more capacity – cue the Vitamix 5201 XL with a 1.5-gallon container.
That should be more than enough to suit your high-output needs.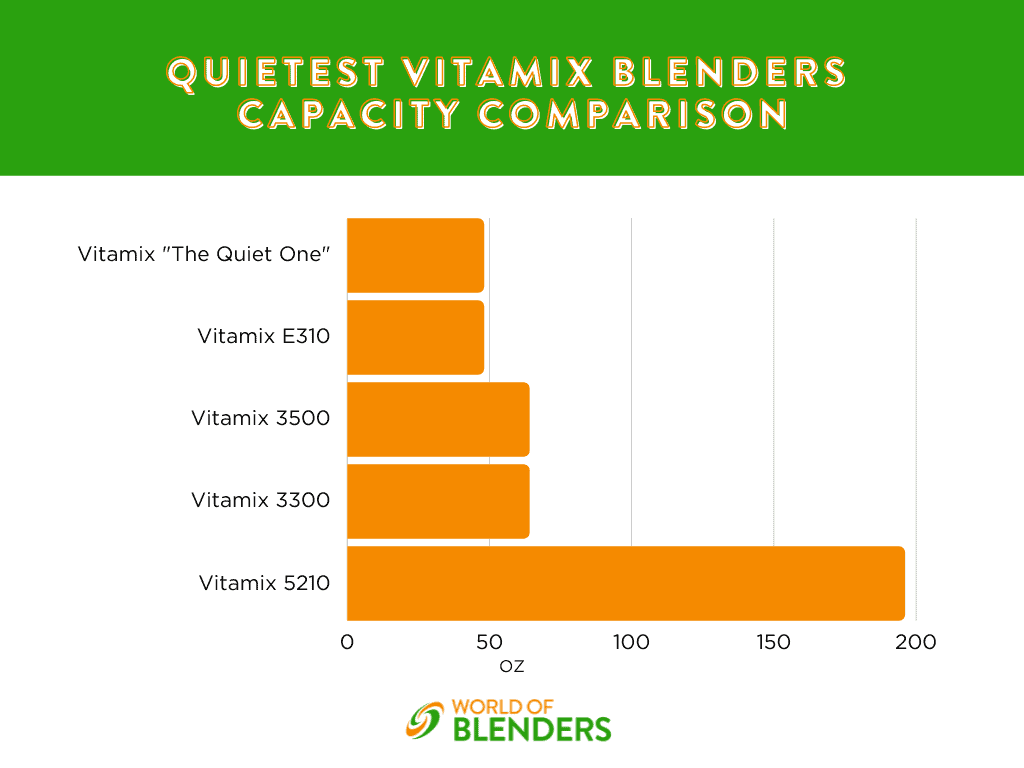 Attachment options
One of the cool things about a Vitamix is the attachment options. There are so many to choose from, and each one serves a purpose.
Some people might opt for a stainless steel container instead of a plastic container. Some people might prefer adding attachments like blending cups, personal cups, or even blending bowls.
There are loads of pretty nifty attachment options available for Vitamix blenders.
Price
Probably one of the most important factors of all is price.
You might need a blender for personal at-home use, or you might have a cafe that needs a blender that can provide high output.
Smaller, less powerful Vitamix blenders such as the Vitamix E310 Explorian are reasonably priced at less than $400, compared to more than $1500 for the Vitamix 5201 XL.
At the end of the day, you need to choose a blender that fits your budget and accommodates your blending needs efficiently.
---
Common Questions About Quiet Vitamix Blenders
What makes a blender noisy?
Well, there are a few factors that contribute to the noise level. It has to do with the dimensions, motor size, and quality of components. With our quiet blenders, this isn't a problem, though!
How do I make my Vitamix quieter?
There are a couple of DIY methods to make your Vitamix quieter, such as purchasing a silicone or rubber mat or putting a soft towel underneath the blender. You can also purchase a sound enclosure box that will reduce the blender noise significantly.
Which is quieter Blendtec or Vitamix?
Both Blendtec and Vitamix are pretty similar in terms of noise levels. Vitamix blenders tend to make a lower-pitched noise, whereas that of a Blendtec is more of an irritating squeal.
What is the quietest Vitamix blender?
Vitamix – quiet? Actually, yes! Especially when opting for "The Quiet One," which has a max noise level of only 64db. It's literally as loud as a casual conversation – definitely the quietest blender here!
---
Final Verdict: Which Vitamix is the Quietest?
Choosing the perfect blender doesn't need to be a difficult choice when you know it should be a Vitamix. Choosing a Vitamix is guaranteed to leave you feeling satisfied.
But, you might've been wondering which Vitamix is the quietest – luckily, you know now!
In your pursuit of the quietest Vitamix blender, you've learned a whole lot about what makes these blenders so phenomenal. It's about finding the BEST, quietest Vitamix blenders that deliver exceptional quality.
You're equipped with all the info you need; now all you need to do is make your choice!