This post may contain affiliate links. If you use these links to buy something we may earn a small commission. Thanks.
NutriBullet is one of the best blender brands on the market. They've got a series of high-speed personal blenders that are amazing.
We've got an epic NutriBullet 900 vs 1000 comparison for you. The 900 and 1000 numbers represent the number of "watts" each blender has. The higher the wattage, the more powerful the blender.
Here are the 3 main criteria we used to compare the two:
Price
Aesthetic
Function
You can scroll down to our buyers guide to see why these criteria matter and whether the NutriBullet 900 or 1000 was the winner in each category.
Our Commitment
We know how frustrating it can be to research products online.
Our goal is that you never have to return a product that we recommend because it's exactly what you wanted.
Our team has spent over 50 hours researching and comparing all of the most popular blenders. We've read through hundreds of customer testimonials and reviews and we've personally tested dozens of different blenders. We've written over 60 articles helping people find the best blender for their specific needs.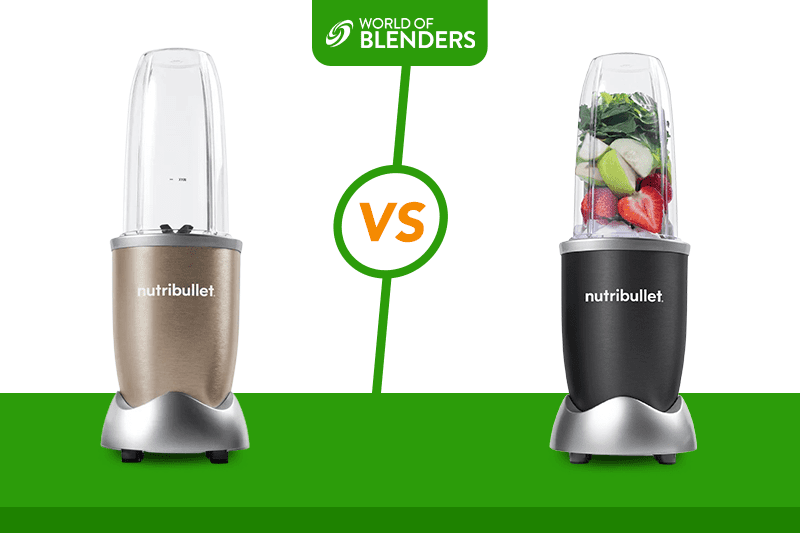 ---
NutriBullet 900 vs 1000: Quick Comparison
| | | |
| --- | --- | --- |
| Specifications | NutriBullet 900 | NutriBullet 1000 |
| Power | 900 watts | 1000 watts |
| Capacity | two 32 oz cups | 28 oz stainless steel cup, 32 oz grip cup, 32 oz cup with handle |
| Noise Level | traditional | quieter |
| Pre-Programmed | No | Yes |
| Color | 11 color options | 2 color options |
| Extras | recipe book, 4 lids, easy twist extractor blade | recipe book, 4 lids, easy twist extractor blade |
| Material | BPA-free plastic | BPA-free plastic |
| Weight | 8.8 lbs | 10 lbs |
| | | |
Whether you end up getting the NutriBullet 900 or 1000, make sure to check out our list of NutriBullet weight loss smoothies!
---
Summary: Who are the NutriBullet 900 and 1000 Best for?
Anyone shopping on a tighter budget. The 900 Series is cheaper than the NutriBullet 1000. If you're looking for a reasonably priced blender, opt for the 900.
Those who prioritize aesthetic factors. As mentioned above, the 900 comes in 11 different colors! If you take pride in the look of your kitchen, you can select a color that best matches your decor.
People with busy lifestyles. The 1000's auto blend and shut-off functions are a must-have for people who are always on the go. Use Smart Technology to save yourself time and make your kitchen work for you!
Tech addicts. Compared to the 900, the NutriBullet 1000 is far more high-tech. Techies will enjoy the powerful yet quiet action of the 1000's bullet cyclonic motor.
Those who prefer to blend in bulk. Though larger cups are available for all models, the NutriBullet 1000 comes with larger containers than the 900. The insulated cup also makes batch-blending easy, as your smoothie or juice can be kept cool all day.
---
Should You Buy a NutriBullet 900 or 1000?
Based on its functionality and overall performance, we recommend the NutriBullet 1000 over the 900.
While the 900 is a strong contender, the 1000 uses auto-shut-off technology which enables you to blend hands-free. It's also quieter than the 900 while having a more powerful motor.
Though the NutriBullet 1000 is the stronger product, many customers may want to opt for the 900 instead.
To guide your decision, we've compiled a complete guide to the NutriBullet 900 and 1000. Read on for an in-depth comparison of these two blenders. From interface to build quality, we've got you covered!
If you have also seen the 600 version, check out our NutriBullet 600 vs 900 for more guidance!
---
Quick Review Of The NutriBullet 900
Fitted with a powerful 900-watt motor, the NutriBullet Pro 900 Series is a bargain at under $100. It uses NutriBullet's famous smart technology to break down even the toughest foods at a speed of 25,000 RPM.
The NutriBullet 900 is fitted with stainless steel extractor blades, capable of breaking down stems and seeds as well as crushing ice. Though it comes with 8 accessories (including lip rings and extra cups), this blender only operates at one speed, with an additional pulse function.
This limits its use significantly; though it's great for velvety smoothies and protein shakes, it will be harder to achieve thicker textures like chunky soups.
While traditional blending creates more aeration, the 900 minimizes it to achieve a smoother consistency. This blender is thus perfect for making smoothies, sports drinks, and protein shakes.
Pros:
Dishwasher safe: The NutriBullet 900's parts, including the tall cup and flip-top lid, are dishwasher safe. Read more: Are NutriBullet Blenders dishwasher safe?
Better blending performance: Powered by the 900-watt motor, the 900 uses NutriBullet's famous Nutrition Extractor technology to rapidly break down solids, including fruit skin, stems, and seeds.
Blends ice and frozen fruit: This powerful blender has no trouble handling frozen ingredients, so you can expect refreshing, ice-cold drinks every time.
Cons:
Manual cleaning required: While some modern blenders are self-cleaning, the NutriBullet 900 requires a manual rinse or a run through the dishwasher.
Relatively noisy: Compared to NutriBullet's 1000 model, this blender's 900-watt motor is quite noisy.
---
Quick Review Of The NutriBullet 1000
While the NutriBullet 900 offers straightforward, high-powered blending, the 1000 takes your blending experience to the next level.
Its Smart Auto Burst Cycles optimize the blending process, so you don't need to worry about when to speed up or slow down. The Auto Shut Off feature allows you to effectively put your NutriBullet on autopilot. What could be more convenient?!
Like the 900, the Nutribullet 1000 comes with extras like a larger cup and a flip-top lid.
After you've achieved the desired texture, simply twist off the insulated stainless steel cup, add a to-go lid, and you're ready to hit the gym!
As the name indicates, this blender has a 1000-watt motor. Its turbo extractor blades blend to perfection, leaving you with a pulp and seed-free drink.
Pros:
Bullet Cyclonic motor: This blender's 1000 watt motor uses cyclonic technology to force ingredients through the stainless steel extractor blades. Even the toughest ingredients are broken down with ease, as the cyclonic motor ensures maximum nutrient extraction.
Neat design: One of NutriBullet's major pull factors is its sleek design. It won't take up excessive space in your kitchen- on the contrary, it will fit in neatly and even complement your decor.
Extra-large capacity: In addition to the standard cup size, the NutriBullet 1000 comes with a 930ml Colossal Cup. This is perfect for bulk smoothie making and is capable of accommodating an entire family!
Cons:
Not suitable for hot blending: While other Smart blenders can whip up a hot soup in minutes, the NutriBullet 1000 is only suitable for cold beverages. While perfect for green smoothies and protein shakes, it's less versatile than other blenders on the market.
Single blend speed: Similarly, while products like the Vitamix 7500 offer up to 10 different blend speeds, the NutriBullet 1000 has only one speed setting, like a coffee grinder.
---
NutriBullet 900 Vs. 1000: Key Differences
Now you understand the key features of both blender models, let's focus on a more in-depth comparison.
Power
As their names suggest, the 900 and 1000 have a 900 watt and a 1000 watt motor, respectively.
Owing to its 1000w torque, the NutriBullet 1000 can grind frozen fruits and other tough ingredients in seconds. Its bullet cyclonic motor runs at an impressive 25,000RPM.
In contrast, the NutriBullet 900 has a less powerful motor; though it can also make you a smooth and pulp-free smoothie, it will take longer to do so than the 1000.
When it comes to blending power, the NutriBullet 1000 is the clear winner.
You have to be careful not to overheat your motor or else you might find that your NutriBullet smells like it's burning.
Blades
When it comes to their extractor blades, there's no difference between the NutriBullet pro 900 vs. 1000.
Both blenders are fitted with stainless steel blades. These sharpened components are removable, which makes for easy cleaning. Please note, however: they are not dishwasher safe.
The sharper your blades are, the more blending power your NutriBullet has. Unfortunately, extractor blades can become dull quite quickly with frequent use. Replacement blades are available online, so be sure to replace them to keep your NutriBullet in tip-top shape.
The strength of their blades are just one reason why you can use a NutriBullet as a food processor!
Containers
In addition to the high torque power base, the NutriBullet 900 comes with two different containers, a 680ml Tall Cup and a 909ml Oversized Cup. Both are made of dishwasher-safe, BPA-free plastic.
The NutriBullet 1000 also comes with two cup sizes- an 820ml Stainless Steel Cup and a Colossal Cup, which holds up to 930ml.
The 1000 has a larger capacity than the NutriBullet 900. The stainless steel cup is also insulated, allowing you to keep your drinks fresh for up to 8 hours.
Versatility
While not suitable for hot liquids, these blenders from NutriBullet are both very versatile. Thanks to their high-power motors, they can handle tough ingredients- like nuts, seeds, frozen fruit, and even grind up coffee beans with ease.
From cold soups to cocktails, there's no limit on what you can make with your NutriBullet.
Weight & Size
Because it offers superior blending power and a more sturdy build, the 900 is noticeably larger than earlier NutriBullet blenders. Its dimensions are roughly 10.2 x 5.9 x 14.2 inches. It weighs in at 5.5 lbs.
Similarly, the NutriBullet 1000 is also bigger than previous blenders from this brand. It measures a slightly larger 13 x 4.7 x 15 inches. At a weight of 9.7 lbs, it is also heavier than the 900. This reflects its more powerful motor- it is more heavy-duty than the NutriBullet 900.
Design/Interface
The NutriBullet 900 has a neat overall design and is available in an impressive 11 colors, including sky, champagne, coral, and clover.
With the 1000 Series, your color options are limited to silver and blue.
While a lot different types of blenders feature a speed dial or front-facing button, you operate the NutriBullet 900 by simply twisting the container cup into place. The interface is straightforward, eliminating the need for you to waste time studying a product manual.
The NutriBullet 1000 shares this twist function, but elevates the blend quality using Smart Technology. Twisting the cup into place initiates a 45-second auto-cycle.
The blender shuts off automatically after optimum extraction, meaning you can leave it unattended and let the tech do the work for you.
Though their designs are very similar in terms of interface, the NutriBullet 1000 is superior to the 900.
Noise Level
NutriBullets have a reputation for their noisiness, so you won't be surprised to hear that the NutriBullet 900 operates at a high noise level. As its engine does the hard work of breaking down tough foods, you can certainly expect a lot of sound from this blender.
Though its successor, the 1000 Series, isn't completely silent, it is far quieter than the 900.
Because both blenders operate at a single speed, their noise level will remain consistent. This is a disadvantage compared to variable speed blenders, which can be used on lower speeds for a quieter experience. If you're looking to lower the blender noise, check out these ideas.
Build Quality
Both the 900 and the 1000 Series are made from stainless steel. This makes them durable and well-built overall.
Compared to earlier NutriBullet products, these blenders are more solid. Their larger size and relative heaviness reflect this.
Warranty
For both products, NutriBullet offers a 1-year manufacturer's guarantee. During this time, you're protected against manufacturing defects. If your NutriBullet won't turn on then you might need to activate the warranty to get it fixed.
If you'd like extra insurance, you can also purchase an accidental damage cover for your blender.
---
FAQs
Is the NutriBullet 1000 worth it?
With its 1000-watt motor and Smart Technology, the NutriBullet 1000 is certainly worth the money. While other NutriBullets offer only one blending speed, the 1000 uses auto-cycles of varying speed to blend to perfection. It even shuts off once optimal extraction has been achieved. If you want a blender that automates the process, opt for the NutriBullet 1000.
Is the NutriBullet 900 the same as the Pro?
In short, no. While the 900 and the 900 Pro are part of the same series (the 900 Series), the Pro is an improved version of the original. Both use the same twist functionality, but the Pro is more powerful. It blends foods faster and can more easily handle dense ingredients like nuts and hard fruits.
Can the NutriBullet Pro 1000 crush ice?
Though it has trouble milling dry ingredients, the NutriBullet Pro 1000 can crush ice. It can also puree frozen fruit- so it's easy to make all manner of delicious cold drinks!
What is the difference between NutriBullet 900 and 1200?
While the 900 has a 900w motor, the 1200 is fitted with a more powerful 1200w motor. This means it can blend hard ingredients more easily and is resistant to accidental damage.
---
Final Verdict
With its more powerful cyclonic motor and Smart Cycle Technology, the NutriBullet 1000 is clearly the superior product when comparing the NutriBullet 900 vs. 1000.
This doesn't mean that it's the best choice for all, however. If you're shopping on a budget and don't require the high-performance tech, we'd recommend opting for a blender in the 900 Series instead.
Whichever NutriBullet blender you choose, you'll be insured for a year under the brand's manufacturer's guarantee.
Happy blending!