This post may contain affiliate links. If you use these links to buy something we may earn a small commission. Thanks.
Picking a new blender for your kitchen is a huge decision. Quality blenders are expensive and last forever so whatever you buy, you're going to be stuck with.
There are 7 different types of blenders to pick from:
Immersion
Countertop
Kitchen system blenders
Personal
Commercial
Blender bottles
Stand mixers
With seven different kinds of blenders it's hard to know what to pick from. There's a blender for just about everything these days. If you're torn between a blender vs juicer or hand mixer vs immersion blender, we have all the tips for you!
The key is to get something that meets your needs, is versatile, and not too expensive.
---
Quick Summary: Comparing Different Types of Blenders
My hope is to help you pick the best type of blender for your kitchen. Some people love smoothies, others want to make hummus, or maybe you're just looking to find the best blender to puree baby food.
| | |
| --- | --- |
| Type of Blender | Best for |
| Immersion | Pureeing food and soups |
| Countertop | Powerful blenders that are great for making frozen drinks, smoothies, and more. |
| Kitchen system blenders | Versatility |
| Personal blenders | Small batches |
| Commercial blenders | Large batches and high intensity blending (frozen fruit, ice, etc) |
| Blender bottles | On the go smoothies or protein shakes |
| Stand mixers | Mixing food |
The right type of blender for you will depend on what you're planning to make! I highly recommend checking out our guide on blender wattage to see how strong of a blender you need.
---
Deep Dive: 8 Different Kinds Of Blenders
Here are the 8 types of blenders available to help you decide if one is right for you.
1. Immersion Blenders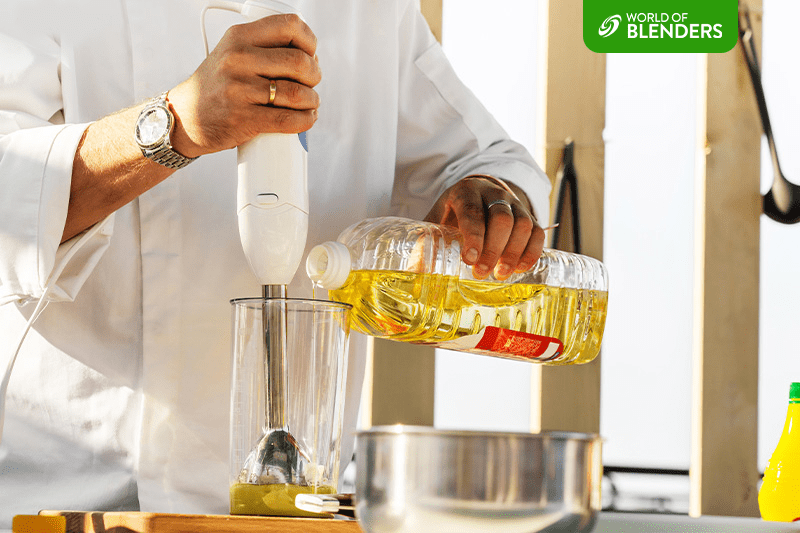 Immersion blenders are also commonly referred to as stick blenders or wand blenders. They are long, thin blenders that are handheld for ease of use. At the top, there are a series of controls for power and speed. The blade rests on the opposite end of the blender. You generally only need one hand to operate immersion blenders.
They are usually also quite compact, but that doesn't mean they aren't seriously powerful. They make a great introduction to blenders and can easily manage a range of tasks. Immersion blenders are also much cheaper than other types of blenders, such as counter blenders.
Immersion blenders usually come with a cord, but some brands have now introduced cordless versions. This means you aren't tied to one area of the kitchen while you create your culinary wonders.
Immersion blenders can be used to whip egg whites, make delicious smoothies, stir up pancake batter – the list is pretty endless. Most frequently, however, these powerful little tools are used to blend hot liquids and foods that are in a saucepan. Immersion blenders are also a great option for cold liquids, such as smoothies.
Making soup in a countertop blender is risky since the hot liquid creates pressure. This forces the liquid to spill out of the blender, even when the lid is on. In addition, many people are burnt from the steam when taking off the lid. This isn't an issue with immersion blenders.
Pros:
Size – Because of their size, these stick blenders are easy to store and won't take up too much of your coveted kitchen space.
Cleaning – The blades easily separate from the handle (where the electrics are), so they are very easy to clean. Simply unscrew the blades and wash in hot, soapy water, dry, and it's ready to be put away for next time. This is a major advantage of these hand blenders; other blenders can sometimes prove difficult to clean, given the number of intricate parts they have.
Multifunctional – A blender of this type is versatile enough to blend both hot and cold liquids.
Cons:
Safety – These types of blenders should be kept well hidden from small children due to the easily accessible location of the blade.
Unstable – It's also important to note that these blenders don't have as much stability as a number of other blenders. These are not the best option for those who have dexterity issues, but the problem can be somewhat remedied by purchasing a blender with a grip support.
One of the top picks on our list of the best blenders for Indian food is an immersion blender!
---
2. Countertop Blenders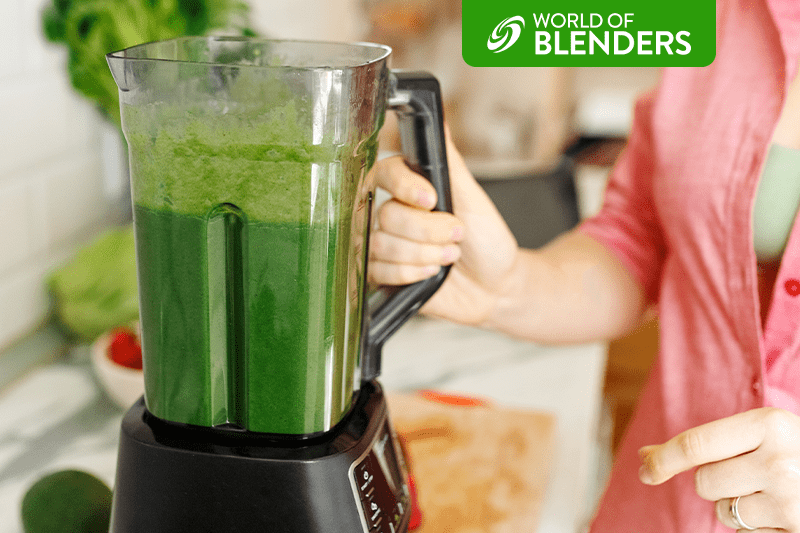 A countertop blender is one of the most popular choices of blenders on the market today. Designed with power in mind and available in a wide range of sizes, they are a good option for many busy family kitchens.
The most popular brand is Vitamix, but Vitamixes are known for being expensive! If you want a cheaper option, you could check out Ninja!
Counter blender types tend to have a large capacity than almost any other type of blender. Many, in fact, have a capacity of 64 oz, so if you have a lot of parties, barbecues, or a big family that enjoys freshly made drinks, a countertop blender might be the perfect addition to your kitchen.
They come in a range of materials and with a variety of functions such as crushing ice, blending and pureeing. A countertop blender makes a great option for iced coffees, fresh juice, cake batter, sticky dough, blending cold soup, and creating smoothies. Full size blenders tend to be the loudest so check out our list of ways to make a blender quieter for help!
They come with a base where the power is contained and a jar or plastic jug that sits on top of it. This jar can be easily disconnected from the main stand for adding food or liquids. Being easy to remove from the base is also great for cleaning, and most countertop blenders available today are dishwasher safe.
Many countertop blenders come with timers, so you don't have to watch over anything you are grinding, chopping, or pureeing; it will simply turn off when it's finished. Most countertop blenders have a pulse function that you can use to change up your desired texture!
If you love to drink frozen mixed drinks at parties, you definitely need a blender like this. These types of blenders have been specially designed to make sure that your drink is delicious by being mixed thoroughly.
If you're ever going to blend ice, a countertop blender is essential! That's why we've only included countertop options on our list of the best blenders for milkshakes.
This type of blender will also be a hit with the kids – these things can make really great slushies!
Pros:
Powerful – Countertop blenders are extremely powerful, and as such and be used for a wide range of purposes, from being used to crush ice and smoothie ingredients to chopping raw veggies with ease.
Durable – They are long-lasting, often coming with longer warranties than other forms of blenders.
High capacity – No more needing to blend food in batches, as these blenders come in a wide variety of volumes.
Excellent for drinks – These blenders can take the boredom out of making drinks, as well as making them quickly and to a great standard.
Cons:
Not suitable for hot food – They should not be used with hot liquid as this can be dangerous for the user as well as potentially damage the countertop blender itself.
Large – Blenders such as these often take up a sizable amount of counter space and may not be suitable for smaller kitchens.
Can be noisy – Many of these blenders are not the quietest models around, even without crunching ice.
Countertop blenders are the #1 picks on several of our guides:
---
3. Kitchen System Blenders
If you want a blender that will do everything (and we mean everything!), you might want to consider a kitchen system for your home. These devices have many features for both effectively blending and food processing. You won't need to purchase both kitchen appliances, as a kitchen system is basically a 2-in-1.
A kitchen system will do just about every mundane kitchen task for you, from blending and pureeing to dicing and slicing all manner of different foods. There are also a wide variety of attachments that come as standard in order for you to help achieve these.
It has a jar for blending and a separate jar for food processing, and you can perform both tasks at once, quickly and easily. There is also a timer, so you can keep busy with other things while the kitchen system does the job for you.
Although they are quite bulky, they are an excellent choice of device for big, busy kitchens with lots going on. You can easily create some smoothies while prepping the ingredients you need for dinner later on. They also save a massive amount of time. Anyone who enjoys cooking can attest to the fact that preparing your ingredients is usually the most laborious part of cooking.
After all, big meals that have a lot of vegetables in them can take quite a while. Not with a kitchen system, however; simply peel and roughly chop your foods, place them all in the kitchen system, and they'll be prepared whichever way you choose in a matter of seconds!
These devices also help promote healthy eating because of how effortless they are to use. You really can create some culinary masterpieces thanks to this special piece of kit!
And, if you have young children who are particularly fussy, you can easily conceal healthy fruits and vegetables in meals and drinks without them ever knowing. Just simply make sure to blend/process them beyond the point of recognition! This hack has been a lifesaver for many parents and an additional peace of mind that their kids are getting all the nutrition they need.
One thing we didn't expect was how hard it would be to sharpen blender blades on one of these blenders!
Pros:
Very versatile – Unlike commercial blenders, a kitchen system will give you much more choice when it comes to dinner time, thanks to the addition of a processor.
Save money – Owning one of these devices means there is little other need for many other kitchen appliances.
Something for everyone – Kitchen blenders are becoming an increasingly popular choice, so the range on offer is always increasing.
Cons:
Noisy – Due to the addition of a processor, these machines aren't exactly the quietest kitchen appliances going.
Bulky – These dual machines also take up more room than some 'regular' blenders, so if you are short on counter space, you might want to choose something smaller.
---
4. Personal blenders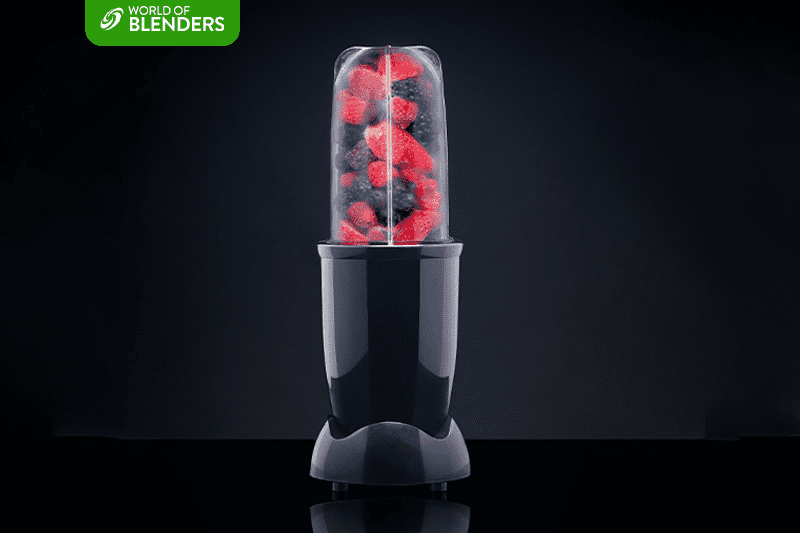 Personal blenders, or bullet blenders, have been a big hit in the blender market over the last few years. They come in a great variety of sizes, so if you want to double up your portions, it can be done easily without making a second batch.
Be sure to check out our guide on NutriBullet 900 vs 1000 to see our comparison of the two best personal blenders!
What makes personal blenders unusual is the way in which they work. First, the container, which is bullet-shaped, hence its name, is filled with all the ingredients you want to add to your smoothie. Then the top is added, which has a blade attachment, and the bullet is turned upside down and fixed to the base.
They can easily deal with whole fruit and vegetables, so there's no need to pre-cut anything, and ice is no match for the strong blade! It also saves on cleaning, as the blade attachment is removed after blending. This allows for a lid for drinking, meaning there's no need to have lots of bits to throw into the dishwasher.
If you wish, you can even make pancake batter, gazpacho, or even a speedy omelet. What's more, many parents find that they can easily make baby food with a bullet due to how simple and fast it is to puree food.
Bullet blenders are a great introduction to the world of healthy food prep for young children and are completely safe to use. Once an adult has supervised placing the ingredients inside the bullet blender, it's safe for anyone to use. This is because the blade mechanism is kept inside the blender, so there's no chance of accidents.
We have a couple of personal blenders on our list of the best blenders for protein shakes because it's so easy to grab and go once you're done!
In order to get the most longevity from your bullet blender, it's a good idea not to allow it to blitz or blend for extended periods of time as this can affect the motor.
Pros:
Great for one person – Single-serve blenders are cost-effective and ideal for those living alone or if there are only a few people in the household wishing to use the blender.
Easy to clean – They are easy to maintain, requiring little more upkeep than a thorough clean after each use.
Less waste – There's little chance of making more food/drink than what you need, thanks to the size of these personal blenders.
Cons:
Can leak – One of the downsides to a single-serve blender is that they tend to leak. While this usually indicates that the blade top has been fitted to the blender too loosely, be careful that you don't tighten it too much as these nozzles have a habit of getting stuck.
Only suitable for short blending sessions – A single-serve blender can burn out quite quickly if it isn't used correctly.
The #1 pick on our list of the best hummus blenders is a personal blender!
---
5. Commercial blenders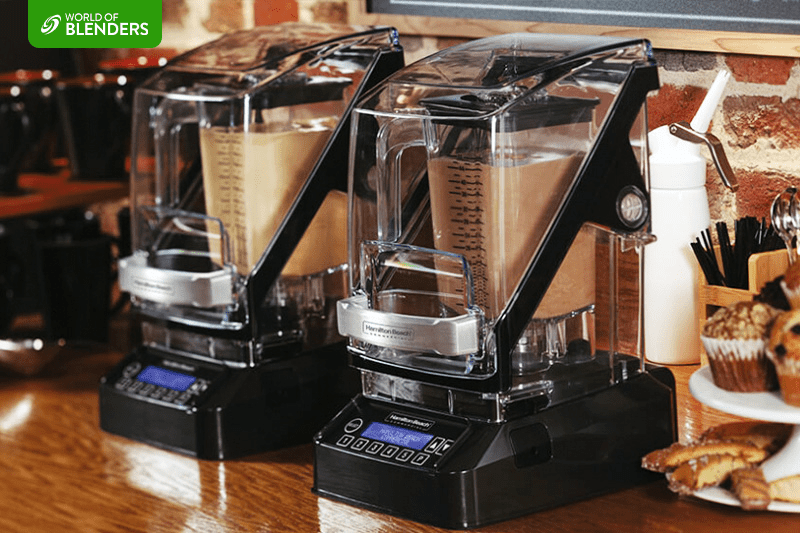 If you need something with a lot of power, look no further than a commercial blender that will provide consumers with all the bite of a semi-professional machine. These machines are made for heavy use, so if you have a busy kitchen and need a device that can go the distance in terms of how often it is used, commercial blenders can deal with a lot.
So, if you are in need of something that can make multiple large batches of foodstuffs, then it could be quite a necessity. After all, these machines are designed for restaurants and other busy kitchens, so if you feel you need a blender that's durable and can manage big batches, consider a commercial. These blenders are great if you will be making large batches more than once a day.
Just a small word of warning – it's important to check whether any blender really is commercial before you make a purchase. Some may say they are, but this is not always the case.
There isn't much that these machines can't withstand; from hard root vegetables to nuts and frozen fruit, they can take care of these with ease and precision.
Due to the much more powerful motor these blenders have, they tend to be quite expensive and are seen as an investment kitchen appliance.
Pros:
Easy-clean – These types of blenders are self-cleaning. Just place a bit of dishwashing liquid into the blender along with some warm water and give it a quick spin.
Great warranty – A commercial blender usually comes with a longer warranty, but be sure to check before you buy.
Multi-purpose – They are a very versatile product that can be used for just about anything.
Cons:
Doesn't always self-clean well – While they might be marketed as self-cleaning, it may not always be possible to ensure that the appliance will adequately self-clean due to stickier ingredients such as honey or syrups.
Costly – The quality of commercial types of blenders is very much reflected in the high price.
The #1 pick on our list of the best blenders for pureeing food is a commercial blender!
---
6. Blender bottles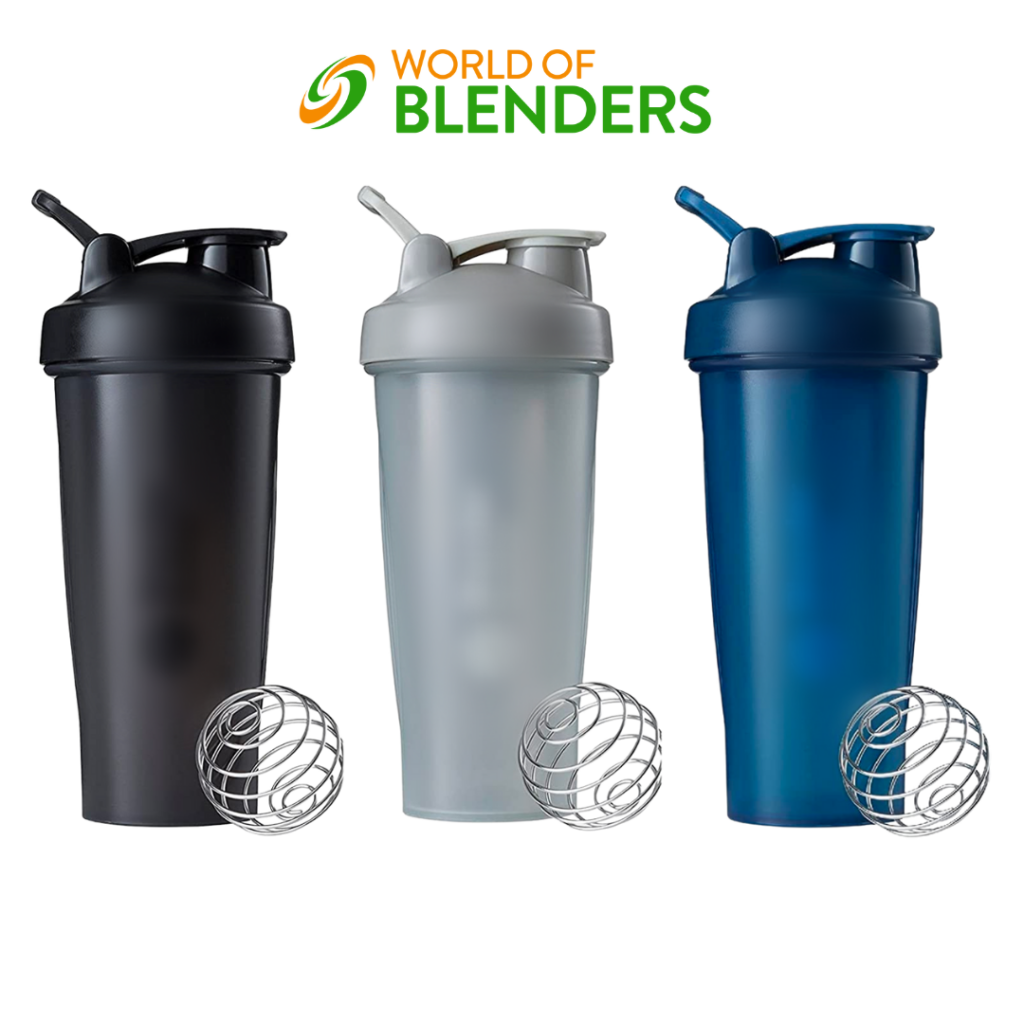 The blender bottle allows the liquid and powder to easily pass through it, helping it to mix together well. Anyone who has tried mixing powdered drinks will know how unappetizing an ill-mixed protein shake is, but the problem is completely eradicated with a blender bottle.
Blender bottles are a huge hit with gym-goers and those who like to keep a healthy drink with them; these blenders are perfect for just that.
The blender consists of a screw-tight lid and a plastic cup with a blender ball inside it. Powdered milk, protein, or whey are added alongside your liquid of choice and shaken in order to properly mix the powder, create smoothies, or enjoy cold drinks.
These are an excellent option if you are on the go a lot. They won't take up a lot of room in your bag, and there are a wide variety of different brands on the market, coming in a variety of different sizes, so you won't need to have multiple blenders with you if you want to carry additional drinks.
Pros:
Portable – Ideal for on-the-go, these blenders are easy to carry and keep with you throughout the day.
Cheap – Blender bottles aren't expensive and, with the proper care, will last a long time.
Safer than other blenders – They are also extremely safe to use, so younger members of the household can get involved with a small amount of supervision.
Cons:
Need frequent cleaning – These types of blenders need to be cleaned out regularly; otherwise, they can start to smell very bad, very quickly. Many, however, are dishwasher safe and therefore very easy to clean. You can also wash them on the go with hot water and soap.
Small – While they do come in a variety of sizes, these types of blenders will not be able to carry a substantial amount of liquid.
---
7. Stand mixers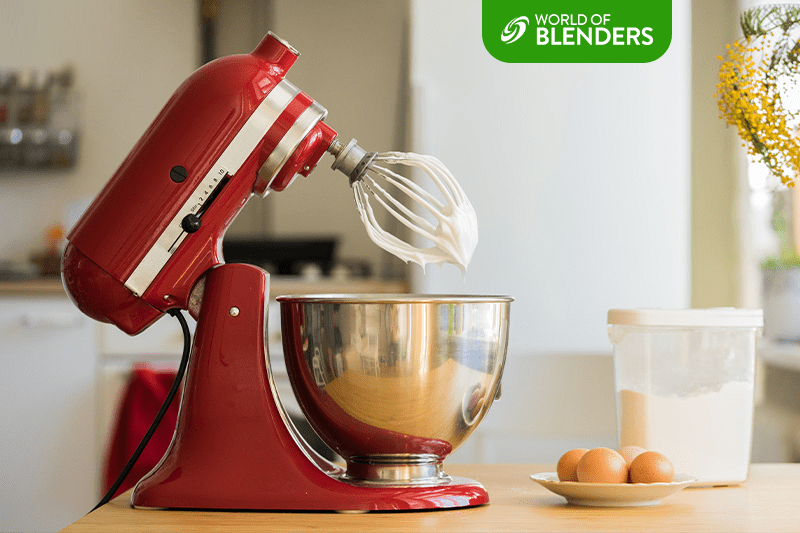 Although technically not a blender, we thought that a stand mixer should make the list as it can perform many of the same functions as blenders. Many also have the added benefit of having options to add additional attachments to them, including food grinders and, you guessed it, blenders.
Stand mixers, also known as cake mixers due to that being their primary usage for many, are very similar to hand mixers/blenders, but have the added bonus of being equipped with a powerful motor.
You can use a mixer for all manner of recipes, from making dough, blending eggs for scrambling, and creating guacamole; there is a lot that these versatile machines can do!
Pros:
Versatile – Cake mixers are exceedingly versatile and can perform many of the functions of a blender. If you are serious about baking, you might already have a mixer, so instead of purchasing a blender, you could look at options to use your mixer with an attachment instead.
Easy to use – You don't need to get your hands too dirty with cake blenders; all the hard work and elbow grease are done for you.
Something for everyone – There's a range of options available on the market, regardless of budget.
Cons:
Bulky – A stand mixer is likely to take up a lot of space in your kitchen, and because of their size, they are not easy to store.
Heavy – Stand mixers can also be extremely heavy, which means there's little option to move them around.
---
Features to Look for in Different Types of Blenders
With so many available options of blenders out there, it's a good idea to know exactly what you need your blender to be capable of. Here we look through some of the main functions that you should be familiar with when it comes to choosing a blender.
Attachments
Some blenders, like an immersion blender, will come with multiple attachments, meaning that the appliance can be used for more than one task. When looking at these blenders, consider purchasing blenders that come with additional whisk functions.
Of course, if you just want a blender that blends without the additional attachments, there are also some appliances that will be perfectly adequate, such as a personal blender.
Ice crush
Bear in mind that if you want the best blender that crushes ice, these tend to be on the more premium side of the cost scale due to the increase in power a motor needs to have to perform this function. The types of blenders best for crushing ice are countertop or commercial blenders
Juicing
Juicing has practically taken over the world, with many people choosing homemade juice as the best way to get their recommended amount of fresh fruit and vegetables per day.
However, many of us don't want a mass of different appliances taking up room in our kitchens, so a juicer isn't always needed. Blenders can more than effectively be used as juicers too.
We also have a list of the different types of juicers if you want to get a juicer specifically.
Size and capacity
Generally speaking, there are five different sizes of blender. Which one you choose depends on what you will be using your blender for and how much you will be using it.
1. Mini
This blender size is perfect for making a single drink and usually has a capacity of 20 oz.
2. Small
Small blenders can hold as much as 35 oz and are great for making an omelet, a small batch of soup, or a few smoothies.
3. Medium
Medium blenders suit small families well and can hold around 60 oz, which can be used for all manner of meal prep or even making protein shakes.
4. Large
If you have a large family or like entertaining, then a large blender could be a great option for you, with many holding 65 oz easily.
5. Extra large
These blenders are often professional blenders, but they can easily be incorporated into a home kitchen too. They are very large, being able to hold upwards of 70 oz.
Cord
While many blenders come with cords, there are some options (such as a hand blender) that do not. If you want freedom when meal prepping or cooking, look for a model that doesn't have a cord. Portable blenders are a good choice in this department.
Material
What material you choose as your blender jars can really impact the user experience, so choose wisely.
There are 3 different types of material to consider:
1. Metal jars
Metal jars can prove a great option in the home kitchen, but not many consumers choose this type of material due to the cost. There are, however, a great number of benefits to using metal jars with your blender. Stainless steel jars will not stain in the same way that glass or plastic will, and probably best of all, they don't tend to hold onto any nasty smells.
The downside to this material is that they can and do dent, which can detract from the overall look of your blender jar, but if the injury is bad enough, it can affect how well your blender works.
Another downside to jars of this type is that it can be difficult to know when the blender has adequately churned your ingredients because you can't visibly watch the process. However, this can be somewhat managed as, over time, you will learn to know when the blending has been completed.
2. Glass jars
Like metal, glass jars don't allow smells to linger, but they have the major disadvantage of being very easy to break, which is why they are not recommended for young children.
Glass is much less likely to get unsightly marks from whatever food you are blending – we all know how annoying those tomato-based sauces are to wash out of a blender! But, with glass, they are much easier to clean and are much less likely to stain.
3. Plastic jars
Lastly, plastic jars are the most common and popular choice of jars for blenders – however, these vary greatly in terms of quality. Some (many, in fact) cheap jars will scratch, stain, and smell very badly after you're finished with them. If you choose to spend even a little bit more on your plastic jars, many of these problems will be eliminated.
Dishwasher safe
If you have a dishwasher, it's important to ensure that all your blender parts and additional attachment are completely dishwasher safe. Because, let's face it, what could be worse than washing up after a party by hand because you chose a blender whose parts aren't going to fare well in your dishwasher. Some Vitamix blenders are dishwasher safe, so this could be a great brand to start researching!
Power
If you want to blend soup, you don't need the most powerful blender on the market. In contrast, if you're going to be crushing ice or blending frozen fruit into a smoothie you'll need considerably more power.
You'll want something with at least 1000-1500W for crushing ice efficiently.
Speed
Ideally, you will be looking for a blender with variable speeds to keep up with whatever you require it for. But, this needn't always be the case. Some personal blenders do not have this option, but you don't really need them to!
Larger blenders will often have variable speeds because they are required to perform lots of different functions.
The higher the speed usually means a higher cost.
---
Common Questions About Different Types of Blenders
What type of blender is best?
What type of blender is best for you depends on what you need it for. If you have a big family and will probably be using a blender a lot, consider a larger countertop device. If you live alone, a stick blender may suffice. There are so many available options!
What are different blender blades for?
Unsurprisingly, different blender blades serve different functions. Examples of blender blades include a chopping blade, cross blade, and whipping blade.
What is better, a blender or immersion blender?
Many people use the term 'blender' to refer to a countertop blender, and while these are a brilliant option if you have the space and require a large device to blend lots of liquid, an immersion blender is an increasingly popular option for many. This is because they can be stored and cleaned easily and have a variety of speeds and settings.
How do I choose a blender for a smoothie?
As not all smoothie blenders are created equal, choose a blender for a smoothie that has at least 500 watts of power that is able to crush ice. You can get these as full-sized kitchen models or smaller personal ones.
Which blender is best for cake making?
The best blender for cake making is one that has a strong motor to withstand cake batter. Many great options will make baking a cake fun and relatively straightforward. Or, you could decide that you want a mixer; many of these come with blender attachments for the best of both worlds.
Are a food processor and blender the same?
No, a food processor and a blender are definitely not the same things. A countertop blender is most commonly confused with a food processor, but they actually serve two distinct functions. A blender deals with liquids primarily, while a processor's primary function is dicing.
---
Final Thoughts: Which Type of Blender is Best for You?
While there might not be one single type of blender that will do each and every task for you, there are many out there that could be the perfect addition to your kitchen, depending on what your requirements are.
Ask yourself, what exactly do I need my blender to do? From there, you will hopefully begin to build a good picture of the functions required for you.
And remember to shop within your budget when buying a new blender, but understand that the more you pay for a blender, the better quality it is likely to be.
Happy blending!