This post may contain affiliate links. If you use these links to buy something we may earn a small commission. Thanks.
In the last year I've become a huge fan of Indian food. Curries, stews, and homemade chicken tikka masala have become part of the weekly rotation.
So much of Indian food starts with a saucy base of some kind. The key with making awesome Indian food is getting a blender with various settings. We've got an epic list of the best blenders for Indian cooking for you to pick from.
Here are the 3 main criteria we used to find the best blender for Indian food:
Quality / Power
Price
Settings
You can scroll down to our buyers guide to see why these criteria matter.
The key is to get a blender that's powerful enough to blend up the spices and sauces, but gives you the option to pulse for the right texture.
That's why our top two picks are:
Overall best: NutriBullet 1200W. This blender has plenty of power, great capacity, and is small enough to fit in any cabinet. You can pulse it or run it at high speed to make your curry or food super smooth and pureed.
Most affordable: NutriBullet GO. If you're tight on funds, but need a new kitchen TV–this is our go to option.
---
Our Commitment
We know how frustrating it can be to research products online.
Our goal is that you never have to return a product that we recommend because it's exactly what you wanted.
Our team has spent over 50 hours researching and comparing all of the most popular blenders. We've read through hundreds of customer testimonials and reviews and we've personally tested dozens of different types of blenders. We've written over 60 articles helping people find the best blender for their specific needs.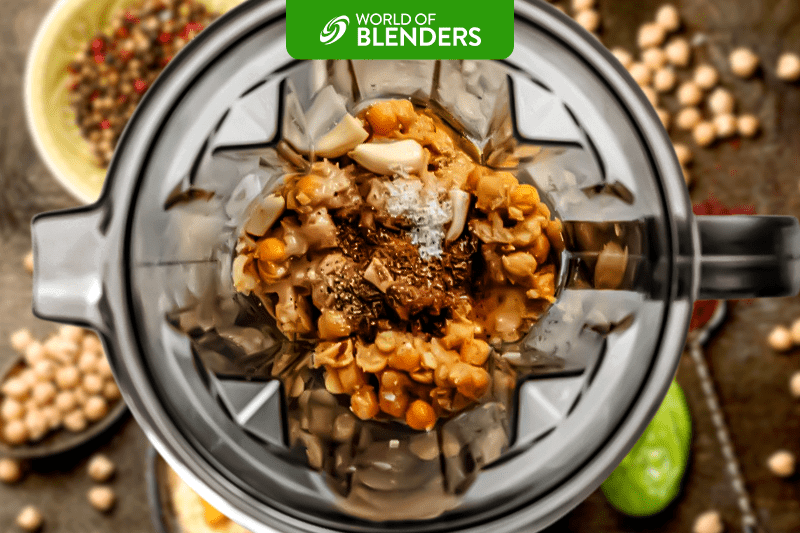 ---
Quick Summary: Best Blenders for Indian Cooking
Here's a quick overview showing all of our top picks and the factors we looked at in our research. You can click through on any model to check out the recent price. You can also take a look at other customers' blender reviews to get a more full picture.
---
What Kind of Blender Should You Buy for Cooking Indian Food?
Before you dive into the options on our list, you have to figure out what kind of blender you actually need. Most other guides skip this important step, but we're committed to helping you find the right fit.
The key to picking the right blender is knowing what kind of Indian food you're planning to make.
Personal or immersion blenders aren't as powerful as full size, standard blenders.
This means that personal or immersion blenders will be better for stews or curries where you want to preserve some chunks of veggies or ingredients to give your Indian food more texture.
If you want a super fine puree or curry base like for chicken tikka masala, then a standard blender might be better.
---
9 Best Blenders for Indian Food
For over a decade, Nutribullet has been the first word in food processors. Nutribullet blazed a trail for home blenders and set a high standard of demands from customers.
Making a name for themselves as smoothie makers, it made sense for Nutribullet to diversify and bring their powerful technology and accessible interface to bear in food processors.
The sleek, clean style is immediately recognizable as Nutribullet product, and, true to form, they have developed a product that makes accomplishing a host of kitchen tasks easy for the average home chef.
The powerful motor is a classic Nutribullet selling point, and the 1200W motor of this blender is no slouch.
Read more: How Many Watts Do You Need for a Good Blender?
Three speed settings and a pulse mode allow for freedom when choosing the consistency for your Indian food. Once you've pulsed your peas, simply switch up your speeds on the fly – for chunkier soups and curries blend for 30 seconds. Give it a full 60 seconds for smoother curries or Indian pastes. The speed settings makes it one of the best blenders for vegans on the market today!
Some users have complained that the motor is simply too powerful if you're trying to make chunkier Indian stews. It's important to bear in mind that Nutribullet's background in the smoothie market is something their motors are still primed for.
This powerful blender is built with families in mind, with a large 64oz pitcher to match its motor, allowing for plenty of capacity for large batches. Small batches are also easy in the 32oz and 24oz cups, and that smaller capacity aids in the blending process.
There are some unfortunate instances of people's motors overheating, in some instances leading to the food processor breaking altogether.
Now, these are anecdotal stories, outweighed massively by positive experiences; however, it's worth acknowledging that while this sort of thing is very unlikely, it seems to be the dice we roll with whichever model of food processor we choose.
| | |
| --- | --- |
| | NutriBullet 1200W |
| Power | 1.6 HP |
| Price | $$ |
| Capacity | 32 oz |
Pros:
Powerful – This 1200W blender is ideal for grinding spices like garam masala or peppercorns to a smooth consistency – it'll make light work of it, too!
Price – This is a great value package for what you get – three cups and the blender.
Different cups – The variation in cup sizes allows plenty of freedom for batch sizes, and the lids allow you to store your Indian food in BPA-free plastic, saving on the washing-up, too!
Cons:
Perhaps too powerful: –The motor might be too powerful to let you have chunky Indian pastes if that is your preference – you'll need to pulse it carefully.
Storage – It's very big and certainly only worth buying if you've got the storage or don't mind it taking up space on your kitchen tabletop.
Can overheat – In some cases, the powerful motor has been known to overheat. Always follow the instructions and watch the blender carefully during use.
---
The first and only immersion hand blender on our list, the Mueller 500 watt stick is a compact and budget friendly-choice.
Buying a blender can be a difficult choice simply based on the amount of money you're expected to spend to afford a half-decent one. With this hand blender costing around $40, a fraction of the Vitamix models on our list (e310, 5200, etc), that decision is an easy one. It's one of the best blenders under 200!
This immersion blender packs a powerful 500-watt motor into its small frame, making it half as powerful as the Vitamix a3500. It has nine speed levels as well as a pulse or turbo mode. Be sure to hold the Mueller with both hands if using the turbo mode, as this handheld blender packs a punch!
Read more: Hand Mixer vs Immersion Blender
It's great for blitzing ingredients into sauces, stews, and curries. However, running this handheld blender for more than a minute is likely to cause it to overheat; that's simply the case with a cheaper product a lot of the time.
So using this immersion blender for curries might take a little longer than using a food processor with a larger motor that can handle the stress. While blend quality isn't compromised, if you're looking for a more powerful blender that can get the job done quicker, then a free-standing choice might be better.
The blender end is easy to detach and clean, but the bell guard doesn't have rounded edges, and the sharp plastic is likely to scratch your pans if you aren't careful.
| | |
| --- | --- |
| | Mueller Austria |
| Power | 0.7 HP |
| Price | $ |
| Capacity | N/A |
Pros:
Great value – At around $40, this hand blender is the cheapest on the list and a steal for a 500w motor.
Blend as fast or slow as you need – Nine speed settings and turbo and pulse mode offer plenty of freedom.
Easy to use – A comfortable grip allows for easy control.
Cleaning and maintenance – Removable shaft for easy cleaning.
Cons:
Only suitable for short use – Not designed for prolonged use and can overheat quickly.
Not suitable for all pans – The bell guard's edges are sharp and could damage your pans.
Can be too powerful – Turbo mode makes the Mueller harder to control.
---
The first and only cordless, battery-powered blender on the list, but is it one of the best blenders for Indian food?
The set includes a 13oz cup, as well as a 70-watt motor base and charger cord.
You'll notice off the bat how small this blender is, which adds to its slick and minimal style. However, it's recommended that you only fill the 13oz cup up to the 10oz line, making the already minimal capacity even smaller. That being said, this is built with being a travel blender in mind and what it gives up in size is to be expected.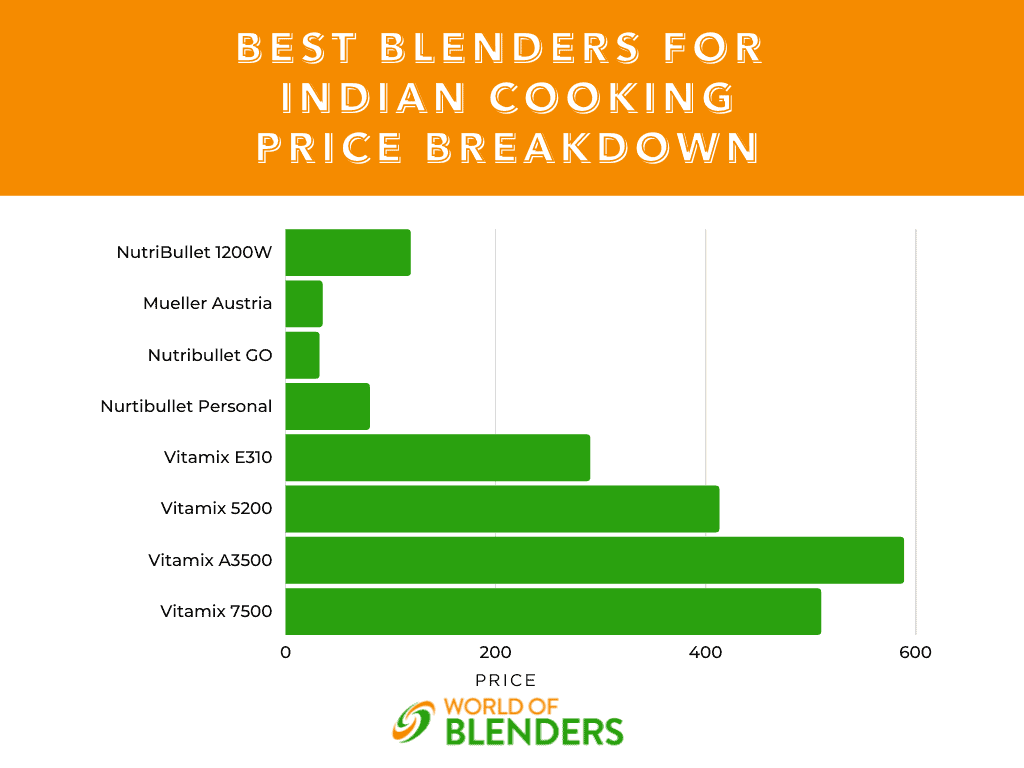 The NutriBullet GO is the most affordable blender on this whole list!
If you're choosing a blender for traveling, this is a great choice. Its scaled-back design and small BPA-free cup fits perfectly into your hand, making it a great size for popping into your luggage or backpack without taking up any space. The GO includes a USB charger allowing easy charging from a laptop.
The GO requires a three-hour charge, which is enough for 20 blends. Blending with the GO is as straightforward as with any Nutribullet product; you simply lock the cup in, and away it goes. The 70-watt motor produces minimal sound, much less than the Vitamix options on this list.
However, this is likely where you'll run into some issues if you plan on using this blender for making Indian food.
It's the cheapest and smallest blender on this ist, but it's also the weakest. The motor size can struggle with leafy greens, can just about turn almonds into a sandy texture, and really struggles with ice. You may find it unable to blend some whole spices like allspice or peppercorns as much as you'd like.
This is to be expected from a small 70-watt motor. However, it could be perfect for whipping egg whites for a baking recipe.
Therefore, while we would recommend this blender for quick Indian-style dips, smooth sauces, and soups, we wouldn't recommend it for any dishes that rely heavily on a specific consistency or texture.
Not only this, but the small cup can only hold 10oz. If you're making Indian food for the whole family, this might not be enough capacity, but it's probably ideal for single serve recipes or small batches.
| | |
| --- | --- |
| | Nutribullet GO |
| Power | 0.1 HP |
| Price | $ |
| Capacity | 13 oz |
Pros:
Conveniently sized – The 130z cup easily fits into a backpack or suitcase, you can't say the same for many other blenders!
Innovative design – Take your blender away with you when you travel.
Cons:
Small – The 130z cup only allows 10oz capacity since it can't be overfilled. It may not be able to make enough for saucy Indian dishes.
Not very powerful – The low-powered engine may struggle when making Indian curries.
---
This personal blender is the model that helped NutriBullet become the first word in food processing.
While a full-size blender can look great and make you feel like a kitchen professional, chances are if it's just you or your partner, a giant 64oz might be overkill for whatever you're planning to make.
The 24oz cup of this compact processor makes it a better choice than the NutriBullet GO above. It has more capacity and would be the ideal size if you're making Indian food for 2 people. The 600-watt motor combined with the small space of the cup makes for easy, efficient blending.
Its compact size also makes it ideal for storage when not in use, unlike other bigger models – it could be the best mixer for Indian spices if you're looking for a smaller option.
The trademark simplicity of Nutribullet blenders makes them easy to clean. Whether you're making sauces or a curry base, the two main blending components, the cup, and blades, are easy to detach and clean.
This blender uses the traditional Nutribullet twist and blend system so it only has one speed setting. The 600-watt motor means this is still a fine blender for making Indian recipes, but it lacks the freedom of previous models.
That being said, the cost of this powerful, convenient processor from a reputable brand makes it arguably the best blender for Indian Cooking.
| | |
| --- | --- |
| | NutriBullet Personal |
| Power | 0.8 HP |
| Price | $ |
| Capacity | 24 oz |
Pros:
Small – Handy compact size makes it easy to store – it won't take up much counter space or you can put it away in the cupboard.
Simple design – Straightforward lock and process mechanism is easy to use.
Easy cleaning – Detachable components make it easy to wash and dishwasher safe, unlike many other blenders.
Cheap – An affordable blender for everyday use.
Cons:
Limited controls – Only one speed setting.
Not big enough for families – Smaller 24oz cup only useable for small batches.
---
Alright, you're looking for a high-quality blender that works immaculately and doesn't cost you an arm and a leg.
Where this blender really comes into its own in terms of preparing Indian dishes, however, is in its range of advanced settings and functions.
The pulse feature makes a great blender for Indian cooking where you want your sauce or curry to have some chunks in it. With a 5 year warranty backed by Vitamix, this is a no brainer for one of our top picks.
The Vitamix Explorian features 10 different speed settings, which can be adjusted using a dial to achieve the exact consistency you're aiming for. This is exactly what you want in a blender for Indian food because the sauces, pastes, and dips that are fundamental to the cuisine can be so variable in texture.
This is also one of the quietest Vitamix blenders you can buy.
The Vitamix E310 Explorian is a powerful, compact and reliable blender that ticks all the boxes.
Check out our full write-up for more info: Vitamix E310 review
It's solid and comes with a 10-speed dial. It's relatively simple in design and user-friendly compared to other Vitamix blenders and delivers an excellent all-around performance.
Let's take a look at some of the points that make this Vitamix professional blender a great choice.
| | |
| --- | --- |
| | Vitamix e310 |
| Power | 2 HP |
| Price | $ |
| Noise | 64 dB |
| Capacity | 48 oz |
Pros:
Affordable – The Vitamix E310 is relatively affordable when compared to other professional blenders. It's one of the cheapest Vitamix blenders.
Sturdy build – Made from metal and plastic, ensuring a premium, high-end blender you can depend on.
10-speed settings – Choose from multiple speed settings to make the perfect blends for curry, hot soups, and everything in between. Minimum speed of 1,400 RPM and a max speed of 22,600 RPM – that's fast!
Reduced noise level – Compared to other blenders on this list like the Vitamix 5200, this is quieter.
Great For Hot Blending – Easily blends multiple servings of hot ingredients with no issue at all.
Cons:
No Preset Modes – There aren't any preset options, so a bit of trial and error is required.
Bulky Design – It's a big blender and needs to be stored on the counter because it's too big for most cupboards.
---
Immediately we can tell we're dealing with a different level of food processor simply by looking at its price tag of around $400 on average, roughly double the cost of the Nutribullet.
This Vitamix professional blender is a classic blender choice that receives rave reviews across the board and while the price might make your eyes water, the money is going on this blender's powerful, durable engineering and not for the label.
Read more about how you can use your Vitamix as a food processor.
This Vitamix blender is made out of high-integrity Triton copolyester and is built to last. While buying a cheaper blender might seem smart in the short term, having to buy a new one a few months later? Not so smart. Vitamix understands that you're paying a lot of money for their Vitamix Professional Series Blender and have designed it to last.
This durable blender has auto overload protection and an advanced cooling system that kicks in as soon as the motor begins to overheat, either cooling it down or shutting it off altogether.
Check out our full write-up for more info: Vitamix 5200 Review
The 5200 can hold up to 64 oz, which should be enough to help prepare Indian dishes for more than the average number of people.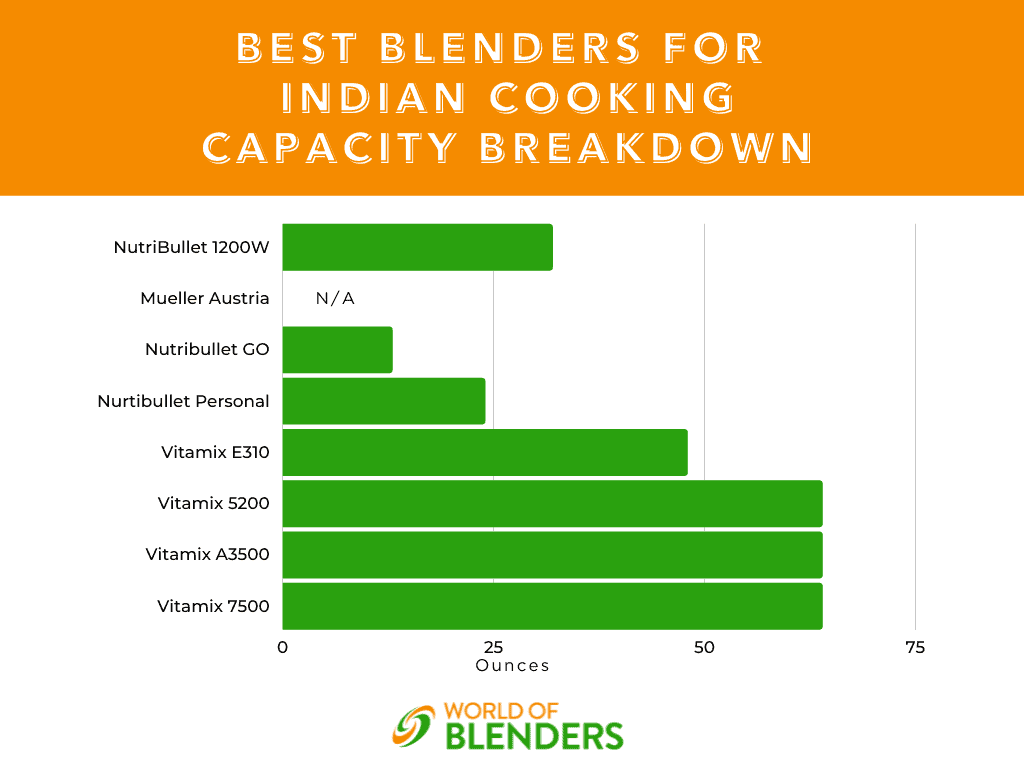 The four-pronged blender blades are three inches long, made from airplane quality steel, and are fixed firmly into place in the engine. Their wet blade design is perfect for churning up frozen ingredients and whole spices and is perfect for getting that smooth texture in your homemade curry.
This food processor has ten speed settings, and the blades in this powerful blender can even spin fast enough to heat up hot soups!
The motor is a little more powerful than the previous model at 1380W, but it focuses more on quality of engineering than pure horsepower. The engine has a ball bearing design which reduces friction in the engine and increases efficiency and lifespan.
And once you're done making your Indian food, cleaning the Vitamix 5200 is easy. Simply put a little hot water and some dish soap in the pitcher, switch it on, and the motor will take care of the rest. For what it's worth, the 5200 is also one of the best blenders for hummus!
| | |
| --- | --- |
| | Vitamix 5200 |
| Power | 2 HP |
| Price | $$$ |
| Capacity | 64 oz |
Pros:
High-quality materials – Built out of durable plastic with a well-made engine that is built to last.
Powerful – Large, stainless steel blades cut through ingredients with ease. It will handle other ingredients well too.
Easy to use – Varied choice in speed control for choosing different speeds on the fly.
Easy to clean – It will clean itself – just add some soap and switch it on.
Cons:
Expensive – At around $400, this blender does not come cheap.
Limited batch sizes – This blender only comes with a single large 64oz pitcher and no smaller options.
Can overheat – Rare instances of the motor overheating – always follow the manual to prevent this.
---
Looking to save some space but not sacrifice quality – look no further! The Vitamix A3500 Low-profile blender is the perfect fit.
It's an easy to set up and user-friendly blender that packs a powerful punch. It comes equipped with a digital interface that makes it a whole lot more modern than previous versions.
This blender is even compatible with the Vitamix app – seriously cool! You can find 100's of recipes and tips about what functions to use for specific recipes.
However, it doesn't come without faults. The metal blades are an attachment that makes scraping the bottom quite tricky (don't remove the blades because it voids the warranty).
This blender is designed to extract as many nutrients from your ingredients as possible, which is ideal for any cooking style but can really enhance the health properties of your Indian dishes like maintaining the nutritious fibers.
Let's take a closer look at what's great and what's not so great.
Check out our full write-up for more info: Should You Buy the Vitamix A3500?
| | |
| --- | --- |
| | Vitamix a3500 |
| Power | 2.2 HP |
| Price | $$ |
| Noise | Not provided |
| Capacity | 64 oz |
Pros:
Smart Functions – It's got an impressive digital interface that is programmed with various exceptional functions to make your experience super simple.
Simple Set-Up – It's really easy to set up and start using the Vitamix A3500 Low-profile blender, especially when compared to previous Vitamix versions.
Superior Performance – 2.2-horsepower motor that easily processes hard foods and is incredibly versatile.
Programmable Timer – Conveniently use a timer to ensure you get the best results every time.
Transparent Lid – This makes it a lot easier to see and gives you a better view of the blended ingredients.
High-quality Stainless Steel Blades – Premium quality laser cut steel blades provide a powerful, reliable and consistent delivery with every blend.
Cons:
Quite Costly – It's a premium blender and isn't affordably priced.
Problematic App Integration – There have been reports of problems connecting to the app with the touch interface. When using presets, it sometimes starts/stops unexpectedly (might be a safety setting).
---
The folks at Vitamix are known for making powerful, 'muscle car' style engines for their blenders, and that is true of the 7500, a great choice for the professional or the home cook looking to make some tasty curry.
The branding for the 7500 lists the motor's strength at 2.2 horsepower, or 1640-watts, meaning this bad boy can operate at speeds of 37,000 RPMs.
The incredible strength and power behind these blades also make them perfect for softening the seeds and nuts commonly used in traditional Indian cuisine, such as mustard seeds and cashew nuts.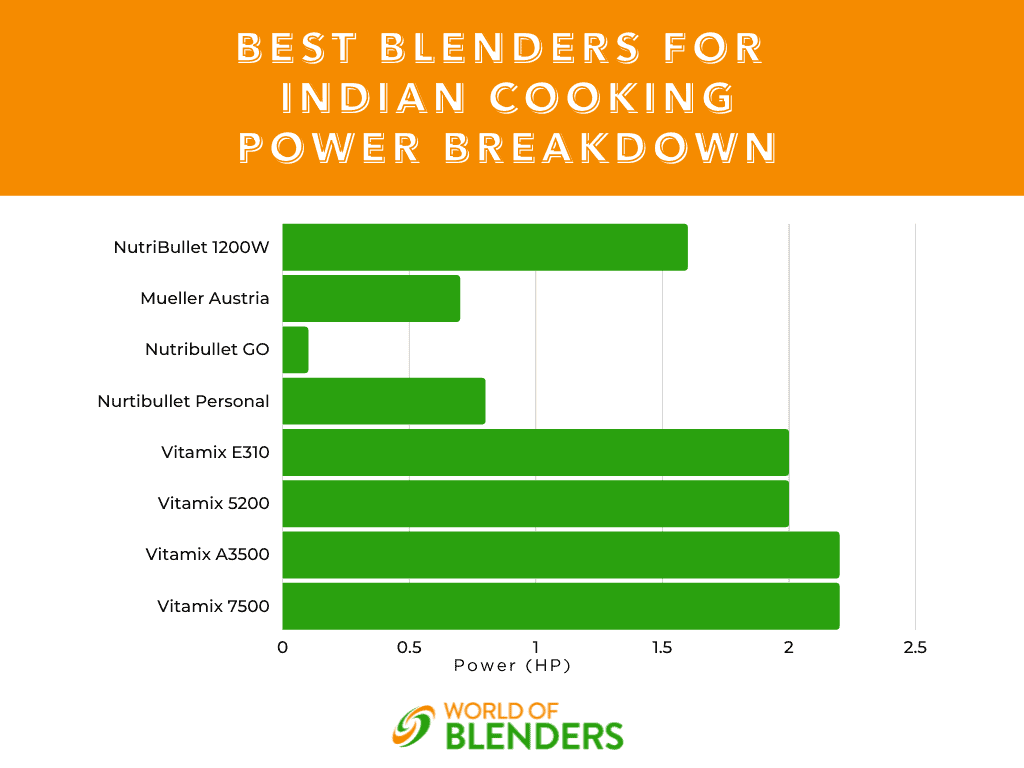 Despite this incredible output, the average sound level of the motor is between 40-60dBs, making it very manageable.
Check out our full write-up for more info: Vitamix 7500 Review
The powerful motor also makes self-cleaning easy with a dash of dishwasher fluid and hot water.
The almost $600 price tag for this jar and food processor combo speaks volumes, and it's clear you're getting a professional-level piece of kit. The justification for buying such an expensive blender might be difficult, but the Vitamix 7500 has a host of features to post itself above the competition.
The 64oz cup is only 9 inches, keeping a nice low profile without sacrificing volume. The high-grade Tritan Copoluster plastic is highly durable and shaped to have a narrow top to encourage a vortex, pulling ingredients down and aiding blending. The jug also has a removable plug to eliminate air pockets and add extras like chilies or lemon juice.
Ten speed settings allow you to choose between chopping, pureeing, and grinding, and different blender attachments also allow for whipping and emulsifying.
Read more: Best Blenders for Pureeing Food
| | |
| --- | --- |
| | Vitamix 7500 |
| Power | 2 HP |
| Price | $$$$ |
| Capacity | 64 oz |
Pros:
High capacity – Shorter 64oz jug that doesn't compromise on capacity is great for kitchen storage.
Versatile, not just for Indian food – Powerful motors and sharp blades make processing any ingredients easy.
Blend any ingredients to perfection – Manual speed controls allow for ten different speeds as well as a pulse mode.
Cons:
Price point – Costs a great deal more than a traditional blender which could arguably do the same job for a fraction of the cost.
Accessories not included – Useful accessories like a smaller 32oz container and scraper are sold separately, further driving up the price.
---
Buyer's Guide: How to Pick the Best Blender for Indian Cooking
There's a lot to consider when comparing the best blenders for Indian food. The most important criteria we looked at were: price, power, capacity, and overall build quality.
Price
Nutribullet Personal Blender – The classic affordable blender that began the home smoothie maker trend wins this category. This simple classic combo has everything you need for making Indian recipes at the great price of around $60.
Nutribullet has carved out a niche in the market for making easy food processing accessible both in functionality and pricing since they entered the market and retain that crown to this day.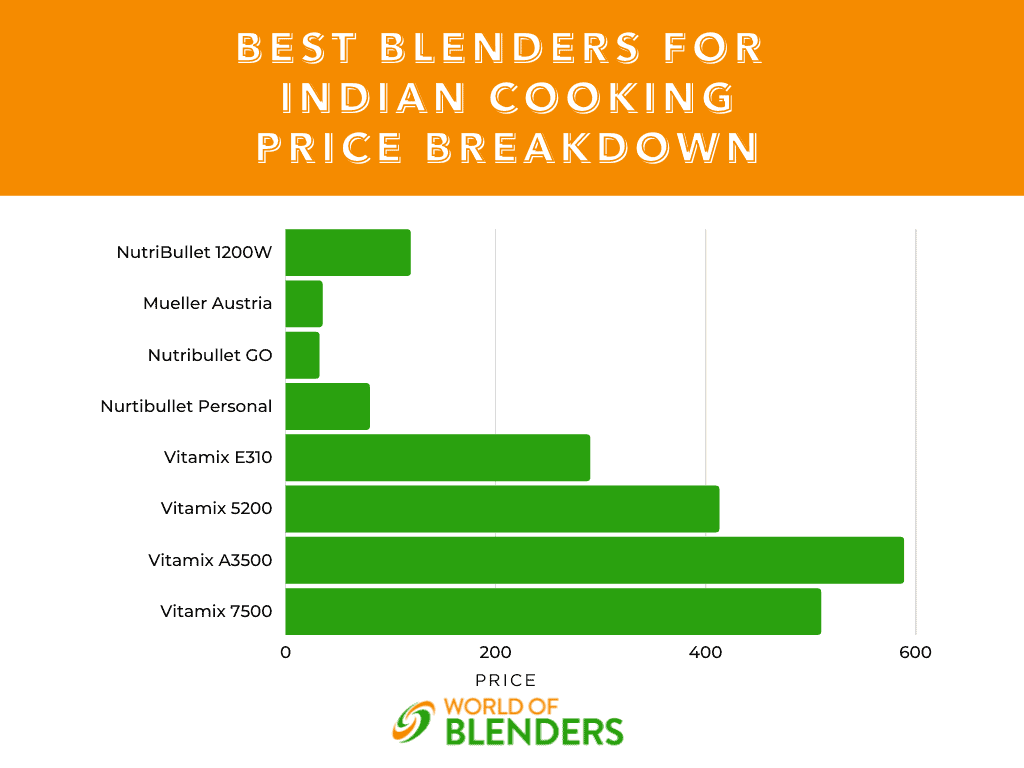 Power
Blenders can be measured in terms of wattage, RPMs, or horsepower. Each of these quantifies how powerful the blenders are. We did our best to convert each of these data points to horsepower so that we can compare apples to apples.
The more finely/smooth you want your Indian food, the more powerful of a blender you'll need.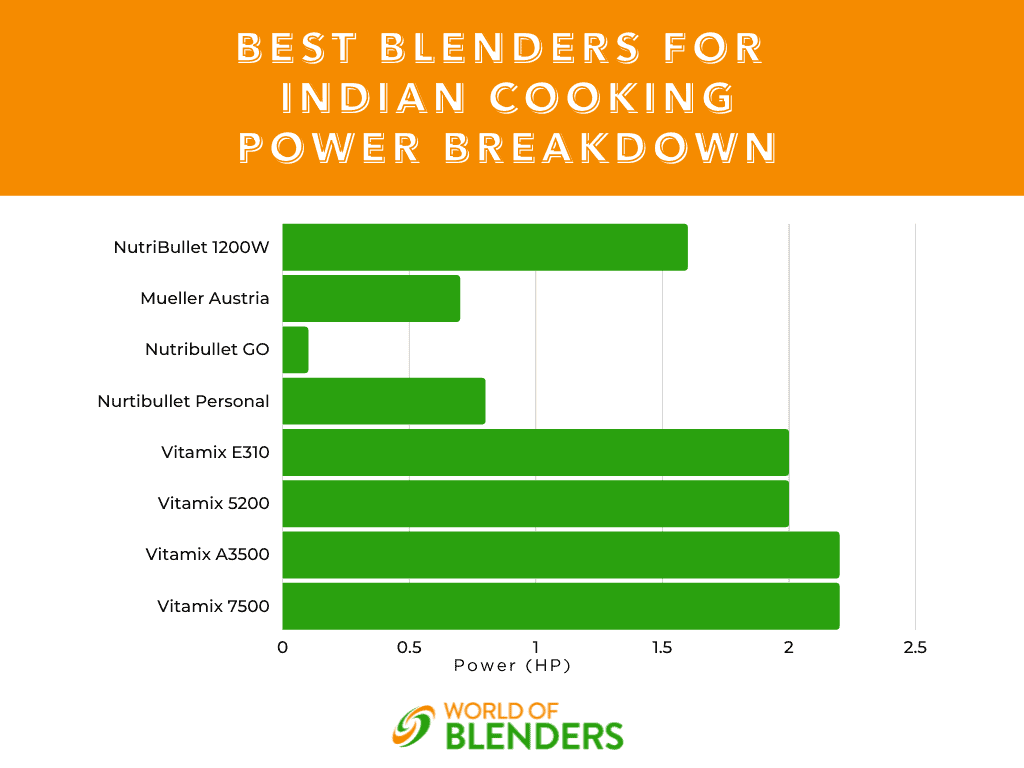 As you can see, the Vitamix 7500 Professional Blender wins the day in the power criteria. overpowered number.
The 2.2 horsepower engine, that's 1640-watts, will make light work of any ingredients you chuck at it. It also has a surprisingly manageable noise output.
Capacity
Blenders come in a variety of sizes. The immersion blenders don't have a capacity limit because you use them in whatever bowl or glassware container that you'd like to use.
The standard blenders are larger while the personal ones are obviously smaller.
If you're trying to make Indian recipes in a blender, you may benefit from a bigger blender so you can really load up on the sauce or stew.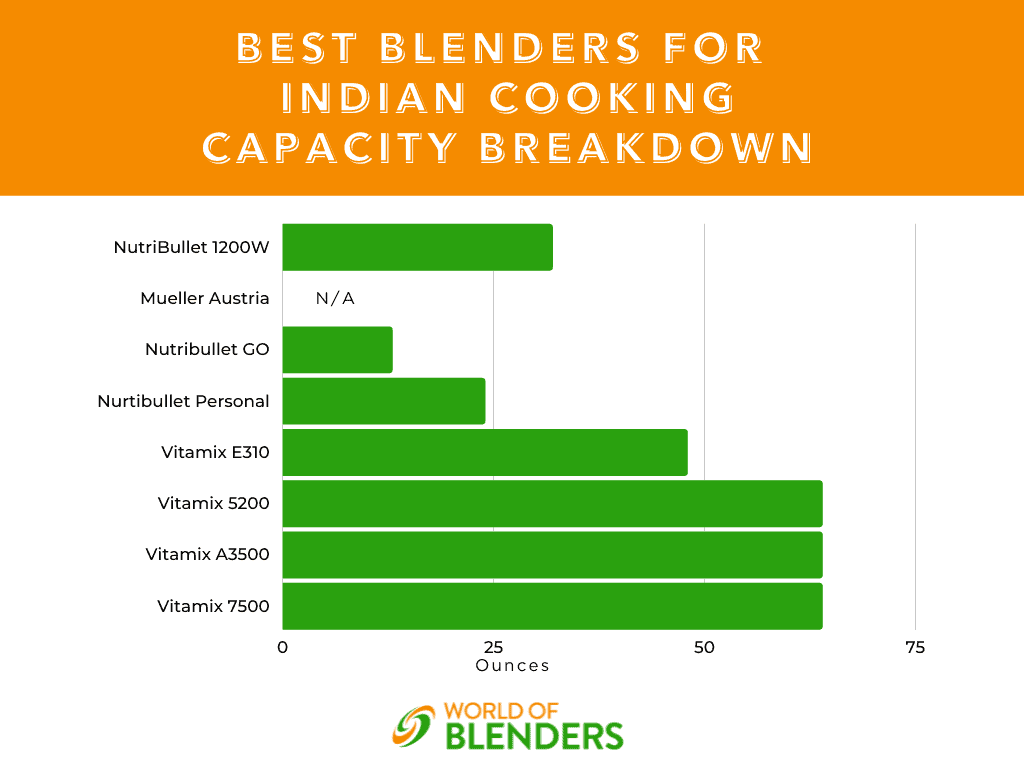 The biggest blender on this list is the Vitamix A3500, which is tied with the 7500. We prefer the sleeker look and appearance though!
If you don't need to cook for a large group or just want to make some simple dips, then go with one of the personal blenders, like the NutriBullet Personal Blender.
Materials & build quality
It's incredibly important to consider the quality of a blender. You don't want to be stuck with a low-quality blender that cracks or breaks after minimal use!
You need to look for blenders that have stainless steel blades and have a hard plastic or polycarbonate casing.
Do your diligent research to ensure your blender doesn't crack under pressure when it's put to the test. Vitamix has different 'series' of blenders so it could be good for you to dig into which one is right for you! Check out our Vitamix Explorian vs Ascent Series to get started.
The good news is that Vitamix offers an incredible 10 year warranty so even if you have issues, you can always get them fixed.
---
Can I Make Indian Food Without a Blender?
Yes, you can make a wide range of Indian dishes without using a blender or food processor. However, in the majority of cases, doing so will require you to put in more time and energy than you would otherwise.
With that being said, if you have the time to spare and you're okay with putting in some extra elbow grease, you can create many traditional Indian dishes without the electrical assistance of a blender.
Most pastes and purees in Indian cuisine can be made the traditional way, with a pestle and mortar. If you're making a more liquid sauce, you can combine the core spices and herbs of the recipe by hand first before adding the mixture to the liquid ingredients and heating over a hob.
Depending on how smooth you want the end product to be, you can strain or sieve the mixture before serving.
For soups, heat your ingredients until they are extra soft, and then use a potato masher or similar tool to achieve the desired consistency.
However, as we've already pointed out, these methods will be much slower than using a blender, and you may not always be able to fine-tune the consistency of your dishes to the extent you might like.
---
Common Questions About Blending Indian Food
Is it better to make Indian food in a food processor or blender?
While you can make Indian food in either a blender or a food processor, the higher power output and low torque of a blender are much more suited for pureeing all of the spices and pastes and getting them to a smoother consistency.
Can you use Vitamix for Indian cooking?
Yes, you can use a Vitamix for cooking Indian food! Vitamixes are known for being powerful and having multiple options for pulsing food, which is great for making different Indian recipes.
Can you grind dosa batter in blender?
Yes, you can grind dosa batter in a blender, but it might be better by hand or with a mixer. 
---
Final Verdict: Which Blender is Best for You?
Trying to find the best blender for Indian cooking is a question of several factors, such as cost, capacity, engine power, and durability.
That's why our top two picks are:
Overall best: NutriBullet 1200W. This blender comes with three separate cups that are all generously sized. The 1200-watt motor is one of the more powerful engines on our list and more than enough to help you make any kind of Indian food.
Most affordable: Nutribullet GO. If you're looking for a quality, cheaper blender, this is the best option! It's not the most powerful, but it'll get the job done for most Indian food!