This post may contain affiliate links. If you use these links to buy something we may earn a small commission. Thanks.
Vitamix is one of the best blender brands on the market. They're the undisputed champs in the blender game and for good reason. Their blenders are powerful, last forever, and come with an incredible warranty.
We're huge fans of Vitamix products and have personally bought, used, or tested 10 different models.
If you are looking for a high-performance blender then the Vitamix A3500 is one of them.
The Vitamix A3500 is one of the flagship blenders and it's been one of their top-performing blenders for a long-time. It's part of their high tech Ascent series.
We're going to do a deep dive Vitamix A3500 review so that you can know everything you need to know.
Our Commitment
Our team has spent over 50 hours researching and comparing all of the most popular blenders. We've written over 60 articles helping people find the best blender for their specific needs. We've read through hundreds of customer testimonials and personally tested 50+ blenders from brands like Ninja, Vitamix, Oster, NutriBullet, and more.
---
Quick Summary: Vitamix A3500 Review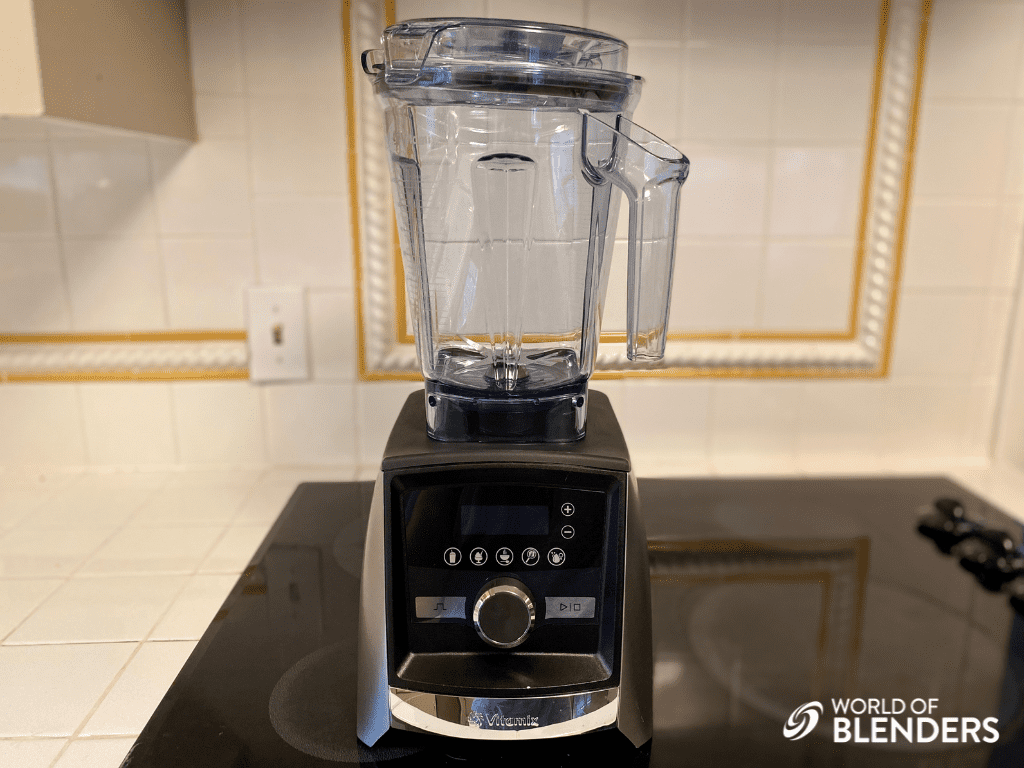 The Vitamix A3500 is one of the four models in the Ascent series, smart blender types that come with a whole host of modern technology. As a smart system blender, it offers a wealth of features to make it easier for the user to blend- anything from grinding coffee beans to whipping egg whites.
From wireless bluetooth connectivity to the powerful motors that blend the hardest of food, it's clear why the A3500 is so popular. It's an easy to set up and user-friendly blender that packs a powerful punch. It comes equipped with a digital interface that makes it a whole lot more modern than previous versions.
The Vitamix A3500 is a great one for those who love to combine both technology and simplicity. This model makes processes like preparing smoothies and soups so much easier and more enjoyable.
For some food types, you won't even need to cut it up in order for it to be blended easily with the stainless steel blades. It's great for the harder food types like frozen desserts or frozen drinks, making it perfect for the summer! However, it doesn't come without faults. The metal blades are an attachment that makes scraping the bottom quite tricky (don't remove the blades because it voids the warranty).
The high tech features of the Vitamix A3500 make it one of the best Vitamix blenders that we've tested.
This blender is even compatible with the Vitamix app – seriously cool! You can find 100's of recipes and tips about what functions to use for specific recipes.
| | |
| --- | --- |
| | Vitamix A3500 |
| Power | 2.2 HP |
| Price | $$ |
| Capacity | 64 oz |
| Blades | Stainless steel |
Let's take a closer look at what's great and what's not so great.
Pros:
Smart Functions – It's got an impressive digital interface that is programmed with various exceptional functions to make your experience super simple.
Transparent Lid – This makes it a lot easier to see and gives you a better view of the blended ingredients.
High-quality Stainless Steel Blades – Premium quality laser cut steel blades provide a powerful, reliable and consistent delivery with every blend.
Powerful motor – As part of the Ascent series blenders, this one comes with a powerful 2.2 HP motor for excellence in breaking down all food types.
Long warranty – Comes with a 10-year warranty, providing great value for money.
High-quality technology – Self-detecting technology controls and container sizes.
Pulse feature – Help blends through the food evenly.
10-speed variable speed control – Modify the level of blending from chunky to super smooth.
Programmable Timer – Conveniently use a timer to ensure you get the best results every time.
Cons:
Expensive – One of the more expensive Vitamix models to buy.
Plastic features – The plastic bodywork of the blender might be offputting for some who prefer a premium type of material like glass.
Problematic App Integration – There have been reports of problems connecting to the app with the touch interface. When using presets, it sometimes starts/stops unexpectedly (might be a safety setting).
Few container options: no additional containers means you will need to look into buying a set of containers.
---
Things We Learned After Testing the Vitamix A3500
We recently tested the Vitamix A3500 and identified a number of key things to know. These are the kinds of insights you won't read on the manufacturer's box.
Tall and skinny container – This container is tall and skinny. Honestly, I wasn't used to it because most Vitamixes are shorter and wider. It made it a bit tricky to do large batches of food since you had to push the food down with the tamper.
Seriously high tech – I knew the Vitamix a3500 was advertised as the high tech option. I didn't realize all that they built into this blender with the bluetooth functionality. If you like "smart" products, you'll love using this. If you don't, then you're probably overpaying for functions you don't need.
Touchscreen is pretty cool – It seems like everything these days is now a touch screen. It felt a bit ridiculous to have a touch screen blender, but it worked really well for programming settings.
Cookbook is helpful – We aren't new to making smoothies, but the cookbook is actually quite helpful! It gives tips on what order to place your food into the blender so that it works most effectively.
Massive – This is one of the biggest Vitamix blenders I've tested. It's 15lbs and 17inches tall. It makes storing the blender a bit of a hassle. But they've packed a lot into this premium blender so it makes sense.
---
How Does the A3500 Compare to Other Vitamixes?
The Vitamix A3500 is one of the best Vitamix blenders on the market. It's part of their Ascent series, which is high tech. It comes with the typical 2.2 horsepower motor and 64 oz capacity. The reason this one is more than the e310 and 5200 is because of the high tech capabilities. 
If you want high tech, go with an Ascent series blender. If you don't need the high tech stuff, go get yourself a Vitamix E310 or 5200.
If you want more analysis, check out our comparison guide of the Vitamix 750 vs A3500. We've also got a guide to help you pick between the Vitamix A3500 vs A3300.
Tech-lovers. If you want a smart blender, then it's going to be the A3500 that provides all of the features you need with that technological edge.
Value-seekers. The warranty on the A3500 does make it better value for money.
---
Deep Dive: Is The Vitamix A3500 Worth Buying?
The Vitamix A3500 comes fully loaded with all of the awesome Vitamix features and quality. I'll walk through the highlights of the different features and components of this blender.
Power
This model comes with a 2.2 peak horsepower motor that provides enough power to crush and blend ingredients efficiently. It can crush raw ingredients like nuts and whole fruits to turn them into a smooth texture of smoothies.
The Vitamix power combined with other quality features is the reason people like buying them even if they come at a higher price tag. This blender outperforms other blenders from other brands with the ability to function as a multipurpose appliance.
The power in this Vitamix makes it one of the best smoothie bowl blenders and also puts it on our list of the top blenders for Indian cooking.
Price
As we have already discussed above, Vitamix blenders are not the cheapest on the market. They are certainly more of an investment rather than an off the cuff purchase.
Even though they are on the higher end of the market, this is certainly justified when you look at the overall quality of the mixer. The price of the Vitamix A3500 is certainly worth it if you want a top of the line blender.
Buy cheap and you'll end up buying twice. Get a Vitamix from day one.
Features / Controls
The controls on the Vitamix is super easy to use. It features a power switch, a pulse switch, and a speed knob. The pulse feature allows you to create the type of consistency you need. While the majority of blending needs to be smooth.
The high tech features of this blender are one of the biggest differences between the Explorian and Ascent blenders.
The different speed settings allow you to choose between chopping, pureeing, and grinding, and different blender attachments also allow for whipping and emulsifying.
If you are creating a salsa, for example, you may still require a thicker or chunkier texture. The pulse feature allows you to do this. Instead of providing consistent power, it will provide power in short bursts when turned on, giving you control of how the food is blended.
The blender is noisy, but it's still one of the quietest Vitamix blenders you can buy.
Aesthetics & Size
When looking at the overall design of the Vitamix A3500, it is fairly simple, yet effective. It is available to purchase in graphite color. Given this, the mixer will match the majority of kitchen decors.
It is not overly big, and its dimensions are 11 x 8 x 17 inches. Weighing a whopping 15 lbs. This is one of the heaviest blenders on the market so it can be a bit difficult to transport and put away when not in use.
The height can be an issue for many cabinets so you may have to store it in a larger cabinet or on your counter. Thankfully this isn't a big deal because it doesn't take up too much countertop space.
The Vitamix A3500 holds 64 oz which is plenty of space to make just about anything you could possibly need!
One incredible accessory to the A3500 is the food processor attachment. This attaches to any of the Vitamix blenders in the Ascent and Venturist series. By simplifying food prep, this tool is a breeze! It comes with 2 reversible blades and one multi-use blade. We've loved having this attachment in our kitchen!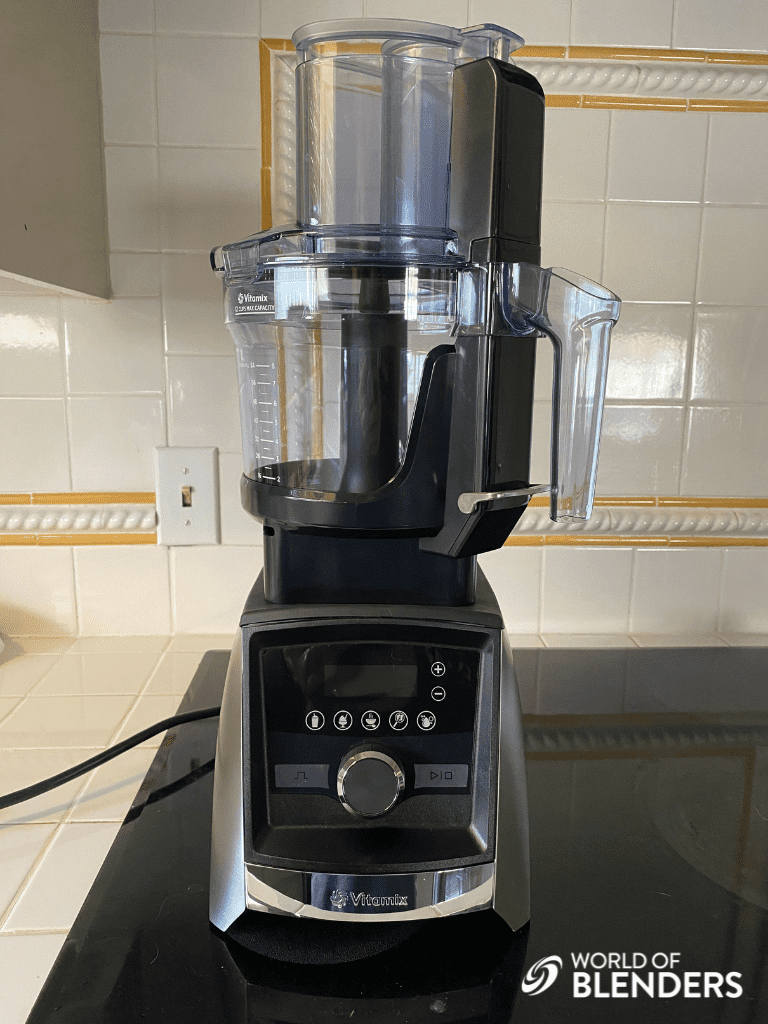 Cleaning
One of the best features of the Vitamix A3500 is that it is self-cleaning, this is great for those who want the cleanup time to be minimal. Some blender parts can be dishwasher safe, but it's best to check to make sure your Vitamix is dishwasher safe.
To clean the Vitamix A3500 add a few drops of dish soap to the blender and fill with a few inches of water. Blend it on its highest setting for 60 seconds and it'll be totally cleaned!
The key is to clean it right away before any food or liquid hardens on the side.
---
Common Questions About the Vitamix A3500
How loud is the Vitamix A3500?
Unfortunately, Vitamix does not provide the decibel or noise levels for the Vitamix a3500. Most Vitamixes range between 80 and 95 decibels. 
Is Vitamix A3500 dishwasher safe?
The Vitamix a3500 can be cleaned in the dishwasher, but we don't recommend it for long-term use. The Vitamix a3500 comes with the self cleaning function of Vitamix. Right after you're done using it, put a few drops of dish soap in with hot water and blitz it for 60 seconds. Rinse out the soapy water and you're good to go!
How tall is the Vitamix A3500?
The Vitamix a3500 is tall and skinny, measuring 17 inches. This makes it one of the taller Vitamixes you can buy. 
How heavy is Vitamix A3500?
The Vitamix a3500 weighs 15lbs, which makes it one of the heaviest Vitamix blenders on the market. 
---
Conclusion: Should You Buy The Vitamix A3500?
We highly recommend the Vitamix A3500. You're getting an incredibly durable blender that is guaranteed to last. The high performance and versatility allows you to make anything from smoothies to soup, hummus, and everything in between.
The blender is backed with an awesome warranty covering all parts, performance, labor and two-way shipping at no cost to you. One great thing about Vitamix blenders is that all their blenders have high-performance capability and are very durable.
If you want a cheaper alternative, check out the Vitamix E310 or 5200.
I hope our Vitamix A3500 review was able to help you with your blender-buying decision!