This post may contain affiliate links. If you use these links to buy something we may earn a small commission. Thanks.
Vitamix is one of the best blender brands on the market. They're the undisputed champs in the blender game and for good reason. Their blenders are powerful, last forever, and come with an incredible warranty.
We're huge fans of Vitamix products and have personally bought, used, or tested 10 different models.
If you are looking for a high-performance blender then the Vitamix E310 is the one for you.
The Vitamix E310 is one of the flagship blenders and it's been one of their top-performing blenders for a long-time. The product replaced the older Explorian model, the Vitamix E320.
We're going to do a deep dive Vitamix E310 review so that you can know everything you need to know.
Our Commitment
Our team has spent over 50 hours researching and comparing all of the most popular blenders. We've written over 60 articles helping people find the best blender for their specific needs. We've read through hundreds of customer testimonials and personally tested 50+ blenders from brands like Ninja, Vitamix, Oster, NutriBullet, and more.
---
Quick Summary: Vitamix E310 Review
The Vitamix E310 Explorian blender is a beast of a machine. The aircraft-grade stainless steel blades have an impressive 3-inch cutting diameter and will decimate the toughest ingredients.
The E310's variable speed control and pulse function take care of everything from frozen desserts and smoothies to salsa and purees. Anything you put in it comes out with perfect consistency and texture every time! The pulse feature makes a great blender for cooking where you want your sauce, soup, or curry to have some chunks in it.
This blender is built to last – Vitamix is known for making some of the highest quality blenders on the market. You won't need to replace this model in a hurry! With a 5 year warranty backed by Vitamix, this is a no brainer for one of our top picks.
The E310 comes with a smaller container, making it the best choice for cooks who work with smaller batches. There's no doubt that the E310 is one of the best Vitamix blenders for the money.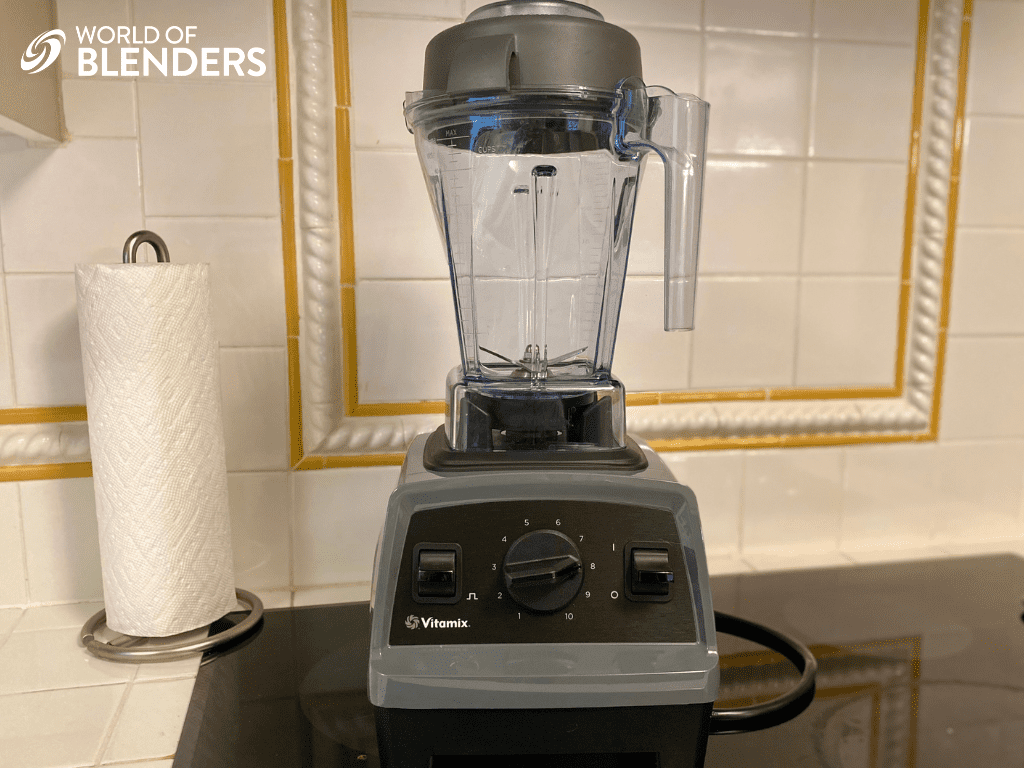 The Vitamix Explorian features 10 different speed settings, which can be adjusted using a dial to achieve the exact consistency you're aiming for. This is also one of the quietest Vitamix blenders you can buy.
| | |
| --- | --- |
| | Vitamix E310 |
| Power | 1400 watts |
| Price | $ |
| Capacity | 48oz |
| Noise | 64 dBs |
| Blades | Stainless steel |
Pros:
10-speed settings – Choose from multiple speed settings to make the perfect blends for curry, hot soups, and everything in between. Minimum speed of 1,400 RPM and a max speed of 22,600 RPM – that's fast!
Size – The 48-ounce container is perfect for blending medium sized batches of food.
Usability – The blender has a 4.5-foot cord providing a great range of movement in the kitchen.
Cleaning – Though not dishwasher safe, it is not difficult to clean the E310. Simply add some dish soap and use the pulse feature, and the E310 is ready to store or use again.
Price – As far as Vitamix goes, this is the most affordable model.
Made in the USA – Vitamix was founded over 100 years ago and has been based in Ohio since 1948.
Affordable – E310 is relatively affordable when compared to other Vitamix blenders.
Sturdy build – Made from metal and plastic, ensuring a premium, high-end blender you can depend on.
Reduced noise level – Compared to other blenders on this list like the Vitamix 5200, this is quieter.
Great For Hot Blending – Easily blends multiple servings of hot ingredients with no issue at all.
Premium Ice Quality – This blender is exceptional at making premium bar quality crushed ice in under a minute.
Cons:
Not dishwasher safe – The E310 is not dishwasher safe and needs to be cleaned using the dish soap and blend cleaning method.
No Preset Modes – There aren't any preset options, so a bit of trial and error is required.
Bulky Design – It's a big blender and needs to be stored on the counter because it's too big for most cupboards.
---
Things We Learned After Testing the Vitamix E310
We recently tested the Vitamix E310 and identified a number of key things to know. These are the kinds of insights you won't read on the manufacturer's box.
You must ramp the speed up – This blender comes with a knob that you turn from 1 up to 10 for speed. The key is to slowly turn the speed up while you're blending. If you start out at level 10, it won't work well and might splatter all over your kitchen or the blades will get stuck. People talk online about how the blender doesn't work. That's a lie. Those people just don't know how to work a blender.
Great for small batches – The 48oz container is great for small to medium sized batches of food/smoothies.
Loud as hell – Not gonna lie, the Vitamix E310 is loud compared to other blenders like NutriBullet, but that's because it's so much stronger. Relative to other Vitamix blenders, it's below average in decibel levels.
It moves – This blender is high speed and doesn't have some of the modern tech of the newer blenders. This means that it sometimes will inch across your counter if you aren't holding it in place.
Clean right away – The self cleaning function of the Vitamix works incredibly well, but only if you do it right when you're done blending. If you wait too long the food will have time to harden and get stuck.
Container gets cloudy – One downside is that the plastic container gets cloudy over time. Even if you're quick to wash and dry the container, it can get a bit hard to read the measurements.
---
How Does the E310 Compare to Other Vitamix Blenders?
As you can see, the Vitamix E310 is almost as powerful as other Vitamix blenders out there, but is one of the cheapest on the list. The only ones cheaper are either older models or the Vitamix One, which is a personal sized blender.
The E310 is one of our all time best vitamix blenders you can buy today. It's on almost all of our buyer's guide lists, including our list of the best blenders for frozen drinks and the top blenders for pureeing food.
This model replaced the E320 and we honestly believe it's better. If you want to see why, check out our Vitamix E310 vs E320 comparison.
---
Deep Dive: Is the Vitamix E310 Worth Buying?
The Vitamix E310 comes fully loaded with all of the awesome Vitamix features and quality. I'll walk through the highlights of the different features and components of this blender.
Power
This model comes with a 1400 watt motor that provides enough power to crush and blend ingredients efficiently. This makes it stronger than most NutriBullet blenders and on par with other Vitamix blenders. It can crush raw ingredients like nuts and whole fruits to turn them into a smooth texture of smoothies.
The Vitamix power combined with other quality features is the reason people like buying them even if they come at a higher price tag. This blender outperforms other blenders from other brands with the ability to function as a multipurpose appliance.
The power in this Vitamix makes it one of the best blenders for Indian cooking and also puts it at #1 our list of the top blenders for acai bowls.
Price
As we have already discussed above, Vitamix blenders are not the cheapest on the market. They are certainly more of an investment rather than an off the cuff purchase. Read up on why Vitamix blenders are so expensive.
Even though they are on the higher end of the market, this is certainly justified when you look at the overall quality of the mixer. The price of the Vitamix E310 is certainly worth it if you want a top of the line blender.
Buy cheap and you'll end up buying twice. Get a Vitamix from day one.
Features / Controls
The controls on the Vitamix is super easy to use. It features a power switch, a pulse switch, and a speed knob. The pulse feature allows you to create the type of consistency you need. While the majority of blending needs to be smooth.
The different speed settings allow you to choose between chopping, pureeing, and grinding, and different blender attachments also allow for whipping and emulsifying.
If you are creating a salsa, for example, you may still require a thicker or chunkier texture. The pulse feature allows you to do this. Instead of providing consistent power, it will provide power in short bursts when turned on, giving you control of how the food is blended. We share in another post how many watts you need for a good blender.
If you want a more high tech blender, you'll want to check out the Vitamix Ascent series. We did a comparison recently of the Vitamix Explorian vs Ascent blenders and the technology was the biggest difference.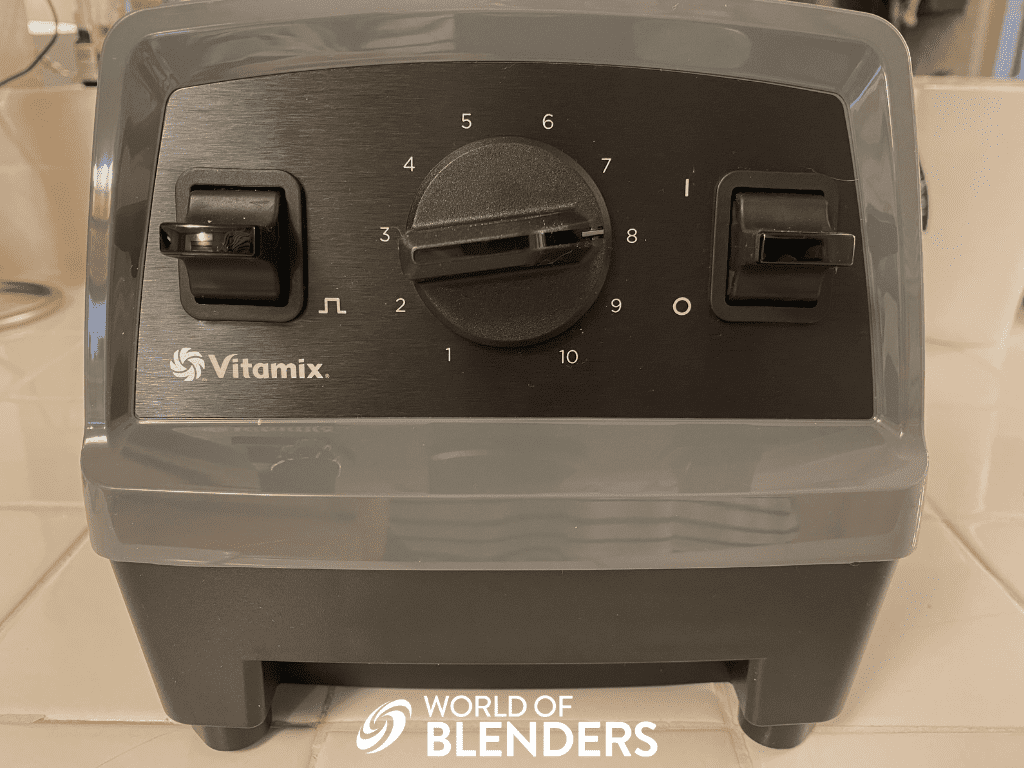 Aesthetics & Size
When looking at the overall design of the Vitamix E310, it is fairly simple, yet effective. It is available to purchase in 3 different colors – black, red, and slate. Given this, the mixer will match the majority of kitchen decors.
It is not overly big, and its dimensions are 11 x 8 x 18 inches. Weighing only 11.5 pounds, it is fairly easy to transport and can be put away when not in use.
The height can be an issue for many cabinets though! You may have to store it in a larger cabinet or on your counter. Thankfully this isn't a big deal because it doesn't take up too much countertop space.
The Vitamix E310 holds 48 oz which is plenty of space to make just about anything you could possibly need!
Cleaning
One of the best features of the Vitamix E310 is that it is self-cleaning, this is great for those who want the cleanup time to be minimal.
To clean the Vitamix E310 add a few drops of dish soap to the blender and fill with a few inches of water. Blend it on its highest setting for 60 seconds and it'll be totally cleaned!
The key is to clean it right away before any food or liquid hardens on the side. If you're interested in knowing which Vitamix blenders are dishwasher safe, you can read more about it here.
---
Common Questions About the Vitamix E310
What's the difference between Vitamix E310 and E320?
The main differences between the Vitamix E310 and E320 are the blender's power, blades, and capacity. The E320 is 10% more powerful than the E310. The E320 blender is shorter and wider so the blades are 4 inches long instead of 3 inches like the E310.
Can Vitamix E310 make hot soup?
The Vitamix E310 is great for making hot soup! You just need to drop in your ingredients and run it on high speed for several minutes. 
How long does Vitamix E310 last?
The Vitamix E310 comes with a 5 year warranty so it's guaranteed to last at least that long, but it should last you at least 7-8 years depending on how often you use it. The blades or container may need replacing earlier. 
Is Vitamix E310 a good blender?
The Vitamix E310 is a fantastic blender and is one of the best Vitamix blenders on the market, especially for the price.
---
Conclusion: Should You Buy the Vitamix E310?
We highly recommend the Vitamix E310. You're getting an incredibly durable blender that is guaranteed to last. The high performance and versatility allows you to make anything from smoothies to soup, hummus, and everything in between.
The blender is backed with an awesome warranty covering all parts, performance, labor and two-way shipping at no cost to you. One great thing about Vitamix blenders is that all their blenders have high-performance capability and are very durable.
I hope our Vitamix E310 review was able to help you with your blender-buying decision!