This post may contain affiliate links. If you use these links to buy something we may earn a small commission. Thanks.
Vitamix is one of the best blender brands on the market. They're the undisputed champs in the blender game and for good reason. Their blenders are powerful, last forever, and come with an incredible warranty.
We're huge fans of Vitamix products and have personally bought, used, or tested 10 different models.
If you are looking for a high-performance blender then the Vitamix ONE is the right pick for you.
The Vitamix One is one of the newest blenders by Vitamix. It's intended to be an "entry level" blender. It's smaller, cheaper, but still has the great quality Vitamix is known for. Vitamix One is great for making smoothies that last a few days in the fridge.
We're going to do a deep dive Vitamix One review so that you can know everything you need to know.
Our Commitment
Our team has spent over 50 hours researching and comparing all of the most popular blenders. We've written over 60 articles helping people find the best blender for their specific needs. We've read through hundreds of customer testimonials and personally tested 50+ blenders from brands like Ninja, Vitamix, Oster, NutriBullet, and more.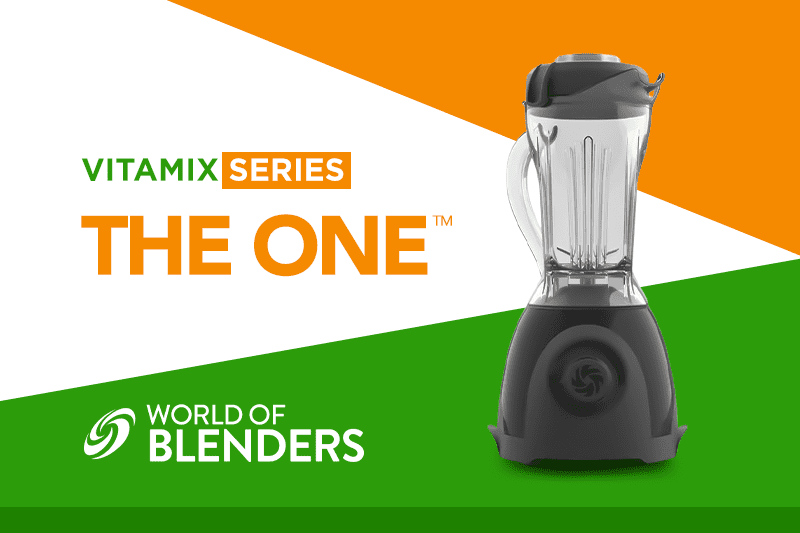 ---
Quick Summary: Vitamix ONE Review
The Vitamix ONE is Vitamix's first step into more affordable blenders, opting for a smaller, sleeker style that offers the same power for way under their standard price point. The ONE's RRP is around $250, making it roughly $100 cheaper than the Vitamix Explorian, but are we sacrificing anything for that drop-off in the price?
The sleek, minimalist look of the ONE makes an immediate impression, and it's clear to see that Vitamix has gone for style while paring back their bulkier, more comprehensive offerings.
The ONE has no hard edges, and its smooth, streamlined design sets it apart completely from its fellow Vitamix blenders. It has a single dial for controlling the speeds, which blends into the body of the blender perfectly and weighs only 6lbs.
The ONE is small and easily stored in a cupboard or tucked away on the worktop if limited kitchen space is an issue.
Vitamix markets the ONE as an at-home smoothie maker, as opposed to most of their models which are designed to be professional-level blenders for the home kitchen.
This is exemplified by the 890-watt engine, which, while perfectly adequate for most kitchen jobs, is around half of what a Vitamix engine usually boasts. This also means that it has a greatly reduced noise output compared to fellow Vitamix food processors.
The 32oz jug is a good size for generous batches of hummus and is narrow and tall, creating a powerful vortex to suck ingredients down when you're blending. The jug is not dishwasher friendly but can easily be cleaned by hand. Check out some other Vitamix blenders that are dishwasher safe.
If you've always wanted a Vitamix but have been averse to shelling out $400, then the ONE is a great opportunity to lock down one of these blenders. This is the most affordable Vitamix blender.
The Vitamix One is not part of the Ascent or Explorian series, but is a stand alone model.
| | |
| --- | --- |
| | Vitamix One |
| Power | 890 watts |
| Price | $ |
| Capacity | 32 oz |
| Blades | Stainless steel |
Pros:
Looks great: The stylish and minimal design is a welcome addition to any kitchen.
Value: More affordable price point for a Vitamix blender.
Compact: Smaller size makes it easier to store, or leave on the counter without taking up much space.
Cons:
Price: The price tag is still very high for the affordable blender market.
Limited speed control: Single dial for speed settings might be limiting.
Less powerful motor: Smaller engine size than other Vitamix food processors, but still plenty powerful enough for making hummus with ease.
---
Things We Learned After Testing The Vitamix ONE
We recently tested the Vitamix ONE and identified a number of key things to know. These are the kinds of insights you won't read on the manufacturer's box.
Great for small batches – One of the unexpected cons of Vitamix blenders is that they perform better with more food/liquid. Sometimes smaller batches don't blend as well. The Vitamix ONE is perfect for individuals.
Clean right away – The self cleaning function of the Vitamix works incredibly well, but only if you do it right when you're done blending. If you wait too long the food will have time to harden and get stuck.
Careful to keep it turned off – Most blenders won't actually run unless the blender container is attached. That isn't the case with this one. Make sure to keep it turned off until you are ready to start blending.
Blender can overheat – The blender motor isn't as strong as other Vitamix blenders. If you're used to blending up frozen fruit or ice, be careful with this one. You might be better off with fresh fruit and no ice.
---
How Does The Vitamix ONE Compare To Other Vitamixes?
The biggest difference between the Vitamix ONE and other Vitamix models is the size and price.
Vitamix blenders tend to be crazy expensive, so they created an "entry level" model that is more affordable. Not everyone needs a 64oz blender behemoth. As you can see, the Vitamix ONE is also weaker than other Vitamixes. It's still plenty strong for most of your blender needs and this Vitamix can grind coffee beans.
If you're mostly making personal sizes smoothies or soups, the Vitamix ONE is great for you.
---
Deep Dive: Is The Vitamix ONE Worth Buying?
The Vitamix ONE comes fully loaded with all of the awesome Vitamix features and quality. I'll walk through the highlights of the different features and components of this blender.
Power
This model comes with a 890 watt motor. Honestly, this is less powerful than most blenders on the market that we find ourselves recommending. It's great for smaller stuff like protein shakes or smoothies. We've put together an article explaining how many watts you might need for a good blender.
This blender is one of our top hummus blenders because it's the perfect size at 32 oz and is powerful enough to whip the chickpeas together.
Price
As we have already discussed above, Vitamix blenders are not the cheapest on the market. They are certainly more of an investment rather than an off the cuff purchase.
The Vitamix ONE is the least expensive Vitamix on the market, while still maintaining the reputation of Vitamix.
Buy cheap and you'll end up buying twice. Get a Vitamix from day one.
Features / Controls
The controls on the Vitamix is super easy to use. It features a power switch, a pulse switch, and a speed knob. The pulse feature allows you to create the type of consistency you need. While the majority of blending needs to be smooth.
The different speed settings allow you to choose between chopping, pureeing, and grinding, and different blender attachments also allow for whipping and emulsifying.
If you are creating a salsa, for example, you may still require a thicker or chunkier texture. The pulse feature allows you to do this. Instead of providing consistent power, it will provide power in short bursts when turned on, giving you control of how the food is blended. If you're torn between a blender vs juicer, check out this article we wrote.
Aesthetics & Size
When looking at the overall design of the Vitamix One, it is fairly simple, yet effective. It is available to purchase in black so it will match the majority of kitchen decors.
Most Vitamix blenders are "standard or countertop blenders." This one is a countertop, but it's truly more of a specialty personal blender. Feel free to check out our article on the different types of blenders you can buy.
It is not overly big, and its dimensions are 8.3 x 7 x 16 inches. And it weighs only 2 pounds! This is the smallest and lightest Vitamix by far. It's fairly easy to transport and can be put away when not in use.
The height can be an issue for many cabinets though! You may have to store it in a larger cabinet or on your counter. Thankfully this isn't a big deal because it doesn't take up too much countertop space.
The Vitamix One holds 32 oz which is plenty of space to make just about anything you could possibly need!
Cleaning
One of the best features of the Vitamix One is that it is self-cleaning, this is great for those who want the cleanup time to be minimal.
To clean the Vitamix One add a few drops of dish soap to the blender and fill with a few inches of water. Blend it on its highest setting for 60 seconds and it'll be totally cleaned!
The key is to clean it right away before any food or liquid hardens on the side.
---
Common Questions About The Vitamix ONE
Is the Vitamix One worth it?
The Vitamix One is a great blender if you really want to go with the Vitamix brand. I'd recommend spending a bit more to get the Vitamix E310, but that's just my preference.
Does Vitamix ONE crush ice?
The Vitamix One is not good for crushing ice. It has the smallest motor of all the Vitamix models and won't do well crushing ice long-term. 
---
Conclusion: Should You Buy The Vitamix ONE?
We highly recommend the Vitamix One. You're getting an incredibly durable blender that is guaranteed to last. The high performance and versatility allows you to make anything from smoothies to soup, hummus, and everything in between.
The blender is backed with an awesome warranty covering all parts, performance, labor and two-way shipping at no cost to you. One great thing about Vitamix blenders is that all their blenders have high-performance capability and are very durable.
I hope our Vitamix One review was able to help you with your blender-buying decision!