This post may contain affiliate links. If you use these links to buy something we may earn a small commission. Thanks.
I eat smoothies almost every single day of the week! They're the key to loading up on fruits and veggies and fiber.
I hate having to make a new batch of smoothies everyday though. It's a bit of a hassle to get all the stuff out of the fridge and then having to clean the blender every time.
That's why I love making smoothies ahead of time. I'll make a big batch and store the smoothies in the fridge.
I've tested all of the best ways to store smoothies in the fridge and there's ONE key thing you have to know. If you want to save a smoothie for later – keep reading.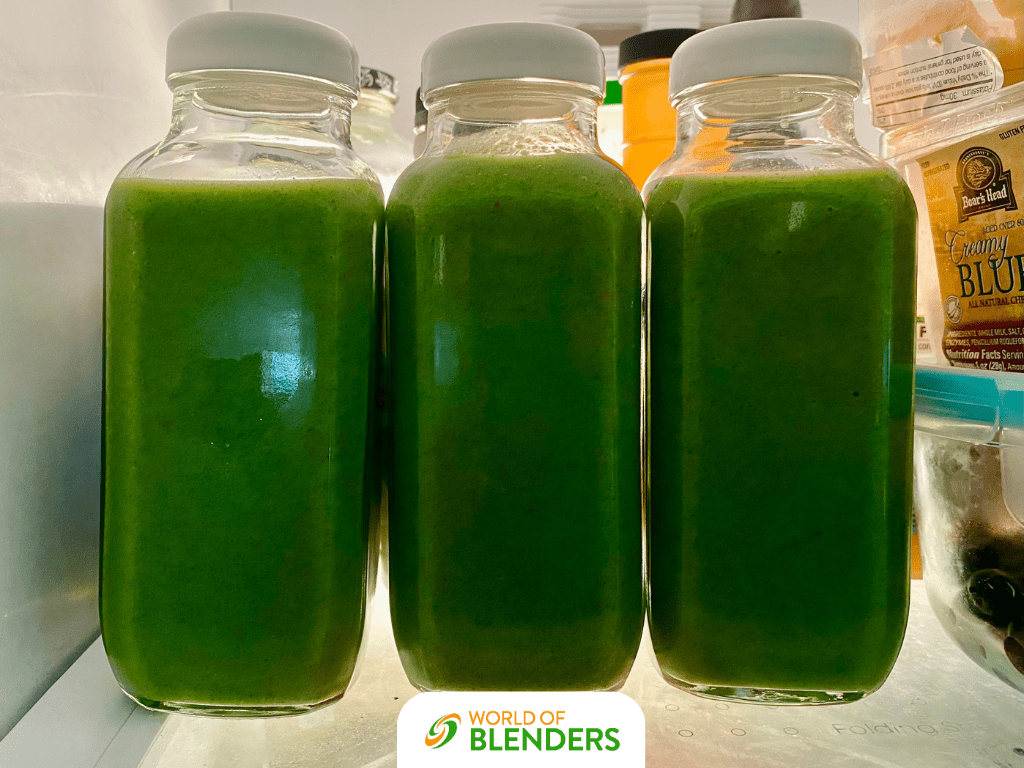 ---
The #1 Hack to Storing Smoothies in the Fridge: Preventing Smoothie Oxidation
Preventing smoothie oxidation is the most important thing you have to do if you want to store smoothies for later.
Oxidation is what happens when oxygen/air interacts with the surface of fruits and veggies. It's what makes apple slices go brown when you leave them on the counter for too long!
If you're trying to store smoothies in the fridge for later, the key is to store them with as little air as possible in the container.
The #1 tip we have is to store them in airtight containers with absolutely no (or minimal) air. This will prevent smoothie oxidation.
Storing smoothies the right way will help you make a big batch in advance! If you need recipe ideas, check out our list of high fiber smoothies or meal replacement smoothie recipes!
---
The Best Way to Store Smoothies for Later
The best way to store smoothies for later is to store them in a tall mason jar and fill them up completely to the top! Leave absolutely no room in the jar so that there's no oxygen. The only downside of this is that you can't shake the jar when you pull it out the next day.
Pouring it up to the top is also a way to increase your portion size, which is one of the best ways to make a smoothie more filling!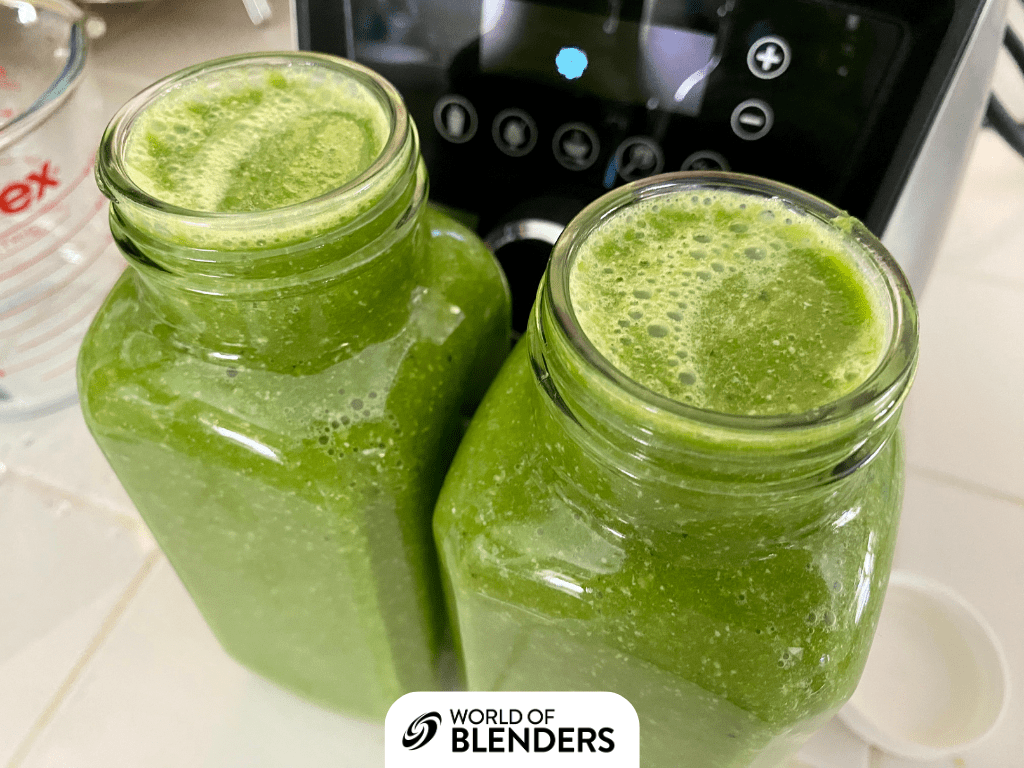 You can also use a super small amount of saran plastic wrap and press it down to until it touches the smoothie. This will protect the smoothie from being exposed to air.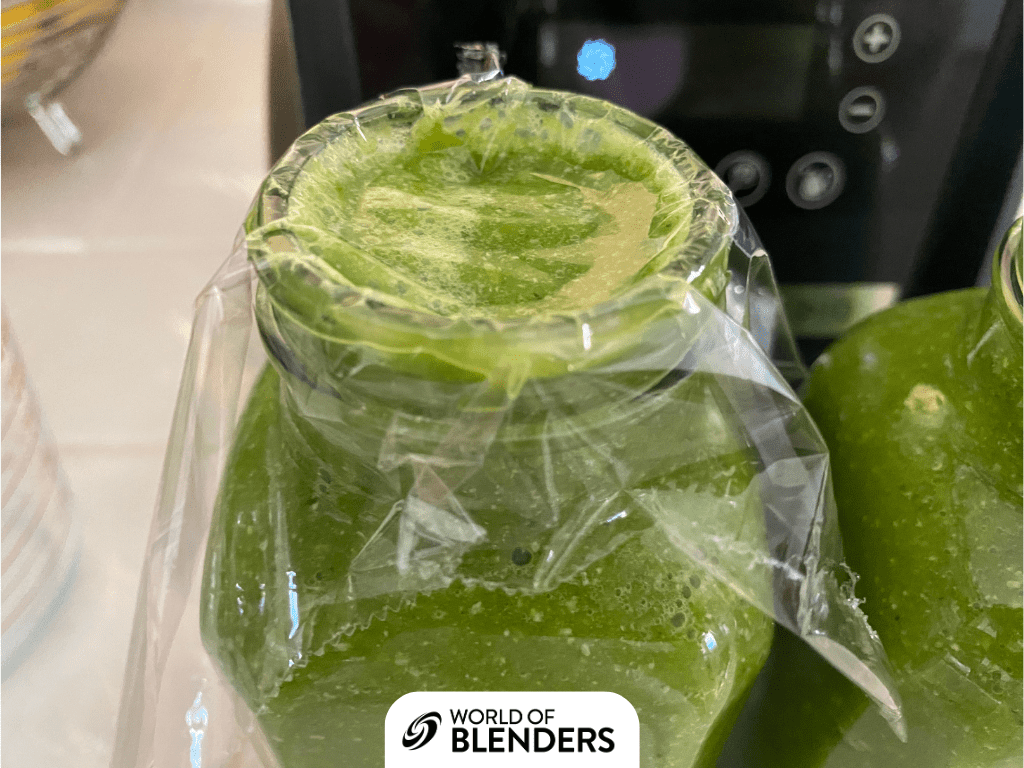 No matter what you do though, your smoothies will separate in the fridge most likely! Giving them a good shake or stir is all you need to do. You can also use ingredients like bananas or greek yogurt to make smoothies creamier and less likely to get foamy or separate.
---
The Best Containers to Store Leftover Smoothie
As we've said, the most important thing when storing leftover smoothie is to minimize the smoothie's exposure to air. Otherwise, it could start to go bad, which means losing its flavor, texture, color, and much of its nutritional value.
The best containers for storing smoothies include:
Mason jars or glass jars
Quart size ziploc bags
A normal drinking glass (with plastic wrap over it)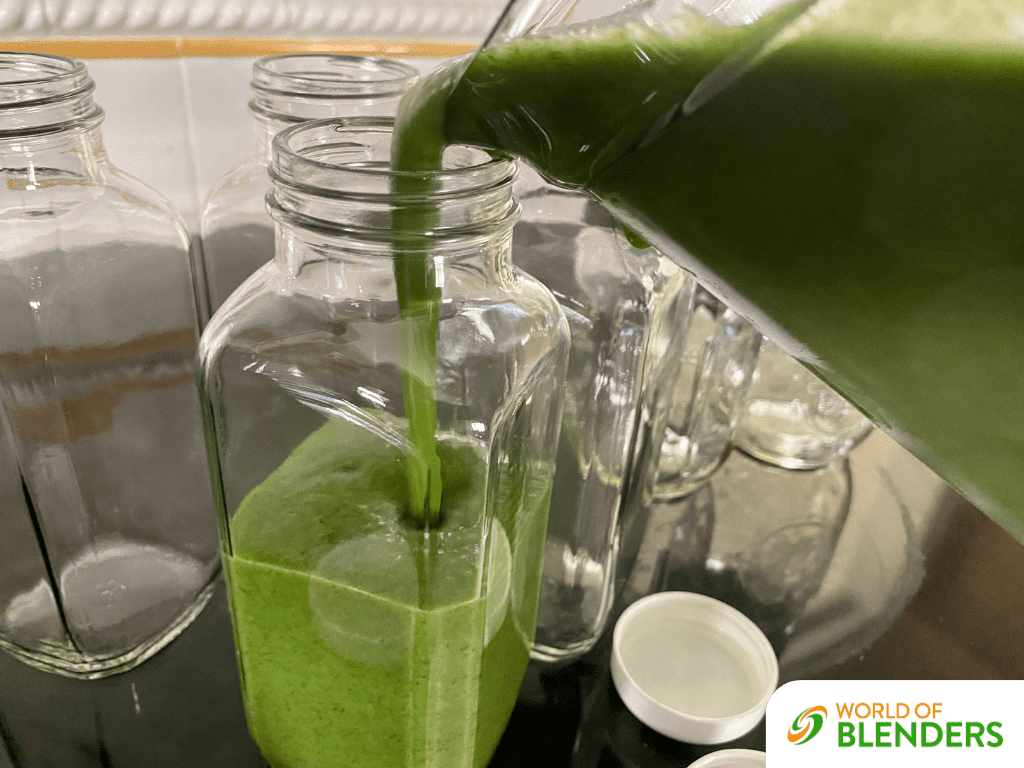 I prefer mason jars, but using big quart-sized ziplocs can work well! You can make them perfectly airtight and pour them into a glass when you're ready to drink. Just make sure that the bag is completely closed and standing with the zipper upright so that the smoothie does not leak. This option is best when you are freezing your smoothie.
Whichever you choose, be sure to fill the container right to the top without overflowing and close it immediately. If you do freeze your smoothie, leave a tad bit more room at the top because the smoothie with expand in the freezer.
---
How Long Will a Smoothie Keep in the Refrigerator?
You can usually keep a smoothie in the refrigerator for up to 2-3 days before safely drinking it. However, this assumes the smoothie was placed in the refrigerator right after it was made and that it has been stored in an air-tight container.
Don't leave the extra smoothie sitting in your blender like the pic below because it can wear down your blender.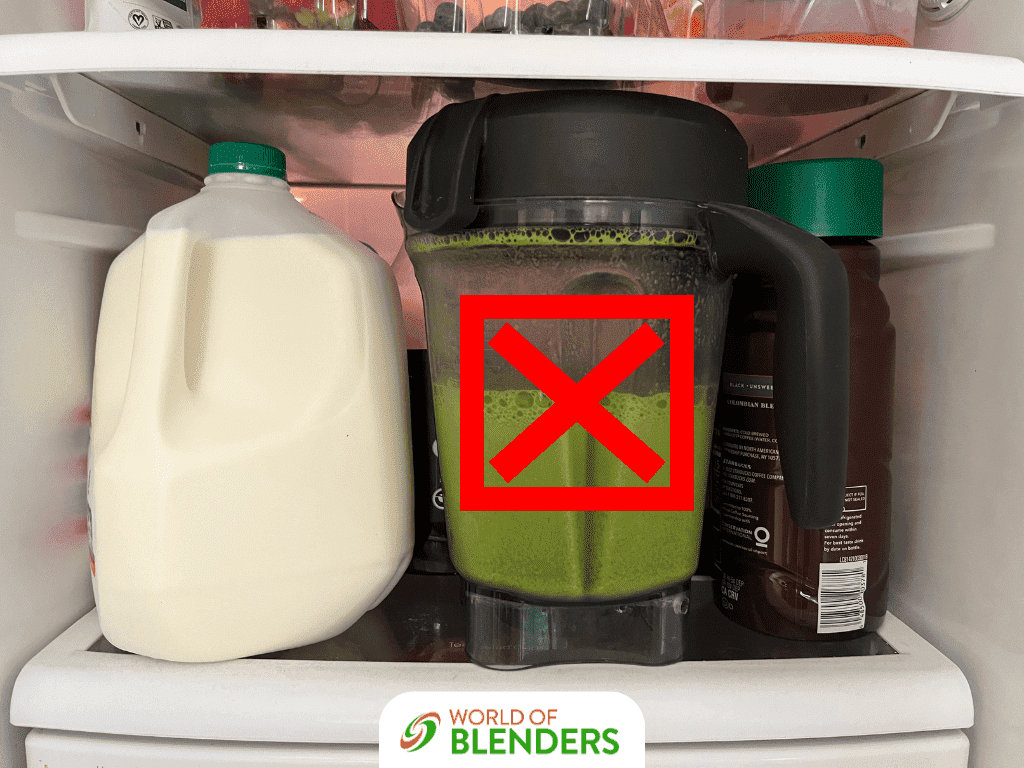 Instead, use an airtight container to store the extra smoothie. Fill it to the top, seal it, and get it cooled right away.
If your smoothie was left unrefrigerated for hours before being refrigerated, or has been exposed to the air for a long time, then it may not keep for as long as two days, or it may not be safe to store at all.
---
How Long Will a Smoothie Keep in the Freezer?
Freezing your leftover smoothie will make it last much longer than it would in the refrigerator. While a refrigerated smoothie should last up to 2 days, a frozen smoothie can be stored in the freezer for up to 3 months.
Storing your smoothie in the freezer is the best option when preparing large batches of smoothie. You can also batch make different kinds of smoothies and store them all to enjoy at a later date. This is the best way to meal prep smoothies.
One word of warning:
Oxidation can still happen in the freezer if your smoothie cubes are left uncovered or exposed to the air in the freezer. Sometimes the smoothie cubes can take on flavor of the food around it if you do not cover it properly.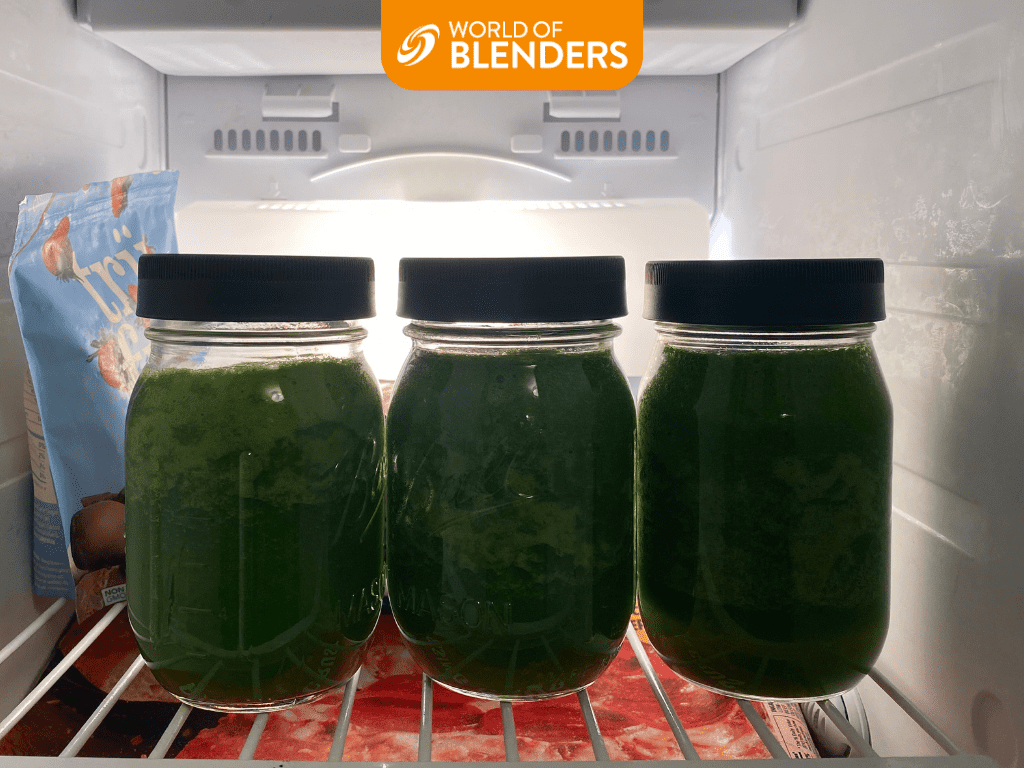 ---
Common Questions About How to Store Leftover Smoothies
How do I store a leftover smoothie?
You can store leftover smoothies in the refrigerator for two days or in the freezer for up to 3 months. Put the leftover smoothie in an airtight container to prevent oxidization.
How do I know if my smoothie is still good?
If it looks brown or yellow, tastes sour, or is curdled, it's definitely a good idea to throw it out. Oxidation can occur and spoil your smoothie if you don't keep it in a cool, airtight container.
How long does a smoothie last in the freezer?
A smoothie will last in the freezer for up to 3 months if the smoothie is stored in an airtight container.
Can I store a leftover smoothie in a glass jar?
Yes, storing leftover smoothies in a glass jar is one of the best ways to store leftover smoothies! You can also store leftover smoothies in a juice jug or tupperware filled to the top.
---
Final Verdict: What is the Best Way to Store Leftover Smoothies?
The best way to store your smoothies without going bad is to put it in the fridge in an airtight container. I recommend using a bit of plastic seal and pressing it down to touch the smoothie, then screw on your jar or lid. This will prevent any oxygen from touching the smoothie!
You can also just fill your jar completely up to the brim!
We love storing leftover smoothies in the fridge to have for breakfast the next day. It's an easy, quick, grab-and-go breakfast idea that is healthy!
If you want to keep your smoothie for longer, you can store it in the freezer for up to 3 months.