This post may contain affiliate links. If you use these links to buy something we may earn a small commission. Thanks.
I've been making smoothies almost every day for the last 2-3 years! It took a while for us to perfect our smoothies, but my wife and I have finally figured how to make smoothies creamy every time!
Nothing is worse than a smoothie that's too runny, too chunky, and not blended all the way.
Today we're sharing all our tips on how to make smoothies creamier every time.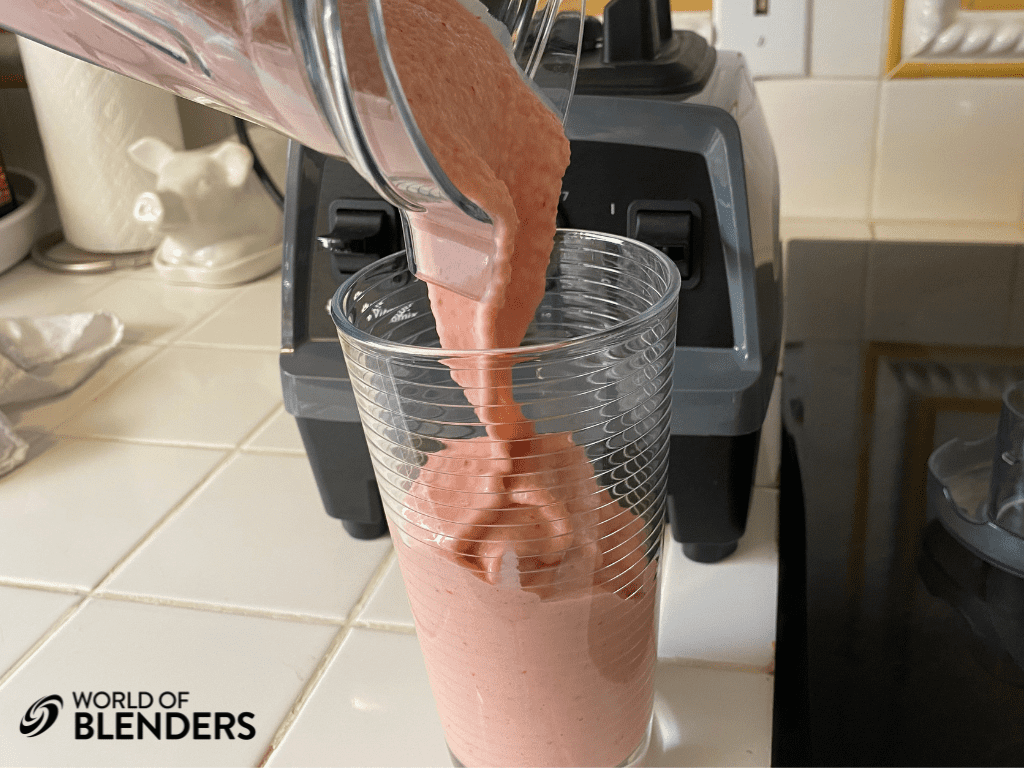 ---
5 Blending Tips for Making Creamy Smoothies
There are a number of ingredients you should use that we'll hit on in the next section, but here's a high level summary of how to make creamier smoothies.
Choose the right liquid – Certain liquids for smoothies are creamier than others! We recommend using whole milk, 2% milk, or almond milk to make smoothies more creamy. You can make smoothies with water, but milk would be creamier!
Don't use too much liquid – Using too much liquid will make your smoothie thinner. Start with less than you think you need and drip more in slowly as needed.
Use a powerful blender – The more powerful your blender, the stronger it will be to break down ingredients into a perfectly creamy consistency.
Use creamier fruits – Fruits like bananas and avocados can help add a creamy texture to your smoothies! We highly recommend them for making smoothies creamier.
Add yogurt – Greek yogurt can be a great way to give your smoothies a creamier texture and you won't have to add as much water or liquid. GY is a great way to make high protein smoothies for building muscle.
I usually love to meal prep smoothies because you can make a big batch and store your smoothies in the fridge for 2-3 days. The only downside is that leftover smoothies aren't as creamy as fresh ones.
Be sure to check out our list of the best kind of milk for smoothies!
---
16 Ingredients to Help Make a Smoothie More Creamy
1. Frozen Fruit
Did you know that using frozen rather than room-temperature fruit will create a more creamy smoothie, even though you are using the same ingredients? We keep all of our smoothie ingredients in the freezer for this very reason.
Fantastic frozen options for a thicker smoothie include bananas, strawberries, mango, pineapple, and red berries. Using frozen fruit will add tons of health benefits for smoothies!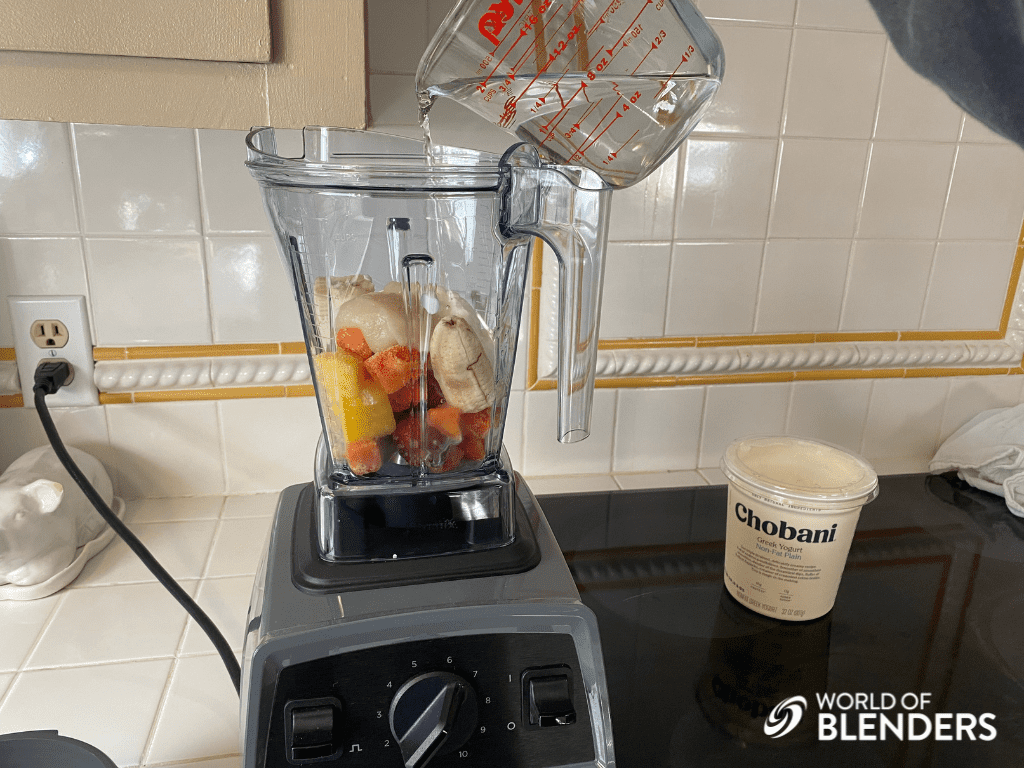 2. Crushed Ice
If you don't want to add frozen fruit to your smoothie but do want to enjoy a cooler drink with a thicker, more creamy texture, then adding crushed ice to your smoothie will work just as well.
The only downside is that ice can sometimes make a smoothie foamy.
I recommend adding in a handful of ice cubes to your next smoothie! Only do this if you have a strong blender, ideally more than 1200 watts.
3. Greek Yogurt
Greek yogurt is an ideal thickener that happens to be both nutritious and delicious. A generous dollop of Greek yogurt (1/3 cup or so) will not only make your smoothie thick and creamy, it will also add protein and calcium.
Depending on how much thicker you want to make your smoothie, try adding up to a cup per serving. Using yogurt will help prevent your smoothies from separating in the fridge and it's one of the best ways to add protein to smoothies.
4. Nut and Seed Butters
It's not hard to imagine how much a big dollop of peanut butter could enhance the creaminess of a smoothie. And taking this concept further, there are many different nut and seed butters available to try.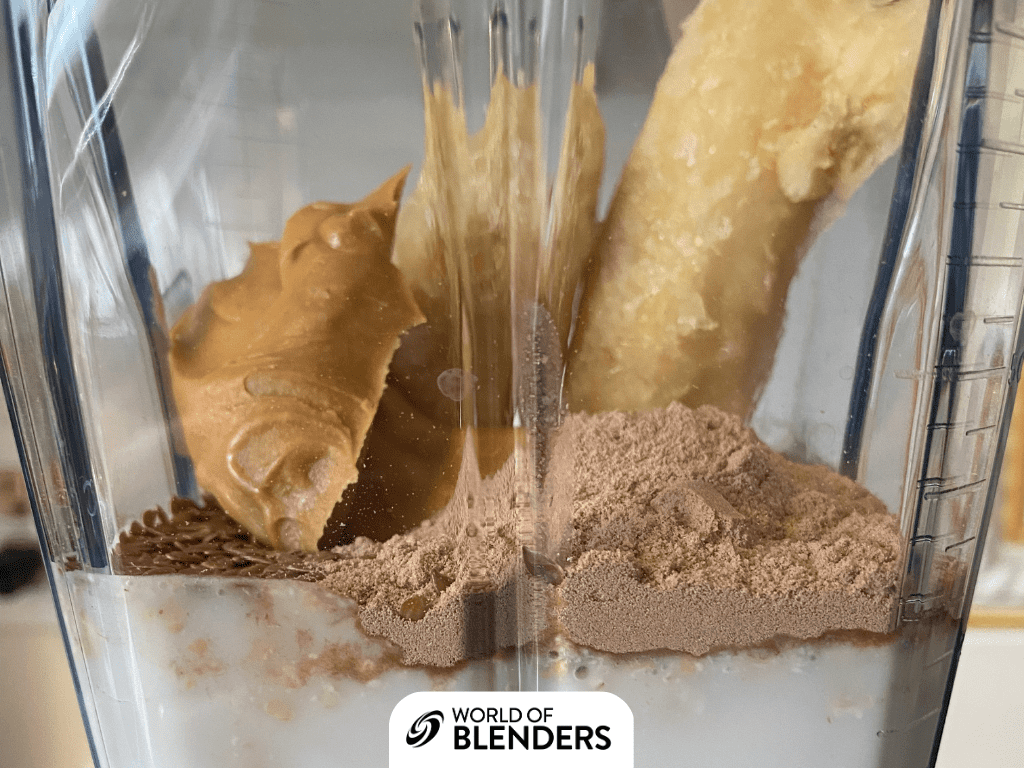 Options include – Almond, hemp, hazelnut, chia, macadamia, and sunflower butter all work fantastically well for thicker smoothies.
5. Avocado
While all vegetables will make a smoothie thicker when the liquid-to-ingredients ratio is just right, avocado is best for creating a lovely creamy texture. A lot of our smoothie recipes without yogurt have avocado because it's so helpful in making creamy smoothies.
When combined with fruit, avocado doesn't taste like guacamole at all but instead adds creaminess without impacting flavor. It also works fantastically well with green smoothie recipes.
Cubed avocado is a super popular ingredient in our list of high calorie smoothies for weight gain!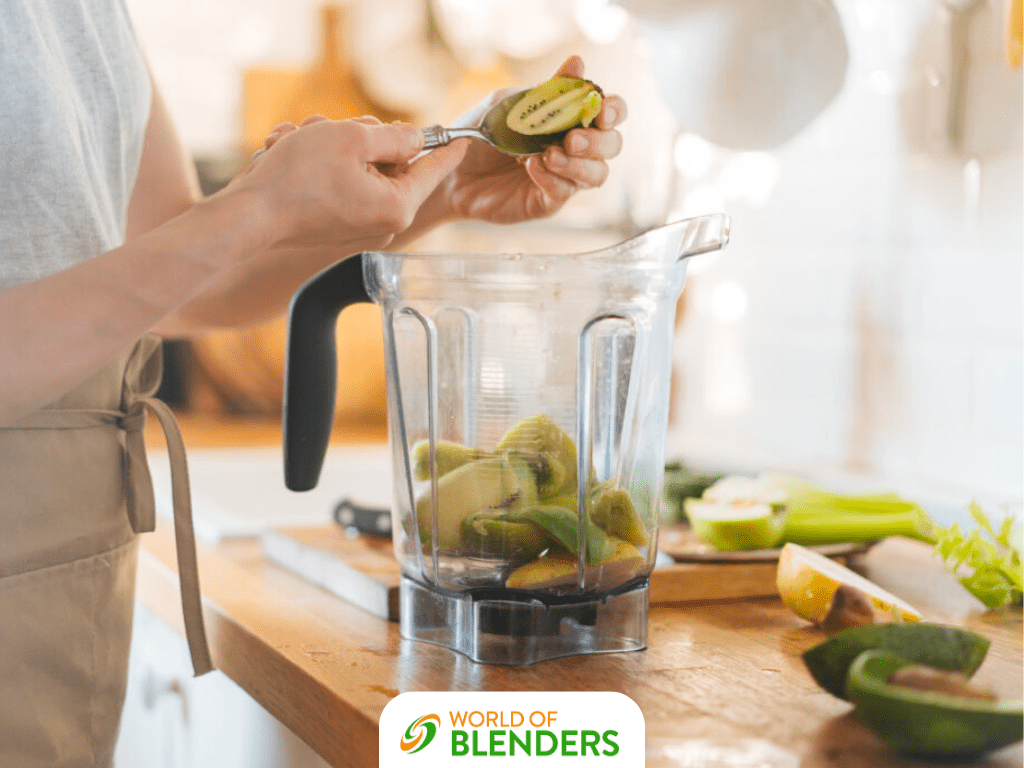 6. Protein Powder
If you want a healthy and creamy smoothie recipe that promotes muscle growth and recovery after a hard workout, protein powder is a great choice.
There are plenty of options available, including whey, egg, pea, hemp, rice, and soy-based protein powders. Protein powder is essential for making meal replacement smoothies.
You may find that protein powder makes your smoothie taste a bit chalky, but you can fix this using other flavored ingredients or an alternative liquid base to water, such as milk or fruit juice.
A lot of the NutriBullet smoothies for weight loss we've tried have protein powder!
7. Chia Seeds
Chia seeds are amazing for thickening smoothies. These tiny seeds quickly transform into a natural thickening agent when soaked in liquid. Chia seeds in your smoothie will not only make your creamy smoothie, it will also increase your healthy fat intake.
These are one of our keto friendly substitutes for bananas in smoothies!
How to use chia seeds:
Soak one tablespoon of chia seeds in one tablespoon of water for 2 minutes.
Stir around until you have a gel-like consistency and add them into your blender. This is called a chia egg.
8. Soaked Oats
If you'd rather add some healthy carbs to your smoothies, consider raiding the breakfast cabinet for some oatmeal.
Whether rolled, steel-cut, milled, or ground, oats will help to make a smoothie smoother.
Learning how to make a smoothie more creamy with oats couldn't be simpler, but it does require planning ahead. There's no need to cook the oats, but for best results soak them in water or your milk of choice for at least an hour before they go into the blender.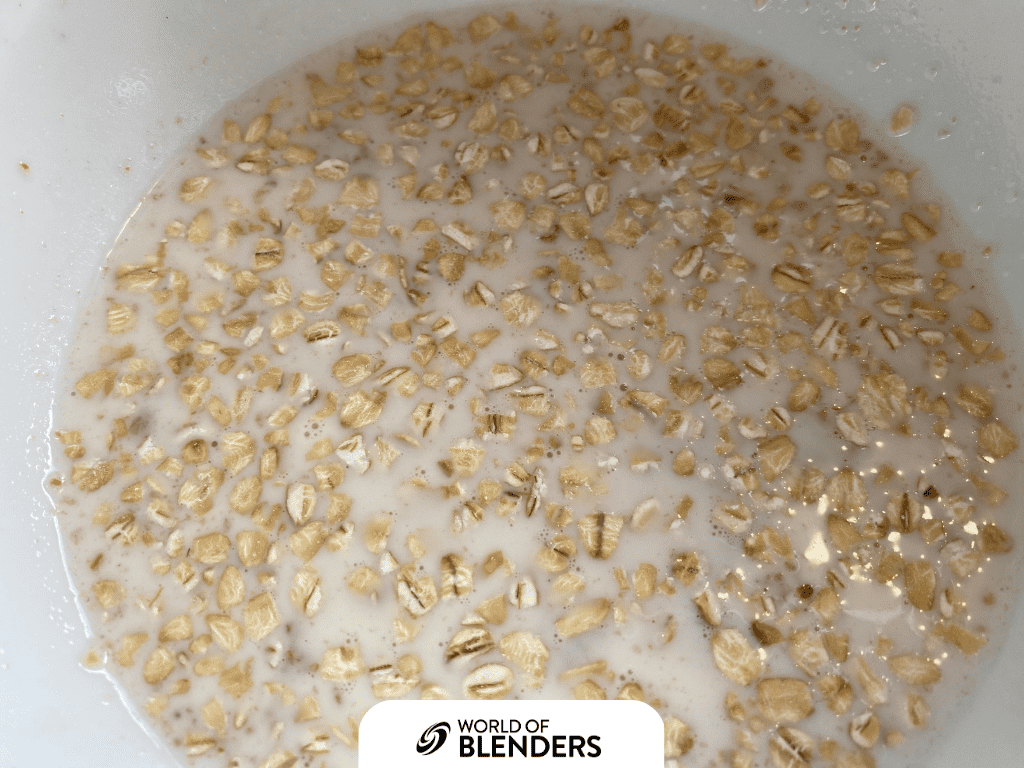 9. Cottage Cheese
Like Greek yogurt, cottage cheese can be used to add calcium and protein to a smoothie. It also adds a milkshake-like texture, which make it a fantastic addition to sweet and fruity smoothies.
Add up to a cup of cottage cheese to your blender, depending on how thick and creamy you want your smoothie to be. Cottage cheese is a popular alternative to yogurt in smoothies.
10. Soaked Nuts
If you don't have any nut or seed butters to hand, then no problem. You can soak whole nuts in the fridge overnight, then add them directly to your smoothie mix.
Grab some cashews, pecans, almonds, or other nuts of choice and put them in a bowl. Next, cover them with water and allow them time to soften. This will not only ensure a creamier texture in the blender, it will also help to release the nutrients that the nuts contain.
11. Pureed Vegetables
Cooked vegetables can work wonders when it comes to making a smoothie more creamy. Pumpkin and carrot are great options, while sweet potato and butternut squash can add a delicious ice cream-like flavor. You can make this fresh or buy frozen vegetables to steam.
Check out our list of the top vegetables for smoothies to get some ideas!
To use pureed vegetables in your smoothies…
Peel off fibrous skin that won't blend well
Chop what is left and steam them until they are cooked through and soft.
Allow the vegetables to cool and store them in the fridge until it's time to go in the blender.
12. Psyllium Husk
Psyllium husk is a handy supplementary form of insoluble fiber that has been popular in health food stores for years.
Psyllium husk comes from the plantago plant and, among other uses, it is a brilliant food and beverage thickener. You won't need much to make your smoothie creamier, so start with ½ a teaspoon and see how you get on.
Insoluble fibers are great for improving digestive transit and supporting gut health. Since they largely aren't digested, they also don't contribute much to your calorie intake.
This is a great ingredient to add into your keto friendly smoothies because the extra fiber will help keep your system moving!
13. Silken Tofu
If you would like a vegan alternative to Greek yogurt that delivers both a protein boost and added smoothie creaminess, silken tofu is the perfect choice.
As a type of bean curd that is popular in Asian cooking, this ingredient is relatively flavorless, making it a brilliant complement to just about any smoothie.
Unflavored silken tofu, sometimes known as silk, soft, or Japanese-style tofu, has a much softer texture than regular tofu making it very blender friendly.
To make a smoothie more creamy with silken tofu, simply add it chunk by chunk into the blender until the smoothie reaches your desired consistency.
14. Cooked Quinoa
Quinoa is an ancient grain that has enjoyed a recent surge in popularity thanks to its high protein content. Delivering a gently nutty flavor, cooked quinoa can work wonders when added to a smoothie recipe.
Cook the quinoa as per the package's instructions and then allow it to cool. Depending on your desired level of creaminess, add up to a cup of cooked quinoa per serving of smoothie.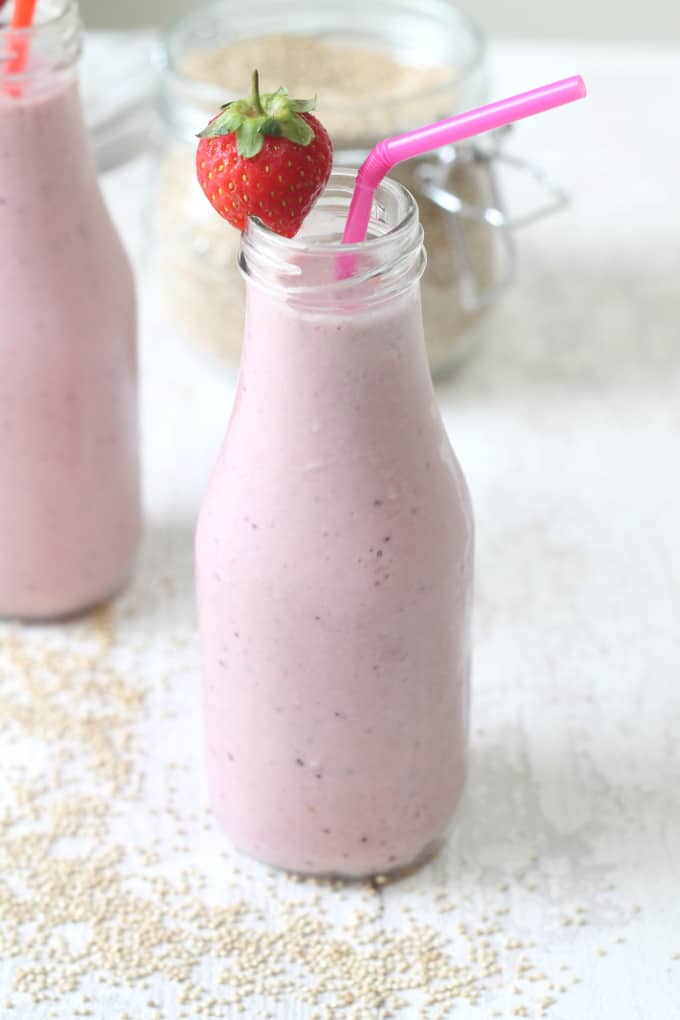 15. Frozen Coconut Flesh
If you like the taste of coconut then you've probably thought of adding coconut milk or coconut water to your smoothies. But how about coconut flesh?
Adding frozen coconut is also one of our favorite healthy ways to sweeten a smoothie!
To make your smoothie more creamy, consider picking up some frozen coconut flesh next time you're at the grocery store. This flavorsome ingredient is an amazing thickener and works well with a wide range of fresh and exotic flavor combinations. You could also use coconut flakes, but just make sure there's no added sugar!
Frozen coconut is a great choice for weight loss smoothies because of the low calories and health benefits!