This post may contain affiliate links. If you use these links to buy something we may earn a small commission. Thanks.
Every single one of these meal replacement smoothies for weight loss clock in at less than 500 calories!
The average full meal is probably anywhere from 600-800 calories. If you're wanting to lose weight, then these healthy meal replacement smoothies can help you get into a calorie deficit!
---
Health Benefits of Meal Replacement Shakes
Low calories – Meal replacement smoothies tend to be lower in calories than the meals you're replacing!
Proven weight loss – The benefit of lower calories is that you will lose weight over time! This is one of the most common health benefits of smoothies!
High in nutrients – Smoothies are loaded with vitamins and nutrients! Often times much more than meals we cook and eat.
Loaded with fiber – Fiber is essential for digestion! If you really want to load up on fiber you should make some meal replacement green smoothies!
Saves time – If you make a big batch, smoothies last in the fridge for 3-4 days! This can be a huge time saver if you're trying to get out the door in the morning. You can also make a batch of meal replacement lunch smoothies and save time at work!
Saves money – Smoothies tend to use relatively cheap ingredients! It's much cheaper to drink a smoothie than get takeout or pick up breakfast on your way to work.
---
Popular Meal Replacement Smoothie Ingredients
My wife and I have made hundreds of meal replacements smoothies for breakfast, lunch, and dinner.
Here are the most popular ingredients we use for meal replacement shakes:
Nut butter – Peanut butter or almond butter is a great way to add a slightly more savory component to your smoothies! It's a great way to get some healthy fats and make your meal replacement smoothies more filling.
Protein powder – Protein powder is super common for smoothies because it's one of the harder macros to get into a smoothie with just regular ingredients. Protein in smoothies will keep you fuller for longer and give your body the necessary nutrients to maintain muscle while you lose weight.
Greek yogurt – Greek yogurt is a great way to increase your protein intake and make your smoothie super creamy. I highly recommend greek yogurt if you're making a meal replacement smoothie for dinner.
Leafy greens – Leafy greens like spinach and kale are loaded with vitamins and micronutrients that we desperately need. Starting your day with a blast of veggies is incredibly good for you.
---
22 Healthy Meal Replacement Smoothies for Weight Loss
This is one of our favorite green smoothies! The combo of blueberries and spinach make this meal replacement smoothie incredibly healthy! The avocado, greek yogurt, and chia seeds make it loaded with healthy fats, high in protein, and high in fiber!
Almond milk is our favorite milk for smoothies!
Our very own detox green smoothie recipe is a fan favorite! It's full of health ingredients like spinach, celery, cucumber, and pineapple. This smoothie packs in an impressive 15g of fiber and only 330 calories.
This is one of our favorite meal replacement smoothies for weight loss because of the chia and hemp seeds.
If you want a great high protein meal replacement smoothie, this one is for you! It's packed with spinach, blueberries, banana, nut butter, almond milk, chia and hemp seeds. With the protein powder, it's also got 35g of protein and 12g of fiber!
The almond milk is our favorite liquid base for the smoothie and is super common in our list of dairy free smoothie recipes!
Our green goddess smoothie is packed spinach, kale, pineapple, and banana! It's the perfect blend of flavor, consistency, and nutrients. We use almond milk to get a creamier texture and we add Greek yogurt to give it a boost of protein. The best part is this smoothie is less than 300 calories!
If you don't have any yogurt on hand, check out our list of yogurt smoothie substitutes!
Our peanut butter chocolate smoothie is one of our absolute favorites! We tested a ton of different varieties and ingredient combinations before finalizing this one. This is one of the best meal replacement smoothies because it has 30g of protein, 10g of fiber, and less than 20g of sugar.
This one is also less than 350 calories.
If you like apple banana smoothies, this is a great one for you! It's got 10g of fiber and only 250 calories. The mango is one of our favorite ways to sweeten a smoothie. The spinach makes this smoothie super high in Vitamin K and A.
This is a smoothie made with water instead of milk which also helps lower the calorie content!
It's a creamy and delicious meal replacement smoothie for weight loss. This smoothie recipe contains both veggies and fruits that pack it full of nutrients.
Besides kale, blueberries, and strawberries, add vanilla extract for taste and texture and enjoy this delicious drink!
Healthy carrot cake smoothie is rich in essential nutrients, which makes it an excellent meal replacement for lunch.
The ingredients like almond milk, greek yogurt, walnuts, banana, and carrot make it a filling drink with a delicious taste and healthy nutrients. Check out our list of substitutes for yogurt in smoothies if you need an alternative to make this one!
It's one of my favorite meal replacement smoothies for breakfast. This oat avocado smoothie is a thick, creamy drink made with simply oats and avocado. Add some almond milk and a dash of lemon juice for an extra layer of flavor and enjoy this super tasty smoothie full of nutrients.
You can also adds hemp seeds or chia seeds for added protein and fiber.
Minty melon smoothie is a perfect cleansing drink for weight loss and improving digestion. Spinach, cucumber, cantaloupe, and fresh mint add nutrients like fiber and iron, while the flaxseeds, protein powder, and bananas bring thickness and flavor.
It's a magical combo for making a healthy green smoothie.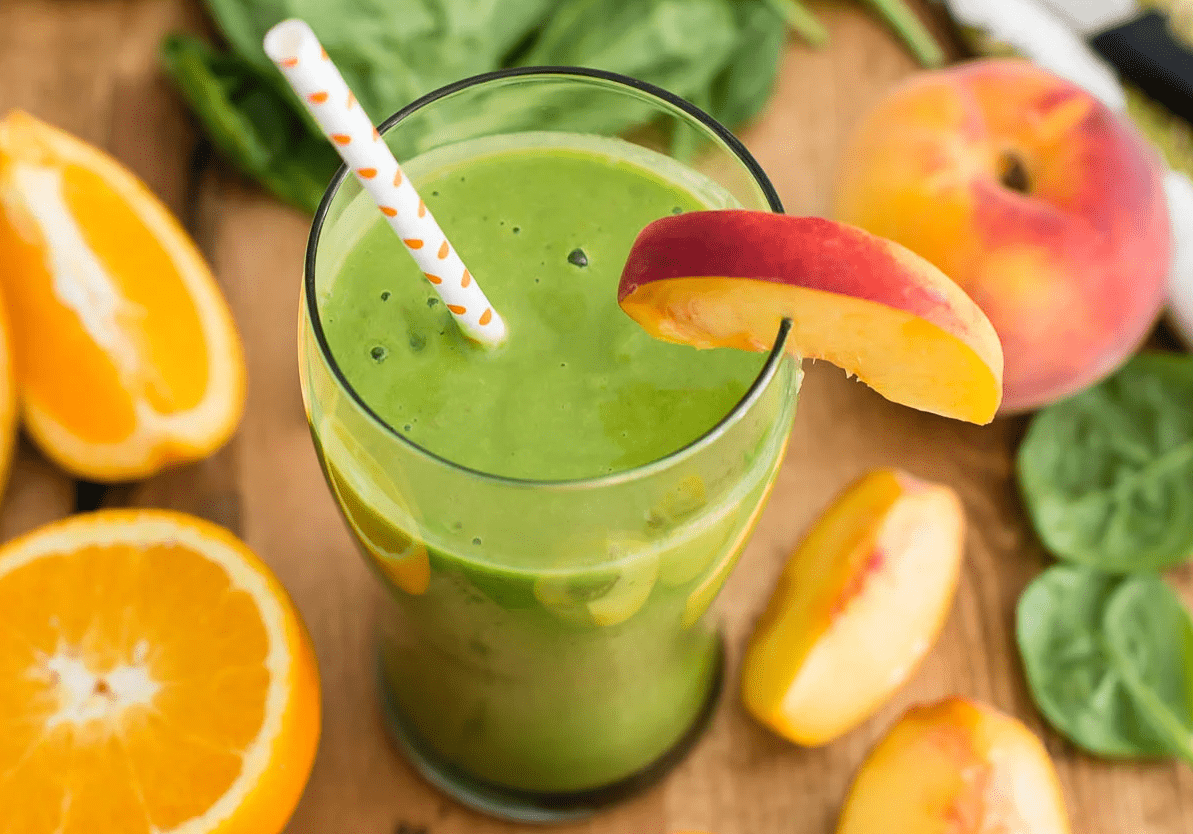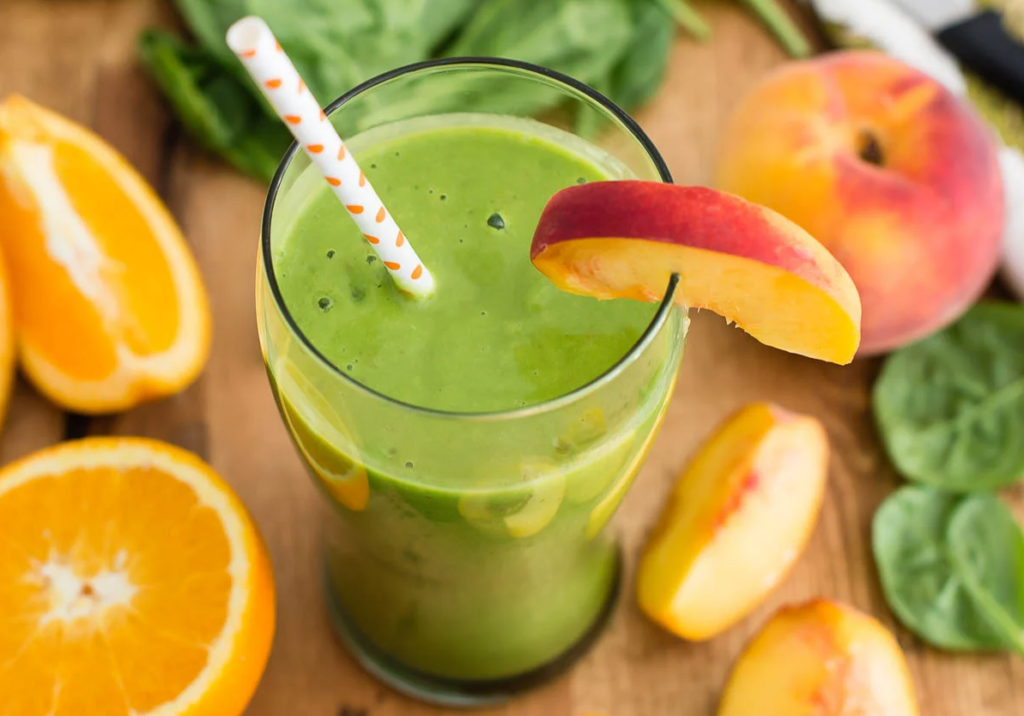 It's a beachy smoothie full of flavors thanks to flavorful ingredients like oranges and peaches. Moreover, spinach and coconut milk add healthy nutrients to boost your energy. Make a glass of this rich-flavor meal replacement smoothie for breakfast or a mid-day snack.
It's vegan, healthy, and rich in an antioxidant smoothie with loads of healthy ingredients full of nutrients, which makes it a great option for a meal replacement drink.
Adding banana, blueberries, hemp seeds, and protein powder boosts its nutritious value. This is one of our favorite meal replacement lunch smoothies!
The kale spinach pear smoothie is a super green and healthy drink that offers several nutrients like iron, protein, and carbs to refill your energy.
This smoothie keeps you full for hours when you add ingredients like banana, almond milk, and leafy greens. This one is also on our list of kale smoothie ideas!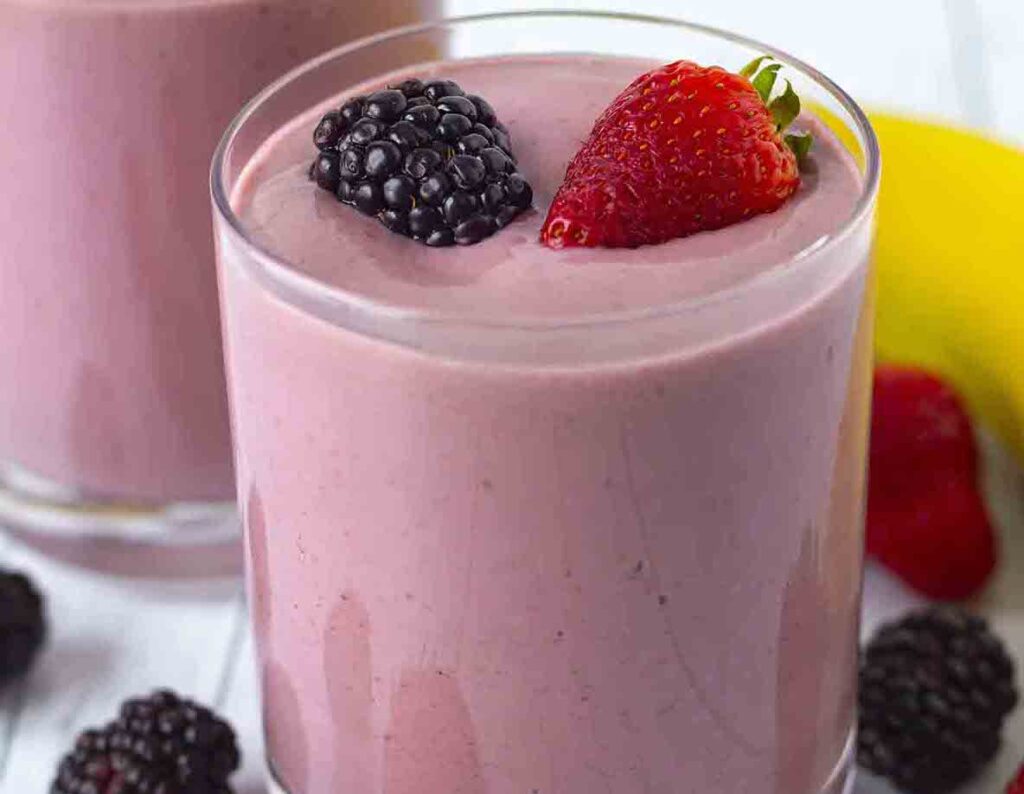 It's a delicious berries banana smoothie made with juicy fruits like avocado, strawberry, and blueberries. Plus, it's filled with healthy nutrients and vitamins, which make this smoothie an excellent meal replacement.
It's one of our favorite smoothie recipes without yogurt.
Banana raspberries cauliflower is a healthy and creamy smoothie that contains essential nutrients like fiber, potassium, and vitamin C, thanks to healthy ingredients like bananas, raspberries, cauliflower, and orange juice.
It's one of the best smoothie recipes without protein powder.
Green blueberry banana smoothie is a delicious and creamy drink loaded with healthy nutrients such as protein, fiber, and omega-3 fatty acids.
It's a great meal replacement smoothie for dinner as it contains milk, spinach, blueberries, and banana, which gives a ton of nutritious value.
If you want a perfect strawberry smoothie, then it's the best choice. It's a refreshing, delicious, fruity smoothie that can be prepared in just about five minutes.
It's a green, healthy smoothie perfect for colon cleansing and weight loss. The ingredients like pineapple, spinach, and honey don't just provide health benefits, but also improve taste and texture.
It's one of our favorite colon-cleansing smoothie recipes that also strengthens the digestive system and overall health. This is one of our favorite lunch smoothies because of the freshness from the pineapple!
It's a healthy, green smoothie rich in protein and fiber and tastes good thanks to healthy and juicy ingredients like peach, banana, avocado, and spinach.
It's a great meal replacement lunch smoothie that boosts your energy and re-energizes your body.
If you're looking for a delicious smoothie for weight loss with banana flavor, then make this smoothie. It's a quick-to-make smoothie made with banana and oatmeal and provides flavor, creaminess, and nutrients.
It's one of the most liked cheap smoothie recipes in most households.
It's a low-carb and keto smoothie made with healthy ingredients like avocado, walnut, and peanut butter and provides nutrients like protein, fats, and carbs.
Try this smoothie recipe for breakfast or afternoon snacks and enjoy the thick, green healthy smoothie.
Make a glass of thick, creamy, and delicious smoothie full of nutrients and vitamins like carbs, proteins, calcium, vitamin C, and vitamin A.
Healthy ingredients like spinach, coconut milk, banana, and almond butter take the flavor to the next level. Blend the ingredients for two minutes and enjoy the healthy drink. If you don't have any bananas, check out our list of banana substitutes for smoothies!
---
Common Questions About Meal Replacement Smoothies
Can you use smoothies as a meal replacement?
Smoothies are a great meal replacement option! They are healthy, low in calories, and convenient! You can use smoothies as a meal replacement for breakfast, lunch, or dinner.
Can replacing one meal a day with a smoothie help you lose weight?
Replacing one meal a day with a smoothie is a great way to lose weight! The average smoothie can easily be 200-400 calories while the average full meal might be closer to 600-700. You can easily cut 500 calories a day by eating a smoothie which results in 1lb a week of weight loss.
How many calories should a smoothie be as a meal replacement?
A meal replacement smoothie could be anywhere from 200 to 800 calories depending on your goals. If you want to gain weight, aim for 600-800 and if you're trying to lose weight aim for 200-400 calories.
Is it OK to drink smoothies for every meal?
It's perfectly healthy to drink smoothies for every meal, but you will need to have a lot of variety to make sure you're eating a full spread of micronutrients and vitamins.
Is it OK to replace breakfast with a smoothie?
Breakfast is the best meal of the day to replace with a smoothie! Most of the meal replacement smoothies on our list are good for any time of day, but I love starting the day with a full glass of fruits and veggies.