This post may contain affiliate links. If you use these links to buy something we may earn a small commission. Thanks.
These 18 high fiber smoothies for constipation all have more than 10g of fiber!
Most smoothies only have 3-4g per serving so these have 2-3x as much as the average smoothie!
If you're dealing with constipation issues, these high fiber smoothie recipes will help get your digestive system moving again.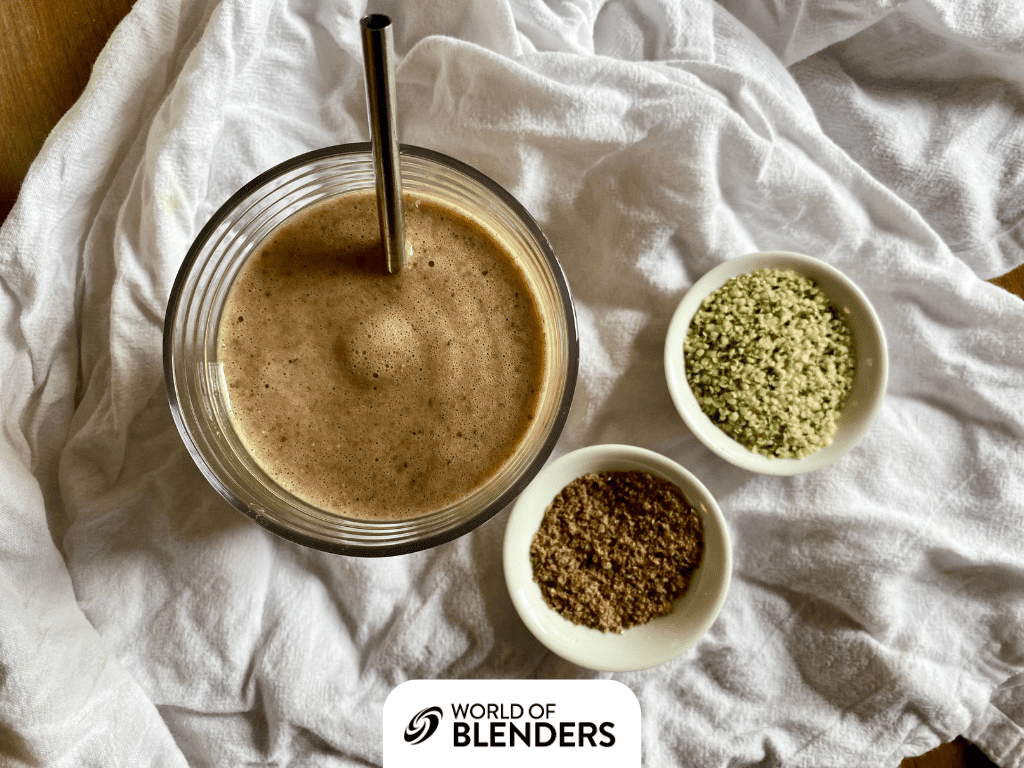 ---
Tips for Making High Fiber Smoothies for Constipation
If you want some tips on making the best smoothies for constipation, I've got you covered. Let me just say that these are tried and true based on experience…
Use lots of greens – Using lots of green vegetables in your smoothies is the best way to get lots of fiber! We have a list of kale smoothies and spinach smoothie recipes if you need more ideas.
Add cold brew – Adding a bit of caffeine is an easy way to make smoothies that help you poop. Cold brew is one of the best smoothie liquid bases because of the caffeine boost to start your day!
Use erythritol or sugar alcohol sweeteners – This is a bit controversial, but it works like a charm! Your body has a hard time digesting fake sweeteners and so they will often speed up digestion.
Add seeds – Add a tablespoon of flax seeds, chia seeds, or hemp seeds into your next smoothie! It's an easy way to get more fiber content. If you're wondering why smoothies make you poop, it's probably the added fiber from ingredients like these.
Avoid dairy – For some people dairy can actually negatively impact digestion! Try one of our dairy free smoothies if this is you.
Prunes + Dates – Prunes and dates have a laxative effect! If you really need to speed things up, add a couple of these into your next smoothie.
The only downside of high fiber smoothies is that insoluble fiber is what makes a smoothie foamy. That's why it's key to offset the fiber with ingredients like bananas, yogurt, and to use milk for your smoothie base.
---
Common Ingredients for High Fiber Smoothies
I thought it'd be helpful to share some of the best ingredients for high fiber smoothies! We've done our research and this will help you make the best smoothies for constipation.
| | | |
| --- | --- | --- |
| Ingredient | Serving Size | Fiber Content |
| Kale | 100g | 4g |
| Spinach | 100g | 2g |
| Oats | 100g | 10g |
| Avocado | 100g | 6.7g |
| Flax seed | 1 tbsp | 3g |
| Prunes | 100g | 7g |
| Chia seeds | 1 tbsp | 5.6g |
| Sweet potatoes | 100g | 3g |
| Cauliflower | 100g | 2g |
| Celery | 100g | 2g |
| Strawberries | 100g | 2g |
| Apple | 100g | 2g |
| Banana | 100g | 2.6g |
---
18 High Fiber Smoothies
After a few months of testing, these are the best smoothies for constipation! Every one of them has at least 10g of fiber so you know these are the best high fiber shakes.
Blueberries and spinach are a great pairing for healthy smoothies! The avocado, greek yogurt, and chia seeds make it loaded with healthy fats, high in protein, and high in fiber! This recipe clocks in at 12g of fiber per serving, making it one of our best high fiber smoothies!
Almond milk is our favorite milk for smoothies! This is one of our favorite Almond milk smoothies for weight loss because of the chia seeds and greek yogurt.
Our green detox smoothie is one of our go-to recipes! It's not exactly the most flavorful, but it's packed with super healthy ingredients like spinach, celery, cucumber, and pineapple. It also has 15g of fiber and only 330 calories. If you need a good colon cleansing smoothie, this one is for you.
If you're looking for high fiber smoothies that are also high in protein, this one is perfect. It's full of spinach, blueberries, banana, nut butter, almond milk, chia and hemp seeds. It also has 35g of protein thanks to the the protein powder. The combo of seeds and spinach gives it 12g of fiber!
The almond milk is our favorite liquid base for the smoothie and is super common in our list of dairy free smoothie recipes!
This green goddess recipe has both spinach and kale! The pineapple and banana helps balance it out and the almond milk gives it a creamier texture. We add Greek yogurt to give it a boost of protein. The best part is this smoothie is less than 300 calories!
This recipe actually only has 8g of fiber, but add half a tbsp of chia seeds and it'll be over 10g.
This healthy chocolate green smoothie is one of our personal favorites! I tested several different ingredient combinations before landing on this one. This is one of the best smoothies for constipation because it has 30g of protein, 10g of fiber, and less than 20g of sugar.
This one is also less than 350 calories.
If you have apples and bananas on hand, this smoothie is perfect for you. It's got 10g of fiber and only 250 calories. The mango is one of our favorite natural ways to sweeten a smoothie. The spinach makes this smoothie super high in Vitamin K and A.
This is a smoothie made with water instead of milk which also helps lower the calorie content!
For all the mamas, this smoothie is for you! This is packed with nutrients to help you maintain energy while growing another human inside you. The recipe calls for spinach, banana, pineapple, coconut water, carrots, and chia seeds.
Even if you're not pregnant, this is a great smoothie to make for extra energy. If you want to make a recipe with the best vegetables for smoothies, give this one a try!
Need a packed protein snack or meal that will also help you be more regular? This is a great smoothie that keeps you full for longer. This creamy, peanut-y smoothie has banana, peanut butter, flax seeds, milk, and greek yogurt. This is my wife's favorite type of smoothie!
The combo of greek yogurt and banana is the perfect way to make a smoothie creamier!
This is a tasty high fiber smoothie that is great for kids and packed with healthy nutrients. Strawberries, banana, greek yogurt, almond milk, vanilla extract, and chia seeds are all you need for this delicious smoothie.
This banana smoothie with almond butter and flax recipe has dates, almond milk, vanilla yogurt, banana, chia seeds, flax seeds, and milk. Together it makes a delicious creamy smoothie that will help you stay regular while filling you up with healthy nutrients.
The combo of almond milk, yogurt, and banana is the perfect combo to make smoothies smooth! This is also one of the best whole30 smoothie recipes!
This is a great smoothie to help with constipation. It's also a perfect meal replacement smoothie for breakfast. This recipe contains almond milk, spinach, flax seeds, chia seeds, banana, almonds, berries, and protein powder.
The extra greens in this high fiber smoothie will really help get things moving. This is one of the best green smoothies for weight loss!
This superfood smoothie is packed with high fiber making it a great smoothie for constipation. This purple smoothie has berries, banana, almond butter, spinach, flax seeds, and chia seeds. It tastes so good, you'd never realize how healthy it is. This one is also on our list of Vitamix smoothie recipes!
This is one of the best smoothies for constipation and bloating! Packed with fiber and protein, this nutty delicious smoothie will be a great recipe to add into your smoothie routine. It contains almond milk, almond butter, banana, mixed berries, ground flaxseed, cinnamon, honey and chia seeds. This is one of my favorite smoothies on this list!
This smoothie is packed with fibrous foods to alleviate constipation and it's supplemented with chia seeds. According to this recipe, you can add MiraLAX for extra relief and you won't even taste the difference.
This recipe contains water (or pineapple juice!), frozen banana, avocado, pineapple, and chia seeds. This is one of the best high fiber smoothies and guaranteed to get things moving. The added chia seeds are one of the best yogurt substitutes for smoothies because they help make smoothies thicker!
This green smoothie is helpful if you're struggling with constipation because it's packed with fiber. With several greens, this smoothie is a great one to boost your energy and metabolism. Blend green apple, avocado, melon, cucumber, broccoli, ginger, chia seeds and flax seeds for this green goddess smoothie.
This one is also on our list of Ninja smoothie recipes!
Need a tasty smoothie that helps fight bloating? This is one of our favorite high fiber smoothies that is packed with antioxidants. Combine raspberries, bananas, chia seeds, flax seeds, almond butter, and almond milk in a blender to make this smoothie.
This smoothie is a nice sweet treat that also helps to get things moving. It's also a great, healthy alternative to going through the drive-through line for your favorite fast food shake! Combine water, medjool dates, flax seeds, hemp seeds, cocoa powder, almond butter and spinach to make this chocolatey, decadent smoothie.
This High Fiber Fruit and Veggie Smoothie is great for getting a good balance of nutrients. This smoothie contains spinach, strawberries, banana, flax seeds, wheat germ (or extra flax for gluten free), vanilla extract, unsweet vanilla almond milk, and stevia. Blend it together for a few minutes and you'll have an easy, delicious smoothie!
---
How to Make a Great High Fiber Smoothie
I've made countless high fiber smoothies and have tested countless recipes. Half the recipes on this list are our own smoothie recipes. Point being, we have the experience to show you how to make the best high fiber vegetable smoothies.
If you want to craft your own high fiber smoothie recipe, here are some steps to follow:
Pick your veggies – Every high fiber smoothie starts with some veggies. I suggest a cup of spinach and kale. Maybe add some cauliflower. Usually 1-2 cups will be enough.
Pick your fruit – While the veggies are the base, you need some fruit so you'll actually like the taste of the smoothie. You can use anything you like, but I'd go with at least two kinds of fruit. Bananas are the best and maybe add some berries. If you want something more tropical, go with mango or pineapple.
Liquid – Every high fiber smoothie needs liquid! I'd recommend going with almond milk for green smoothies or maybe a bit of orange juice if you don't mind the extra calories. You can also split the middle and do half and half. That gives you a good blend of creaminess and sweetness to offset the veggies.
Any extras – We have a whole list of high fiber smoothie ingredients you can pick from. I'd recommend using some chia seeds, maybe a couple of prunes, and a bit of vanilla extract to make it sweeter. You can also add some oats or avocado to really ramp up the fiber content.
---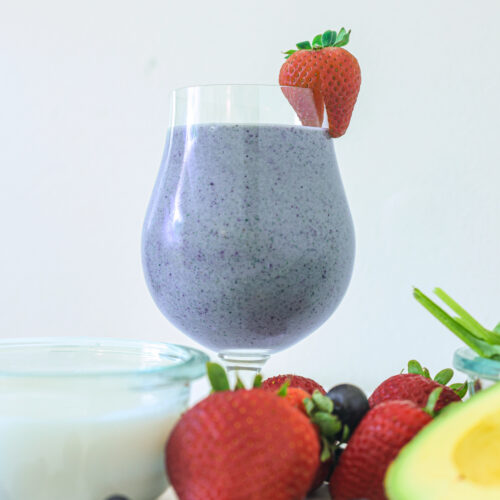 High Fiber Smoothie (12g of Fiber!)
This high fiber smoothie is one of our favorites! It's got 12g of fiber which is great for digestion and constipation. The combo of blueberries and spinach makes this one incredibly healthy.
Print
Pin
Rate
Ingredients
1

cup

spinach

2 handfuls

1

cups

almond milk

1

cup

blueberries

.25

avocado

medium

1/3

cup

greek yogurt

1

T

chia seeds
Instructions
Add the spinach and almond milk to the blender first. Blend for a minute or until all the green flakes are thoroughly blended.

Add berries, avocado, and chia seeds to the blender.

Blend for 2-3 minutes or until smooth.

Pour into a glass and enjoy!
Nutrition
Calories:
306
kcal
|
Carbohydrates:
35
g
|
Protein:
13
g
|
Fat:
15
g
|
Saturated Fat:
2
g
|
Polyunsaturated Fat:
6
g
|
Monounsaturated Fat:
7
g
|
Trans Fat:
0.02
g
|
Cholesterol:
3
mg
|
Sodium:
380
mg
|
Potassium:
668
mg
|
Fiber:
12
g
|
Sugar:
18
g
|
Vitamin A:
2976
IU
|
Vitamin C:
28
mg
|
Calcium:
494
mg
|
Iron:
2
mg
---
Common Questions About Smoothies for Constipation
Do avocado smoothies make you poop?
Smoothies with avocado are great for making you poop because avocado is so high in fiber! For a 100g serving, it will have almost 7g of fiber.
Are smoothies high fiber?
Smoothies can be high in fiber if you use high fiber ingredients! Use ingredients like kale, spinach, avocado, and chia seeds and you'll easily have 10g of fiber per smoothie!
Are smoothies good for constipation?
Smoothies are great for constipation if you use the right ingredients! Load them up with veggies full of fiber and it'll help your digestive system get moving.