This post may contain affiliate links. If you use these links to buy something we may earn a small commission. Thanks.
Ninja is one of the best blender brands on the market.
We're huge fans of Ninja products and have personally bought, used, or tested most of their models.
If you are looking for a blender that makes incredible smoothie bowls, then the Ninja Smoothie Bowl Maker (Ninja SS101) is the perfect one for you.
We've owned the Ninja SS101 for a few months now and we absolutely love it. If you love smoothie bowls in the morning then I can't recommend it enough. It's been life changing for us.
We're going to do a deep dive Ninja Foodi Smoothie Bowl Maker review so that you can know everything you need to know.
My Commitment
Our team has spent over 50 hours researching and comparing all of the most popular blenders. We've written over 70 articles helping people find the best blender for their specific needs. We've read through hundreds of customer testimonials and personally tested 50+ blenders from brands like Ninja, Vitamix, Oster, NutriBullet, and more.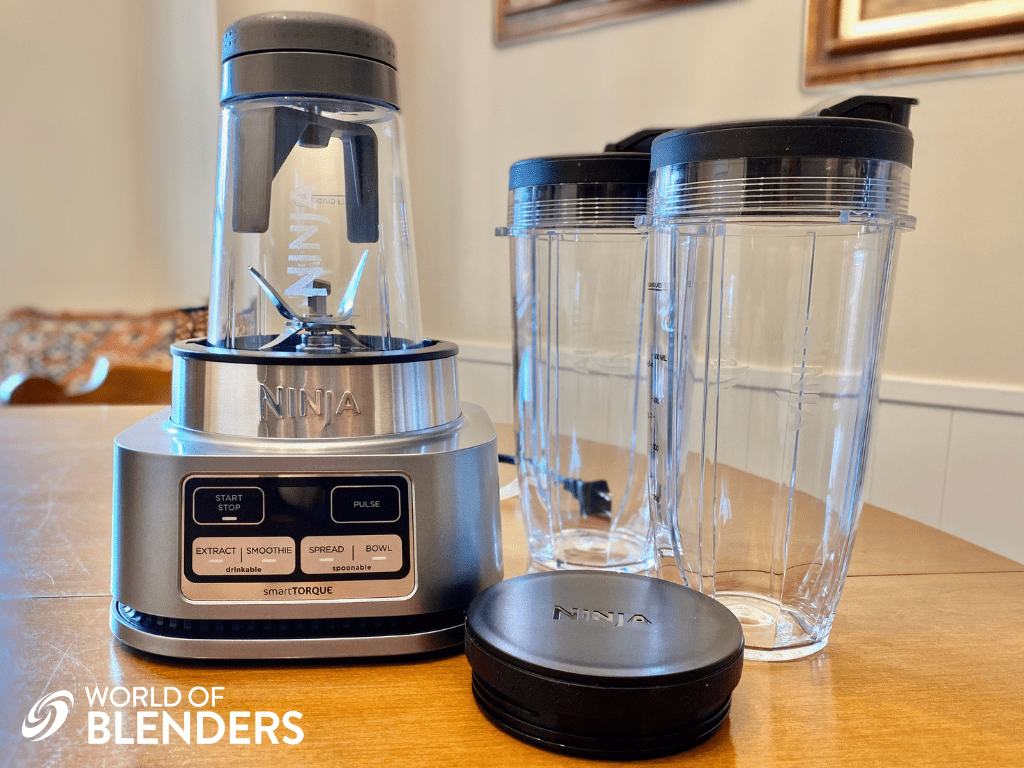 ---
Quick Summary: Ninja Foodi Smoothie Bowl Maker & Nutrient Extractor Review
We recently got our hands on the Ninja Foodi Smoothie Maker & Nutrient Extractor, also known as the Ninja SS101.
This product might have the world's longest name for a blender, but it's amazing.
My wife and I love making thick smoothie bowls loaded with granola, peanut butter, and extra berries.
No matter how hard we tried, we just couldn't get the right consistency with our Vitamix blenders. The Vitamix needed too much liquid to blend and the bowls would be too thin.
We've been making smoothie bowls 3-4x a week since we started. Below is a picture of one of our favorites!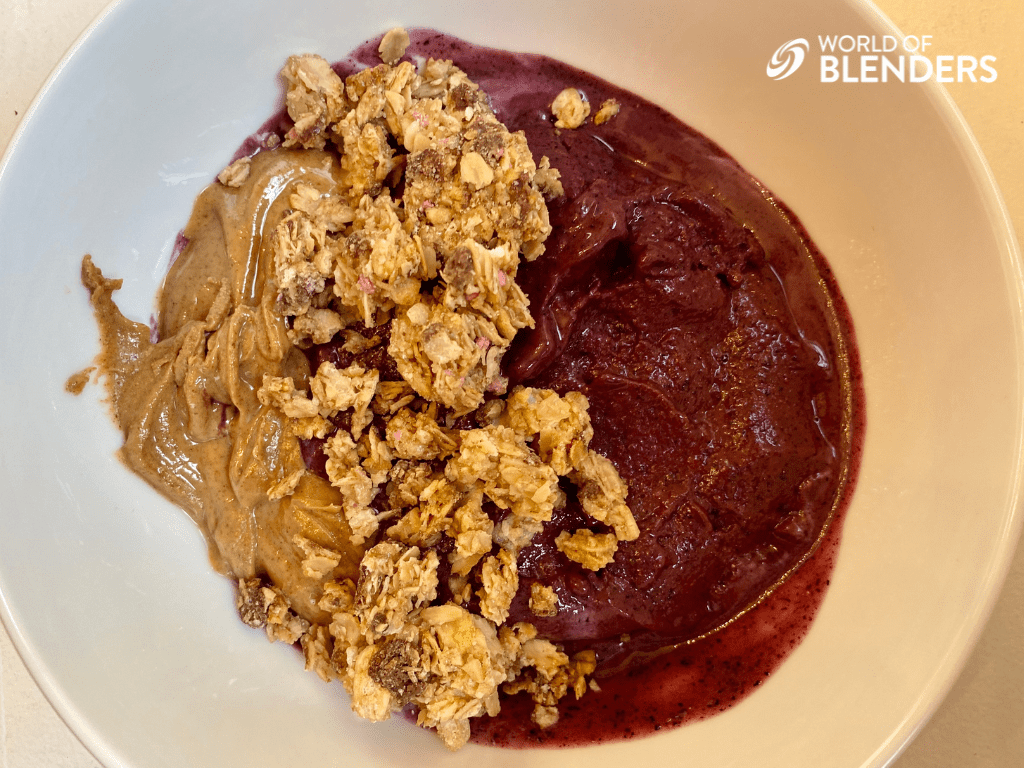 The Ninja Foodi Smoothie Bowl Maker is specially designed to make the thickest and best smoothies possible. That's why it's the new #1 on our list of the best blenders for smoothie bowls.
There are two major weaknesses with most blenders when it comes to making thick smoothie bowls:
They require too much liquid so it ends up not being thick enough
The size of most containers makes it hard to get the the smoothie blended up consistently.
The Ninja Foodi Smoothie Bowl Maker solves both of these issues.
The container is wider at the base where the blades are positioned. This allows it to easily blend up the ingredients without adding liquid.
The smoothie maker is incredibly easy to use. Load the ingredients with liquid or yogurt at the top. Press the bowl maker and wait 30 seconds. Give the lid a couple of turns and you're good to go.
The Ninja SS101 also packs in 1200 watts of power, which is enough to blend any ingredients you need for acai or smoothie bowls. You also won't need to worry about splashing out on extra containers, as this Ninja blender comes with a 14-ounce and a 24-ounce container.
One of the downsides is that the Ninja Foodi Smoothie Maker is a bit limited. It's really only good for making smoothies or dips. Normal countertop blenders like the Vitamix E310 can be used to make smoothies, soups, etc.
Another negative is the size. The blender size makes it impossible to prep multiple servings at once. Each smoothie bowl is individually sized. If you want to make bowls for a crowd, you'll need to make them one at a time. Thankfully it only takes about 30 seconds to blend each one!
Pros:
Super effective – No other blender is as effective at making thick smoothie bowls as this one. Hands down.
Multiple containers – After blending you can pour your smoothie into either a 14 or 24oz to-go container that is easy to bring with you to the gym or in your car.
Easy to use – The smoothie maker is super easy to use. Press a button and give the built-in tamper a few turns and you're done after just 30 seconds!
Cons:
Low container capacity – The smaller containers are limited on capacity so you can really only make single serve smoothies.
Loud performance – The smoothie maker is pretty loud, louder than most other blenders.
Lacks versatility – The smoothie maker is really only good for smoothies. Other blenders have more functionality.
---
Things We Learned After Testing the Ninja SS101
My wife and I have spent the last few months testing it out for our Ninja SS101 review. We've tried different recipes, functions, and I've identified a number of key things to know.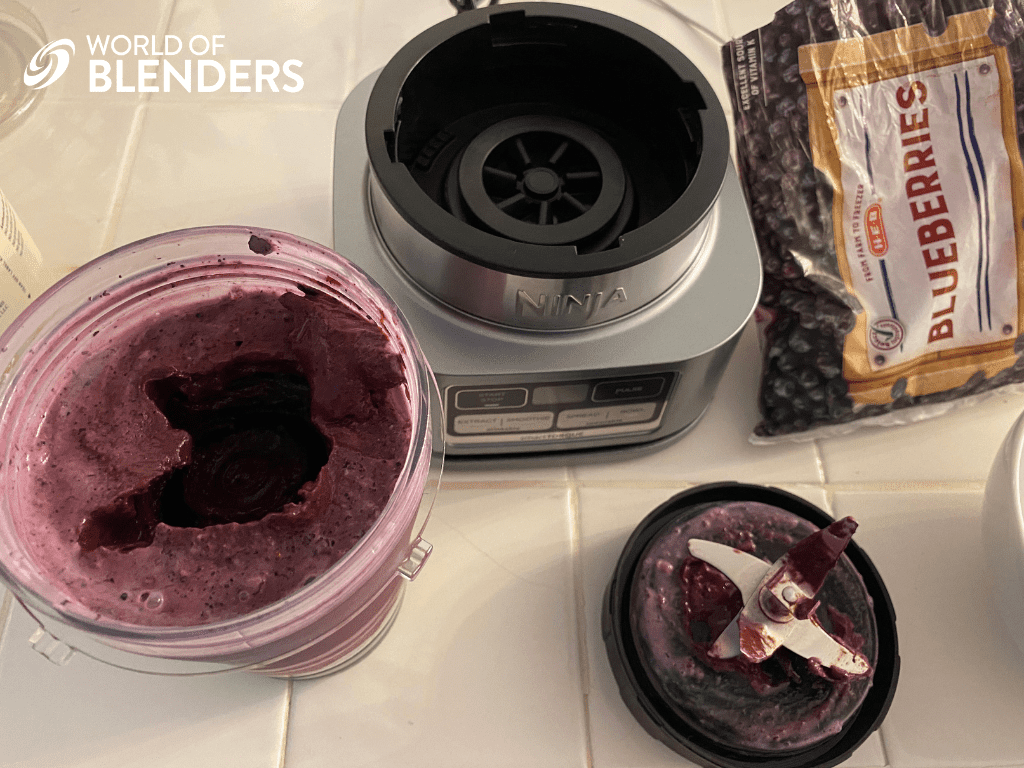 These are the kinds of insights you won't read on the manufacturer's box.
Greek yogurt is the best "liquid" – Some of the recipes call for liquid like milk, orange juice, etc. Those are great, but in my opinion greek yogurt is better. It's tart and it's just liquid-y enough to blend, while keeping the smoothie as thick as possible.
Don't overfill it – There's a max fill line on the container and it's definitely best to follow that rule! Every time we fill it up too much, it has a harder time blending.
It's fast, really fast – The blender has a countdown timer set for smoothie bowls and smoothies. It legitimately only takes about 30 seconds to make your smoothie from start to finish. Sometimes it's done in even less time. This is key to making thick acai bowls. If you blend for too long, the ingredients heat up just enough to melt.
Watch out for heat – One day we tried to make almond butter with almonds fresh out of the oven. It consolidated a bunch of heat and partially "blew up" – sending almond chunks all over our kitchen… we're still finding almond pieces.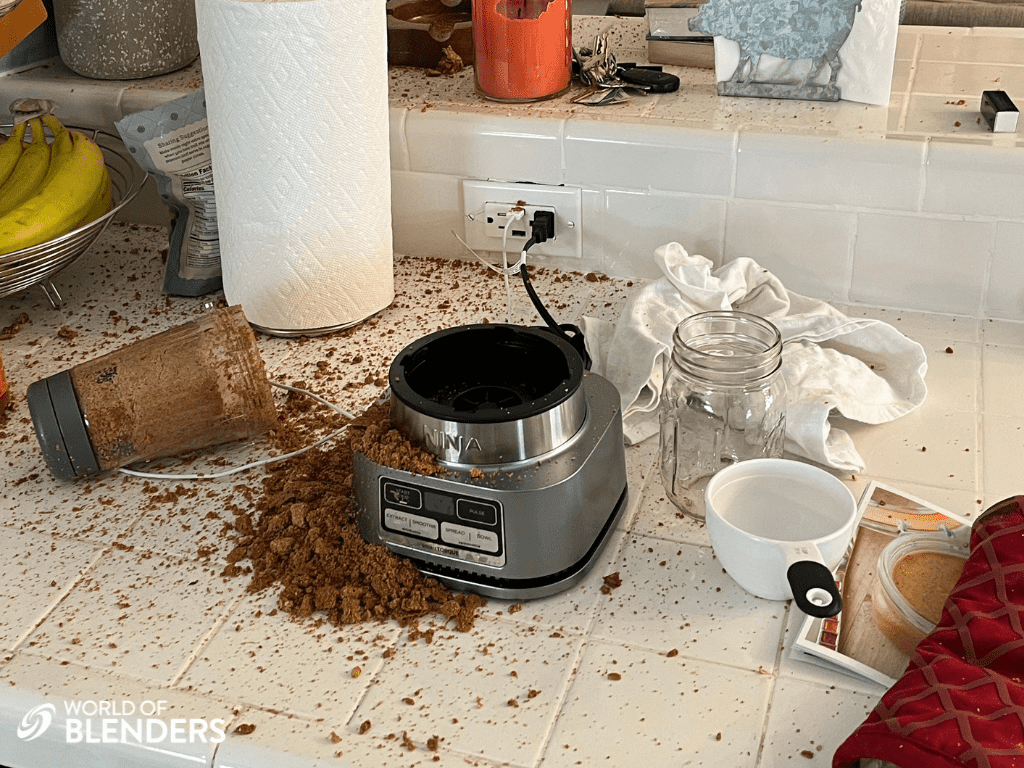 The Ninja Foodi Smoothie Bowl Blender is perfect for…
Smoothie bowl lovers – If you love making acai smoothie bowls, this is the #1 blender you can buy. We've tested a bunch of others and this is the best, hands down.
People in a hurry – As we just said, this blender is incredibly fast. I can make a smoothie bowl every morning in less time than it takes my coffee to brew.
---
Deep Dive: Is the Ninja Foodi Smoothie Bowl Maker Worth Buying?
The Ninja SS101 comes fully loaded with all of the awesome Ninja features and quality. I'll walk through the highlights of the different features and components of this blender.
Power
The Ninja smoothie bowl maker comes with a whopping 1200 watts of power! This is plenty of power to handle any ingredients from frozen fruit to ice and more.
We've done a deep breakdown on how many watts you need for a good blender and 1200 watts is great for a home blender.
Price
The Ninja SS101 is one of the most affordable blenders on the market. It's less than a $100 when it's on sale and it's around $125 when it isn't.
This is 3-4x less than what Vitamix blenders will cost you. Don't get me wrong, we love Vitamix blenders, but they aren't cheap.
We recently updated our list of the best blenders under $200 and this is the new #1.
Cleaning
This blender is super easy to clean out. All you have to do is rinse it out with soap after using it and maybe use a brush to get any harder bits off.
This Ninja blender is dishwasher friendly as well so you can always just give it a quick rinse and put it in the dishwasher. We've done this quite a few times, but we honestly recommend hand washing it to increase the longevity.
---
Common Questions About the Ninja Smoothie Bowl Maker
How do you use a Ninja Foodi smoothie maker?
The Ninja Foodi smoothie maker is easy to use: 1. Load your ingredients into the container with your liquid last. 2. Screw the blade attachment on 3. Attach it to your blender base and 4. Hit the smoothie bowl button and twist the top knob several times while it is blending.
Is Ninja Foodi good for smoothies?
The Ninja Foodi is the best blender for smoothies that we've tested over the years.
---
Conclusion: Should You Buy the Ninja SS101?
We highly recommend the Ninja Foodi Smoothie Maker! There is no better blender on the market for smoothie bowls and making thick smoothies.
If you want to start every morning with a healthy kick start before you head out to work or spending your day wrangling kiddos, this is the blender for you.
We own several high-powered Vitamix blenders, two NutriBullets, a Magic Bullet, and another Ninja blender, and guess what?
The Ninja SS101 is the one we grab every time we want to make a smoothie bowl.
If you want a more versatile alternative, you can also check out the Vitamix E310. It's #2 on our list for smoothie bowls and is our favorite Vitamix blender.
I hope our Ninja Smoothie Bowl Maker review was able to help you with your blender-buying decision!