This post may contain affiliate links. If you use these links to buy something we may earn a small commission. Thanks.
Vitamix is one of the best blender brands on the market. They're the undisputed champs in the blender game and for good reason. Their blenders are powerful, last forever, and come with an incredible warranty.
We've got an epic Vitamix 7500 vs E320 comparison for you. These are two of the most popular Vitamix blenders to pick from.
Here are the 3 main criteria we used to compare the two:
Price
Power
Quality
You can scroll down to our buyers guide to see why these criteria matter and whether the Vitamix 7500 or E320 was the winner in each category.
Our Commitment
We know how frustrating it can be to research products online.
Our goal is that you never have to return a product that we recommend because it's exactly what you wanted.
Our team has spent over 50 hours researching and comparing all of the most popular blenders. We've read through hundreds of customer testimonials and reviews and we've personally tested dozens of different types of blenders. We've written over 60 articles helping people find the best blender for their specific needs.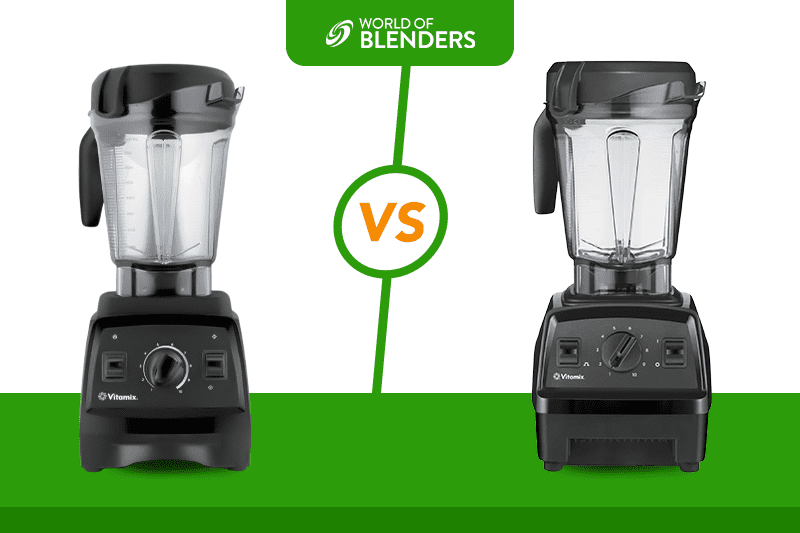 ---
Who Are The Vitamix 7500 And E320 Blenders Best For?
If you're a keen cook looking to take your kitchen equipment to the next level, both the 7500 and the E320 from Vitamix are a solid choice. The model you choose depends on your unique needs and personal preference.
| | | |
| --- | --- | --- |
| | Vitamix 7500 | Vitamix E320 |
| Power | 2.2 HP | 2.2 HP |
| Capacity | 64 oz | 64 oz |
| Warranty | 7 years | 5 years |
| Price | $$$ | $$ |
| Series | Legacy series | Legacy series |
If you're stuck between the Vitamix E320 vs 7500, here are some tips to help you decide:
Expert chefs who want the latest kitchen tech. As one of Vitamix's higher-end models, you can expect premium quality from the 7500. If you're happy to pay for maximum functionality and efficiency in your kitchen, this blender is for you.
Large households. As discussed above, both the 7500 and the E320 have a 64-ounce capacity, making them ideal for batch cooking, entertaining guests, and whipping up a delicious meal for the whole family.
Small professional kitchens. Out of all of Vitamix's blenders, the 7500 is the one most commonly found in professional kitchens. Its variable speeds and stainless steel blades mean that it's more than up to the task of professional cooking!
Anyone looking for a quieter Vitamix blender. If noisiness has posed an issue in the past, you'll be relieved to hear about the 7500's noise dampening feature! Say goodbye to a hectic environment and hello to culinary tranquility with this low-volume model. We also have tips for reducing the noise of your blender at home.
Those shopping on a budget. If you'd like to enjoy the Vitamix experience without paying top dollar, the E320 is the best option for you. It has many of the same features and functionality as the 7500 but is more budget-friendly.
Busy kitchens that aren't afraid of a bit of noise! While some cooks like their kitchen to be a calm and tranquil oasis, others prefer a bustling atmosphere. If you don't mind a bit of noise from time to time, opt for the E320 over its quieter alternative, the 7500.
Chefs who cook in bulk. Like the 7500, the Vitamix E320 has an impressive capacity of 64 ounces. Whether you've got a big family or are a frequent dinner party host, the E320 is ideal for making soups, sauces, batters, smoothies, and juices in large quantities.
Anyone who prioritizes simplicity. If you're looking for a simple blender that says what it does on the box, there's no need to splash the cash on a more high-tech model. Look no further than Vitamix's E320.
---
Should You Buy a Vitamix 7500 or E320?
In recent years, Vitamix blenders have soared in popularity. If you'd like to get in on the healthy eating craze with one of these handy gadgets, you're no doubt wondering what the best option is. There are so many to choose between that it can be difficult to pick!
Vitamix is known for its innovative and versatile products. From the Ascent to the Explorian range, Vitamix's blenders use the latest technology to provide high performance to customers. They can be found in domestic and professional kitchens alike.
Both the 7500 (from the Classic range) and the E320 (from the Explorian range) offer high power blending and impressive versatility.
While both blenders share Vitamix's trademark features, they do vary slightly. Both have their pros and cons. Read on for an in-depth comparison of the Vitamix 7500 vs. E320, covering everything from price to functionality. With our guidance, it couldn't be easier to find the perfect blender today!
---
Quick Review Of The Vitamix 7500
With its 64 ounce container and stainless steel blades, the Vitamix 7500 is suitable for both personal and commercial use. Its large hardened plastic container makes cooking in large quantities a breeze.
You're not limited to juices; from soups and sauces to smooth purées, this blender's pulse feature offers you maximum versatility. We wrote a post to show you how you can grind coffee beans in your Vitamix! With variable speed control, there are ten different speeds to choose from, allowing you to achieve your desired texture with ease.
You can layer coarse chops to achieve complex and delicious textures, making this blender ideal for professional or semi-professional chefs.
The hardened stainless steel blades are also air-craft grade quality, so there's truly nothing that you can't blend! Most other blender blades need to be sharpened.
Addressing previous complaints about the 5200's noiseiness, Vitamix's design team added noise-dampening technology to the 7500. This means that customers can enjoy the same horsepower without the disruptive noise output; the Vitamix 7500 is up to 40% quieter than earlier models.
| | |
| --- | --- |
| | Vitamix 7500 |
| Power | 2.2 HP |
| Price | $$ |
| Capacity | 64 oz |
| Blades | Stainless steel |
Pros:
Large container: If you're batch cooking or feeding a family, you'll be thankful for the 7500's 64-ounce container. It is comparatively larger than other models on the market, while still being neat enough to fit in most kitchen cabinets.
Self-cleaning: To clean the Vitamix 7500, you can simply add a small amount of dish soap and warm water and let the blender run for 30 seconds. Say goodbye to frustrating cleanup with this high-tech blender from Vitamix!
Variable speed control: Whether you're making fresh juice or blending a soup, the Vitamix 7500 offers 10 different speed controls, including a pulse function.
Cons:
The bulkiness of large container: Though the 64-ounce container is great for cooking in bulk, it does take up a little more space. If you've got a small kitchen with limited storage space, a more discreet model is probably a better choice.
Check out our deep dive: Vitamix 7500 review
---
Quick Review Of The Vitamix E320
Customers will recognize the Vitamix E320 as the 7500's cheaper alternative. As it provides many of the same benefits as pricier alternatives, it's great value for money.
Like the Vitamix 7500, the E320 is powered by a powerful motor (2.2. HP). With this powerful engine, you can easily grind even the tough ingredients like nuts, grains and also coffee beans.
It similarly offers ten variable speeds and an additional pulse feature that's perfect for juices.
While the Vitamix 7500 is known for its low noise level, the E320 isn't as quiet as many customers would like. You're paying less for this model, and the functionality inevitably reflects this.
Regardless, with the same 64-ounce container as the Vitamix 7500, the E320 is perfect for everyday use – whether that's making your morning smoothie or all manner of delicious dinners. Hot soups can be made easily with this blender. It's also one of our favorite blenders for Indian cooking.
Pros:
Large container: From a large batch of soup to a week's worth of juice, the E320's 64-ounce container is perfect for cooking in bulk. This makes it ideal for families or anyone who likes to meal prep!
7-year warranty period: When you buy an E320 from Vitamix, your purchase is protected by a 7-year warranty. This gives you peace of mind, guaranteeing a repair or replacement in the event of a technical fault.
Good value for money: Compared to the Vitamix 7500, this model offers powerful functionality for a lower price. While you do compromise on the noise factor, the price point of this blender is a major selling point.
Tamper included: The E320 comes with a tamper tool, designed for mid-blend use. From frozen berries to harder fruits, this makes blending tough ingredients quick and easy every time.
Cons:
Noisy: While the 7500 is far quieter than earlier Vitamix blender models, the E320 is far louder. At full speed, its noise may prove disruptive to the peace of your kitchen! If you'd prefer a quieter blender, opt for the 7500 over the E320.
Bulkier model: Like the Vitamix 7500, the E320 has a 64-ounce container that may prove burdensome for smaller kitchens. Weighing in at 13 pounds, it's also quite heavy – which is certainly something to bear in mind before purchasing.
Check out our deep dive: Review of the Vitamix E320
---
Vitamix 7500 Vs E320: Key Differences
Power
When it comes to power, there's not a huge difference between the 7500 and the E320 models. Both are fitted with a 2.2 peak HP motor, which makes for effective blending of even the toughest foods.
Read more: How many watts do you need for a good blender?
Similarly, both blenders are wired, requiring mains connection (rather than batteries) to operate. In the battle of the Vitamix E320 vs. 7500, it has to be a tie in this category. These blenders are both going to be on my list of the best blenders for smoothie bowls because they're so powerful.
Features
Characteristic of all of Vitamix's blenders, both the 7500 and the E320 are fitted with hardened steel blades. Made of aircraft-grade stainless steel, these blades are damage resistant and designed to easily blend the toughest of ingredients.
In addition to the main 64-ounce container, both blender models come with a 32-ounce grain container, which can be used to make nut butter and to grind even the smallest of grains.
While the Vitamix E320 shuts off to prevent overheating, the 7500 is fitted with a cooling fan.
Performance
Both the 7500 and the E320 offer multi-speed functionality. There are 10 different speed settings to choose from, with an additional pulse mode.
While there's not much variation in terms of blending ability, the two models vary greatly when it comes to noise. The 7500 is relatively quiet- even at high speeds- while the E320 is very loud. At its top speed settings, the E320 makes a disruptive level of noise, which is an offputting factor for many customers.
Weight & Size
The Vitamix 7500 blender measures 17.5 x 7.7 x 9.4 inches and weighs in at a hefty 12.5 lbs.
The Vitamix E320, on the other hand, measures 11 x 8 x 18 inches. It is slightly heavier than the 7500 – weighing around 13 lbs.
The two blenders are both fairly heavy due to the weight of their powerful motor. Similarly, their 64-ounce containers make both models large. While single-person households may want to opt for a smaller (and lighter) blender, both the 7500 and E320 are well suited for large families and larger kitchens!
Design/Interface
Both the 7500 and the E320 have a sleek, minimalist design that is perfectly suited to the modern kitchen. Both models are available in either black or red, enabling you to color match your blender with your decor.
In terms of interface, both the 7500 and the E320 feature a speed adjust dial on the front of the blender's base. Ease of access is the priority of Vitamix's designers, as the speed knob of both blenders is self-explanatory.
As mentioned above, both models are relatively large. Despite their bulkier size, however, the design itself is neat. Provided you have the necessary space in your kitchen, both the 7500 and the E320 will slot into your home discreetly!
Read more: Different Types of Blenders
Build Quality
Though the heavier weight of both models may be considered a downside, it does reflect durability.
Despite the Vitamix E320 being cheaper, both the E320 and the 7500 have a high build quality. Because they share the same components and design, there's little difference in the build of these two blenders. When deciding between the Vitamix E320 vs. 7500, it's once again a tie in this respect.
Warranty
Reflective of the industry standard, most Vitamix blenders come with a 7-year warranty, and the 7500 and E320 are no exception!
In addition to the standard 7 years, an extended warranty can also be purchased with your durable Vitamix blender.
---
FAQs
Is the Vitamix 7500 worth it?
The Vitamix 7500 isn't the cheapest blender on the market but it does offer great value for money. While you may gravitate towards cheaper brands, alternative models lack the features that the 7500 boasts. These include: 10 variable speed settings plus a pulse mode, a tamper – which can be used while the blender is running, and self-cleaning function for effortless cleanup in just 60 seconds.
Are Vitamix blenders dishwasher-safe?
Some Vitamix blenders are dishwasher-safe, while others are not. The answer to this question depends on the model of your blender. While S-series 40 and 20 oz containers are dishwasher safe, older components are not.
To maintain the condition of your Vitamix blender for years to come, the brand advises against dishwasher use. Instead, take advantage of the self-cleaning function by simply running warm water and dish soap through the blender.
Which Vitamix blender is better for smoothie making, the 7500 or E320?
When it comes to whipping up a smoothie, there's not a lot of difference between the 7500 and the E320. Both blenders feature 10-speed functions, and both come with a tamper designed for mid-blending use. Both can easily blend frozen fruit, leaving you with minimal seeds left over.
Is Vitamix the best blender brand on the market?
While brands like KitchenAid, Breville, and Blendtec are highly regarded by customers, Vitamix makes some of the best blenders on the market. The blend quality is what distinguishes Vitamix from its competitors; Vitamix's blenders are versatile, powerful, and built to last.
Is the Vitamix 7500 quieter?
Yes, the Vitamix 7500 is a lot quieter than the E320. It's not among the quietest Vitamix blenders; if you're looking for the least amount of noise, opt for The Quiet One from the same brand instead.
How much HP does a Vitamix 7500 have?
The Vitamix 7500 offers a massive 2.2 horsepower, meaning it can effortlessly cut through any ingredients you put into it. The E320 also has a 2.2 HP motor.
---
Final Verdict
So, how do the Vitamix E320 vs. 7500 compare? If you're looking for a high-powered, multi-use blender, either of these Vitamix blenders will do the job.
What distinguishes these two products is their noise level. If you'd like to retain tranquility in your kitchen, opt for the Vitamix 7500 with its noise muffling technology. If you prioritize price over noisiness, on the other hand, choose the Vitamix E320 instead.
Whichever blender you go for in the Vitamix 7500 vs E320 battle, you are guaranteed 7 years of regular use under warranty. Prepare to enjoy efficient blending as you've never experienced it before!