This post may contain affiliate links. If you use these links to buy something we may earn a small commission. Thanks.
If you're trying to make low calories smoothies, then you might be wondering, "Can you make smoothies with water?"
The good news is that yes, you absolutely can make smoothies with water instead of milk!
I love using water to make smoothies because it has a neutral taste and has zero calories. It's a great substitute if you're trying to avoid dairy or you just want to make lower calorie smoothies.
The only downside is water can make smoothies too thin and sometimes it can make your smoothies too foamy.
Today I'm going to show you how to make smoothies with water instead of milk that are still fantastic.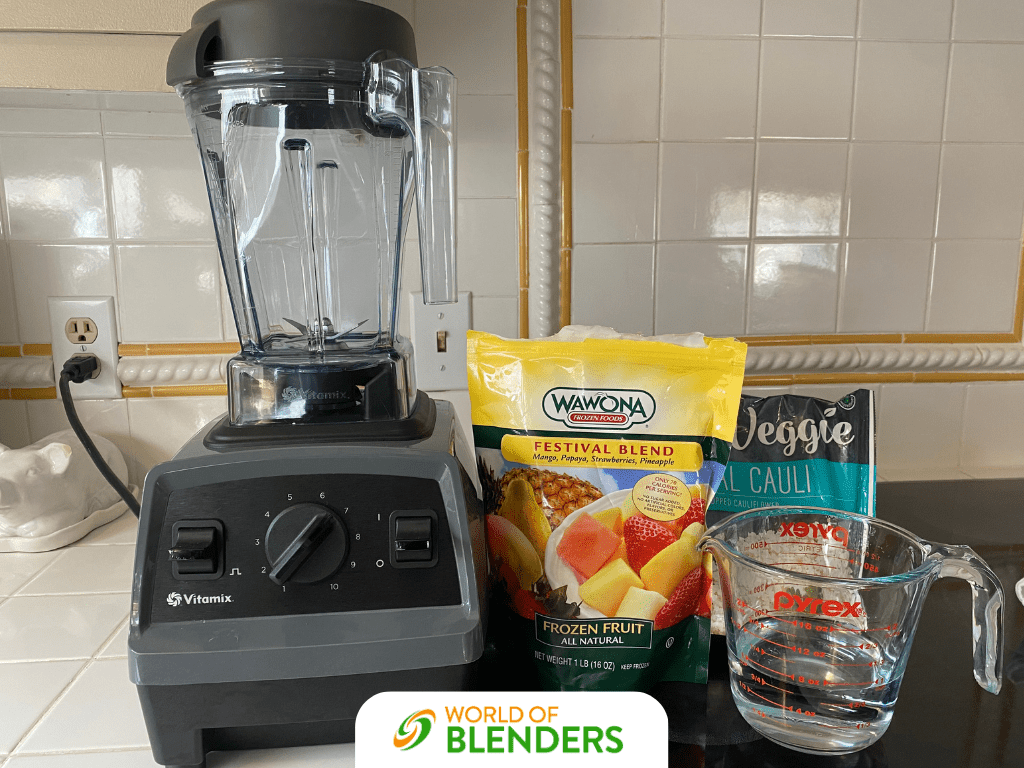 ---
Can You Make Smoothies With Water Instead of Milk?
It's incredibly easy to make smoothies with water instead of milk. Milk will make thicker smoothies that tend to be creamier, but there are ways to make a smoothie with water instead of milk that are just as good!
Some people prefer to skip the milk when making their smoothies because they don't like the taste of things like cow's milk, soy milk, almond milk, or rice milk. However, for others the preference is dietary.
There are three common reasons why you might make a smoothie with water instead of milk
Calories – If you want to keep the calories in your smoothie recipe lower, using water can be a great option for weight loss smoothies.
Dairy free – If you're dairy free and avoiding lactose, water can be a great alternative to milk. Check out our list of dairy free smoothies too!
Taste – Plus, some types of smoothies really don't go well with milk in the first place. For example, green smoothies, tropical smoothies, and spicy ginger smoothies would taste pretty strange with milk. Instead these crisp, fresh ingredients work much better with water as the liquid base.
If you don't want to use milk, there are a ton of other liquids for smoothies you can use! If you're dairy free, then you can also check out our list of the best milk for smoothies – we have a bunch of non-dairy options to pick from.
---
The Best Ways to Make Smoothies With Water Instead of Milk
Nobody likes a foamy, watery, or gritty smoothie. So the question is: can you make smoothies with water and still have them come out thick and delicious? The answer is yes!
The KEY to making a smoothie without milk…
Use as little water as possible!
I can't tell you exactly how much water to use because it'll depend on how much fruit, what kind of fruit, and what kind of blender you're using.
You want to add in just enough water so that your smoothie will blend.
If we're making a full batch in our Vitamix, we usually put in a half cup of water and use the blender tamper to try to move the fruit around so that the blender keeps working.
If the blender gets jammed up then we just trickle in a bit of water in the top and keep using the tamper to push fruit down towards the blades.
The least amount of water will make the best smoothies.
Here are some tips that will help make your smoothies creamy:
Add yogurt – Greek yogurt can be a great way to give your smoothies a smoother texture and you won't have to add as much water or liquid. Downside is, yogurt isn't dairy free. GY is the best way to make higher protein smoothies without protein powder!
Use creamier fruits – Fruits like bananas and avocados can help add a creamy texture to your smoothies. This is also a great way to sweeten a smoothie!
Chia seeds – Chia seeds are often used as a binder or thickening agent. Put a tbsp of chia seeds in a tbsp of water and stir it up and then add it into your smoothie.
High powered blender – The more powerful your blender, the stronger it will be to break down fruit and veggies without liquid.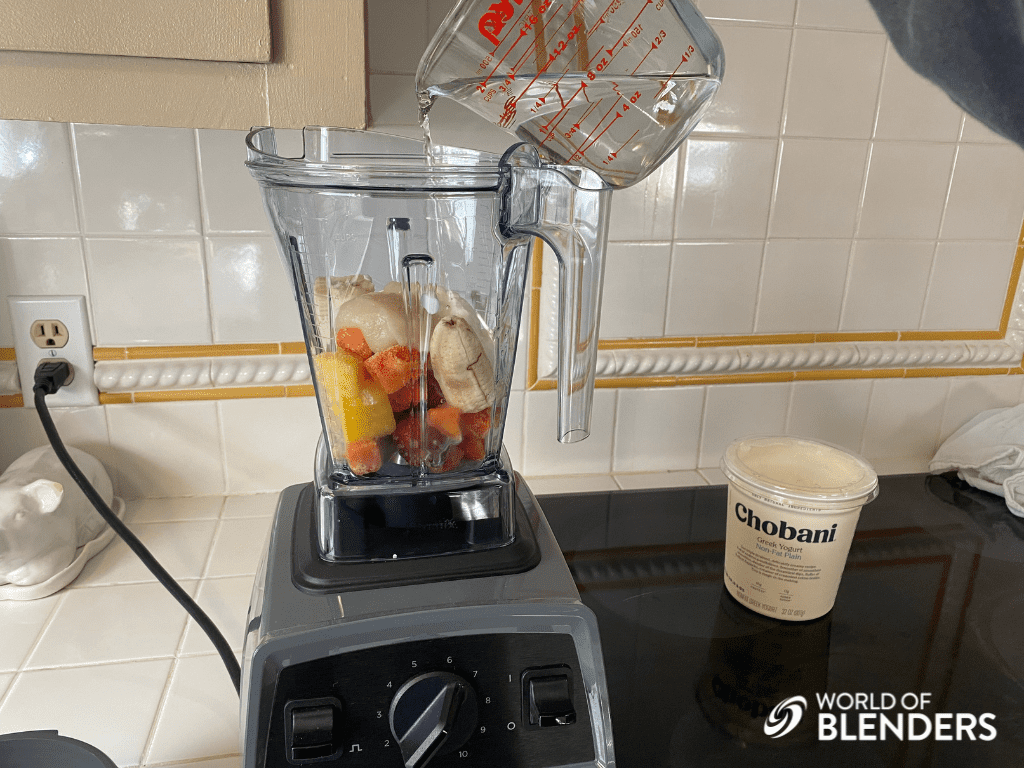 One downside of making smoothies with water instead of milk is that the smoothie will separate when you put it in the fridge. It's not a big deal, but give your smoothie a shake and it'll be good to go!
Your smoothies will last in the fridge for 2-3 days if you want to make a big batch!
Sometimes dairy can cause digestive issues so a lot of our colon cleansing smoothies are made with water instead of milk!
---
What are the Best Fruits and Vegetables for Water-Based Smoothies?
There are plenty of fruits and vegetables for smoothies to experiment with when making tasty and refreshing smoothies with water as the base liquid. Those with a high water content will serve well as primary ingredients:
Strawberries
Peaches
Mango
Carrots
Pineapple
Watermelon
Pears
Cucumber
Cantaloupe
Apples
Red berries
Oranges
Spinach
If you make smoothies without yogurt, you'll definitely want to use some of the ingredients above! Some of these fruits have lots of water content which will make smoothies thinner!
To give your smoothies more flavor, you can also add in smaller amounts of ingredients that pack a punch:
Fresh ginger
Basil
Lime
Ground cinnamon
Mint
Lemon
Beetroot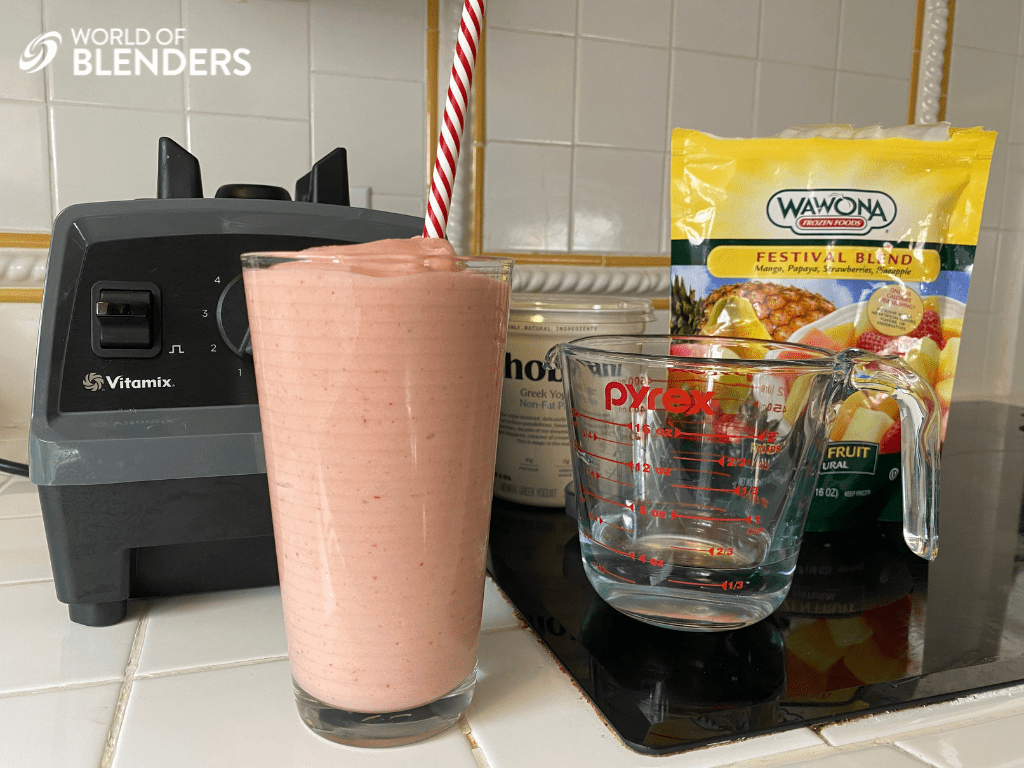 ---
FAQ
Are smoothies better with milk or water?
Smoothies with milk usually have a better consistency than smoothies made with water, but if you put in the right amount of water you can make them almost the same.
How much water do you put in a smoothie?
We've tested how much water to put in a smoothie and our best results have been the bare minimum to get your blender blades to chop up your fruit and veggies. We start with half a cup and add water as needed to keep the blender working.
Are smoothies made with water healthy?
Yes! Smoothies made with water are healthy because they have zero added calories from liquid.
---
Can You Make Great Tasting Smoothies With Water?
When it comes to making smoothies with water, the options are almost endless! As long as you use a trusty and powerful blender while getting the liquid-to ingredient ratio just right, smoothies made with water can taste absolutely amazing. Storing fruit ingredients in the freezer will also give your smoothies more body.
You can use water as a liquid base to make weight loss smoothies, detox smoothies, keto smoothies, cleanse smoothies, and diabetic-friendly smoothies.