This post may contain affiliate links. If you use these links to buy something we may earn a small commission. Thanks.
I've been making smoothies almost every day for the last 2-3 years. The key is to get the best liquid for your smoothie.
A smoothie is a combination of a base liquid and blended ingredients, so finding the best liquid for your smoothie is just as important as choosing the fruit, vegetables, nuts, and other dry ingredients.
I'm going to break down the 13 best liquids for smoothies from water and milk to coffee and kombucha. I've tried them all.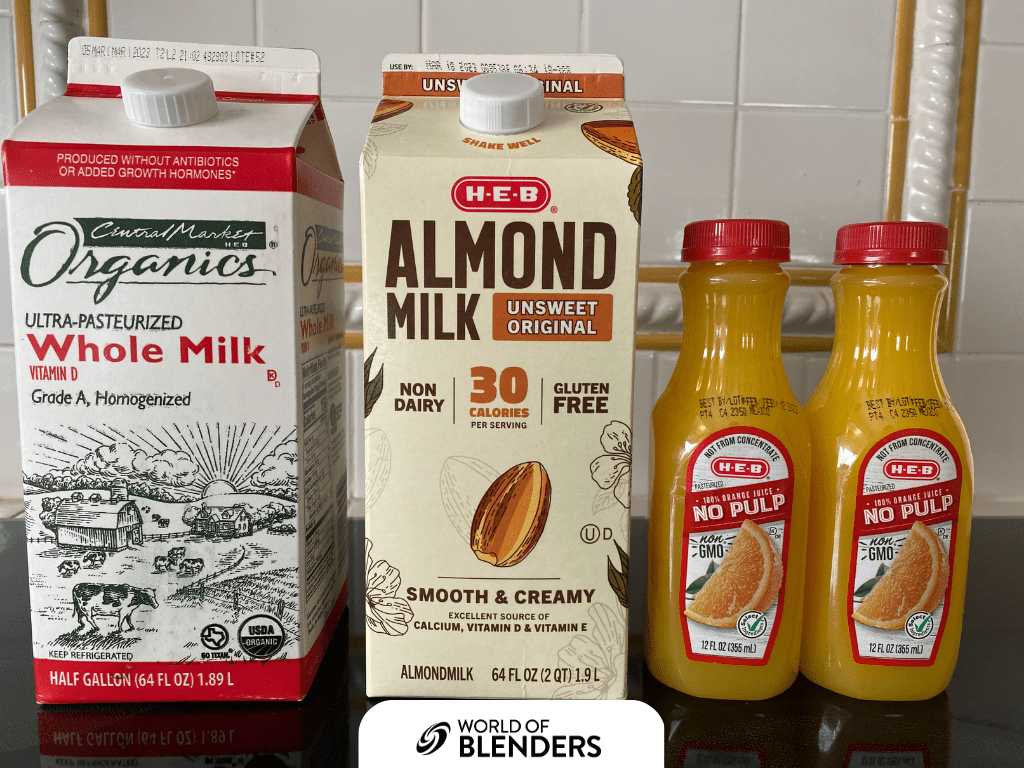 ---
How to Pick the Right Smoothie Liquid for you
Picking the best liquid for smoothies is a personal choice based on what you're looking for. It'll depend on the consistency you want, health choices, etc.
Creamy – If you want a creamy consistency, go with a milk option like regular dairy or almond milk. These are best for making smoother smoothies!
Fruity – If you're making a fruit smoothie then pairing it with orange juice or another option can be a great choice.
Least calories – Water is the least calories of all the different types of liquids for smoothies and is most common for low sugar smoothie recipes.
Caffeine – If you want an energy boost with your smoothie, add a cup of iced coffee!
Non dairy milk – If you can't eat dairy/lactose then I recommend using almond milk! It's one of the best milks for smoothies and we have a whole list of dairy free smoothie recipes!
The liquid you choose can also impact how long smoothies last in the fridge. A base like water will last longer while milk might have less shelf life.
---
The 13 Best Liquids for Smoothies
1. Dairy Milk
Cow's milk is the perfect base for smoothies with a creamy taste. Goat's milk can also be used but it does tend to have a pungent aroma that not everyone enjoys.
Depending on your goals, you can choose a lower-calorie non fat milk or a higher-calorie full fat milk—or anything in between. Using milk is one of the best ways to make a smoothie creamier.
For those that aren't avoiding lactose, or following a vegan lifestyle, dairy milk is ideal for use in berry smoothies, peanut butter smoothies, banana-based smoothies, chocolate smoothies, and more.
If you want to make thicker smoothies, use whole milk! If you're looking for some high calorie smoothies, this is the liquid for you. Regular milk is popular in our list of weight loss breakfast smoothies as well!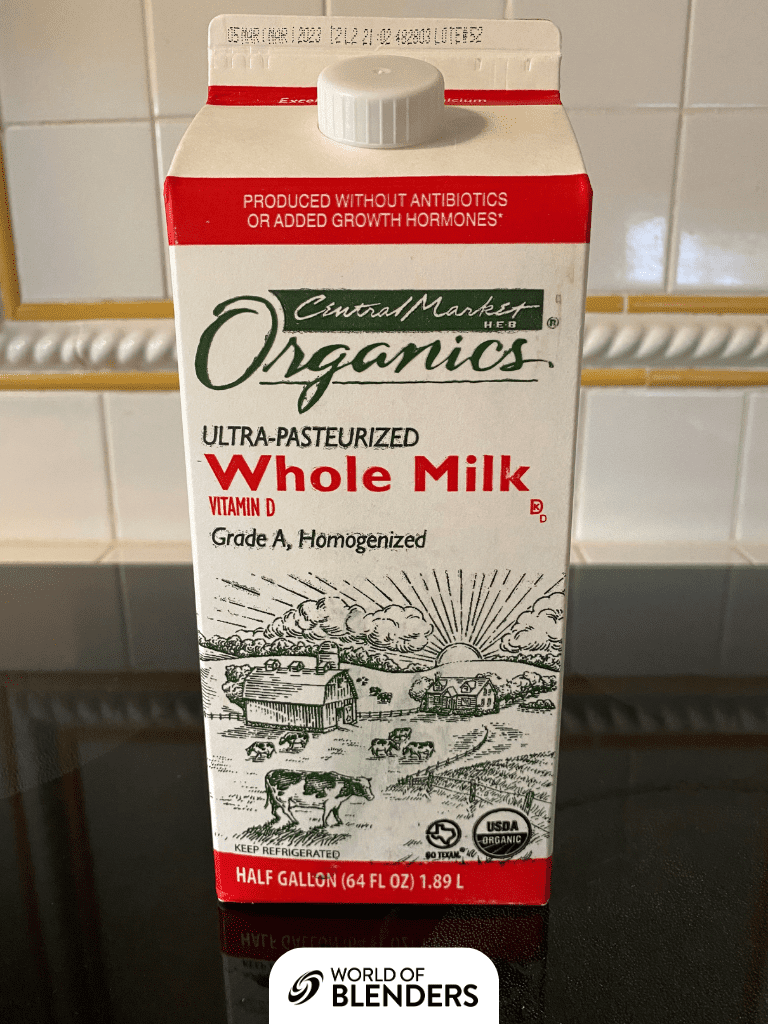 2. Fruit Juice
Fruit juices make a fantastic base for a wide variety of smoothies, as they are sweet and tasty. They also contain lots of vitamin C and nutrients, such as potassium. However, the trade-off is that fruit juice is high in sugar and will add calories to your smoothie.
Some of the most popular fruit juices used as a smoothie base include apple, pineapple, mango, orange, grape, and cranberry juice.
Natural fruit juice is one of the best healthy ways to sweeten a smoothie.
Finally, an advantage of fruit juice is that its strong flavor can help to mask less pleasant ingredients. For example, if you don't like the taste of your protein powder, adding fruit juice can help to improve the taste of your smoothie.
Fruit juice is used a lot in our kale smoothie recipes and smoothies with spinach because it provides a good counterbalance of sweetness!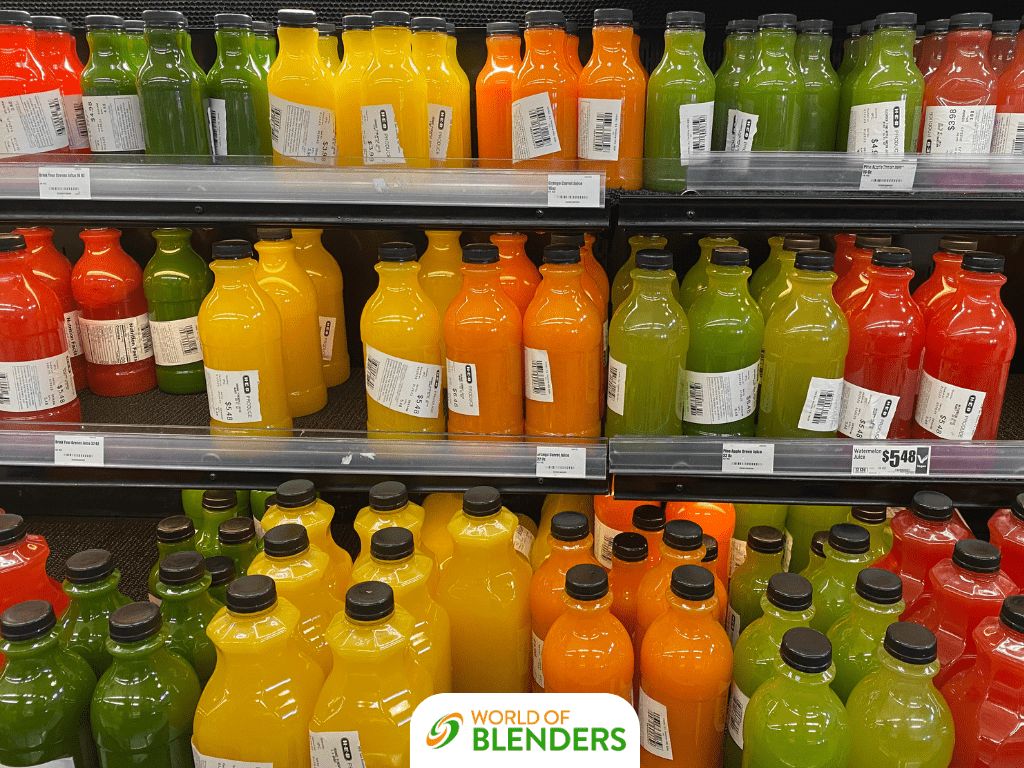 3. Water
Water is one of the most common and best liquids used as a liquid base for smoothies.
There are many positives to using water in your smoothie. It contains no calories, it's sugar-free, it keeps you well hydrated, and it doesn't have any flavor, which allows other ingredients to shine through.
However, there are negatives to choosing water in your smoothie too. In its liquid form, water doesn't help to thicken your smoothie (though crushed ice certainly does), so a water-based smoothie will have a thin consistency rather than being particularly creamy. It can also cause smoothies to separate.
Its lack of flavor can also be a disadvantage of water, as sometimes you may want your liquid base to add to the flavor of your smoothie, or to mask unpleasant flavors. Water isn't the best liquid if you're wanting to freeze a smoothie.
Water is common in our list of green smoothies for weight loss because it's zero calories!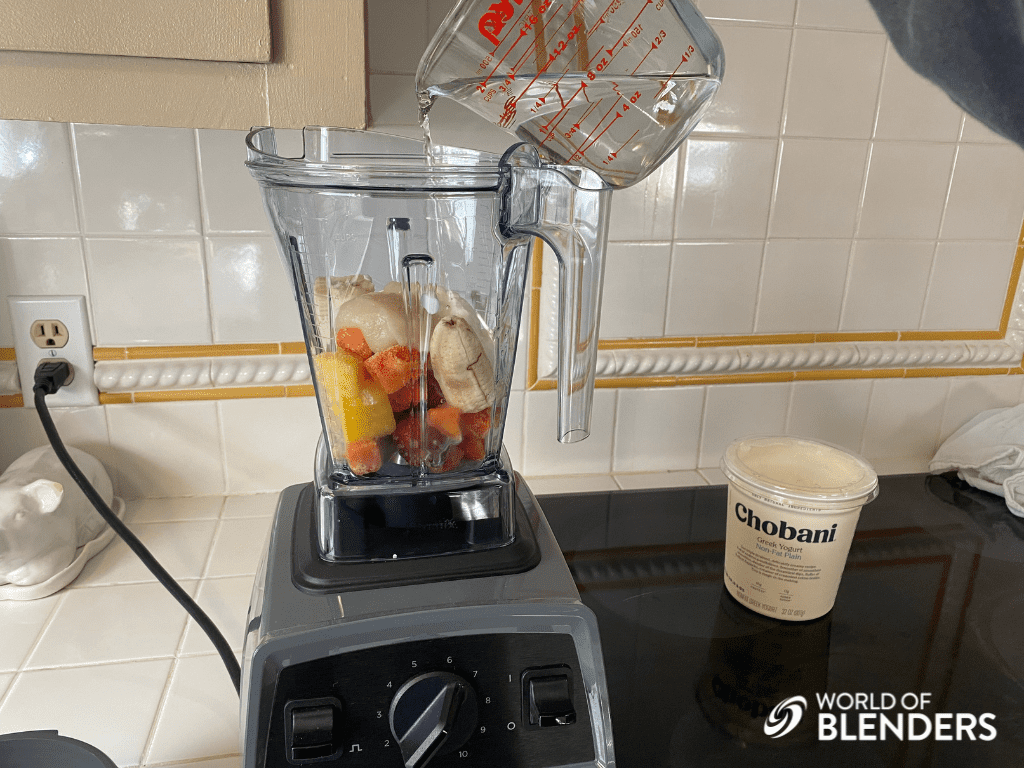 I put together a guide on how to make smoothies with water that are perfect every time! Be sure to check it out if you go with water as your liquid.
For example, protein powder often has a chalky taste, which can be partially hidden by liquids such as fruit juice and milk. In contrast, water won't help hide the taste of protein powder at all.
Water is a super popular liquid for smoothies in our colon cleansing smoothies!
4. Almond milk
Almond milk may not make a smoothie as thick and creamy as dairy milk, but compared to using water, it can still help to build a thicker texture while also offering a number of other benefits.
We have a whole list of almond milk smoothie recipes for weight loss you can try!
Almond milk is made from ground almonds and water and is therefore dairy-free, low in calories, sugar and carbs, and it contains less fat than whole milk.
As you would expect, almond milk tastes of almonds, though the flavor is quite subtle. This makes it a good neutral base liquid to use when you want other ingredients in your smoothie to provide most of the taste. This is the go-to milk for whole30 smoothies!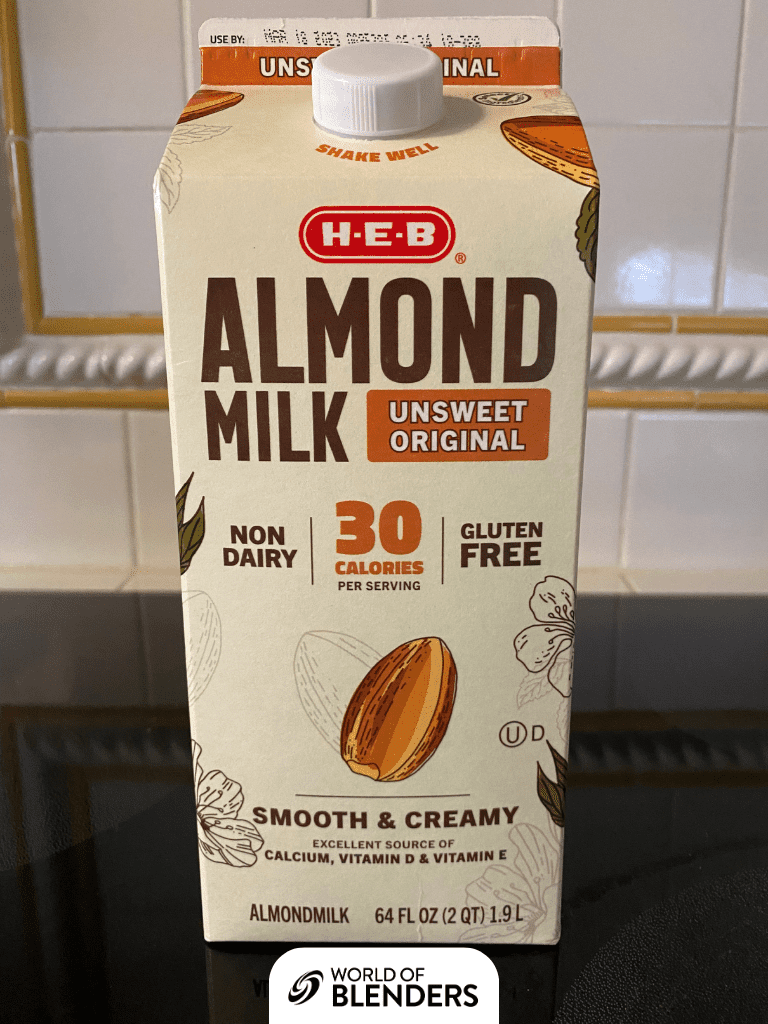 5. Iced Coffee
Adding coffee to your smoothies is a great way to level up the flavor and start the day with a caffeine boost.
If you're starting your day with a smoothies, add a shot of espresso (ideally cold) or some cold brew.
Coffee will go best in a smoothie with bananas, peanut butter, and protein powder.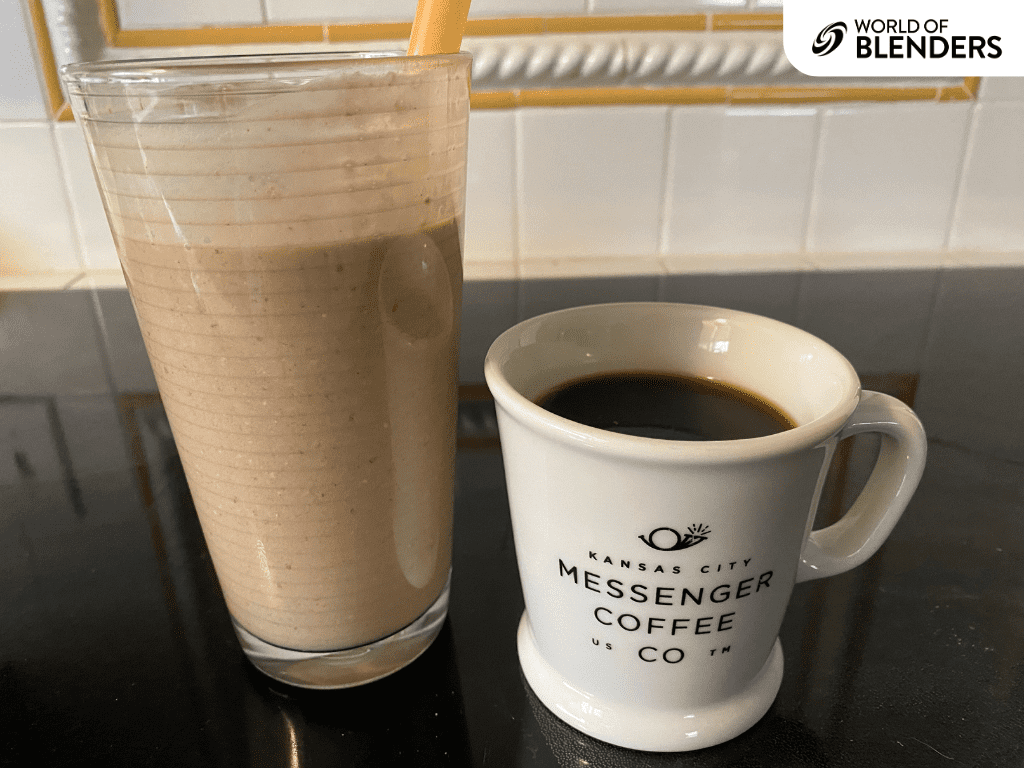 6. Other Nut Milks
Nut milks are impressively nutritious and surprisingly low in calories, which makes them a great choice for health-conscious smoothie drinkers.
In addition to almond milk, some great nut milks to use in a wide range of smoothies include macadamia, cashew, and hazelnut milk. When unsweetened, these options will allow you to enjoy not only lower calories than regular milk but also a nice protein boost.
Nut milks are suitable for people on a ketogenic or vegan diet. Be sure to look for unsweetened options if calories or artificial sweeteners are a concern.
7. Seed Milks
Like nut milks, seed milks can also provide a nourishing base for most popular smoothie recipes. Hemp seed milk, chia seed milk, and flaxseed milk are all tasty possibilities.
As with nut milks, be sure to check for added sweeteners if you want to be completely sure what you're putting into your smoothies.
8. Legume Milks
Soy milk was one of the first vegan milk alternatives to hit the market. In recent years, pea milk and garbanzo bean (chickpea) milk have also joined the ranks.
These milk alternatives offer another opportunity to increase the protein while steering clear of animal products.
9. Grain Milks
Those looking for a healthy carb hit in their daily smoothie need look no further than grain milks.
Options to try include oat milk, barley milk, and rice milk, which each combine well with a range of fruits and vegetables. Barley milk in particular offers a double helping of both protein and healthy carbohydrates.
Oat milk is one of our favorite substitutes for dairy milk. It's great if you're making smoothies without yogurt because it adds a creamy texture.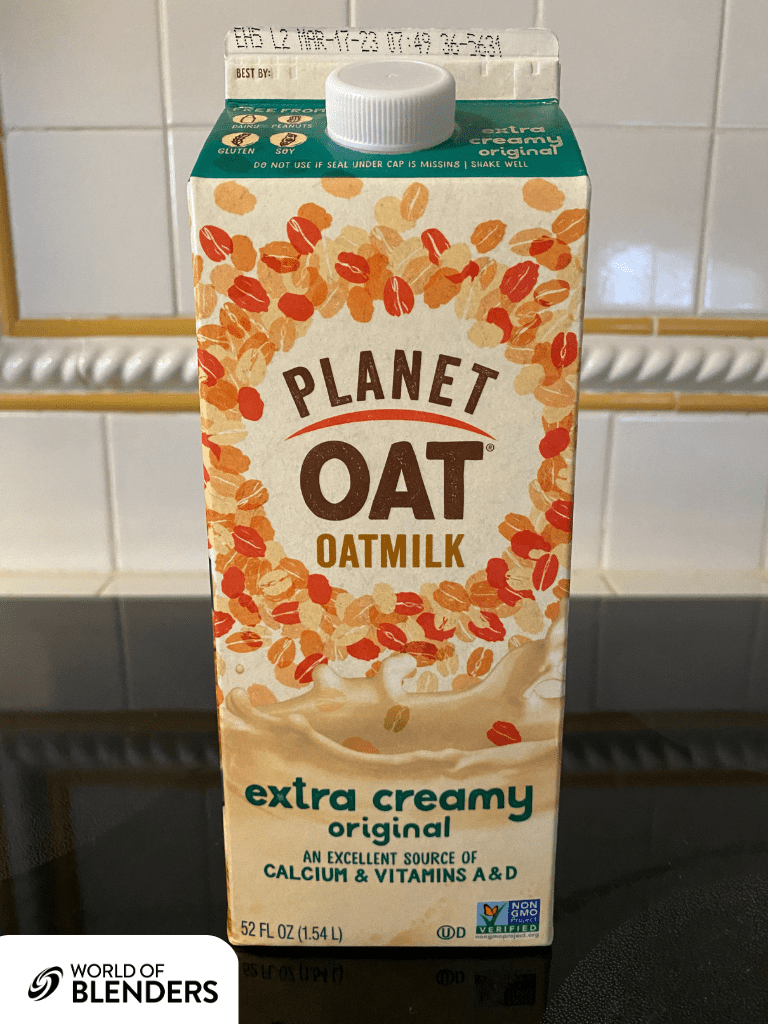 10. Coconut Milk
Coconut milk enjoys a category all of its own – because a coconut is a nut, seed, and fruit, all at the same time!
Coconut milk is absolutely delicious in smoothies that feature a tropical twist, such as pineapple, mango, and papaya.
Just keep in mind that coconut milk is higher in fat than other types of milk and can be higher in calories because of that. Just check the nutrition label to be sure.
We recently put together a list of the best NutriBullet weight loss smoothies and coconut milk was one of the most popular ingredients.
The higher fat content and low carbs makes it great for smoothies that are keto friendly.
11. Coconut Water
Unlike its calorie-dense cousin coconut milk, coconut water is very light in calories and makes a refreshing addition to a cooling summer smoothie.
With only 19 calories per 100ml, coconut water adds just a touch of sweetness and the lightest coconut flavor. If you want something low calorie with flavor, this is the way to go.
Coconut water is one of the most common liquids in our list of weight loss smoothies and for paleo smoothie recipes!
12. Spiced Tea & Fruit Teas
If you like the taste of ginger, cinnamon and other spices then we recommend trying spiced tea as a smoothie base. Fruit teas can work well too, but they tend to get a little lost among fresher flavors. Green tea would also be good if you just want a lighter taste with a little bit of caffeine.
To use spiced tea or fruit tea as a smoothie base, simply make the tea and allow it to chill before adding it to the blender.
13. Kombucha
If you are trying to get more probiotics and improve your gut health, try adding kombucha to your next smoothie!
Kombucha is a type of fermented tea that contains healthy live bacteria which promote gut health.
Most brands of kombucha are light in calories and a wide range of flavors are available. Kombucha will pair best with fruit smoothies or colon cleansing smoothies.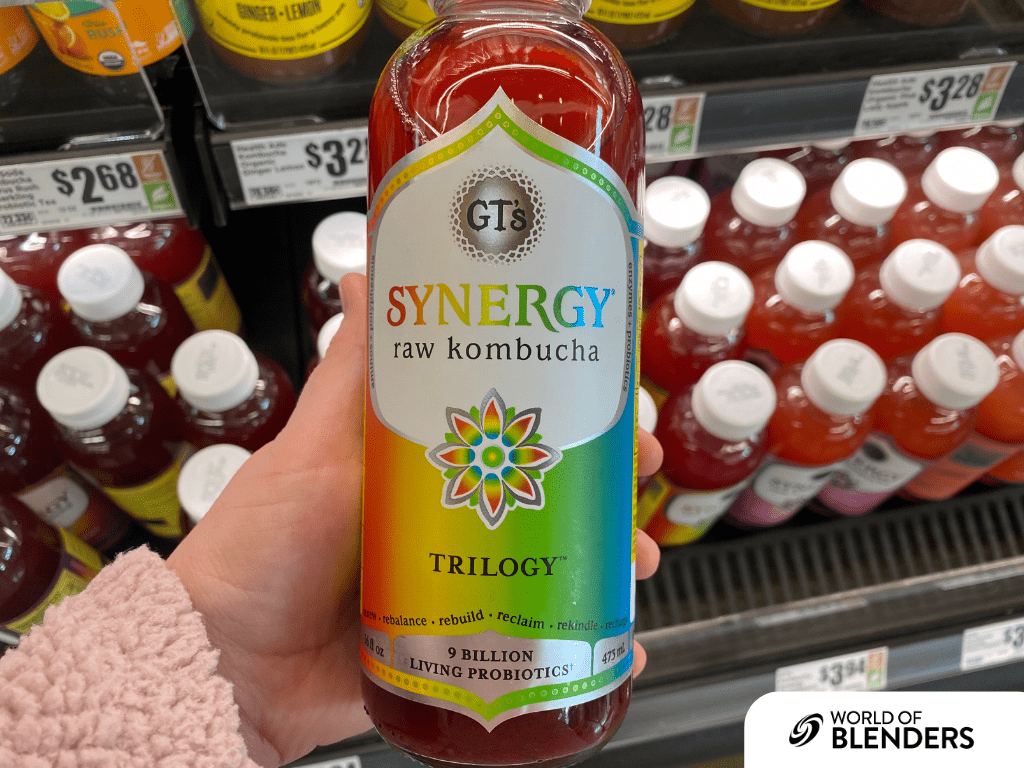 ---
Common Questions About Liquids for Smoothies
What is the healthiest liquid to put in a smoothie?
The healthiest liquid you can put in a smoothie is water. Water will help you to stay hydrated, while not adding any calories, sugar, carbs or fat to your smoothie. 
Are smoothies better with milk or water?
Smoothies are better with milk if you are looking for a thick and creamy smoothie, and as long as the other ingredients you have chosen go well with milk. Water is a better choice for your smoothie if you are looking to reduce your calorie intake, you prefer a thinner smoothie, or you want to include acidic citrus fruits, which could make milk curdle.
What is a good substitute for milk in a smoothie?
The best substitutes for dairy milk in a smoothie are plant-based milks such as almond milk, nut milk, seed milk, oat milk and coconut milk. They won't provide the same texture and taste as dairy milk, but they can be a delicious lower-calorie alternative.
Is soy milk or almond milk better for smoothies?
Both soy milk and almond milk are excellent vegan alternative to dairy milk. Many people prefer the taste of almond milk to soy milk, which often makes it the better option for smoothies. However, soy milk is better at thickening smoothies, so could be the best choice if you are looking for a creamy texture.
Is apple juice good for smoothies?
Apple juice is a great liquid base for smoothies. As a sweet fruit juice, apple juice works particularly well with fruit smoothies. It is a reasonably healthy option, though quite high in sugar. Apple juice can be combined with crushed ice to produce a refreshingly cool smoothie with a thicker consistency. 
---
Final Verdict: What's the Best Liquid For Smoothies for you?
If we had to choose, our top three best liquids for smoothies would be:
Fruit juice – Offers a fantastic array of sweet tastes that can add an enormous amount of flavor to any fruit smoothie.
Milk – Makes a smoothie thick and creamy while also providing a healthy dose of calcium and protein. Check out our list of high protein smoothie recipes without protein powder for more ideas!
Almond milk – Gives a smoothie a creamy texture, but it's dairy-free, lower in calories, and contains less fat than whole milk.
Of course, the best liquid for smoothies is a matter of personal preference, as a base liquid that you love might not be to other people's tastes. And the most important thing is that your base liquid combines well with the flavors of other ingredients in your smoothie.