This post may contain affiliate links. If you use these links to buy something we may earn a small commission. Thanks.
These 12 colon cleansing smoothie recipes are loaded with antioxidants, fiber, and superfoods that will help improve your colon health!
Whether you're trying to kickstart a diet or get rid of some unwanted digestive issues, I've got you covered.
These are the criteria I had in mind when picking these colon cleansing smoothies:
High fiber content
Berry based smoothies
Avoid stuff that is high in sugar like bananas, mango, pineapple, or sugary juices.
Include ingredients like kale, lemon, ginger, spinach, celery, flaxseed, green tea, coconut water, beets, and blueberries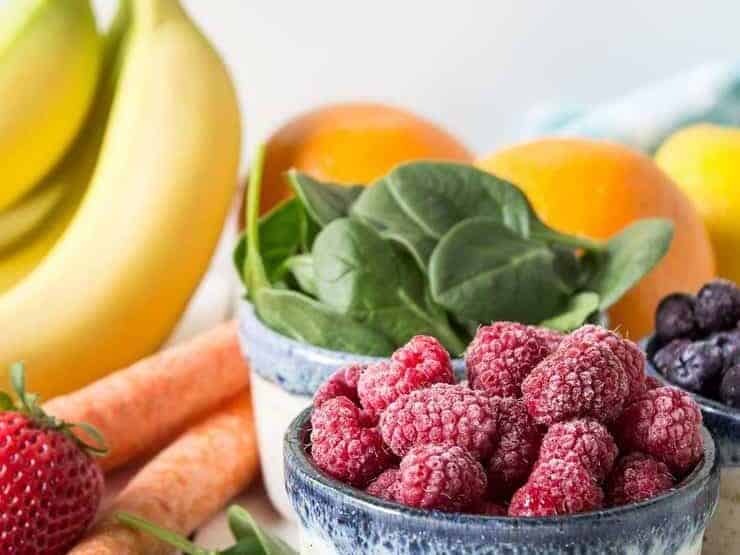 ---
12 Colon Cleansing Smoothie Recipes
I highly recommend drinking one of these colon cleansing smoothies to start your day if you're having digestive problems! If you're in a hurry in the mornings, you can make a big batch and store them in mason jars.
Smoothies will last in the fridge for 2-3 days if you fill the jars to the brim and use citrus in your smoothies. Just be sure not to mix dairy and citrus in your smoothie or else it may curdle.
A bunch of these are also on our list of smoothies for constipation because smoothies are great for making you poop.
This blueberry spinach smoothie is a fantastic green smoothie! The blend of berries and spinach makes it incredibly healthy, while avocado, Greek yogurt, almond milk, and chia seeds create a thick, creamy, and fiber-rich delight.
It's a perfect choice for a healthy breakfast that will energize your day, even though it may not appear as green as other smoothies.
If you like this, check out our other almond milk smoothies!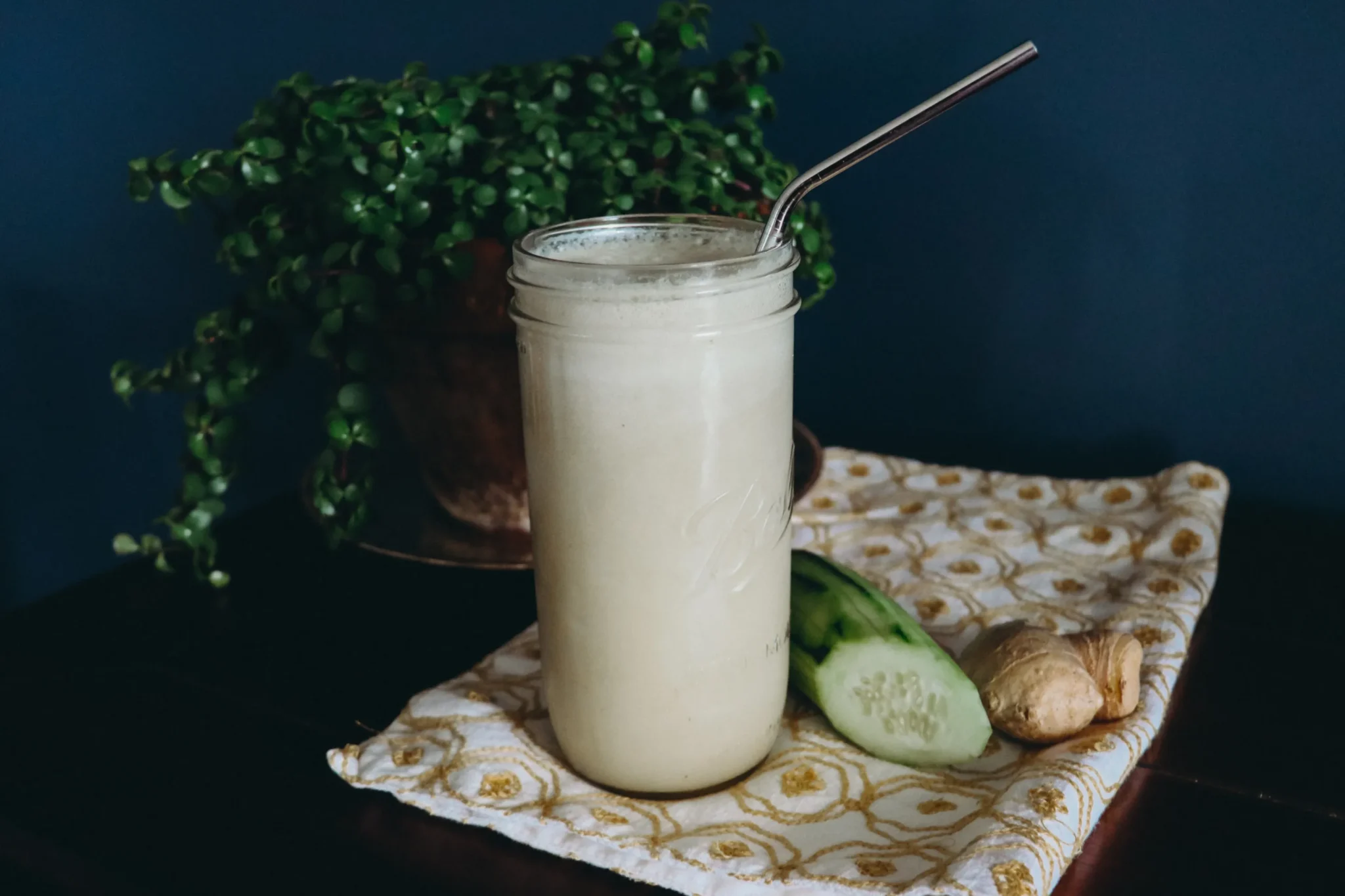 This green detox smoothie is a top favorite! It's super healthy and will effectively aid your digestion. Packed with spinach, celery, cucumber, and balanced with pineapple, it offers a powerful blend of green vegetables.
With chia and hemp seeds, it provides an impressive 15g of fiber! Perfect for breakfast or a cleanse, it's only 330 calories.
This apple banana smoothie is perfect for a healthy lifestyle! With just 250 cals and 10g+ of fiber, it's a nutritious choice. The combination of apple, banana, and mango gives it a burst of flavor, while the spinach adds a dose of greens to kickstart your day.
The mango is a great natural way to make smoothies sweeter!
This is our very own green goddess smoothie recipe! Packed with spinach, kale, pineapple, and banana, it's perfectly balanced. The almond milk provides a creamy texture, and Greek yogurt adds protein. Best of all, it's under 300 calories!
This one is loaded with tons of the most popular vegetables for smoothies!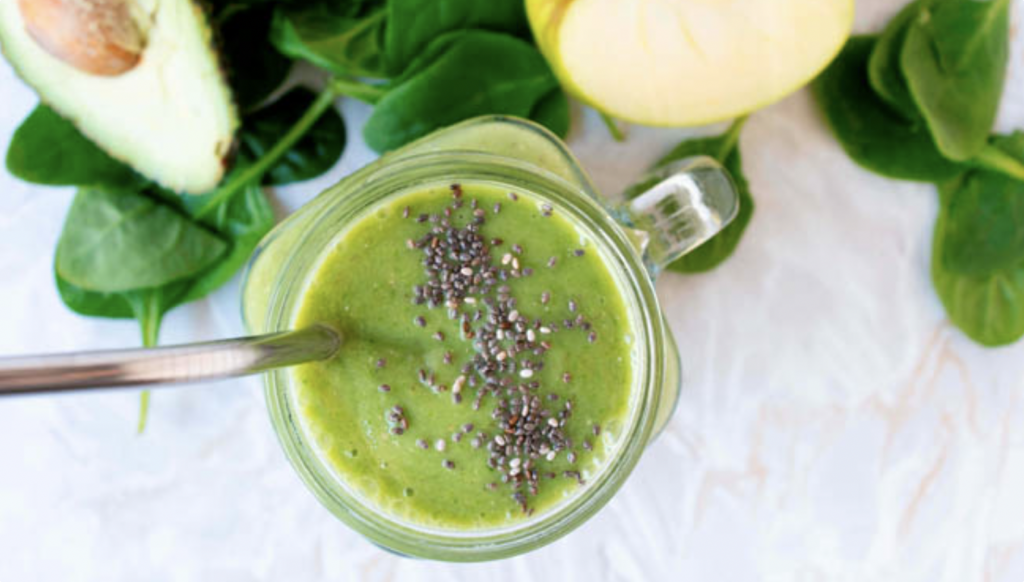 Our top high-protein green smoothie is a winner! Packed with spinach, banana, nut butter, almond milk, blueberries, hemp, and chia seeds, it's a nutritional powerhouse. With a protein powder boost, it offers 35g of protein and 12g of fiber!
The almond milk is helpful for making creamier smoothies!
It's a delicious, rich in flavor, and green smoothie best for detox. Avocado pineapple smoothie is high in fiber, improves digestion, and helps in constipation. The ingredients required are pineapple juice, avocado, frozen banana, and chia seeds. The pineapple juice is one of the best liquid bases you can use for smoothies!
It's yet another colon-cleansing smoothie recipe for those who struggle with bowel issues and indigestion problems. With green grapes, banana, spinach, honey, greek yogurt, and pineapple juice, this smoothie is sure to flush out the body toxins and boost energy.
This green smoothie contains carbs, vitamin A, vitamin C, fiber, fat, calcium, iron, sodium, and potassium. The greek yogurt in this one makes it a great high protein smoothie without using protein powder!
The kale banana blueberries smoothie is a natural, tasteful drink that is rich in fiber, carbs, proteins, calcium, iron, potassium, and vitamins. The ingredients include kale, banana, blueberries, greek yogurt, chia seeds, and water. Banana adds thickness and texture to the recipe.
It's a myth that water doesn't make great smoothies. We've come up with a hack for making smoothies with water that are still creamy and thick!
Check out our full list of kale smoothie recipes for weight loss if you want more ideas!
The kiwi cucumber smoothie is a healthy drink beneficial for colon cleansing and detoxing. Plus, it's a green smoothie full of vitamins and minerals. The ingredients include kiwi, cucumber, banana, pear, baby spinach, and ice cubes. It's a fantastic source of iron, healthy fats, and essential nutrients.
If you don't have any bananas, check out our list of banana smoothie substitutes!
The peach green smoothie is full of nutrients and fibers that boost immunity. Plus, this colon-cleansing smoothie recipe helps in liver detox, blood circulation, and inflammation. This is one of our favorite anti inflammatory smoothie recipes!
A peach green smoothie is a great source of carbs, protein, fat, fiber, polyunsaturated fat, monounsaturated fat, potassium, and sugar. The ingredients include almond milk, baby spinach, banana, peach chunks, lemon, and chia seeds.
Almond milk is one of our favorite non-dairy milks for smoothies!
The pineapple green smoothie is a delicious and healthy smoothie suitable for colon cleansing and detoxification. It's one of those simple green smoothies that taste good and contains fewer ingredients, such as milk, yogurt, pineapple, spinach, honey, and ice cubes. The combo of milk and yogurt is great for making smoothies smooth!
This smoothie helps in improving the digestion system, which keeps the body fit, active, and healthy.
This smoothie is natural, healthy, and juicy filled with flavor and nutrients. The ingredients include beetroot, strawberry, coconut oil, apple, dates, and almond milk. This is also on our list of our favorite NutriBullet weight loss smoothies as well!
This colon-cleansing smoothie provides essential minerals, such as carbs, proteins, saturated fat, sodium, fiber, and sugar. Put all the ingredients in the blender for a few minutes until smooth.
This recipe is one of the best smoothies without yogurt!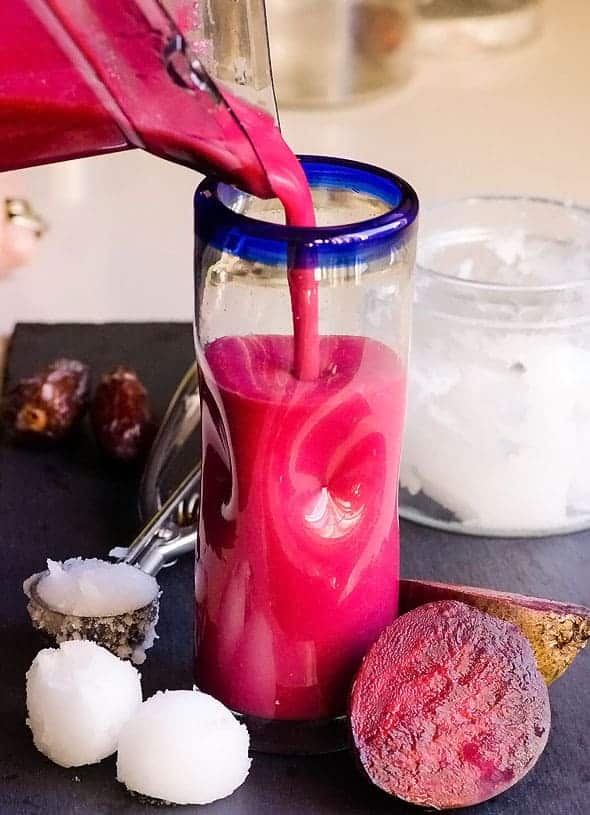 ---
Common Questions About Colon Cleansing Smoothies
Are smoothies good for colon health?
Smoothies are great for colon health if you use the right ingredients! Load up your blender with citrus, ginger, berries, and green vegetables.
What fruit is good for colon health?
The best fruit for colon health are different kinds of berries: blueberries, strawberries, and blackberries. Avoid high sugar fruit like pineapple and mango.