This post may contain affiliate links. If you use these links to buy something we may earn a small commission. Thanks.
This healthy blueberry spinach smoothie is one of the best green smoothies we've ever made! The combo of berries and spinach make this smoothie incredibly healthy while the avocado, greek yogurt, and almond milk make it thick, creamy, and super smooth. The chia seeds give it an extra hit of 5g+ of fiber!
This blueberry and spinach smoothie is especially good for breakfast if you want something healthy to kickstart your day. It doesn't actually look as green as most green smoothies, but it's got a good punch of spinach!
The best part is that this recipe is only 300 calories!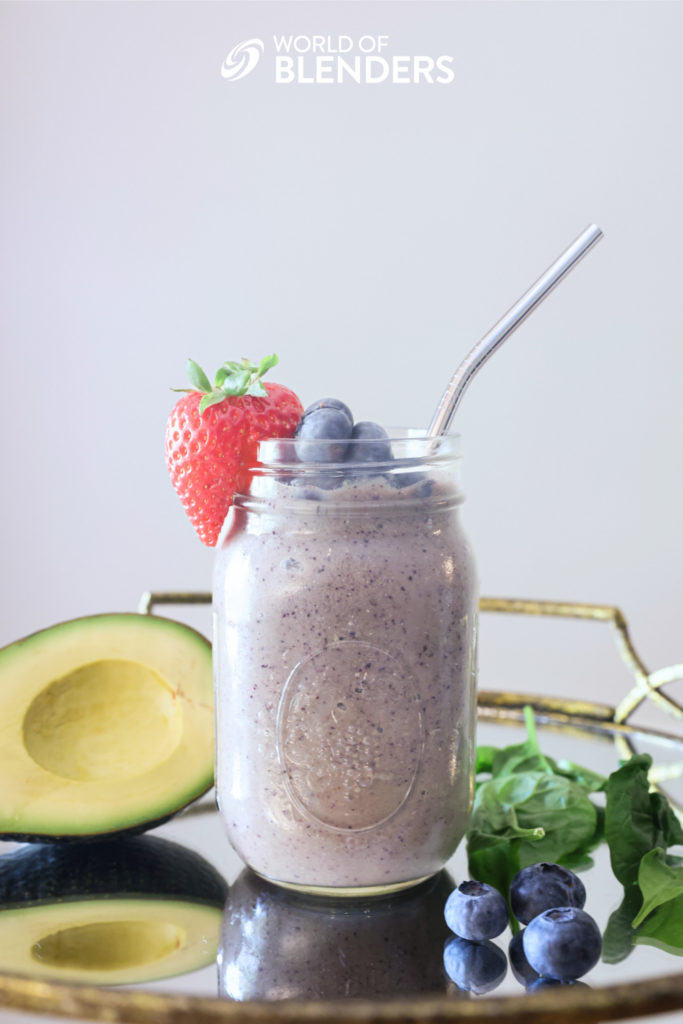 If you're looking for a healthy berry smoothie with spinach, then you're going to love this one! It's become one of our go-to healthy breakfast smoothies over the last few months. If you're brand new to drinking green smoothies, then this is a perfect one to start with. You really can hardly taste the spinach thanks to the berries and avocado!
---
Ingredients for the Best Berry Spinach Smoothie
After several tries, my wife and I perfected our spinach berry smoothie! You'll need six ingredients and most of them you've probably got on hand. If you don't have any, we've included some variations in the next section if you need a substitute or want to jazz it up!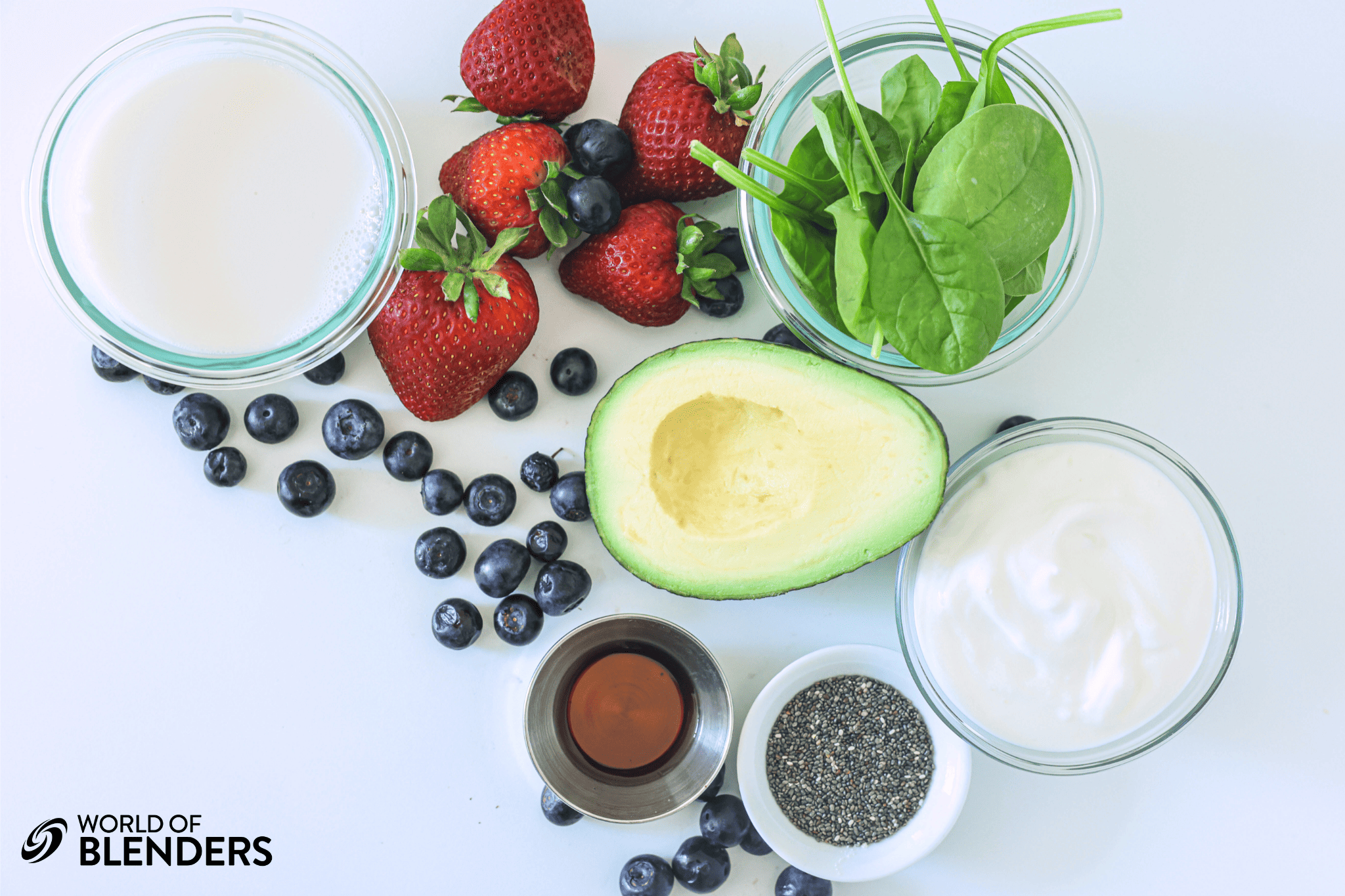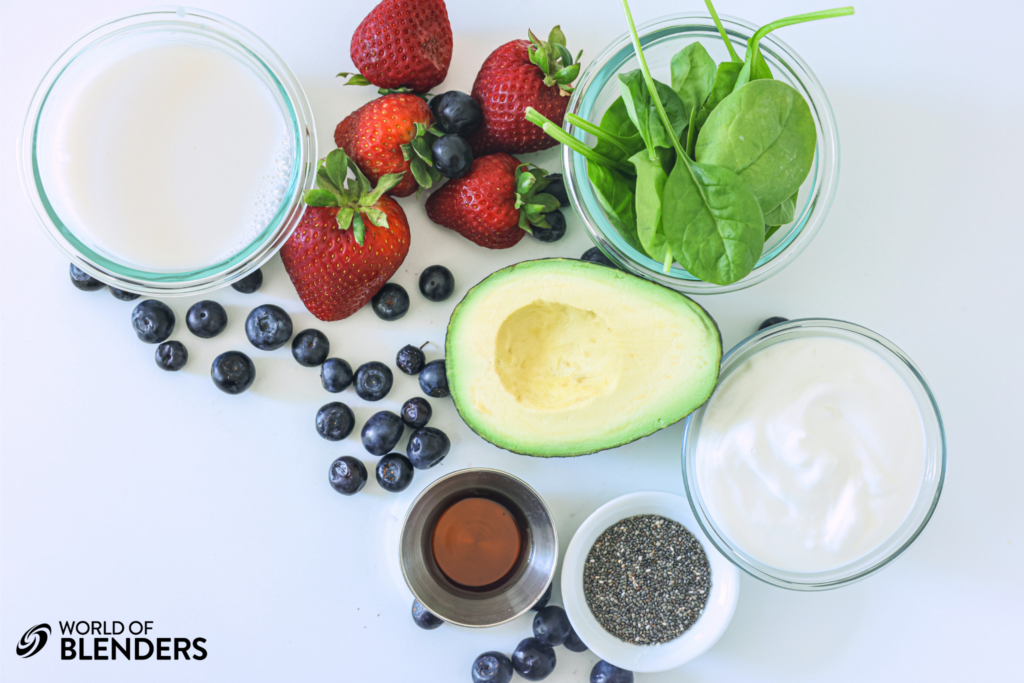 Variations to this Recipe
I really wanted to make this berry spinach smoothie as healthy and delicious as possible! But it's tough getting it down to 300 calories. If you need some alternative ingredients or don't mind adding a few calories, give some of these a try!
Oat milk – We like almond milk for smoothies, but oat milk is great as well! Honestly, any kind of dairy free milk works well as the base liquid for smoothies.
Nut butter – If you like peanut butter or other nut butters, you could definitely add it in! It would increase the overall calories, but add a great nuttiness and flavor to this berry spinach smoothie!
Kale – If you don't have any spinach on hand then kale is a good substitute. They have slightly different nutrient profiles, but it's one of the healthiest greens for smoothies you can use! You can also check out our list of kale smoothies for weight loss!
Oats – If you aren't afraid of the carbs, adding in some oats would be a great way to load up this smoothie. If you're drinking this one pre or post workout, I'd recommend the oats for some extra carbs!
Hemp seeds – Hemp seeds are a fantastic source of protein! They actually have more than chia seeds (5g vs 6g per tbsp). Adding a serving of hemp seeds would push this smoothie up to 19 g of protein per serving to this spinach and blueberry smoothie!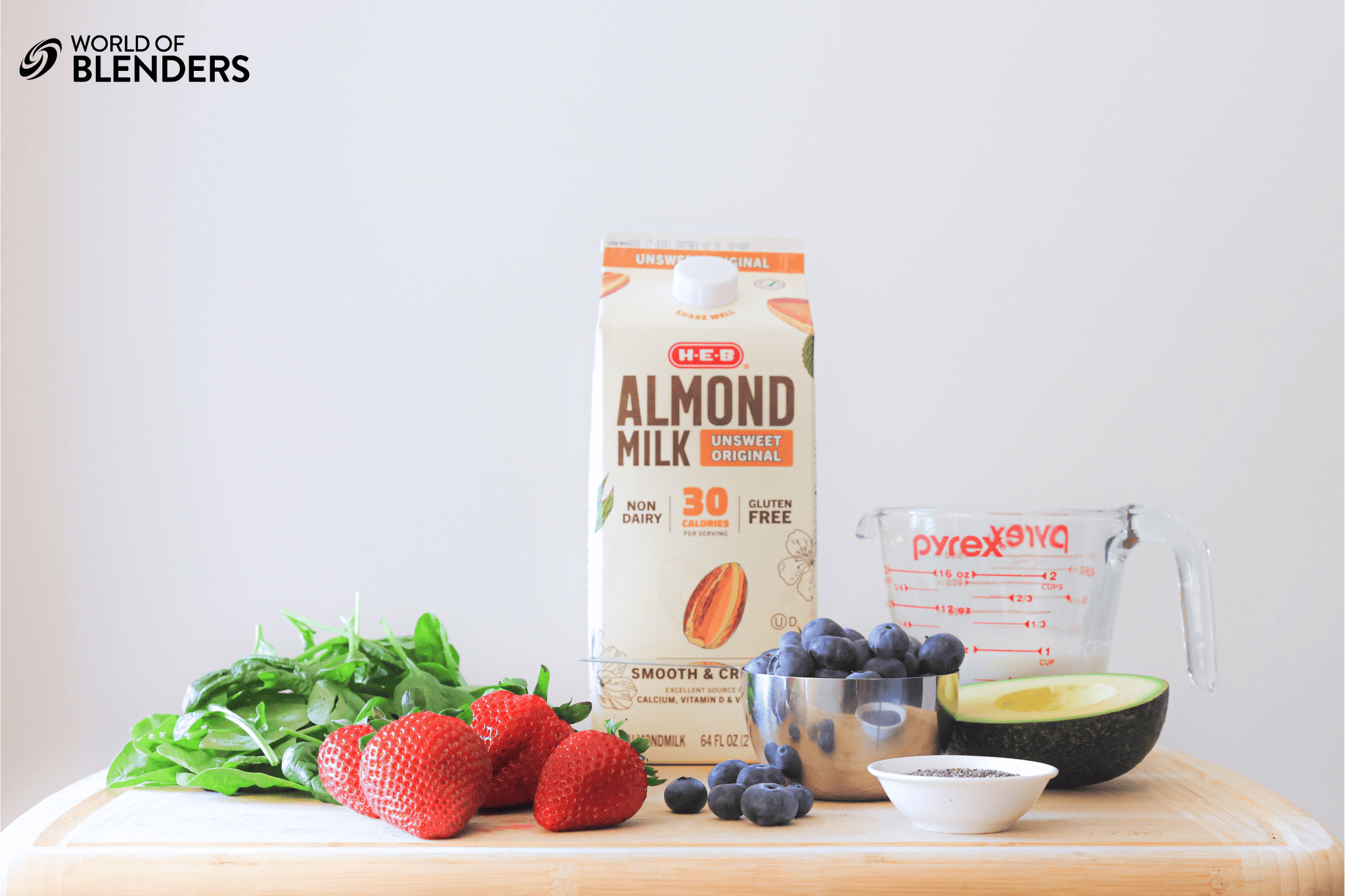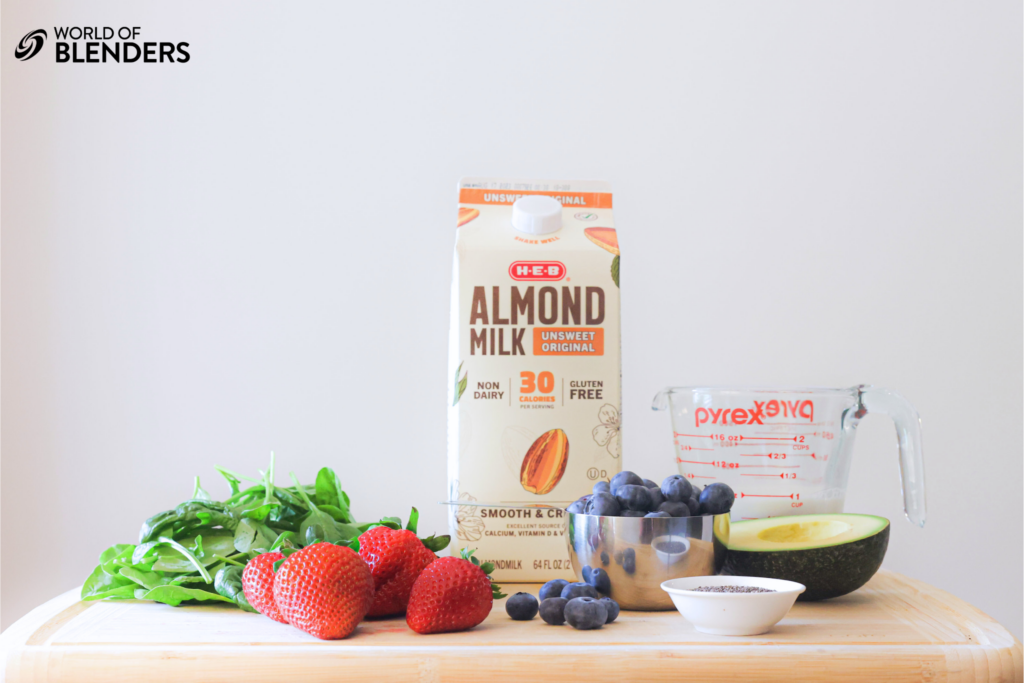 ---
Health Benefits of Berry Smoothies with Spinach
This spinach and blueberry smoothie tastes great and it's healthy for you! There are all kinds of benefits of drinking smoothies, but here are the 3 biggest for this one:
High fiber – This smoothie is loaded with almost 10g of fiber thanks to the spinach and chia seeds! The fiber in this smoothie makes it one of the best colon cleansing smoothies.
Higher Protein – This berry and spinach smoothie is packed with 13 g of protein! The greek yogurt and chia seeds give this one the protein boost you need.
Full of greens – This blueberry spinach smoothie is the perfect entry into green smoothies. It's not overwhelming with greens and you'll get a serving of spinach to start your day!
This is one of our favorite paleo friendly smoothies and it's also one of our favorite Vitamix smoothie recipes!
---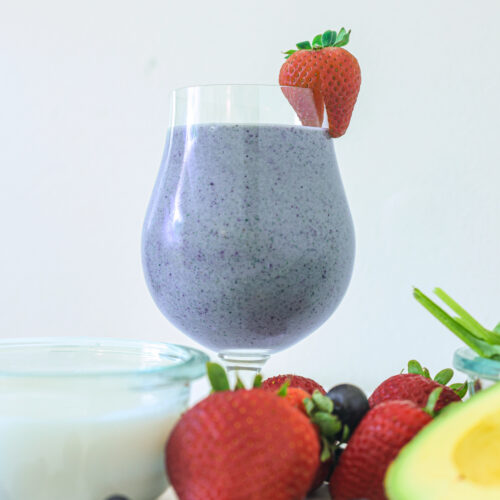 Healthy Blueberry Spinach Smoothie
This blueberry spinach smoothie is one of our favorite green smoothies! It's packed with fiber, antioxidants, and protein. It's also super smooth and creamy thanks to the avocado!
Print
Pin
Rate
Ingredients
1

cup

spinach

2 handfuls

1

cups

almond milk

1

cup

blueberries

.25

avocado

medium

1/3

cup

greek yogurt

1

T

chia seeds
Instructions
Add the spinach and almond milk to the blender first. Blend for a minute or until all the green flakes are thoroughly blended.

Add berries, avocado, and chia seeds to the blender.

Blend for 2-3 minutes or until smooth.

Pour into a glass and enjoy!
Nutrition
Calories:
306
kcal
|
Carbohydrates:
35
g
|
Protein:
13
g
|
Fat:
15
g
|
Saturated Fat:
2
g
|
Polyunsaturated Fat:
6
g
|
Monounsaturated Fat:
7
g
|
Trans Fat:
0.02
g
|
Cholesterol:
3
mg
|
Sodium:
380
mg
|
Potassium:
668
mg
|
Fiber:
12
g
|
Sugar:
18
g
|
Vitamin A:
2976
IU
|
Vitamin C:
28
mg
|
Calcium:
494
mg
|
Iron:
2
mg
---
4 Tips for Making The Best Blueberry Spinach Smoothie
My wife and I have been making smoothies 4-5 days a week for the last few years! We've made hundreds of smoothies and we've perfected them. Over the last year, we've written 150+ articles all about smoothies.
Here are four quick tips to help you make the best berry spinach smoothie possible:
Blend the greens first – Our #1 tip for making great green smoothies is to blend your spinach by itself with your liquid base. This is the best way to make sure you don't get any stringy bits of greens. Once it's blended into green juice, add the rest of your ingredients in!
Use a high powered blender – Using a strong blender is essential to making great smoothies! We've done tons of blender reviews, but our favorite blender for green smoothies is the Vitamix E310.
Make them in advance – If you want to drink smoothies every day it can be a hassle to make them fresh. Make a big batch on Monday morning and store leftover smoothies in the fridge for the week! It's also easy to store smoothies in the freezer!
Pour milk in slowly – The best way to get the right texture is to use the right amount of liquid in your smoothie. The amount of liquid needed changes depending on the size and shape of your blender so it's a bit tricky to tell you exactly how much to use. Use just one cup to get your spinach blended (tip #1) and then slowly drip in however much you need to get the consistency you like!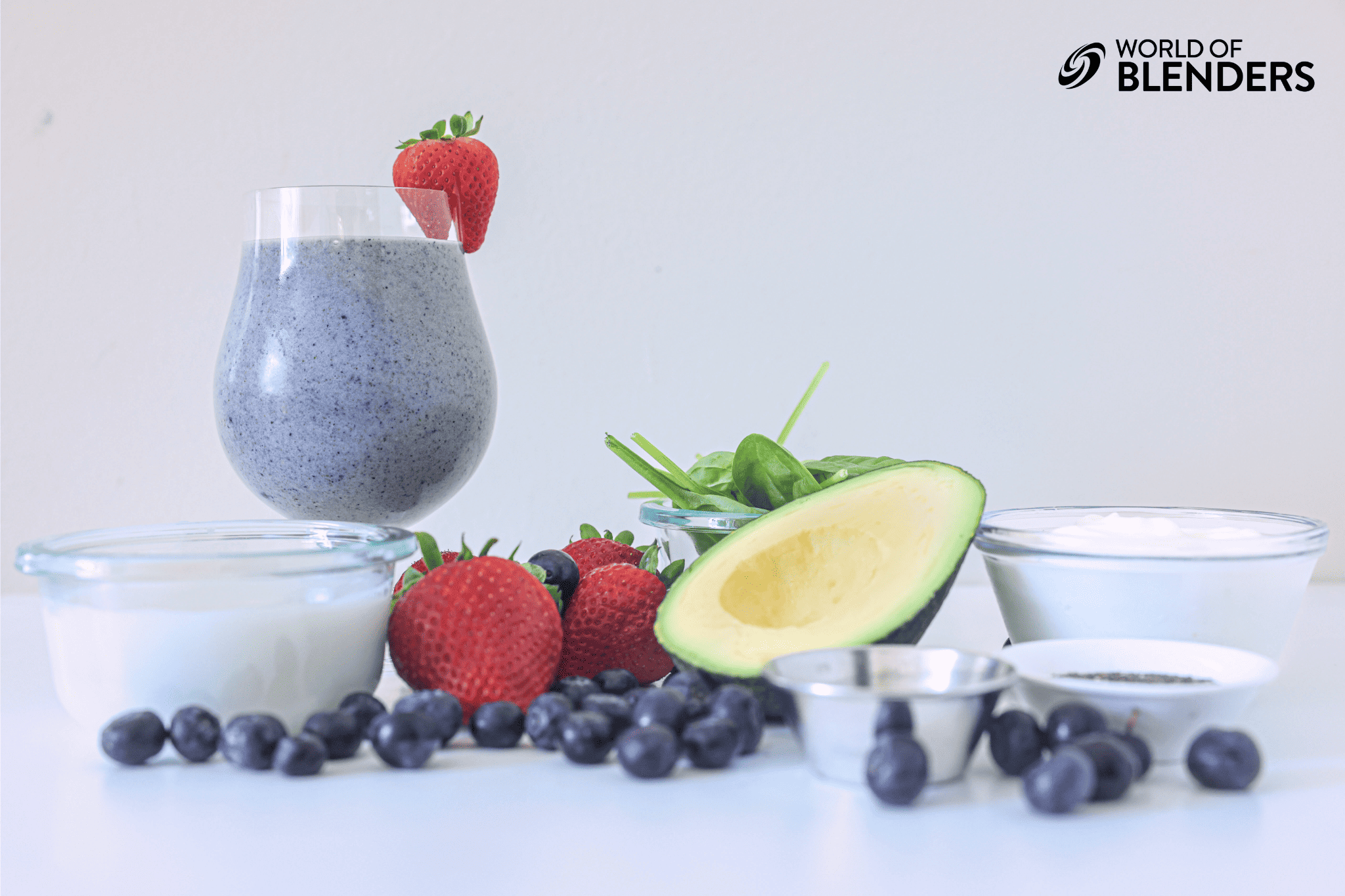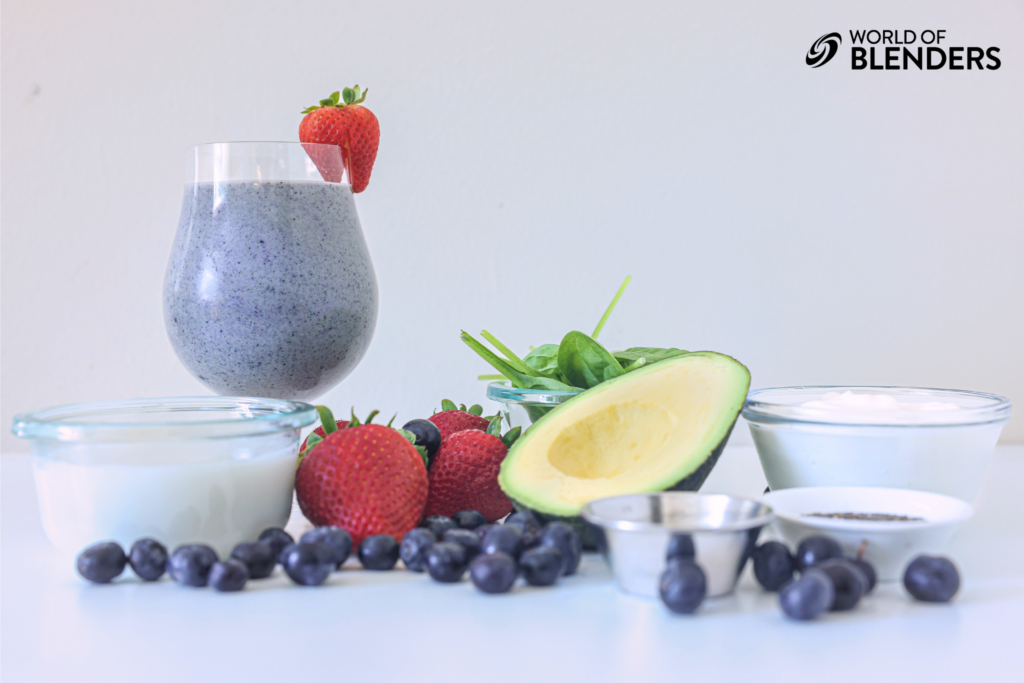 ---
Common Questions About Blueberry and Spinach Smoothies
Do spinach and blueberries go together?
Spinach and blueberries go well together! The sweetness and tartness of the blueberries help offset the bitterness of the spinach in your smoothies
Are spinach and berry smoothies good for you?
Spinach and berry smoothies are incredibly good for you! They are packed with antioxidants, fiber, Vitamin A, and calcium.
Can you drink a blueberry smoothie everyday?
You can definitely drink a blueberry smoothie everyday! They are incredibly good for you and are one of the lowest sugar and highest nutrition fruits.