This post may contain affiliate links. If you use these links to buy something we may earn a small commission. Thanks.
These are our favorite green smoothies for weight loss! Every recipe on the list is less than 400 calories so they are perfect for eating healthy!
I've been drinking green smoothies for years and I still love them! I make a big batch on Sundays when I meal prep and drink one every morning.
If you're looking for weight loss green smoothies, this list is for you! All 16 of these healthy green smoothie recipes are easy to make, taste great, and will be the perfect way to start your day.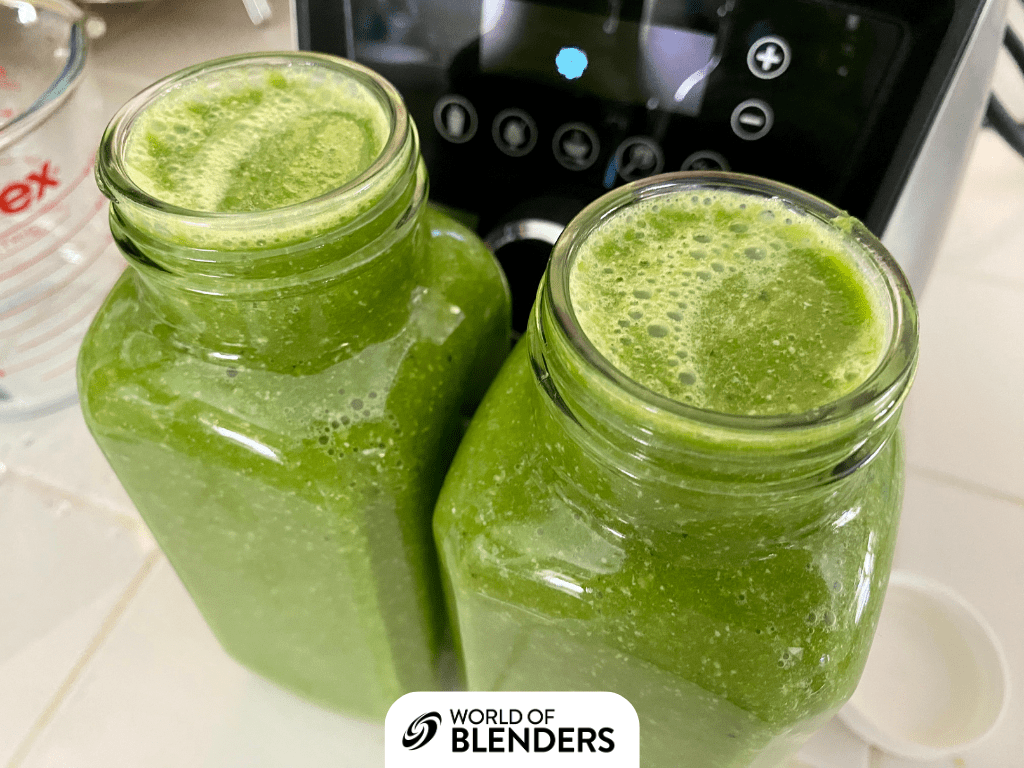 ---
Tips for Making Healthy Green Smoothies for Weight Loss
I've tested dozens of recipes and strategies for making great weight loss green smoothies. Over the past couple of months I've been writing down a list of tips to help you make the best green smoothies possible.
Blend the greens first – One pro trick is to blend your greens (spinach, kale, etc) by itself with your liquid smoothie base. Once it's thoroughly blended, add in your other ingredients. This will help make sure the greens gets chopped super fine and you won't be left gagging on any stringy bits.
Add ingredients that balance – Green smoothies can be bitter so offset this by adding fruits like bananas, avocado, or mango. These will also make your smoothies more filling.
Use milk – I highly recommend using some kind of milk as your smoothie liquid base. You can make smoothies with water, but milk is the best way to make thicker smoothies! I personally like using oat milk or coconut milk for green smoothies because the nutty and slightly sweet flavor can help.
Use a high powered blender – Using a strong blender is essential to making healthy green smoothies! You want a blender that can really grind up the greens. A weaker blender will end up with chunks and stringy bits of spinach or kale.
Soak your kale – I recommend soaking your kale in water to soften it up before blending in your smoothie. Put it in a big bowl for 30-60 minutes and submerge your kale in water.
Be careful with too much fruit – Fruit is great for smoothies, but if you aren't careful it can have lots of sugar. I recommend prioritizing berries and other low GI fruits.
High protein – There are so many ways to add protein to smoothies, but our favorites are greek yogurt, milk, and protein powder. Using milk in smoothies is great for adding a bit of protein!
Make them in advance – If you want to drink smoothies every day it can be a hassle to make them fresh. Make a big batch on Monday morning and store leftover smoothies in the fridge for the week! Smoothies last for 3-4 days if properly stored.
---
16 Healthy Weight Loss Green Smoothies
After making tons of weight loss breakfast smoothies these are our favorites! They're easy to make and made with as few ingredients as possible to save you time.
This one is a perfect, chocolatey weight loss green smoothie! This smoothie includes several ingredients like spinach, hemp seeds, and almond butter that add healthy nutrients to get your metabolism going.
A glass of this morning green smoothie would boost your energy to kick-start your day with a bang.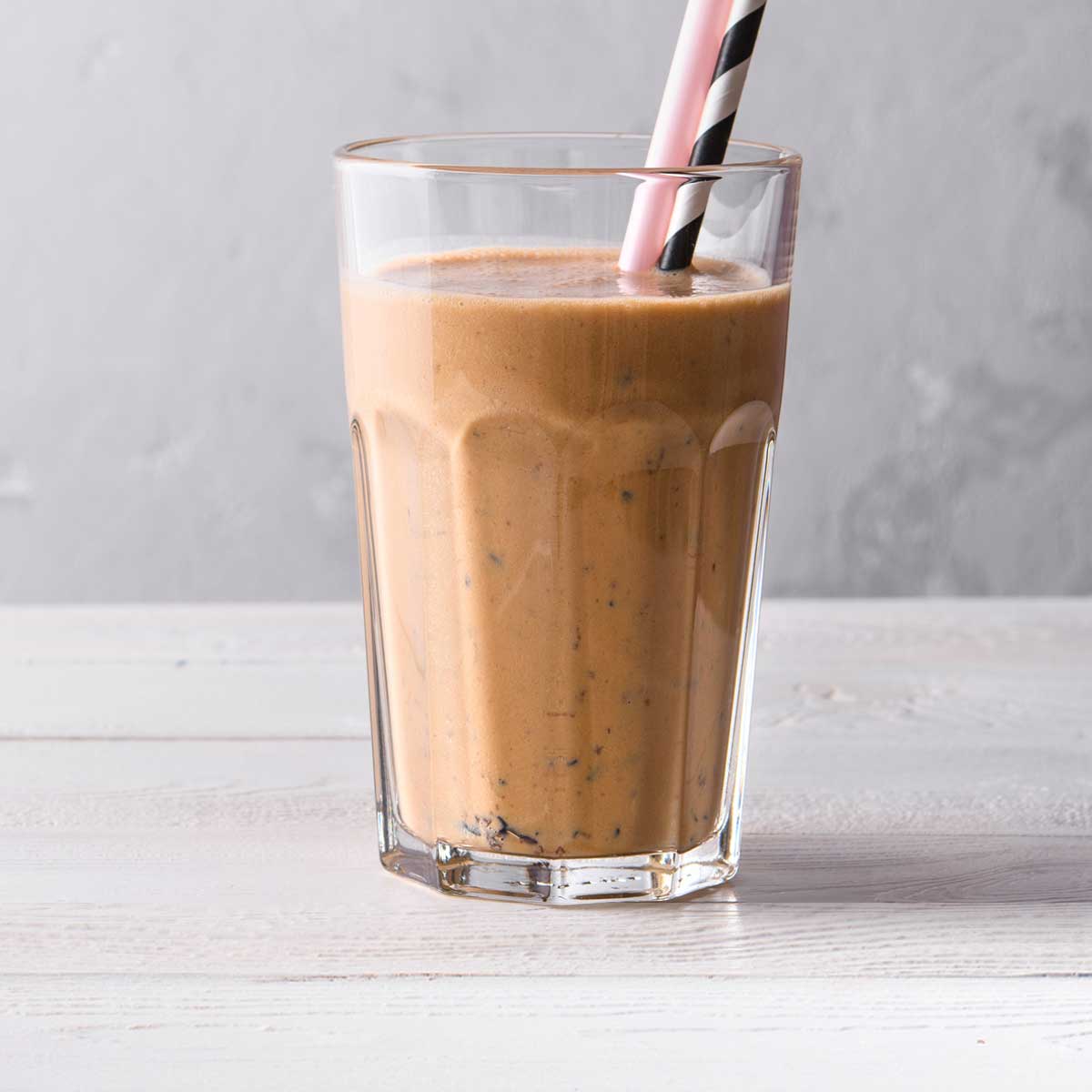 The healthy green smoothie is a tasty, green smoothie for weight loss and detox. It's packed with a good balance of carbs and protein, thanks to the greens, fruits, and nuts. The ingredients required are spinach, peach, ginger, chia seeds, and almond milk.
Chia seeds are one of the best ways to make high fiber smoothies and peaches are one of our favorite natural ways to sweeten a smoothie!
Trying to find a low-carb green, delicious smoothie for breakfast? Try this thick, creamy, perfectly sweet smoothie made with banana, greek yogurt, chia seeds, and spinach. It's filling, tasty, and full of healthy nutrients like fiber and protein. Blend all ingredients for five minutes and voila!
The kale apple smoothie is a quick-to-make green drink for detox and weight loss. This smoothie is made with apple, kale, chia seeds, and other healthy ingredients and is packed with several nutrients like carbs, proteins, vitamin C, and iron. Each serving contains 319 calories.
It's one of our favorite kale smoothie recipes and it's also one of the best whole30 smoothies.
This spinach banana smoothie is a green, healthy drink made with spinach, banana, and chia seeds. It's a healthy breakfast drink with essential nutrients such as protein, sodium, carbs, and fiber. The calorie count for each serving is 300 cals.
This smoothie recipe was featured in our list of spinach smoothies!
This detox smoothie bowl is also one of our favorite low sugar smoothie recipes! The smoothie itself is made with spinach, basil, and frozen fruit. But the real secret is to load it up with different toppings like blueberries, almonds, or peanut butter!
This avocado green smoothie is super healthy! Avocado is one of the best ways to make a smoothie creamier because it balances the texture of the greens. I recommend soaking the kale in water for half an hour or so before you blend – this will help it be less stringy!
This is also one of the best Magic Bullet weight loss smoothie recipes because of how flexible it is! If you're looking for green smoothies for weight loss, give this one a try!
It's yet another green, healthy smoothie recipe for those who want a great meal replacement smoothie! Quickly prepare a glass of this incredibly healthy drink with ingredients like bananas, blueberries, and spinach.
This is one the best spinach smoothies because it's full of nutrients such as carbs, protein, fat, sodium, potassium, fiber, sugar, and calcium. If you don't have any bananas on hand, check out our list of banana substitutes for smoothies!
This smoothie is loaded with all of the healthy foods you know and love: kale, spinach, blueberries, hemp seeds, pears, and ginger.
​​This smoothie is loaded with mixed berries, frozen bananas, pear, spinach, and/or kale! It's offset with agave syrup and vanilla almond milk. If you want a smoothie that's loaded with all kinds of different fruits and veggies – give this one a try!
It's a green, filling smoothie rich in fiber, iron, and other nutrients that come from various healthy ingredients like avocado, blueberries, spinach, honey, and others. Avocado and spinach are two of the best vegetables for smoothies!
If you want something more tropical, this kiwi cucumber smoothie is the way to go! It's full of vitamins and nutrients. The ingredients are kiwi, cucumber, banana, pear, and baby spinach.
This is one of our favorite green smoothies for weight loss because of the extra fiber from the kiwis.
I think by now we all know that green smoothie recipes for weight loss and detox DO work. The only hard part to swallow is the thought of putting spinach in your smoothie.
Spinach is absolutely packed with great nutrients, making this superfood smoothie one your body will thank you for! We have a list of colon cleansing smoothies if you want more ideas!
This recipe is a fantastic way to start the day! It's loaded with banana, avocado, spinach, kale, and it uses green tea as the liquid base for the smoothie!
This tropical-kale smoothie is super easy to make! There are only 4 ingredients: Kale, frozen pineapple, banana, and orange juice! I recommend making this smoothie thinner because the consistency makes it even more refreshing and easy to drink!
If you want a super unique kale smoothie – you've gotta give this one a try! The only downside is that it's a pretty long list of ingredients compared to most other smoothies on this list. It calls for raw honey, almond butter, cinnamon, and more!
The almond butter is one of our favorite ways to make a smoothie smoother.
---
Common Questions About Making Healthy Green Smoothies
Do green smoothies help you lose weight?
Green smoothies are great for helping you lose weight! They are high in fiber and other nutrients while being low in calories. Most green smoothies are 200-400 calories depending on the type of liquid and fruit.
Is it OK to drink green smoothies everyday?
It's definitely okay to drink green smoothies every day! I've been drinking them every day for a few years and I've never felt better. Change up your recipes so you have some variety and you'll be good to go.
What is the healthiest green to put in a smoothie?
There are a bunch of healthy green vegetables you can put in smoothies! We love using spinach and kale because they add lots of fiber and other micronutrients.
Is spinach or kale better for smoothies?
Spinach and kale are both great for smoothies, but we prefer spinach! It has a better consistency and is less likely to be stringy or gritty in your smoothies. It also will make your smoothies less foamy than kale.