This post may contain affiliate links. If you use these links to buy something we may earn a small commission. Thanks.
My wife and I absolutely love drinking green smoothies. We've tested a bunch of recipes and these are the best green smoothies for weight loss! Every recipe on the list is less than 400 calories so they are perfect for eating healthy!
I've been drinking green smoothies for years and I still love them! I make a big batch on Sundays when I meal prep smoothies and drink one every morning.
Not to brag, but half of the recipes on this list are our own original recipes.
If you're looking for weight loss green smoothies, this list is for you! All 16 of these healthy green smoothie recipes are easy to make, taste great, and will be the perfect way to start your day. At the end, I'll also break down the benefits of green smoothies and the amount of calories in green smoothies.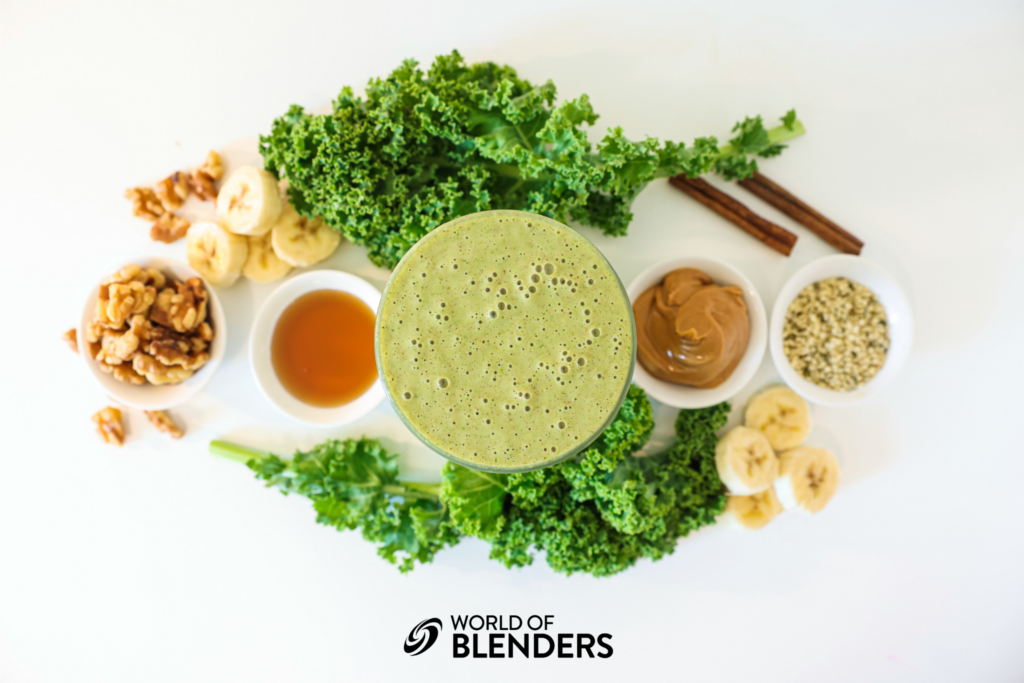 ---
Tips for Making Healthy Green Smoothies for Weight Loss
I've tested dozens of recipes and strategies for making great weight loss green smoothies. Over the past couple of months I've been writing down a list of tips to help you make the best green smoothies possible.
Blend the greens first – One pro trick is to blend your greens (spinach, kale, etc) by itself with your liquid smoothie base. Once it's thoroughly blended, add in your other ingredients. This will help make sure the greens gets chopped super fine and you won't be left gagging on any stringy bits.
Add ingredients that balance – Green smoothies can be bitter so offset this by adding fruits like bananas, avocado, or mango.
Use milk – I highly recommend using some kind of milk as your smoothie liquid base. You can make smoothies with water, but milk is the best way to make thicker smoothies! I personally like using oat milk or coconut milk for green smoothies because the nutty and slightly sweet flavor can help.
Use a high powered blender – Using a strong blender is essential to making healthy green smoothies! You want a blender that can really grind up the greens. A weaker blender will end up with chunks and stringy bits of spinach or kale.
Soak your kale – I recommend soaking your kale in water to soften it up before blending in your smoothie. Put it in a big bowl for 30-60 minutes and submerge your kale in water.
Be careful with too much fruit – Fruit is great for smoothies, but if you aren't careful it can have lots of sugar. I recommend prioritizing berries and other low GI fruits.
High protein – There are so many ways to add protein to smoothies, but our favorites are greek yogurt, milk, and protein powder. Using milk in smoothies is great for adding a bit of protein!
Make them in advance – If you want to drink smoothies every day it can be a hassle to make them fresh. Make a big batch on Monday morning and store leftover smoothies in the fridge for the week! Smoothies last for 3-4 days if properly stored.
---
16 Healthy Weight Loss Green Smoothies
After making tons of weight loss breakfast smoothies these are our favorites! They're easy to make and made with as few ingredients as possible to save you time.
Blueberries and spinach are a great pairing for healthy smoothies! The avocado, greek yogurt, and chia seeds make it loaded with healthy fats, high in protein, and high in fiber! This recipe clocks in at 12g of fiber per serving, making it one of our best green smoothie recipes.
This is one of our favorite almond milk smoothies for weight loss because of the chia seeds and greek yogurt.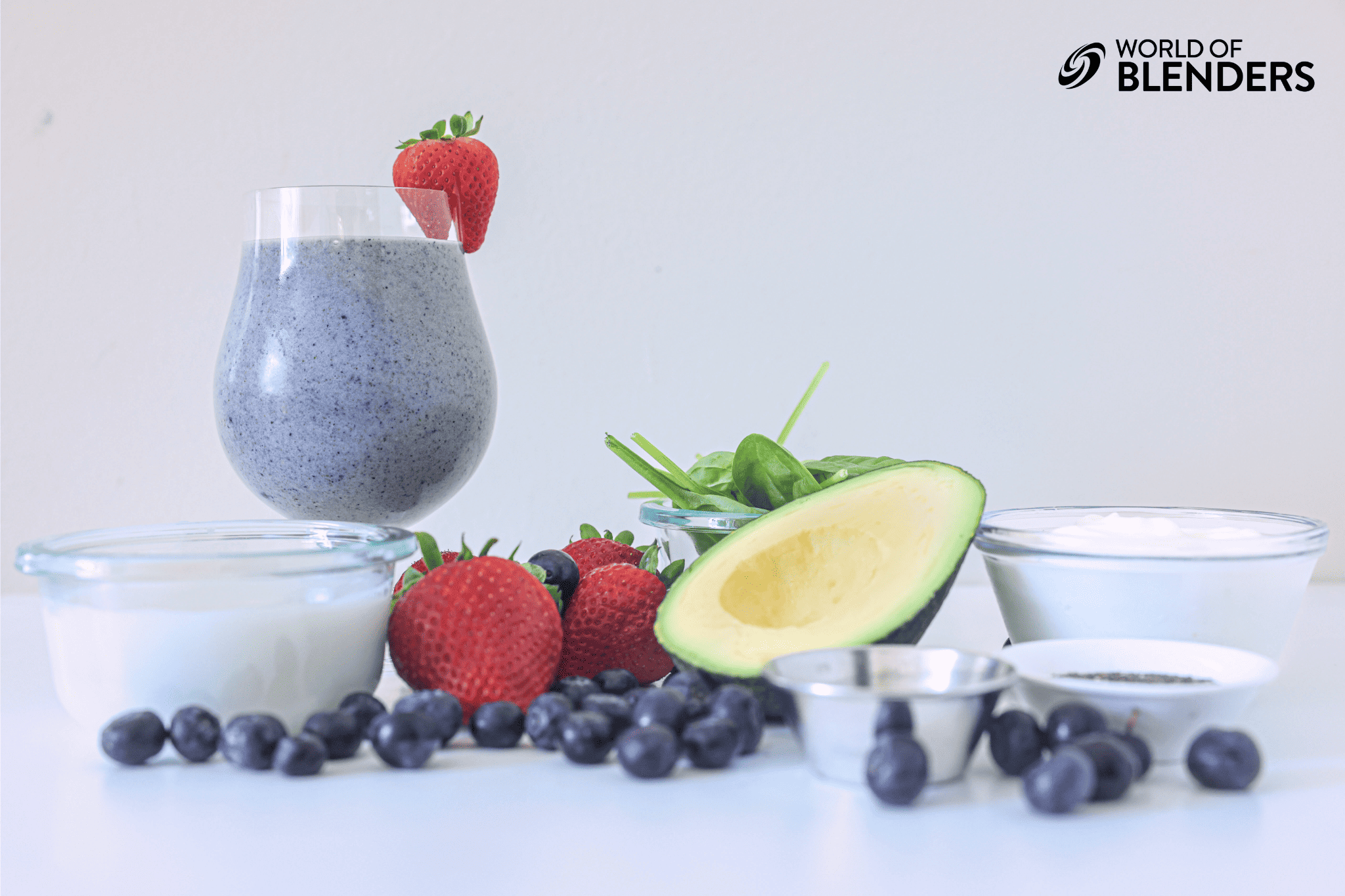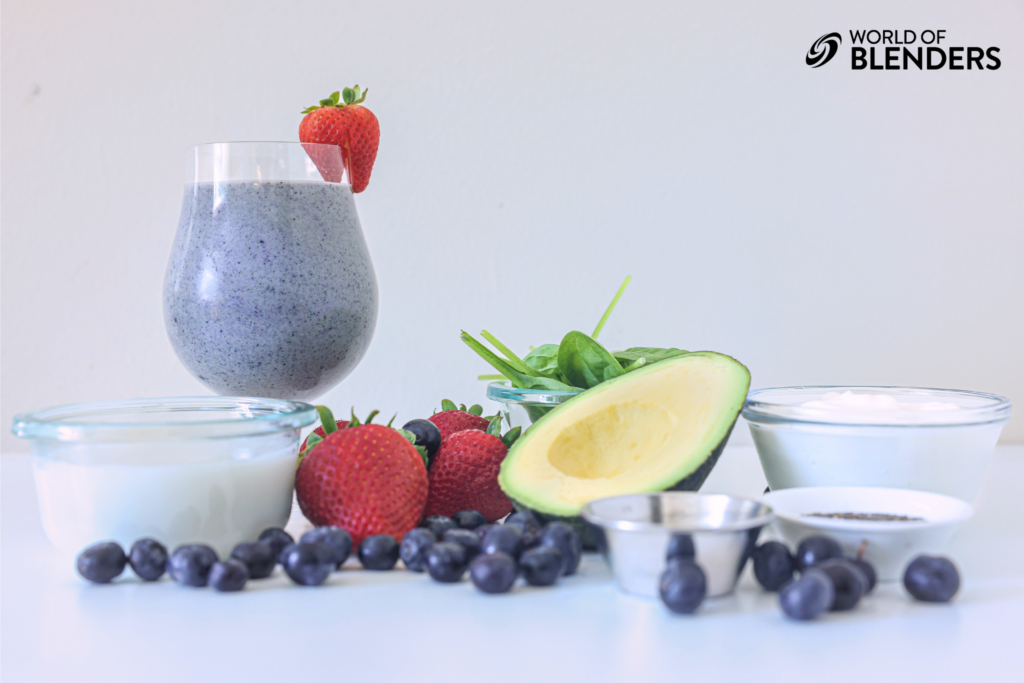 Our green detox smoothie is one of our go-to recipes! It's not exactly the most flavorful, but it's packed with super healthy ingredients like spinach, celery, cucumber, and pineapple. It also has 15g of fiber and only 330 calories. If you need a good colon cleansing smoothie, this one is for you.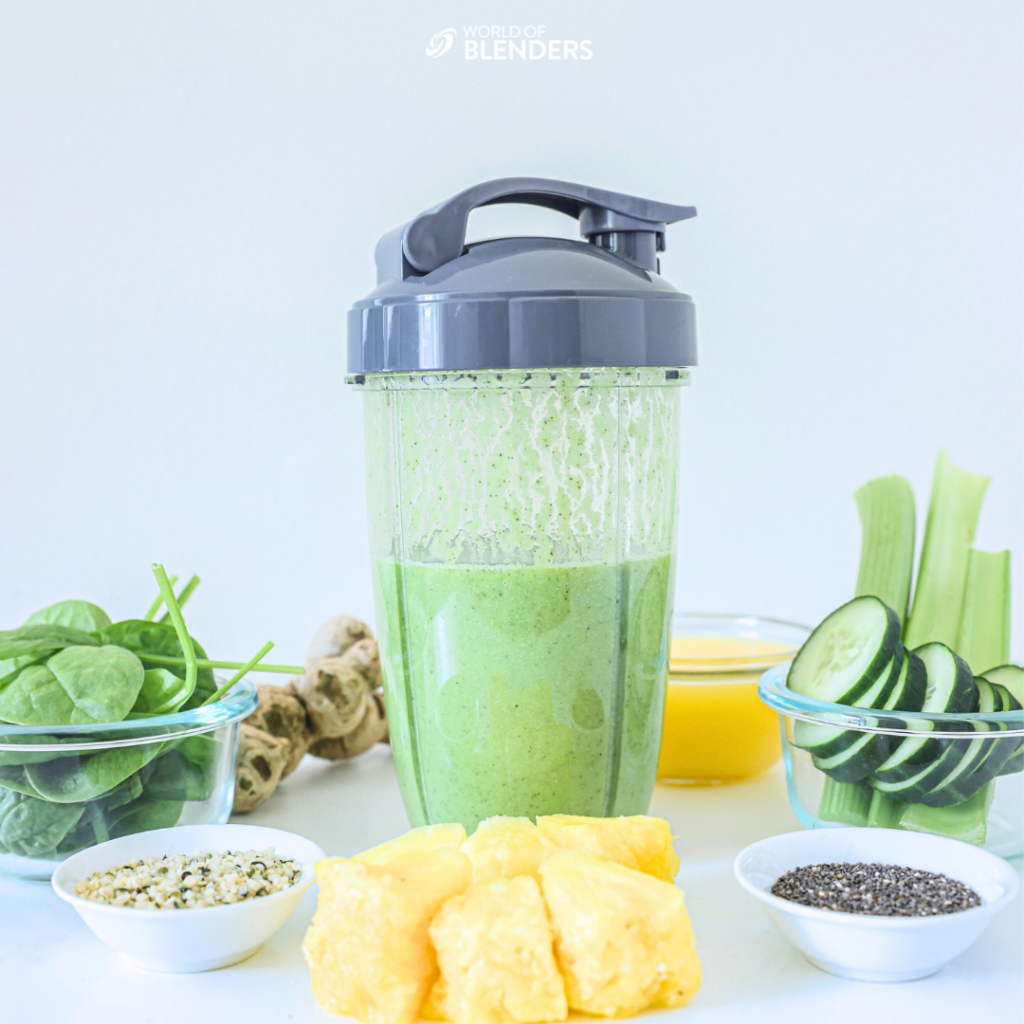 If you're looking for healthy green smoothies that are also high in protein, this one is perfect. It's full of spinach, blueberries, banana, nut butter, almond milk, chia and hemp seeds. It also has 35g of protein thanks to the the protein powder. The combo of seeds and spinach gives it 12g of fiber!
The almond milk is our favorite liquid base for the smoothie and is super common in our list of dairy free smoothie recipes!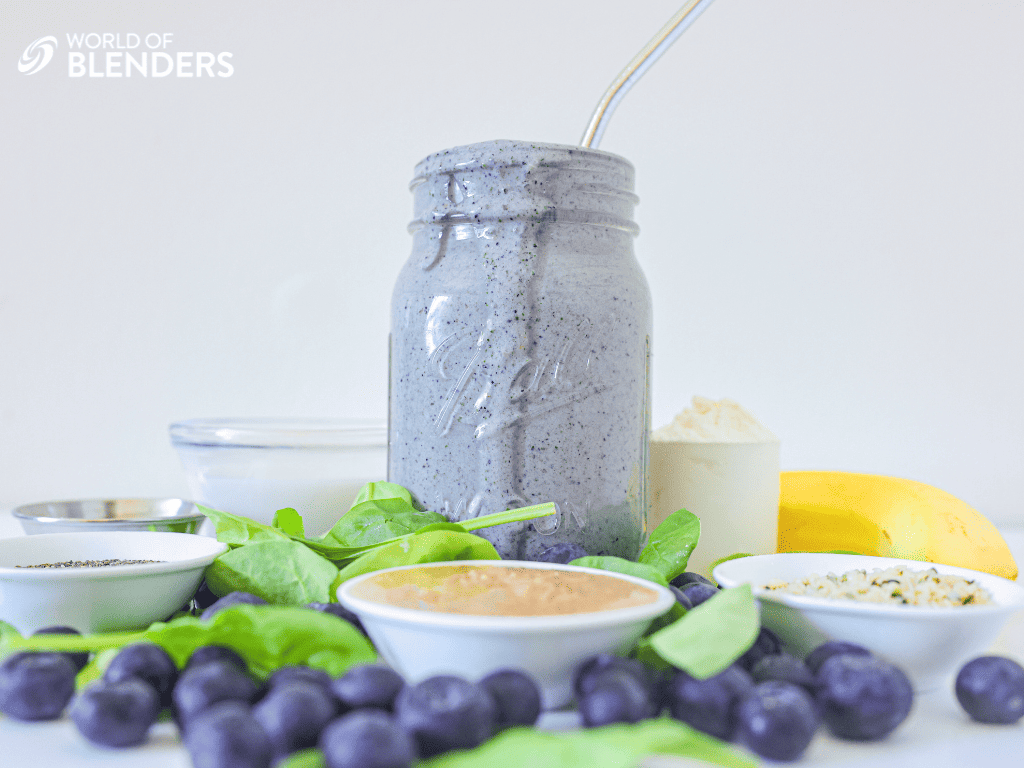 This green goddess recipe has both spinach and kale! The pineapple and banana helps balance it out and the almond milk gives it a creamier texture. We add Greek yogurt to give it a boost of protein. The best part is this smoothie is less than 300 calories!
This recipe actually only has 8g of fiber, but add half a tbsp of chia seeds and it'll be over 10g. It's one of our favorite kale smoothie recipes and it's also one of the best whole30 smoothies.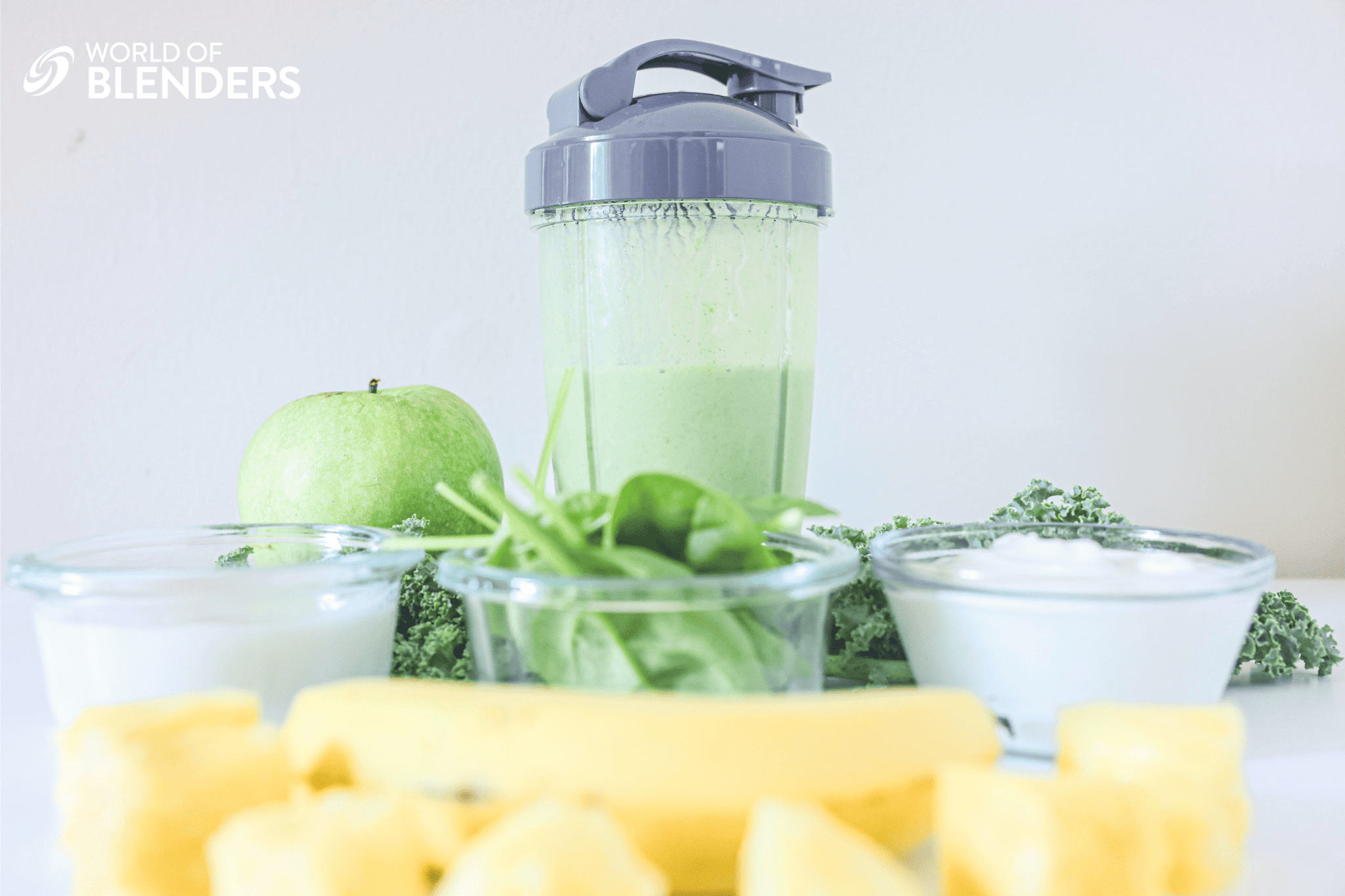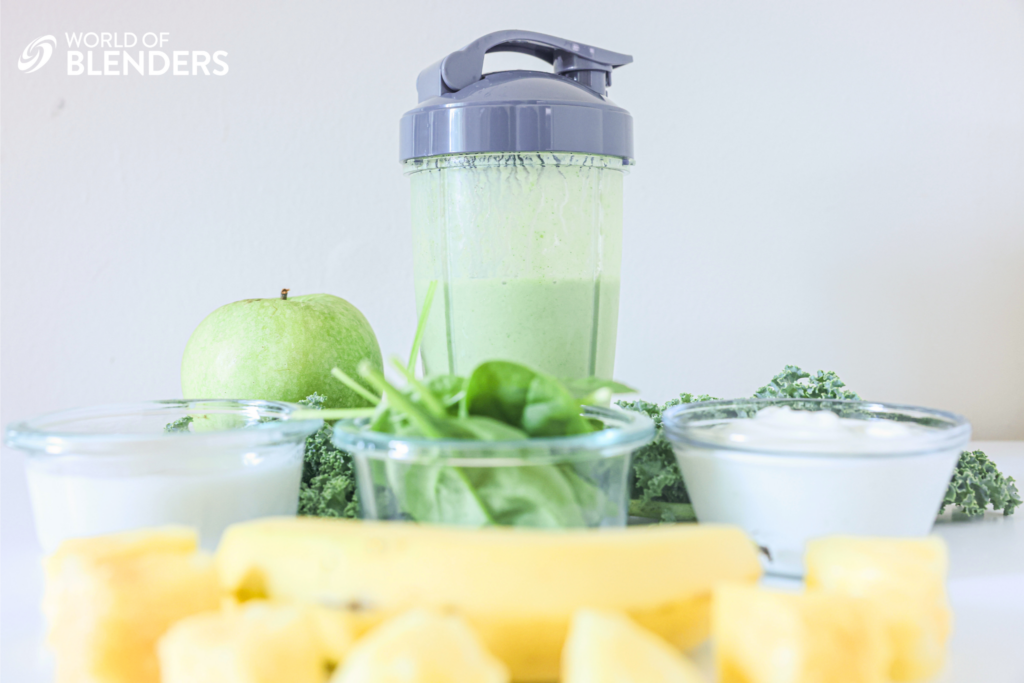 This healthy chocolate green smoothie is one of our personal favorites! I tested several different ingredient combinations before landing on this one. This is one of the best green smoothies for weight loss because it has 30g of protein, 10g of fiber, and less than 20g of sugar.
This one is also less than 350 calories.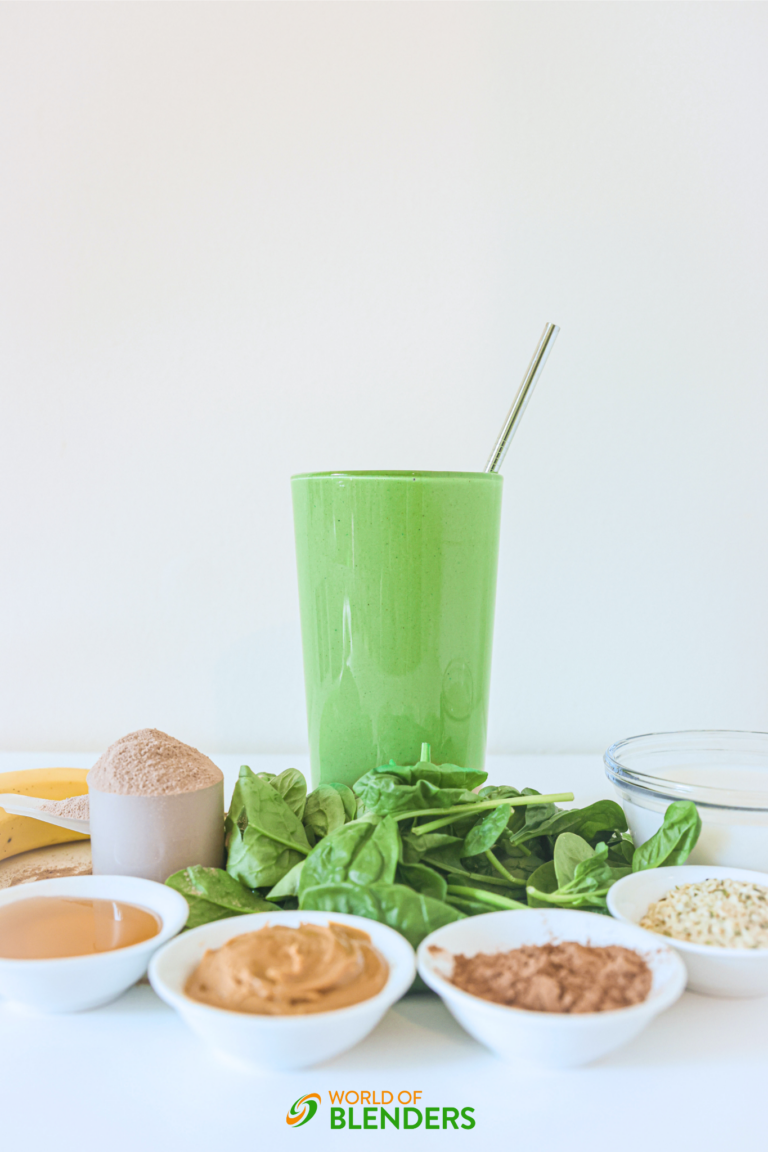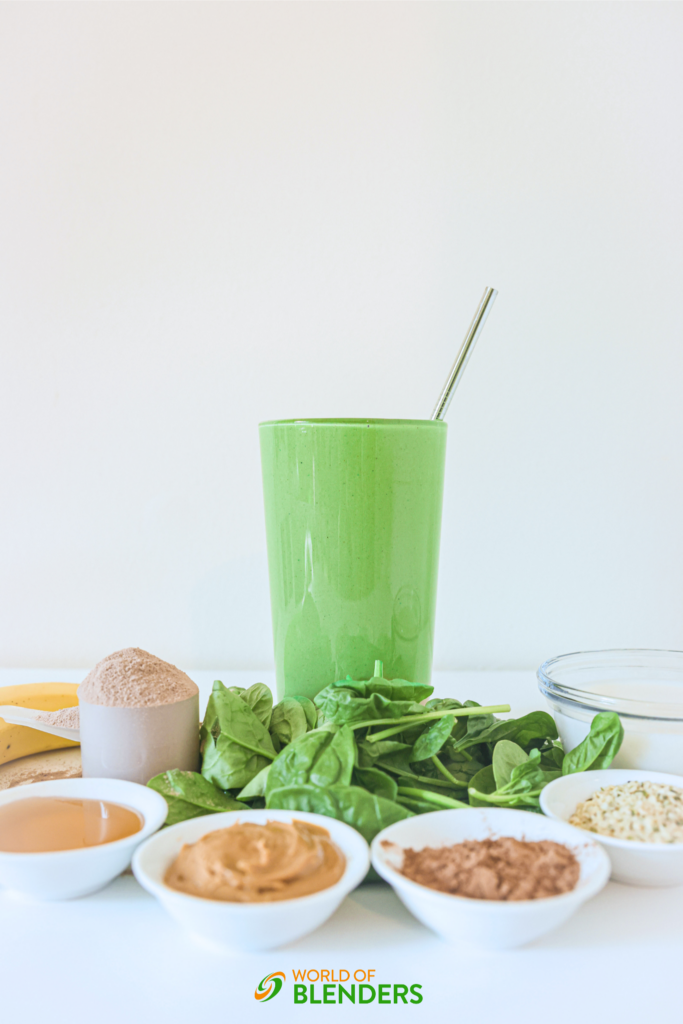 If you have apples and bananas on hand, this smoothie is perfect for you. It's got 10g of fiber and only 250 calories. The mango is one of our favorite natural ways to sweeten a smoothie. The spinach makes this smoothie super high in Vitamin K and A.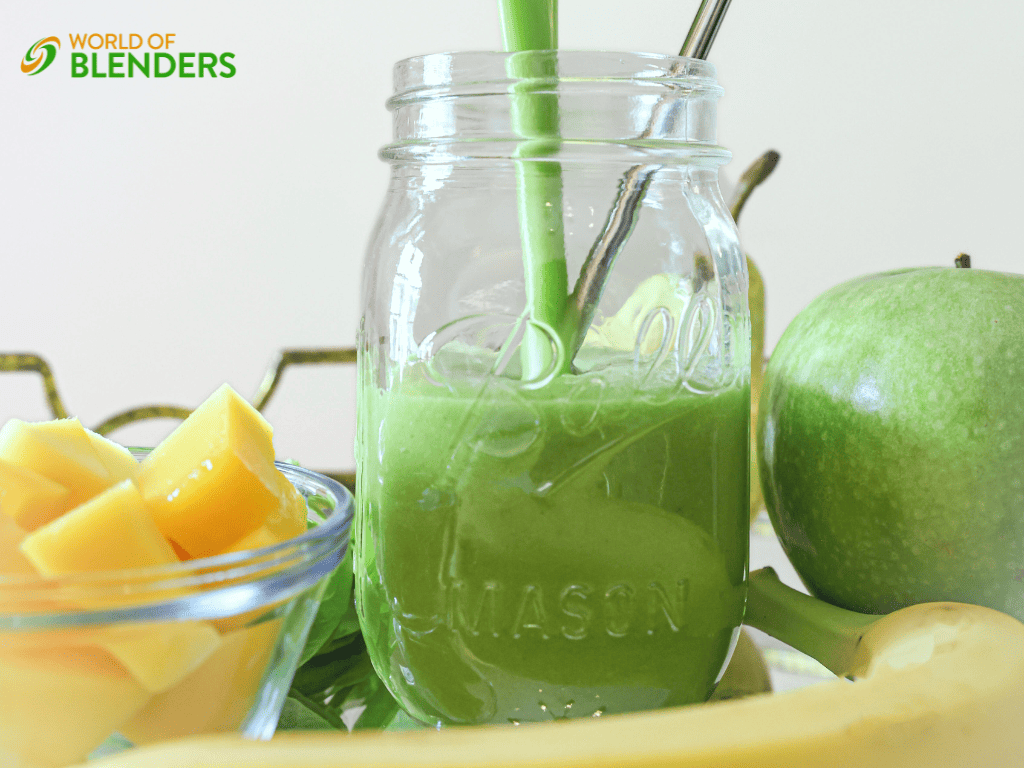 This one is a perfect, chocolatey weight loss green smoothie! This smoothie includes several ingredients like spinach, hemp seeds, and almond butter that add healthy nutrients to get your metabolism going.
A glass of this morning green smoothie would boost your energy to kick-start your day with a bang.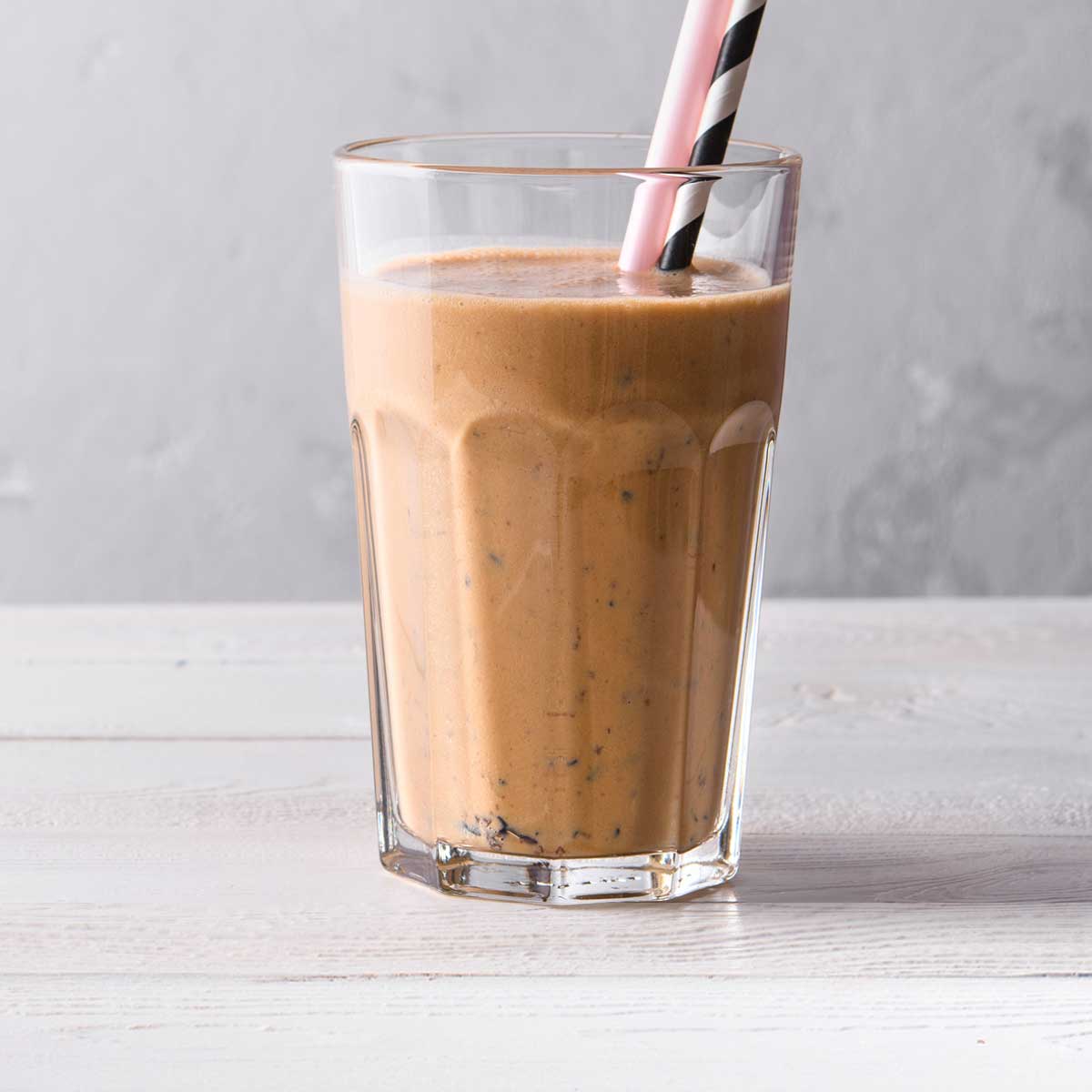 The healthy green smoothie is a tasty, green smoothie for weight loss and detox. It's packed with a good balance of carbs and protein, thanks to the greens, fruits, and nuts. The ingredients required are spinach, peach, ginger, chia seeds, and almond milk.
Chia seeds are one of the best ways to make high fiber smoothies!
This spinach banana smoothie is a green, healthy drink made with spinach, banana, and chia seeds. It's a healthy breakfast drink with essential nutrients such as protein, sodium, carbs, and fiber. The calorie count for each serving is 300 cals.
This smoothie recipe was featured in our list of spinach smoothies!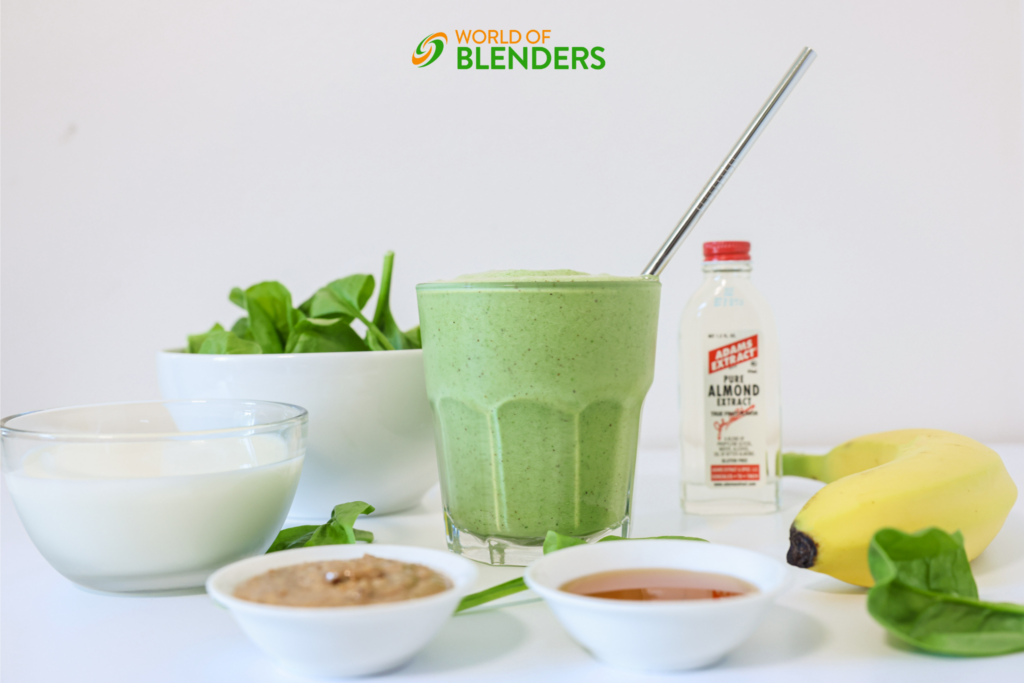 This detox smoothie bowl is also one of our favorite low sugar smoothie recipes! The smoothie itself is made with spinach, basil, and frozen fruit. But the real secret is to load it up with different toppings like blueberries, almonds, or peanut butter!
This avocado green smoothie is super healthy! Avocado is one of the best ways to make a smoothie creamier because it balances the texture of the greens. I recommend soaking the kale in water for half an hour or so before you blend – this will help it be less stringy!
This is also one of the best Magic Bullet weight loss smoothie recipes because of how flexible it is! If you're looking for green smoothies for weight loss, give this one a try!
It's yet another green, healthy smoothie recipe for those who want a great meal replacement smoothie! Quickly prepare a glass of this incredibly healthy drink with ingredients like bananas, blueberries, and spinach.
This is one the best spinach smoothies because it's full of nutrients such as carbs, protein, fat, sodium, potassium, fiber, sugar, and calcium. If you don't have any bananas on hand, check out our list of banana substitutes for smoothies!
​​This smoothie is loaded with mixed berries, frozen bananas, pear, spinach, and/or kale! It's offset with agave syrup and vanilla almond milk. If you want a smoothie that's loaded with all kinds of different fruits and veggies – give this one a try!
It's a green, filling smoothie rich in fiber, iron, and other nutrients that come from various healthy ingredients like avocado, blueberries, spinach, honey, and others. Avocado and spinach are two of the best vegetables for smoothies!
I think by now we all know that green smoothie recipes for weight loss and detox DO work. The only hard part to swallow is the thought of putting spinach in your smoothie.
Spinach is absolutely packed with great nutrients, making this superfood smoothie one your body will thank you for!
If you want a super unique kale smoothie – you've gotta give this one a try! The only downside is that it's a pretty long list of ingredients compared to most other smoothies on this list. It calls for raw honey, almond butter, cinnamon, and more!
The almond butter is one of our favorite ways to make a smoothie smoother.
---
Green Smoothie Benefits
There are all kinds of benefits of smoothies and green smoothies are the healthiest.
Good for digestion – Leafy greens are usually packed with insoluble fiber which is the key to keeping your digestive track moving.
Adds volume but no calories – One of the benefits of adding greens to smoothies is that you can make more filling smoothies without adding a bunch of extra calories. A couple handfuls of spinach will help fill you up.
High fiber – A bunch of these greens for smoothies are packed with fiber. If you want to make high fiber green smoothies, add some extra leafy greens into your next smoothie.
Hit your daily targets – Most Americans are deficient in eating enough fruits and veggies. Eating a green smoothie every day can be a massive headstart to getting enough veggies in your diet.
Bone Health – There's solid research that shows bone health is benefitted by Vitamin K. Spinach and kale are both loaded with Vitamin K1!
Weight loss – Most of these green veggies for smoothies are super low in calories! Our typical green smoothie recipe has anywhere from 200-300 calories making them great for weight loss.
---
Calories in Green Smoothies
If you're wondering how many calories are in green smoothies, we've got you covered. It's going to vary depending on the recipe, but most of the recipes we've tested and made are 200-400.
The biggest variables are the kinds of liquid and fruit you make your smoothie with.
| | |
| --- | --- |
| Recipe | Calories |
| 1. Blueberry spinach smoothie | 306 |
| 2. Green detox | 328 |
| 3. High protein green smoothie | 410 |
| 4. Green goddess | 294 |
| 5. Chocolate green smoothie | 360 |
| 6. Apple banana green smoothie | 265 |
---
How to Make the Best Green Smoothie at Home
I've made hundreds of green smoothies and have tested countless recipes. As I've mentioned, we've written a bunch of our own green smoothie recipes. Point being, we have the experience to show you how to make the best green smoothies.
If you want to craft your own, here are some steps to follow:
Flavor profile / health goals – The first thing to decide is what kind of smoothie flavor you want! You can go with something tropical, something chocolatey, or something super fruity. You'll also want to pick your health goals. Are you trying to get more protein? Low sugar? Whole30 friendly?
Pick your greens – I highly recommend using 1 cup of spinach and supplementing with a half cup of another green like microgreens. 1-2 cups is usually the right amount.
Pick your fruit – While the greens are important, the fruit you pick will actually determine the flavor and taste of your smoothie. You can use whatever you want, but I recommend going for at least two kinds of fruit. I recommend trying to use bananas and at least one type of berry (blueberries or strawberries). You can also go with citrus options like mango or pineapple.
Liquid – Every recipe needs liquid! I'd recommend going with almond milk for green smoothies. it helps counter balance the greens to improve the consistency and texture. If you want something more tropical, go with half OJ and half almond milk. Start with less liquid than you think and add more until you get the right consistency.
Any extras – There are a bunch of ways to jazz up a smoothie! I'd recommend adding a 1/4 cup of greek yogurt, 1/4 of an avocado, and some vanilla extract. If you want some extra fiber, add in some chia seeds.
---
Best Liquids for Green Smoothies
We've made hundreds of green smoothies and have tested almost every liquid for green smoothies. The two best liquids for green smoothies are almond milk and orange juice.
Almond milk – This is our top choice for making the best green smoothies because it's incredibly smooth and creamy. It's dairy free and can fit just about any diet or lifestyle protocol. We like oat milk too, but almond milk is usually half as many calories.
Orange juice – If you want a more citrusy or tropical smoothie, then orange juice is perfect. The sweetness is going to balance out the bitterness of the greens.
Honorable mentions – 2% milk, pineapple juice, coconut water
---
Common Questions About Making Healthy Green Smoothies
Do green smoothies help you lose weight?
Green smoothies are great for helping you lose weight! They are high in fiber and other nutrients while being low in calories. Most green smoothies are 200-400 calories depending on the type of liquid and fruit.
Is it OK to drink green smoothies everyday?
It's definitely okay to drink green smoothies every day! I've been drinking them every day for a few years and I've never felt better. Change up your recipes so you have some variety and you'll be good to go.
What is the healthiest green to put in a smoothie?
There are a bunch of healthy green vegetables you can put in smoothies! We love using spinach and kale because they add lots of fiber and other micronutrients.
Is spinach or kale better for smoothies?
Spinach and kale are both great for smoothies, but we prefer spinach! It has a better consistency and is less likely to be stringy or gritty in your smoothies. It also will make your smoothies less foamy than kale.