This post may contain affiliate links. If you use these links to buy something we may earn a small commission. Thanks.
My wife and I have owned 4-5 different Vitamix blenders and we've tested every single one they've ever released. These days we're loving the Vitamix A3500 and the Vitamix E310. It just depends if we want to go high tech or simple.
If we're making a big batch, making smoothies in a Vitamix is our favorite.
These are the 32 best Vitamix smoothies if you're wanting to eat healthy and start your day on the right foot! If you want to make healthy Vitamix smoothies, make sure to check out our tips below before you get blending.
You probably already own a Vitamix, but check out our deep dive guide on the best Vitamix blenders if you ever need a new one!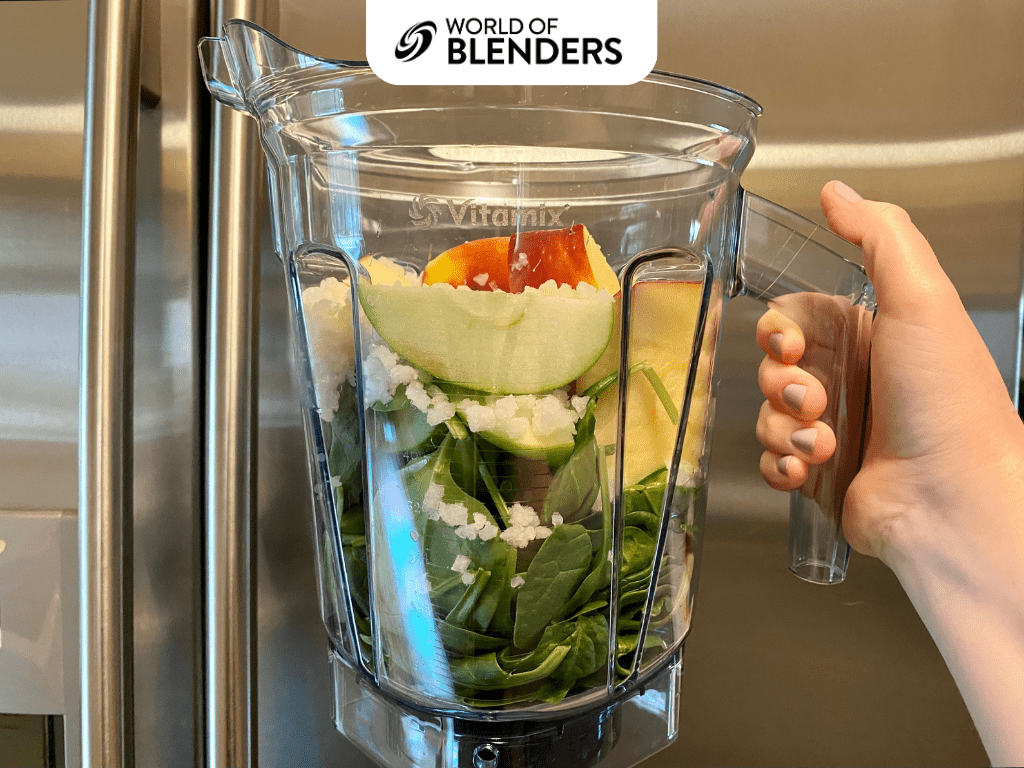 ---
Tips for Making Smoothies in a Vitamix Blender
I've been using Vitamix blenders to make smoothies for the last 10+ years! These are some of our quick tips to help you learn how to make the best smoothies in a Vitamix.
Layer ingredients correctly – It's important to layer ingredients in your blender the right way! Put your liquid in first, followed by greens, and then add in your more solid ingredients. This will help the blender work most effectively. This is the key to making the best Vitamix smoothies,.
Don't overblend – Vitamix blenders are high wattage which means they're incredibly powerful! If you blend your smoothie for too long the power from the Vitamix will actually start to heat up the ingredients too much – so don't overblend it!
Use enough liquid – If you don't use enough liquid in your smoothies it'll be hard for the blades to move. It's hard to blend frozen fruit without liquid so make sure you use enough!
Blend your greens first – One trick is to blend your spinach by itself with your liquid. Once it's well blended, add in your other ingredients. This will help make sure your spinach or kale get chopped super finely and you won't be left choking on stringy clumps. We've got a list of spinach smoothies or kale smoothie recipes if you need ideas!
---
32 Vitamix Smoothie Recipes
All of these healthy Vitamix smoothies are great if you're looking for a cheap weight loss smoothies or if you just need a healthy snack.
The strawberry banana smoothie is a natural, healthy, and creamy drink without yogurt. It's high in protein and fiber and is best for breakfast or midday meals.
The ingredients in this smoothie are strawberries, bananas, almond milk, oats, water, vanilla protein powder, and ice. This is one of our all-time favorite smoothie recipes without yogurt! Be sure to also check out our list of yogurt substitutes for smoothies if you need more help.
It's a beachy smoothie full of flavors thanks to flavorful ingredients like oranges and peaches. Moreover, spinach and coconut milk add healthy nutrients to boost your energy. Make a glass of this rich-flavor meal replacement smoothie for breakfast or a mid-day snack.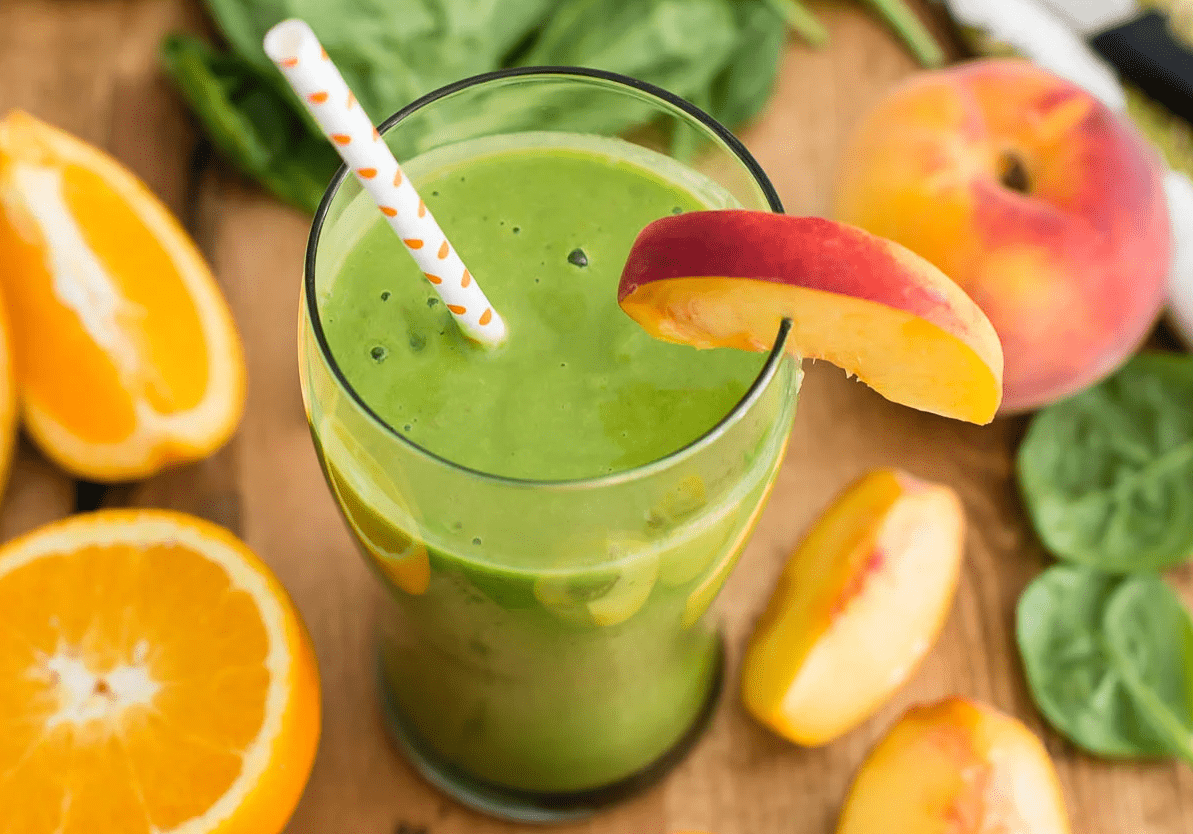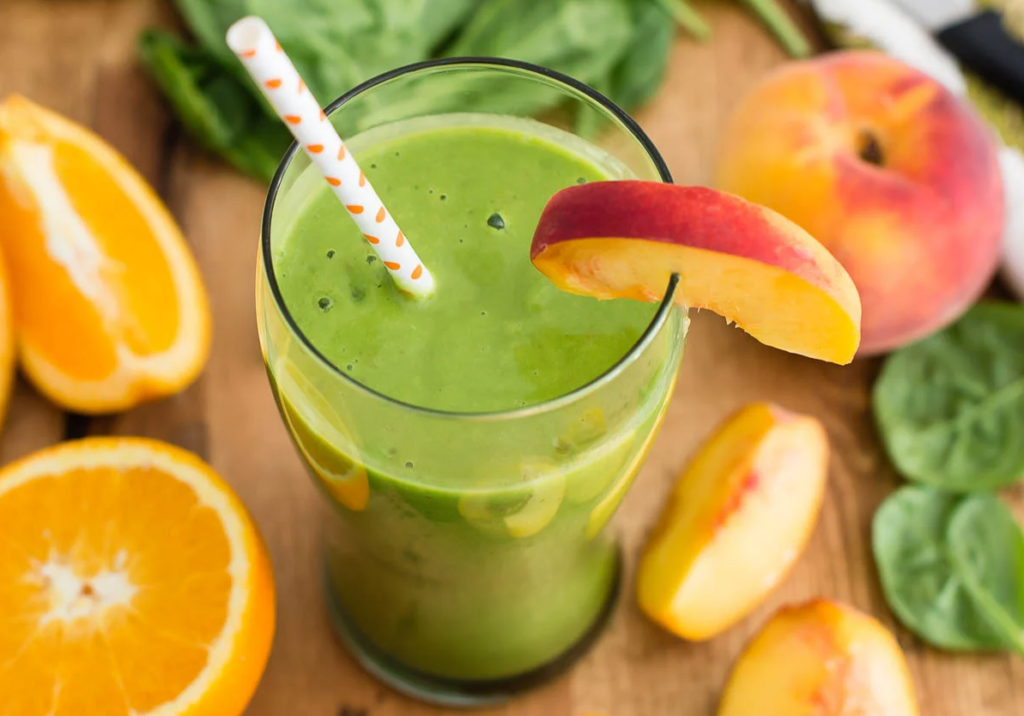 This banana peanut butter smoothie is a chocolaty, creamy, and thick smoothie that is best for breakfast or an afternoon snack. It contains carbs, fats, protein, fiber, and sugar, but all nutrients come from natural sources. This is one of our favorite high protein smoothies!
The main ingredients are banana, peanut butter, avocado, plain yogurt, chia seeds, coconut or almond milk, and cocoa powder. Put all the ingredients into the blender and prepare a high-protein smoothie within a few minutes.
Almond and coconut milk are two of the best milk bases for smoothies!
This orange strawberry smoothie is one of the lowest calorie smoothies on our list with only 60 calories a serving! The smoothie is sweetened from the orange and strawberries. The squash helps add a smoother smoothie texture and gives some volume to the smoothie without the extra cals
This is a smoothie made with water instead of dairy which also helps lower the calorie content!
This smoothie is natural, healthy, and juicy filled with flavor and nutrients. The ingredients include beetroot, strawberry, coconut oil, apple, dates, and almond milk. This is also on our list of our favorite NutriBullet smoothies for weight loss as well!
This colon-cleansing smoothie provides essential minerals, such as carbs, proteins, saturated fat, sodium, fiber, and sugar. Put all the ingredients in the blender for a few minutes until smooth.
This smoothie is loaded with different fruits and veggies: Pineapple, raspberries, kale, and blueberries! It also uses flax seed oil for some added health benefits. I recommend adding in a handful of ice to make the smoothie as cold as possible. If you like berries, this will be one of your favorite Vitamix smoothie recipes.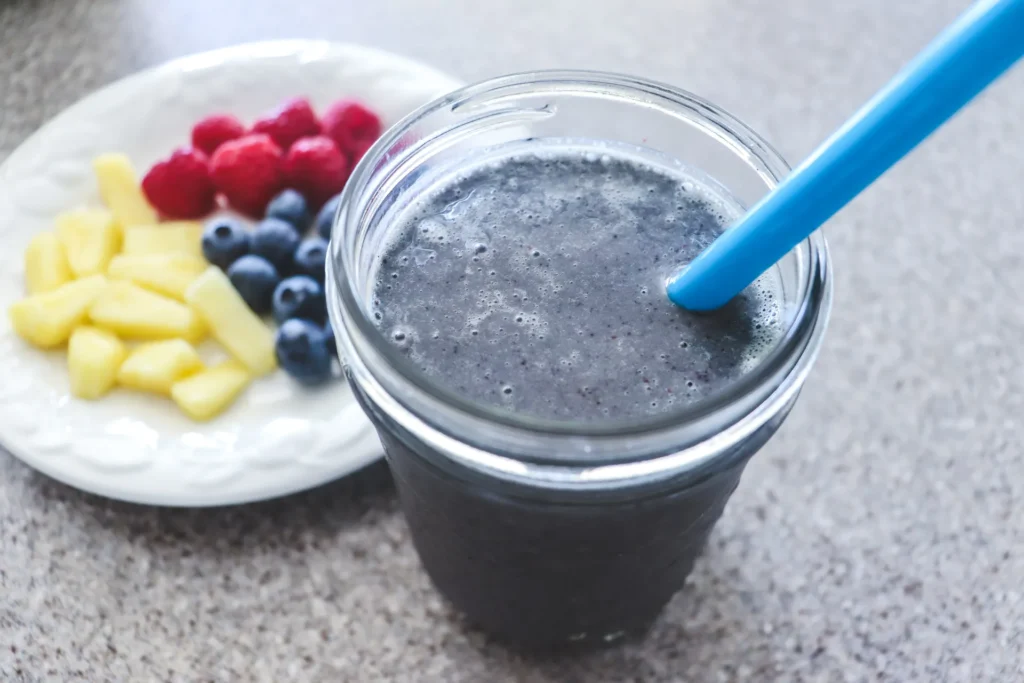 Raise your hand if you enjoy a delicious, possibly-chocolate-flavored, rich coffee as a tasty treat to start your day!
Replace that calorie-heavy latte or iced cappuccino with this chocolate breakfast shake and you will see a big change in your health but without any loss of taste! You could even add a pinch of instant coffee if you truly need the caffeine "pick-me-up."
The caffeine + chocolate makes this one of the best Vitamix smoothie recipes!
This mixed berry oatmeal smoothie is delicious, rich in flavor, and super healthy! It's filled with nutrients such as fiber, protein, carbs, sodium, and sugar. This is one of our favorite almond milk smoothies as well!
The ingredients required are mixed berries, almond milk, rolled oats, chia seeds, maple syrup, greek yogurt, and ice. Chia seeds are one of the best ingredients because they make smoothies thicker!
This detox smoothie bowl is also one of our favorite low sugar smoothie recipes! The smoothie itself is made with spinach, basil, and frozen fruit. But the real secret is to load it up with different toppings like blueberries, almonds, or peanut butter!
This is a great fruity and juicy smoothie that is loaded with nutrients, sweetness, and flavor. This smoothie is filled with protein, fiber, vitamin C, and potassium.
The ingredients contain bananas, raspberries, peach, rolled oats, and greek yogurt. Blend all the ingredients well until smooth. Adding oats into a smoothie is one of the best ways to make a smoothie more filling!
The vegan pineapple strawberry smoothie is rich in flavor and nutrients and made without yogurt. It's a fantastic post-workout meal that provides vital nutrients, such as carbs, proteins, fat, sodium, iron, fiber, sugar, and vitamin C.
The ingredients like pineapple, strawberries, lemon juice, and coconut milk add fruitiness to this smoothie recipe. Coconut milk is a great way to make smoothies more creamy!
This mint chocolate smoothie is almost like a thin mint girl scout in smoothie form! It's low in sugar because of the cacao nibs and mint extract. The most unique ingredient is bone broth, which we've never tried before in a smoothie until now! The combo of ingredients makes this one of the most unique Vitamix smoothies!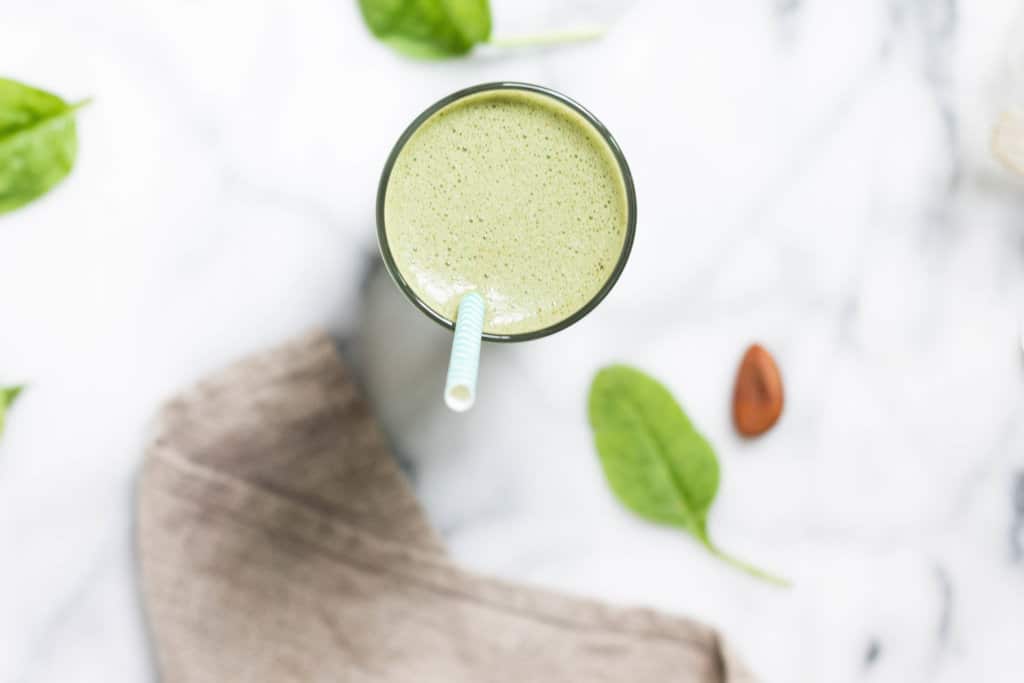 It's a thick, creamy, delicious smoothie for a perfect breakfast or mid-day meal. It has taste and texture, thanks to healthy ingredients like banana and peanut butter.
Add honey and almond or coconut milk for flavor and consistency, and have fun drinking a glass of this healthy smoothie. This is one of our favorite dairy free smoothies!
This avocado green smoothie is super healthy! Avocado is one of the best veggies for smoothies because it balances the kale for texture. I recommend soaking the kale in water for half an hour or so before you blend – this will help it be less stringy!
This is also one of the best Magic Bullet weight loss smoothie recipes because of how flexible it is! If you're looking for Vitamix green smoothie recipes, give this one a try!
This berry smoothie is creamy and delicious! It's loaded with veggies and fruits that pack it full of nutrients.
Besides kale, blueberries, and strawberries, add vanilla extract for taste and texture and enjoy this delicious drink!
This kale apple smoothie is packed with flavor! It's an easy and quick-to-make green smoothie for people who love green and organic juices.
This recipe calls for kale, apple, chia seeds, flax seeds, maple syrup, lemon juice, and almond butter (optional). This smoothie is packed with healthy nutrients, such as proteins, carbs, fiber, vitamin C, iron, and calcium. The chia seeds and kale make this a great high fiber smoothie!
It's vegan, healthy, and rich in an antioxidant smoothie with loads of healthy ingredients full of nutrients, which makes it a great option for a meal replacement drink.
Adding banana, blueberries, hemp seeds, and protein powder boosts its nutritious value.
It's easy to make, tasty, and full of protein. The main ingredients are dark chocolate, almond butter, protein powder, and whole milk. A quick tip is to melt the chocolate in the microwave before putting it in the blender.
Enjoy the chocolatey smoothie after your 9-to-5 and spend quality time with your family. This one might be an exception to the "weight loss" goal because it's one of the best high-calorie smoothie recipes for gaining weight. But it's one of our favorite Vitamix smoothie recipes!
This recipe is a fantastic way to start the day! It's loaded with banana, avocado, spinach, kale, and it uses green tea as the liquid for the smoothie! The combo of ingredients makes this one of our favorite healthy Vitamix smoothies!
It's yet another green, healthy smoothie recipe for those who skip a meal for a smoothie. Quickly prepare a glass of this incredibly healthy drink with ingredients like bananas, blueberries, and spinach.
This is one the best spinach smoothies because it's full of nutrients such as carbs, protein, fat, sodium, potassium, fiber, sugar, and calcium. If you don't have any bananas on hand, check out our list of banana substitutes for smoothies!
This smoothie is loaded with all of the healthy foods you know and love: kale, spinach, blueberries, hemp seeds, pears, and ginger.
This keto peanut butter smoothie only has 6 net carbs! It's the perfect way to kick off your day if you need something just slightly sweet to offset the onslaught of meat and eggs on a keto diet.
The only downside is that it is has some less natural sweeteners, but it's one of the best keto friendly smoothie recipes!
This greek yogurt smoothie is high in protein and low in carbs! It's less than 5g of net carbs, making it a great low carb smoothie option. It's also a good smoothie for diabetics!
The vegan tropical smoothie is a quick, simple, and healthy drink best suited for breakfast or afternoon meals. The fruitiness of this smoothie comes from the tasty and juicy ingredients, such as strawberries, mangos, peaches, and pineapple.
Other ingredients included are dates, coconut milk, and orange juice. It's filled with several essential nutrients that make it an energy-booster drink.
This chocolate cherry smoothie is mouth-watering and delicious for people who want to gain weight but also want a dairy-free and paleo recipe. The frozen cherries, cocoa powder, vanilla extract, coconut milk, and maple syrup make it a high protein smoothie full of flavor. The cherry-chocolate combo makes this one of our favorite Vitamix smoothie recipes!
An optional ingredient is cauliflower that is high in fiber which boosts the health benefits.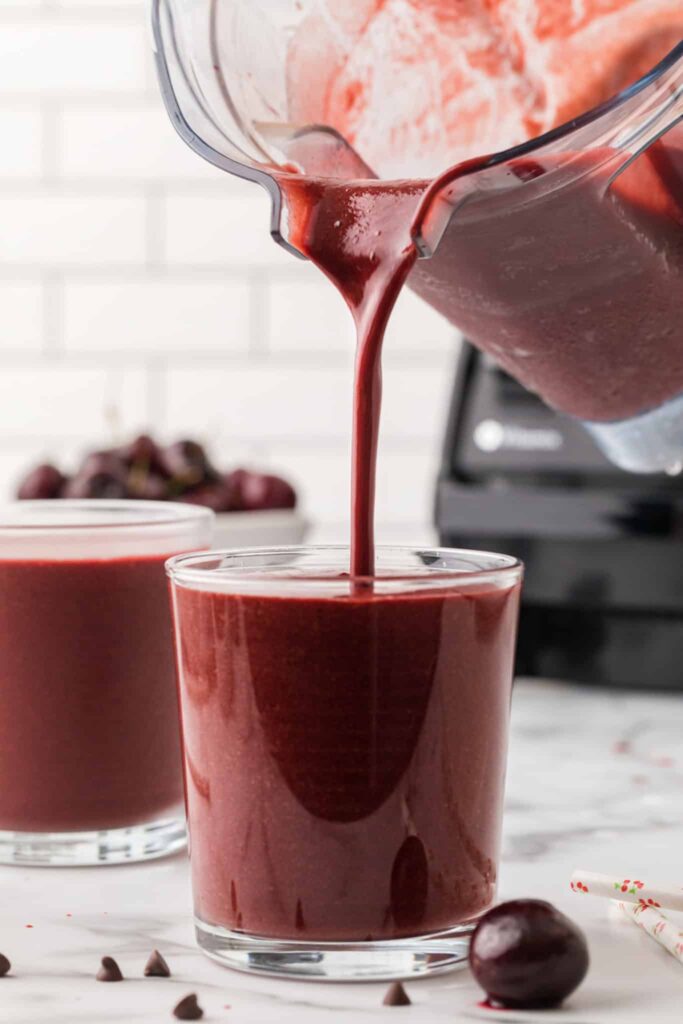 The kale banana blueberries smoothie is a natural, tasteful drink that is rich in fiber, carbs, proteins, calcium, iron, potassium, and vitamins. The ingredients include kale, banana, blueberries, greek yogurt, chia seeds, and water. Banana adds thickness and texture to the recipe.
There's a reason people always think "eat grapefruit for breakfast" when they think of diets and weight loss.
Here's a MUCH better (tastier!) way to do the same thing with an easy to make smoothie!
Recently, I have been loving ginger! Interestingly, it's a natural appetite suppressant, which means it will help curb your appetite and make you feel fuller longer, making this recipe just about the perfect, filling weight loss smoothie!
The look of this cashew date smoothie makes me think of a drink from Starbucks. However, in this weight loss smoothie, it contains dates.
Dates are great for weight loss because the high fiber helps keep you regulated. If you want a sweeter smoothie, then this is the best Vitamix smoothie recipe for you!
This smoothie is a chocolatey, thick, creamy weight-loss smoothie recipe with almond milk. The deliciousness comes from tasty ingredients, such as cocoa powder, almond milk, almond butter, banana, vanilla extract, and ice.
Put the ingredients in the blender and blend until smooth.
The chunky monkey smoothie is a quick smoothie recipe with only four ingredients: almond milk, frozen bananas, peanut butter, and chocolate chips.
It's a yummy, gluten-free smoothie for breakfast or a midday snack packed with several healthy nutrients, such as protein, calcium, fat, sodium, and potassium.
Looking for a low sugar smoothie? This creamy blueberry smoothie that tastes exactly like a blueberry muffin! It's a good source of antioxidants, protein, and healthy fats.
The ingredients for this smoothie are greek yogurt, cashew butter, almond extract, frozen blueberries, milk, and lemon juice.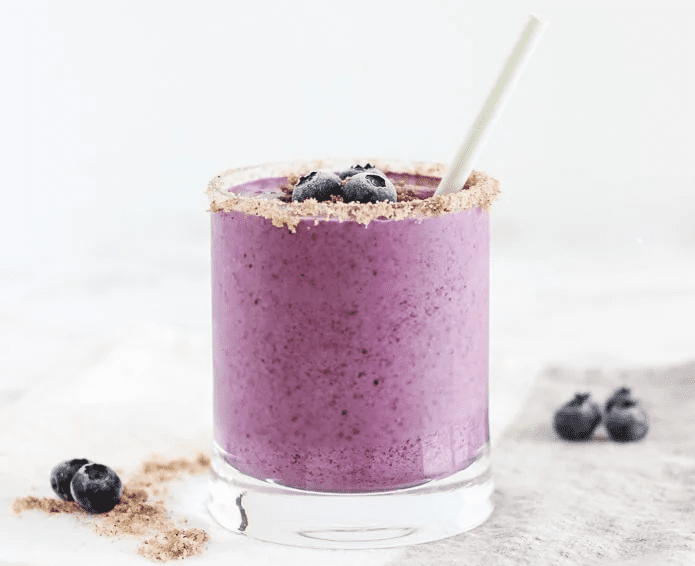 It's a healthy smoothie rich in antioxidants and best for breakfast or a post-workout snack. It's filled with essential nutrients, such as carbs, potassium, fiber, vitamin C, and calcium.
The ingredients include banana, ginger, turmeric, almond milk, rolled oatmeal, cinnamon, maple syrup, dates, and hemp seeds. Blend all ingredients until smooth and enjoy a healthy drink.
---
Common Questions About Vitamix Smoothies
Can you put frozen fruit in Vitamix?
Yes, you can put frozen fruit in Vitamix blenders because they are all around 1500 watts! This is well over 1000 watts which is our minimum recommended blender wattage for frozen fruit.
Does Vitamix make better smoothies?
Vitamix is known for making the best smoothies! The blenders are powerful, durable, and incredibly effective. The more your smoothie ingredients are blended, the better your smoothie will be! No one wants to get accidental chunks or stringy pieces of spinach in their smoothies.