This post may contain affiliate links. If you use these links to buy something we may earn a small commission. Thanks.
These 16 breakfast smoothies for weight loss are all under 400 calories!
My wife and I absolutely love making smoothies for breakfast, but we realized that if we aren't careful then the calories can really add up.
We picked and tested recipes that had lots of fruit, veggies, and greek yogurt! We love making green smoothies and also recipes that have bananas + peanut butter.
If you want some great weight loss breakfast smoothies, this list is perfect for you!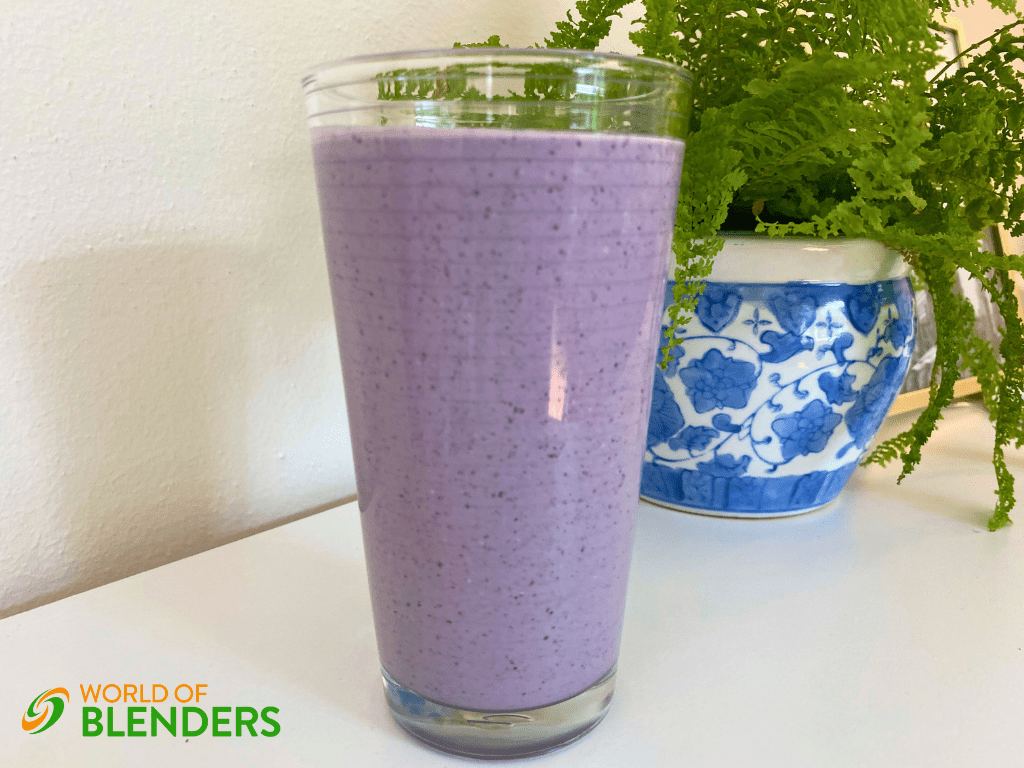 ---
Tips for Making Healthy Breakfast Smoothies for Weight Loss
My wife and I have made tons of healthy breakfast smoothies over the years! Over the past couple of months we've been writing down a list of tips to help us make the best breakfast smoothies for weight loss.
Use low calorie liquids – There are a bunch of different liquid bases for smoothies, but the key to making healthy breakfast smoothies is to use lower calorie options. You can even make smoothies with water to keep it super healthy.
Be careful with too much fruit – Fruit is great for smoothies, but if you aren't careful it can have lots of sugar. I recommend prioritizing berries and other low GI fruits.
Fill up with veggies – Vegetables are great for smoothies because they're loaded with fiber and other nutrients. We have a list of the best vegetables for smoothies for you to check out! Veggies will also make a smoothie more filing.
Watch your portion size – Smoothies are healthy, but can be high in calories if you don't follow our tips above. Make sure to watch your portion size to keep your overall calories low.
High protein – Higher protein smoothies will be great for work out recovery! There are so many ways to add protein to smoothies, but our favorites are greek yogurt, milk, and protein powder.
Make them in advance – If you want to drink smoothies every day it can be a hassle to make them fresh. Make a big batch on Monday morning and store the smoothies in the fridge for the week! You can even freeze smoothies for a few months if you want.
---
16 Healthy Weight Loss Breakfast Smoothies
After making tons of weight loss breakfast smoothies these are our favorites! They're easy to make and made with as few ingredients as possible to save you time.
The chocolate banana smoothie is a delicious drink for breakfast. This smoothie is made with healthy ingredients and contains essential nutrients and vitamins to keep you full for hours. Blend all ingredients for five minutes and enjoy this yummy morning breakfast smoothie.
It's a perfect chocolatey breakfast smoothie for weight loss. This smoothie includes several ingredients like spinach, hemp seeds, and almond butter that add healthy nutrients to get your metabolism going.
A glass of this morning weight-loss smoothie would boost your energy to kick-start your day with a bang.
The healthy green smoothie is a tasty, green smoothie for weight loss and detox. It's packed with a good balance of carbs and protein, thanks to the greens, fruits, and nuts. The ingredients required are spinach, peach, ginger, chia seeds, and almond milk. It's a perfect smoothie to make for breakfast.
Peaches are one of our favorite natural ways to sweeten a smoothie!
Trying to find a low-carb green, delicious smoothie for breakfast? Try this thick, creamy, perfectly sweet smoothie made with banana, greek yogurt, chia seeds, and spinach. It's filling, tasty, and full of healthy nutrients like fiber and protein. Blend all ingredients for five minutes and voila!
It's an easy-to-make, vegan, healthy smoothie recipe for breakfast. This peanut butter oatmeal smoothie is loaded with essential nutrients and wholesome ingredients that keep you fresh throughout the day. Try this creamy and nutty breakfast smoothie for weight loss.
This chocolate coffee protein shake for weight loss is a thick, delicious, chocolatey smoothie best suited for those who want to lose weight. It's a low-calorie smoothie made with banana, almond milk, and chocolate protein powder. Try this creamy protein smoothie for breakfast.
The green breakfast smoothie is a juicy, delicious breakfast drink made with a combo of fruits and veggies. Prepare this healthy, green smoothie with spinach, bananas, blueberries, and oat milk – all these ingredients add flavor and nutrients. Blend them for good five minutes and enjoy a thick, green smoothie.
Want to add some flavor to your weight loss regime? Try this fat-burning filling smoothie that contains healthy and flavorful ingredients such as raspberries, chocolate protein powder, almond butter, and chia seeds. This smoothie recipe has a balanced portion of all the necessary nutrients you need.
This banana oatmeal smoothie is a healthy, quick-to-make, vegan breakfast drink for weight loss. Bananas, oatmeal, and almond milk bring taste, texture, and nutrients.
Energizing green smoothie is a power-packed green juice for breakfast made with nutritious ingredients to boost your energy and immune system. The combination of fruits, veggies, non-dairy milk, and seeds makes it an energy-booster drink to start your day.
It's an easy-to-make, delicious, creamy smoothie for breakfast. This blueberry oatmeal breakfast smoothie is a low-calorie drink with taste, texture, and nutrients.
It's made with Greek yogurt, oats, blueberries and a few more ingredients. It's one of the best recipes from our NutriBullet smoothie recipes list. The oats help make smoother smoothies!
Pineapple smoothie is a juicy, delicious, tropical drink for a healthy breakfast. Add banana, pineapple, pineapple juice and vanilla Greek yogurt to the blender and blend until creamy and smooth. The ingredients bring flavor, freshness, and nutrients to this drink. Try other cheap weight-loss smoothies as well.
If you don't have yogurt, check out our list of yogurt substitutes for smoothies!
The strawberry almond milk protein shake is a refreshing, thick smoothie for breakfast. It's a quick-to-make drink with healthy ingredients like strawberries, almond milk, and protein powder and a great source of nutrients like protein, carbs, calcium, and vitamin C.
It's also one of our favorite almond milk smoothie recipes.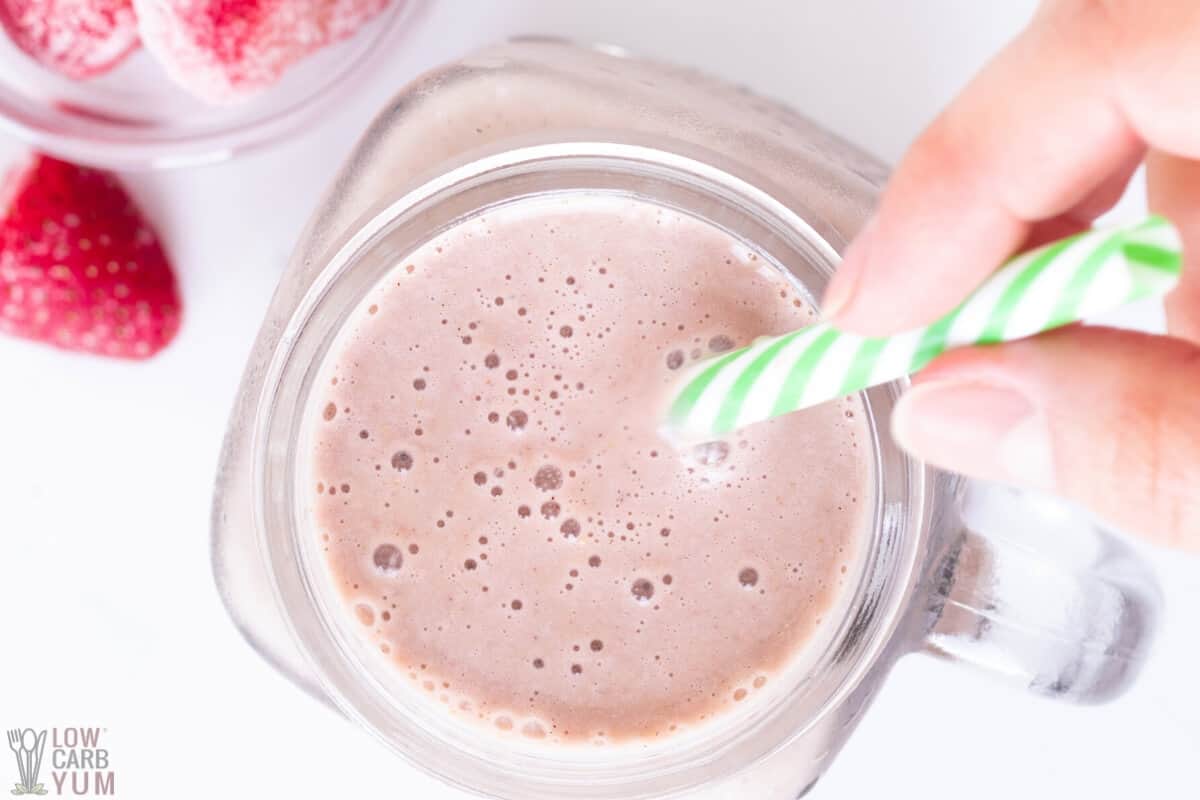 The banana blueberry spinach smoothie is an easy, quick, and delicious drink for a breakfast on the go. It's filling and tasty making it one of the best breakfast smoothie recipe for weight loss.
The ingredients such as bananas, blueberries, spinach, and collagen bring essential nutrients like fiber, vitamin K, and potassium. It's one of the popular low-sugar smoothie recipes.
If you don't have any bananas, check out our list of banana substitutes for smoothies!
The kale pineapple protein smoothie is a juicy, tropical drink for a refreshing breakfast. It's made with all-natural ingredients such as kale, bananas, peanut butter, and pineapple. Plus, all these ingredients are a great source of healthy nutrients. The peanut butter is great for making thicker smoothies!
It's also one of our favorite kale smoothie recipes!
A glass of this healthy breakfast smoothie is a perfect way to kick off your day. This delicious, thick, creamy smoothie has got everything – nutrients, thickness, and flavor, thanks to peanut butter, almond milk, maple syrup, and other ingredients. It's one of our favorite keto smoothie recipes.
Almond milk is also one of our favorite milks for smoothies because it adds a slightly nutty flavor!
---
Common Questions About Weight Loss Breakfast Smoothie Recipes
Do breakfast smoothies help you lose weight?
Breakfast smoothies are fantastic for losing weight! They are usually less calories than other breakfast options and are packed full of vitamins and nutrients. If you can keep your breakfast smoothies for weight loss under 400 calories you'll be on track!
Is it OK to just have a smoothie for breakfast?
It's totally okay to have just a smoothie for breakfast as long as you make them with enough calories! You need enough carbs and protein to sustain you until lunchtime. I recommend aiming for 300-400 calories if you're trying to lose weight!
What is the healthiest liquid to put in a smoothie?
The healthiest liquids for smoothies are water, homemade juice, skim milk, dairy free milk options, and coffee. These are all low in fats, low in calories, and great for your smoothies.
What should I drink for breakfast to lose weight?
The best drinks for breakfast if you want to lose weight are smoothies, homemade juices, or protein shakes.