This post may contain affiliate links. If you use these links to buy something we may earn a small commission. Thanks.
This apple banana smoothie is great if you're trying to stick to a healthy lifestyle! It's only got 250 cals and it has over 10g of fiber. The combination of apple + banana + mango makes this smoothie super flavorful! The spinach gives you a great dose of greens to start your day.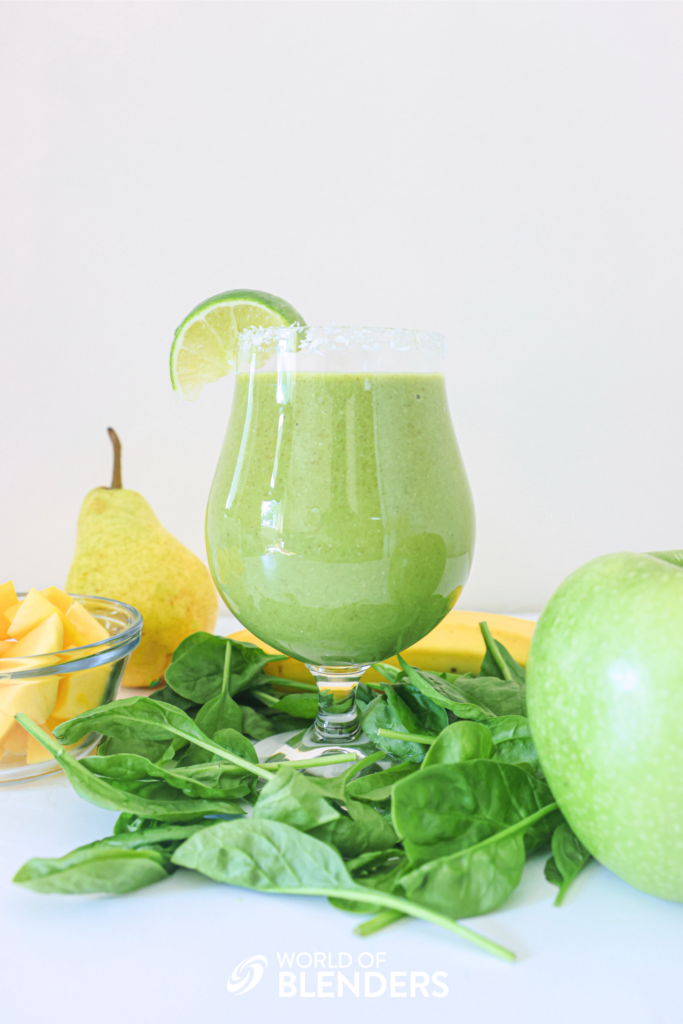 The only slight downside is the texture! Apples and pears can be a bit gritty, but if you add greek yogurt that would really help! It'll increase the calories, but if you add plain greek yogurt, it's just extra protein! If you want a smoothie with banana and apple, this one is for you!
If you like green smoothies, give this one a try!
---
Ingredients for the Best Apple Banana Smoothie
This apple banana smoothie is great if you're trying to lose weight! This recipe is a bit higher in carbs from all the fruit so we tried to limit the fat sources (no milk, avocado, or chia seeds). Here's a breakdown of the ingredients:
Spinach – Spinach is one of the best green veggies for smoothies because it's easy to blend, has no bitter flavor, and is full of Vitamin A, K, and fiber! We have a whole list of spinach weight loss smoothies if you want more ideas!
Water – It's not common, but you can make smoothies with water! It's zero calories and great if you're trying to make dairy free smoothies or paleo smoothies for weight loss.
Green apple – Apples are great for smoothies because they're loaded with Vitamin A, C, calcium, and iron. They're also low GI so they are popular in our list of diabetic smoothie recipes.
Green Pear – Pears are great for smoothies because they help make smoothies sweeter without adding a ton of sugar.
Mango – Mangos are great for making smoothies sweet and adding a bit of tropical/citrusy flavor! This apple banana smoothie recipe wouldn't be the same without mango.
Banana – Bananas are loaded with potassium and Vitamin B6. They're also great for making smoothies creamier!
Ice – Ice is great for making smoothies thicker and colder!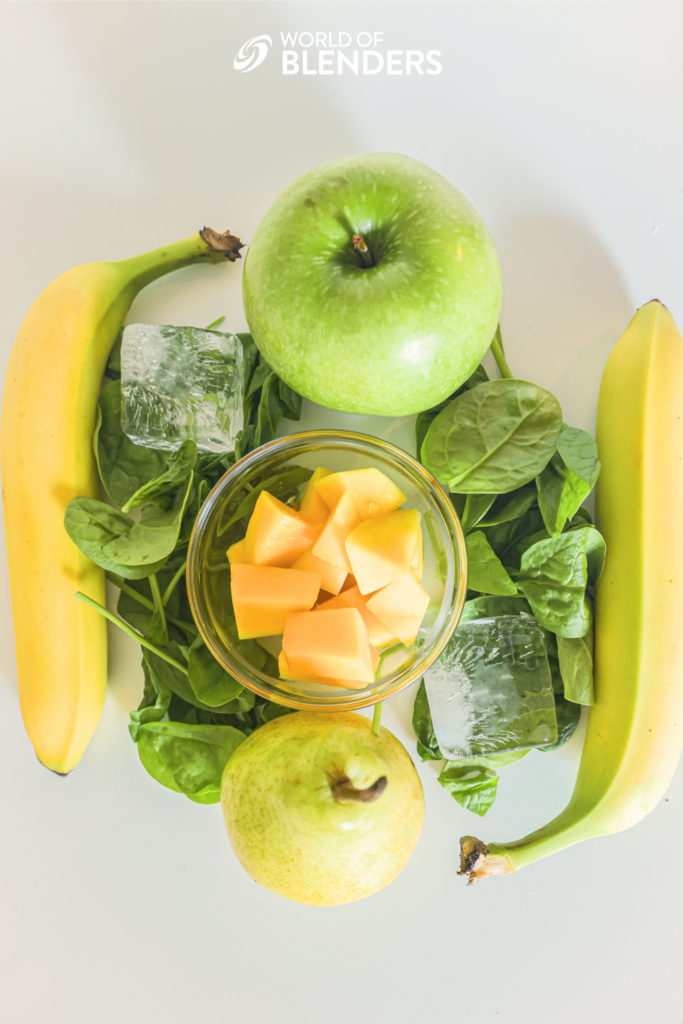 Variations to this Recipe
We created this smoothie with apple and banana because we wanted something super low in calories, easy to make, and good for detoxing. There are definitely some ingredients you could add or adjust to make it better!
Apple juice – Water isn't exactly the best liquid for smoothies, but it's great for avoiding added calories! Apple juice is a great substitute if you want a bit more apple flavor. Just make sure to get something all natural if possible — not something super sweet. You can also check out our list of the best milks for smoothies!
Avocado – The texture from the apple/pears gives this smoothie a slightly grainy texture. Adding some avocado would be a great move! Just make sure to add a bit more liquid to make the smoothie thinner. Avocados are great to pair with spinach to help make smoothies smoother and not bitter. Avocados are also a great substitute for yogurt in smoothies!
Kale – If you don't have spinach or just need to get rid of some kale, you can substitute it! Kale is one of the best vegetables for smoothies! If you like kale, check out our list kale smoothies for weight loss.
Hemp seeds – Hemp seeds are a great source of protein with 5g per tablespoon. Add a serving to this apple banana smoothie and it'll have 10g of protein per serving.
Greek yogurt (plain or vanilla) – The main downside of this smoothie is that it's not as creamy. The smoothie can be foamy and sometimes the smoothie separates because of using water. Adding greek yogurt can help with this! Greek yogurt is also a great way to add protein to smoothies!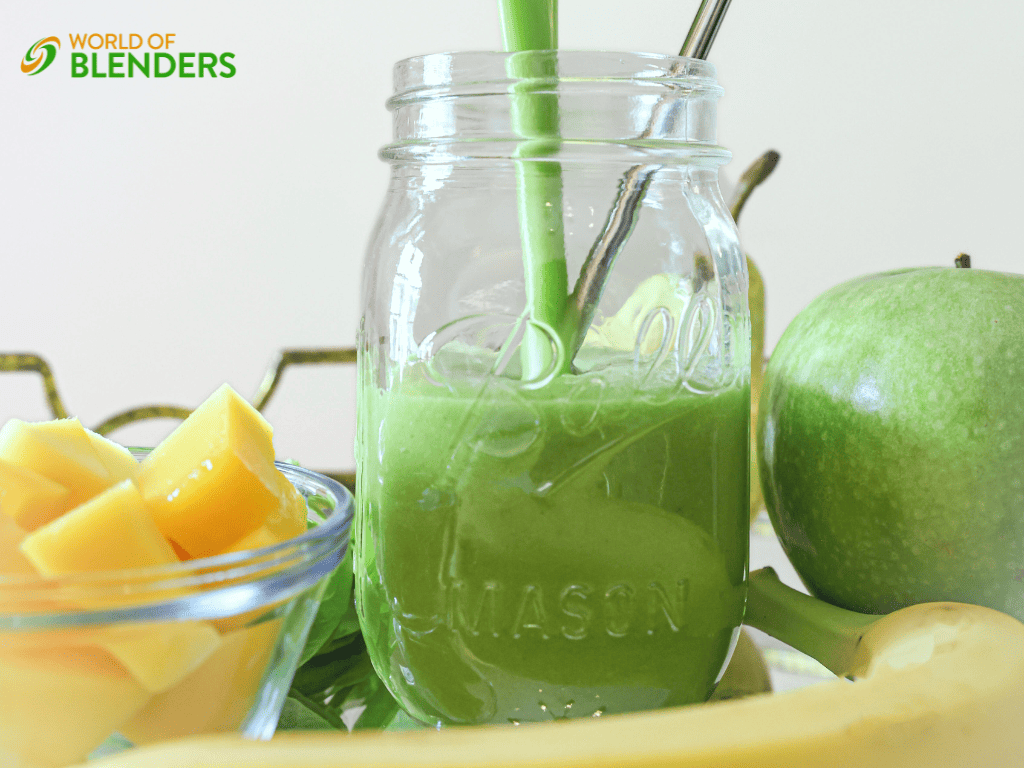 ---
Health Benefits of Smoothies with Apples and Bananas
This apple banana smoothie tastes great and it's healthy for you! There are all kinds of benefits of smoothies, but here are the 5 benefits of this one:
Low calories – This recipe is less than 300 calories! If you need a good meal replacement smoothie for weight loss, this apple banana smoothie is perfect!
High fiber – This smoothie is loaded with over 10g of fiber thanks to the spinach and fruit. If you need a good colon cleansing smoothie, this one is for you!
Full of greens – This smoothie is the perfect entry into green smoothies. The spinach, green apple, and green pear are not overwhelming or bitter.
High in potassium – This apple banana smoothie recipe has almost 1100mg of potassium! Drink one of these and you'll have a big jumpstart to hitting the recommended daily intake of potassium.
Rich in Vitamin A – This smoothie has 6600iu of Vitamin A which is more than the daily recommended amount! If you need more Vitamin A, this banana apple smoothie is perfect for you.
This smoothie is also versatile no matter what blender you have! It's on our list of Nutribullet smoothies, Vitamix smoothies, and Ninja smoothies! It's not a great fit for Magic Bullet smoothies because of the ice, but you could easily take that out.
---
Healthy Apple Banana Smoothie (10g of fiber!)
This healthy apple banana smoothie is perfect for losing weight! It's one of our favorite healthy green smoothies because of the sweetness of the banana with the tartness of green apples!
Print
Pin
Rate
Ingredients
2

cups

spinach

1

cup

water

½

green apple

½

pear

½

cup

mango

1

banana

1

cup

ice
Instructions
Add the spinach and water to the blender first. Blend for a minute or until all the green flakes are thoroughly blended.

Add green apple, pear, banana, and ice to the blender.

Blend for 2-3 minutes or until smooth.

Pour into a glass and enjoy!
Nutrition
Calories:
266
kcal
|
Carbohydrates:
68
g
|
Protein:
4
g
|
Fat:
1
g
|
Saturated Fat:
0.3
g
|
Polyunsaturated Fat:
0.4
g
|
Monounsaturated Fat:
0.3
g
|
Sodium:
75
mg
|
Potassium:
1096
mg
|
Fiber:
11
g
|
Sugar:
44
g
|
Vitamin A:
6666
IU
|
Vitamin C:
65
mg
|
Calcium:
102
mg
|
Iron:
2
mg
---
Tips for Making Healthy Apple Banana Smoothies
My wife and I have made and tested hundreds of smoothies over the last couple of years! We've written over 150 articles all about smoothies.
Here are our 4 best tips for making the best apple banana smoothie possible:
Start with less water – The amount of water you need depends on your preferences for smoothie thickness and what kind of blender you have. I recommend starting with just half a cup of water and adding more as needed!
Cut your frozen fruit – We recommend using frozen fruit because you get colder smoothies! The only downside is that it can be hard for some blenders. Cut your bananas, apples, and pears into smaller chunks!
Blend the greens first – One expert trick is to blend your spinach by itself with the water. You'll end up with green juice and then just add the rest of your ingredients! This will prevent any bits of stringy spinach.
Make them in advance – If you want to drink smoothies every day it can be a hassle to make them fresh. Make a big batch on Monday morning and store smoothies in the fridge for the week!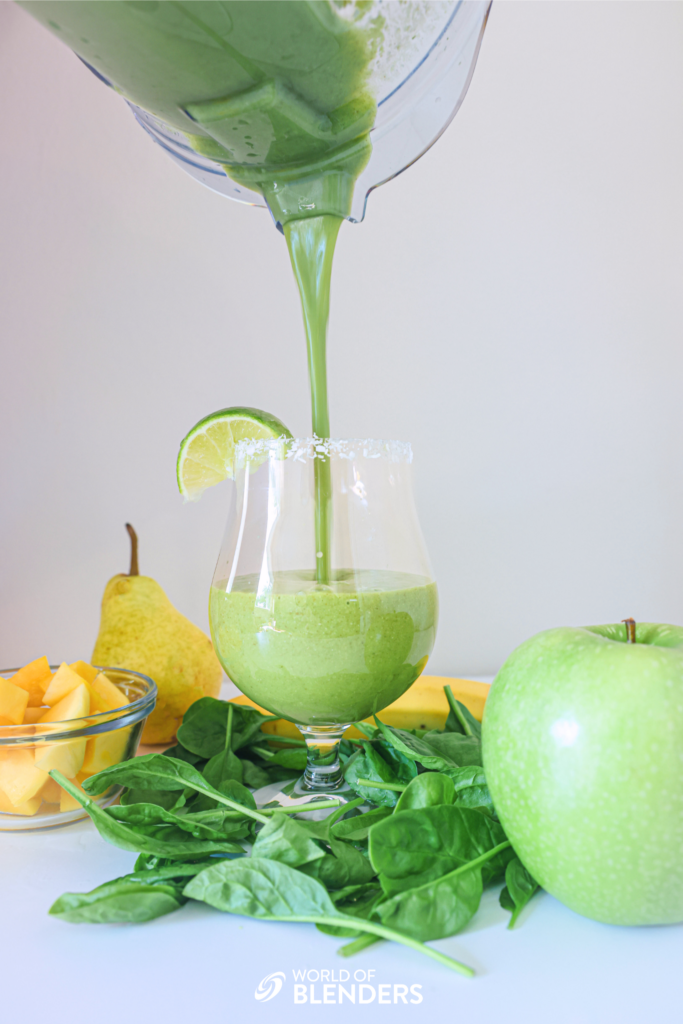 ---
Common Questions About Making a Smoothie with Apple and Banana
Do apples and bananas go well together?
Apples and bananas go great together in smoothies! The creaminess and sweet flavor of the banana go perfect with the tartness of the green apples. Together they make smoothies that are packed with flavor with great consistency.
Is apple banana smoothie good for health?
Apple banana smoothies are great for your health! They are loaded with over 1000mg of potassium, 11g of fiber, and will give you a day's worth of Vitamin A!
What are the benefits of apples and bananas?
Apples and bananas have so many health benefits: High in Vitamin A, potassium, low in sodium, low cholesterol, and they are low in sugar compared to other fruits.