This post may contain affiliate links. If you use these links to buy something we may earn a small commission. Thanks.
These 18 diabetic smoothie recipes all have low sugar and are loaded with tons of green veggies!
We focused on picking recipes that are lower in carbs and utilize lower GI ingredients like grapefruits, pears, strawberries, and blueberries.
If you're diabetic, make sure to double check that each recipe meets your dietary needs. We aren't licensed professionals, but we are smoothie experts! We wanted to help find smoothies that everyone could enjoy which is why we created this list of diabetic friendly smoothies!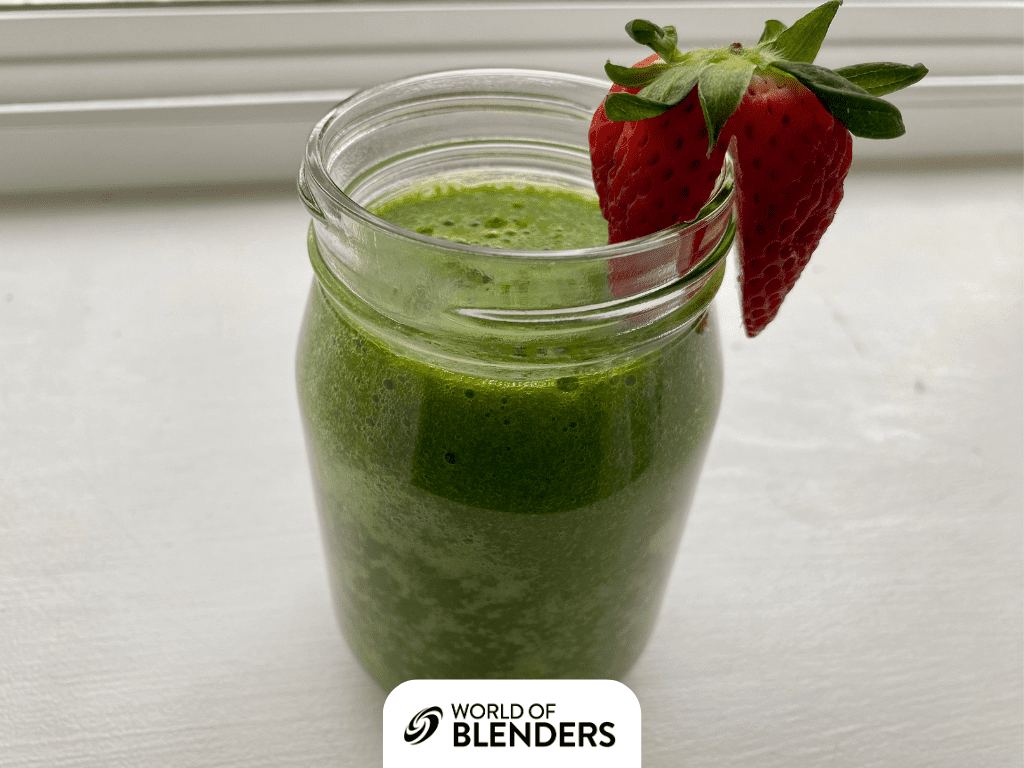 ---
Tips for Making Smoothies for Diabetics
If you want some tips on making the best smoothies for diabetics, I've got you covered. We've made tons of low sugar smoothies and these are some tips to make them as good as possible!
Use low GI fruits – Fruit is often a source of pure carbs and sugar! If you aren't careful, certain kinds of fruit can be really high in carbs. I'd recommend avoiding fruits like mango, pineapple, dates, and even bananas. We have a whole list of banana substitutes for smoothies if you need a replacement idea.
Add lots of veggies – I highly recommend adding veggies into your smoothies! We have a whole list of the best vegetables for smoothies. Try using kale, spinach, or cauliflower to get started! We've got a full list of spinach smoothies and kale smoothie recipes if you want to try them!
Use sugar free liquids – There are lots of different liquid bases for smoothies, but I recommend using lower sugar options like water, milk, or cold brew! Avoid using juice of any kind and you should be good to go. You can make smoothies with water to get zero calories from liquid.
Take advantage of protein options – Since you won't be filling your smoothie with lots of fruit, I recommend adding some good protein sources for smoothies like greek yogurt, cottage cheese, or protein powder.
---
18 Diabetic Smoothies that are Low in Sugar
After a few months of trying different recipes, these are our favorite smoothies for diabetics! We prioritized finding lower carb recipes with lots of veggies and protein to keep you full for longer.
If you're looking for a green smoothie for detoxing, this is a great pick! It's also one of our favorite cheap smoothies. It's loaded with healthy veggies and super high in all the vitamins and nutrients you need!
If you want an easy smoothie recipe, this one is for you! It only has 4 ingredients and one of those is a packet of stevia. Add coconut milk, strawberries, and almond butter to a blend and give it a whirl.
I recommend adding in a scoop of vanilla protein powder to make this one a bit more filling!
This anti-inflammatory is full of super food ingredients like beets, ginger root, coconut oil, and other healthy items like berries and kale. The only downside is that this recipe has a longer ingredient list than other smoothies, but it packs a punch with flavor so it's worth it!
This is one of the most interesting diabetic smoothies on our list! It's loaded with normal stuff like spinach, almond milk, and half a banana, but it's upgraded with cacao powder, hemp hearts, cinnamon, and a pinch of cayenne that gives it the tiniest kick!
If you like chocolate, this one is for you!
This berry blast smoothie is perfect if you're looking for a great, low GI smoothie. It uses lower glycemic index ingredients like spinach, avocado, blueberries, and strawberries. The added hemp seeds also raise the fiber content. If you're wondering, "Do smoothies make you poop?", give this one a try…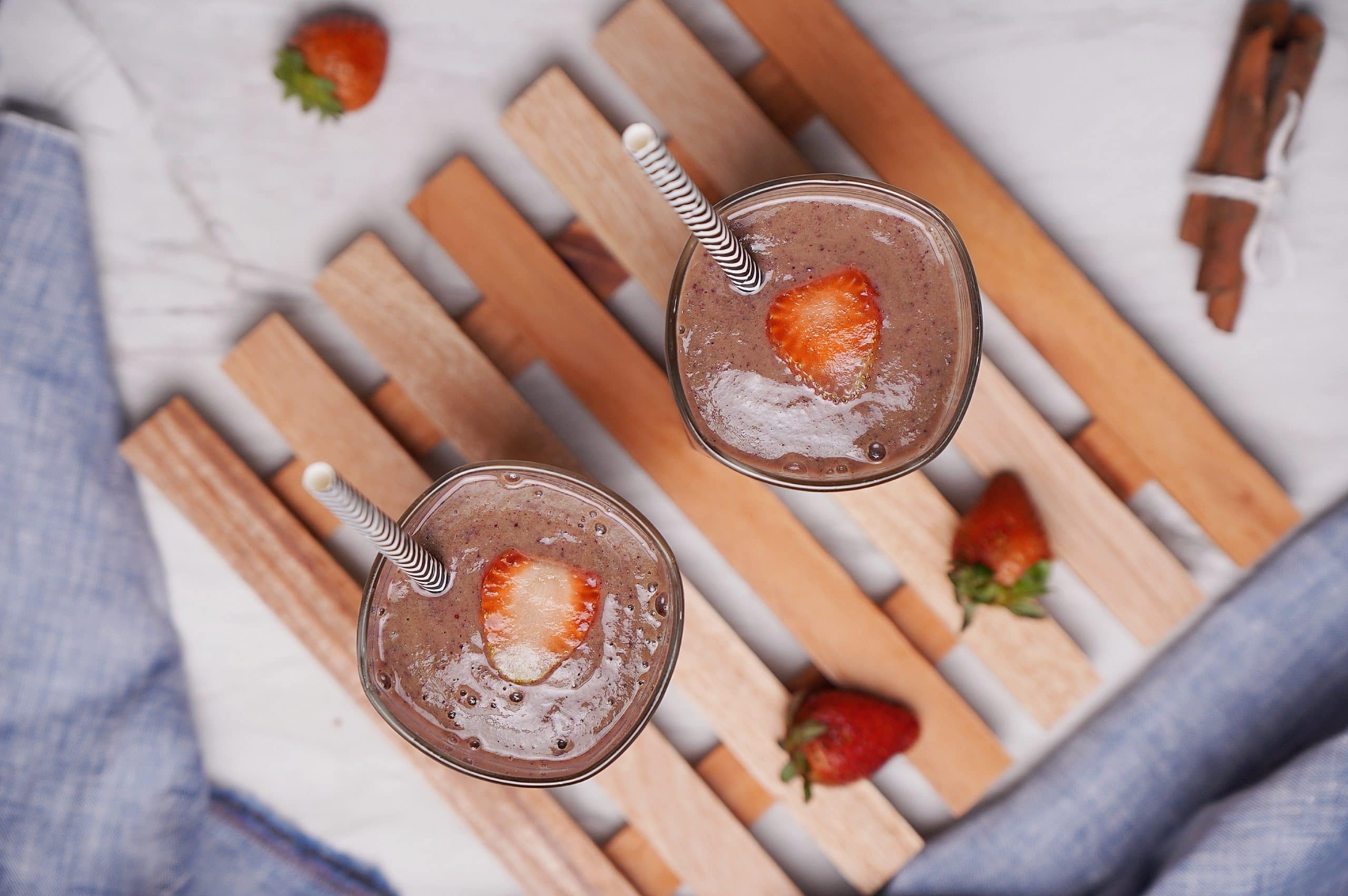 If you like green smoothies, give this one a try! It's loaded with spinach and avocado which is the most iconic duo for super smooth green smoothies. The protein powder helps make it a great post workout recovery smoothie as well!
This is a super healthy smoothie for diabetics! If you want something light and refreshing – this one is for you. The combo of lemon juice and strawberries makes for a great flavor while the greek yogurt gives it some extra protein.
This is one of our favorite diabetic smoothies because it's so filling! The full fat coconut milk and avocado make this a really rich smoothie. It's higher in fats so just be aware of that, but it makes up for it by being low in sugar.
The one interesting thing is that the recipe calls for mineral salt which actually brings out the flavor of the chocolate! If you don't have mineral salt, just use a good flake salt of some kind.
This key lime pie is one of our favorite protein shake recipes for weight gain. The combo of protein powder and cottage cheese makes this a great option if you need a lot of protein. The spinach helps increase the fiber content and give you some extra Vitamin K!
This coconut chia smoothie is one of the smoothest green smoothies we've tried! The coconut gives it a natural sweetness while the spinach helps load it up with fiber. Use some vanilla protein like the recipe creator suggests and you'll be happy you did!
This green goddess smoothie is one of our favorite diabetic smoothies for breakfast! It's loaded with awesome ingredients like spinach, green apple, chia seeds, and cucumber. The only thing to watch out for is the maple syrup, but if you need to raise your blood sugar, this one might be a good option.
This is also one of our favorite colon cleansing smoothie recipes!
This peanut butter oatmeal smoothie is super easy to make! It uses only 5 ingredients and takes less than 2 minutes to blend once you get going. The peanut butter is one of our favorite ways to make a smoothie thicker and it uses several ingredients that are known for making smoothies smoother!
This is one of our favorite smoothies for diabetics because it only has 8 net carbs per serving! It also only has 5 ingredients so it takes almost zero prep time. The coconut cream helps prevent this smoothie from separating!
This cinnamon roll smoothie is one of the best diabetic smoothies for breakfast! It honestly feels like you shouldn't be allowed to start your day with something this good. The combo of vanilla extract and cinnamon gives this one a natural sweetness that's hard to beat!
It also uses protein powder so this is a great high protein smoothie recipe if you need one!

This low carb smoothie almost feels like it's a cheat meal! It uses vanilla extract which is one of the best ways to make a smoothie sweeter. The only real source of carbs are the strawberries and the soy milk (which is minimal). This recipe is also a keto friendly smoothie!
This is one of our favorite diabetic friendly smoothies so be sure to give it a try even though the website is a bit outdated… It's full of healthy ingredients like avocado, blueberries, flax seeds, spinach, chia seeds, and more! This is a great high fiber smoothie recipe!
We absolutely love blueberry smoothies! It's my favorite fruit of all time and I used to just blend up a whole cup of them with a splash of milk and vanilla. This diabetic friendly smoothie is a bit more jazzed up than that but it's one of our favorites!
This is one of the best smoothies for diabetics because its loaded with healthy veggies like cucumber and spinach with add-ins like ginger and lemon. Each serving clocks in at 110 calories so this is super healthy!
If you like this one, you might also like our other smoothies with almond milk! Almond milk is one of the best kinds of milk for smoothies because it helps make creamier smoothies.
---
Common Questions About Diabetic Friendly Smoothies
Are oatmeal smoothies good for diabetics?
Oatmeal smoothies can be good for diabetics! Oatmeal is higher in carbs, but if you use less processed kinds like steel cut oats then it will be healthier! Oatmeal smoothies can be very filling and high in calories which can be helpful.
Are smoothies OK for diabetics?
Smoothies are okay for diabetics as long as you keep the sugar intake in check and optimize the smoothie for lower GI response. Focus on using low GI fruits and lots of vegetables!