This post may contain affiliate links. If you use these links to buy something we may earn a small commission. Thanks.
This kale apple smoothie is one of our go-to green smoothie recipes! The combination of kale + green apple + pineapple makes this smoothie fresh, sweet and off the chart high in Vitamin A and potassium. The coconut water and squeeze of lemon juice make this smoothie refreshing and crisp!
The best part is that it's only 270 calories! Perfect if you're looking for meal replacement smoothies for weight loss.
If you want a healthy smoothie with kale and apple – give this one a try.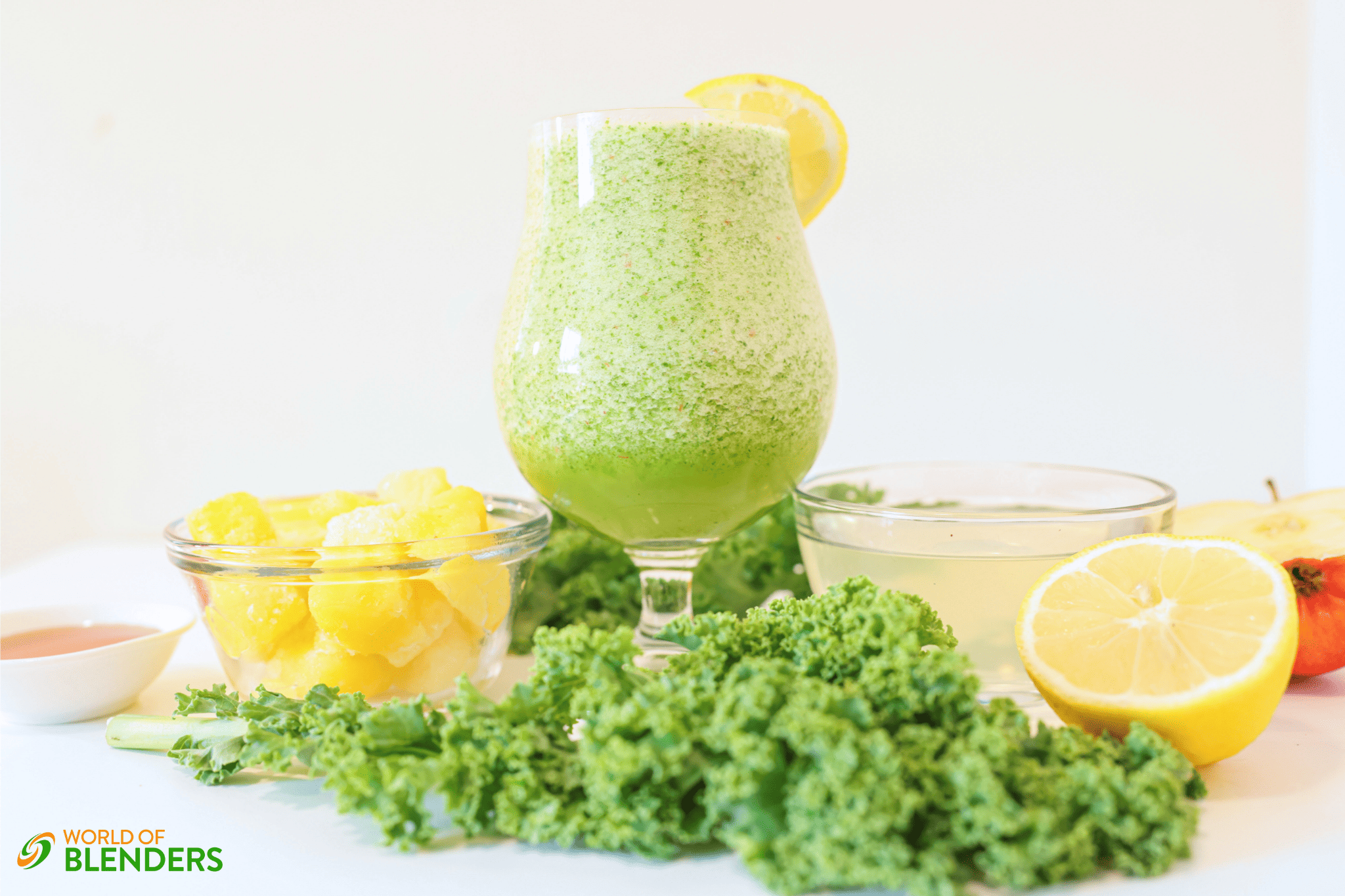 My wife and I have made countless green smoothies and if you like kale, this is one of the best. If you need more protein, give our high protein green smoothie a try.
---
Ingredients for the Best Kale Apple Smoothie
Kale apple smoothies are a staple for anyone who likes making green smoothies! They're two of the best ingredients for smoothies and go super well together. The addition of pineapple makes it perfectly sweet with a hint of citrus.
Kale – Kale is one of the most popular vegetables for smoothies! It's packed with nutrients like Vitamin A, C, and dietary fiber. If you like kale, check out our list of kale smoothie recipes!
Green apple – Green apples are fantastic for smoothies because they're high in Vitamin A, C, calcium, and iron. They're easy to blend and are a healthy source of carbs. Green apples give a nice tartness to a smoothie as well.
Pineapple – Pineapple is great for adding sweetness and tropical flavor. It's also a great way to get Vitamin C.
Lemon juice – A bit of lemon juice is an easy way to give your smoothie a hint of citrus and freshness! Citrus will help your smoothies last longer in the fridge because it prevents oxidation.
Coconut water – Coconut water is known for being helpful for digestion and stomach health! It also helps make smoothies thinner.
1 T honey – Honey works as an anti-inflammatory and antioxidant. It also works as a natural antibiotic. It's great for making smoothies for inflammation.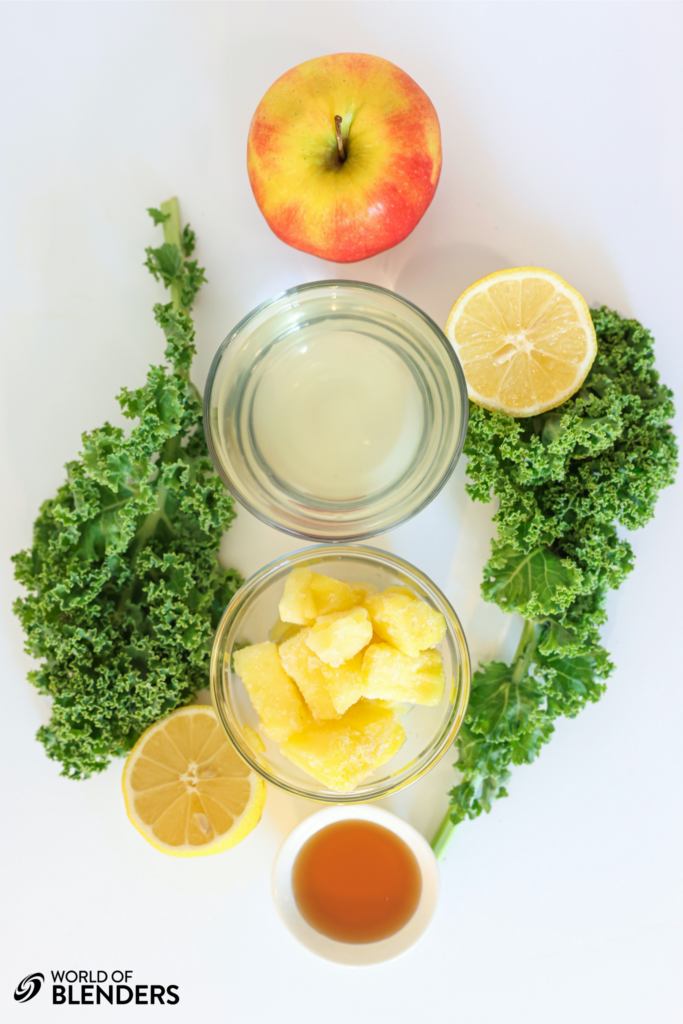 Variations to this Kale Green Apple Smoothie Recipe
My wife and I tested this green apple kale smoothie recipe several times before we finalized it! We'll share a few of our recommended variations and substitutions if you want to change it up.
---
Health Benefits of Smoothies with Kale and Apples
There are so many benefits of smoothies and this kale apple smoothie is high on the list! Here are the 4 biggest benefits for this specific recipe.
Low calories – This smoothie is only 270 calories which is why it's one of our favorite healthy breakfast smoothies!
High Fiber – This smoothie is packed with 11g of fiber thanks to the kale and apple. If you need some help getting your digestive system moving this is the one for you (also check out our list of the best colon cleansing smoothies).
High in Vitamin A – This smoothie has almost 6800 iu of Vitamin A which is more than the daily dose needed. If you're trying to get more Vitamin A in your diet, this kale apple smoothie recipe is perfect for you.
High in Potassium – This recipe has 1150mg of potassium, which is almost your entirely daily value! It's almost double the rest of our smoothie recipes.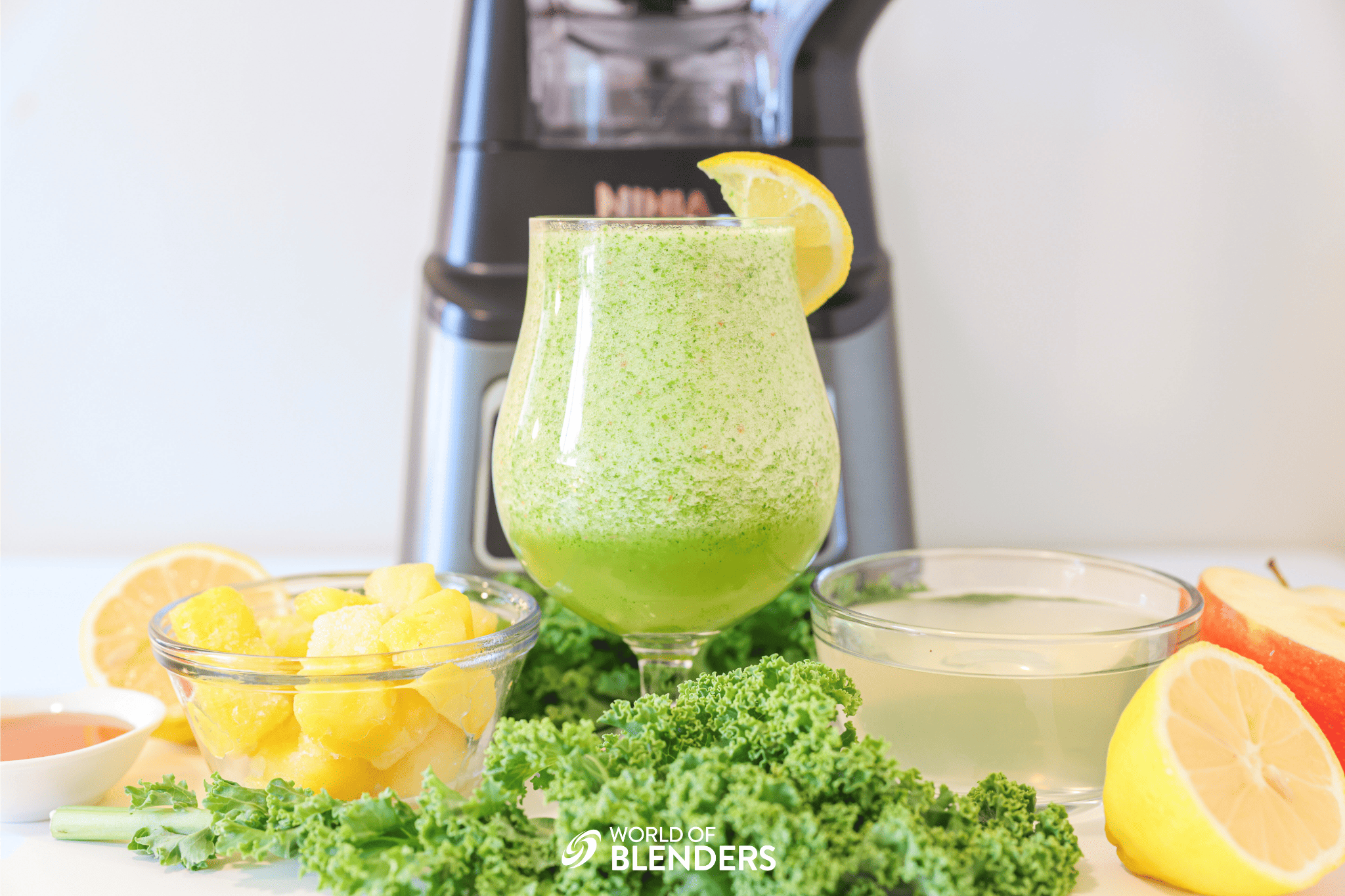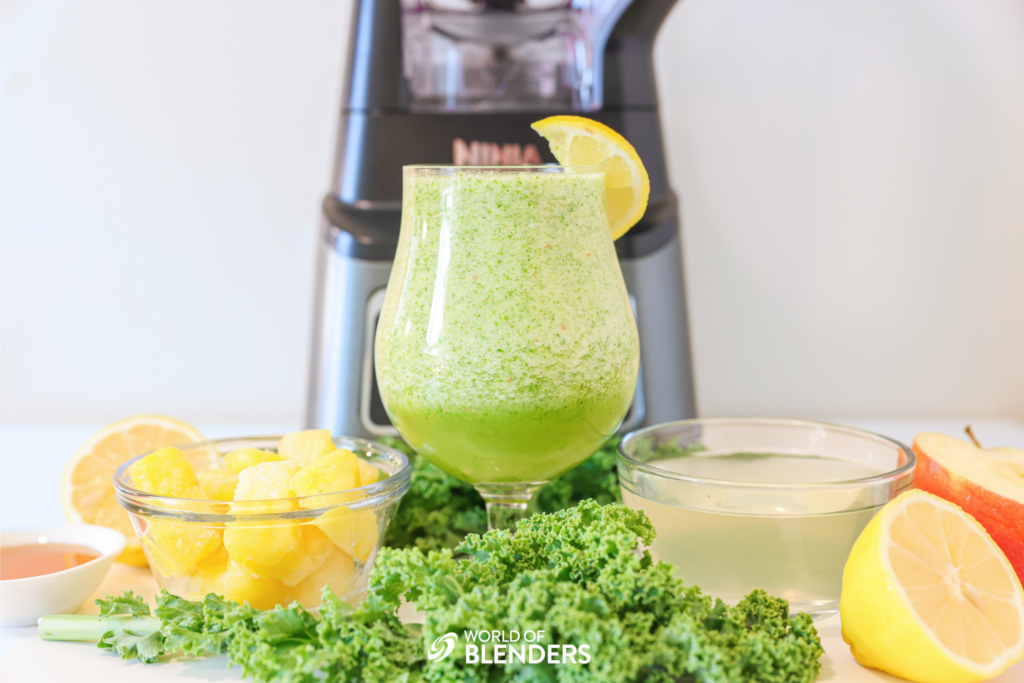 ---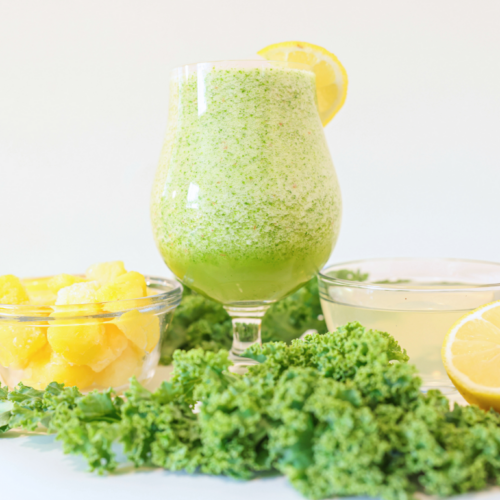 Kale Apple Smoothie
This kale apple smoothie is one of our favorites! The combo of apple and pineapple makes it sweet and tart while the honey gives it a hint of sweetness. If you're looking for a good kale green apple smoothie, this one is for you!
Print
Pin
Rate
Ingredients
1

cup

kale

1

apple

1/2

cup

pineapple

1

T

lemon juice

1

cup

coconut water

1

T

honey
Instructions
Add the kale and coconut water to the blender first. Blend for a minute or until all the green flakes are thoroughly blended.

Add apple, pineapple, lemon, and honey to the blender.

Blend for 2-3 minutes or until smooth.

Pour into a glass and enjoy!
Nutrition
Calories:
272
kcal
|
Carbohydrates:
66
g
|
Protein:
5
g
|
Fat:
2
g
|
Saturated Fat:
1
g
|
Polyunsaturated Fat:
1
g
|
Monounsaturated Fat:
0.1
g
|
Sodium:
291
mg
|
Potassium:
1144
mg
|
Fiber:
11
g
|
Sugar:
51
g
|
Vitamin A:
6840
IU
|
Vitamin C:
122
mg
|
Calcium:
252
mg
|
Iron:
2
mg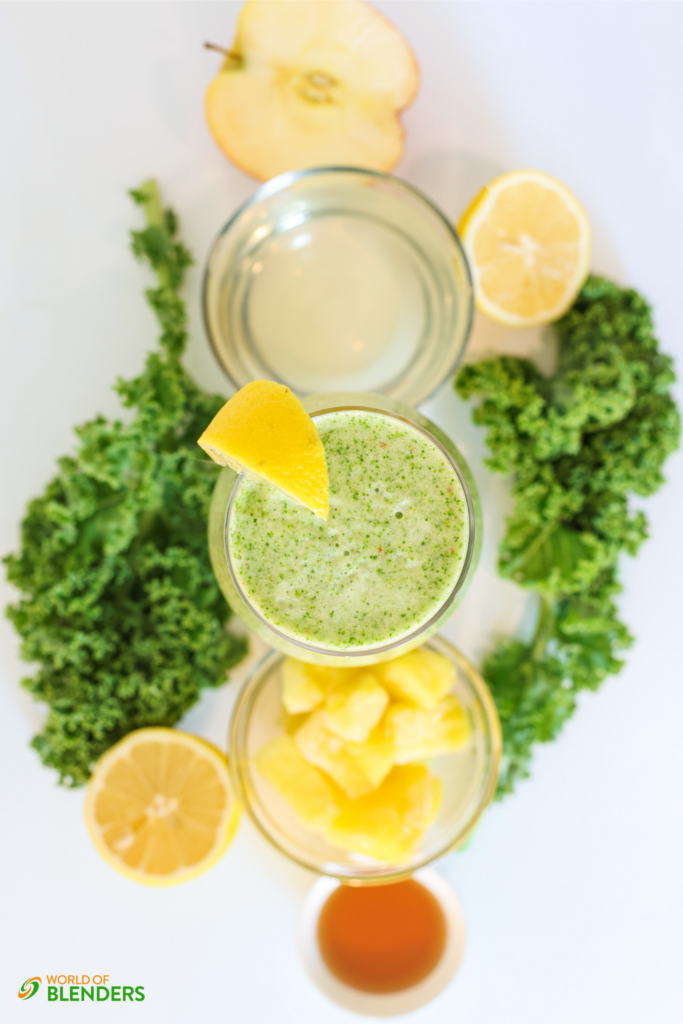 ---
Tips for Making Kale Apple Smoothies
My wife and I have been obsessed with smoothies over the last few years. I've made tons of mistakes along the way — too thick, too runny, chunks, stringy greens, etc.
But we've finally started to perfect our smoothies. Here are 5 tips to help you make the best kale green apple smoothies.
Freeze + cut your fruit – I always recommend people to use frozen fruit. The colder the smoothie, the fresher it will taste. The only tricky part is that some blenders have a hard time with frozen fruit. Cut your fruit into smaller chunks before you freeze it and maybe get one of our favorite blenders for frozen fruit!
Soak your kale – I highly suggest soaking your kale in water for half an hour before blending it. This will soften the kale and help it blend much more easily.
Blend the kale first – Another pro tip with the kale is to blend it by itself with the coconut water and lemon juice. This will help the kale get 100% finely blended into an almost green puree/juice. Then add the rest of your ingredients and blend away!
Use a high wattage blender – Using a powerful blender is the #1 way to make great smoothies! The stronger the blender, the better off you'll be at making smooth smoothies. After testing countless blenders, out favorite for green smoothies is the Vitamix E310.
Meal prep some smoothies – Making smoothies fresh every day can be a bit of a pain. You've gotta get all the ingredients out, blend it up, and clean up afterwards. That's why do a round of smoothie meal prep on Sunday afternoon in a big batch, store the smoothies in the fridge, and drink one fresh each morning.