This post may contain affiliate links. If you use these links to buy something we may earn a small commission. Thanks.
This pineapple spinach smoothie is one of our best green smoothies! It's only 290 calories which makes it super healthy and a great way to start your day.
Pineapple green smoothies are the perfect combo of sweet and healthy. You get the citrus-sweetness from the pineapple with all the health benefits of the spinach. This one is low in calories, low in sugar, and great for you!
If you want a healthy smoothie with spinach and pineapple – this is the recipe for you!
The trick to making the best green smoothie with pineapple is to get the right blend of ingredients. If you add too much fruit, you'll end up with a ton of sugar and it'll be 500 calories. If you pick the wrong veggies, it'll be gritty and bitter.
My wife and I have made hundreds of healthy green smoothies and this is one of our all-time favorites. If you want something more high-protein, be sure to check out our high protein green smoothie which has 35g of protein!
---
Ingredients for the Best Pineapple Spinach Smoothie
Pineapple and spinach smoothies are a staple for my family! The combo of veggies + fruit balanced out by the coconut milk and pineapple juice makes this one the best green smoothies for beginners.
Spinach – Spinach is one of the best vegetables for smoothies because it's high in Vitamin A, K, and calcium. It's also got a good bit of fiber and protein compared to other veggies. If you like spinach, be sure to check out our green goddess smoothie and blueberry spinach smoothie as well!
Pineapple – Pineapple is one of the best smoothie ingredients because it adds great tropical flavor and the perfect sweetness. It's also a great source of Vitamin C.
Coconut milk – Coconut milk is one of the best milks for smoothies that most people don't use! The key is to use the low-fat kind, not the canned coconut milk. It'll add a great coconut flavor that's almost like a pina colada.
Pineapple juice – Pineapple juice is a bit rare, but it'll add fantastic flavor into your smoothie.
Hemp seeds – Hemp seeds are a great source of protein, which give this spinach pineapple smoothie almost 10g of protein.
Coconut flakes – Shredded coconut is one of our favorite ways to level a smoothie to be a bit more tropical and make a smoothie sweeter. You don't need much, but a tablespoon will go a long way.
Variations to this Recipe
My wife and I tested this green pineapple smoothie recipe a bunch of times before nailing it down. We've included a few variations or substitutions you can make depending on what ingredients you have on hand.
Kale – If you don't have enough spinach, then kale is a great substitution! It's going to have a stronger bitter flavor, but if you soak it for half an hour before blending you'll be good to go. Check out our list of kale smoothies for weight loss if you want more ideas.
Chia seeds – Chia seeds are a great substitute for hemp seeds. They had almost as much protein and they also add 5g of fiber per tablespoon. That's why it's one of the best ingredients for making high fiber smoothies.
Greek yogurt – If you need to add more protein to a smoothie then greek yogurt is a great option. Even just ¼ to ½ cup of greek yogurt will give you an extra 5-10g. You can also try making our chocolate green smoothie which is high in protein.
Strawberries – Strawberries are a great fruit if you want a semi-sweet, semi-tropical fruit. They aren't overly flavorful, but can bring great balance to a smoothie.
Orange juice – Orange juice is a great substitute if you don't have pineapple juice. It'll be a bit less "pineapple-y" but you're more likely to have OJ on hand!
Avocado – Using chunks of frozen avocado is an easy way to make smoothies creamier! It goes great with this smoothie to make it smoother and a bit creamy consistency.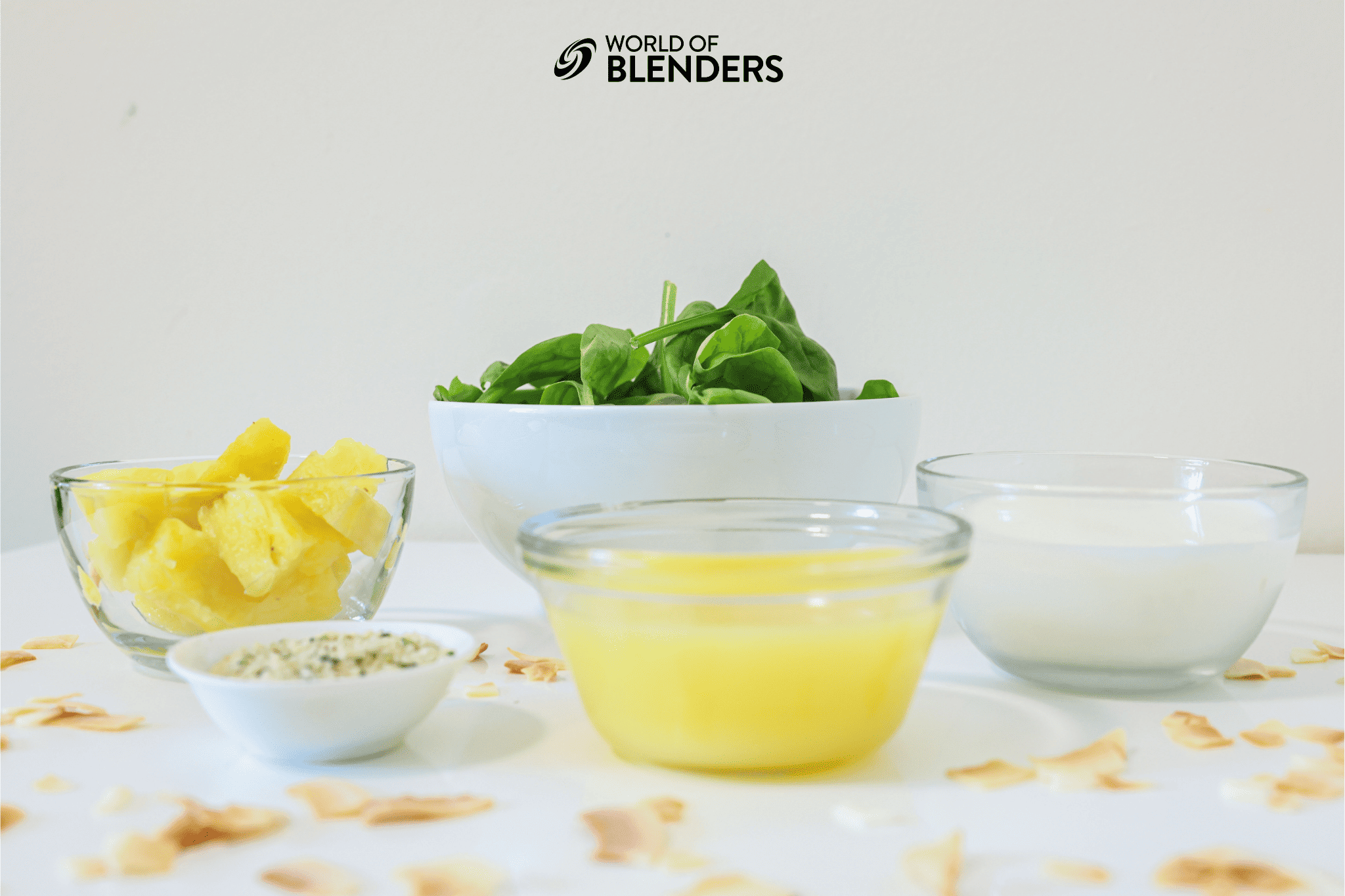 ---
Health Benefits of Smoothies with Spinach and Pineapple
There are so many benefits of smoothies, but they'll vary depending on the recipe. Here are the benefits of this recipe:
Low calories – This smoothie has 290 calories so it's one of our favorite meal replacement smoothies for weight loss!
Low sugar – This smoothie has just 14g of sugar. This is crazy low for a smoothie which is why it's on out our list of diabetic smoothie recipes and low sugar smoothies.
Full of greens – This pineapple spinach smoothie is the perfect entry into green smoothies. It's not bitter and they texture is great and you'll get a serving of spinach to kickstart the day.
Are pineapple green smoothies good for you?
Pineapple and spinach smoothies are incredibly healthy! They are loaded with Vitamin A, folic acid, thiamin, and it's low in sugar and calories.
---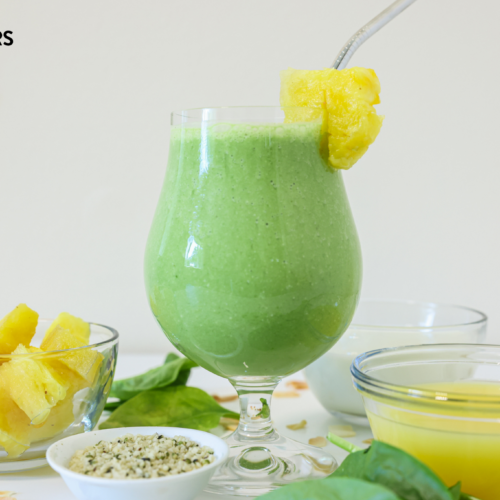 Pineapple Spinach Smoothie
This pineapple spinach smoothie is one of our all-time favorites! If you want a pineapple green smoothie, this is the one for you. It's loaded with fruit, pineapple juice, and coconut flakes.
Print
Pin
Rate
Ingredients
1

cup

spinach

1

cup

pineapple

1/2

cup

coconut milk

1/2

cup

pineapple juice

2

Tbsp

hemp seeds

1

Tbsp

coconut flakes
Instructions
Add the spinach, coconut milk, and pineapple juice to the blender first. Blend for a minute or until all the green flakes are thoroughly blended.

Add pineapple, hemp seeds and coconut flakes to the blender.

Blend for 2-3 minutes or until smooth.

Pour into a glass and enjoy!
Nutrition
Calories:
291
kcal
|
Carbohydrates:
22
g
|
Protein:
8
g
|
Fat:
21
g
|
Saturated Fat:
13
g
|
Polyunsaturated Fat:
6
g
|
Monounsaturated Fat:
2
g
|
Sodium:
22
mg
|
Potassium:
388
mg
|
Fiber:
2
g
|
Sugar:
14
g
|
Vitamin A:
1535
IU
|
Vitamin C:
50
mg
|
Calcium:
65
mg
|
Iron:
5
mg
---
Tips for Making Green Pineapple Smoothies
I've made way too many spinach smoothies over the last couple of years since 2020. I've made all kinds of mistakes and bad smoothies along the way, but we've finally started to perfect them.
Here are 4 tips to help you make the best smoothies with spinach and pineapple.
Cut your frozen fruit – I would definitely suggest using frozen fruit because you get colder smoothies! The colder they are, the fresher they'll taste. The only tricky part is that it can be hard for some blenders. Cut your frozen fruit into smaller chunks! If you have a magic bullet then you can't use anything frozen so check out our list of magic bullet smoothie recipes.
Blend the spinach first – One pro tip is to start by blending just your spinach with the coconut milk and pineapple juice. This will give you a green-ish juice that's like a spinach puree. The key is to get your spinach perfectly chopped up and then add the rest of your ingredients! This will prevent any stringy bits of spinach from being in your smoothie.
Use a high powered blender – Using a strong blender is essential to making great smoothies! We've done tons of blender reviews, but our favorite blender for green smoothies is the Vitamix E310.
Make them in advance – I love drinking smoothies every day, but hate having to get out all the ingredients and wash the blender every time. That's why we started meal prepping smoothies 1-x a week. We'll make a big batch on Sunday afternoon and then store leftover smoothies in the fridge for the week!