This post may contain affiliate links. If you use these links to buy something we may earn a small commission. Thanks.
This tropical green smoothie is one of our all-time favorites! It's loaded with four different kinds of fruit, spinach, and balanced out by orange juice! The recipe makes two servings, but each one is only 150 calories which is insanely low.
If you want a healthy green tropical smoothie – this is the one for you!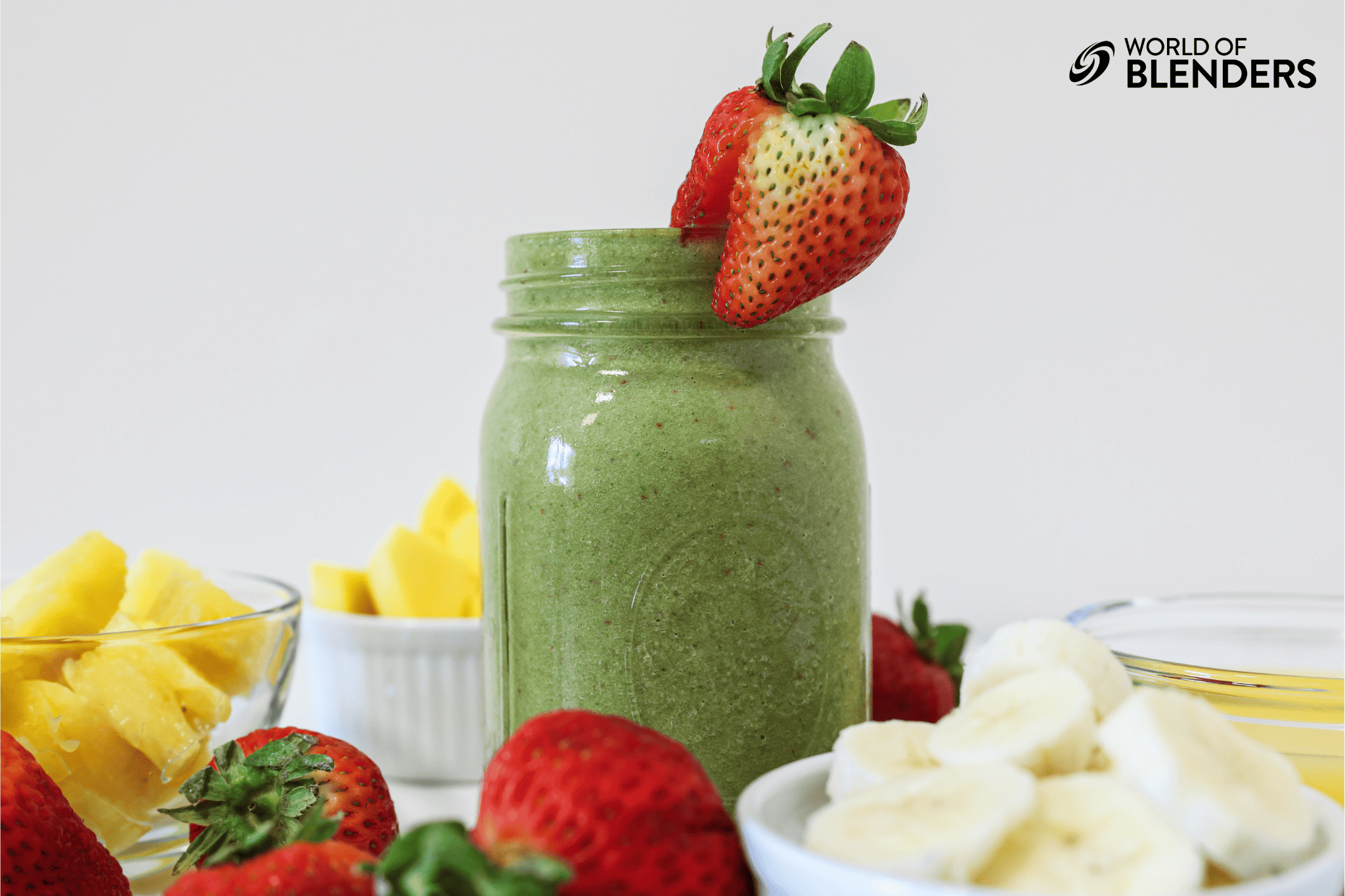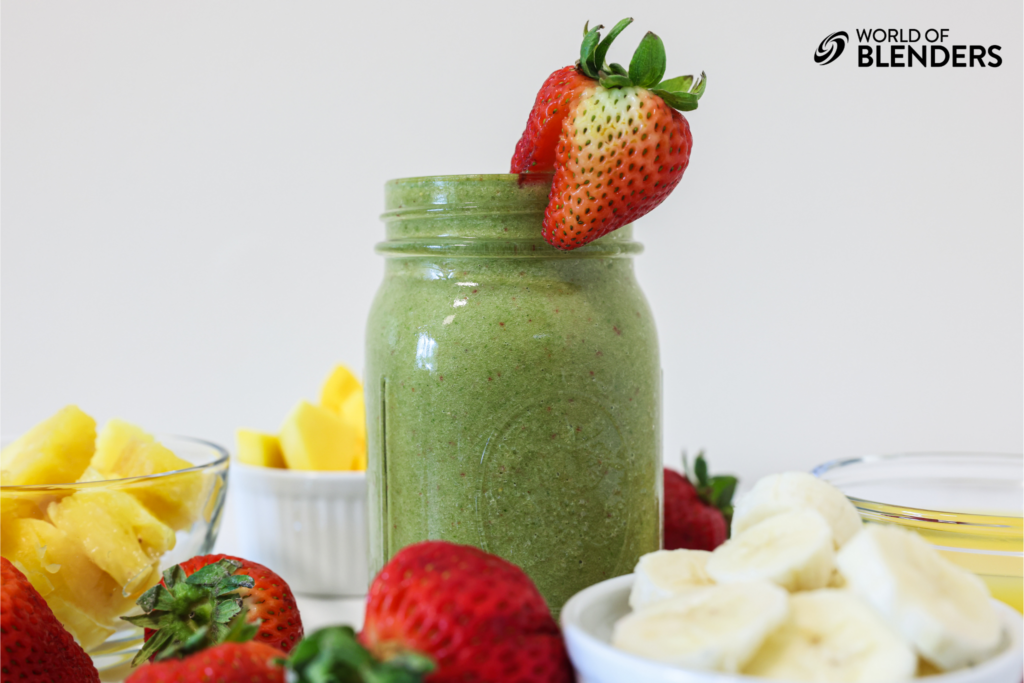 The trick to making the best tropical green smoothie is to get the right blend of ingredients. If you add too much fruit, you'll end up with a ton of sugar and it'll be 500 calories. If you pick the wrong veggies, it'll be gritty and bitter.
My wife and I have made hundreds of green weight loss smoothies and this is one of the best. If you need something with more protein try our high protein green smoothie which has 35g of protein!
---
Ingredients for the Best Tropical Green Smoothie
Tropical green smoothies are perfect for Spring and Summer! We drink this one year round, but it's perfect for hot and muggy weather. The combo of fruit + spinach + orange juice makes this a great green smoothie for beginners.
Spinach – Spinach is by far our favorite greens for smoothies. It's not bitter, has no flavor, but it's packed with Vitamin A, K, and calcium. It also has a good amount of protein and fiber compared to other vegetables for smoothies. If you want to eat more spinach, be sure to check out our green goddess smoothie and blueberry spinach smoothie as well!
Banana – Bananas are great for smoothies because they're loaded with potassium and they help make smoothies smoother and prevent smoothies from getting foamy.
Pineapple – We love using frozen pineapple in smoothies because it adds great tropical flavor and the perfect hint of sweetness. It's also a great source of Vitamin C. The key is you can't use too much or else it'll overpower the smoothie.
Mango – If you're trying to make a tropical smoothie, mango is essential. It's great for making sweeter smoothies. This tropical green smoothie is loaded with Vitamin C and tropical flavor.
Strawberries – Strawberries are a great fruit if you want a semi-sweet, semi-tropical fruit. They aren't overly flavorful, but can bring great balance to a smoothie.
Orange Juice – Orange juice is one of the best liquid smoothie bases. II recommend getting some kind of all-natural kind with pulp if you want the healthiest and most orange flavor. It's the perfect pairing for this green tropical smoothie.
Variations to this Recipe
We always try to test out multiple variations of each of our smoothie recipes! If you don't have certain ingredients or want to enhance it a bit with some options, then this section is for you.
Greek yogurt – If you want to add more protein to a smoothie then you have to use greek yogurt. Adding just ¼ to ½ cup of GY will add 5-10g of protein. We have a whole list of high protein smoothies you can check out or you can make our healthy chocolate peanut butter green smoothie.
Almond milk – If you don't want to use orange juice then almond milk is our next best option. It'll make your smoothie thicker and it's perfect if you need a dairy free smoothie recipe.
Chia or hemp seeds – If you want some added fiber, protein, and healthy fats then you should add chia or hemp seeds (or both!) to your smoothie. Adding a tablespoon of either is one of the best way to make high fiber smoothies.
Blueberries – If you're trying to get more antioxidants or make smoothies for inflammation, then add some blueberries!
Avocado – Using chunks of avocado is the easiest way to make smoothies creamier! This tropical green smoothie recipe is already low in calories so you could add 1/4 of an avocado and it still be super healthy.
---
Health Benefits of Tropical Green Smoothies
There are tons of benefits of smoothies, but it'll depend on what kind of smoothie you're making. Here are the five benefits of this tropical green smoothie:
Low calories – This smoothie has only 150 calories which is why it's one of our favorite meal replacement smoothies!
Low sugar – If you're looking for a low sugar smoothie, this one is perfect for you. This recipe has just 26g of sugar which is low for a smoothie with this much fruit, that's why it's on out our list of diabetic smoothie recipes.
High in Vitamin A – This smoothie has almost 2000iu of Vitamin A which is almost the full recommended daily value! If you're trying to get more Vitamin A, this tropical green smoothie is perfect.
Variety of fruit – It's good to get a variety of fruit in your diet. Every fruit will have different micronutrients so a good spread will give you a balanced diet.
High in Potassium – This recipe has 600mg of potassium which will put you on the fast track to hitting the daily value for potassium.
This recipe is also on our list of whole30 smoothies and paleo smoothie recipes.
---
Tropical Green Smoothie
This tropical green smoothie recipe is one of our all-time favorites! It's healthy, sweet, and packed with vitamin C. It's also less than 150 calories!
Print
Pin
Rate
Ingredients
1

cup

spinach

1/2

banana

1/2

cup

pineapple

1/2

cup

mango

1/2

cup

strawberries

1

cup

orange juice
Instructions
Add the spinach and orange juice to the blender first. Blend for a minute or until all the green flakes are thoroughly blended.

Add banana, pineapple, mango, and strawberries to the blender.

Blend for 2-3 minutes or until smooth.

Pour into a glass and enjoy!
Nutrition
Calories:
142
kcal
|
Carbohydrates:
35
g
|
Protein:
2
g
|
Fat:
1
g
|
Saturated Fat:
0.1
g
|
Polyunsaturated Fat:
0.2
g
|
Monounsaturated Fat:
0.1
g
|
Sodium:
15
mg
|
Potassium:
607
mg
|
Fiber:
3
g
|
Sugar:
26
g
|
Vitamin A:
2148
IU
|
Vitamin C:
125
mg
|
Calcium:
46
mg
|
Iron:
1
mg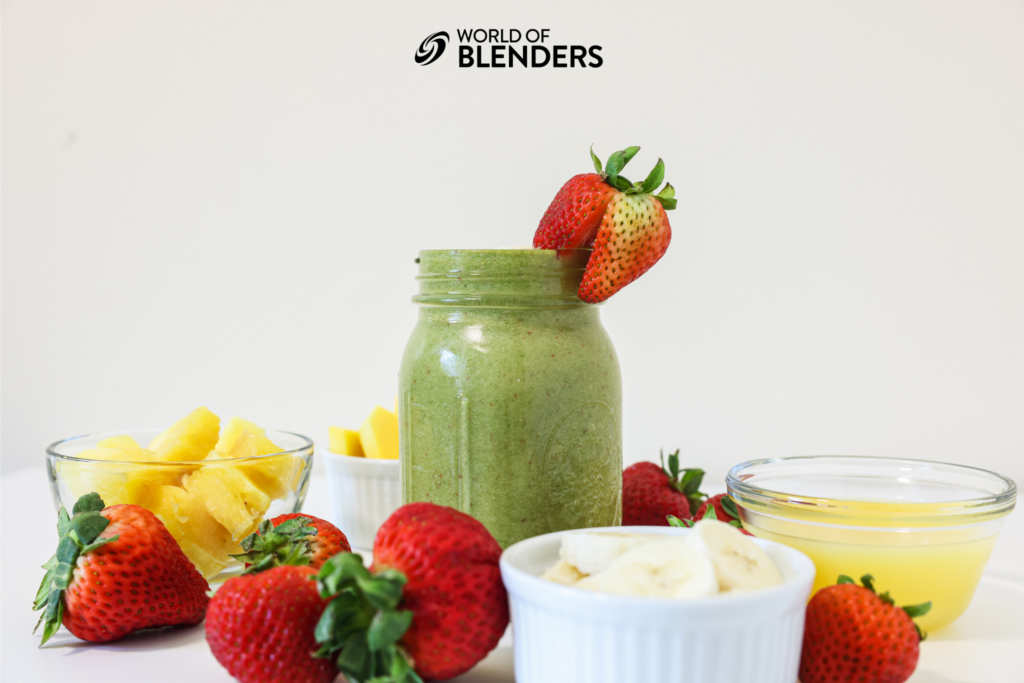 ---
Tips for Making Green Tropical Smoothies
I have made countless spinach smoothies over the last few years and I've made tons of mistakes along the way. I've made smoothies that are too thin, chunky, bland, bitter, and every other possible mistake.
But I've perfected our "smoothie craft" and here is our best advice on how to make the best possible tropical green smoothie.
Cut your frozen fruit – I highly recommend using frozen fruit. Your smoothies will be colder and fresher that way! The only tricky part is that frozen fruit might be too tough for some weaker blenders. Cutting your frozen into smaller chunks can help.
Blend the spinach first – Our #1 tip for green smoothies is to blend your spinach by itself with the orange juice. This will get it thoroughly chopped up into an almost green juice and then add the rest of your ingredients! This will prevent any stringy bits of spinach.
Use a high wattage blender – Using a powerful blender is critical to making good smoothies. If you don't, you'll have chunks and it won't be smooth. We've done tons of blender reviews, but our favorite blender for green smoothies is the Vitamix E310.
Meal prep your smoothies – I love drinking smoothies every day, but hate having to get out all the ingredients and wash the blender every time. That's why we started meal prepping smoothies 1-x a week. We'll make a big batch on Sunday afternoon and then store leftover smoothies in the fridge for the week!