This post may contain affiliate links. If you use these links to buy something we may earn a small commission. Thanks.
This spinach avocado smoothie is easily one of our all-time favorite green smoothies! The combination for this spinach avocado and banana smoothie makes this smoothie sweet, smooth, and incredibly healthy.
The almond milk and almond butter pull it all together to make it an amazing smoothie.
The best part is that it's only 250 calories.
If you want a healthy smoothie with spinach and avocado – this is the recipe for you!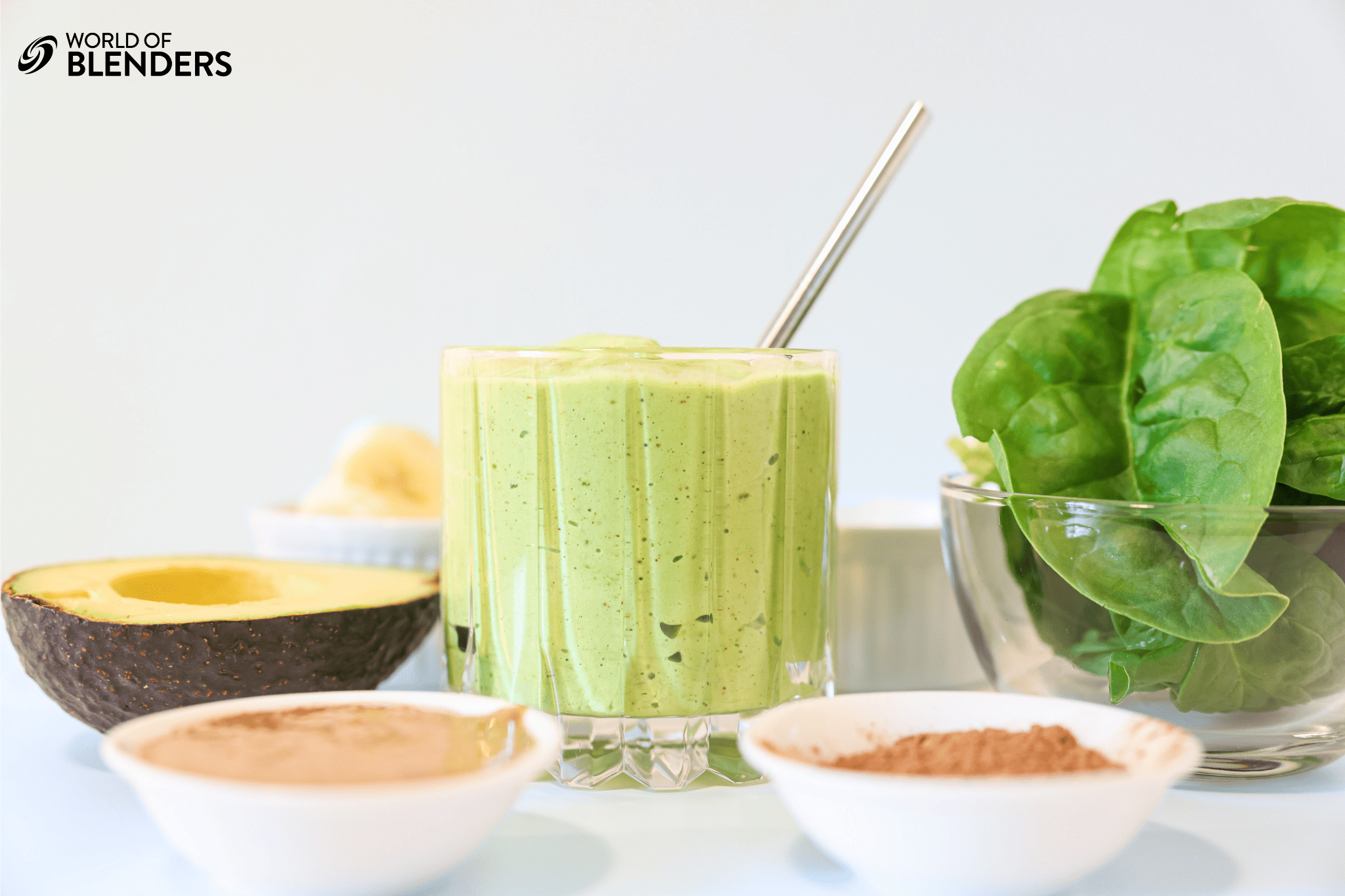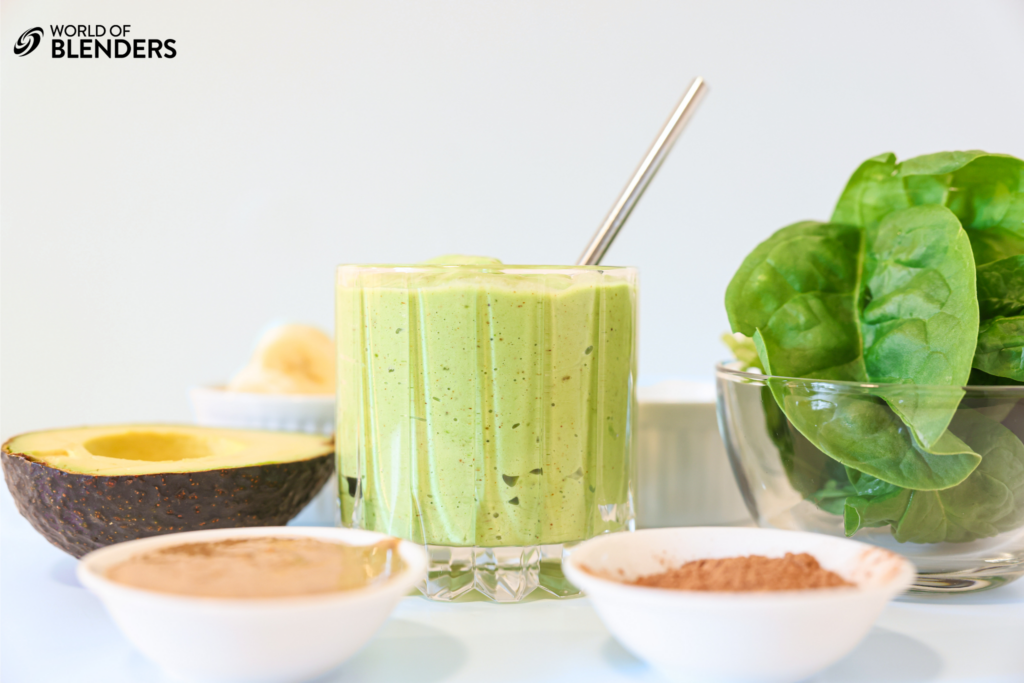 My wife and I have made countless healthy green smoothies and this is near the top of the list. If you want more protein, you can check out our high protein green smoothie which has 35g of protein!
---
Ingredients for the Best Spinach Avocado Smoothie
Spinach and avocado smoothies are a staple for our family! I really think the addition of banana makes this smoothie even better. The combo of veggies + fruit balanced out by the almond milk and other ingredients make this a great green smoothie for beginners.
Spinach – Spinach is fantastic for smoothies because it's easy to blend, adds almost no flavor, and is packed with nutrients like Vitamin K, A, fiber, and folic acid. Our green goddess smoothie and chocolate green smoothie both use spinach.
Avocado – Avocado is the secret to making amazing green smoothies. Without avocado, your smoothie will be foamy and it might not be thick enough. Adding some avocado will help make a smoothie filling.
Banana – If you're trying to get more potassium then bananas are perfect for you. Bananas are great for smoothies because they help make smoothies smoother and they keep smoothies from separating.
Almond butter – Almond butter is great for making smoothies thicker and tastier. It'll add healthy fats and help balance out this spinach avocado smoothie.
Cocoa powder – Adding a bit of cocoa powder is a great way to make a smoothie taste richer and like it has more depth.
Honey – Honey is one of our favorite ways to sweeten smoothies because it's natural, not overly sweet, and has health benefits like boosting your immune system.
Dates – Dates are a great way to make smoothies sweeter as well! It's hard to describe the flavor they give, but they definitely enhance this avocado spinach smoothie.
Almond milk – Almond milk is by far our most used liquid smoothie base. It's the best milk for smoothies and we have a whole list of almond milk smoothies if you want more ideas.
Variations to this Spinach Banana Avocado Smoothie Recipe
My wife and I wanted to make the best avocado spinach smoothie possible. It's one of the most popular green smoothie ingredient combinations so we wanted to do is justice. We tested out several variations and included some substitutions to give you more flexibility.
Chia or Hemp seeds – Chia and hemp seeds are super high in fiber high in fiber. Adding a tablespoon of these is the easiest way to make high fiber smoothies.
Kale – If you accidentally ran out of spinach, then kale is a good substitute. It's going to be more bitter, but if you soak it in water for half an hour before you make the smoothie it'll help. Take a look at our list of kale weight loss smoothies if you need more ideas.
Vanilla extract – Vanilla extract is an easy way to level up your smoothies. Just a teaspoon will really enhance the flavor.
Orange juice – Orange juice is a great substitute if you want to go with a bit more fruity/citrusy/tropical flavor. Almond milk is better for creamier smoothies, but a splash of OJ can help.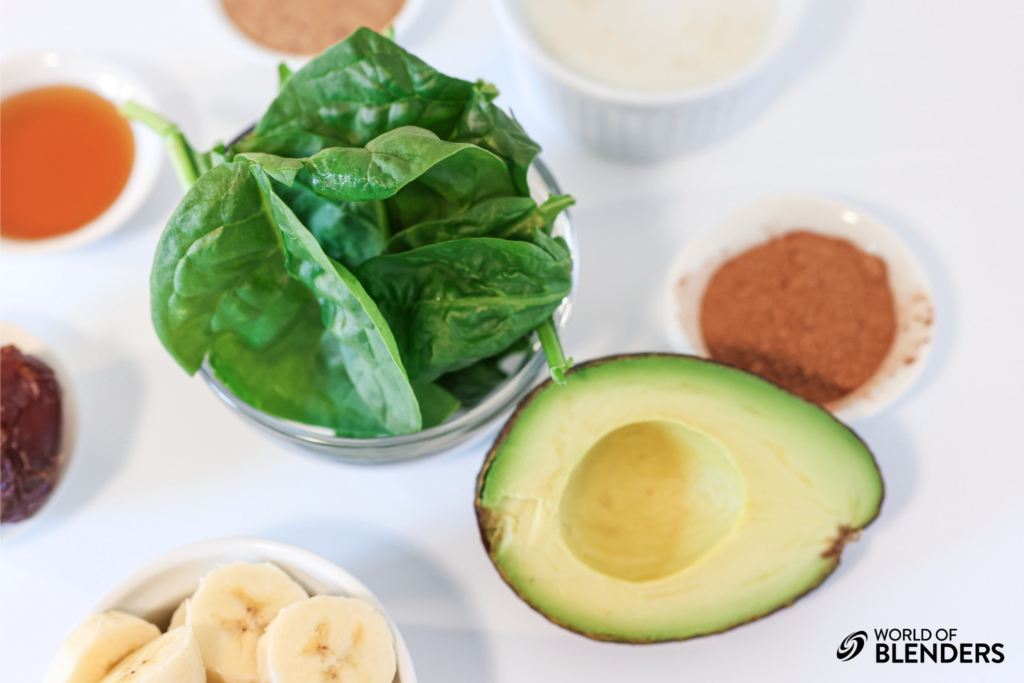 ---
Health Benefits of Smoothies with Spinach and Avocado
There are lots of health benefits of smoothies, but this one spinach avocado banana smoothie is especially good for you. Here are the 5 biggest benefits of this one:
Low calories – This smoothie is only 260 calories, which makes it one of the best breakfast smoothies for weight loss!
Low sugar – This smoothie only has 12g of sugar which is why its on our list of low sugar smoothies and diabetic smoothie recipes!
High Fiber – This smoothie has 8g of fiber which is on the higher end. If you added some chia or hemp seeds, you'd definitely be at 10+. The added fats from the avocado will help your digestive system, which is why it's one of the best colon cleansing smoothies.
High in Vitamin A – This smoothie has 1500iu of Vitamin A which is pretty much the daily dose needed! If you're trying to get more Vit A then this spinach and avocado smoothie is perfect for you.
High in Potassium – This recipe has 640mg of potassium. Drink one of these spinach banana avocado smoothies and you'll be on your way to hitting your daily minimum for potassium.
This recipe is also a Whole30 friendly smoothie! If you want other healthy smoothies give our blueberry spinach smoothie or our green detox smoothie a try.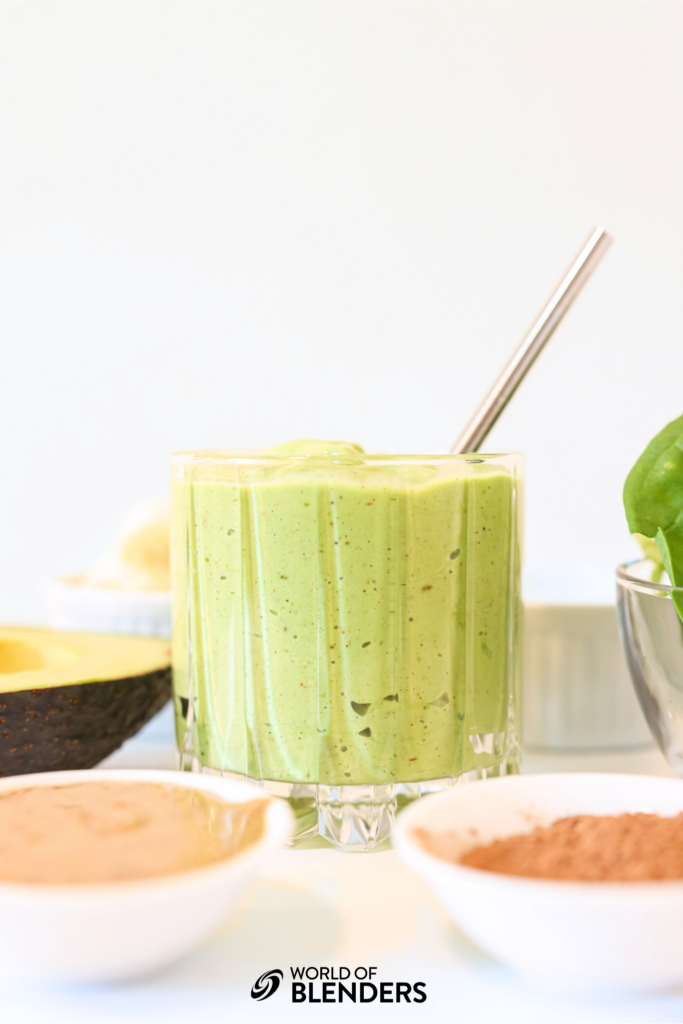 ---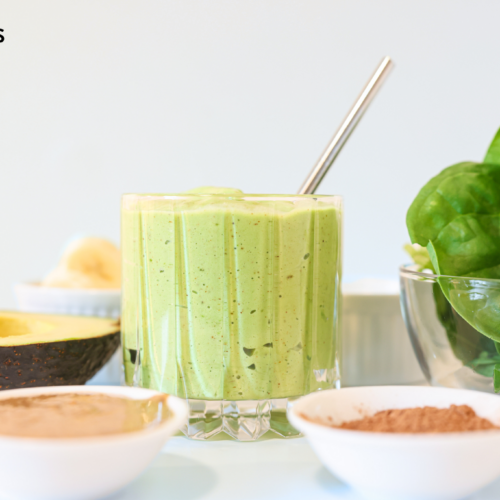 Spinach Avocado Smoothie
This spinach avocado smoothie for weight loss is one of our favorites! It's creamy, smooth, and packed with flavor. It's loaded with Vitamin A and potassium. If you're looking for a smoothies with avocado and spinach this one is for you.
Print
Pin
Rate
Ingredients
1

cup

spinach

1/2

avocado

1/2

banana

2

T

almond butter

1

T

cocoa powder

1

tsp

honey

2

dates

1

cup

almond milk
Instructions
Add the spinach and almond milk to the blender first. Blend for a minute or until all the green flakes are thoroughly blended.

Add avocado, banana, almond butter, cocoa powder, honey, and dates to the blender.

Blend for 2-3 minutes or until smooth.

Pour into a glass and enjoy!
Nutrition
Calories:
262
kcal
|
Carbohydrates:
25
g
|
Protein:
6
g
|
Fat:
18
g
|
Saturated Fat:
2
g
|
Polyunsaturated Fat:
4
g
|
Monounsaturated Fat:
11
g
|
Sodium:
180
mg
|
Potassium:
638
mg
|
Fiber:
8
g
|
Sugar:
12
g
|
Vitamin A:
1500
IU
|
Vitamin C:
12
mg
|
Calcium:
234
mg
|
Iron:
2
mg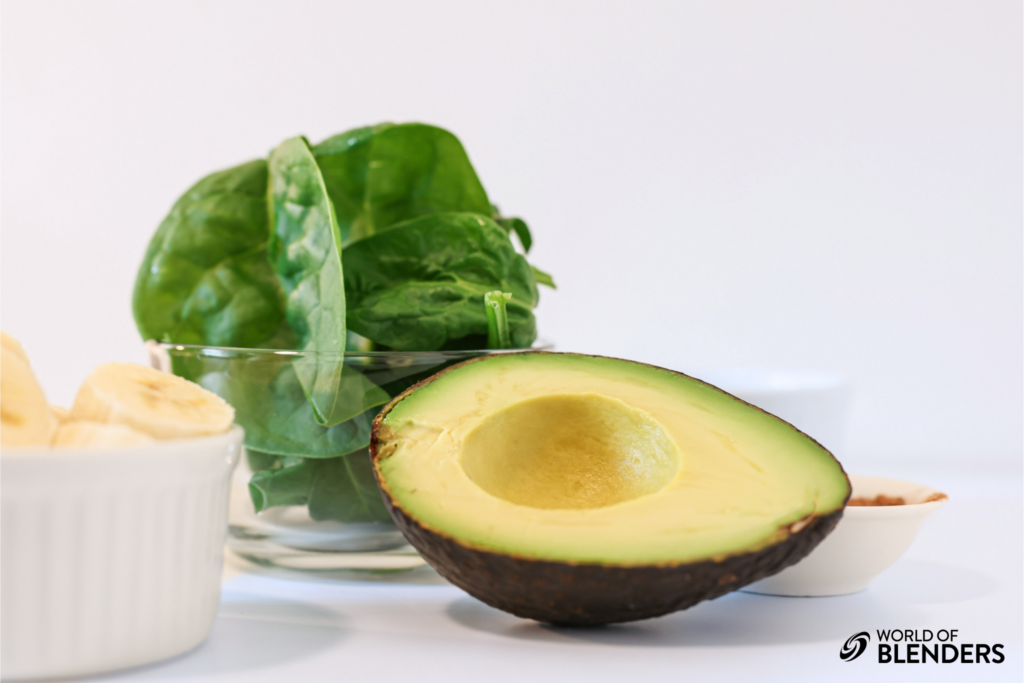 ---
Tips for Making Spinach Avocado Smoothies
I've made countless spinach smoothies and I've made countless mistakes along the way. I've made smoothies that were too thick, too thin, too chunky, not flavorful. Name it, I've done it.
But I've also perfected the craft of making great green smoothies. Here are 4 tips that will help you make the best spinach avocado smoothie.
Cut & freeze your fruit – I always tell people to use frozen fruit in their smoothies! It'll make your smoothies colder and way more refreshing. The only tricky part is that some blenders can't handle frozen ingredients.
Blend the spinach first – Our #1 rule for green smoothies is to blend your spinach by itself with your smoothie base. This will ensure that your spinach is 100% blended and you won't end up with stringy bits. Once you're done, add in the rest of your ingredients and blend away.
Use a high wattage blender – A powerful blender is critical to making smoother smoothies. After making hundreds of smoothies, the Vitamix E310 is our favorite for green smoothies.
Meal prep some smoothies – It can be a pain to make smoothies every single day. It takes a while to get all of your ingredients out, blend the smoothie, and then you've gotta clean up after. That's why I love to meal prep smoothies on a Sunday night and keep the smoothies in the fridge, and drink one fresh each morning.