This post may contain affiliate links. If you use these links to buy something we may earn a small commission. Thanks.
This apple spinach smoothie is one of our go-to recipes! The combo of apple, spinach, and bananas makes for a smoothie that's healthy and still tastes great. The almond butter and cinnamon give this smoothie a unique Fall flavor that's perfect to start the day.
The best part is that it's only 350 calories! If you're looking for a healthy spinach apple smoothie, this one is for you.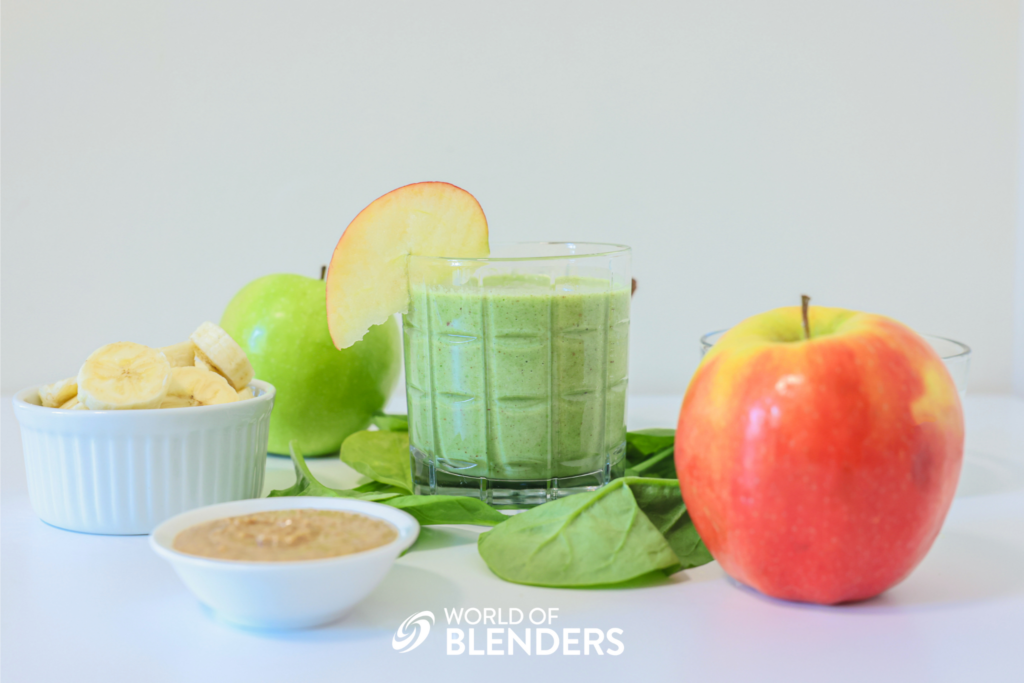 I've made countless green smoothies and this is a winner! If you want more protein, then you might like our high protein green smoothie. If you want something for detoxing, check out our green detox smoothie.
---
Ingredients for the Best Apple Spinach Smoothie
Apple and spinach smoothies are one of the most popular kinds of spinach smoothies! Both ingredients are cheap, easy to find, and most people have them on hand all the time.
Green apple – I like using green apples for smoothies because they're easy to blend and give a nice "tartness" to smoothies. They're a healthy source of carbs and high in Vitamin A, C, calcium, and iron.
Red apple – Red apples are less common for smoothies than green, but are still great to use!
Spinach – Spinach is one of the best greens for smoothies because it blends easily, is flavor-neutral, and is loaded with nutrients like Vitamin K, A, fiber, and folic acid. Spinach is the base of our green goddess smoothie and chocolate green smoothie!
Banana – When it comes to fruit, bananas are the #1 ingredient for smoothies. They're the best at making smoothies creamy and they help prevent smoothies from separating. They're also loaded with potassium.
Almond butter – If you want to make thicker smoothies, then almond butter is essential. It's great for adding healthy fats and it'll balance out the spinach.
Cinnamon – Cinnamon is a nice addition to smoothies and it goes great in this apple spinach smoothie because it tastes like Fall.
Almond milk – Almond milk is our favorite liquid smoothie base because it helps makes richer and smoother. If you like it, try out our other almond milk smoothie recipes.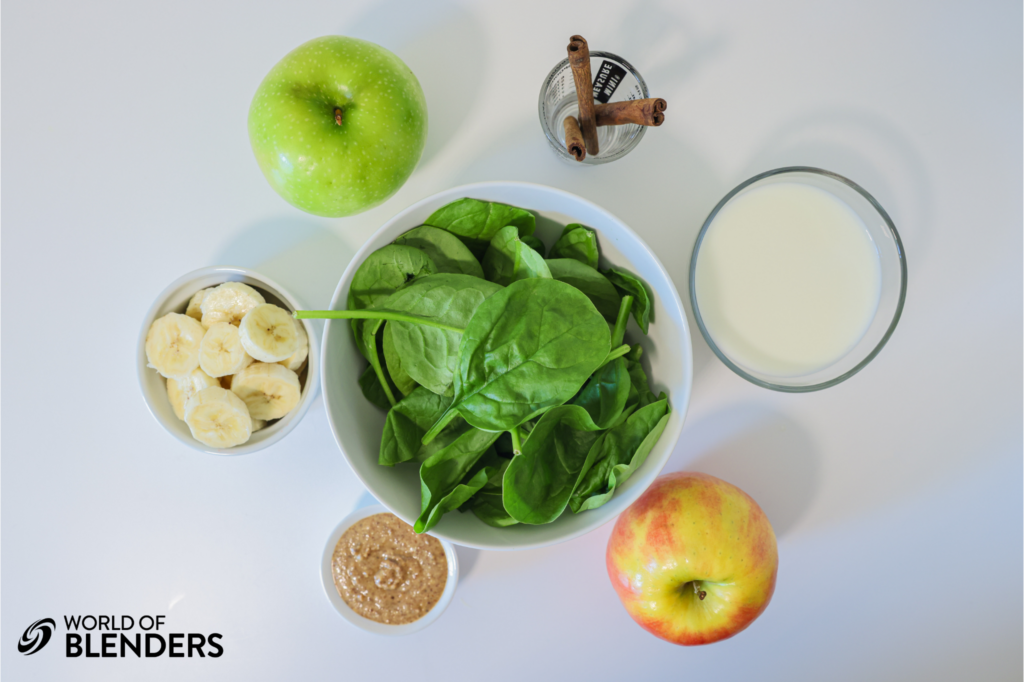 Variations to this Recipe
My wife and I tested this apple spinach smoothie a few times to make sure it was as good as possible. There's a chance you don't have all of the ingredients so we've given you some alternatives if needed.
Kale – If you happen to run out of spinach, then you can add some kale in. We also have a kale apple spinach smoothie that's similar. Kale is more bitter, but the best substitute for spinach. Take a look at our list of kale smoothies for weight loss if you need more ideas.
Just one kind of apple – You don't have to use half of a red and half a green apple. You're welcome to use just one! If you do, I'd go with the green.
Green pear – Green pears are a good sub for green apples. They'll help sweeten a smoothies without adding tons of sugar. If you wanted to make this recipe into two servings, I'd add a green pear.
Almond extract – Almond extract is great for adding just a hint of nutty flavor to your smoothies. If you don't have almond butter, this is a good addition.
Avocado – Avocado is a super popular ingredient in green smoothies because they make smoothies more filling. It's also the best way to complement the spinach and apples to make smoothies smoother and less bitter. The only reason we didn't include it is because they're high in calories.
---
What are the Benefits of Spinach and Apple Smoothies?
There are all countless benefits of smoothies and this apple spinach smoothie is especially healthy.
Low calories – This smoothie is only 350 calories which is why it's one of our favorite meal replacement weight loss smoothies!
High Fiber – This smoothie is packed with 12g of fiber thanks to the spinach and apple. Fiber is one of the factors for our our list of the best colon cleansing smoothies. With 10g+ of fiber, this one made the cut for our list of high fiber smoothies.
High in Vitamin A – This smoothie has 3000iu of Vitamin A. If you want more Vitamin A in your diet, this spinach apple smoothie recipe is perfect for you.
High in Potassium – This recipe has over 900mg of potassium, which is more than most smoothies! This will put you on the fast track to hitting the daily value of potassium.
Rich in Calcium – This spinach and apple smoothie has over 400mg of calcium which is 35% of your daily value.
This is also a whole30 friendly smoothie and it's on our list of paleo smoothie recipes for weight loss.
---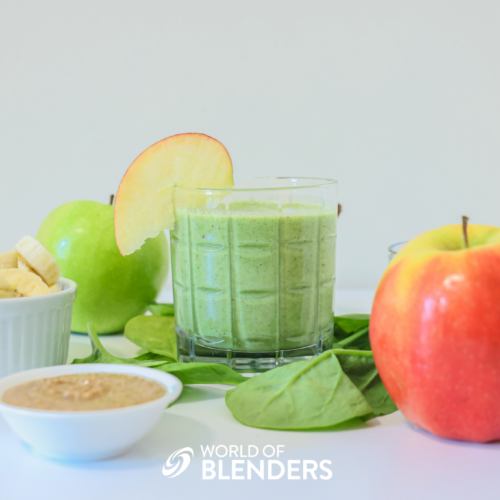 Apple Spinach Smoothie
This apple spinach smoothie is one of our go-to green smoothies! It's loaded with Vitamin A, calcium, and potassium.
Print
Pin
Rate
Ingredients
1/2

red apple

1/2

green apple

1

cup

spinach

1

banana

1

T

almond butter

1

tsp

cinnamon

1

cup

almond milk
Instructions
Add the spinach and almond milk to the blender first. Blend for a minute or until all the green flakes are thoroughly blended.

Add red apple, green apple, banana, almond butter, and cinnamon to the blender.

Blend for 2-3 minutes or until smooth.

Pour into a glass and enjoy!
Nutrition
Calories:
345
kcal
|
Carbohydrates:
59
g
|
Protein:
7
g
|
Fat:
13
g
|
Saturated Fat:
1
g
|
Polyunsaturated Fat:
4
g
|
Monounsaturated Fat:
7
g
|
Sodium:
353
mg
|
Potassium:
913
mg
|
Fiber:
12
g
|
Sugar:
34
g
|
Vitamin A:
2993
IU
|
Vitamin C:
27
mg
|
Calcium:
422
mg
|
Iron:
2
mg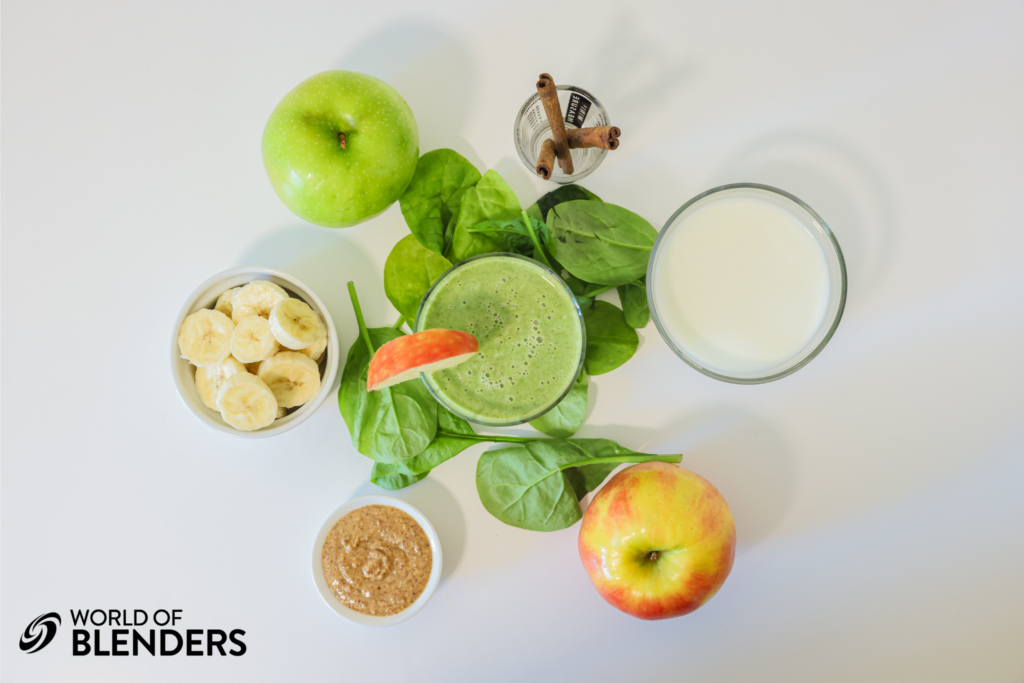 ---
Tips for Making Spinach and Apple Smoothies
My wife and I love making smoothies and have finally started to perfect them. We made countless mistakes along the way — smoothies that were too runny, too thick, or full of chunks or stringy bits of kale.
Here are 5 tips to help you make the best spinach apple smoothies.
Freeze + cut your fruit – My big recommendation is to use frozen fruit in smoothies. It'll help make your smoothies colder so they'll taste more refreshing. Cut your fruit into pieces before freezing to help it blend more easily.
Blend the spinach first – Another key step is to blend the spinach by itself with your almond milk first. After all the spinach is blended up, add the rest of your ingredients. This will prevent you from having any stringy bits of spinach.
Use a high wattage blender – Using a powerful blender is key to making super smooth smoothies! We've done about 50 blender reviews, but our favorite blender for green smoothies is the Vitamix E310.
Meal prep some smoothies – I love meal prepping smoothies so that we don't have to make a whole new batch every day. It saves us time and headache. We'll make a bunch on Sunday afternoon, store the smoothies in the fridge, and drink a smoothie fresh each morning.