This post may contain affiliate links. If you use these links to buy something we may earn a small commission. Thanks.
This kale banana smoothie is one of our favorite recipes! Kale is famous for being one of the healthiest foods in the world, but it can also be bitter tasting. The banana kale smoothie combo is great for making a super healthy smoothie that still tastes great.
The walnuts, peanut butter, and almond milk really help round out this smoothie to make it incredibly smooth and creamy.
The best part is that it's only 350 calories! If you're looking for a healthy banana kale smoothie, this one is for you.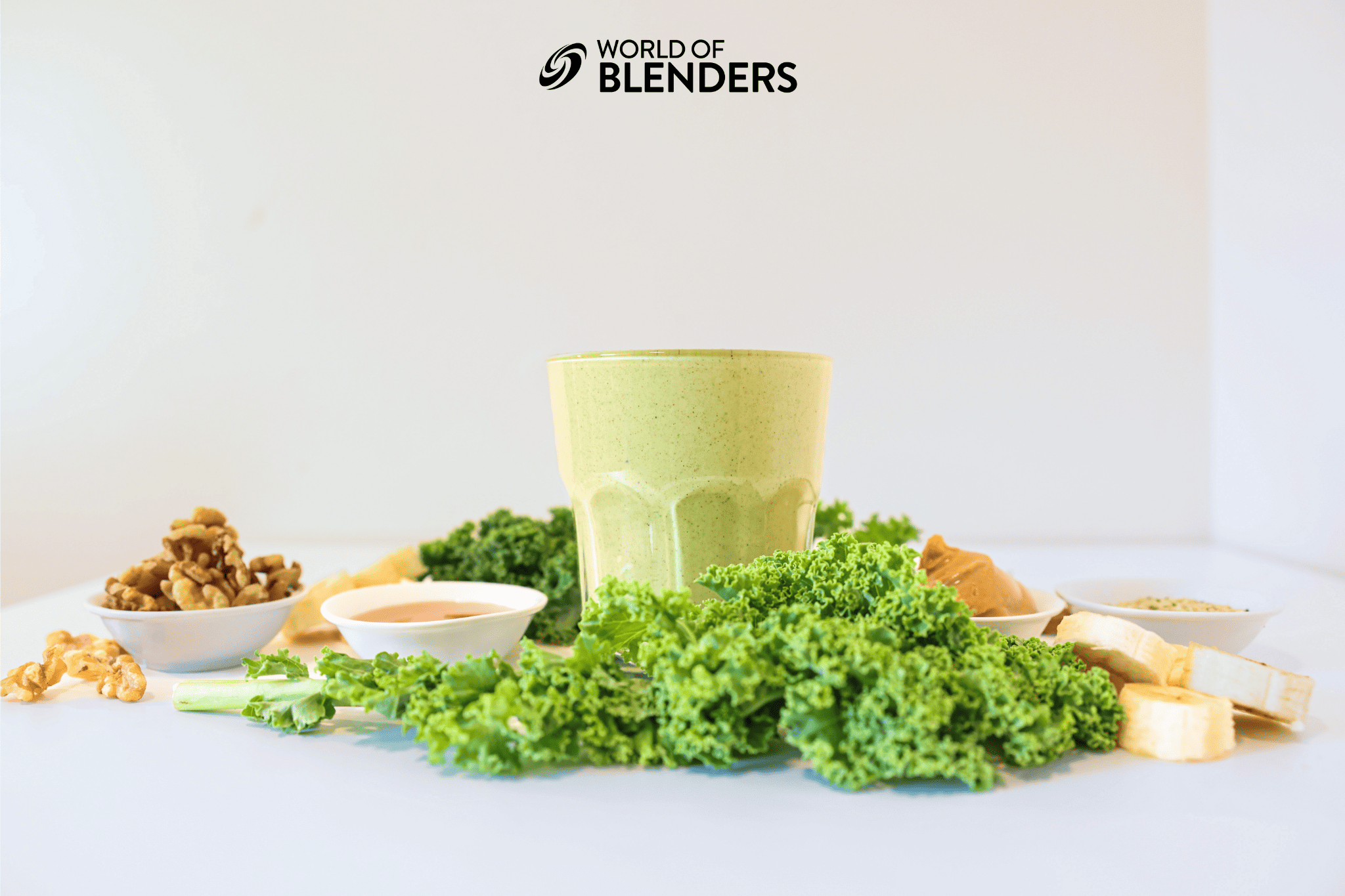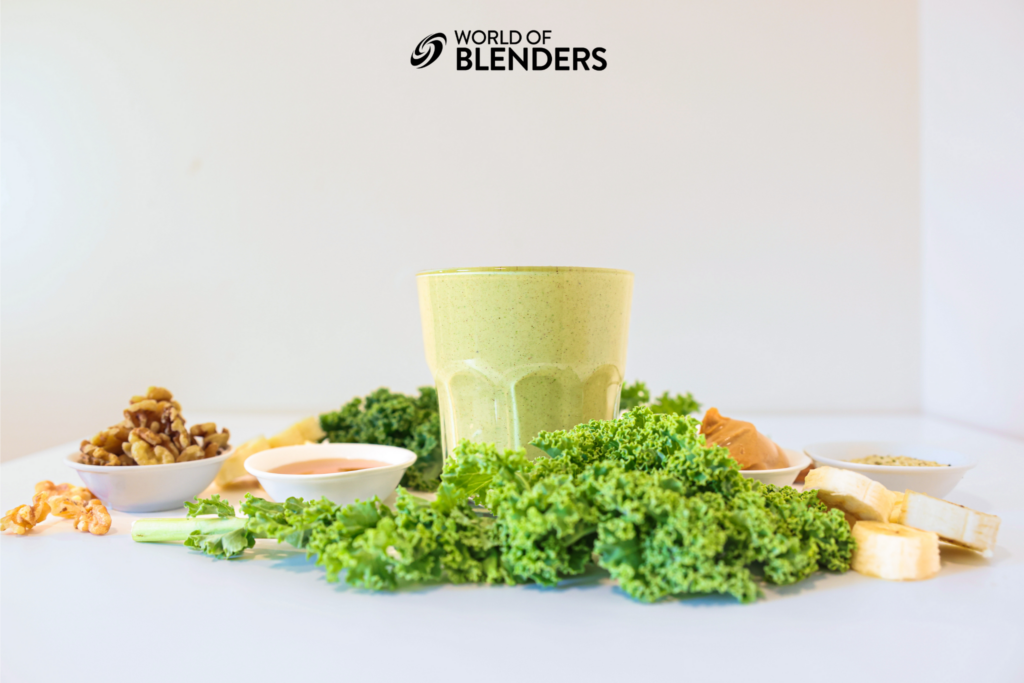 My wife and I have made countless green smoothies over the years and this is one of the best. If you're trying to get more protein, then you might prefer our high protein green smoothie.
---
Ingredients for the Best Kale Banana Smoothie
Kale banana smoothies are a regular in our rotation of healthy breakfast smoothies! If you like making kale smoothies, then you need to try this one.
Kale – Kale is one of the best veggies for smoothies because it's packed with nutrients like Vitamin A, C, and dietary fiber.
Banana – Bananas are probably the #1 ingredient for smoothies. They help make smoothies filling and they keep smoothies from separating. They're also loaded with potassium.
Peanut butter – Peanut butter is a great way to make your smoothies thicker and tastier! It's perfect for adding healthy fats and richer flavor to this banana kale smoothie.
Walnuts – Walnuts are incredibly healthy, but rarely used in smoothies. They are perfect for making smoothies to reduce inflammation and are a healthy source of fats.
Hemp seeds – Hemp seeds add 5g of protein to this smoothie and a bunch of healthy fats.
Almond milk – Almond milk is the most popular base for smoothies and for good reason! It helps make smoothies creamier, richer, and smoother. If you like it, try out our other almond milk smoothie recipes.
Honey – Honey is one of the best ways to sweeten smoothies because it's natural. Honey is healthy, good for the immune system, and it's not overpoweringly sweet.
Cinnamon – Cinnamon is a great addition to smoothies to give it a hint of Fall flavor.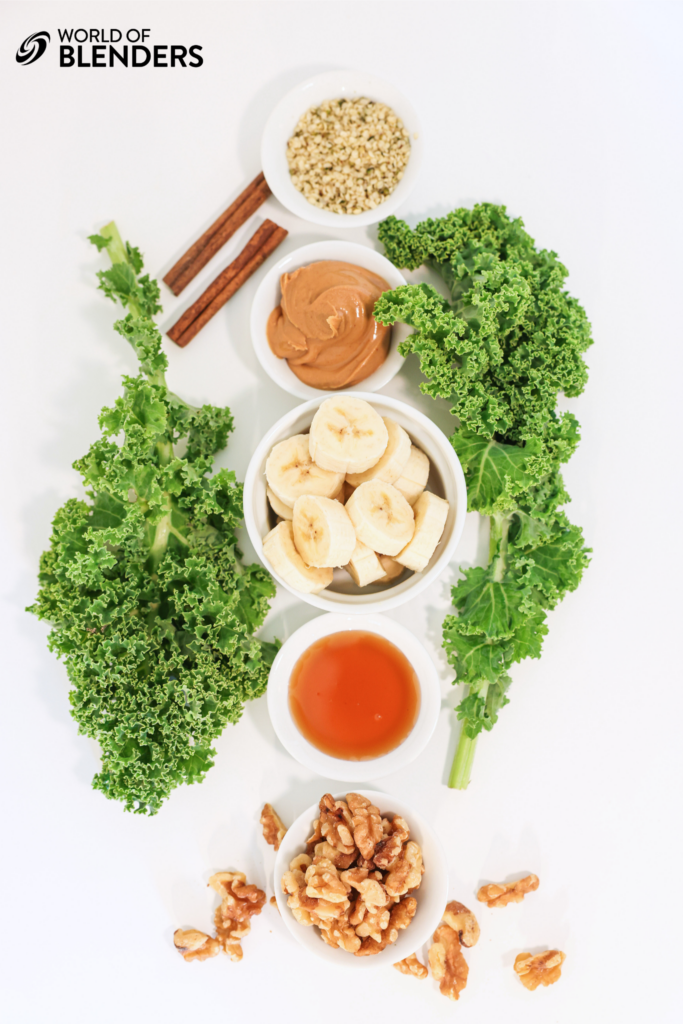 Variations to this Recipe
My wife and I tested this kale banana smoothie a few times to make sure it was as good as possible. If you're missing some ingredients, here are some substitutions you can make.
Spinach – If you don't have any kale, then spinach is a good substitute. If I'm honest, I actually like spinach more because it's easier to blend. Check out our list of spinach smoothies for more ideas! Our green goddess smoothie and chocolate green smoothie both use spinach.
Greek yogurt – Greek yogurt is by far the best way to add protein to smoothies. Adding half a cup will give you 10g of protein. If you skip this, then the recipe is a great yogurt free smoothie.
Chia seeds – Chia seeds are a good substitute for hemp seeds. They're high in protein and fiber and one of the best superfoods for smoothies. They're super popular in our list of high fiber smoothies.
Avocado – Avocado is a great way to level up a green smoothie. They complement the greens and fruits to make smoothies smoother.
Vanilla extract – Vanilla extract is a great way to make smoothies taste better.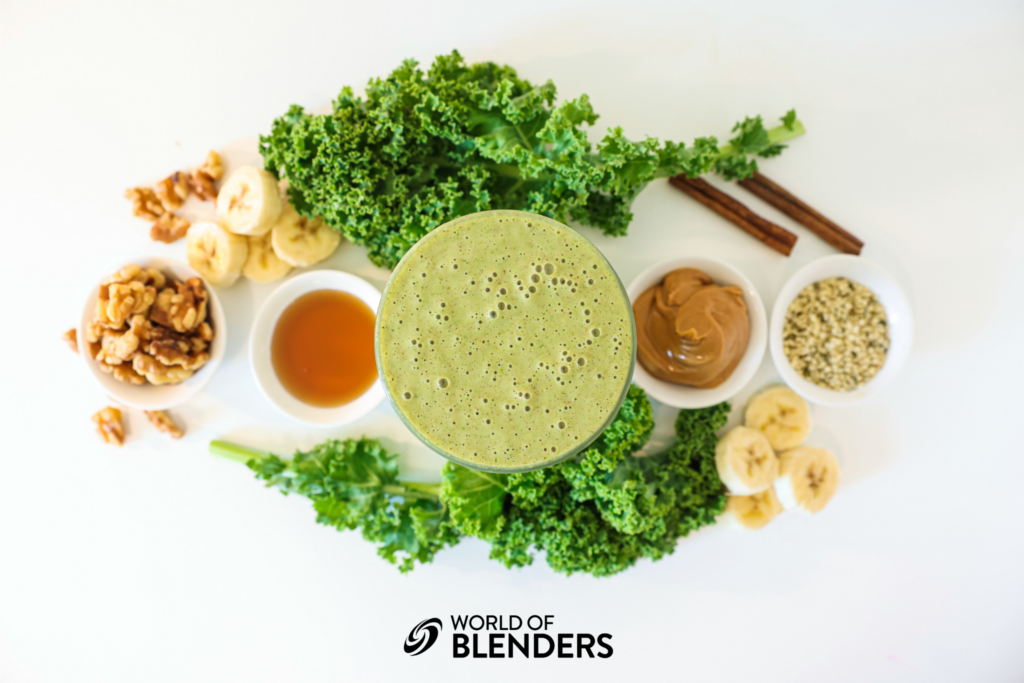 ---
Kale Banana Smoothie Benefits
There are all kinds of benefits of smoothies and this kale banana smoothie is especially healthy.
Here are the 4 biggest kala banana smoothie benefits:
Low calories – This smoothie is only 350 calories which is why it's one of our favorite meal replacement smoothies.
Low sugar – This smoothie is super low in sugar with only 12g, which is why it's one of our favorite low sugar smoothies.
High in Vitamin A – This smoothie has 3600iu of Vitamin A which is more than the daily recommended amount. If you need more Vit A in your life, then this kale and banana smoothie is perfect for you.
High in Potassium – This recipe has 600+mg of potassium, which is great if you're trying to hit your daily value.
---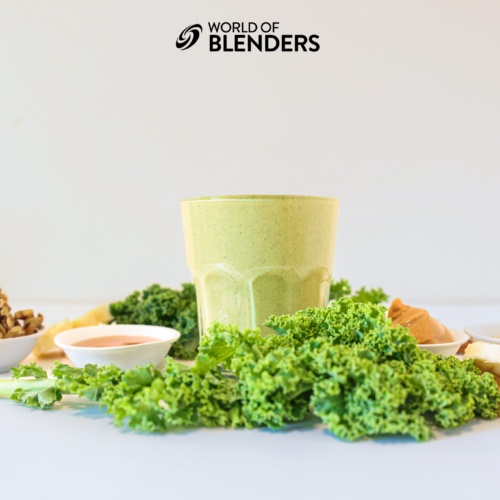 Kale Banana Smoothie
This kale banana smoothie is one of our favorite green smoothies! It's high in Vitamin A, low in sugar, and only 360 calories.
Print
Pin
Rate
Ingredients
1

cup

kale

1

banana

2

tsp

cinnamon

1

T

honey

1

T

peanut butter

1/4

cup

walnuts

1

T

hemp seeds

1

cup

milk
Instructions
Add the kale and milk to the blender first. Blend for a minute or until all the green flakes are thoroughly blended.

Add banana, cinnamon, honey, peanut butter, walnuts, and hemp seeds to the blender.

Blend for 2-3 minutes or until smooth.

Pour into a glass and enjoy!
Nutrition
Calories:
361
kcal
|
Carbohydrates:
35
g
|
Protein:
13
g
|
Fat:
22
g
|
Saturated Fat:
4
g
|
Polyunsaturated Fat:
11
g
|
Monounsaturated Fat:
5
g
|
Cholesterol:
15
mg
|
Sodium:
100
mg
|
Potassium:
634
mg
|
Fiber:
6
g
|
Sugar:
23
g
|
Vitamin A:
3630
IU
|
Vitamin C:
37
mg
|
Calcium:
287
mg
|
Iron:
3
mg
---
Tips for Making Banana Kale Smoothies
I'm a big fan of letting others make mistakes I can learn from. In your case though, I'm the crash test dummy for making smoothies. My wife and I have learned a lot and are here to share out 5 best tips for making great kale banana smoothies.
Freeze + cut your fruit – I highly recommend using frozen fruit in your smoothies. This will make your smoothies colder and they'll taste way fresher. I'd also cut your fruit into small chunks before you freeze so they'll blend more easily.
Soak your kale – My number one tip for making smoothies with kale is to soak your kale in water first. This will soften the kale, make it easier to blend, and take away some of the bitterness.
Blend the kale first – Another expert tip with kale is to blend it with the almond milk by itself first. This will make an almost green milk juice that looks gross, but it's the best way to make sure you get no stringy bits of kale. Once it's all blended, just add in the rest of your ingredients and blend away!
Use a strong blender – Using a high wattage blender is essential to making great green smoothies. We've tested out countless blenders and our favorite is the Vitamix E310.
Meal prep some smoothies – I like to meal prep smoothies so that we don't have to go through the hassle of making them every day. We'll make a big batch, store the smoothies in the fridge, and drink one fresh each morning.